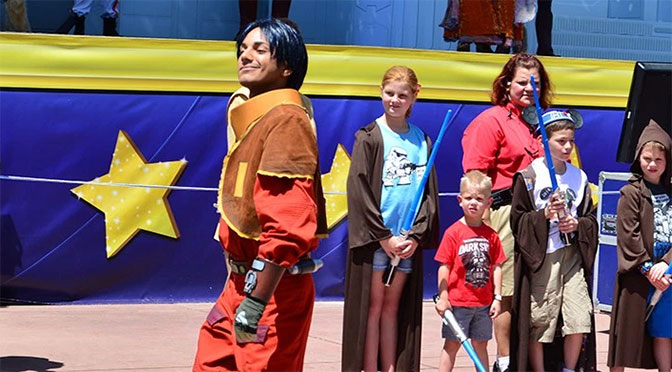 Ezra and Sabine from Star Wars Rebels are are being cast by Walt Disney World to begin providing a meet and greet that is said to occur at Disney's Hollywood Studios!
Ezra Bridger and Sabine Wren appeared at Star Wars Weekends the last 2 years and only made themselves available to guests at the special Star Wars themed "Rebel Hangar" last year.  According to sources the new meet and greet should occur at the area that used to be the audition center for American Idol.  A new queue is being constructed to allow a connection from the Star tours area over to the backside of the Frozen Sing-Along theater building.
For those who may wonder about the validity of the rumor, here's the actual listing for Disney auditions:
Disney Creative Entertainment is seeking male and female performers to help bring to life two characters from Star Wars Rebels™.  These performers will be used for upcoming special events held at the Walt Disney World® Resort near Orlando, FL.

Performers hired into these roles will also have the opportunity to bring to life the world famous Disney Characters in meet and greets across our Parks and Resorts.

We are seeking performers local to the Central Florida area, who are available to begin work within the next 3-4 weeks following the audition.

Seeking the following roles:

Ezra Bridger: male, 5'3″ – 5'7″, slender build; Ezra is a street-smart orphan who has savvy, charm, and a strong survival instinct.  Must be at least 18, but resemble a 14 year-old kid.

Sabine Wren: female, 5'4″ – 5'8″, slender build; Sabine is an expressive, colorful, and energetic saboteur.  She maintains and customizes the group's technology and weaponry.
It's funny that Ezra must resemble a 14 year old.  Ezra and Sabine are said to begin meeting guests sometime in "spring."  Spring is a vague term in Disney World as it could be as early as March or late as June.  I'll let you know when I hear a more solid date.   At this time there's no evidence that they will appear regularly at Disneyland.  Wouldn't it be cool to meet Chopper too though?