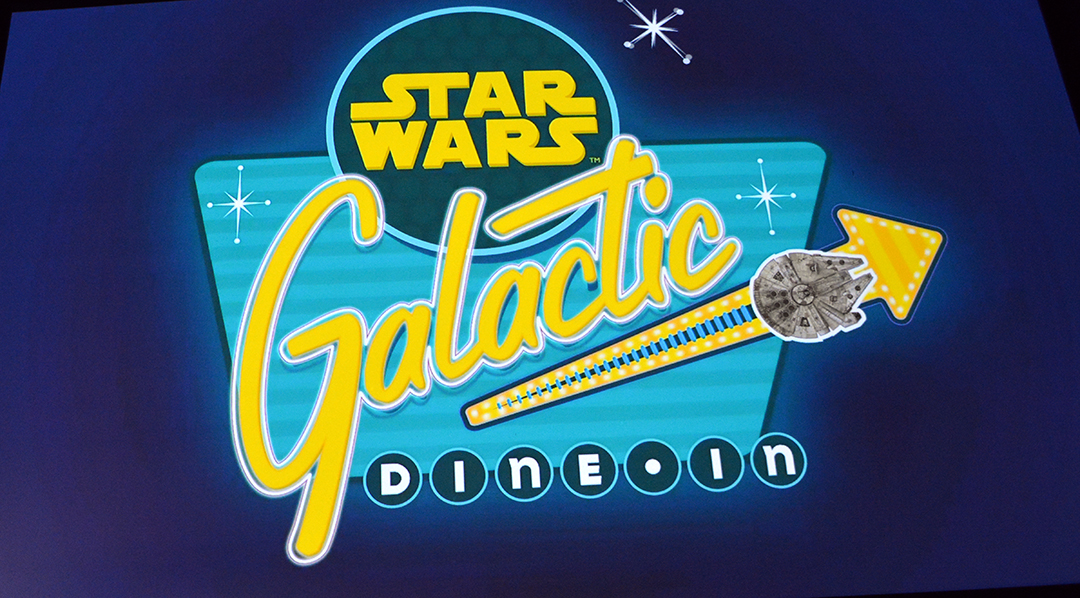 Review of the Star Wars Dine-in Galactic Breakfast at the Sci-Fi Dine-In Theater at Hollywood Studios
Update 5/10/14  Added examples of the bonus content photos you receive to the bottom of the post.
Our day began by arriving at Hollywood Studios about 7:30 am.  We saw that there were two signs in the character meal area on the far left of the entrance points.  We headed for the right line for the Star Wars meals.  A few other people lined up behind us and a couple were in front.  A guy in front said one lady told him to get in the back of the single line on the left and another lady told him to get in the Star Wars line on the right.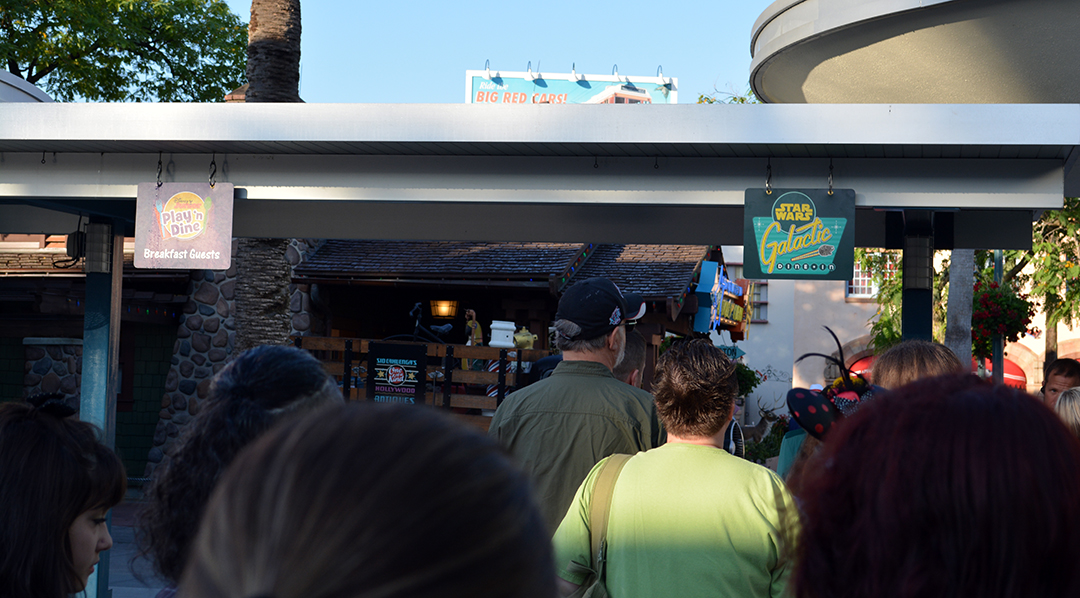 I told him that someone will come tell us to get back into the long line and a few minutes later a lady will come tell us to go back to the line on the right.  I'm such a prophet :)
We thought it was funny that the sign said they had already filled all the spots for American Idol before the park opened.  I think someone forgot to remove the sign because they don't usually offer breakfast at Sci-Fi Dine-In Theater.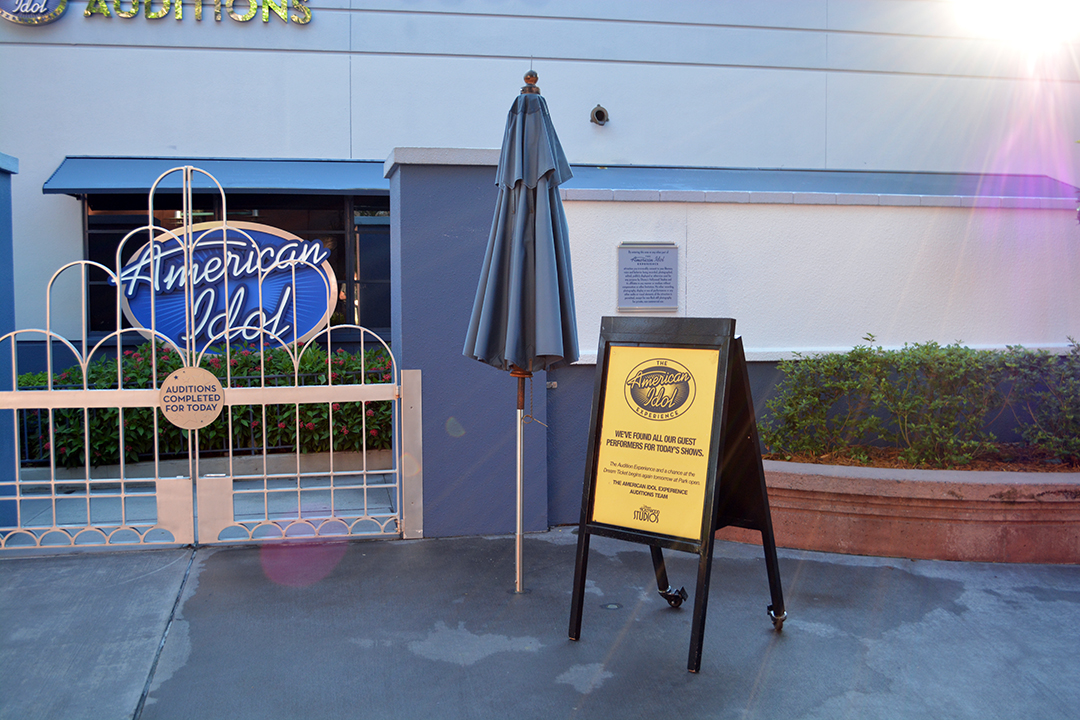 Our 8:00am breakfast appointment allowed us to be among the first to enter for the Star Wars Breakfast!  Woot woot! The even have a special spiel about joining the rebellion.  I'm cool with that, I rode a motorcycle once before breaking both wrists.  That makes me sorta rebellious right?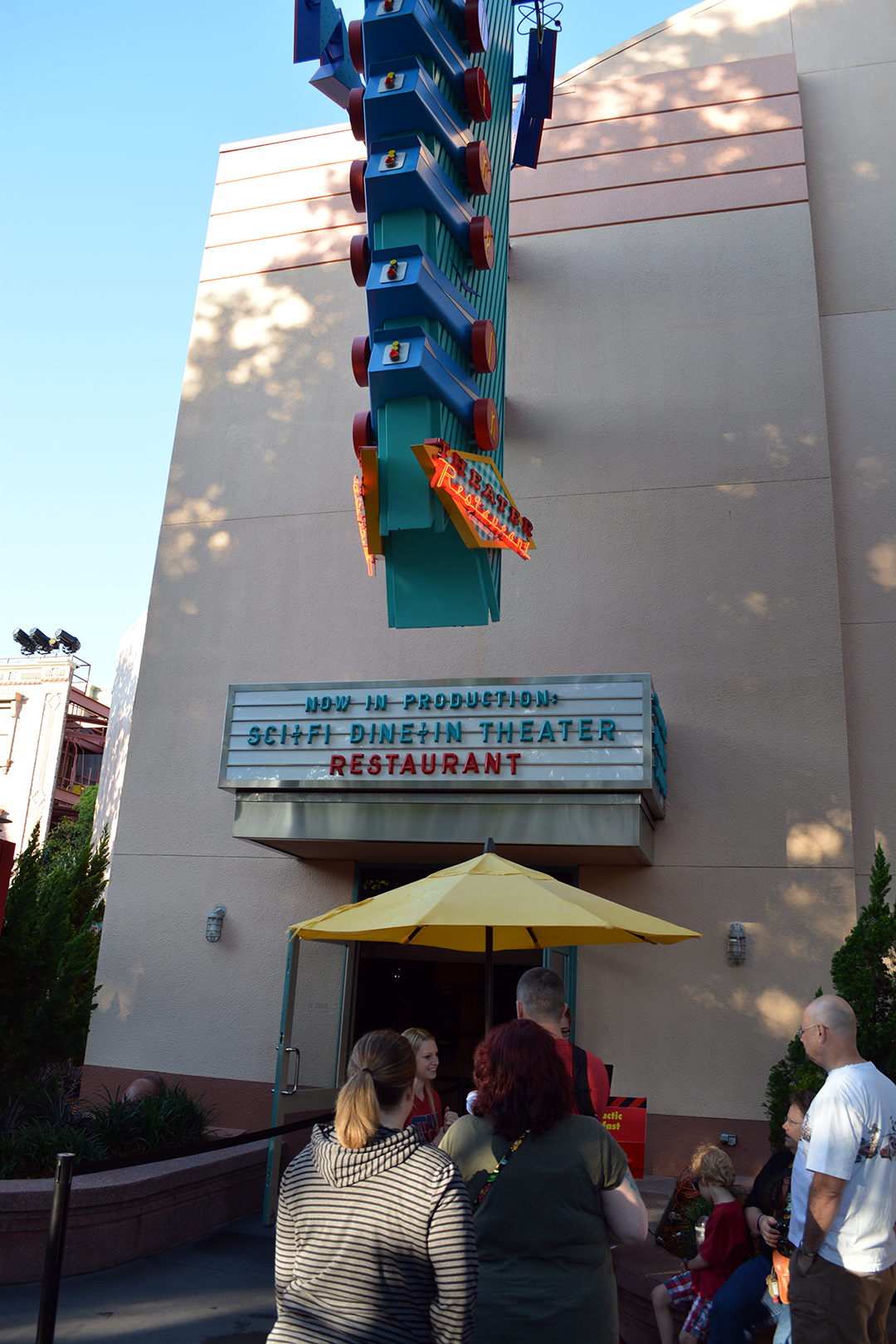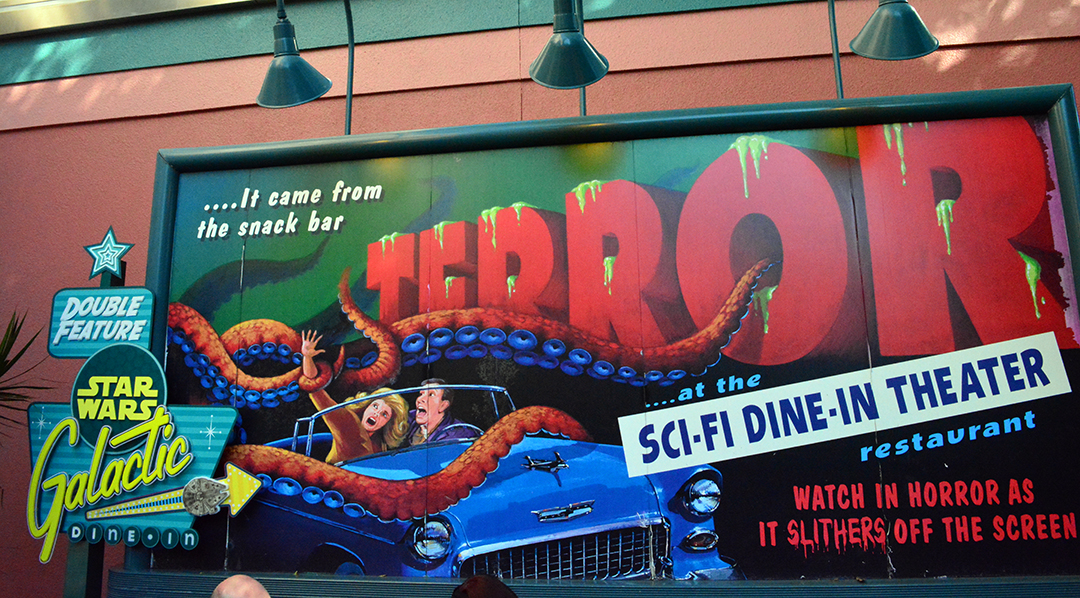 The excitement among the Star Wars fans was palpable and we could see that Darth Vader and Boba Fett were just inside the entrance with a special backdrop and a couple of Photopass photographers ready to snap away.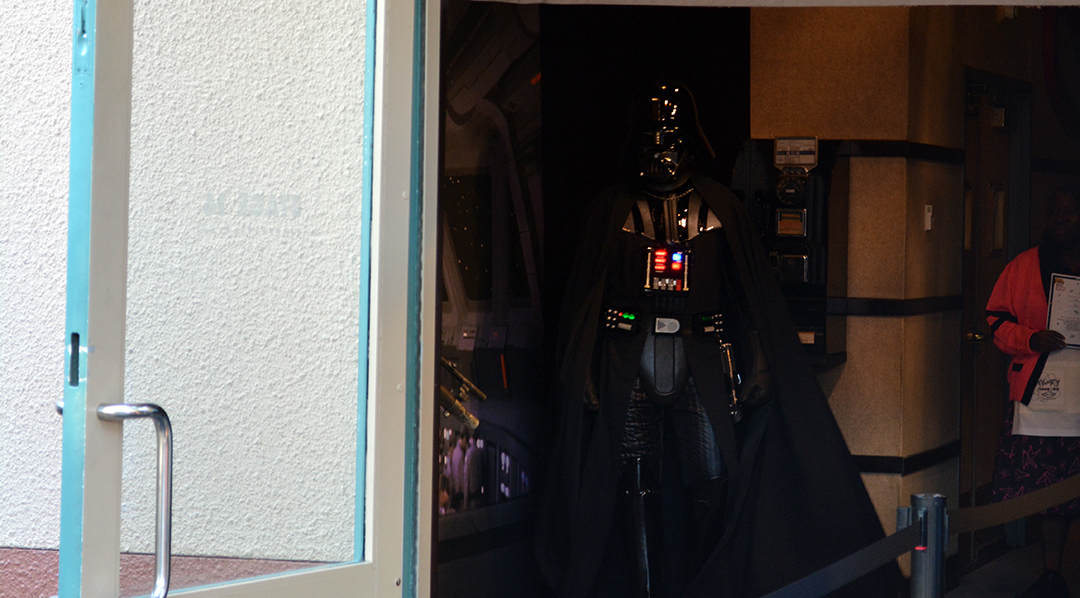 A couple of baddies ready to pose with you.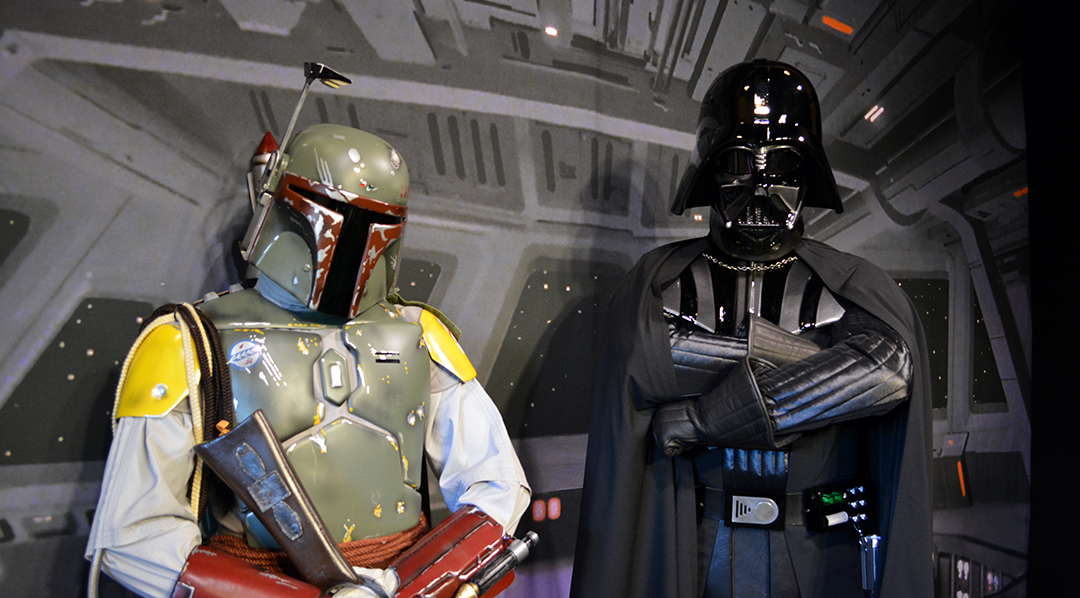 Which looks tougher:  arms crossed or hands on hips?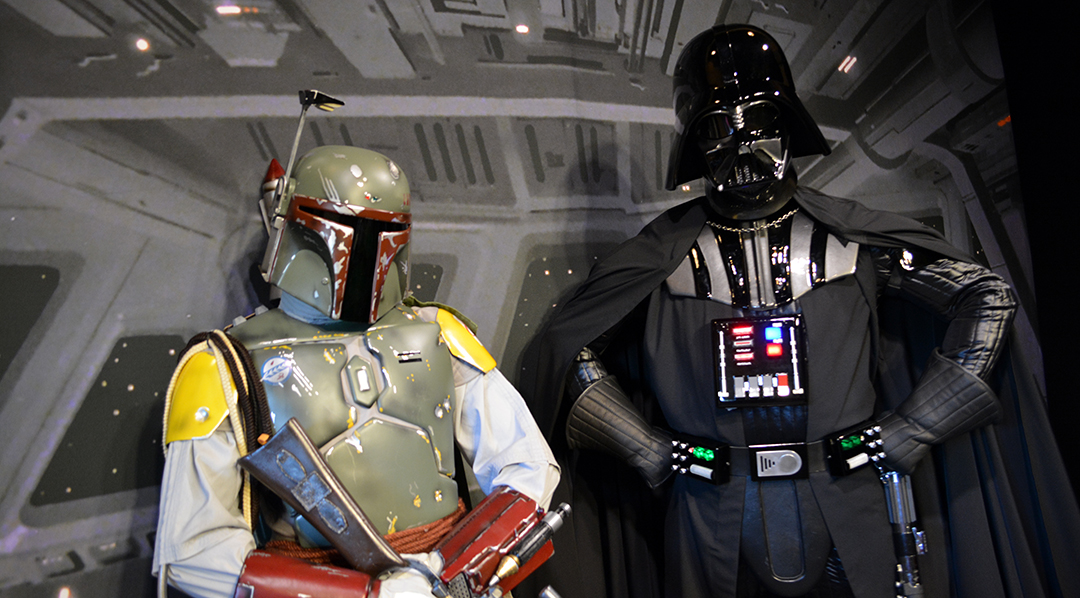 Don't mess with a man wearing shoulder and knee pads!  I wonder if Boba knows how to Tebow?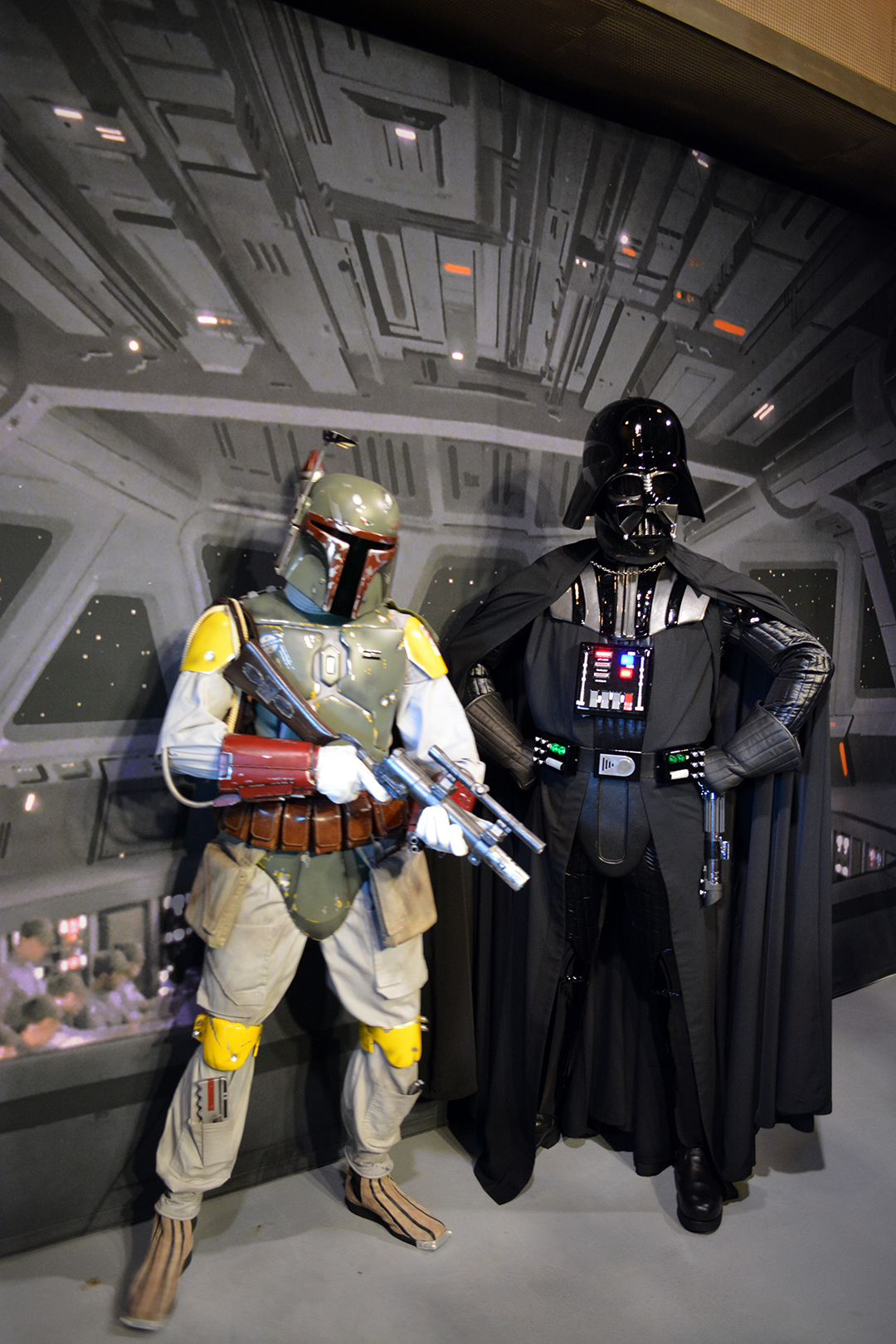 The photopass peeps were kind enough to snap a photo.  The lighting here was good enough to get this photo with no flash.  The reason it has no flash is because I left it turned on a couple days ago and it died :)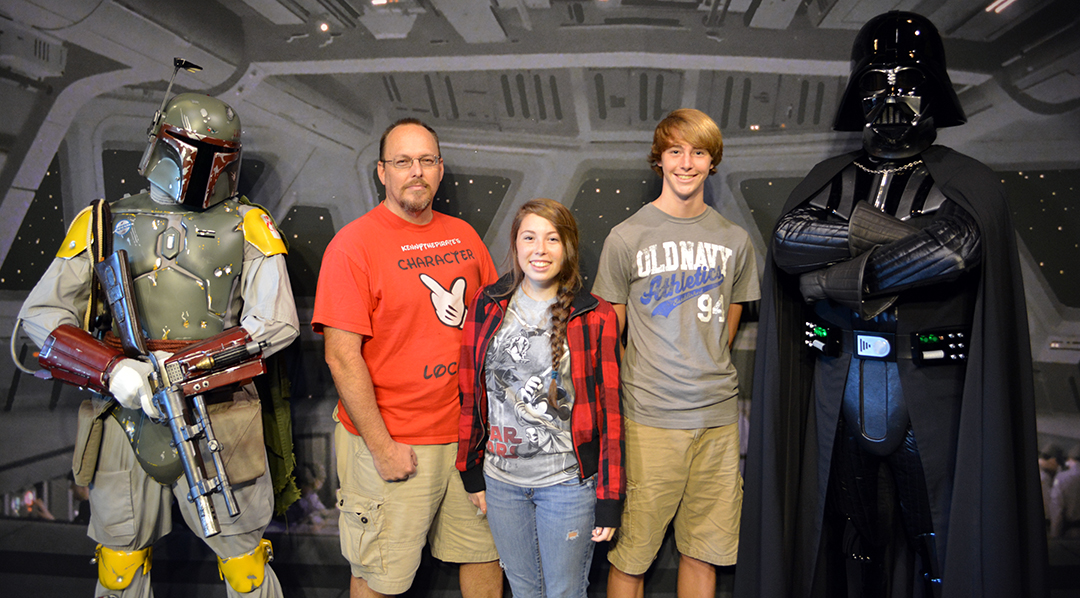 After meeting this villainous duo, you make you way to your car.  We were parked up close to the front for a great view of the screen.  I took this high quality photo of the menu.  The only thing we didn't know the other day was the kids menu portion.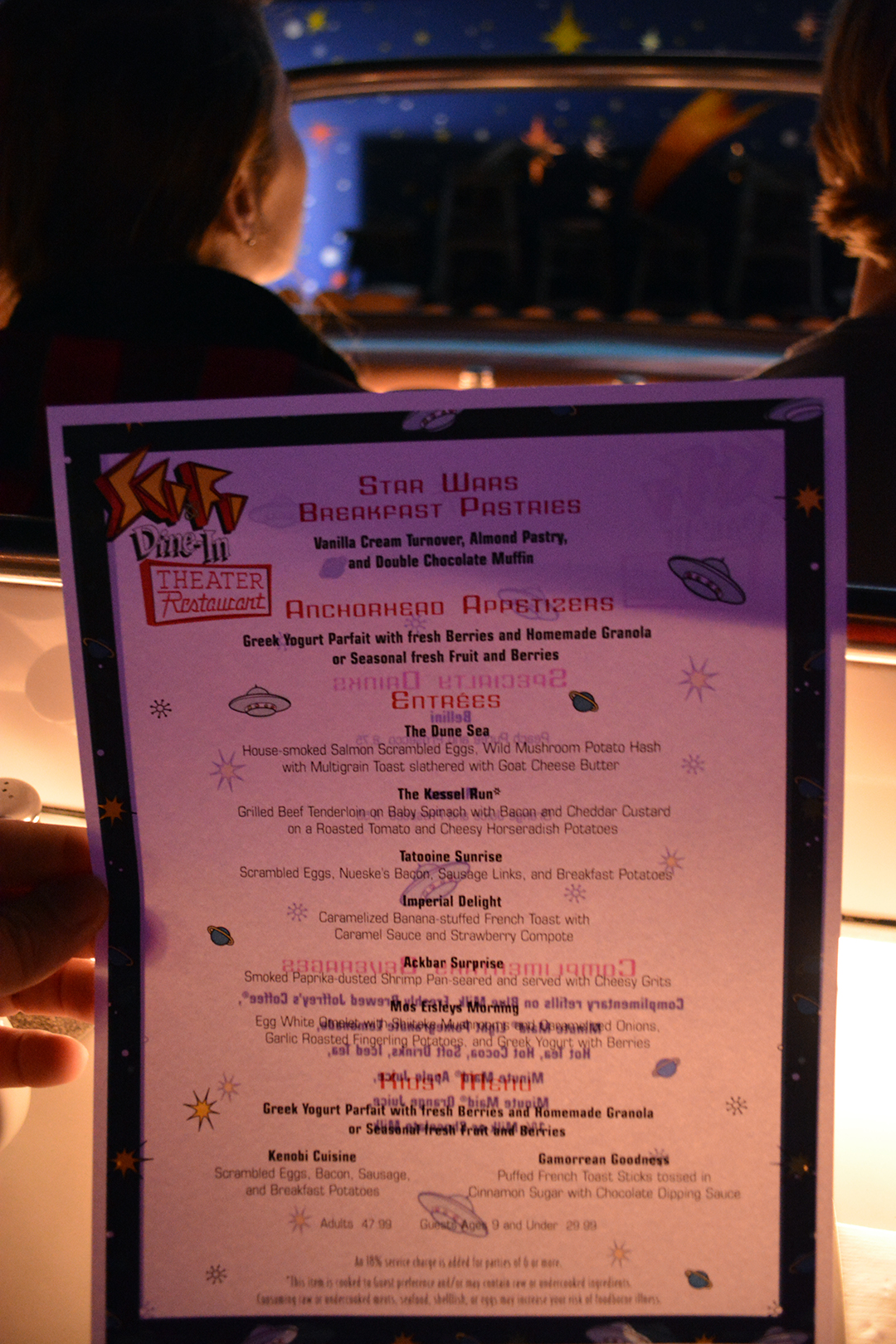 Instead of showing hokey 50's sci-fi stuff on the big screen, they are showing all sorts of clips from Star Wars movies and some funny fillers.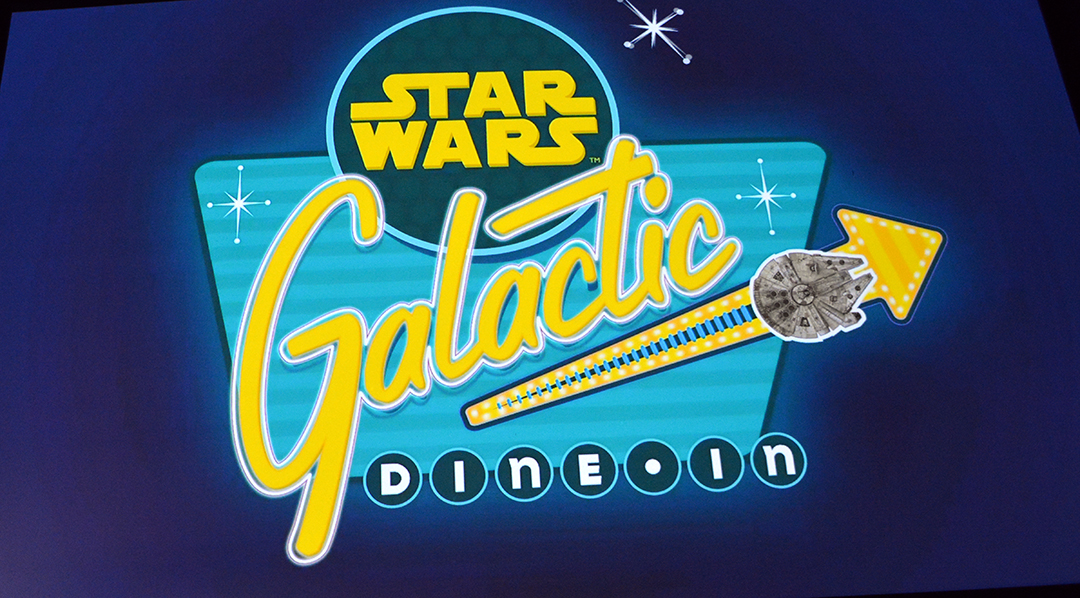 The official host of Star Wars Weekends, James Arnold Taylor, has a short clip for you.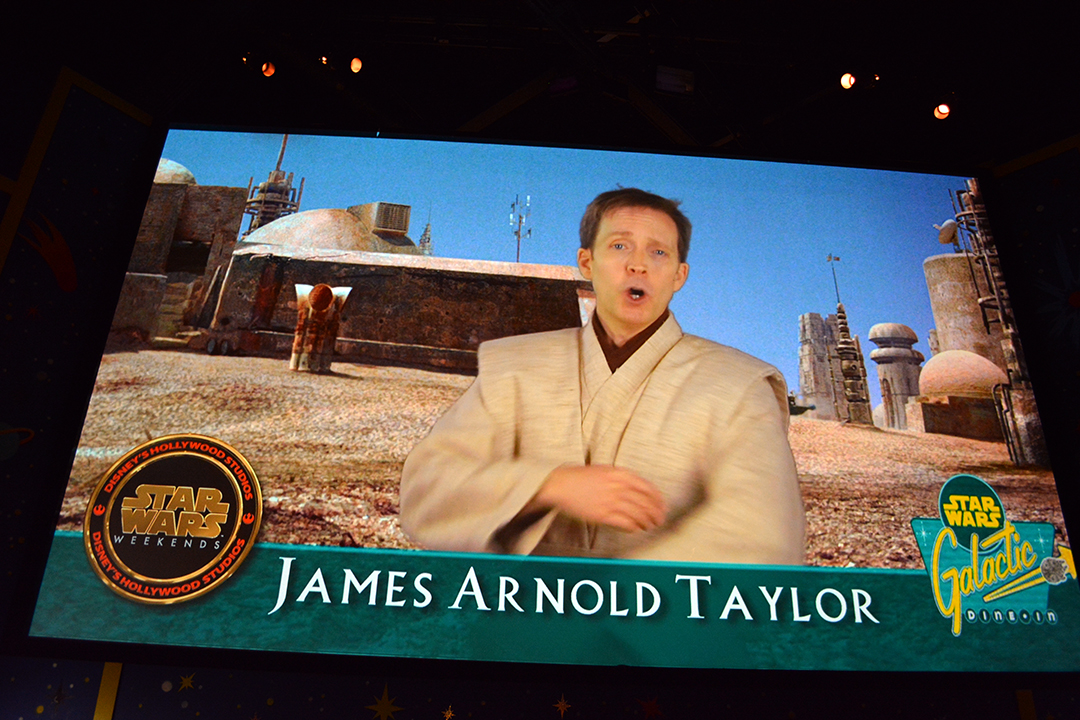 The band is tuned up and ready for the show.  Where's the Bantha Milk?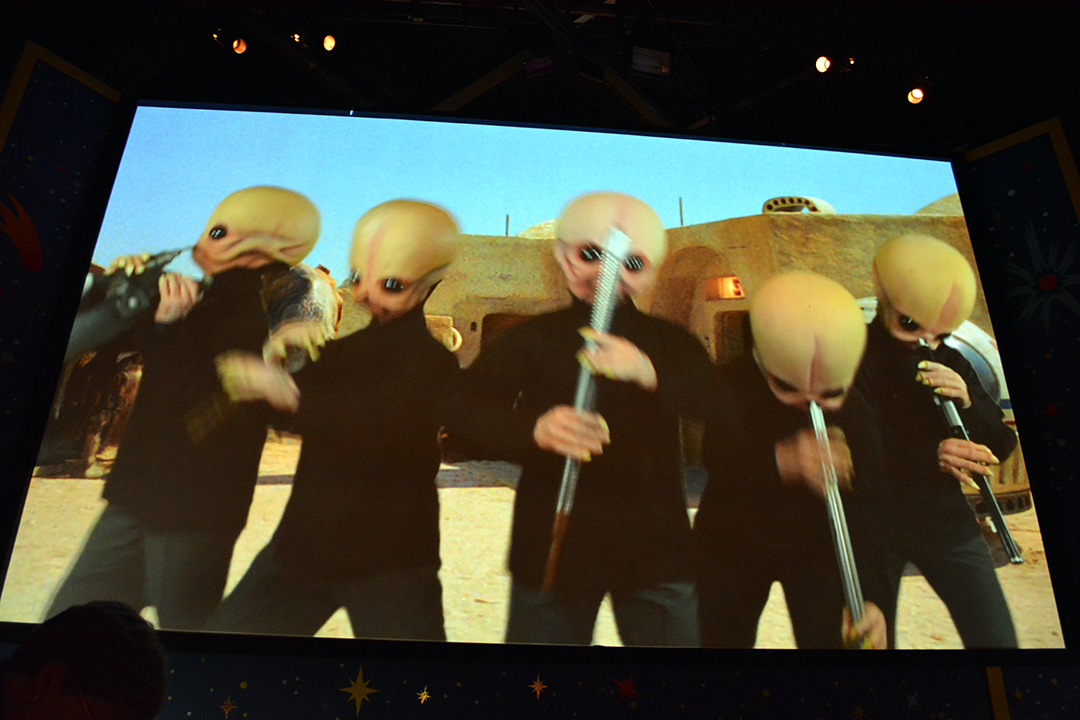 That smarty C3PO shows up for a bit.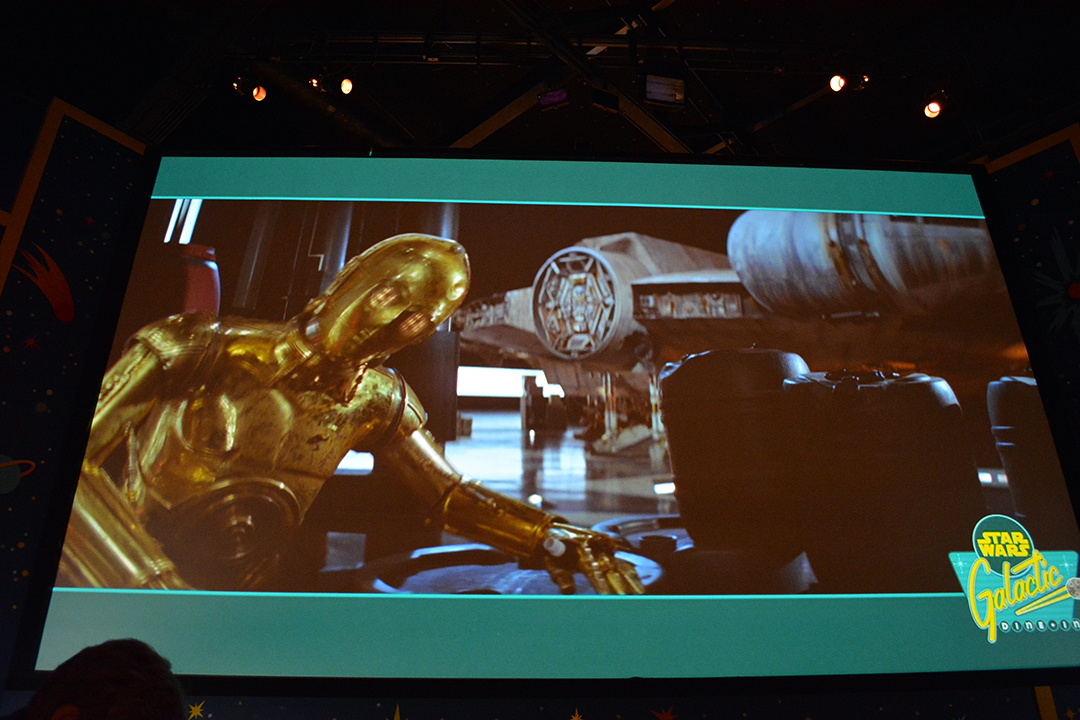 Oh, there's the Bantha Milk!  It's light blue in color and has a hint of blueberry flavor.  It was quite good and refreshing.  I tried the white, chocolate and Bantha flavors and the apple juice.  Hey, it's a $48 breakfast, I'm getting my money's worth.  Even got a Bantha Milk to go too.  Our server was super nice and did a great job by the way.  She liked my Alabama accent.  I think it's an Alabama, Georgia, Texas, Oklahoma, South Carolina and Florida hybrid though.  Not counting the many states and nations that I've visited.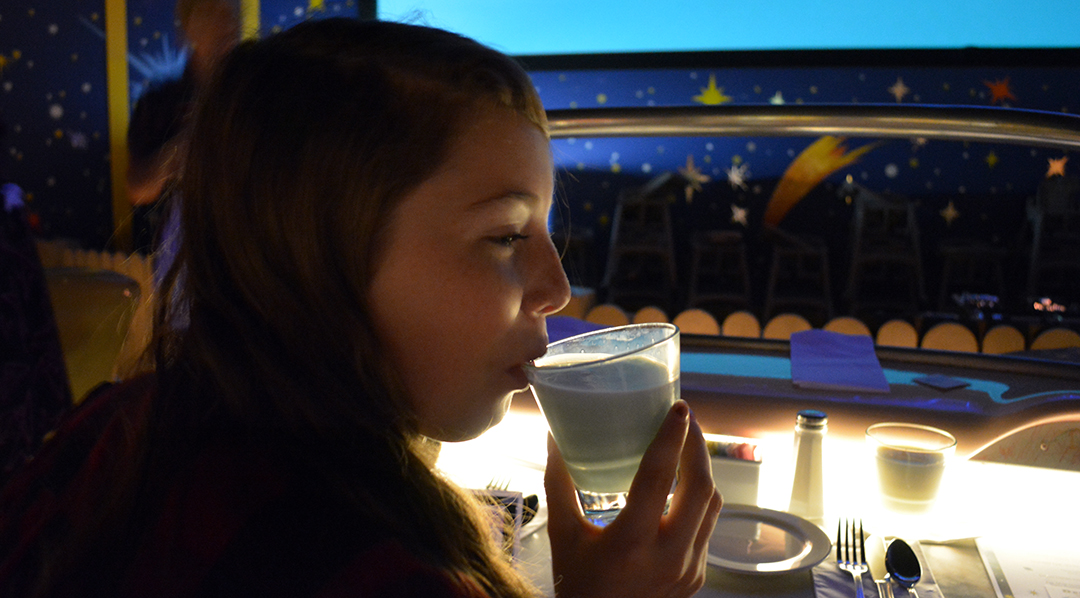 Cute little pastries begin the meal.  You can't really see them because it's REALLY dark in here.  They could be from Dunkin Donuts for all we know.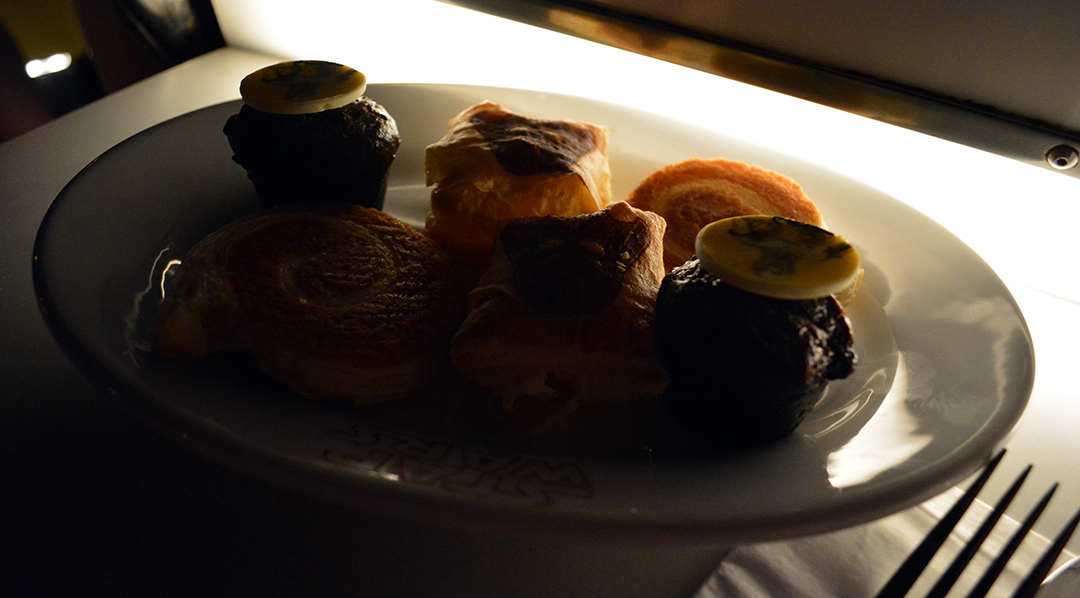 Next they bring you your choice of the Yoda fruit cup or the Yoda yogurt and fruit.  Purdy neat.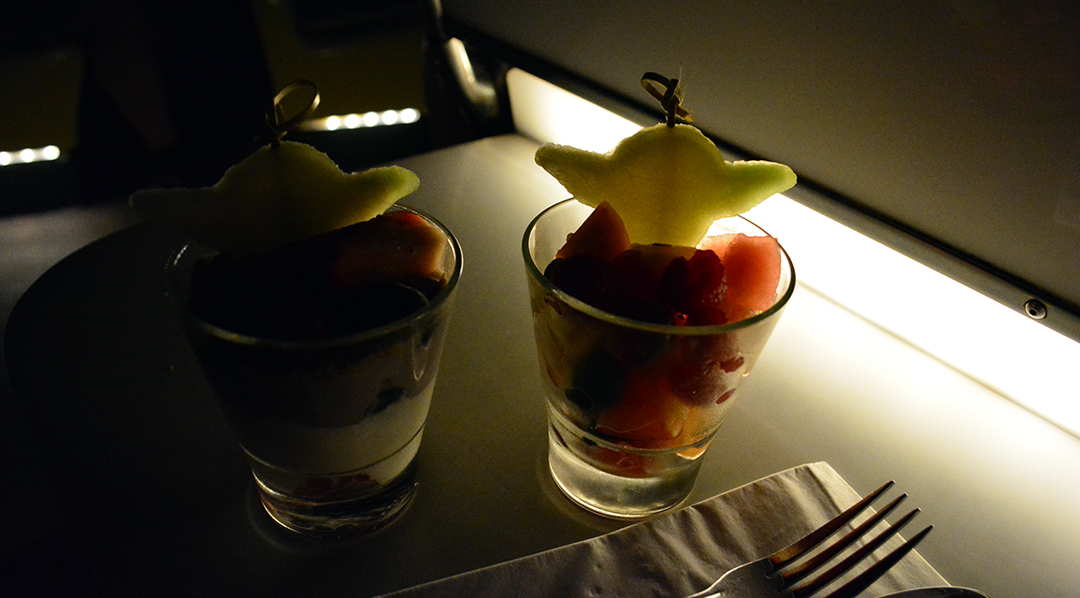 Then this guy showed up and messed up our happy time.  It was so dark in the room, that he needed me to flash some light his way to help him autograph our book.  Stormtroopers meet at the dining area.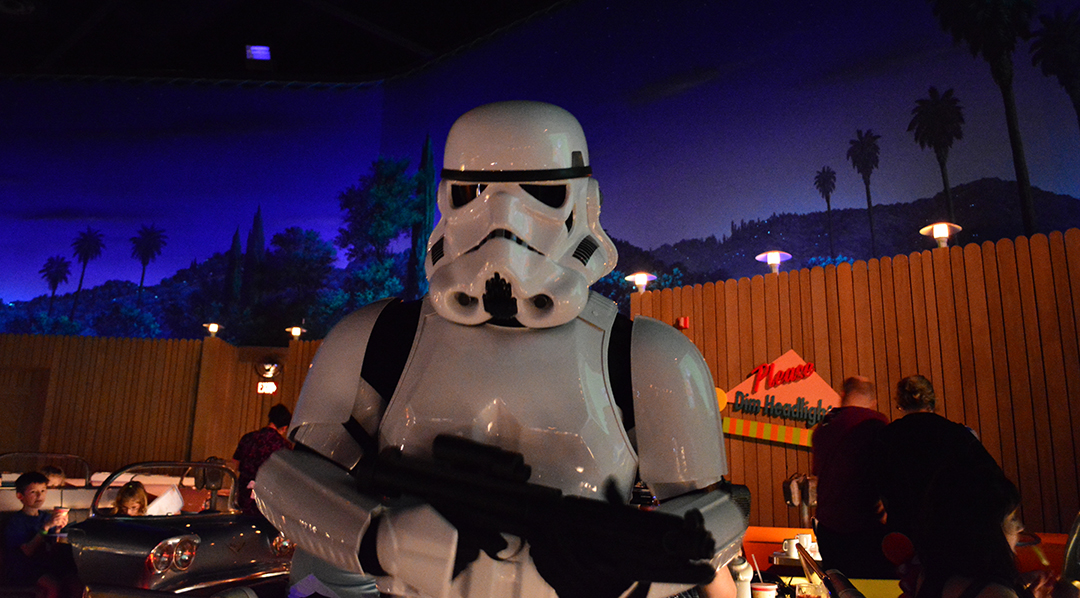 Kids are always happy to meet some Star Wars characters.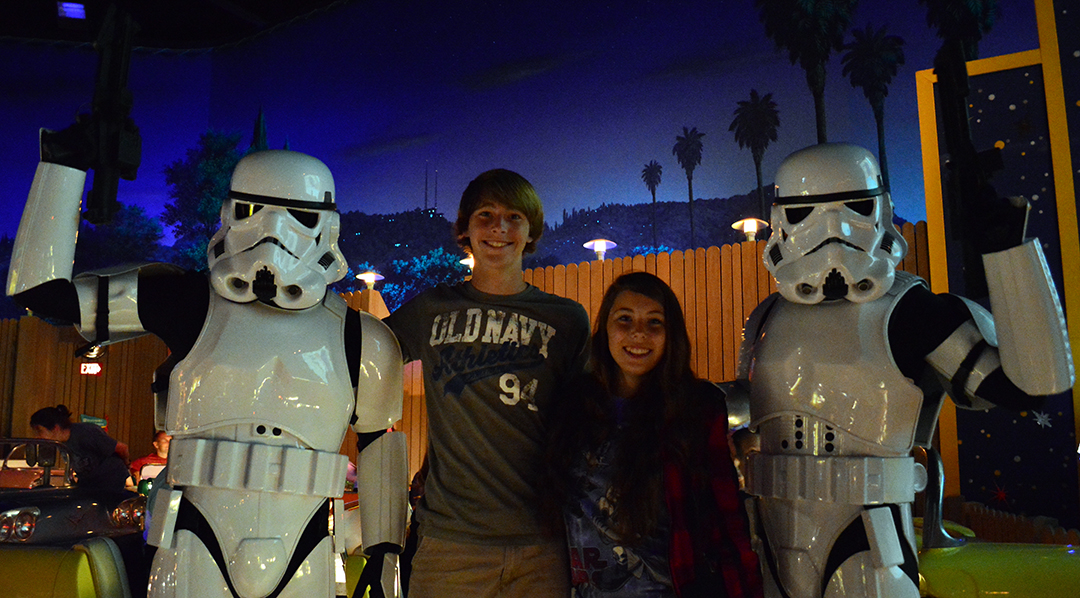 Greedo stopped by and tried to force me hand over a pastry or pay a debt or something.  I couldn't get him to sit down to discuss the situation.  Greedo meets at the dining area.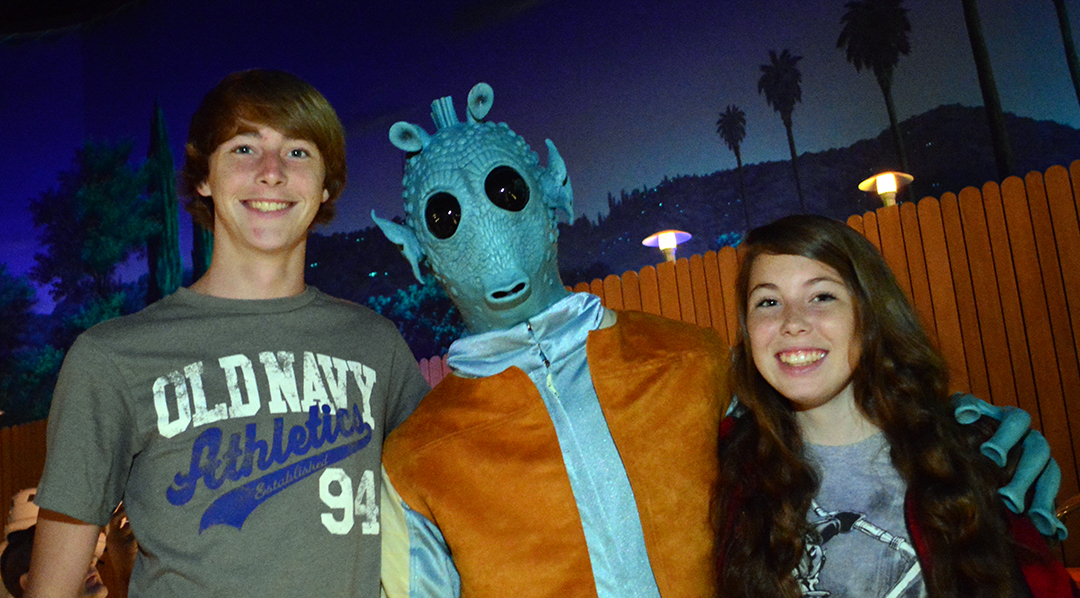 This is what it looked like with no flash and no external lighting.  Eyes are cool, but can't really see my kiddos.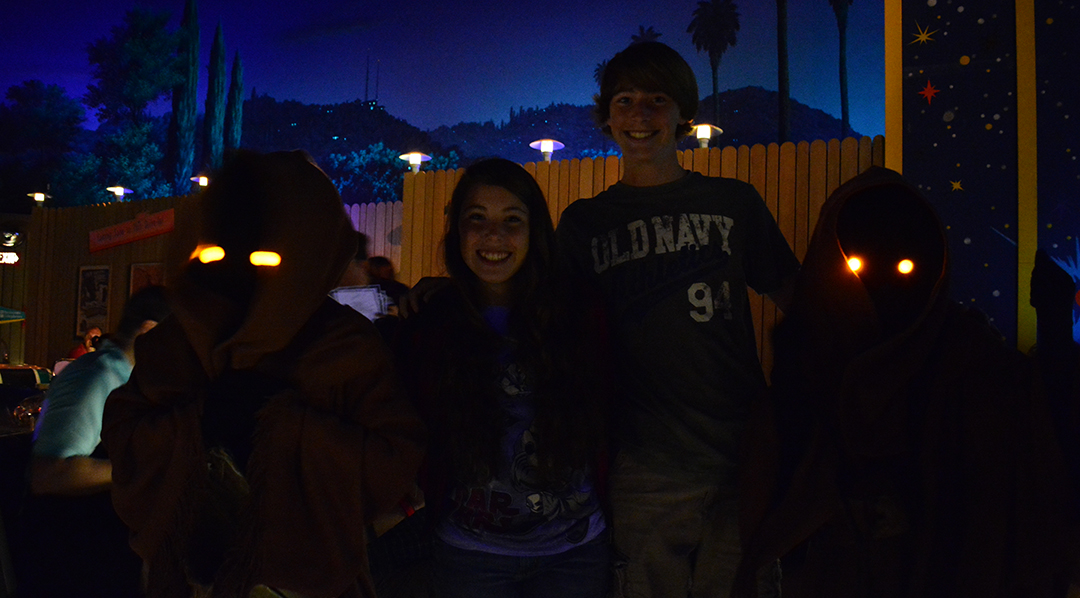 I fired up the flashlight thingy on my phone and it made it a little better. We traded the Jawas on of my Character Locator buttons for a little plastic Darth Vader head.  Losers!  We came out so far ahead in the deal.  We could sell that Darth Vader head for like 99 cents on Ebay and the button is worthless!  No one collects KtP buttons.  Jawas meet at the dining area.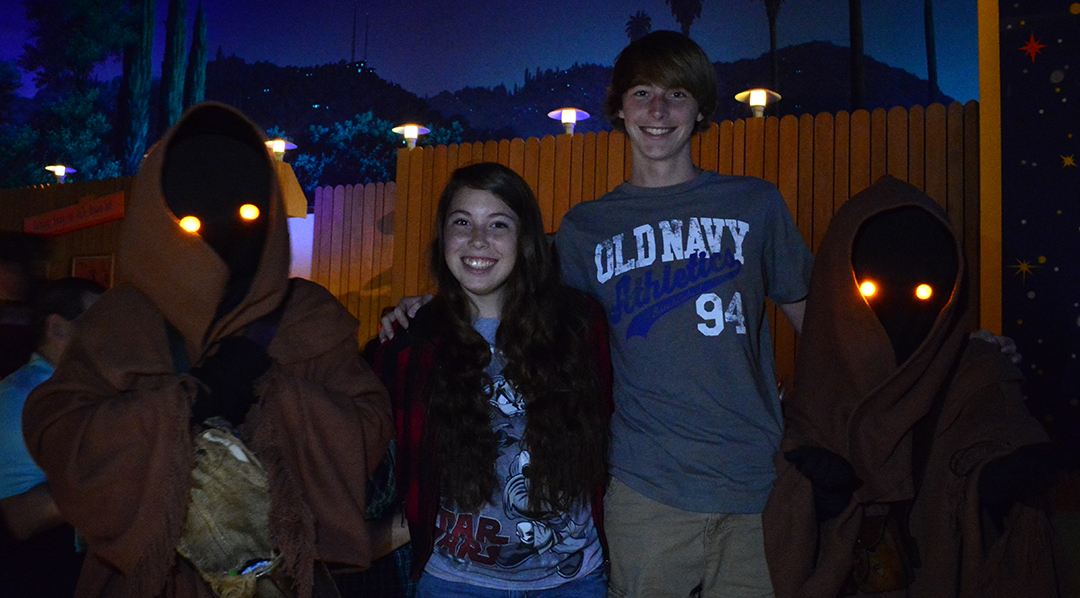 Bom, Bom, Bom…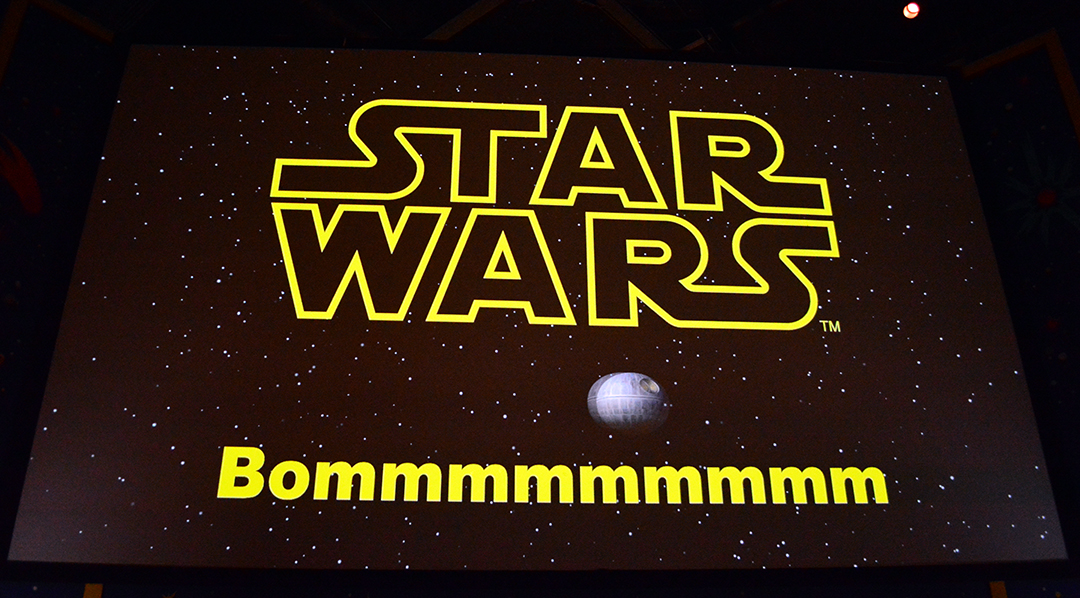 Bom, bom…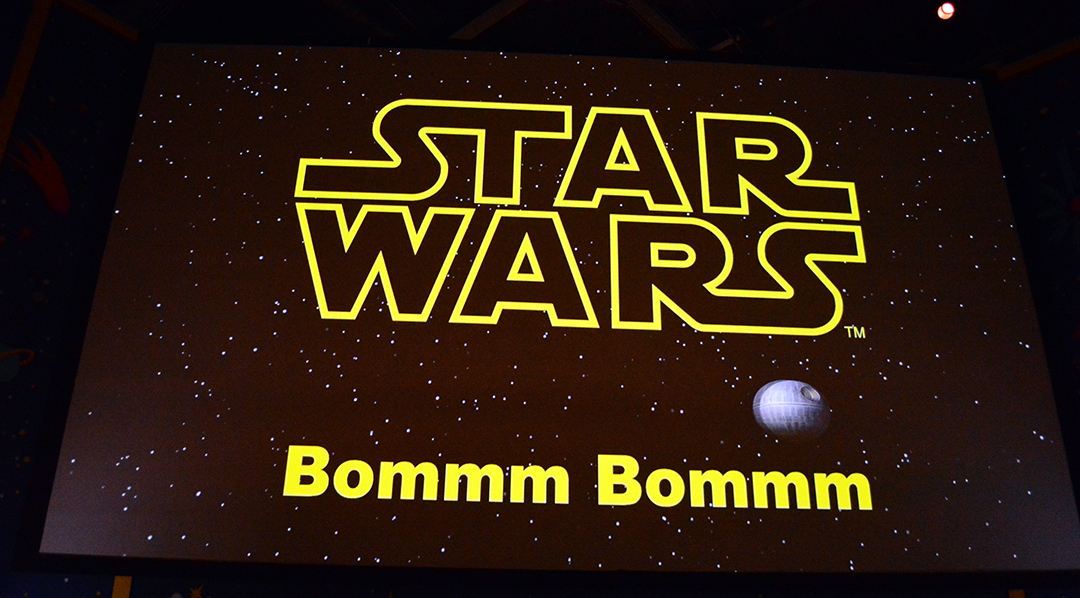 These guys came back around for a second visit because we were having too much fun.  They asked that we cut out all the smiling, laughing and drinking Bantha milk through out noses.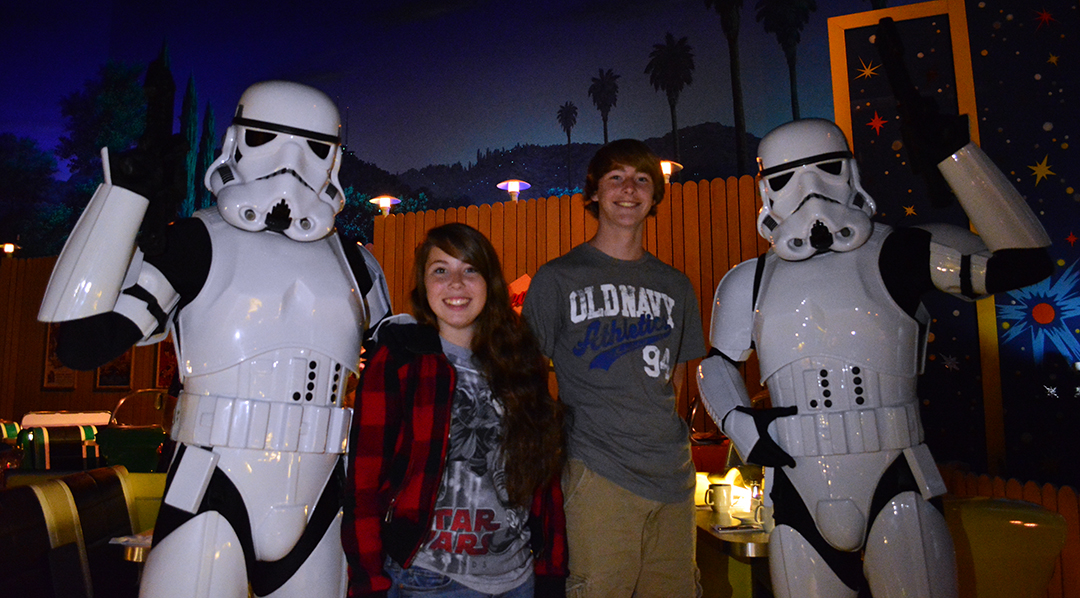 Luke, what did Obi Wan tell you about your father?  He told me that Tim Allen is my father and he is actually a toy, a T.O.Y. toy!  I am your father!  NOOOOOOOOOO!!!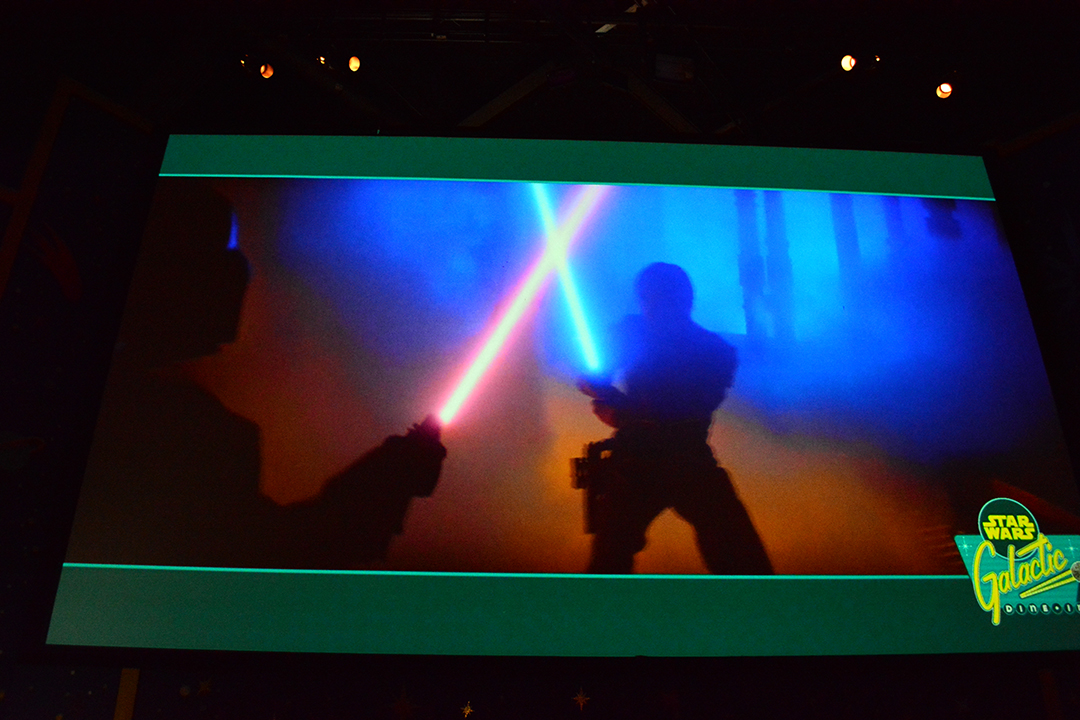 It was cool seeing some clips from this one-time tv special.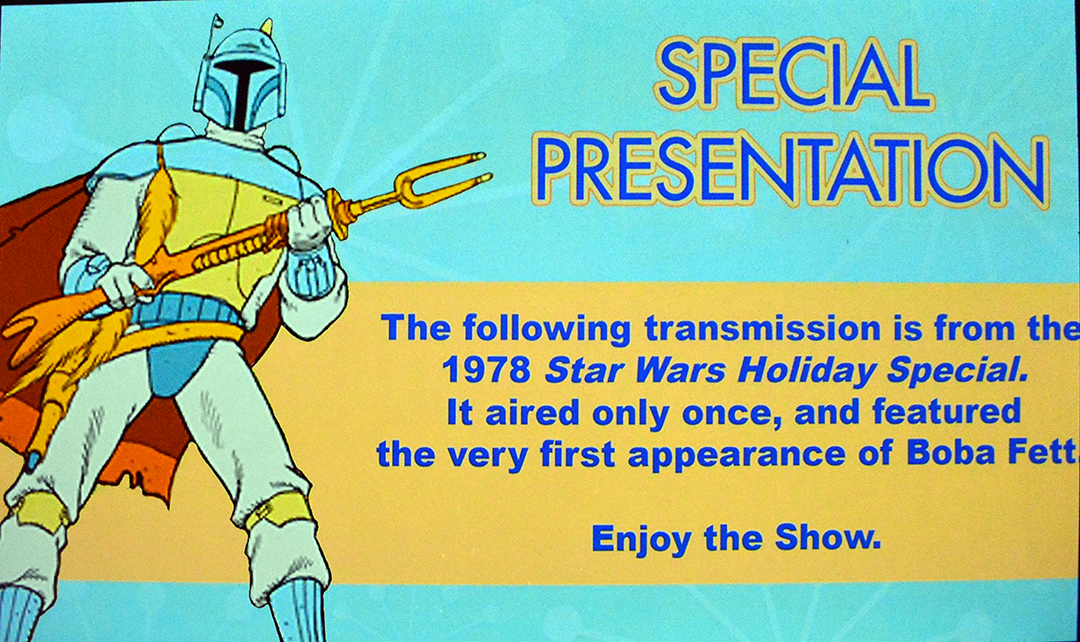 It was a bit odd seeing bad guys roam around the place collecting food and stealing people's pastries.  Okay, they don't steal the pastries, just force you to take photos with them.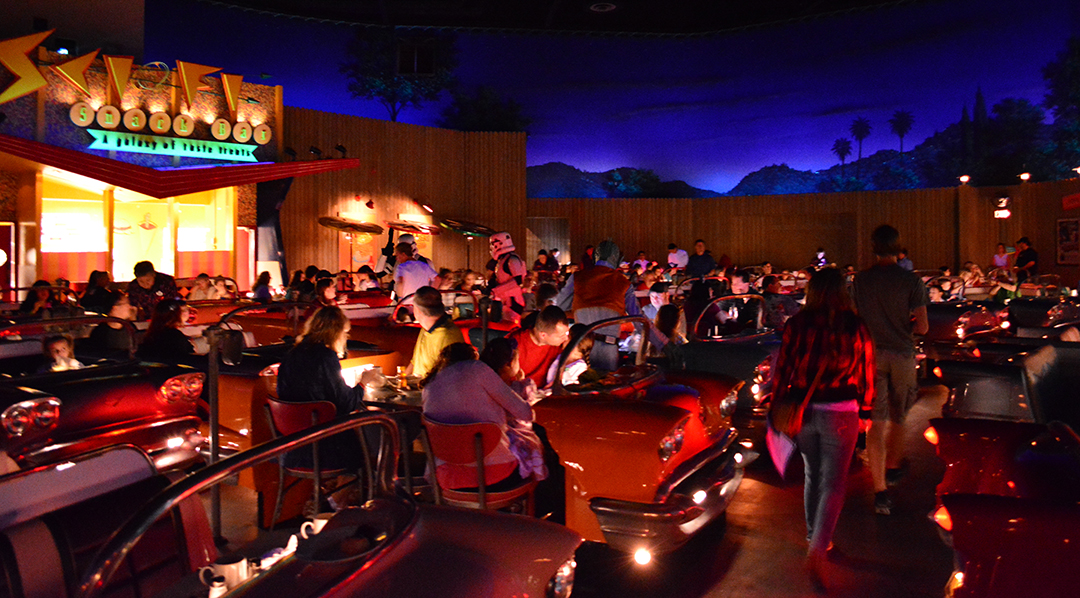 I think Greedo was trying to slurp down some eggs while the family looked the other way.  Gotta watch out for these fellas, this is a tough place.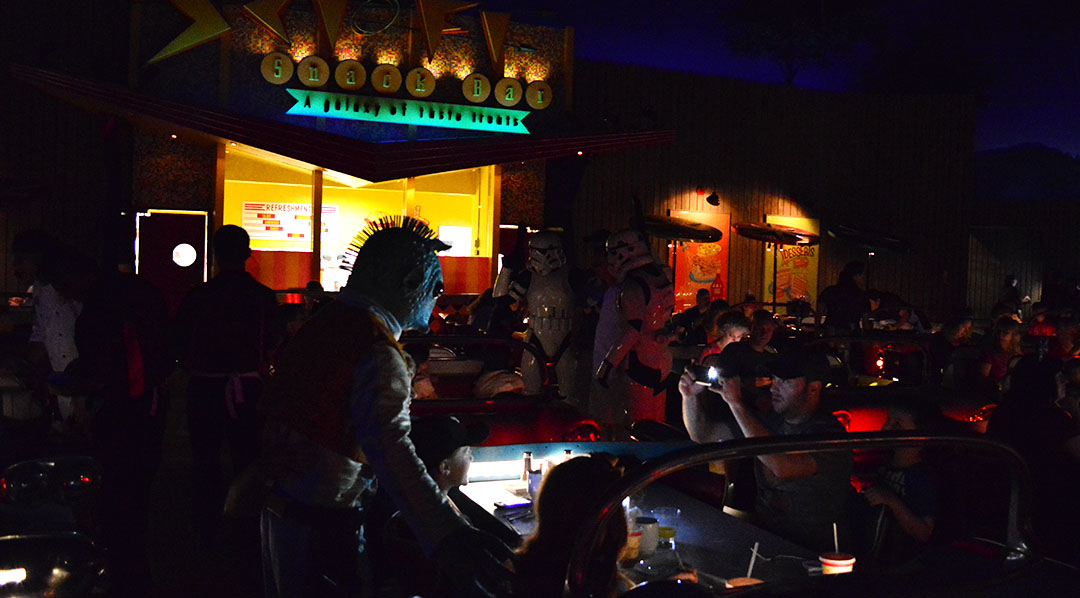 You're given a special "Driver's License" too.
Overall, we had a fun experience.  It would be an easy way to meet Darth Vader and Boba Fett, but the others at the meal are really easy to find roaming about.  I once waited FOUR times just to try to meet Boba Fett.  It was still the worst experience in all my days at Disney World.  I've waited many hours to meet Flynn Rider and Oogie Boogie, but the heat and the experience were terrible that year.
The food at the meal was tasty and hot and there was plenty of it.  The server asked if we'd like any more to eat or drink frequently.  I had to waddle out of the place.  I enjoyed the atmosphere and it made for a memorable time with my kids.  It appeared that many kids really enjoyed the Jawas, but most didn't know you can trade with them.  Can't trade cash or valuables though.  They love shiny things!
Here's the three frames that Photopass offers with the FREE Download.
Update:  Since this post released the following bonus content photos are now available for download with your special photopass card: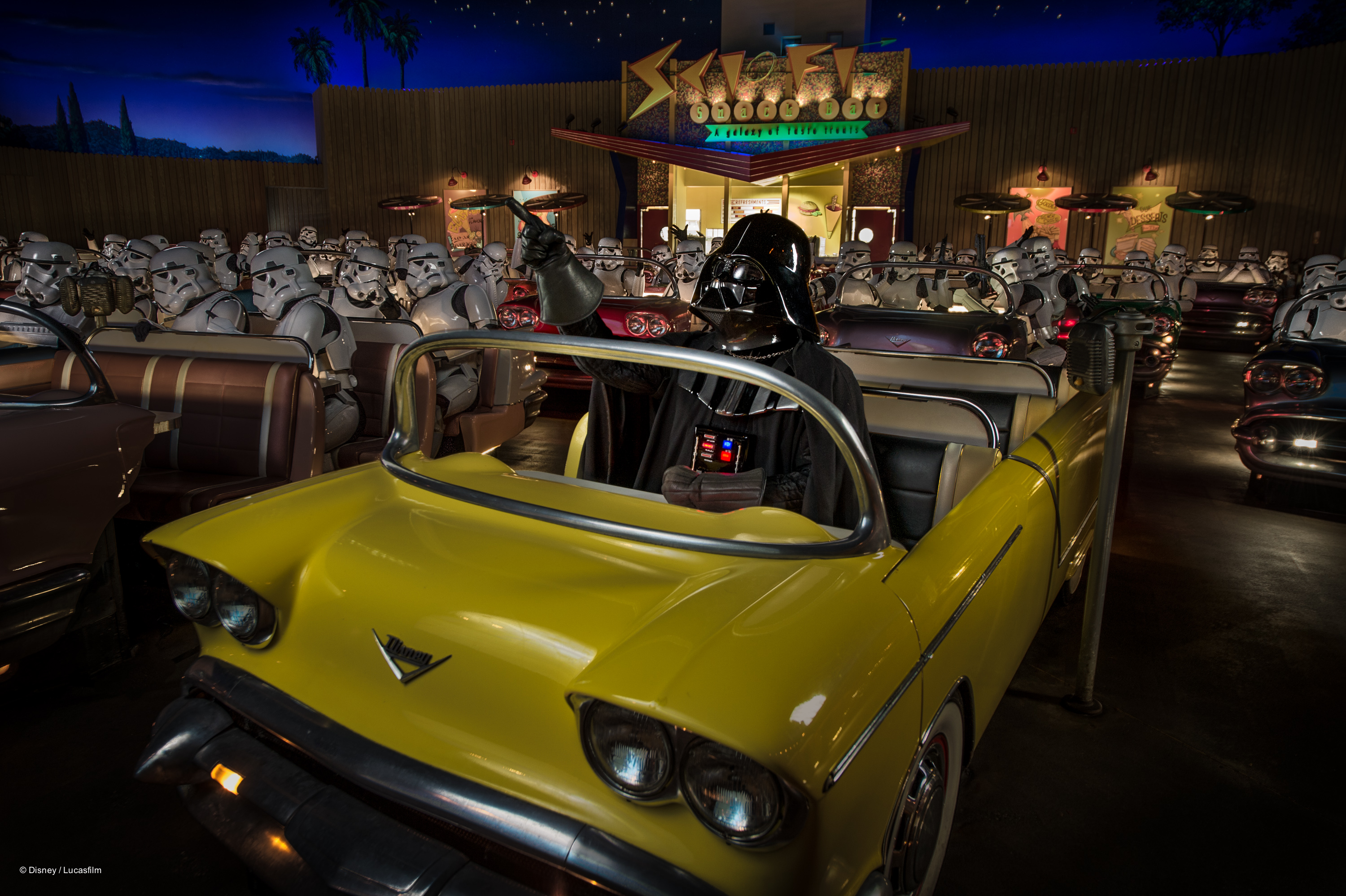 Star Wars Dine-In Galactic BREAKFAST Details:
he characters for this meal include Darth Vader and Stormtroopers, Boba Fett, Greedo and Jawas (ready to trade with you).  There will be no sci-fi movie trailers, instead they will offer clips from Star Wars movies.  The cost is $47.99 for adults 10 and up and $29.99 for children 3 to 9 years of age.    Reservations for this meal are accepted from 8:00 am until 12:00 noon.
The meal will be offer EVERY DAY from May 4 through June 15, not merely on weekends.
There are no discounts of any type on this meal.
For those using the Disney Dining Plan, each meal requires TWO Disney Dining plan credits.
What about Photopass?
Many guests use Photopass these days, so Disney has a Photopass person at the Vader and Boba meet.  Once you're inside the theater, you're on your own though.  Your server should be willing to help snap a photo, but there aren't many character attendants and no photopass inside.
The photopass photos from this meet and greet are available for Download and are FREE after dining at this meal!
Here's a photo of the photopass card that Jessin2D posted on twitter.
https://twitter.com/Jessin2D/status/462968223101906944
Do they offer a pre-arranged photo package for sale?
They didn't offer any type of pre-printed photo packages like they do at the Tusker House or Cinderella's Royal Table this morning.  They only offered the special photopass card.
Do the Star Wars characters at this meal autograph?
Yes, we were able to get autographs from all the characters at the meal.
It's dark inside
It's dark inside the theater and many guests were having difficulty getting decent shots with the characters.  You may consider bringing a small flashlight or using your camera app as I did to brighten it up a bit.  Many guests using flash found them to be very blown out.
What was playing on the screen?
It was a combination of different Star Wars movies clips, some clips from a 1978 Star Wars cartoon and some comedy insert clips.
Any questions you might have that I didn't cover?  Are you excited to try out this new meal?