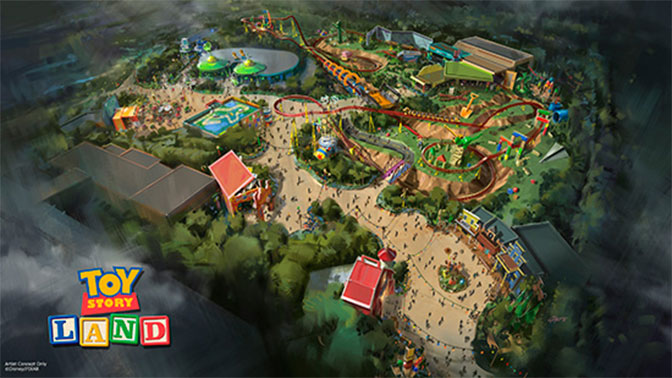 Disney just confirmed the rumors that Toy Story Land will be coming to Disney's Hollywood Studios.
Hollywood Studios expansion will "take guests to infinity and beyond, allowing them to step into the worlds of their favorite films."  Toy Story Land will be an 11 acre play zone that is set in Andy's backyard.  It will offer TWO NEW attractions!
Family-friendly roller coaster – This coaster will zip and zoom, plunge and coast as it takes guests on a thrilling, toy-filled adventure throughout the new land on the back of Slinky Dog.
Alien saucers attraction – The famous little green aliens from the movie will take guests around for a spin in their very own flying saucers.
Toy Story Mania! – Guests glide into the Toy Story Midway Games Play Set and take aim at 3D objects in a variety of fast-paced games, with an expansion that adds an additional track to this popular attraction.
Disney also stated that you'll find more character experiences!!!