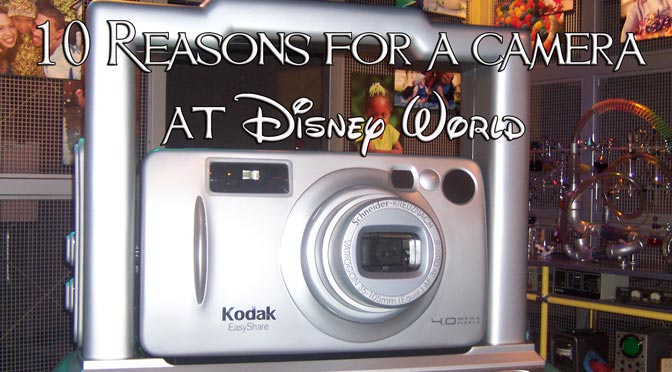 10 reasons you should bring a camera to Disney World
I've been asked a number of times if a person should bring their own camera to a Disney Park.  Many people see it as a matter of choice and may even see tugging around a heavy camera as a task that is added to the many other planning decisions.  Here's my opinion.
Yes, you should bring your own camera!  Disney offers many Photopass opportunities of which you may wish to avail yourself.   They are stationed near the major icons like Cinderella Castle, Tower of Terror, Spaceship Earth and the Tree of Life.  They even offer many special photos where little characters may appear like these that I had taken at the Mickey's Not So Scary Halloween Party.  Many prefer to use Memory Maker to save themselves money on purchasing Disney photos and the package even includes downloads of on-ride photos and some videos.
Disney photographers can do a great job of capturing your character photo and may get a special reaction that you miss because you're too into the moment.  (Some characters like Mary Poppins and Green Army Men NEVER offer Photopass and occasionally they may just be understaffed).
However, Disney photographers cannot capture catch your child's reaction to their first ride on Big Thunder Mountain or Kilimanjaro Safaris.  You should know that I invented the "Selfie" back in 2004.


Enjoying driving a "race car"

My sister-in-law's reaction to Big Thunder Montain

I invented the "selfie" in 2004!

My son's first ride on Big Thunder Mountain

Flying high over Tomorrowland

Disney photographers cannot capture your child's reaction to seeing Mickey mouse for the very first time in a parade.  It's pretty amazing to me that two of my kids had the exact same reaction when seeing him for the first time!

My son seeing Mickey for the first time a Jammin' Jungle Parade

My little girl sees Mickey for the first time in SpectroMagic

Disney photographers cannot capture your child's reaction to getting kissed by a Princess, when they didn't really enjoy that moment.

Disney photographers cannot capture your resort experience. I caught the MouseKeeper leaving our stuffed animals in a variety of positions.   One morning she left them peering out the window and another they were playing cards.  My son fell asleep with his brand new Chicken Little (we still have it) and he loved soccer, so he wanted to pose with the foosball guy.  Once when checking in, the Cast Member tied special balloons for each child.  They carried those things around for days.


Disney photographers cannot capture your experience on a given ride or at a show.  My oldest's reaction to seeing Pocahontas holding a snake a the old Pocahontas show in Animal Kingdom and my youngest's reaction to Disney Junior (when it offered Bear in the Big Blue House) and Tarzan Rocks.

Disney photographers cannot capture your child testing out some costumes before deciding what to buy.  Some times you just have to slow down and let the kids play a bit.


Disney photographers cannot capture the moment when your commando touring plan caused your kids to zonk out during Wishes :)

or fall asleep eating Pizza at the food court at the end of the night.  (You wonder why I tell you to TAKE A BREAK?  I learned the hard way, having to carry my kids all the way to the room.)

Disney photographers cannot capture the special traditions that you create with each visit.  We really miss the old horse that used to be in Hollywood Studios.  We'd take photos in all kinds of crazy poses each visit.  Oddly enough, we used to end most trips at MGM / Hollywood Studios.  The kids always enjoyed posing with Zurg "in jail" and in the Liberty Square stockade.


Disney photographers cannot capture your character meal experiences or popup characters or Character Palooza meets.  That's right, they don't show up for those things!

Many choose to use their mobile phone or tablet (please don't!) to catch these memories, but be sure you understand that the quality of the photo may be as poor as some of mine before I acquired a decent camera.  Many of my photos were blurred and had bad sun spots. It's really only possible to take good dark ride photos and fireworks photos with a quality camera.  If you're looking for an awesome and light camera that will fit in your purse, try the Sony RX100!  It takes phenomenal photos for such a small camera, even in low light.  My go to camera right now is my Nikon D5200 with a couple of different lenses.
What camera do you use in the parks?