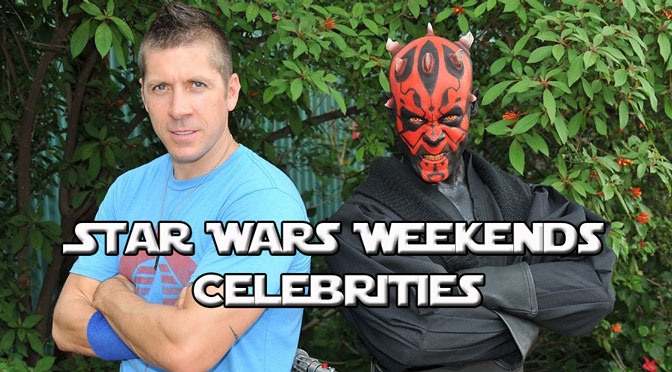 Updated 4/3/2015
These are actual humans and are not dressed in character.  They are performers from different renditions of the Star Wars saga.  In order to meet a celebrity and receive their autograph, you MUST arrive early!  The most popular celebrities have lines that begin at 5:00 am. or earlier.  You will find the lines for the celebrities on the FAR RIGHT of the turnstiles and they are clearly marked for each celebrity.
FASTPASS tickets must be obtained prior to park opening to receive an autograph.
You may only receive one FASTPASS to return to meet the celebrity per person.  Sometimes the less demanded celebrities like  James Arnold Taylor or Ashley Eckstein may still have FASTPASSES available after you receive one for another celebrity.  This FASTPASS does not count against your ride FASTPASSES.  Have your group divide up and get as many autograph FASTPASSES as possible.  They are on a first-come, first-served basis and there's no guarantee that you'll receive one.
Weekend I (May 15 – 17)
Ian McDiarmid: Senator/Emperor Palpatine (Star Wars: The Phantom Menace; Star Wars: Attack of the Clones; Star Wars: Revenge of the Sith, Star Wars: The Empire Strikes Back, Star Wars: Return of the Jedi)
Amy Allen: Aayla Secura (Star Wars: Attack of the Clones, Star Wars: Revenge of the Sith)
Tiya Sircar: Sabine Wren (Star Wars Rebels)
Weekend II (May 22 – 24)
Warwick Davis: Wald, Wicket W. Warrick (Star Wars: The Phantom Menace; Star Wars: Return of the Jedi)
Silas Carson: Ki-Adi-Mundi, Nute Gunray (Star Wars: The Phantom Menace; Star Wars: Attack of the Clones;Star Wars: Revenge of the Sith)
Vanessa Marshall: Hera Syndulla (Star Wars Rebels)
Weekend III (May 29 – 31)
Warwick Davis: Wald, Wicket W. Warrick (Star Wars: The Phantom Menace; Star Wars: Return of the Jedi)
Daniel Logan: Boba Fett (Star Wars: Attack of the Clones)
Steve Blum: Zeb Orrelios (Star Wars Rebels)
Weekend IV (June 5 – 7)
Ray Park: Darth Maul (Star Wars: The Phantom Menace)
Jeremy Bulloch: Boba Fett (Star Wars: The Empire Strikes Back; Star Wars: Return of the Jedi)
Ashley Eckstein: Ahsoka Tano (Star Wars: The Clone Wars; Star Wars Rebels)
Frank Oz: Yoda (Star Wars: The Phantom Menace; Star Wars: Attack of the Clones; Star Wars: Revenge of the Sith, Star Wars: The Empire Strikes Back, Star Wars: Return of the Jedi; Star Wars Rebels)
Ray Park: Darth Maul (Star Wars: The Phantom Menace)
Peter Mayhew: Chewbacca (Star Wars: Revenge of the Sith; Star Wars: A New Hope; Star Wars: The Empire Strikes Back; Star Wars: Return of the Jedi)
Taylor Gray: Ezra Bridger (Star Wars Rebels)