Are you looking for somewhere in Disney World to grab breakfast that is quick and easy with a unique edge? We know just the place.
Breakfast in Disney's Hollywood Studios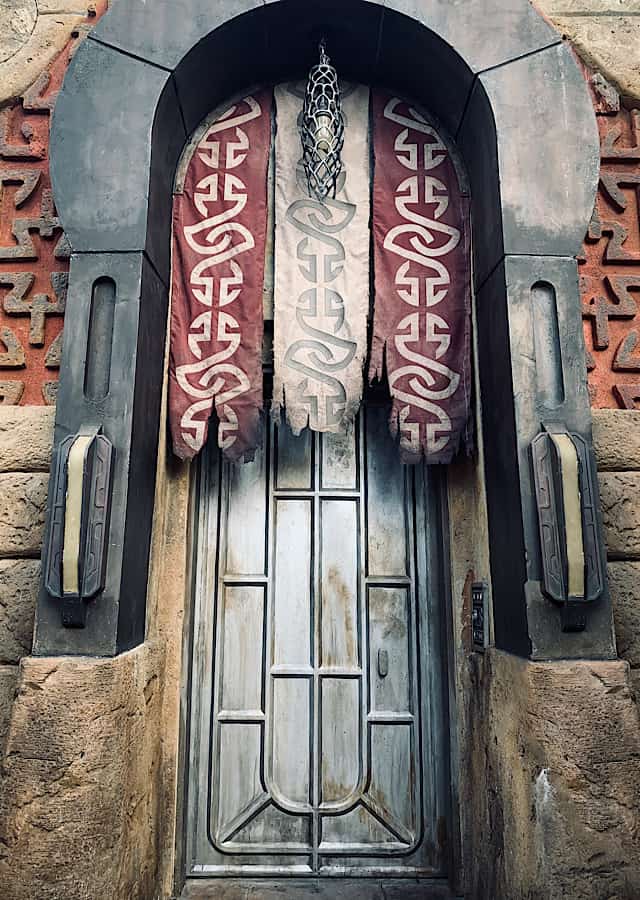 Disney's Hollywood Studios is not known for its culinary delights. However, there are some pretty good places to eat if you need something to start your day.
For example, Woody's Lunchbox is a popular choice for its Totchos, tarts, and breakfast bowls. But, did you know there is another option close by?
Ronto Roasters
If you head to Star Wars: Galaxy's Edge in Disney's Hollywood Studios, you will find some out-of-this-world dining options. One of them is Ronto Roasters.
Sink your teeth into a savory grilled sausage and roasted pork wrap at this exotic meat stall in the market! It is unique quick service dining that some people don't realize is there unless they stumble upon it.
Moreover, those who have dined there typically know you can grab a relatively unique and tasty quick-service lunch here. But did you know you can also enjoy a filling breakfast at Ronto Roasters as well? It's true! To find it, simply wander through the market and follow the smell of roasting meat! Or if you would rather not follow your nose, head to the side of the market nearest to Smuggler's Run.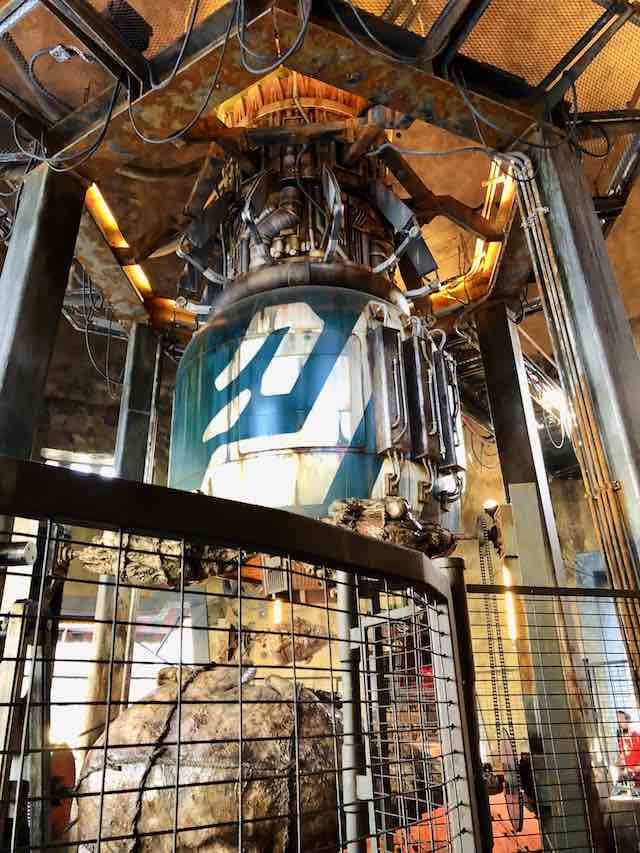 Inside, you will spot a hanging podracer engine. This engine is what the locals here use to heat up the spits of meats. A pitmaster droid turns the mechanical spit, grilling a large side of ronto—a massive beast native to the planet Tatooine.
Some travelers might find this visual a little offputting, so prepare sensitive members of your party accordingly. But, it is meant to be Star Wars-style fun!
If you find yourself feeling hungry while you are in Disney World, and you want to fuel up for a day of enjoying the parks, it is a great option. The meals are protein-packed wraps and oats, so they will keep you from crashing and help you enjoy your time in the parks.
Breakfast Menu
The breakfast menu is small but mighty. You can choose from several wraps, oats, and plant-based options.
Ronto Morning Wrap: Eggs, Grilled Pork Sausage, Shredded Cheddar, and Peppercorn Sauce in Pita Bread
Rising Moons Overnight Oats: Oats, Dragon Fruit, Yogurt, Seasonal Fruit
Ronto Wrap (also served at lunch): Roasted Pork, Grilled Pork Sausage, Peppercorn Sauce, and Tangy Slaw wrapped in Pita Bread
Triple Suns Breakfast Wrap (Plant-based) Plant-based Egg, Smoky Chickpea-Onion Slaw, and Roasted Tomato Sauce wrapped in Pita Bread
Andoan Fruit with Muja Sauce (Plant Based): Sticks of Jicama, Cucumber, Pineapple, Melon and Dragon Fruit doused in a Tamarind Sauce and dusted with Peppercorn Ash (Plant-Based)
Assorted Fountain Beverages
Bottled Water
Don't forget you can get FREE counter service cups of water at this location
Breakfast is Served!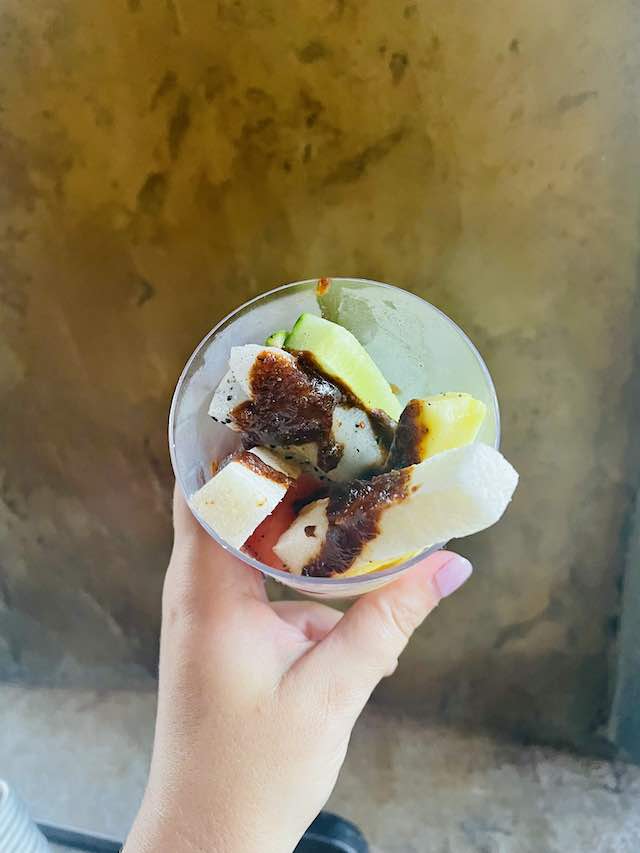 On a recent visit, my party utilized early entry, but our strategy of munching on quick and easy grocery store items for breakfast as we waited to scan in did not keep us full for as long as we had anticipated. We were hungry by the time we exited Star Wars: Rise of the Resistance.
We were not even planning to try Ronto Roasters, but when we saw and smelled it, we knew it was best to stop and grab something on the way to Smuggler's Run.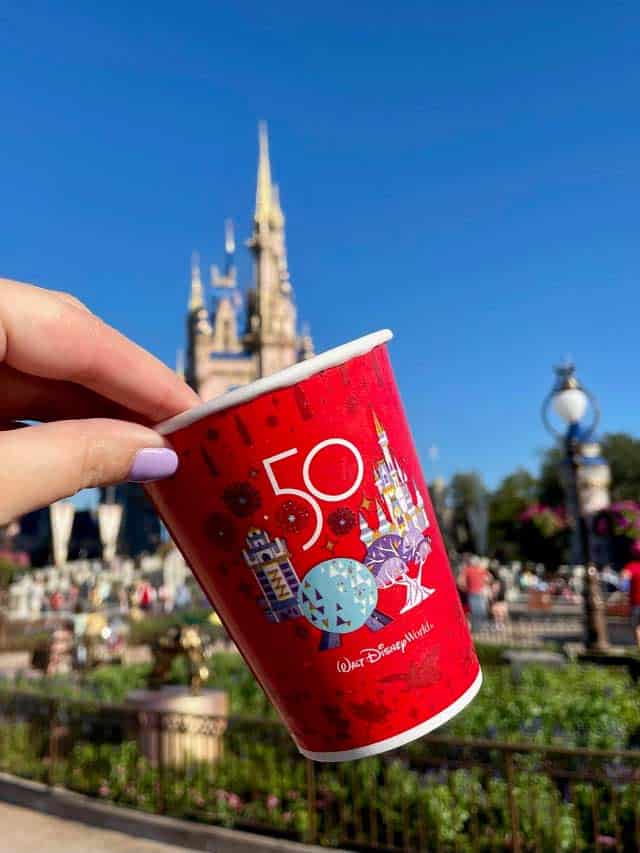 We ordered several options. ALL of them were delicious.
Plus, we really appreciate that quick service locations that offer fountain beverages also offer cups of tap water free of charge! This is one restaurant where having water cups with no lids can be a challenge as the walkway is not smooth. So, if you put the cups in your stroller's cupholders, your cup may runneth over. It is a good idea to sip it before you head out, carry it, or transfer it to a water bottle.
Ronto Morning Wrap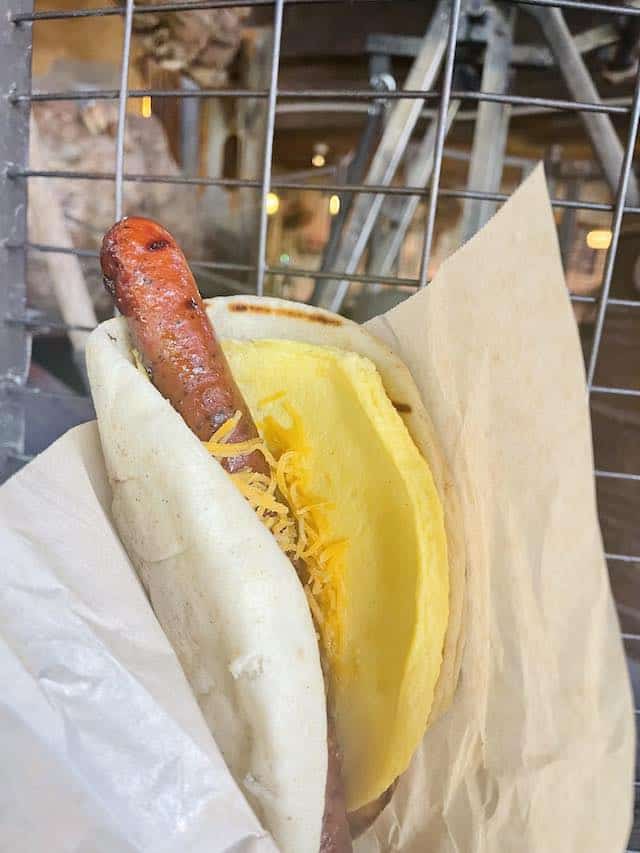 The Ronto Morning Wrap seemed a little expensive to me at first site. The price tends to hover around $12.49. But, boy did it end up being worth it.
Although it seems like it is mostly an excuse to eat a hot dog for breakfast, the general consensus was that it is unexpectedly delicious. And, it was big enough to share. Everyone in my party, adults and children alike, who eat pork agreed it was a winner.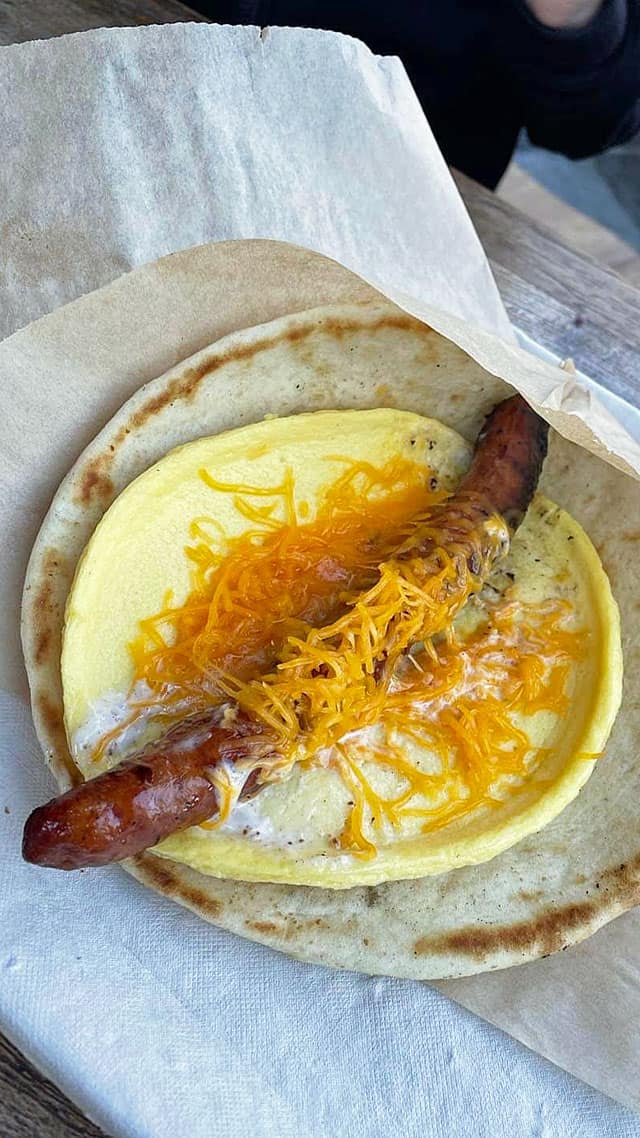 Ours was served hot and fresh. The meat was flavorful and juicy. The egg was a nice punch of protein. And the cheese and that peppercorn sauce were the perfect flavors for a great, filling treat.
Andoan Fruit with Muja Sauce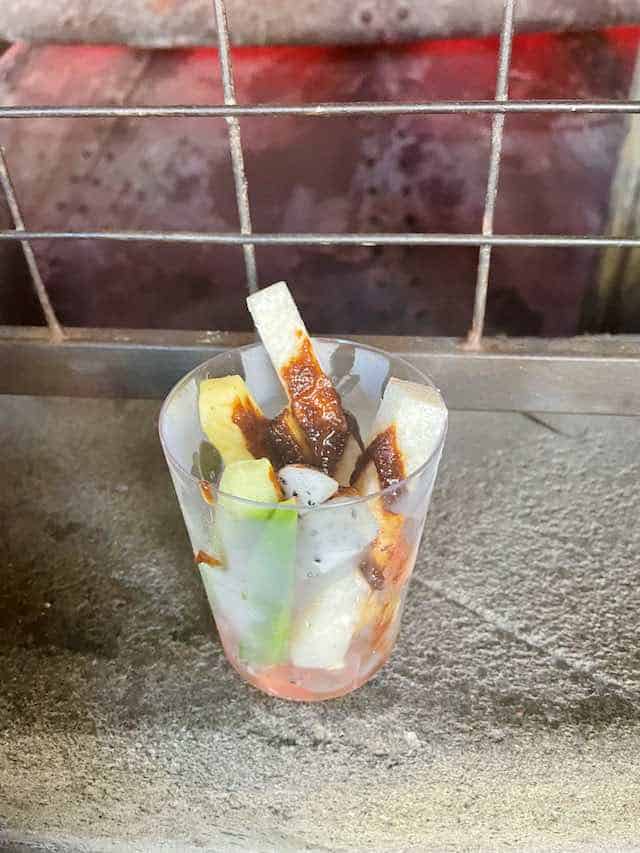 This is a chilled and refreshing treat with a hint of a kick. The fruits do indeed seem like something you would find on another planet. The jicama, cucumber, pineapple, melon, and dragon fruit are all cut into sticks, which make them easy to eat on the go.
The sauce is sweet, salty, tangy, and a little spicy, too. It did give the dish an interesting flavor profile.
Rising Moons Overnight Oats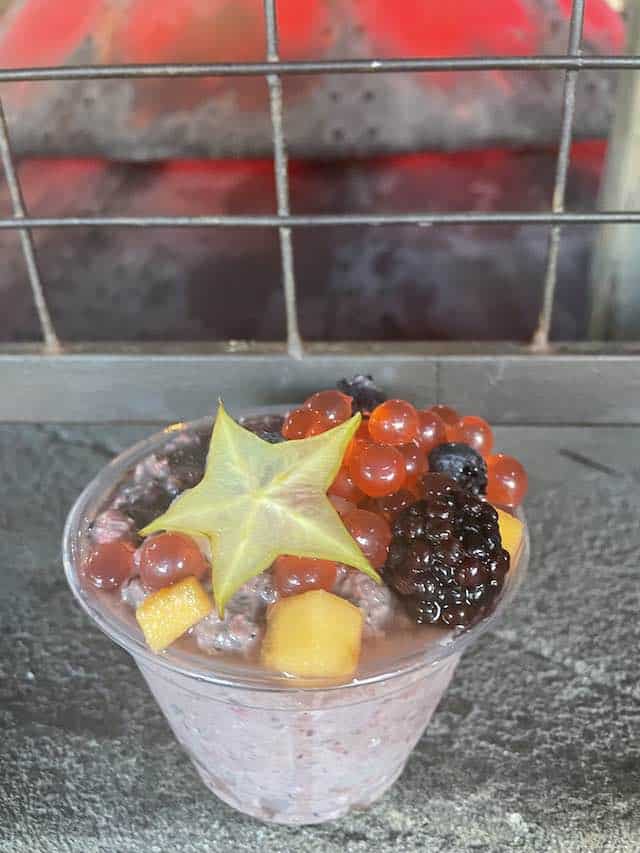 Everyone in my little family unit loves Overnight Oats except for me. However, I like THESE overnight oats. I think I like them because of the yogurt mixed in. In fact, the Rising Moon Overnight Oats is my favorite thing to eat in Galaxy's Edge.
This is a little treat that I have ordered multiple times because it is chilled, which is nice when the morning is already warm. Plus, they are a comparatively inexpensive option. The price generally fluctuates around $6.49.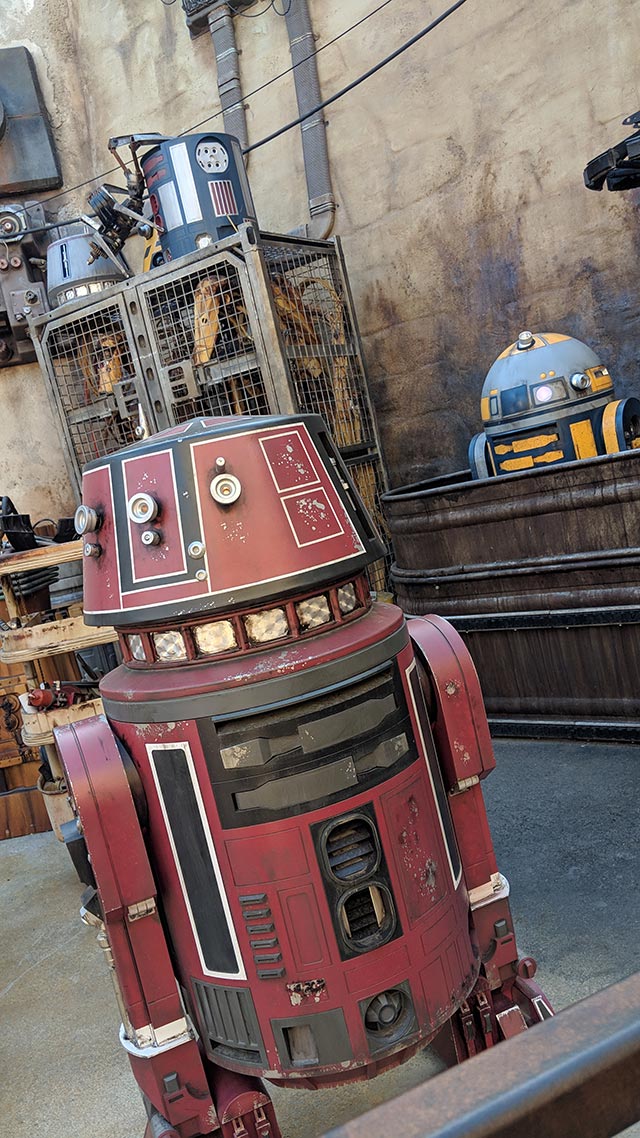 The oats are sweet, but not sugary. And the fruit is fresh and delicious. I love the dragon fruit. The seasonal fruits, of course, can vary, but I typically find they are berries and kiwi. Plus, they come topped with Boba Pearls, which is a nice treat too.
Best of all, oats are filling. So, it is a great option to get you through to the next meal.
Want More Hollywood Studios Breakfast?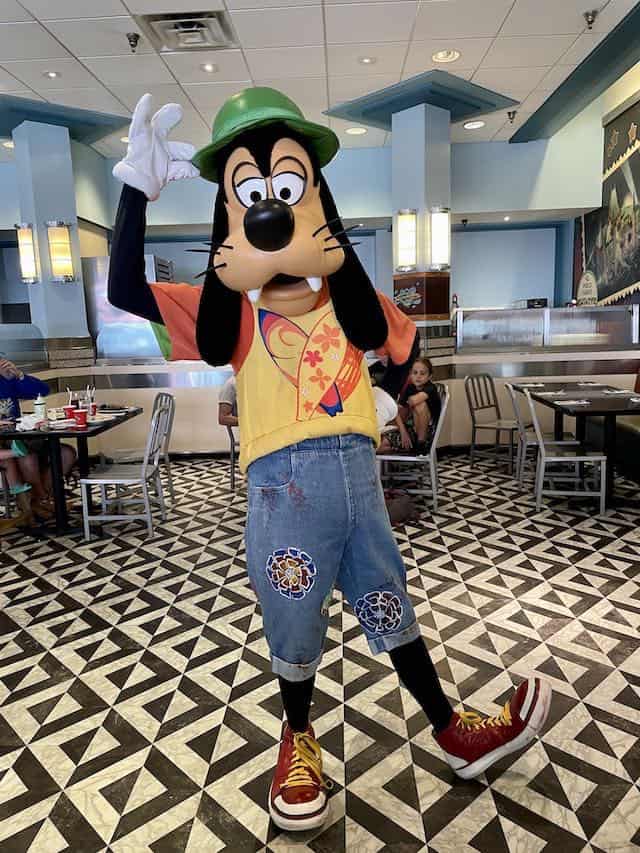 Even if you think Ronto Roasters for breakfast might not be your thing, there is probably something you will enjoy in Disney's Hollywood Studios. If you are looking for a character meal, try Hollywood and Vine. Click here for a review.
Do you know someone who is planning a trip to Walt Disney World? Be sure to pass this along in case they get hungry in Disney's Hollywood Studios! Have you ever tried Ronto Roasters? What did you think? Let us know in the comments.