Characters are signing autographs again at Walt Disney World. Here are some fun ways you can collect them.
Character Interactions are Back!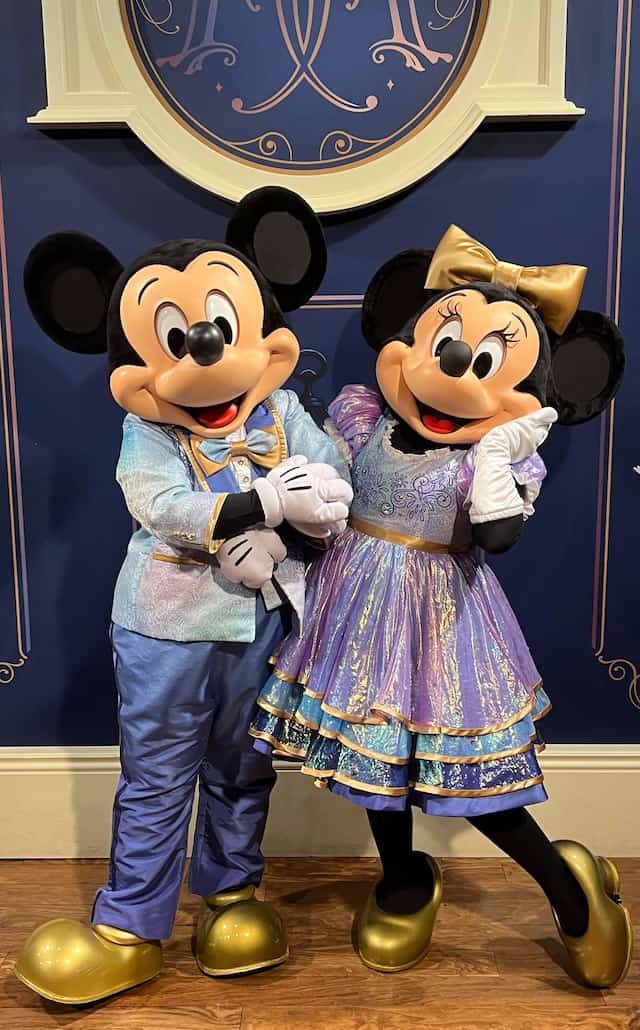 Here at Kenny the Pirate, we have all been celebrating the return of character interactions to Disney World. After all, locating characters is an entire mood. And that mood has gotten brighter and brighter now that real interactions are back.
One of the most important parts of all this is that the Disney Characters can now hug Guests again. I can't tell you what it meant to see my little one get to hug Minnie after so long. Many adults and children alike have gotten to bask in that same joy as they embraced their favorite characters again for the first time in forever.
Not only that, but interactive actions such as signing autographs are back as well. This is great news for those who love to collect signatures in addition to hugs and photos.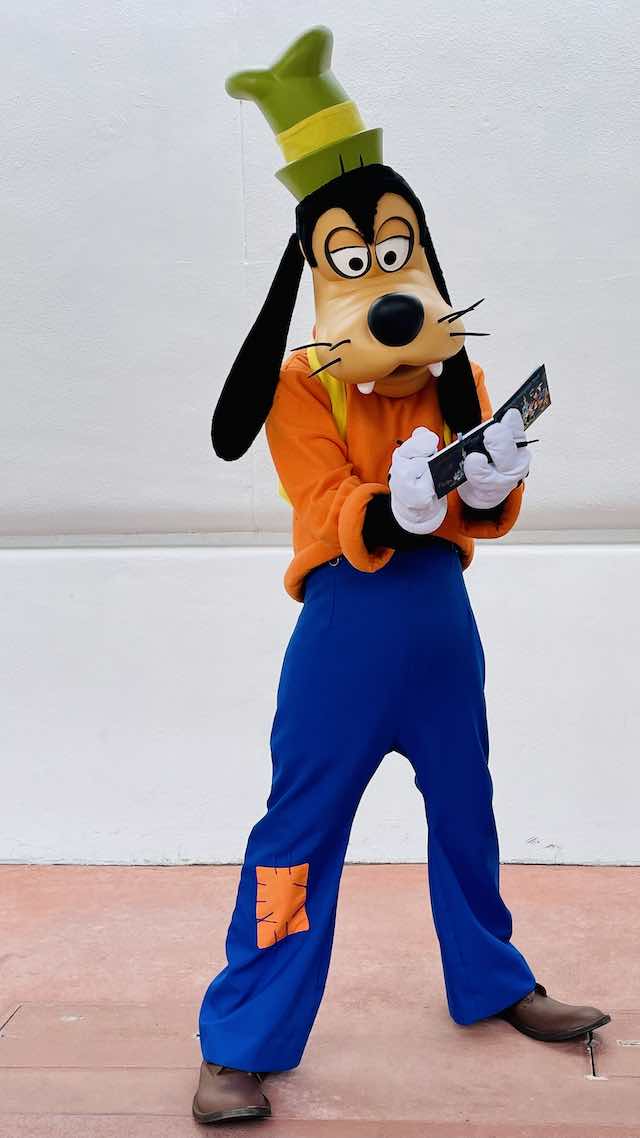 If you are planning to travel to Walt Disney World, and you want ideas for collecting character signatures outside of the standard autograph book, we are here for it. After all, what exactly does one do with an autograph book after you are done collecting signatures?
Let's take a moment and get beyond the book. Here are 5 fun ways to collect signatures that will give you something more useful than pages bound with a glossy cover.
Handbags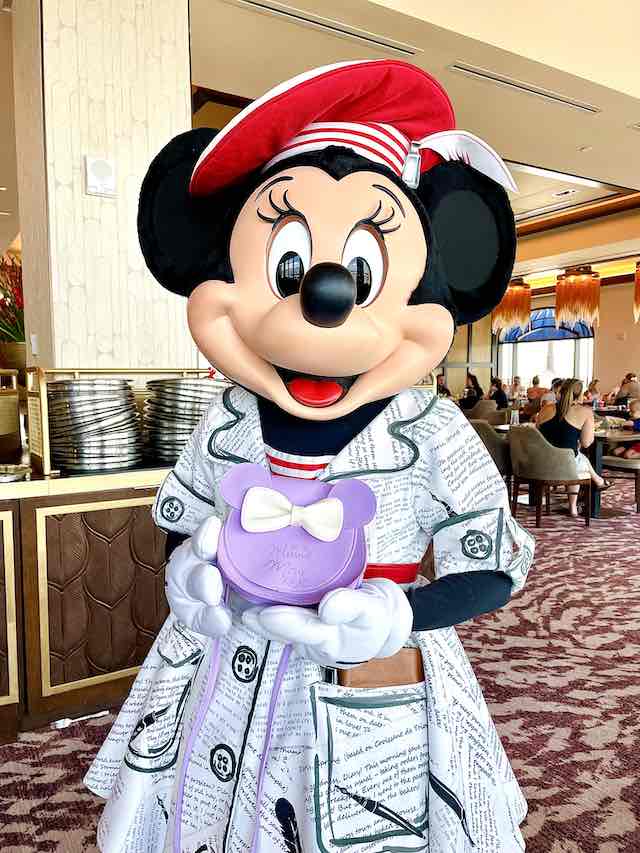 I love a good solid-colored handbag. They are perfect for pairing with an outfit to add a pop of color without overwhelming it. As it turns out, a small solid-colored handbag is also perfect for collecting autographs.
My little girl wanted a handbag to serve this very purpose. We checked Amazon and found a very inexpensive purple "toy" purse with Minnie Mouse ears and a bow. It has enough solid surfaces to be a great canvas for autographs.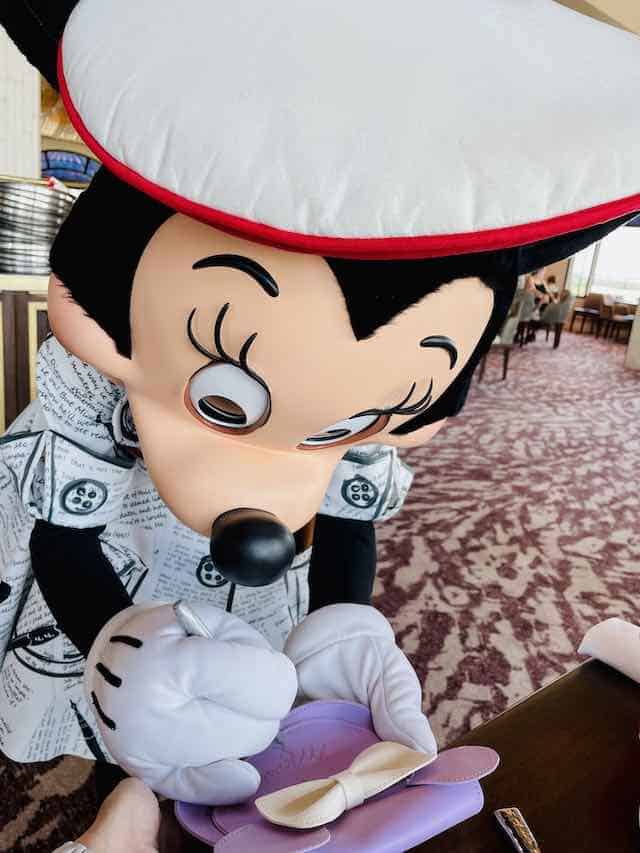 She got to put it to use quickly since she had asked for a trip to Disney for her birthday, and it happened to coincide to the return of character interactions. We were lucky to secure a Topolino's Terrace reservation. We took along her handbag and asked Mickey, Minnie, Goofy, and Daisy to sign: one on the front, one on the back, and one on each ear.
It turned out to be cute in my opinion. Silver sharpie works nicely on purple. Plus, the joy of her handing Minnie her little bag and watching as she scrawled her moniker was priceless.
Quilt Squares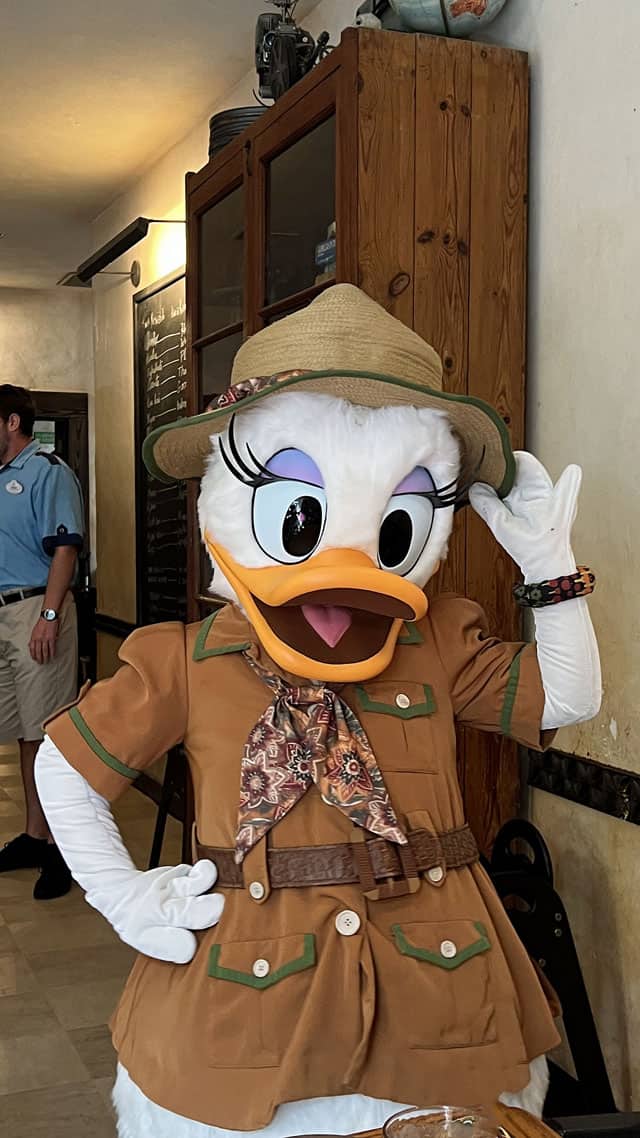 If you want a fun project to do at home while you reflect on your Disney memories, you can create a Disney memory quilt. You can start off by cutting your quilt squares to take along to the park with you. These are easier to tote around than many other items. If you want to get really creative you can iron on or sew an image of each character you plan to visit on your squares and ask the characters to put their autograph below the image.
Of course, the trick will be making sure you get enough autographs to fill the squares. If you don't, fear not! You can always put a character or maybe even the castle or one of the other park icons on your remaining squares with iron-on material and a heat press or with an embroidery machine.
Wooden Cut Outs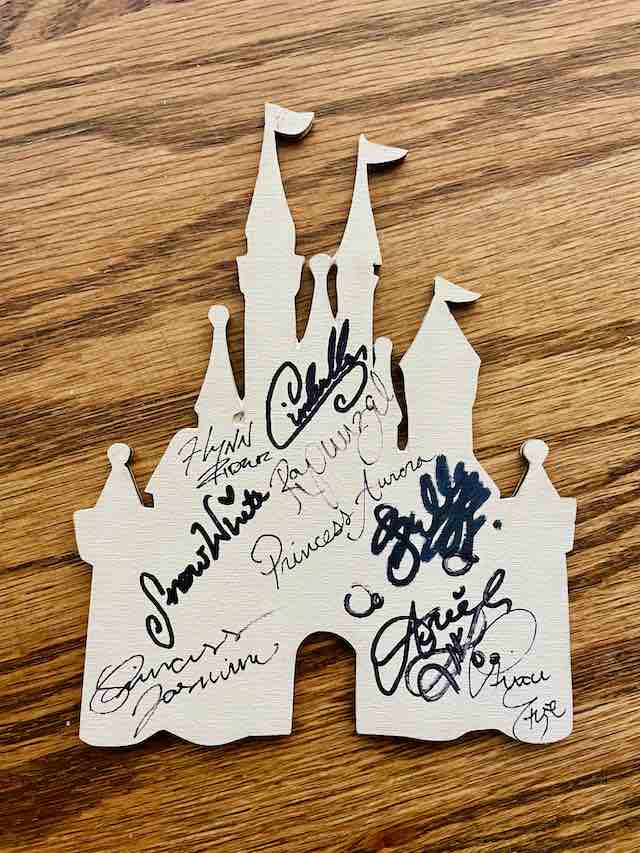 Another easy thing to carry with you is a wooden cutout. We have taken several Disney-shaped cutouts along on trips for collecting autographs. They come in plenty of shapes and sizes including Mickey and Minnie silhouettes and castle silhouettes. We turned them into ornaments and hung them on our Disney tree.
In the past, we have taken round shatterproof balls. However, they just do not pack as well and can become dented. These wooden cutouts seem to hold up much better, especially the Mickey-shaped ones.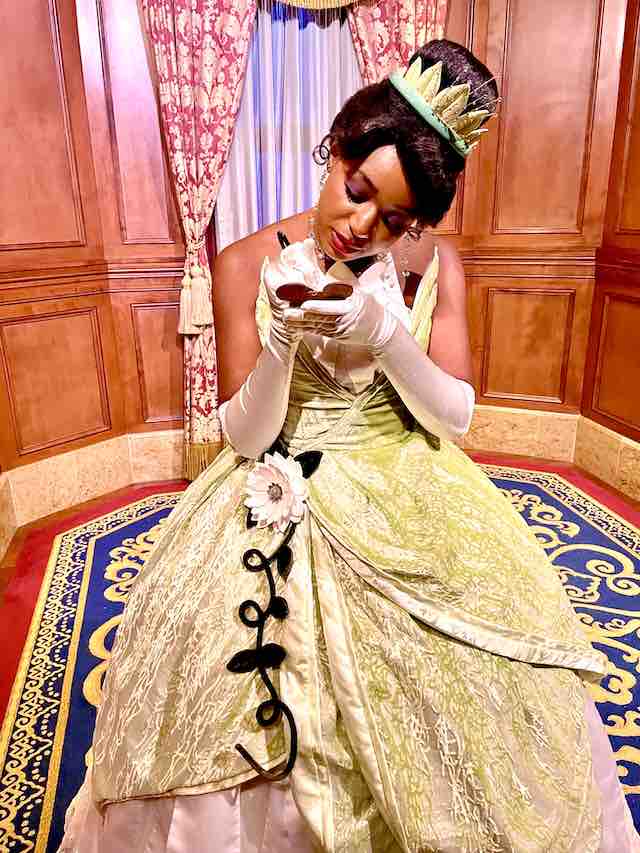 We found these particular cutouts on Etsy. You can purchase them unfinished and paint them in any color you desire. Some makers will stain them if you prefer. You can get them with little holes drilled in them for hanging if you wish for them to be ornaments.
If you prefer, you can order them with no holes and glue them to picture frames or put magnets on the back and use them on your fridge. Let your imagination plan!
Blank Ear Headbands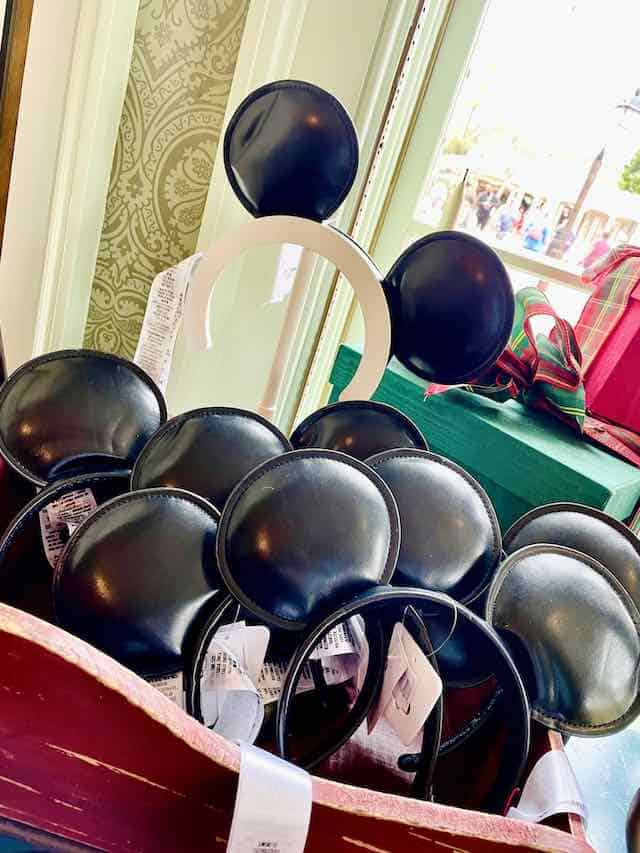 Another fun idea is to purchase a set of blank or solid-colored Mickey or Minnie Mouse Ears for characters to sign. You can find blank black ears in Walt Disney World right now. This particular set was at Ye Olde Christmas Shoppe. These will work well with metallic sharpies or paint pens.
It is also possible to order solid white ears or other solid light-colored ears with smooth textures from various Etsy shops. If you would like a lighter color or a bow, this might be a better option for you. They work with just about any sharpie.
Little Golden Books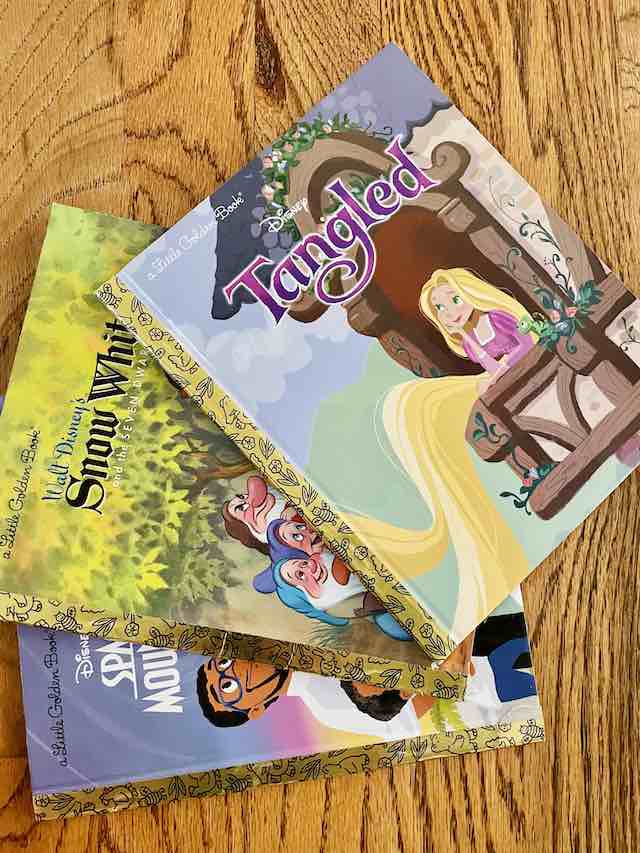 My little ones collect Little Golden Books. They love to read them and love the way they look on the bookshelf with their sparkly spines. They are also flat and light and easy to pack so that we have something to read before bed even while we are on vacation.
Not only do these books make great bedtime stories on our trips to Walt Disney World, but they also serve another fun purpose. They make a great way to collect autographs! You can have a book signing during your vacation. It is fun to find a book that features multiple characters and get as many of the characters to sign it as possible. For example, Mickey and the Roadster Racers: Gone Fishing features the Fab 5.
Cinderella's book is a great choice for multiple autographs too since you can currently visit her as well as the stepsisters. I am set on getting a Snow White and the Seven Dwarves book and taking it on a visit to Artist's Point Storybook Dining to get Snow White, Dopey, Grumpy, and the Queen's autographs.
Do you know anyone who is planning a trip to Walt Disney World who would LOVE to use one of these ideas? Be sure to share this post so that they can get in on the fun. Also, feel free to leave your own thoughts and ideas in the comments.