We dined at Roundup Rodeo BBQ on opening day! Read our full review and thoughts here.
Restaurant Details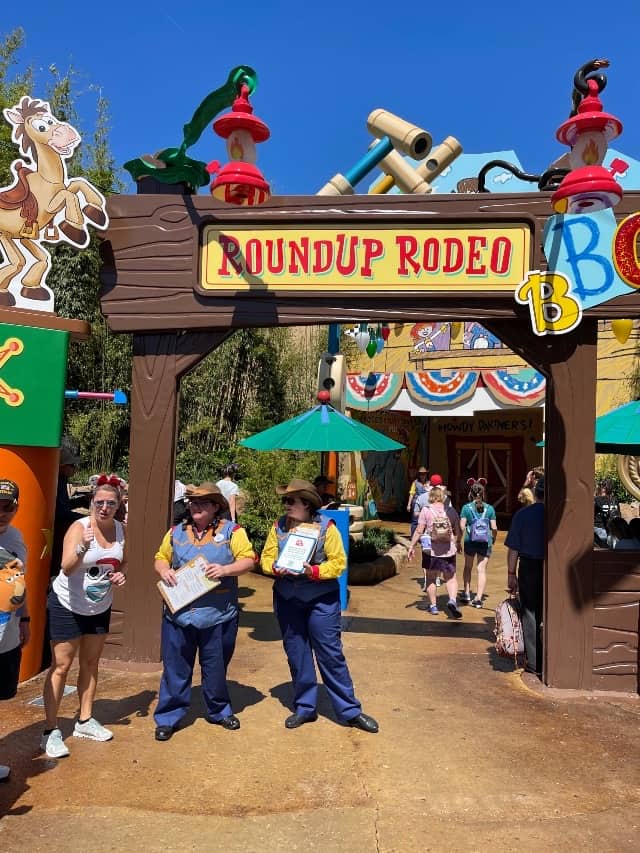 Roundup Rodeo BBQ is a BRAND NEW restaurant that opened today, March 23, 2023. This is a table service restaurant for Hollywood Studios and the very first table service offering in Toy Story Land. Since the opening of Toy Story Land in 2018, guests have clamored that the land was very hot, lacked shade, and was in desperate need of more dining options.
The current quick service location, Woody's Lunch Box, is not big enough to serve the seating needs for guests. Even with the additional seating added to the space, a table service option was definitely needed to add capacity to Toy Story Land. Roundup Rodeo BBQ has been long awaited and we were so excited to give it a try on opening day!
Menu Offerings and Pricing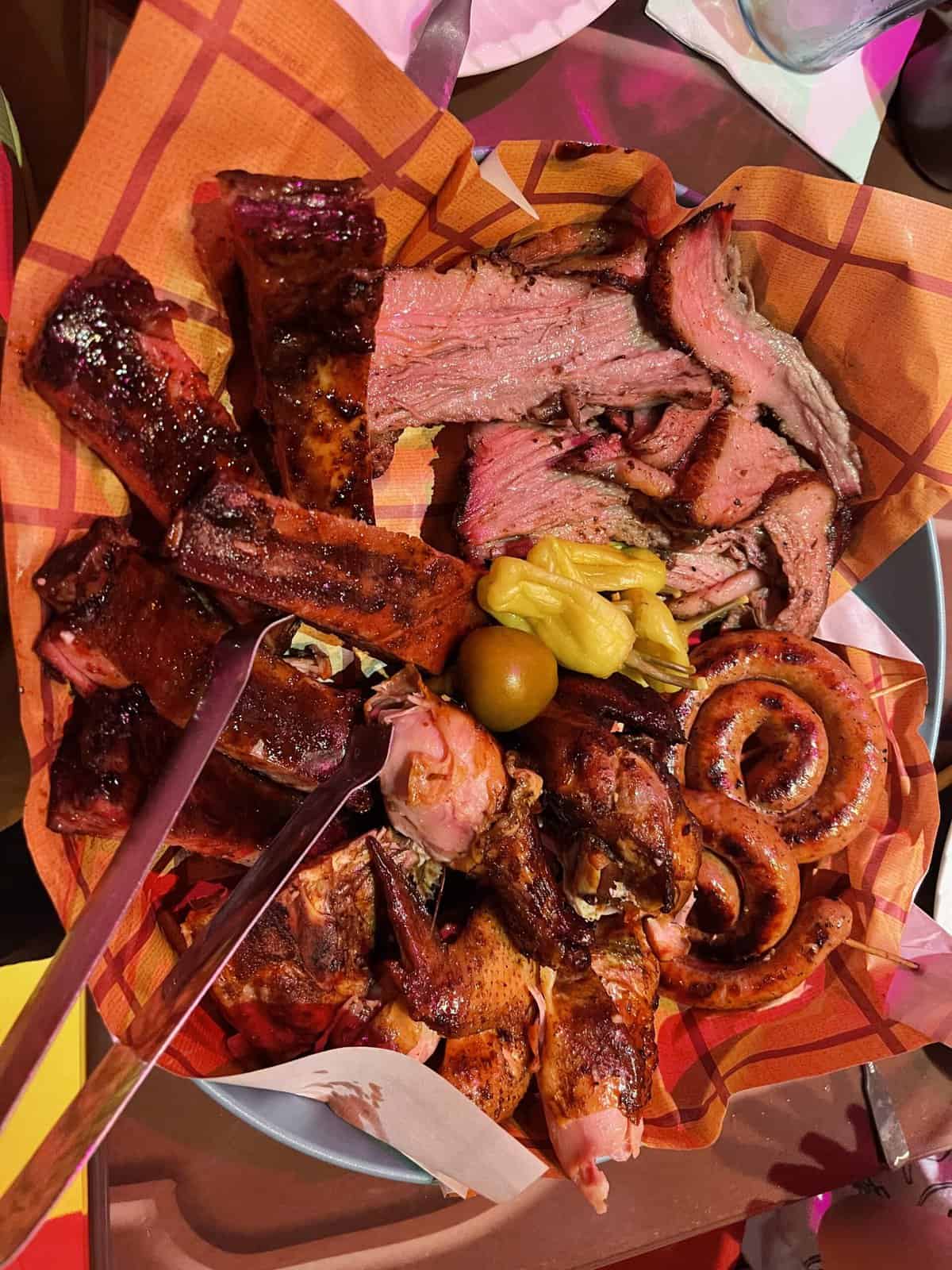 Roundup Rodeo BBQ is set up as a Prix Fixe meal. This means that guests dining at the restaurant pay a set price and have access to bread service, all three salad options on the menu, one entree platter selection, four side dishes for the table, and one dessert.
This is a lot of food, so plan accordingly! All of the above is available for $45 per adult and $25 per child regardless of lunch or dinner dining time.
First, guests will enjoy Prospector's Homemade Cheddar Biscuits served with sweet pepper jelly. Three salads will be delivered for all at the table to enjoy: the Rootin' Tootin Tomato Salad, Wheezy's Watermelon Salad, and Rex's Romaine and Kale Salad. For entree selections, guests can either choose the platter of house-smoked meats including ribs, beef brisket, sausage, and BBQ chicken or the plant-based trio with cauliflower with Harissa drizzle and walnut gremolata, plant-based bratwurst, and plant-based rib chop. Four sides will be selected for the table.
Options include potato salad, loaded potato barrels, veggie slaw, fried pickles, roasted vegetables, mac & cheese, baked beans, and corn on the cob. Finally, each guest can select their own dessert. Options include lemon and blueberry cheesecake, apple pix, chocolate silk pie, peach-strawberry pie, or the cupcake a la Forky (a chocolate cupcake with graham cracker, buttercream, and sugar cookie).
Atmosphere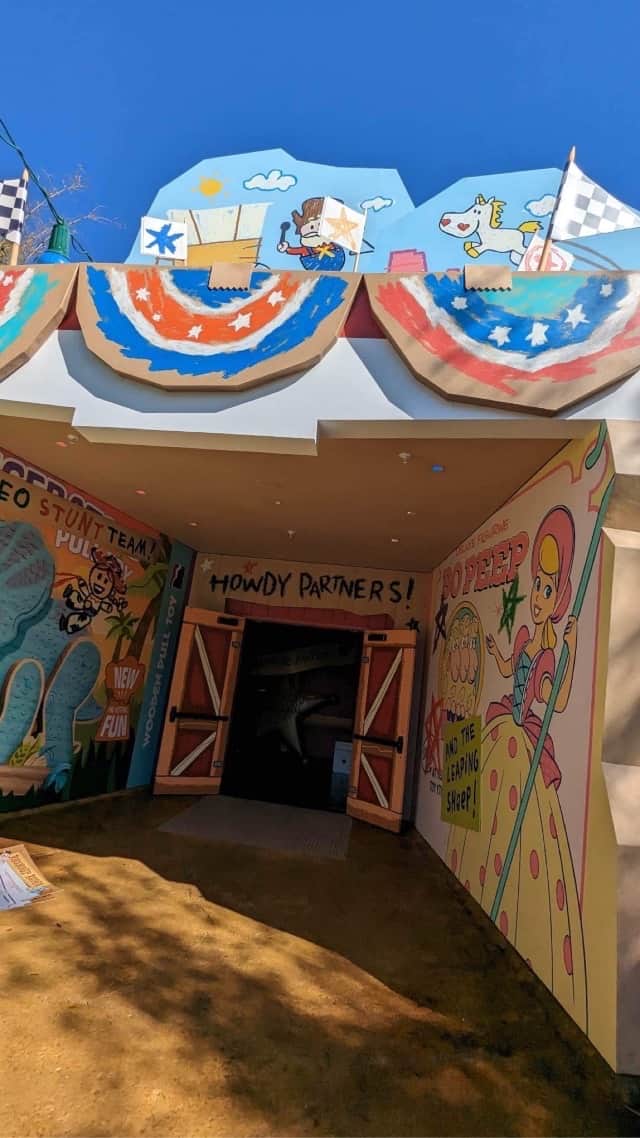 First, it is important to note that Roundup Rodeo BBQ matches the atmosphere and vibe of Toy Story Land perfectly! The entrance to the restaurant is right at the entrance to the land itself, giving it a clear place of prominence.
At the restaurant, guests are "toy-sized" and are greeted by name at the front doors when your table is ready. Guests of all ages are given a toy horse to ride into the restaurant in style. The decor inside the restaurant matches Toy Story Mania and Slinky Dog Dash. The space is meant to look like Andy constructed it out of cardboard boxes and toys. There are plenty of great opportunities to spot some of our favorite toy character friends, too!
Food and Experience Review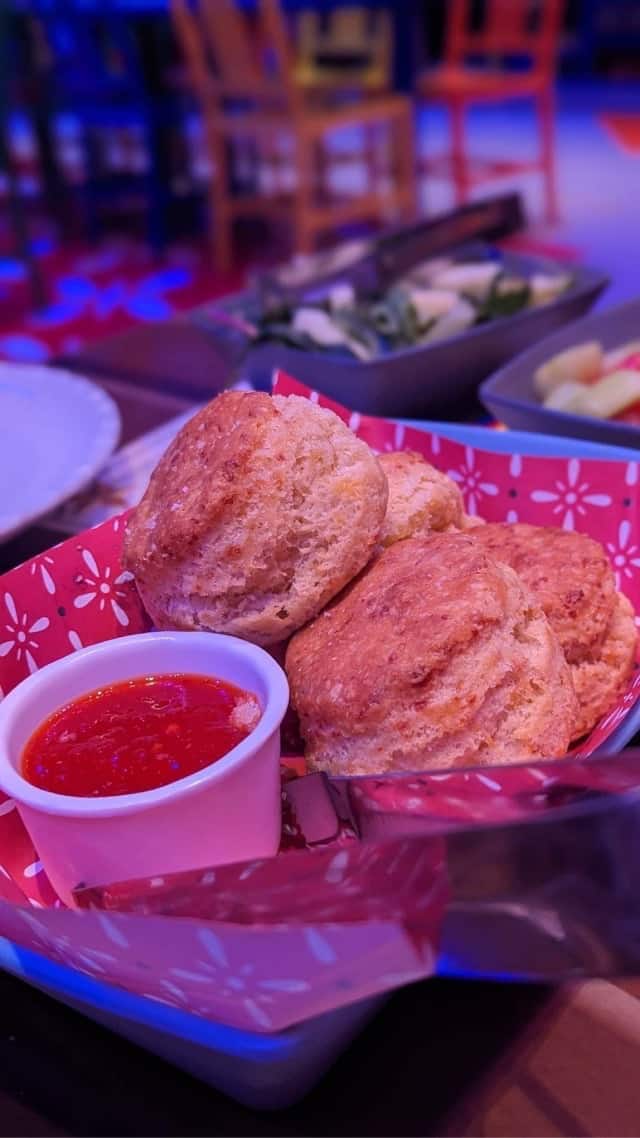 At first, I (Jaelyn), was hesitant about the idea of BBQ, especially after faring a hot and very crowded Spring Break morning at Hollywood Studio. After my first bite of the homemade cheddar biscuits with sweet pepper jelly, however, I knew I was going to love the food!
My family and I enjoyed the salad selections and each found one we preferred best. My youngest son loved the watermelon salad, while I preferred the romaine and kale salad mix. We chose sides of the loaded potato barrels, fried pickles, Slinky Dog mac & cheese, and street corn. Each table can select four sides, but our server noted that we could get different sides after our first round if we so chose.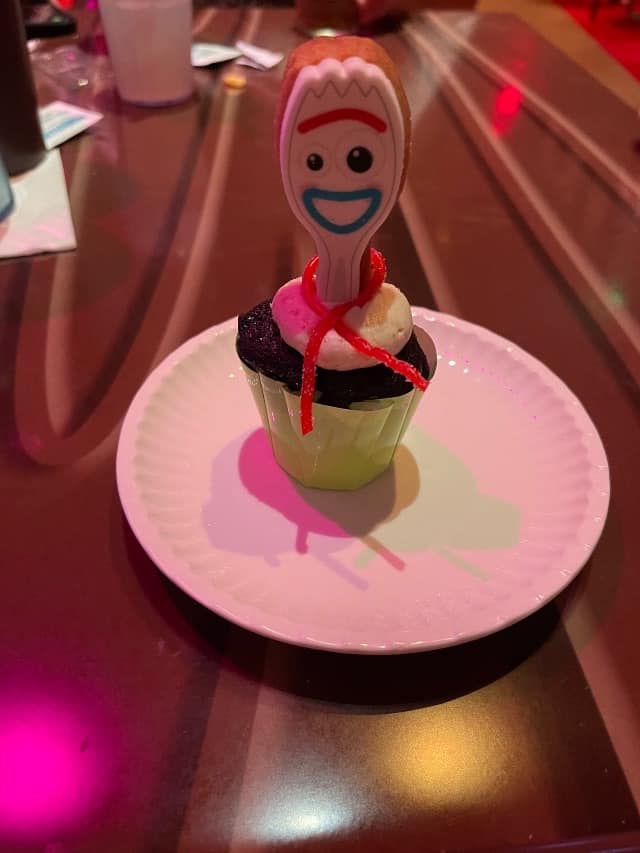 Our sides were delivered along with our platter of house-smoked meats quickly after our drinks came. Everything was delicious! At the table 3 different barbecue sauces are available to add to any of your meat, selections: sweet, original, or spicy. The menu provides just enough variety for everyone to find something they will enjoy! I loved the sausage, fried pickles and the homemade cheddar biscuits with sweet pepper jelly. While we didn't get a second skillet food, this is definitely available for you if you are looking for refills on any of the items you eat.
Desserts included selections of pies and also a Forky cupcake option for kids. We particularly loved the chocolate silk pie. This was a decadent chocolate mini pie that was the perfect sweet treat after the BBQ feast!
While dining, several different "calls" come over the speaker, including a call that Andy is coming. At this point, everyone in the restaurant freezes in place until the coast is clear. This was such a fun touch! Other calls include a Rex dance party, garage sale reports from Sarge, and more!
Would we recommend?
While there were a few opening day snags such as the fresh Xylene based clear coat smell immediately outside the restaurant and the lack of restrooms for the majority of our dining experience due to issues, our overall experience was overwhelmingly positive!
We loved our food and the theming was perfect for the land. I would highly recommend this restaurant for Toy Story fans who are looking for a filling meal at a relatively affordable price point for Disney! The amount of food served truly made the value worth it, and even the pickiest eaters can find something to love here. We will definitely be back!
I recommend grabbing a reservation ASAP because this place will likely be a hot ticket for guests of Hollywood Studios! Will you be dining at Roundup Rodeo BBQ soon? Comment below and be sure to share this post with your favorite Toy Story fans!