Do you want to watch the iconic nighttime spectacular Fantasmic! on your next visit to Walt Disney's Hollywood Studios? Here are 5 reasons you should stick around for the late show instead of the earlier one (if a second show is offered).
Fantasmic!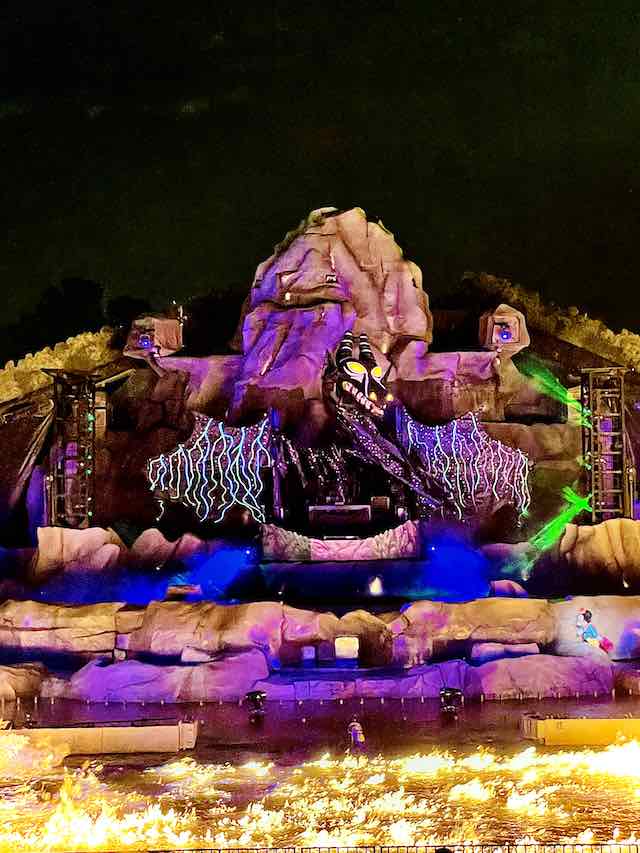 One of the things Disney Parks are known for is magical nighttime spectaculars. While many people immediately think of fireworks, there is an entire group of people who instantly envision one of Disney World's iconic shows: Fantasmic!
Fantasmic! gives fans 29 minutes of Disney entertainment that combines tons of character performers with a water show and some pyro all to culminate in a story about the Disney villains and their attempt to infiltrate Mickey Mouse's imagination. And of course, it is all set to an amazing musical score.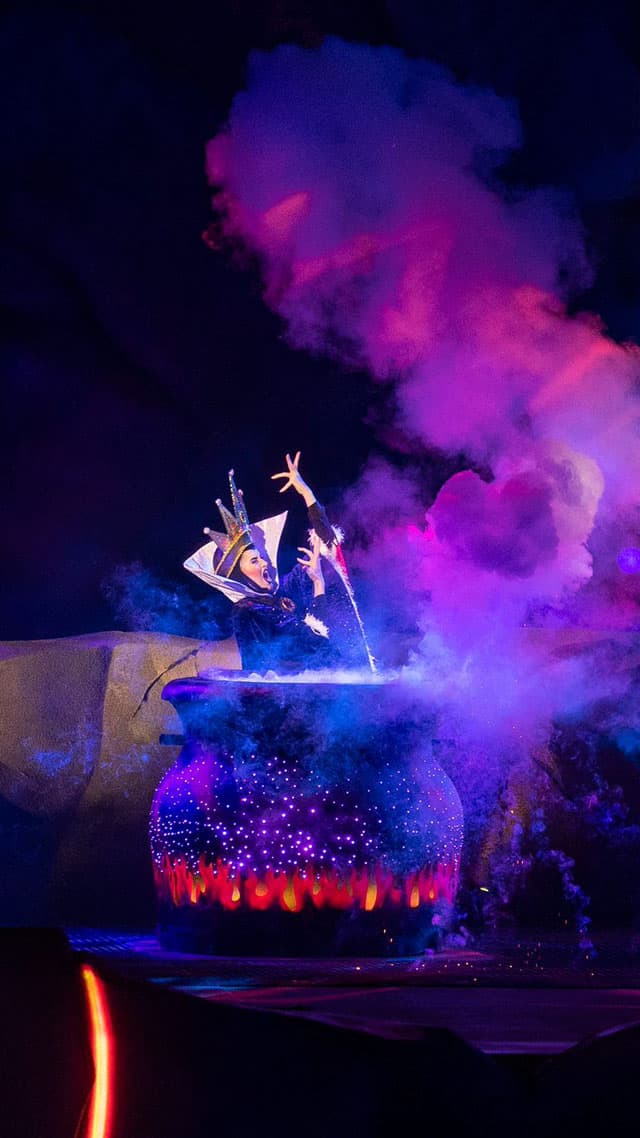 Guests can delight in musical numbers from Aladin, Pocahontas, Moana, Frozen, Lion King, and more! All the while magic is in the works as Mickey Mouse takes on the villains who seek to control his imagination.
The show takes place nightly in Hollywood Studios in its own amphitheater that curves around the lagoon that sets the stage for the action. It is appropriate for dreamers of all ages although it does have an intense moment or two.
Late vs Early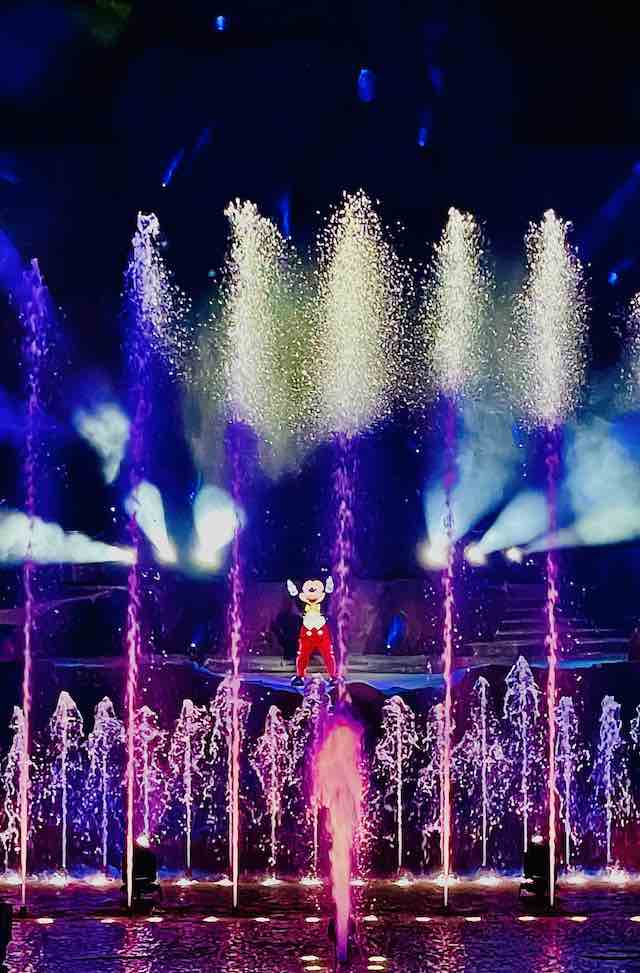 Right now, Guests have two chances to take in performances of Fantasmic. There is typically an evening show at 8:00 or 8:30 and then a second later show that happens at the park's closure around 9:30 or 10:00. The times might fluctuate with the park's hours, so be sure to check the schedule before you go.
Having Fantasmic! back has been wonderful. But even more than that, having a second showing has been an amazing addition to Hollywood Studios. I (Katie) would highly encourage you to check out the second show!
Why You MIGHT Want to do the First Show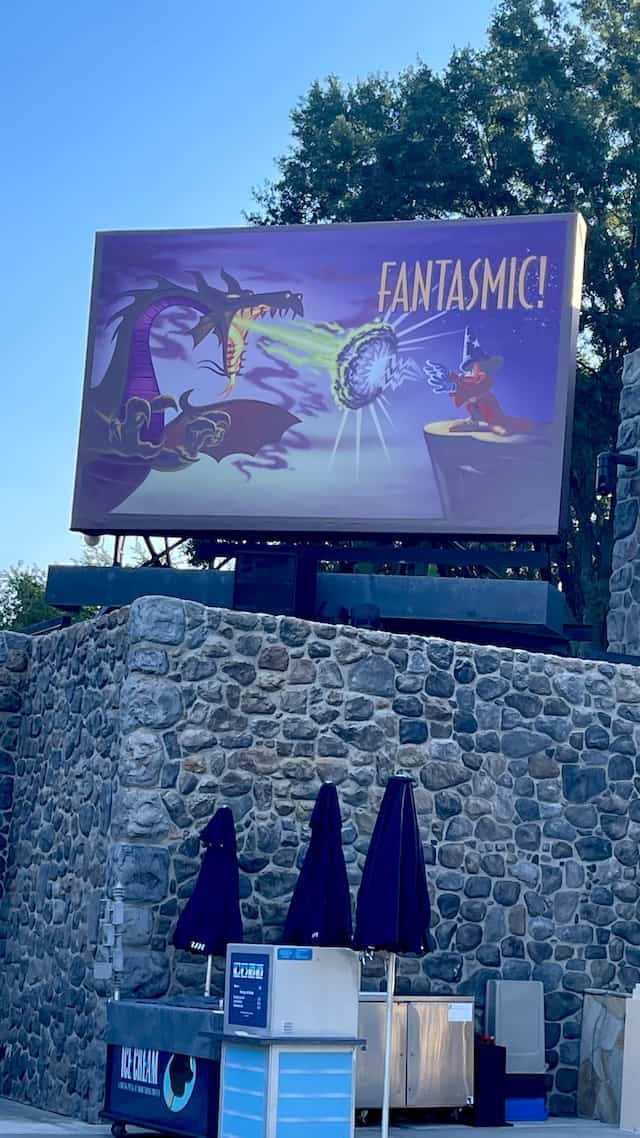 Of course, if you are not a night owl or you have little ones and want to stick with a reasonable bedtime, you might prefer the earlier show. This could also apply to those who want to rope drop a park the next day or who have a very early Advanced Dining Reservation. It could also apply to those who need to catch an early flight or hit the road early the next day. It typically begins at 8:00 PM (assuming it is not canceled).
And, you might also want to attend the early show if you are planning to park hop after Fantasmic! to a park with a later closing time or to a special ticketed event. This will give you more time to catch the show and get transportation to your next destination.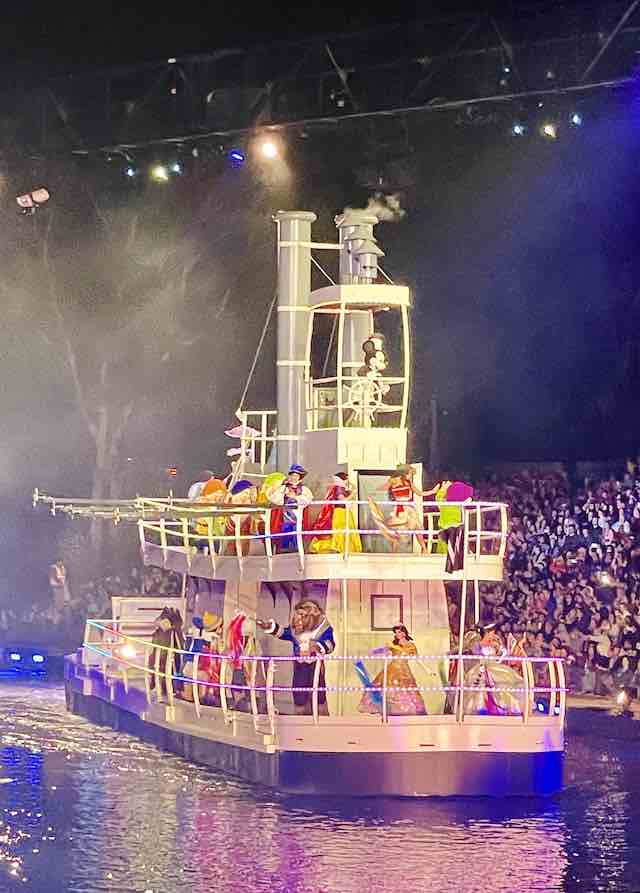 Finally, the "Fantasmic! pre-party" music can be pretty fun if you like the big crowd energy. You are much more likely to experience the "Fantasmic! Wave" if you attend the first show because the theatre fills up well in advance of show time. Bring some snacks or grab some at the snack stand in the theater and enjoy the wait.
Otherwise, consider the later time slot. It comes with a multitude of benefits.
More Park Time
First of all, by attending the later show, you are essentially giving yourself more time in Disney's Hollywood Studios. The second show typically starts at the park's closing time. This means that you can enjoy the show 29 minutes past closing before you meander out of the park.
By selecting the second show, you are also saving yourself quite a bit of park time that would be otherwise devoted to lining up for Fantasmic!, being seated, waiting for the show to begin, enjoying the show, and then making your way out of the theatre (which can take a very long while).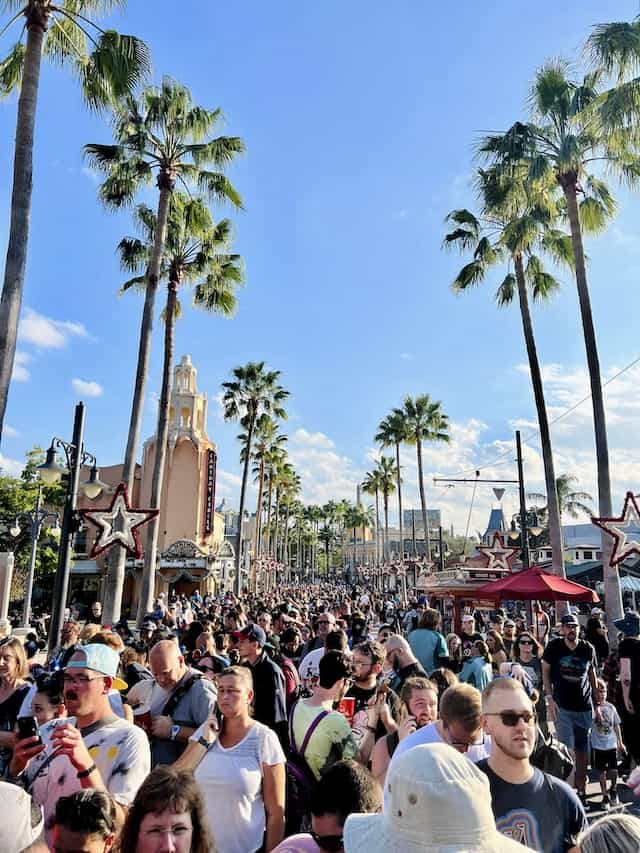 While the show has a 29-minute runtime, you can easily eat up 60-90 minutes of park time if you are attending the early show.
Instead of devoting this time to Fantasmic! and its early crowds (like in the photo above), you can enjoy the park's other attractions and offerings all the way up until nearly closing time since the second show has a much shorter wait. Then you can still catch Fantasmic! It's like having your cake and eating it too.
Reduced Evening Attraction Wait Times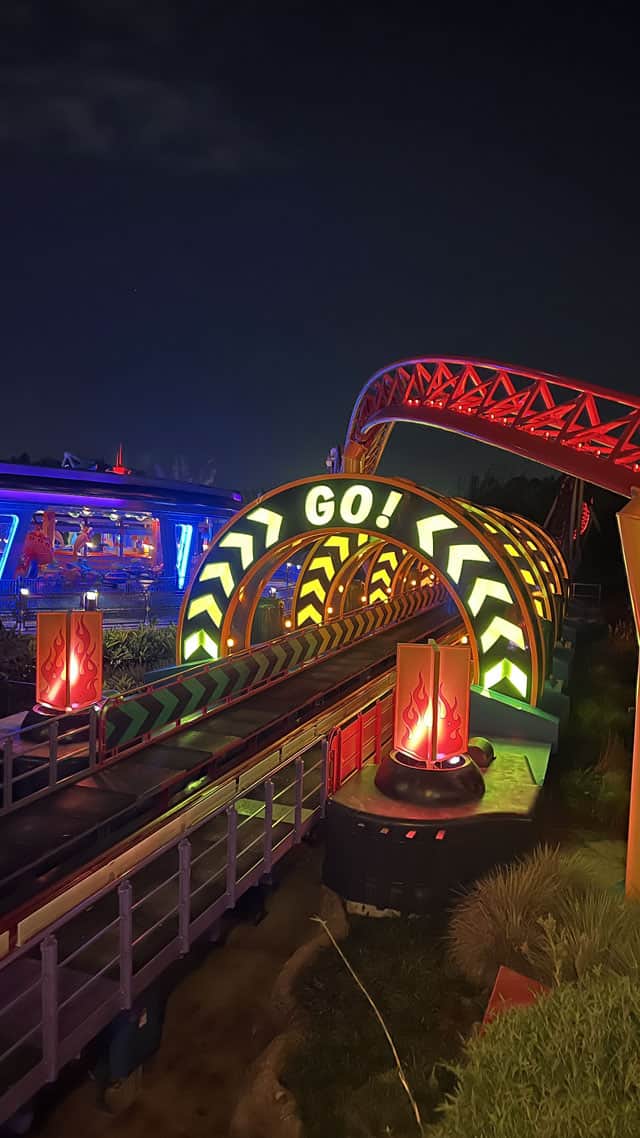 One of the benefits of people flocking to see the first showing of Fantasmic! is that those who do not can enjoy significantly reduced wait times for the other attractions. Although the wait times may not seem to fall drastically in the MDE app, check out the lines. They are often MUCH shorter during the show.
For example, my little one and I rode Slinky Dog Dash twice on a recent trip during the first Fantasmic! show. We waited about 10 minutes the first time and about 5 the second time. We walked right on to Toy Story Mania. The posted times were 45 and 25 minutes. The rest of our travel party enjoyed a few spins on Rock 'n' Roller Coaster.
That said you might not get quite as much mileage out of lower wait times now that the Rock n' Roller Coaster refurbishment is underway. This is because one less attraction means that crowds are distributed across the remaining attractions.
Better Seats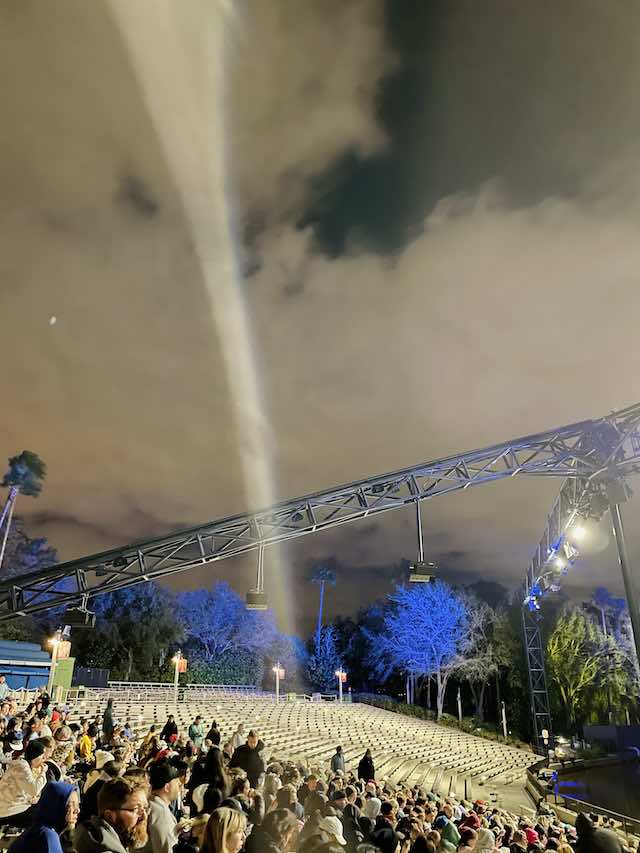 The theatre for Fantasmic! begins filling up relatively quickly. Additionally, some guests will have Fantasmic! Dining Packages that provide them with guaranteed seating in a specific section. If you are not in the front quarter of the line, you may not have as nice of seats as you otherwise would. That said, all seats offer a unique perspective.
However, if you go to the late show, you will find there are generally significantly fewer people. When my family and I attended the 9:30 showing, only the very center section was utilized, providing awesome views for everyone in attendance. Look at all the space.
Less Crowding and Commotion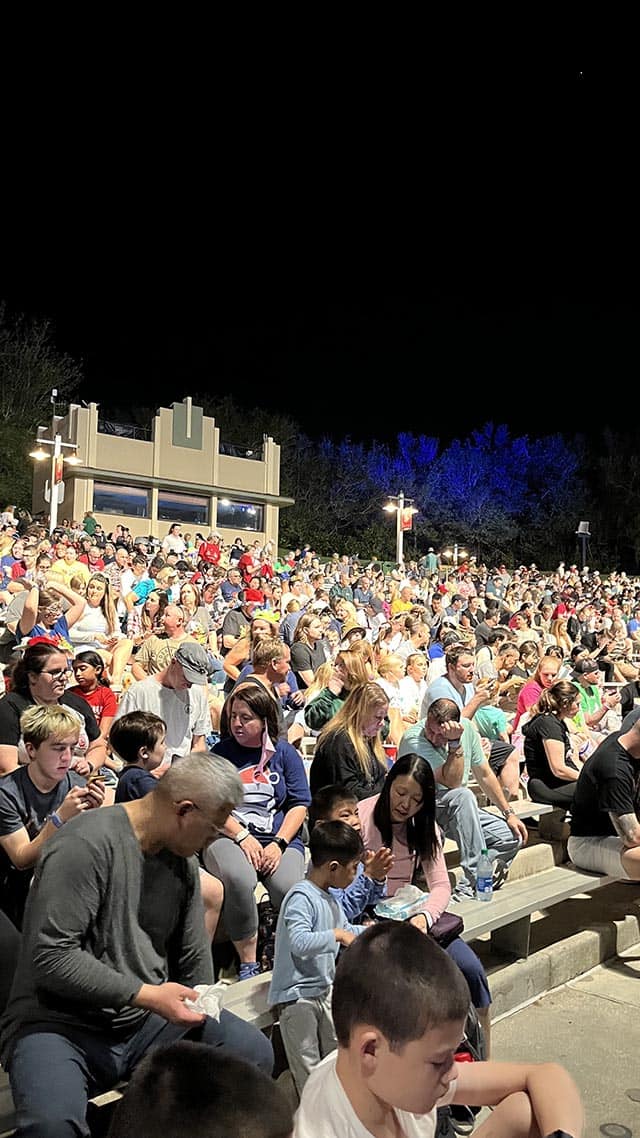 One of the other benefits of the later show is simply the lack of mass movement of humanity. When I attended the late show, there was no real line to enter and no crowds to combat.
Even better, when it was time to exit the show, my family and I were not swept up in a massive stampede. The theatre holds thousands and thousands of people, and typically the first show gets pretty close to capacity. This means that all those thousands of people somehow must exit the theatre. This can be a very intense crowd situation.
But this is not the case so far at the second show. There are many fewer people at the late show, and exiting is more of a breeze! There is no wild rush to find your parked stroller.
However, even with the reduced crowds, the exit process can still feel a little overwhelming, especially if you are a first-time visitor to Fantasmic! So, if minimizing the chaos is important to you, just know that later is better in terms of bottle necking and congestion.
Walking out of the Empty Park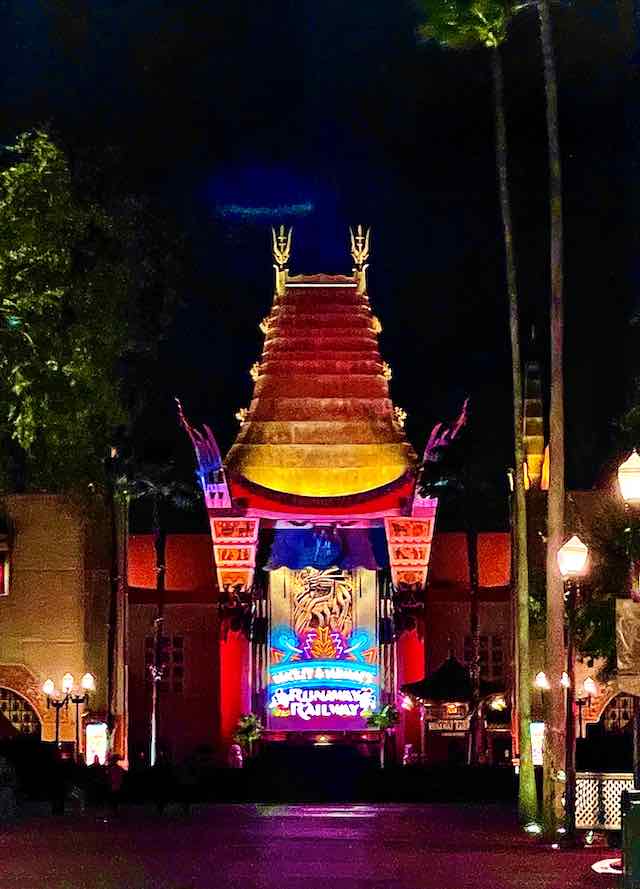 Another fun thing about staying late for Fantasmic! is that it allows you to walk out of a nearly empty park. That "empty" park Disney feeling is its own kind of peace and happiness. There is nothing quite like having Sunset Boulevard and its music and nighttime views to yourself for a few moments.
So, if you do catch a late show, don't forget to enjoy the empty park and grab some awesome empty park pictures, too.
Fantasmic! is going to be fun regardless of when you attend. But, if you enjoy being out late and savoring lower crowds, this might be the way to go for you! Do you know someone who is heading to Walt Disney World who would love to know about the late showing of Fantasmic!? Be sure to pass this along to help them plan accordingly. Have you been to see it yourself? Let us know your thoughts in the comments.