Dining packages have returned for Fantasmic! at Disney's Hollywood Studios. Are you wondering whether or not it is worth it? Here is a full review to help you decide.
Fantasmic! Dining Packages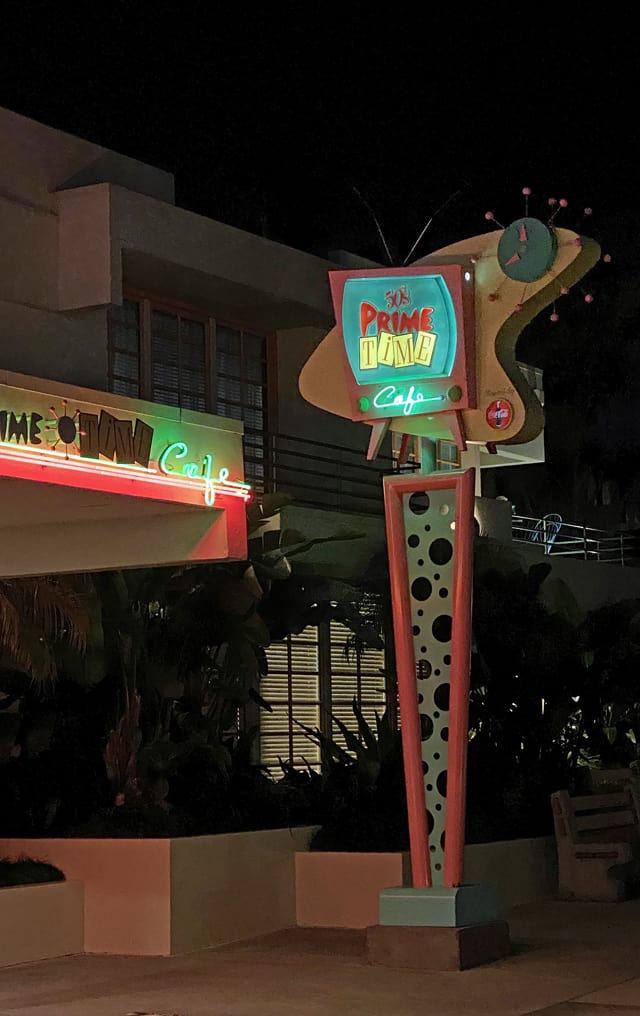 Not only is Fantasmic! back at Disney's Hollywood Studios, but dining packages for the popular show have returned as well! Details for dining packages were announced in late October for performances beginning November 30th and beyond at select restaurants.
Restaurants offering dining packages are as follows:
50s Prime Time Cafe: $51 for adults / $22 for children
Hollywood and Vine: Breakfast – $54 for adults / $36 for children; Lunch/Dinner – $71 for adults / $47 for children
Mama Melrose's Ristorante Italiano: $54 for adults / $22 for children
Sci-fi Dine-In Theater Restaurant: $49 for adults/ $22 for children
The Hollywood Brown Derby: $73 for adults / $29 for children
Sci-fi Dine-In Theater Restaurant is the least expensive out of all of the offerings listed above. Prices are $49 for adults and $22 for children. The most expensive is Hollywood & Vine and The Hollywood Brown Derby.
Sci-Fi Dine-In Theater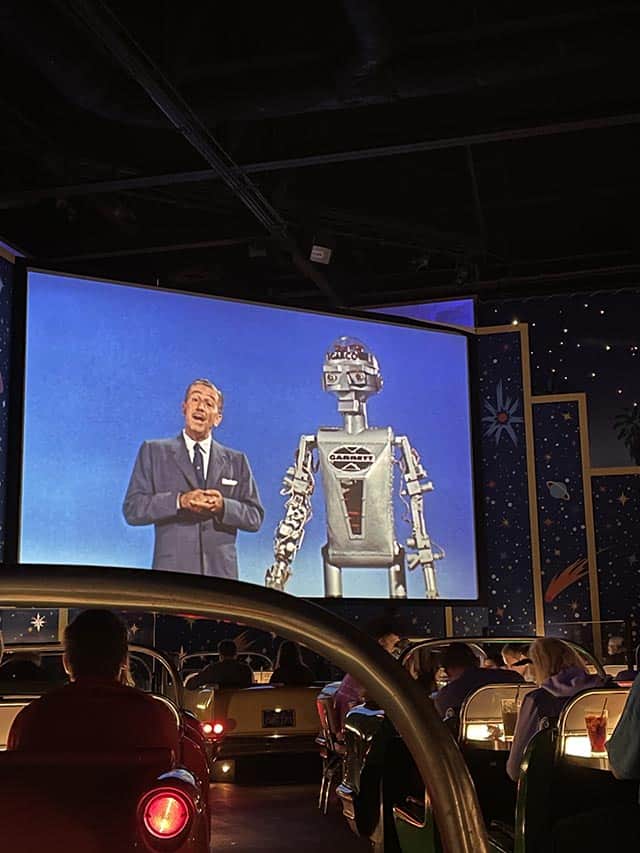 Sci-Fi Dine-In Theater is one of Disney's most unique dining experiences. Guests find themselves immersed in a 50s style drive-in theater complete with sci-fi movie clips. One of the most fun parts of the dining experience is your table is designed to look like a car!
As a matter of fact, this dining experience was ranked third in Susan's ranking of amazing Disney World dining experiences. My (Maggie) husband absolutely loves this dining location because the atmosphere of the restaurant is so very quiet. After all, you are at the theater watching some movies!
Since this review is more about the dining package itself, I will not focus on the menu. For a review of the restaurant and overall dining experience, check out Jaelyn's review HERE. We enjoyed lunch here. I ordered the Pan-Seared Chicken Pasta and my husband had the Classic American Burger with onion rings. At the end of your meal, you will receive your voucher for Fantasmic! Make sure to ask for one if your server does not give you one.
When to Book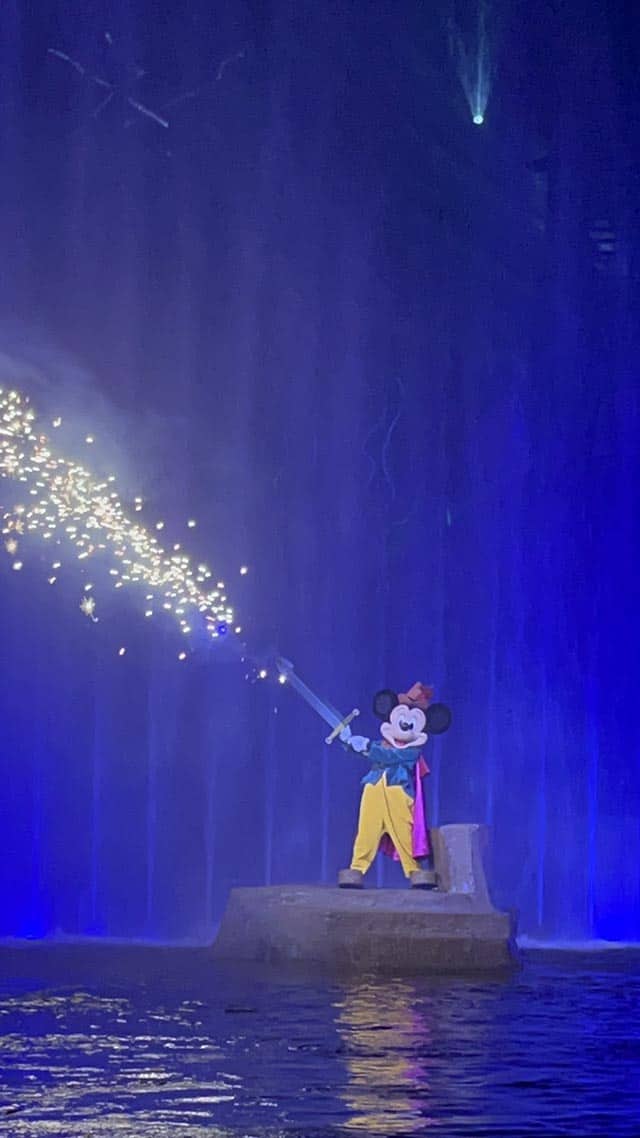 Advance dining reservations for dining packages are highly recommended. Guests can make reservations up to 60 days in advance or for the entire length of their stay (for up to a 10-night stay) for those guests with a valid Disney Resort Hotel reservation.
Each dining package includes the following:
An entrée and appetizer or dessert at select full-service restaurants or one (1) full buffet (where applicable), along with a non-alcoholic beverage
One voucher for guaranteed seating at Fantasmic! in a reserved area
All packages do not include alcohol or required park admission. Dining packages are available for all days Fantasmic! is performed. Guests should also be aware that dining packages will still be honored even if the performance is canceled on that day. Available discounts (such as Annual Passholder discounts) are also not eligible for dining packages.
Check In and Experience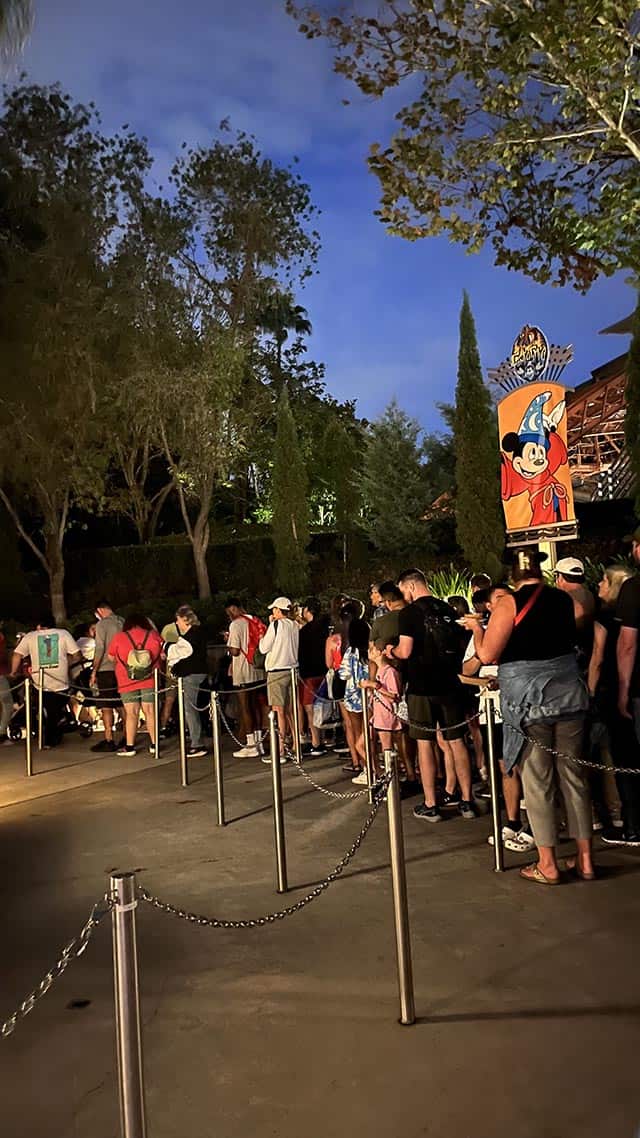 I booked a dining package the day they became available to book on October 26th. Packages were pretty much sold out later that very same day for the day I was planning to attend. While the dining package does guarantee you a seat in a reserved section, your seats are not assigned.
Seats are chosen from within the reserved section on a first-come, first-served basis. Get in line early for the best seats!
The night of our performance was also the very first night for dining packages, so checking in seemed new for everyone. Cast Members seemed to be a little unsure of how and where to check in, but it was all understandable being the very first night. Guests enter from Sunset Boulevard next to Beauty and the Beast: Live on Stage.
For the 7:30 pm performance, we lined up by 6:00 pm. The regular stand by line will be to your right. Dining packages line up on the left (where nobody is in the picture shown above). They began letting guests in shortly after this time.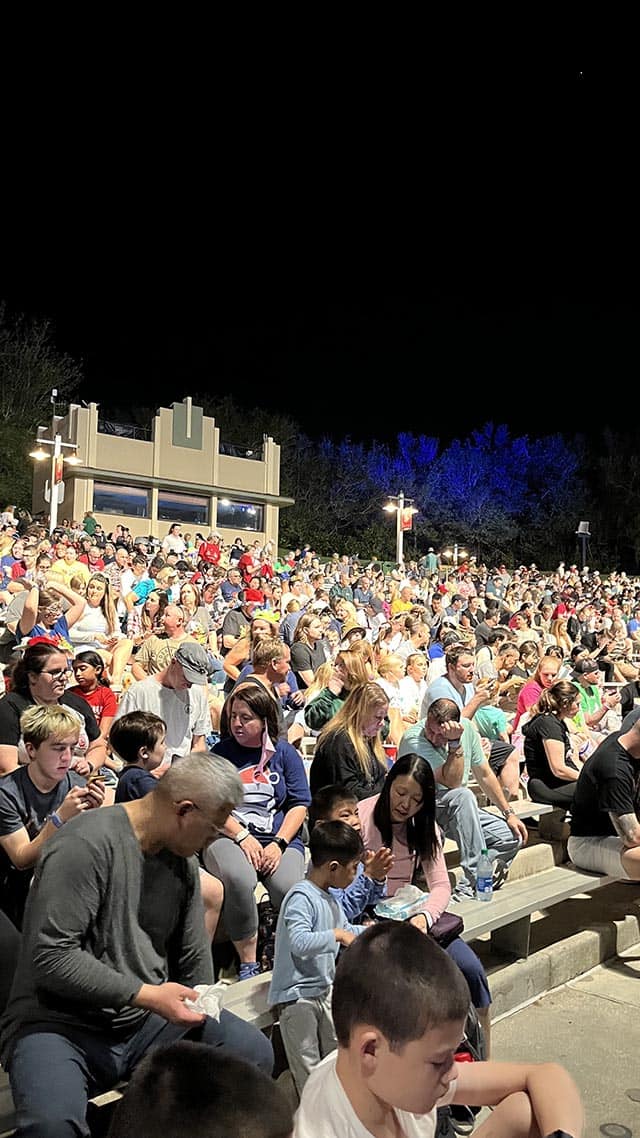 The reserved sections for Fantasmic! are the Mickey and Scar sections of the theater. These sections are in the very center of the stage. My family was so excited to be able to sit in the very first row! If you do decide to sit in the very first few rows, be aware that you will get wet. You will not get soaked, but it will feel like a very light drizzle all throughout the performance.
Is It Worth It?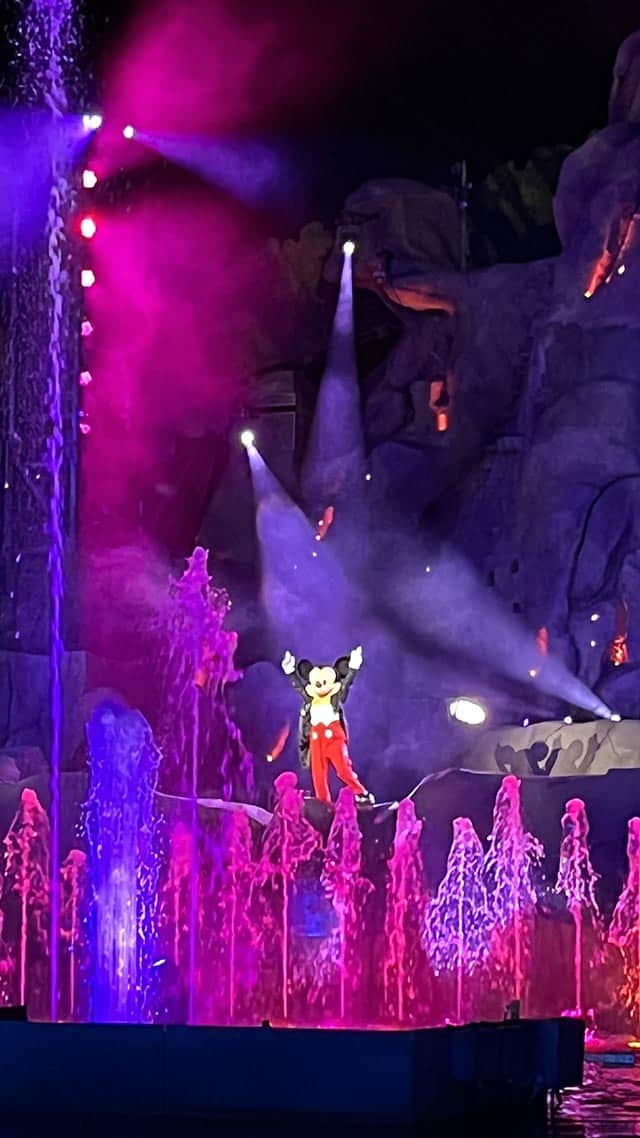 My family paid a little over $240 for the dining package. Was it worth the high price? I want to say, yes, absolutely! However, this is really tough to determine at this time. First, Fantasmic! has only just returned.
Another thing to keep in mind is that at the current time, the choice of having a Lightning Lane for the performance does not exist. With the show returning from a two-year hiatus on top of having no Lightning Lane, there is a lot of demand for the show. In response to heavy holiday crowds, more showtimes were added for Fantasmic!
If there happens to be more than one show, usually less people show up for the second showing. You can easily see the show from great seats just by going to the second show. Also, keep in mind the theater is huge! It can hold over 6,000 guests and unless you want to be really up close for pictures, being up front is not completely necessary. You can see the show fine from almost anywhere.
My Thoughts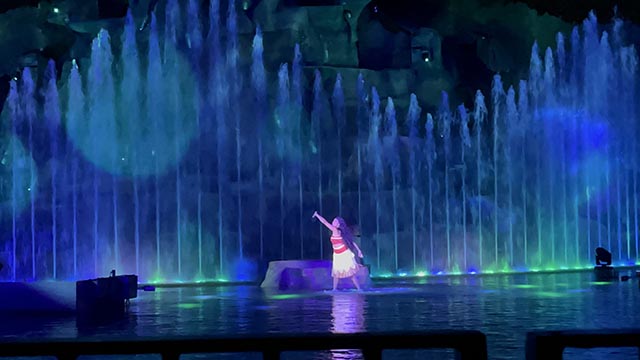 This was my family's first time seeing the performance since 2014. My children were little and had very few memories from the show. I think being in the reserved section of the show was definitely worth it for the amazing view alone and being right up front was fantastic for my family. However, in all honesty, I could probably show up two hours prior to the show, line up in the standby line and be one of the first to be seated in the theater and have the very same experience.
If you are not much of a risk taker or if this is a once in a lifetime trip, definitely by all means get a dining experience to grab that guaranteed seat! On the other hand, if you want to save yourself some money, just be sure to arrive plenty early enough to grab yourself a decent seat.
Have you tried one of the Fantasmic! dining packages? Do you think they are worth the price or do you think having one is not necessary? Tell us your thoughts in the comments below or on our Facebook page.