Of all of the restaurants at Walt Disney World, this restaurant is one of the most difficult advanced dining reservations to snag! Is it worth the hype?
Dining at Disney World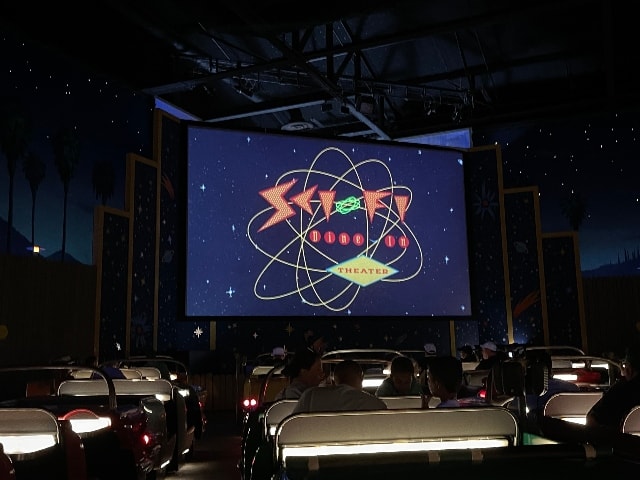 There are so many great dining options at Walt Disney World. From table service restaurants with elaborate theming, delicious food, or character interactions to even counter service and snack booths that provide a quick and delicious snack, Disney is known for great food.
In order to eat at some of the most popular table service restaurants, guests need to grab an Advanced Dining Reservation (ADR) as soon as the booking window opens. Booking dining reservations begins 60 days prior to the start of your trip. Sometimes, even at the 60 day mark, it is difficult to book particularly popular restaurants. This is especially true if you are traveling with a large party.
One popular restaurant located in Hollywood Studios, Sci-Fi Dine-In Theater, offers a unique dining experience that is unlike any other on property. This unique experience makes this ADR one of the most difficult to snag. Many people end up repeatedly searching in My Disney Experience to snag a last minute ADR for Sci-Fi if they are unable to get one booked at their 60 day mark. Is it worth the effort and energy to get a reservation at this popular restaurant? Read on to learn more so you can decide!
Reservation & Check-In Experience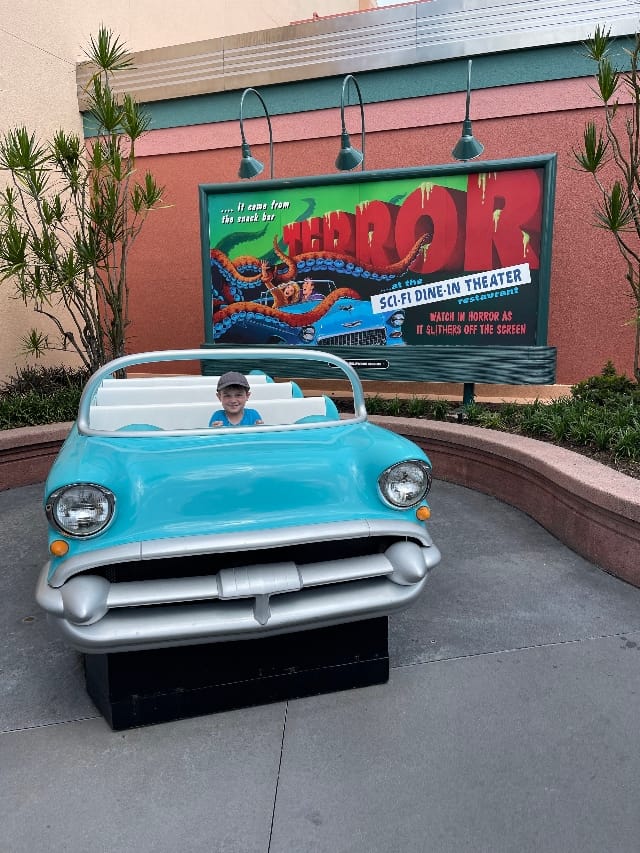 When I was planning my trip to Disney, I knew that Sci-Fi would be a popular destination and a difficult reservation to grab for my party of 9. I planned to dine at this restaurant toward the end of the trip, knowing that this would give me an advantage when booking as an on-site guest. On-site guests can book dining for 60 days +10 additional days from the check in date of their resort stay. By planning this reservation toward the end of our trip, I was able to book at 67 days out, which gave me an advantage.
When I showed up to check-in, however, I noticed a snag. Somehow my reservation for 9 had become a reservation for 8. At first I thought maybe I had accidentally left someone off of my reservation, but I went back into my email and found my confirmation email that clearly stated my party size of 9. I went to the podium just outside of the restaurant, and the cast members were more than willing to help me sort through this issue and got us checked in for our reservation. This taught me an important lesson: keep your confirmation emails or screenshot your reservations!
Sci-Fi Atmosphere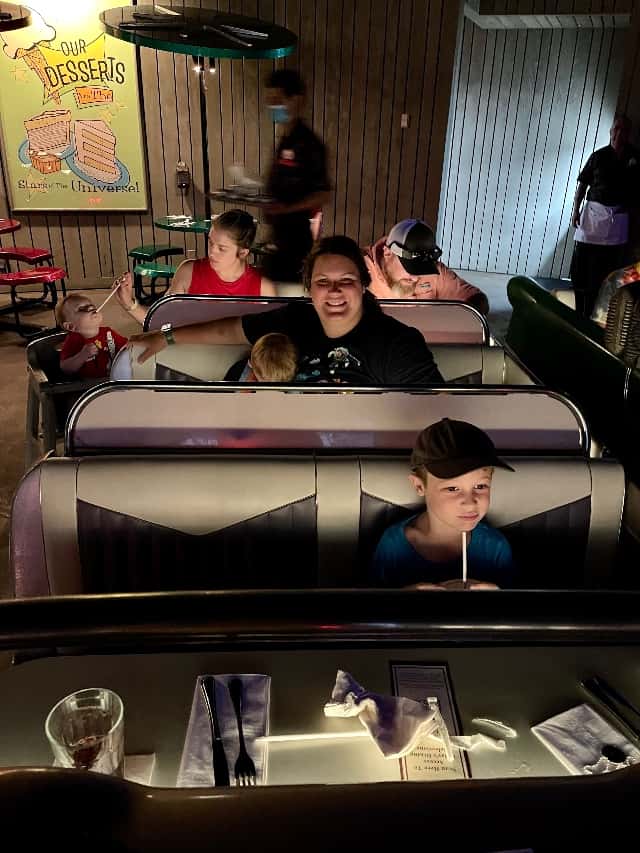 Sci-Fi Dine-In Theater is designed to give guests a 1950s drive-in theater experience with dining in car booths, American cuisine, and classic science fiction film clips.
There are two seating options in the restaurant: car booths with three forward-facing rows in each vehicle that comfortably seat 2 adult-sized individuals per row and picnic table style tables at the back of the restaurant. Our party was split between two cars that were side-by-side. Seven of us (4 adults, 2 children, 1 baby in a high chair beside the car) sat in one car. The last two adult members of our party sat in the last row of the car parked directly beside ours.
The overall environment is very dark (think the drive-in movies at night), and the main star of the experience is the large movie screen showing the sci-fi clips, alongside the many classic car booths and vintage memorabilia. The sci-fi clips that play are of old classic films. There are even intermission videos with fun animated dancing concessions. We actually have a working drive-in in my town, so I loved the authenticity Disney put into play with these little animated cartoons!
Sci-Fi Food Options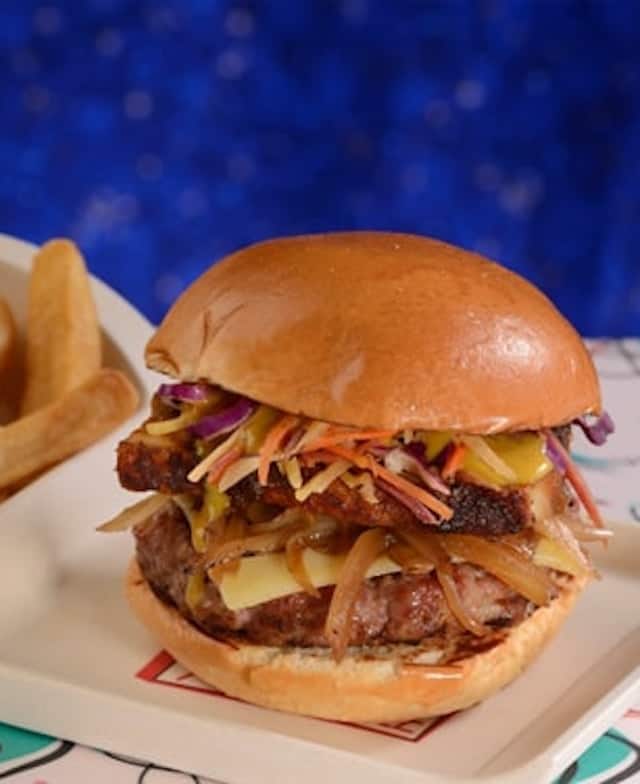 The menu at Sci-Fi features all-American cuisine. Appetizers include items like crispy onion rings, fried dill pickles, and spinach and artichoke dip. Burgers are the main feature for entree choices, but there are other selections including chicken pasta, salmon pasta, and the chicken salad sandwich. Top it all off with a hot fudge sundae or milkshake for dessert. Both alcoholic and non-alcoholic drinks are available for purchase.
My large party of 9 tried many different entrees, but we found it so difficult to get good pictures of our food with the low lighting! I had the fried pickles with the Classic American Burger. I also upgraded my fries to onion rings. In all honesty, my entree didn't stand out as a meal that was particularly memorable.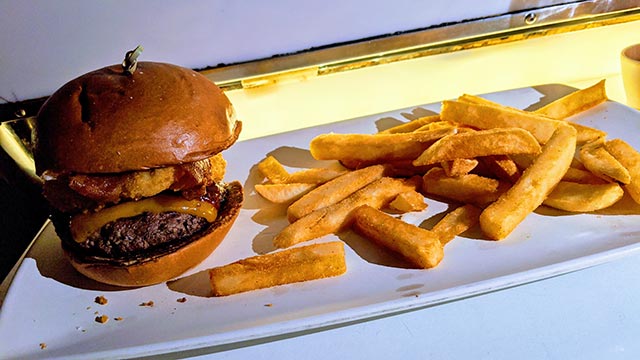 As just one of the many meals I ate at Disney over the course of our two week trip, I can't say that it was the best food I had during our stay, but it was by no means bad. I enjoyed it, but it was very comparable to any burger I could get in my small town at home.
Others in my party ordered the BBQ Burger, the Pan-Seared Salmon Pasta, and the Pork on Pork Burger. They all agreed that the burgers were good but not particularly "stand out." The Pan-Seared Salmon Pasta, however, was exceptionally delicious according to the member of my party who enjoyed it!
Reasons to Eat at Sci-Fi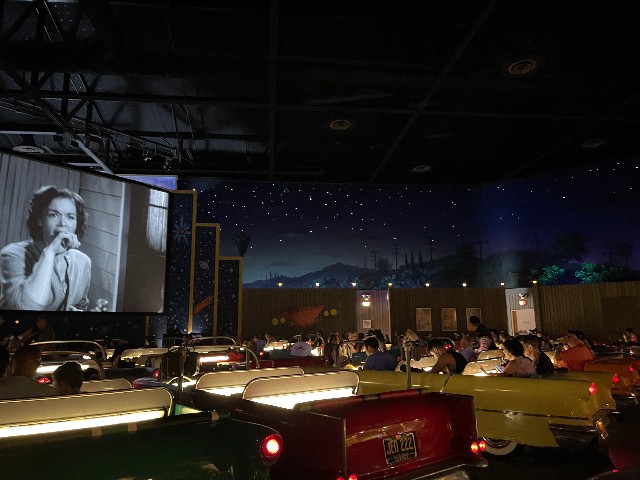 I would definitely recommend working hard to get a dining reservation at Sci-Fi if any of these reasons apply to you or your party:
You have a desire to eat in a fully-immersive "drive in" experience
You have a person in your party who loves the movies and/or science fiction films
You are looking for a great way to extend the "old Hollywood" vibes felt in Hollywood Studios
You have picky eaters in your party…the all American menu is definitely "picky eater" friendly!
You have children that might LOVE the idea of eating in a car while watching a movie
Reasons NOT to Eat at Sci-Fi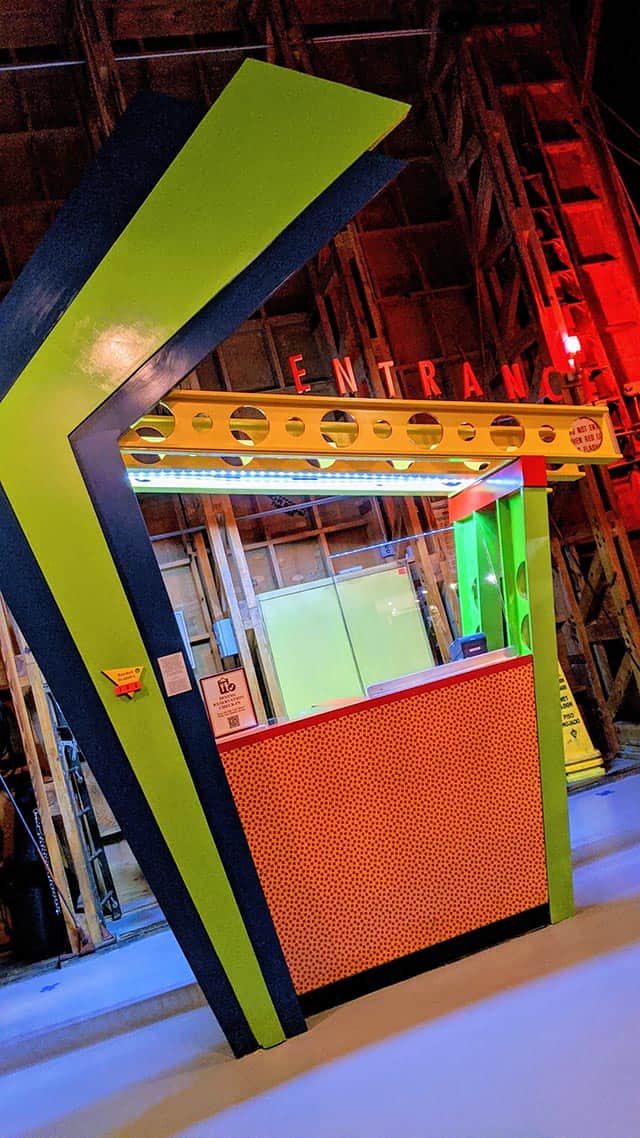 While this restaurant was a great experience for our party, it certainly isn't for everyone. I would NOT recommend eating at Sci-Fi if:
You are looking to have conversations with your party over dinner. The design of the car booths makes talking difficult.
You are looking for a stand out meal. The food is good, but it is nothing that will absolutely blow you away.
You have a child or member of your dining party that might be easily scared by some (relatively silly) sci-fi clips.
Overall Thoughts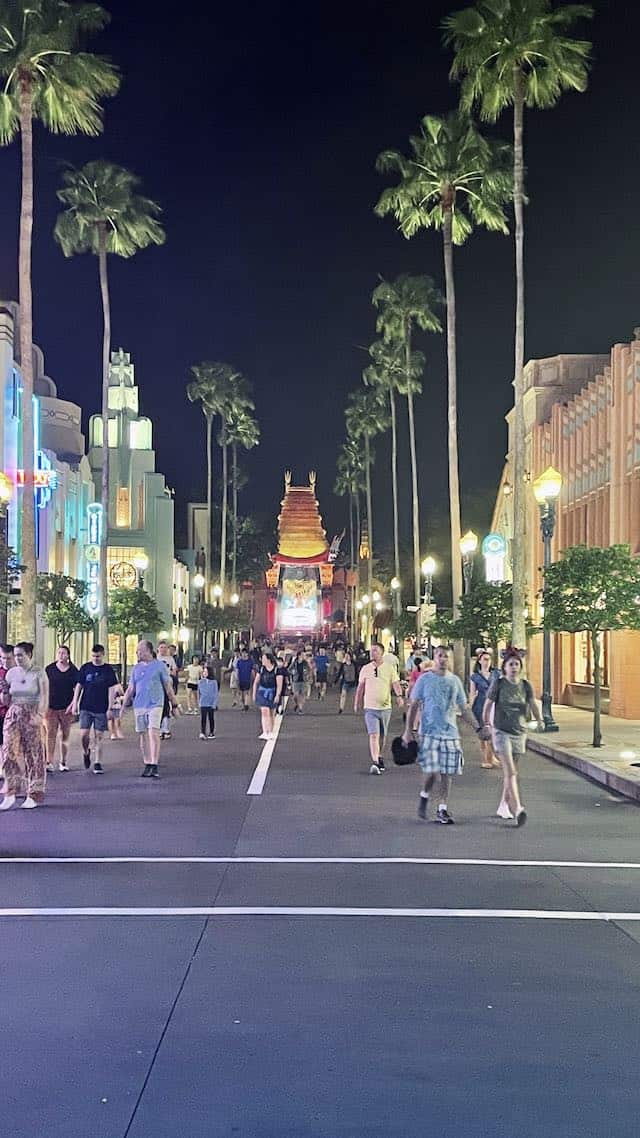 Overall, we had a great experience at Sci-Fi Dine-In Theater. The restaurant is very authentic to a classic drive-in experience, down to the very specific details. My five year old son absolutely loved eating here and his eyes were glued to the screen the entire time! He is also a picky eater but ate all of his meal at this restaurant, which is relatively unusual for him.
I personally loved the way that this dining experience extended the "old Hollywood" vibe found at Hollywood Studios. It is a piece of the park that has remained connected to the original design and feel of the park, which is very refreshing!
I would certainly book to eat here again, especially because my children loved it so much. However, I do not think this restaurant is a must do for everyone. Carefully consider your desired outcome and party with this information in mind when deciding whether or not you should fight for an ADR!
What are your thoughts about Sci-Fi Dine-In Theater? Share your experiences by commenting below or by continuing the conversation on our Facebook page. I look forward to hearing from you!

Are you planning a vacation? Reach out to our trusted travel agency sponsor Authorized Disney Vacation Planner
Mouse Class Travel
!