Hollywood Studios has some really great treats if you know where to look. Here are some we never skip and why we think you will love them.
Hollywood Studios Dining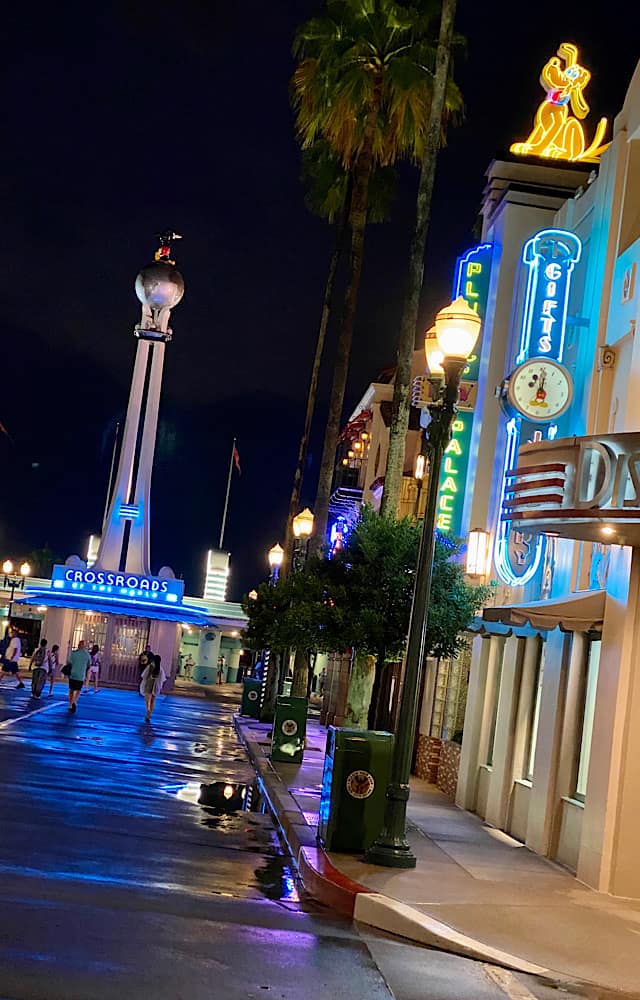 Disney's Hollywood Studios offers plenty of table-service, quick-service, and snack options. Whether you're playing in Andy's backyard or using the force in Batuu, you are never too far from something to fill your belly.
Today, we focus on snacks! I do not know about you, but I love snacking my way around Disney World. It gives me the chance to try so many new things and enjoy my favorites as well. We gave readers a chance to vote on their favorite snack, but I would like to explore some that did not make the cut.
Here are some snacks you will love at Hollywood Studios!
Carrot Cake Cookie at Trolley Car Cafe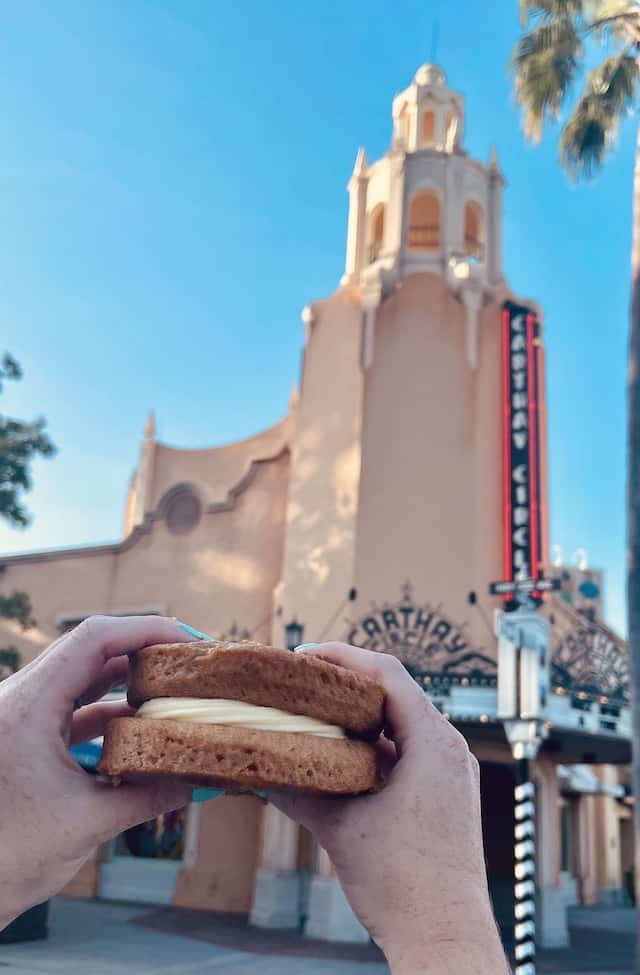 Let's start on Hollywood Boulevard. You have just entered the park for the morning and you want to grab your morning coffee and something to eat before getting in line for your favorite attraction. Where are you going?
I would like to suggest Trolley Car Cafe. Not only will you find Starbucks beverages, but they also have a variety of bakery items and hot breakfast sandwiches. The carrot cake cookie is my favorite treat to get from Trolley Car Cafe.
This carrot cake cookie is enormous with two slices of carrot cake filled with a yummy cream cheese frosting. However, it does not really remind me of a cookie but more of a small cake. It can get a little messy, so I recommend grabbing a knife and fork to cut into it. At $4.99 this is a great breakfast item or anytime snack if you love sweets.
Mickey Waffles at Hollywood Scoops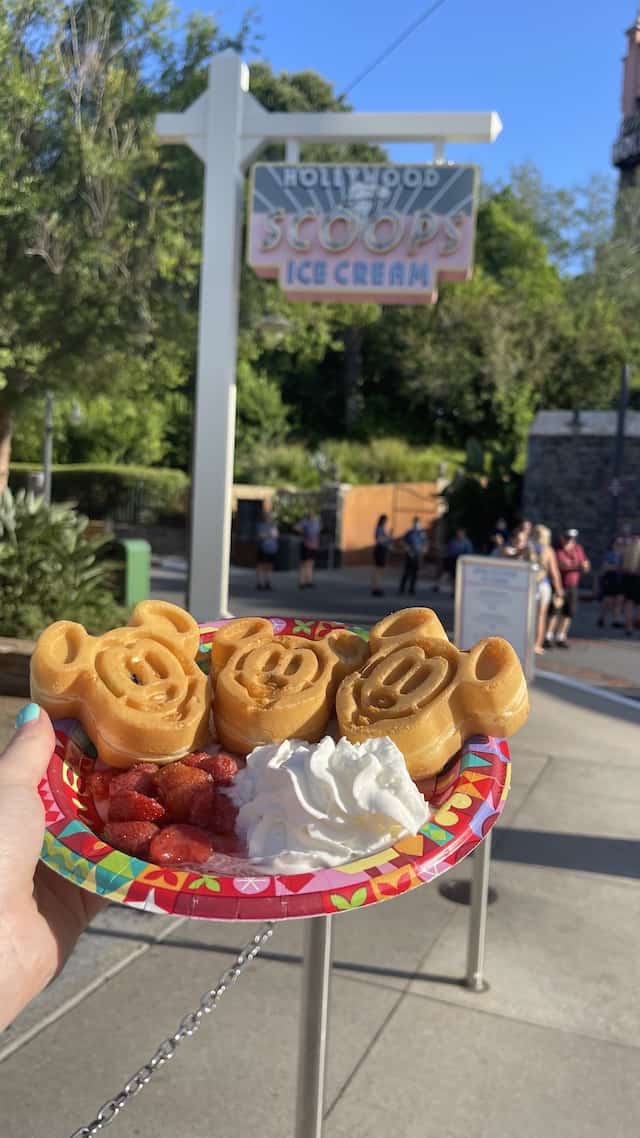 You cannot go wrong with Mickey waffles any time of day, even if they are considered a "breakfast" item. However, if you want Mickey waffles at Hollywood Studios and you don't have a reservation at Hollywood & Vine, you will need to scurry over to Hollywood Scoops before they stop serving breakfast!
This Mickey waffle platter is served with 3 Mickey waffles, berries, and whipped cream! Not only that, but there are blueberries INSIDE. THE. WAFFLES. I love Mickey waffles with syrup too, but the addition of berries and whipped cream is not something you find often at quick-service locations. At $9.49, this is a pricier snack, but it sure does taste yummy!
Later in the day, Hollywood Scoops serves sundaes and ice cream. This is NOT soft serve ice cream. If you prefer soft serve, I recommend heading over to the snack stand outside Rock 'n' Roller Coaster.
Giant Pretzel at BaseLine Tap House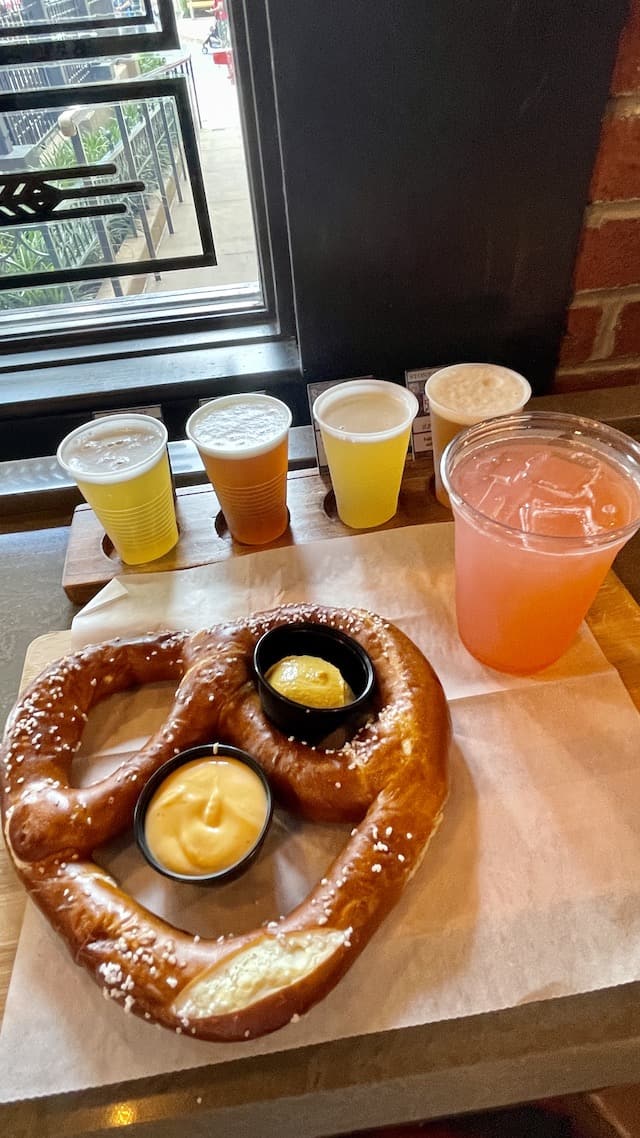 Head over to BaseLine Tap House for this next snack. Located at the entrance of Galaxy's Edge and Grand Avenue, BaseLine Tap House offers California brews and wine in a cheery corner pub theming. It is a mashup of industrial Los Angeles on the inside and a breezy terrace on the outside.
BaseLine can be easy to overlook as you head towards Galaxy's Edge, but I encourage you to slow down for a few minutes there! Not only will you find some adult beverages, but they also serve a giant pretzel with beer cheese and honey mustard. This is not your standard Mickey pretzel either. It is served hot and fresh and is easily big enough to share between a couple people.
Read more about BaseLine Tap House HERE.
Jack-Jack's Num Num Cookie at The Market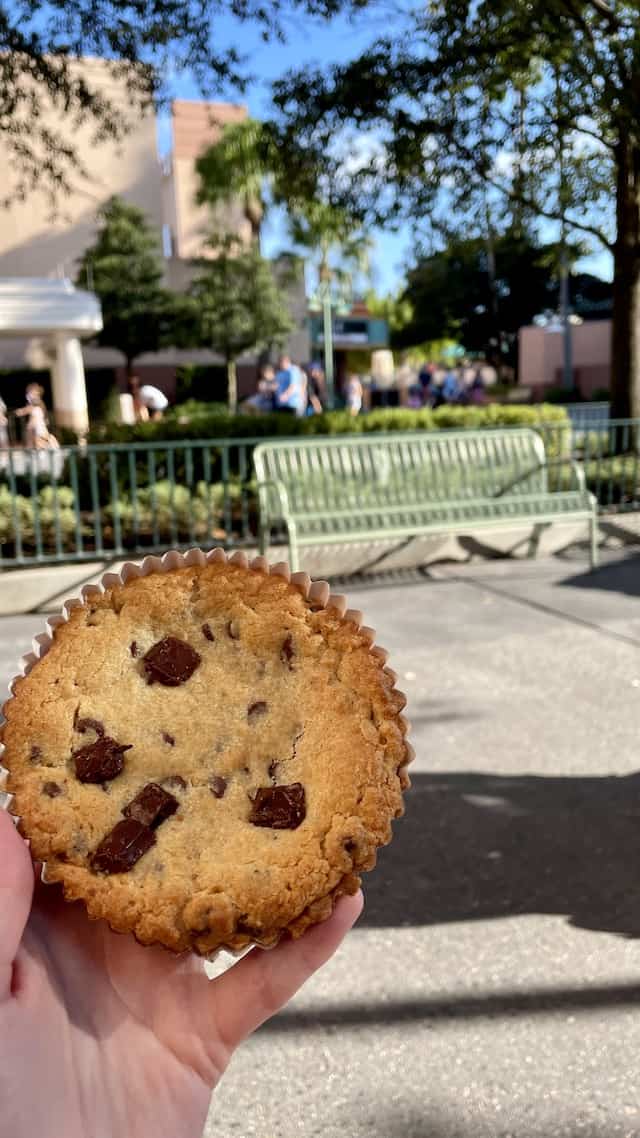 Oftentimes, Disney cookies can be bland and hard. This is not the case for Jack-Jack's Num Num Cookies at The Market located in Pixar Place. These giant chocolate chip cookies are incredibly soft, warm, and have massive chunks of chocolate inside.
Priced at $6.19 they are not that much more expensive than regular Disney cookies, but they sure do taste a lot better! These are easily shareable or you can even wrap it and save it for later.
Lunch Box Tart at Toy Story Land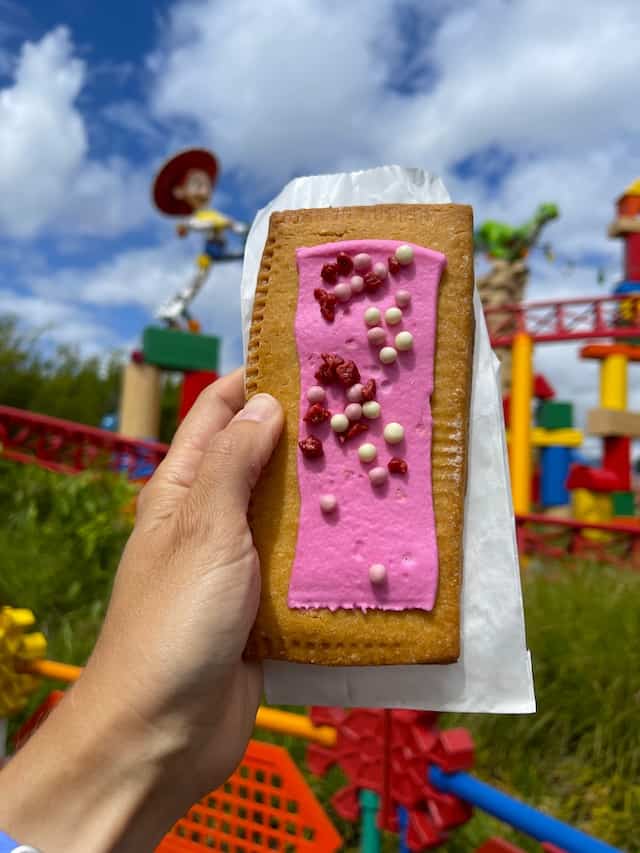 Just a little way from Pixar Place is Toy Story Land. Shrink down to the size of Andy's toys as you dash around on Slinky or swirl around with the aliens. At the time of writing, there is only one dining location inside Toy Story Land: Woody's Lunch Box.
Woody's Lunch Box is a quick-service restaurant that serves Totchos, brisket sandwiches, and lunch box tarts. These are a few notches above your standard grocery store poptarts. While the flavor will vary based on season, there are three every day flavors.
Chocolate-hazelnut
Raspberry
Lemon-blueberry
I love lemon-blueberry anything so that is usually my go-to, but you really cannot go wrong with any of the flavors. Since Toy Story Land does not have a "snack" location, these lunch box tarts are the perfect treat if you are looking for something here.
Outpost Popcorn at Kat Saka's Kettle in Galaxy's Edge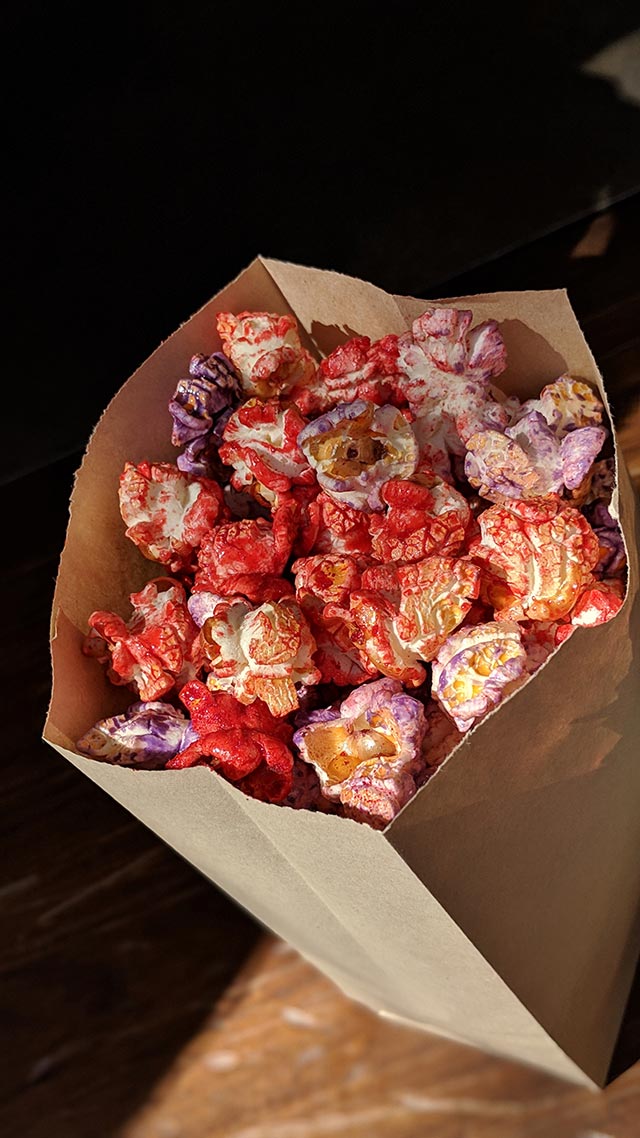 Popcorn is a Disney World staple. You are never too far from a bucket of popcorn, but Galaxy's Edge put a different spin on this classic snack.
This Instagram-worthy snack consists of colorful "pops" of purple and red and has a wonderful sweet and spicy flavor to it! The purple pieces have a fruity taste to it where as the red holds all the kick. Imagine tasting spicy Fruity Pebbles, and that is what this mix tastes like.
If you want the "ultimate Galaxy's Edge snack experience" grab some popcorn and blue milk! At $6.49, it is a little pricier than standard Disney World popcorn but well worth it.
What is your favorite go-to snack at Hollywood Studios? Are there any not on this list? Don't keep it all to yourself! Let us know in the comments below and share this post with a friend.