Want to enjoy great southern eats on your next trip to Walt Disney World? This location now offers some great new entrees that are worth making this dining reservation.
Port Orleans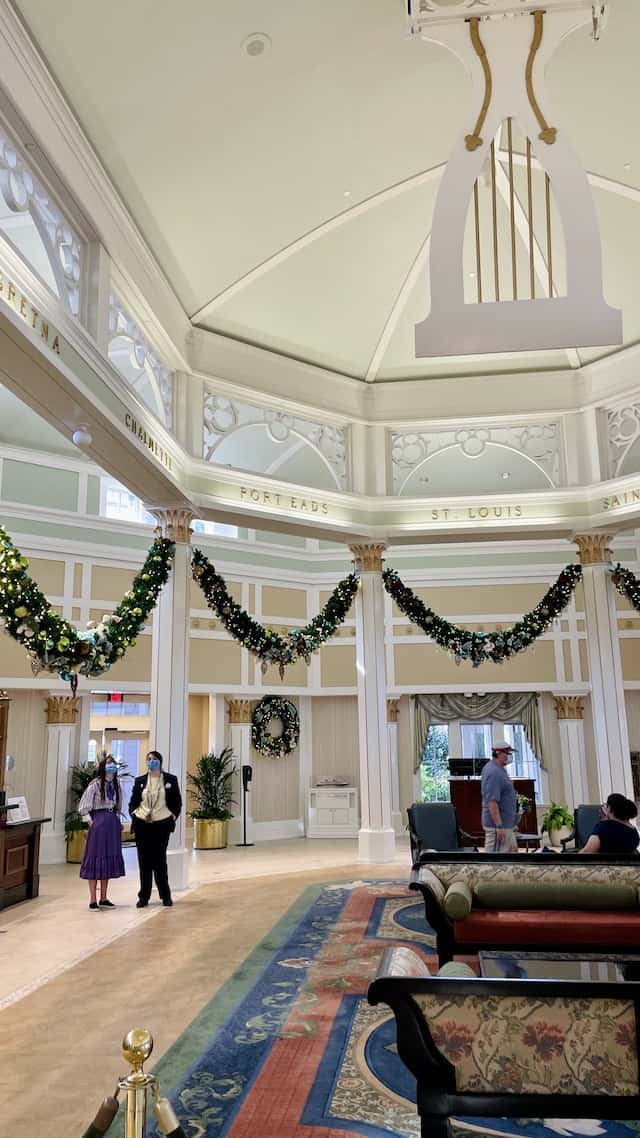 On a recent trip to Walt Disney World, our family had the opportunity to stay at Port Orleans Riverside. This is such a fun resort filled with good ole' southern charm and great nods to Louisiana. The resort is broken up into two parts: the Alligator Bayou backwoods cottages and the stately mansions of Magnolia Bend.
The Royal Guest rooms feature a wonderful princess theme and are located in Magnolia Bend. You can check out a full review of these rooms HERE.
Even if you are not staying at Port Orleans, you should consider enjoying many of the great recreational amenities at this resort. They offer a magical 25-minute Horse-Drawn Excursion along the Sassagoula River. We wanted to enjoy this unique Disney excursion during our stay, but unfortunately this was canceled due to bad weather.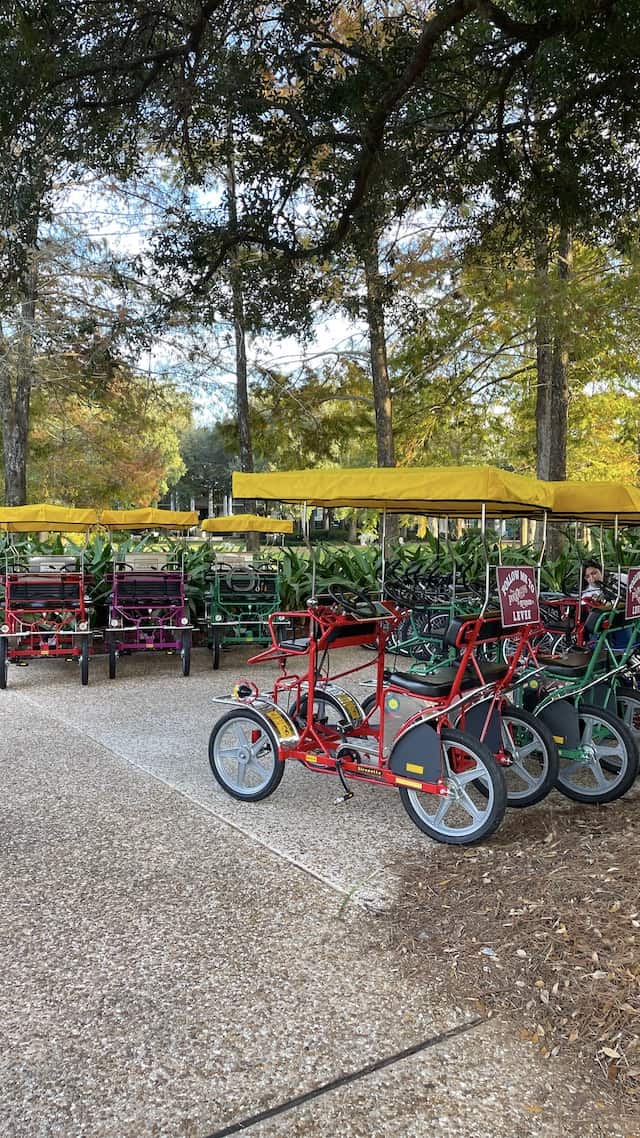 If you want to enjoy a bit of exercise on your trip, you can rent a bike or have your family enjoy a great surrey bike ride for 2-4 riders. You can try your hand at fishing with a guided catch-and-release excursion from the Riverside Levee Marina. Old-fashioned cane pole fishing is also available at the Fishin' Hole on Ol' Man Island.
At nighttime, you can enjoy a great Campfire on de' Bayou as you roast marshmallows by an open fire every day from 5:30-6:30. Clearly, there are so many great activities to enjoy at this resort. They also offer great entertainment with Yeehaa Bob entertaining a lounge full of guests each night.
You can check out a full review of full activities at both Port Orleans Riverside and French Quarter HERE.
After all these adventures, you have to stop for true southern dining at the Boatwright's Dining Hall.
Boatwright's Dining Hall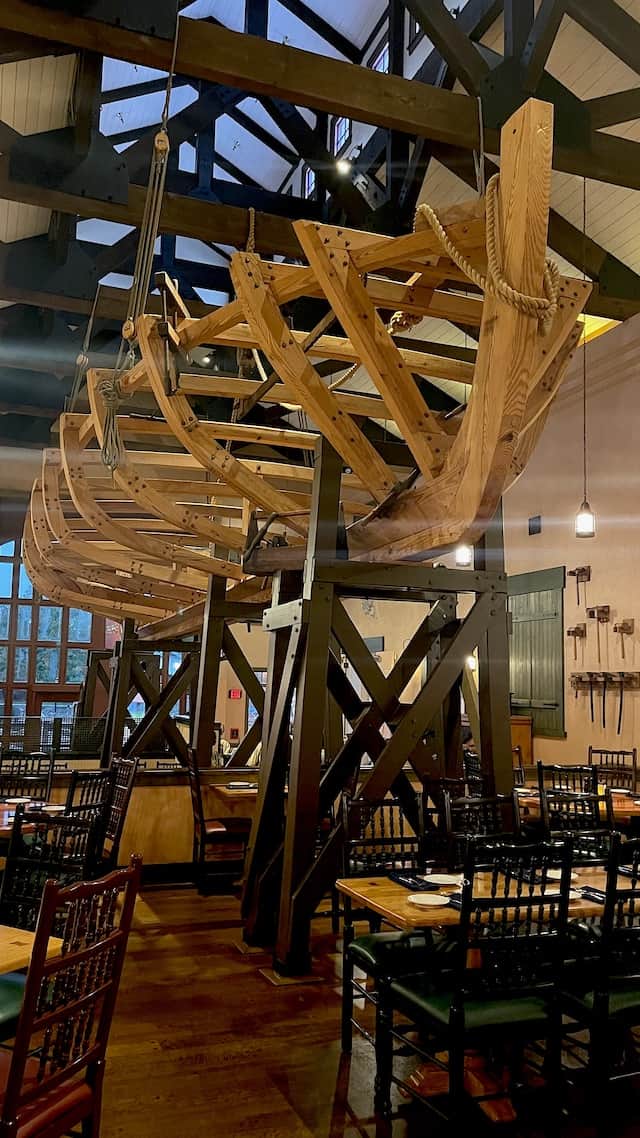 Boatwright's Dining Hall is a table-service dining location at Disney's Port Orleans Riverside. This is conveniently located near the main lobby and marina where you can rent both boats and bicycles.
Dining reservations are highly recommended and can be made 60 days before your arrival. The night we dined, many guests were waiting to be seated.
The staff is very friendly and offered true southern hospitality throughout our dinner. My (Donna) children loved the skeleton hull of a large fishing boat although the remainder of the dining room was a little sparse.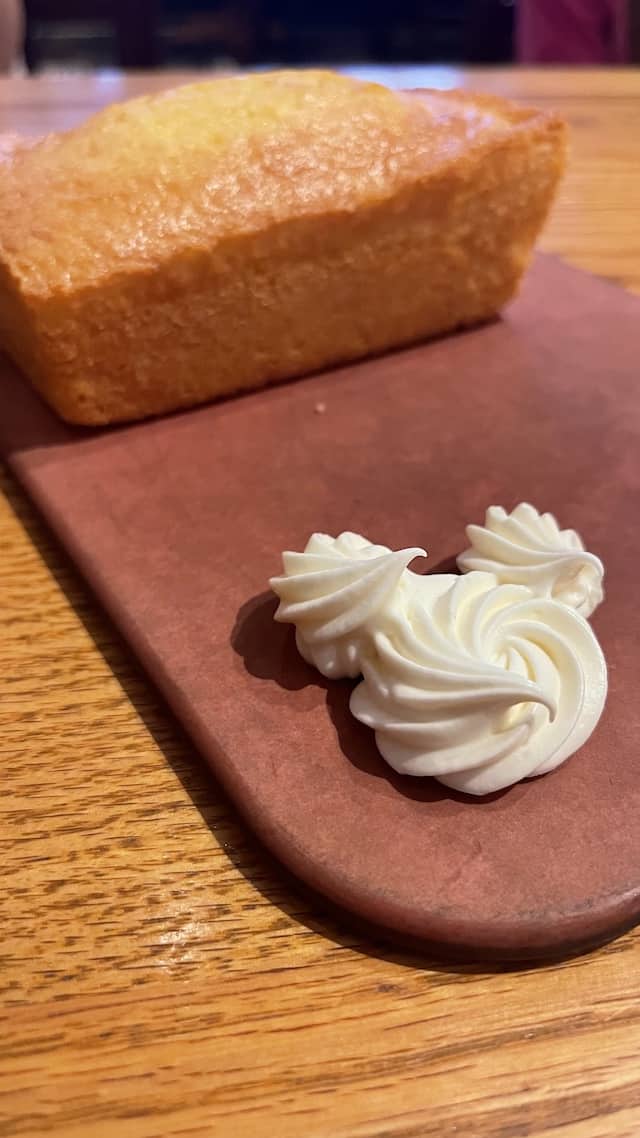 The meal was off to a great start for my hungry crew. As soon as our server returned with our drinks she brought a large loaf of delicious cornbread. This is served with sweet honey butter that melts in your mouth.
Taste of the Bayou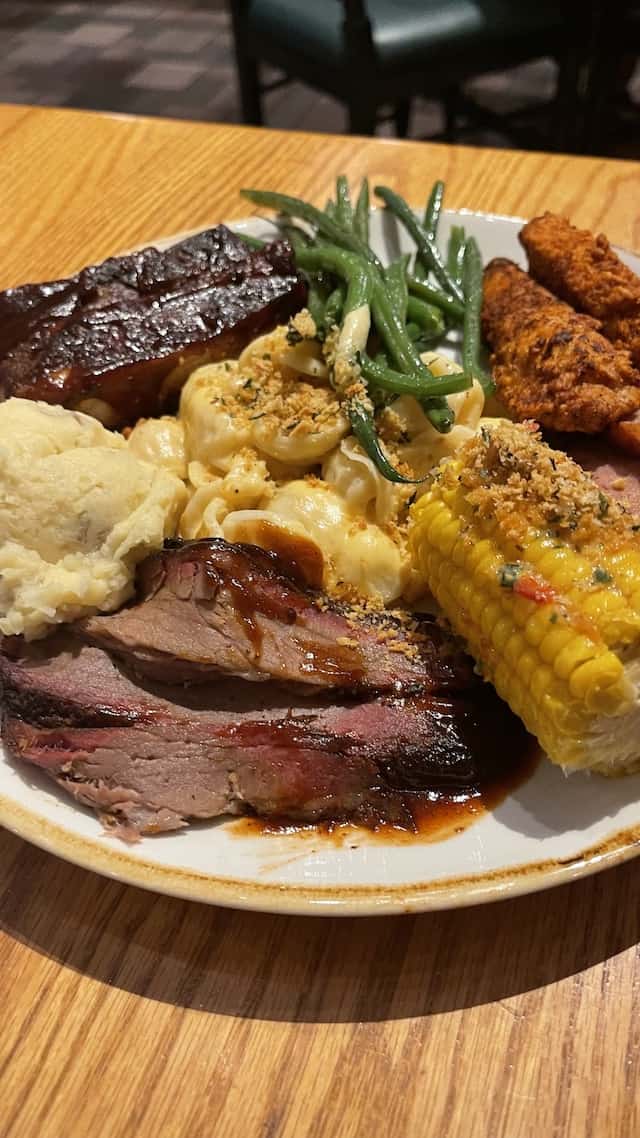 The Taste of the Bayou is a new menu that is a true feast. It is one of the more expensive entree options but large enough to share. The platter includes great meat options including hickory-smoked pork ribs, crispy cajun chicken, smoked sausage, and barbecued beef brisket.
This large platter also includes mashed potatoes, macaroni and cheese, roasted corn, and seasonal vegetables. My two teenagers were skeptical about sharing this platter but quickly realized that there would be plenty of food for them both. Since neither child was particularly interested in the smoked sausage, our server happily switched this out with extra brisket. The brisket was absolutley delicious and so tender.
The Taste of the Bayou is a new menu that is a true feast. It is one of the more expensive entree options but large enough to share.
The cajun seasonings used with the chicken and also with the sides were perfect even for younger diners. This is a great entree to share with generous portions and delicious menu options.
Low Country Seafood Boil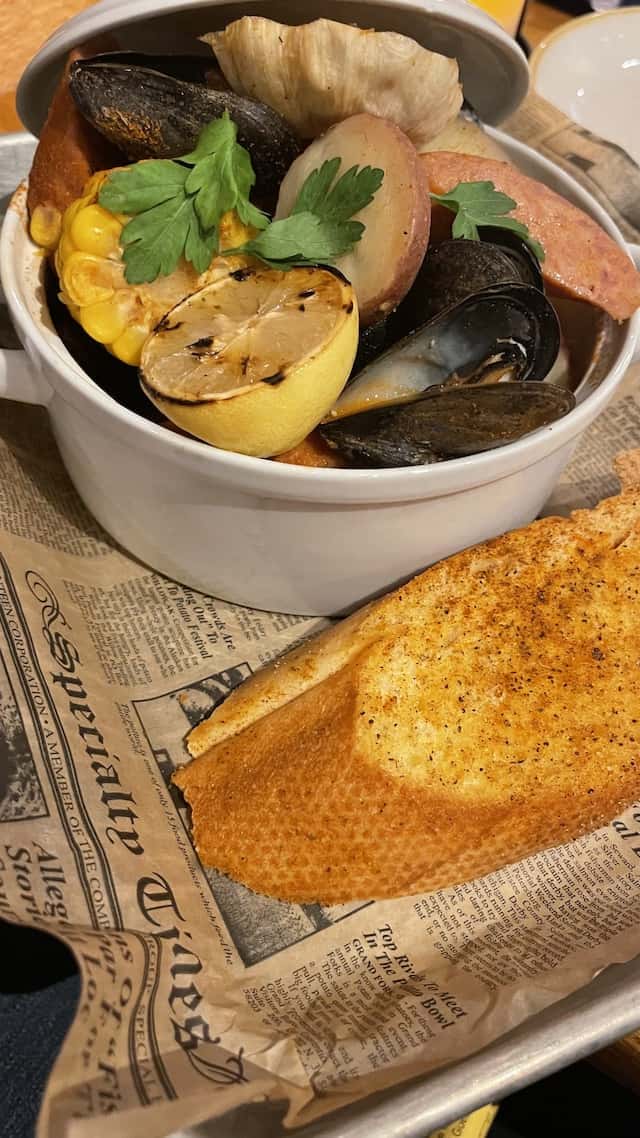 The Low Country Seafood Boil is also a newer menu item. There is nothing like a seafood boil, and this entree did not disappoint. I (Donna) love the small boiling pot that is served on top of a newspaper. It gives you true Louisiana vibes.
The dish is filled with shrimp, mussels, and Andouille sausage with corn on the cob and potatoes simmered in spicy cajun broth. The seafood was absolutely delicious. The shrimp and mussels were absolutely perfect. The flavoring of the cajun broth created an explosion of flavors with both the seafood and the side dishes as well.
If you love seafood, you will really enjoy this dish. Again this dish is fairly large and is a great break from traditional theme park food.
The flavoring of the cajun broth created an explosion of flavors with both the seafood and the side dishes as well.
Southern Cheesecake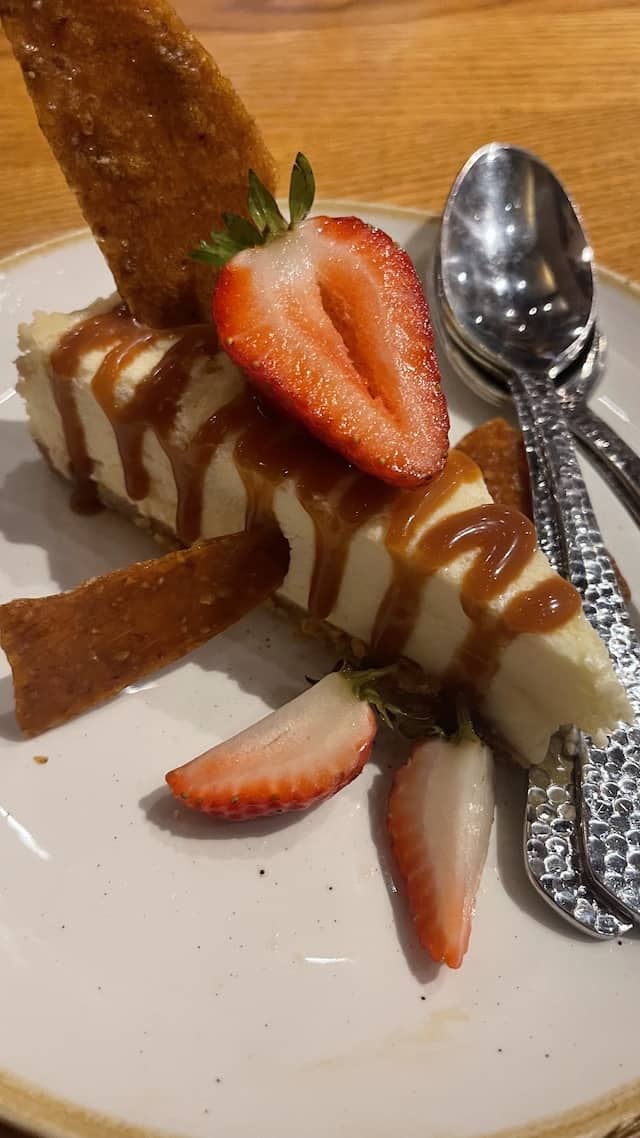 To finish our delicious meal, we enjoyed the Southern Cheesecake. This is a classic vanilla cheesecake with a bourbon-caramel sauce and garnished with pecan-praline brittle and fresh-cut strawberries. The cheesecake is so creamy and delicious. When paired with the bourbon-caramel sauce, this dessert is simply divine.
This was the true icing on the cake for us.
Final Review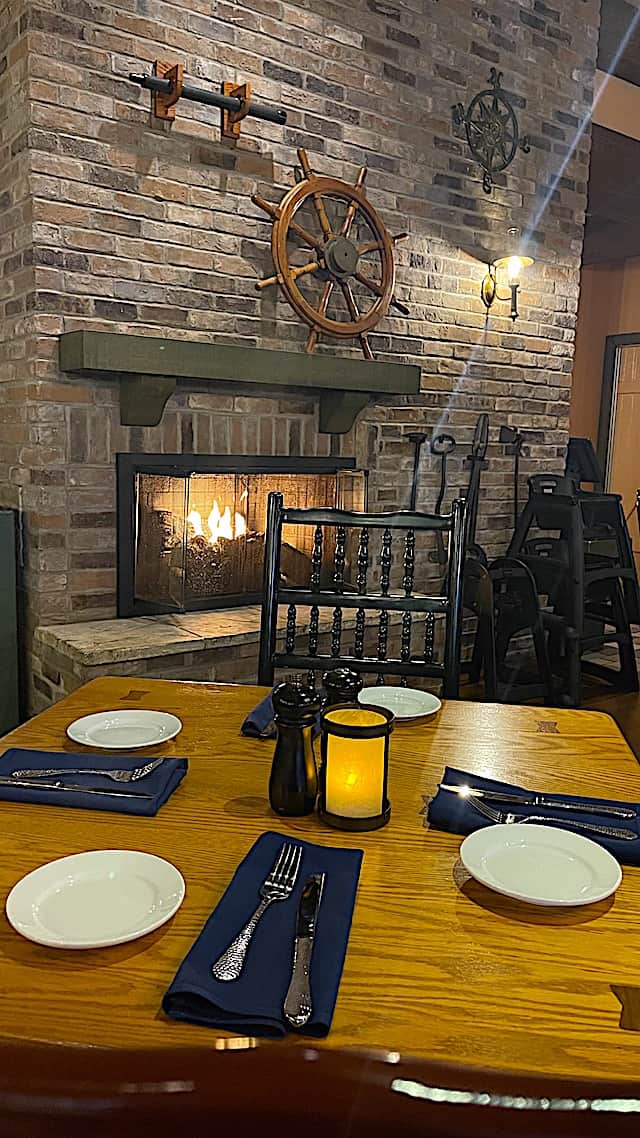 The big question is, "Would we dine here again?" The answer is a big YES! Our children greatly enjoyed the many great recreational options at Port of Orleans. Unfortunately, we were not able to participate in many of them due to weather while we were visiting.
We hope to add a half day to our next Disney trip to enjoy the great amenities of Port Orleans, and to dine at Boatwright's Dining Hall again. Although the atmosphere is not the highlight, the excellent service and delicious menu options will definitely warrant another dining experience at the restaurant.
Have you visited Port Orleans in the past? What is your favorite activity to enjoy at this fun resort? Have you dined at Boatwright's Dining Hall? What do you think about these new menu options? Share your thoughts with us in our comment section.