We went to Walt Disney World's T-REX and Dino-Store. Here is a review to help you decide whether you want to spend Disney minutes and money visiting for a meal.
T-REX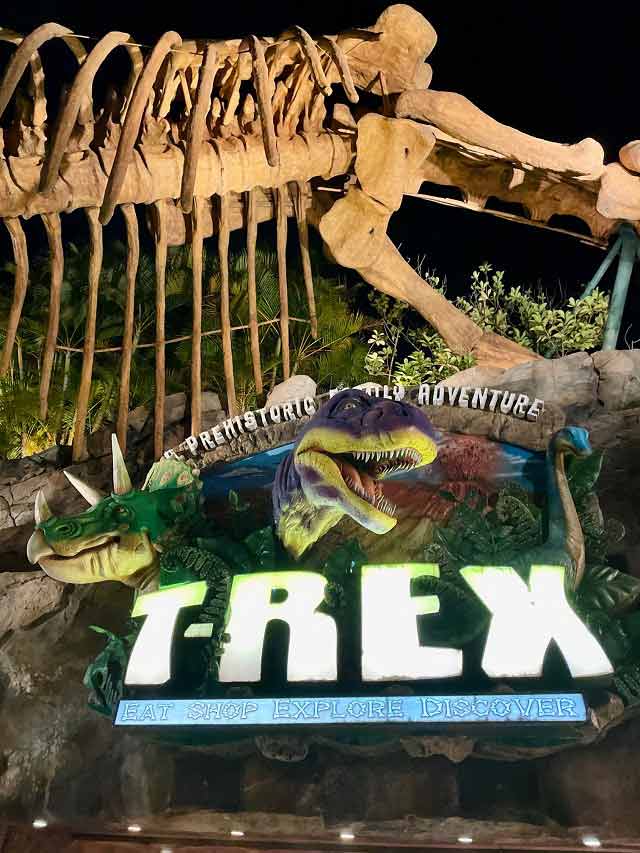 T-Rex is a table service restaurant located in Disney Springs. It is one of the only dinosaur-themed areas in all of Walt Disney World, aside from Dinoland USA. Many parents want to take their dino-loving children for a fun experience there. Adult dino fans might enjoy it, too!
As a result, it can be a tricky reservation to get. After all, what kid wouldn't want to go to a restaurant and eat with animatronic dinosaurs?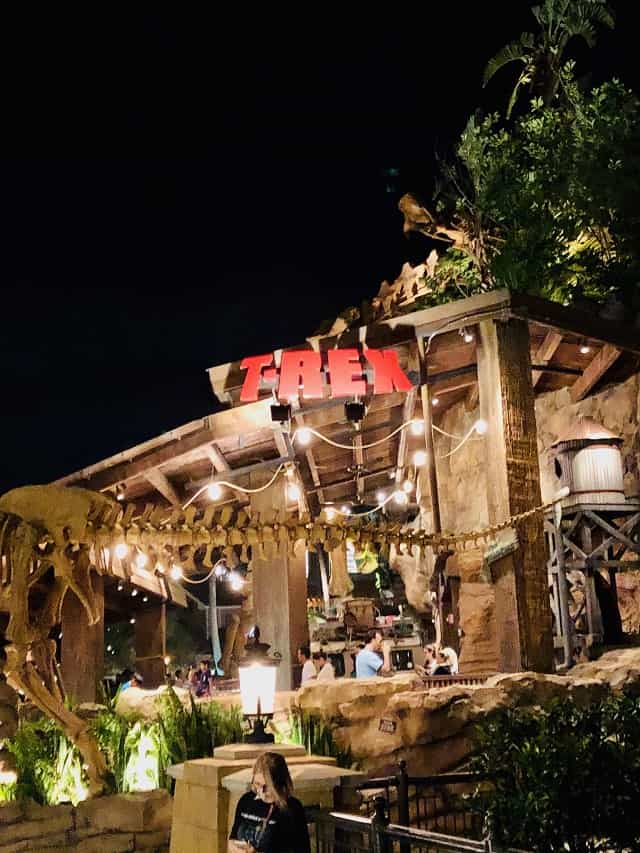 It is especially great if you plan to visit on a rest day or a day you are not staying in the parks all day because then there is no rush to get to and from Disney Springs. For example, I (Katie) paired it with a visit to Disney's Animal Kingdom, which my family usually completes in half a day if the kids are along for the ride.
Landry's Inc.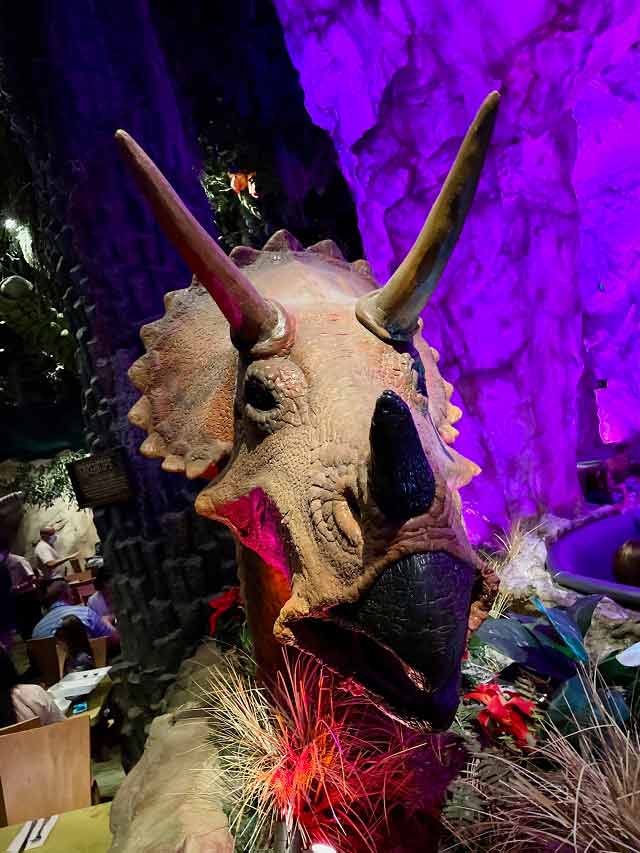 Like some of the other dining spots, T-REX is not owned by Disney. It's owned by Landry's Inc., which offers a Landry's Select Club membership card that can get you priority seating at any Landry's restaurant without a reservation. You might not be seated immediately, but you will have a significantly shorter wait.
The Landry's Select Club membership costs $25 and offers a $25 reward and a $25 birthday reward redeemable in the restaurant. It also offers rewards points for members who present the card when they visit a Landry's Restaurant Group establishment.
The group also owns Rainforest Cafe with locations in Animal Kingdom and Disney Springs and Yak and Yeti in Animal Kingdom. If you live in or around a major city, it is likely that you can find a Landry's-owned restaurant near you as well including well-known fine dining establishments such as Del Frisco's or Morton's.
The Dino-Store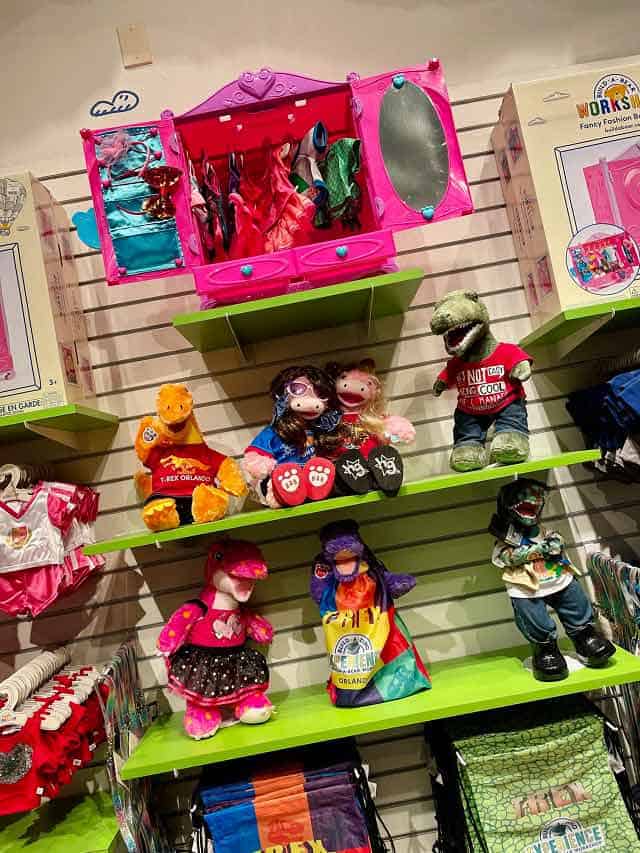 We started our visit to T-REX with a trip to The Dino-Store. The Dino-Store is essentially a dinosaur-centric Build-a-Bear Workshop. This is awesome because fellow writer Maggie gifted my little ones with some Build-a-Bear gift cards, and we were able to redeem them at the Dino-store! If you have a member of your travel party who is not a dino fan, fear not! There are also classic Build-a-Bear options available.
The experience starts with a chance to select your dinosaur or whatever other creature happens to be available. They are floppy plush skins that are ready to be stuffed.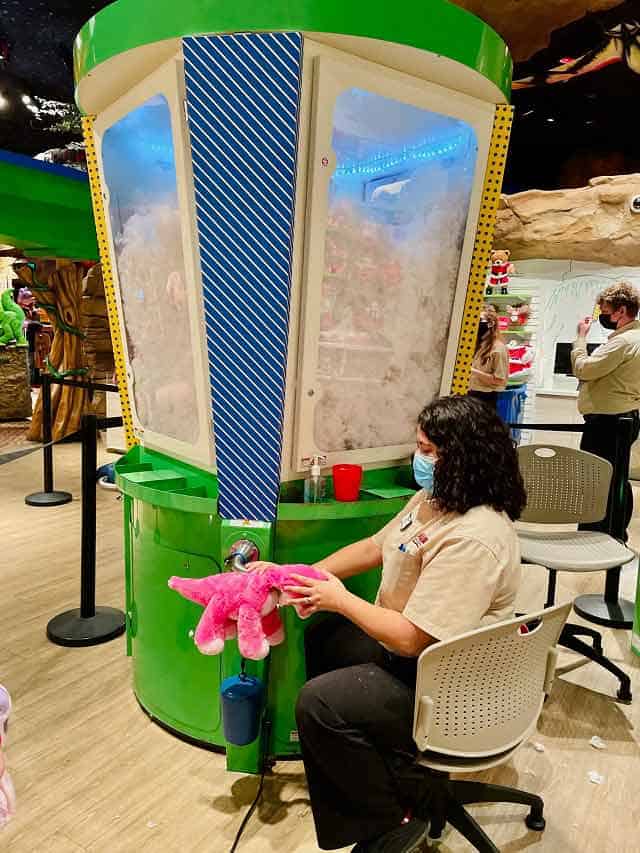 Once you select your critter, it is time to fill it with fluff! A Cast Member came to the station to assist with filling our new friends with fluff. She let my little ones control the food pedal and she did the rest. Afterward, they got to squeeze their dinos to check whether they were at the right level of huggability. They could then add more fluff if they wanted.
Once the dinos met the fluffiness specifications, it was time for a very important step: selecting a heart. There were solid red and satin options. There is also a special little heart "ceremony" that the Cast Member did with each of the kids. This is also when you would add sounds if you wanted them. My kiddos did not add sounds to their dinos.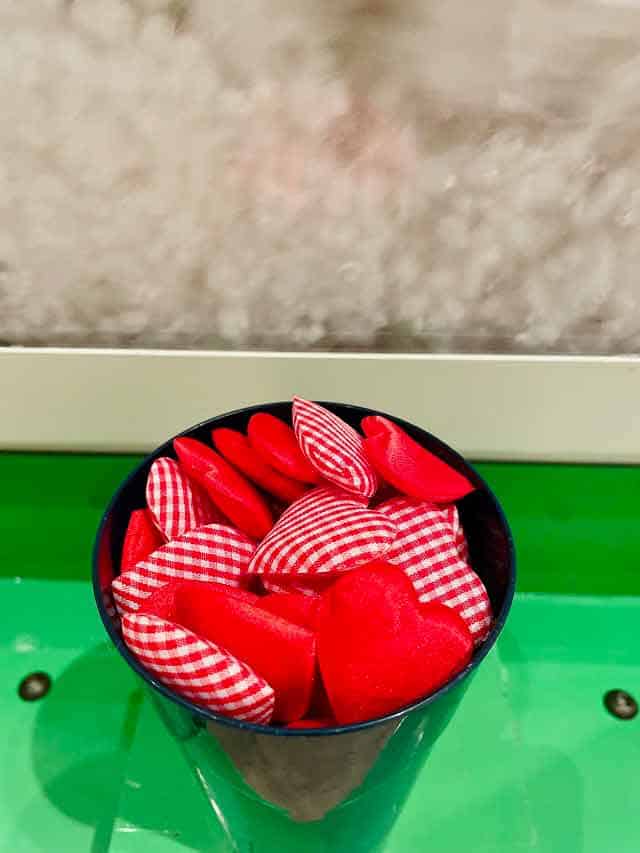 Next, the cast member stitched up the dinos. After that, the kids could take them to a sort of grooming station to pretend to bathe and brush them and blow them dry.
Once that was done, it was time to select clothes and accessories for the dinos. I will say that it is harder to find clothing to properly fit a dinosaur than it is to find clothing that fits teddy bears. Dot, my daughter's 4-legged friend could only fit into very limited options because of her design. Our Cast Member friend helped to show us what would fit best on each particular dino.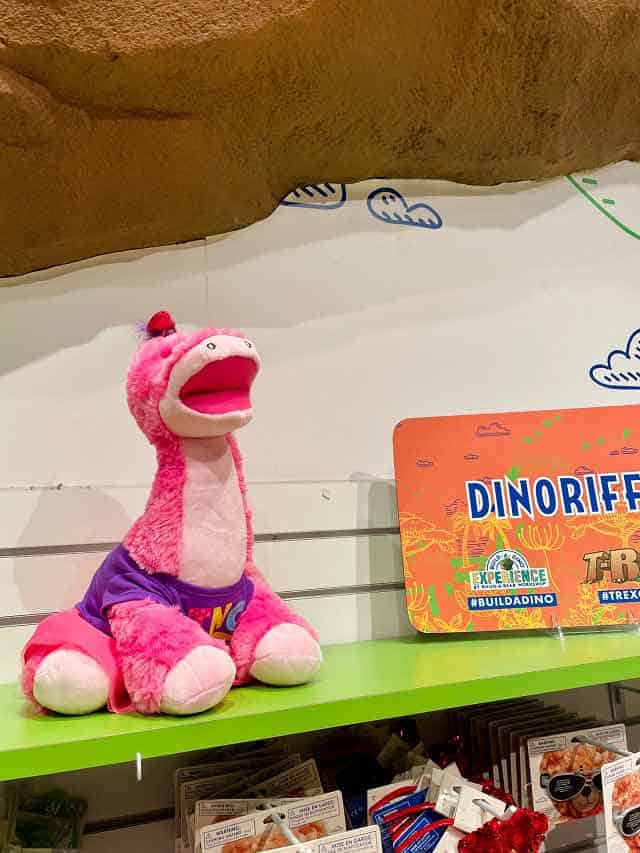 My two did not like the look of any of the styles on their particular dino pals. In the end, they decided that dinosaurs don't need clothes. (Woohoo!)
The final step is naming your dinosaur, giving it a birthday, and printing your birth certificate. Ours were dubbed "Dot" the pink apatosaurus and "Bits" the blue—well we aren't sure what he is. He might be an Ankylosaurus.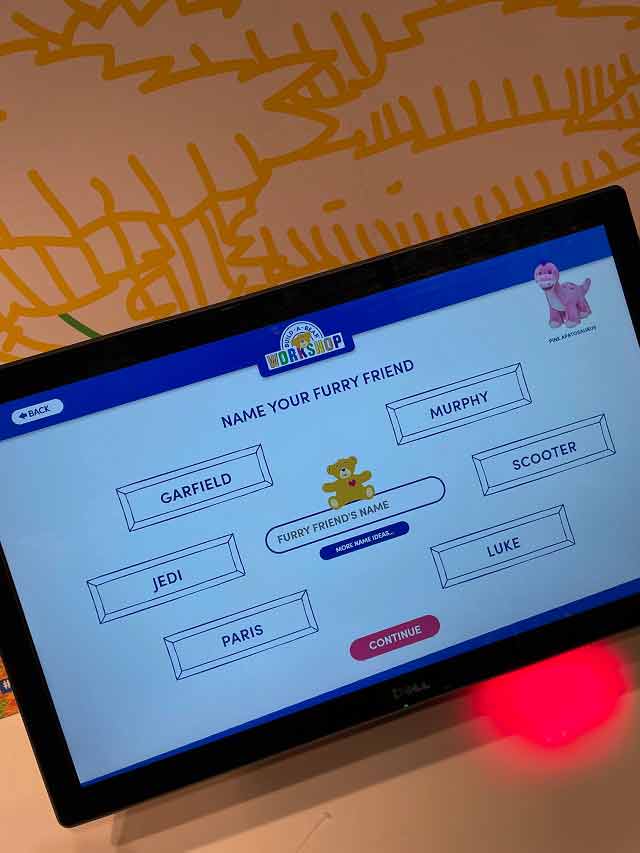 Supply issues meant that the Dino-Store was out of boxes during our visit, but that was okay. Our little ones wanted to carry their dinos with them in their arms anyway.
If you wonder whether your Dinosaur will be loved forever or will end up being yardsale fodder, your mileage may vary. Dot had to accompany us on the rest of our adventures for the week and got to meet many characters and go on some attractions too. She also makes regular appearances in play at home. Bits, on the other hand, makes some appearances now and then, but he definitely is not the preferred critter in my son's room.
T-REX Theming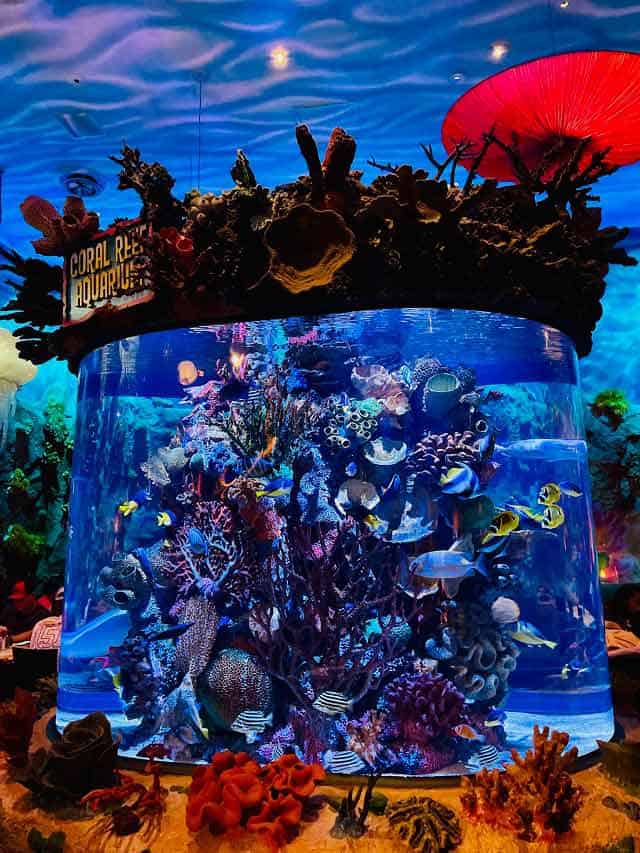 T-REX is certainly not subtle in its theming. It is stocked with in-your-face dinosaur goodness. The building itself incorporates a T-rex skeleton. There is a dig site play area out front to amuse smaller Guests while their families wait for their seats.
As soon as you enter the restaurant (via red carpet), you will notice a bar with an impressive Coral Reef aquarium filled with fish. It's really quite lovely.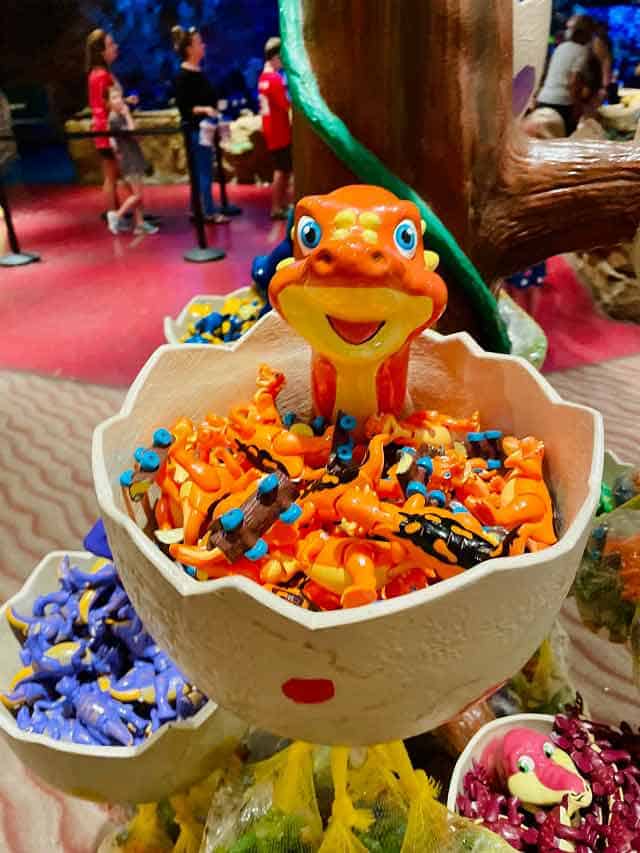 You will also notice a gift shop that is separate from the Dino-Store and filled with T-REX t-shirts and toys. Our dino build experience distracted the kids from asking to look in the shop.
There are several distinct dining areas in the restaurant. Most areas are filled with animatronic dinosaurs, prehistoric plants, and even insects.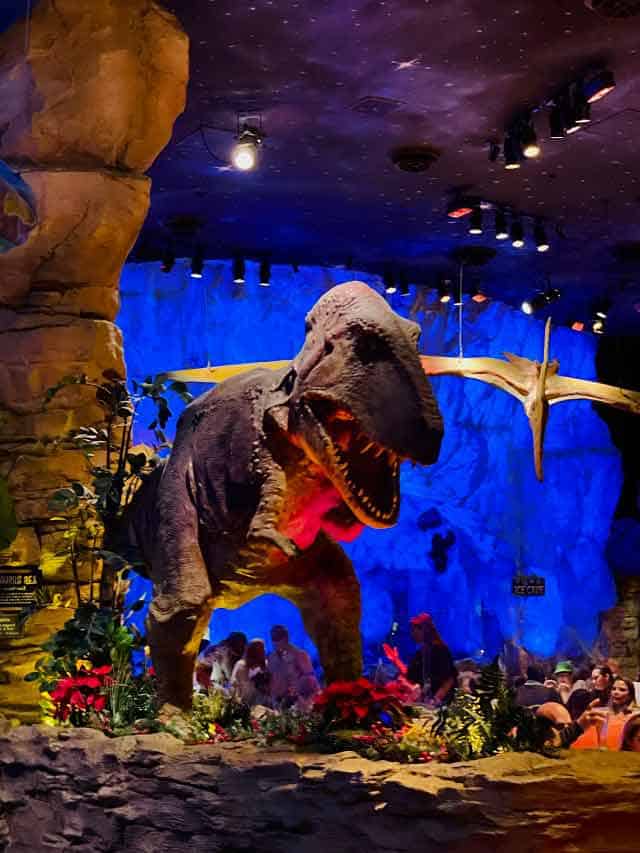 You will encounter a diverse collection of dinosaurs. We noticed the triceratops right away. We also saw several predators including a T-Rex of course.
Some of the tables even let you sit inside of a dinosaur or under a tree. We were seated near a friendly Parasaurolophus family, much to our delight. It just so happens that I was a huge dino fan growing up, and Parasaurolophus was my very favorite.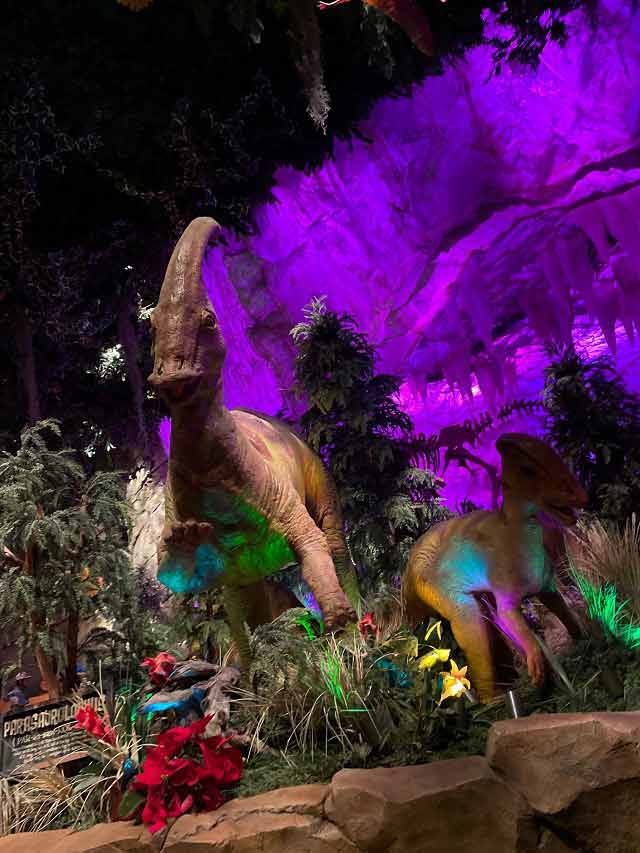 There is also an ice cave that pulls in the ice age. If you have any little mammoth fans, that could be a fun place to sit. You must walk through the ice cave to get to the restrooms. Even they are themed with He-Rex and She-Rex signs.
My little ones really liked getting to walk and look at everything. It can be a lot of fun for kids, even if they are only moderately interested in dinosaurs. I imagine if you have a die-hard dino fan, you will hit a home run with the theming. This is true unless, of course, they are extremely scientific fans who do not like the blending of different lifeforms from completely different eras. However, no one in my group had any such concerns.
Trigger Warnings
If you are traveling with anyone who is sensitive to sound, know this: T-REX is LOUD. There is a lot going on inside that place. Sometimes it is just conversation, but other times it is roaring animatronics.
In fact, every now and then, there is a storm accompanied by a meteor shower. The dinosaurs protest it loudly. This might frighten some children, especially if they are sensitive to sounds. They might also find the carnivores frightening.
Service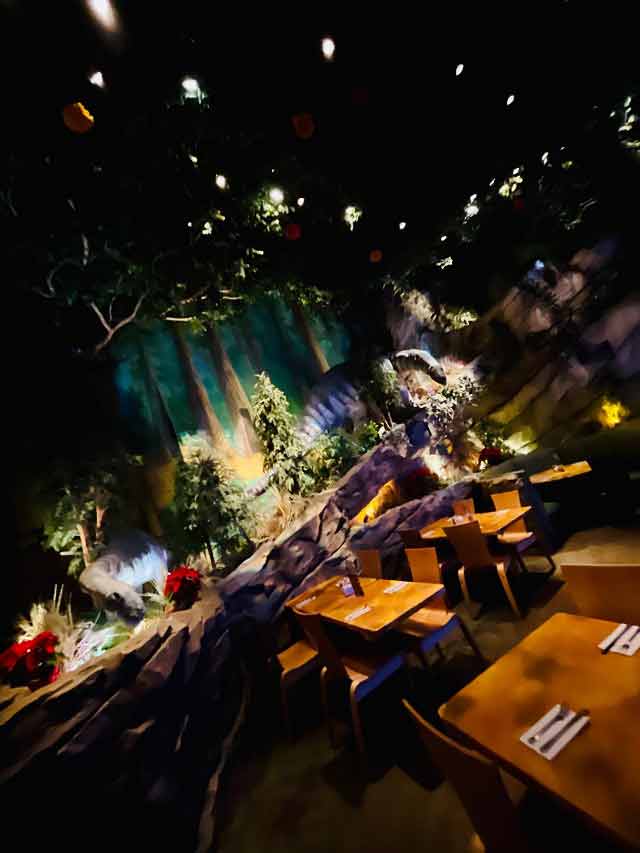 Our server at T-REX was fantastic. She was knowledgeable, attentive, and funny. The kitchen was a little slow, but that is understandable since we were visiting on one of Disney's very busiest days! She kept us up to date so that we did not feel forgotten.
If you have excellent service while you are in Walt Disney World, don't forget that in addition to a nice tip, you can leave a Cast Compliment! You can read about one easy way to do that here.
Grownup Food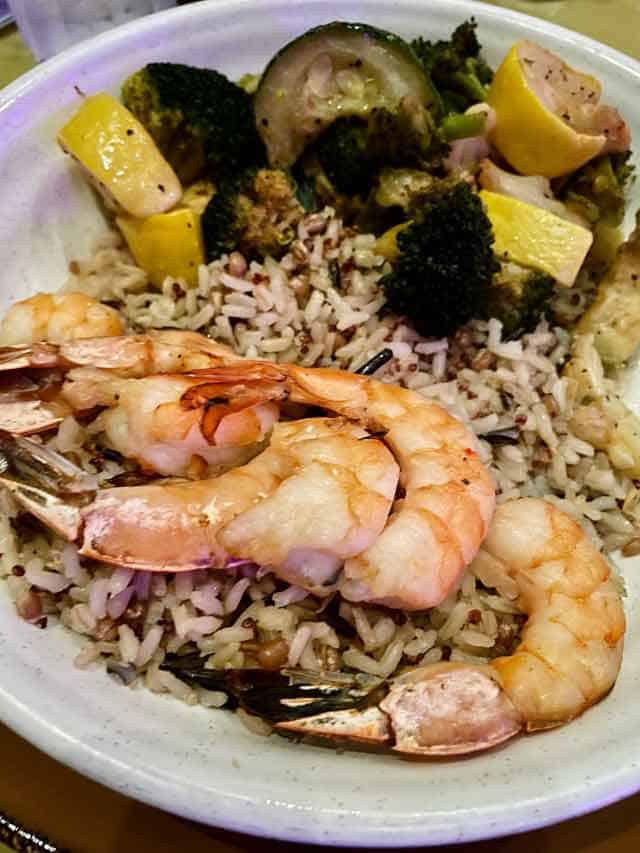 The food is not where T-REX shines. Ours was fine. It will remind you of a Bahama Breeze or an Applebees or maybe even the freezer section of your local grocery store. Most of it was not bad. It is just that Disney Springs has so much really good food to compare it to that if food is what you are after, you should probably look elsewhere. Of course, it is the experience one visits T-Rex for rather than the food.
I ordered a Grain Bowl with Shrimp. The menu described it as barley, wheat berries, wild rice, red and white quinoa, oven-roasted vegetables, and citrus vinaigrette dressing. The veggies were a little charred and a little wilted and the shrimp were a little tough. But, this was unsurprising since this is not a restaurant that flies fresh seafood in daily. It definitely wasn't photogenic food, but it was pretty good flavor-wise, just not texture-wise. I loved the vinaigrette dressing. You can also get this dish with no animal protein if you'd like.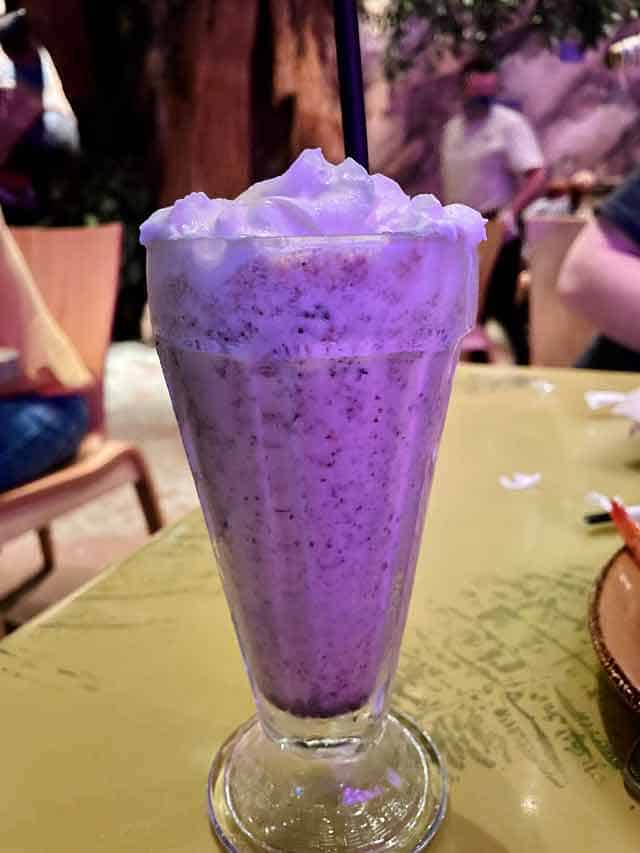 I also tried a Reese's Smoothie. It was pretty yummy, but it was not what I was expecting. I think smoothies are better with fruit.
My (Katie) husband tried the mushroom ravioli with shrimp. The menu described it as ravioli prepared with lobster cream sauce, roma tomatoes, and spinach. He liked it pretty well. I thought it was good, too. His shrimp were a bit more tender.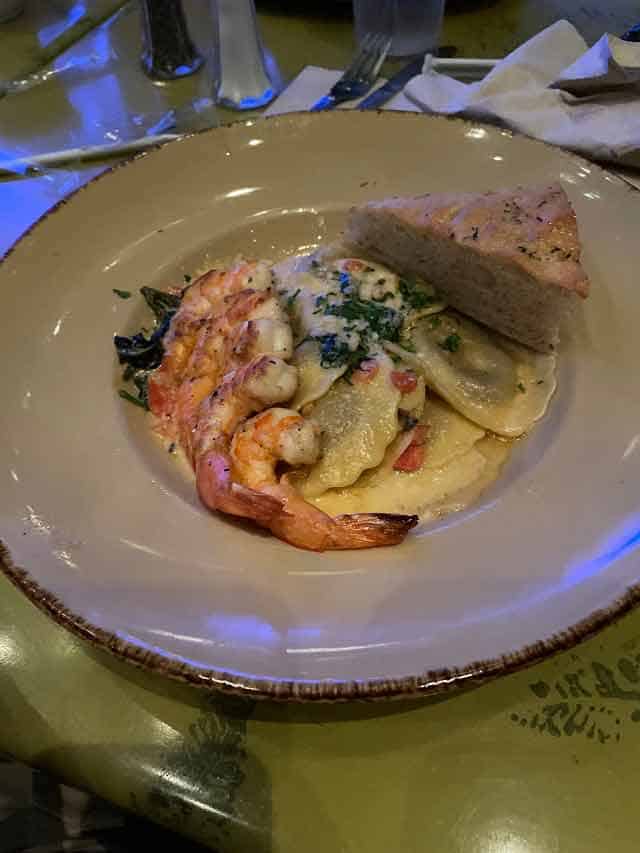 Overall, the food certainly wasn't terrible, and some of it was even pretty good. I will not find myself craving it the way I find myself wishing I could have some of my Disney favorites, but if you want the dinosaur experience, I wouldn't let the food hold you back. You might even find you enjoy it!
Kid Food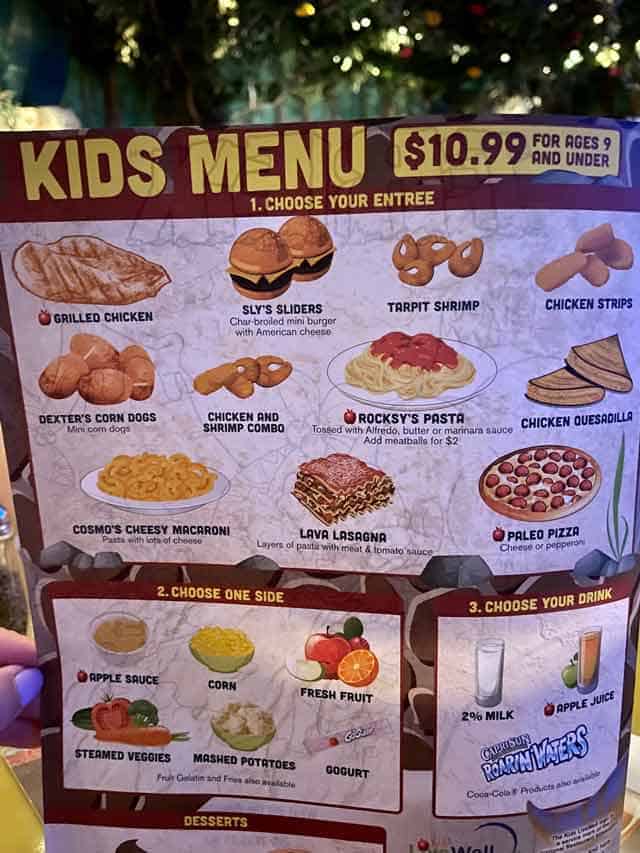 The children's menu doubles as a fun coloring sheet that is a bit different from the ones provided at Dinsey-owned restaurants. The kids were happy to have something new to color.
Each meal comes with a drink. Kids can select from juice, milk, water, and soft drinks. The meals also came with two sides and orange slices.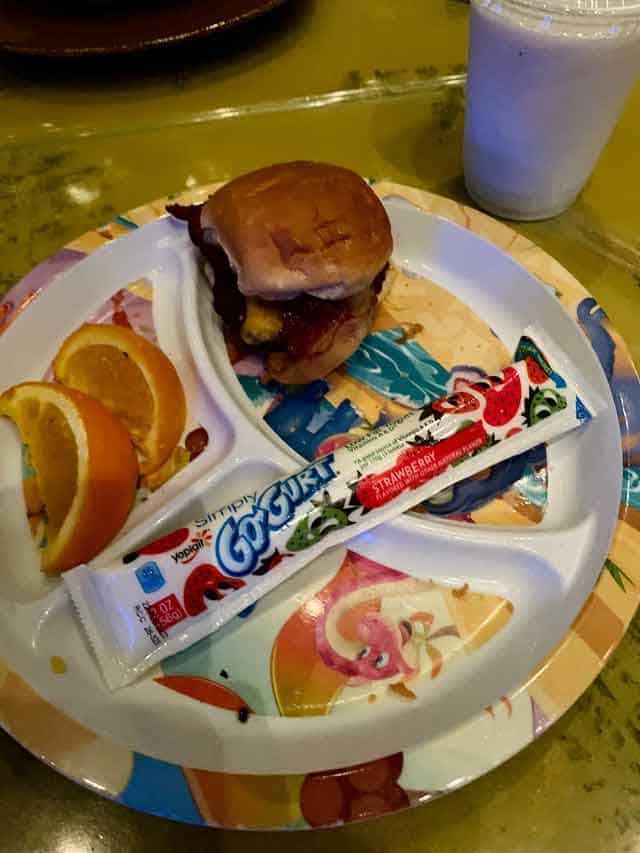 My little boy ordered the Sly's Sliders. It comes with two charbroiled mini burgers. He had already inhaled one before I could get a picture, but it did have two on the plate. For one of his sides, he selected yogurt.
He loved his burgers and said that they were very good and that he would eat them again. I didn't get to taste them for myself to verify because they vanished too quickly.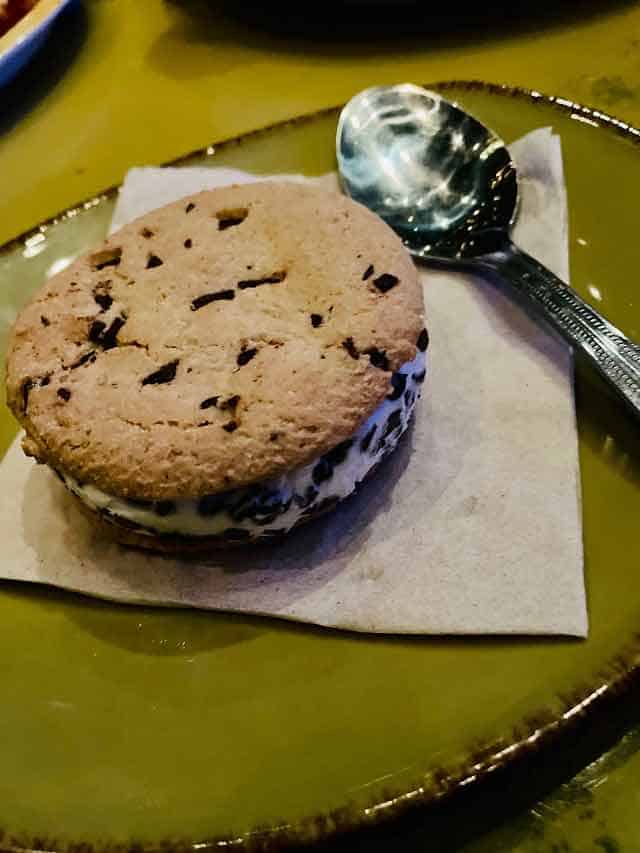 For his other side, he selected a chipwhich, which is vanilla ice cream between two chocolate chip cookies. It came out with dessert, and he loved it. I am not sure whether dessert is always allowed as a substitute for a second side, but it was much appreciated.
My little girl decided to order the cheese pizza. For her side, she selected fruit, which is a bag of grapes. She loves those little bags of Disney grapes, so this was a welcome side. She gets so excited when restaurants offer them instead of the apples in a bag.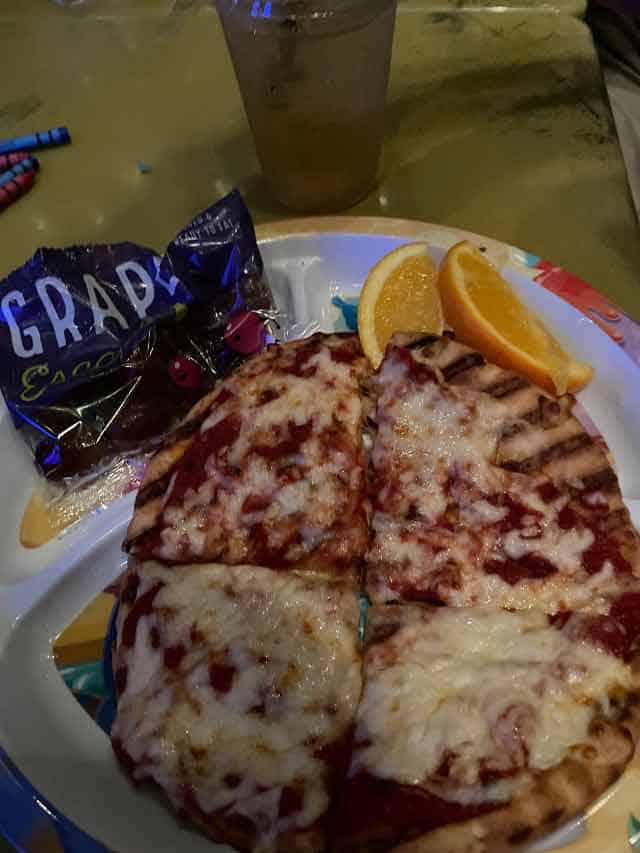 Unfortunately, after she tasted the pizza, she said, "this is the worst pizza I ever had." She loves pizza, but she did not like this pizza.
I tried it, and honestly, it reminds me of one of those kid's cuisine microwave meals we used to get in the 90's. Our server, who I already mentioned was a GEM, offered to bring her something else, but my little one said "no thanks." She filled up on her fruit and things from our plates instead.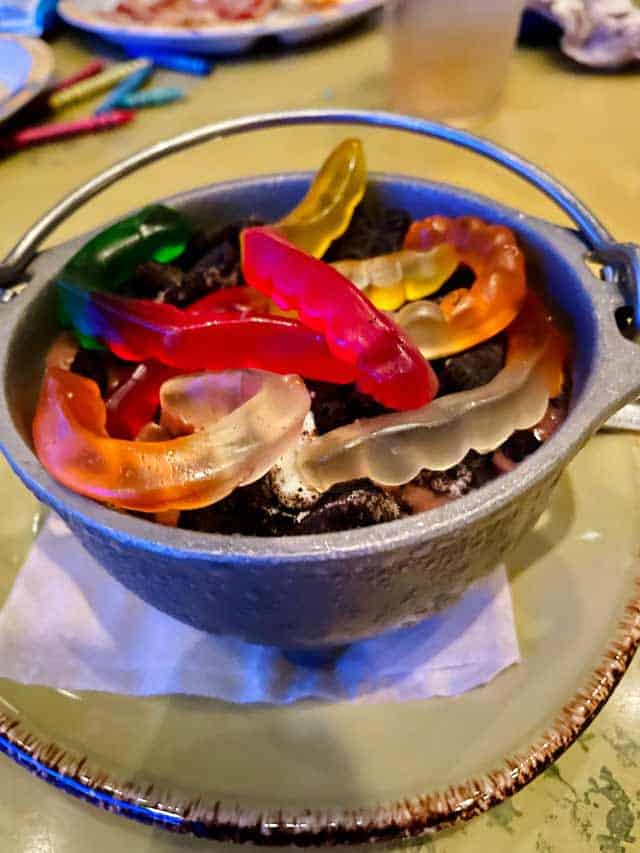 She also wanted to save room for her dessert, which was a Tar Pit. This dish is basically a worms n dirt situation. Boy did she LOVE that. She is a bit of a "gummy worm dessert" aficionado if such a thing exists. She has tried the various dirt n worms recipes at many Dinsey restaurants, and she said this one was very good.
Final Thoughts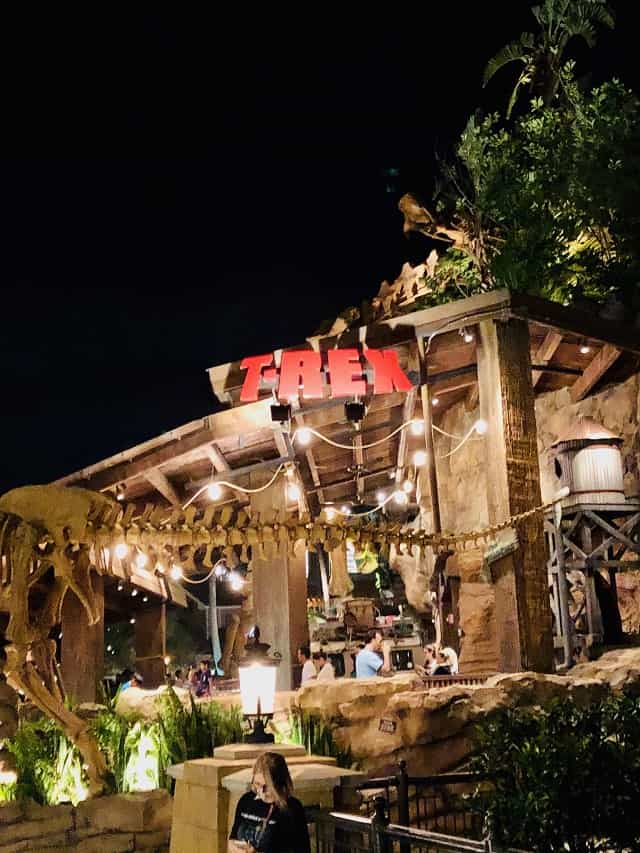 Overall, we had a great time at T-REX. Looking back, we are glad we gave it a try. It was a fun way to spend time together and get ourselves fed. Plus, the Dino-Store ended up being a huge hit! Our little ones gave the whole experience two ears up, despite the discovery of Disney's worst pizza. My little girl still talks about building Dot the dinosaur and wants to build another someday.
If no one in your group is into dinosaurs whatsoever, then I would suggest visiting one of Disney Springs's other dining locations as there are many delicious options including some of our favorites here at Kenny the Pirate like Homecomin' and Wine Bar George. However, if you have a little dino fan, and you want to visit Disney Springs, this could be a really fun treat.
Have you ever been to T-REX? Do you hope to go someday? Let us know in the comments, or you can also join our friendly crew to continue the conversation on Facebook.
Are you planning a vacation? Reach out to our trusted travel agency sponsor Authorized Disney Vacation Planner
Mouse Class Travel
!