If you are looking for your next great adventure in Walt Disney World, look no further than Disney's Animal Kingdom. Here you will find an exhilarating Safari adventure that is sure to satisfy both animal lovers and adventure seekers alike! Are you brave enough to take on Disney's Wild Africa Trek?
Wild Africa Trek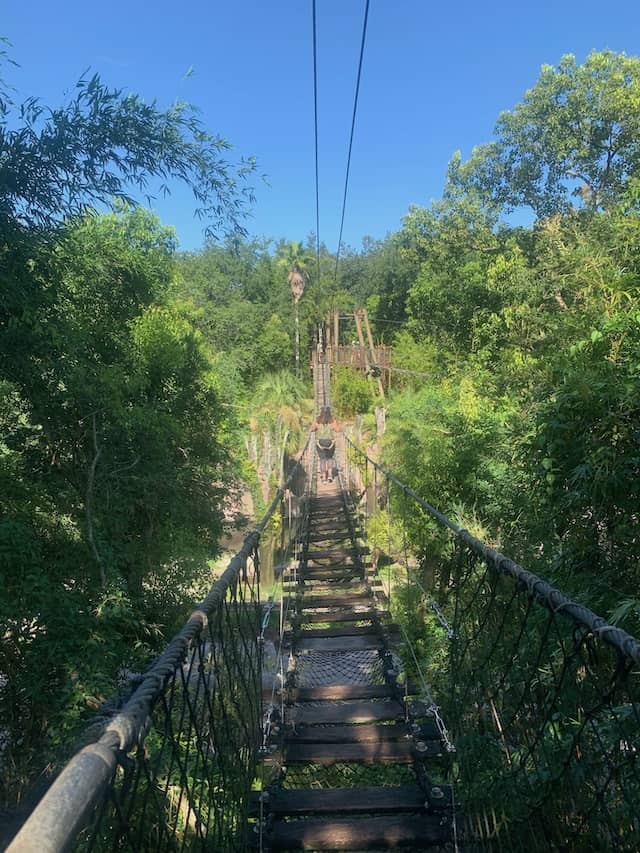 Do you enjoy Kilimanjaro Safaris in Disney's Animal Kingdom? Have you ever wanted a closer look at the amazing animals you see there?Disney's Animal Kingdom offers a special VIP tour that gets you up close and personal with the animals and habitat you see on this fun attraction!
On this privately guided VIP tour, you can view wild animals in their natural habitat. The tour lasts 3 hours, and you will discover many different animals living in the Safi River Valley, which is the untamed environment that resembles their home turf in Africa.
Are you curious about whether this tour is right for you? Check out our adventure and see for yourself!
An adventure of a lifetime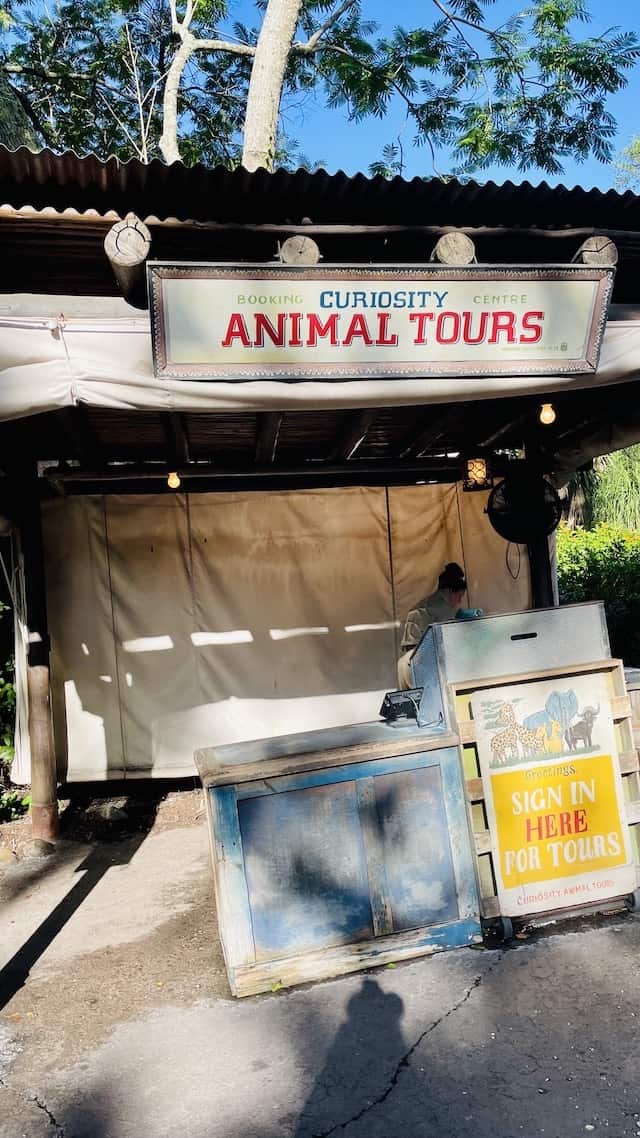 The tour begins when you check in at the Curiosity Animal Tours booth located right outside Kilimanjaro Safaris. Then, Cast Members escort you into a private area where you first step on a scale to determine what size harness you will need. Cast Members fit you with the harness and safety equipment.
Cast Members are great about helping you get into the safety equipment and providing straps to attach your cell phone, sunglasses, and any other loose items to you. The reason for this is so that no loose items end up falling into the animal enclosures! They even give you a complimentary water bottle that you fill with water to take on your trek. Best of all, the water bottle is a great souvenir to help you remember your adventure!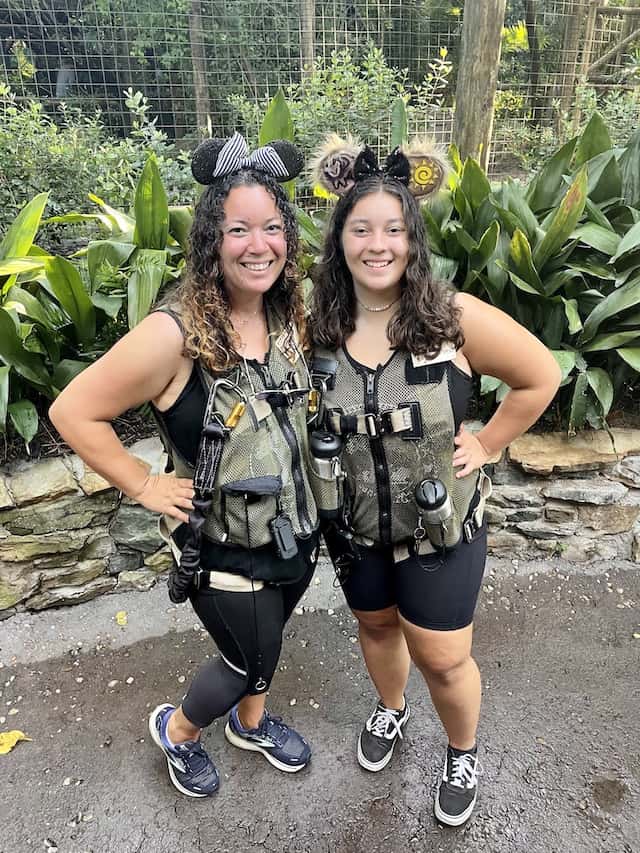 Anything that can't come on the tour with you gets placed into a complimentary locker for safe keeping. After the entire group gets suited up, you'll be introduced to your VIP Tour Guides and hear some important safety information for the trek.
Headed out for an adventure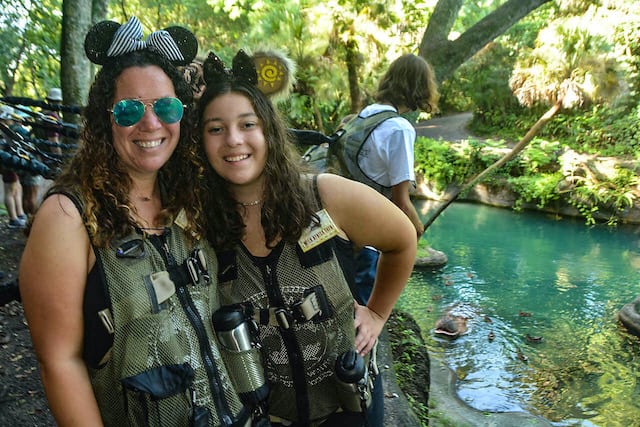 The tour starts off by going through a gated area behind the hippopotamus area. There is a short hike out there with some rugged terrain. Once you reach the hippopatumous area, the guides assist you in attaching a safety harness, so that you don't fall off the cliff into the water below!
We were able to stand and observe the hippos for quite a while while feeling safe and secure that we would not fall in! I will admit, I (Jamie) was still a bit nervous about being so close to the edge of a cliff, but I was able to walk out to the edge to get a great photo with the hippo in the background!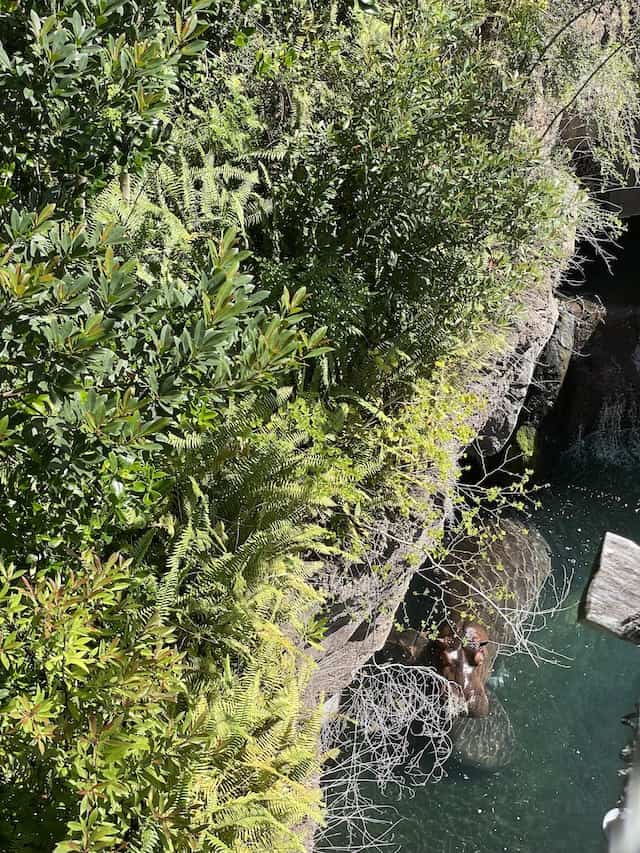 After the hippo observation area, we then hiked deeper into the woods until we reached a very large tower of stairs. I will admit, this is where I really began to worry. I have a pretty intense fear of heights, and when I saw just how high up we were going, my heart began racing!
I slowly climbed the stairs and took in the view around me. For what felt like miles I could see dense forest and a large pool below filled with hippos! Perhaps the most thrilling part (or scariest, according to me!) was the expansive rope bridge that connected the tower I was on to the next tower.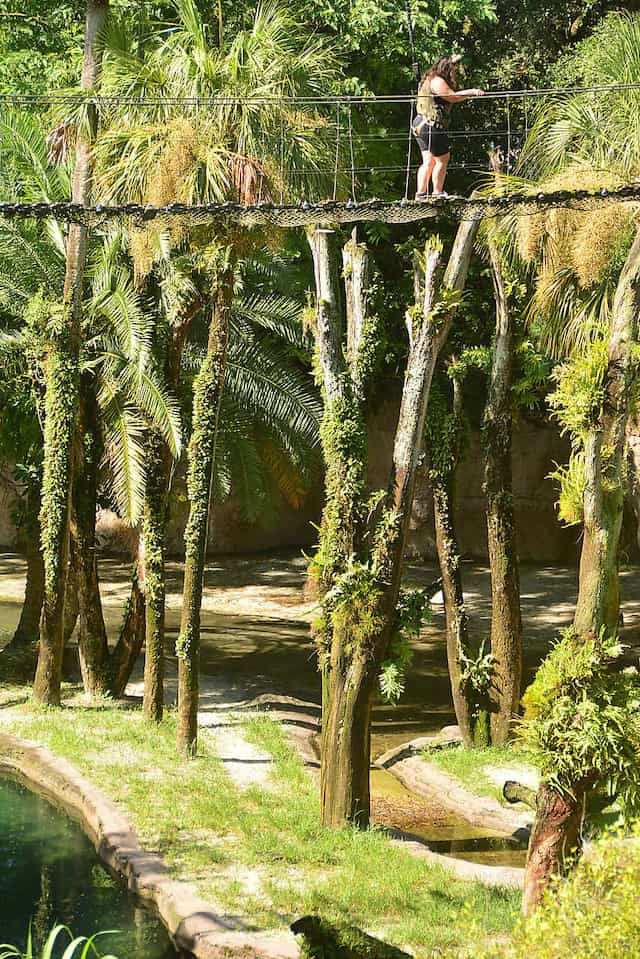 Before setting across the rope bridge, we were securely fastened to safety harnesses that would keep us from plummeting into the hippo filled pool below if something were to go wrong. Setting across the rope bridge was both thrilling and terrifying all at once. The bridge was wobbly but felt incredibly strong. I took my time stepping from wooden plank to wooden plank, stopping along the way to take in the amazing view from above.
Once you make it to the second tower, you then set off on a second rope bridge. This one crosses a pool filled with crocodiles below! If you thought hippos were scary, you will be in for quite a fright when you see all of the crocodiles below you!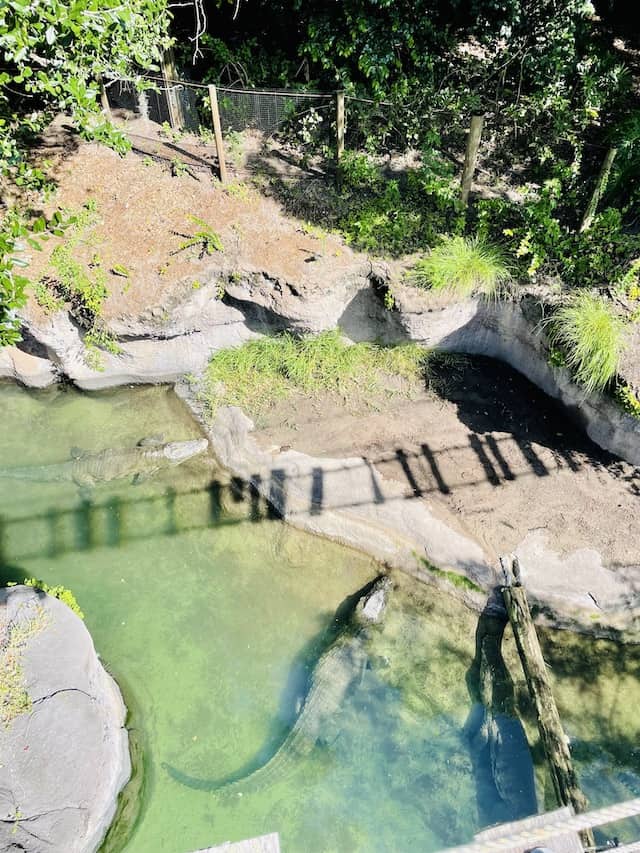 However, the view from above was stunning, and despite my racing pulse and sweaty palms, I was incredibly grateful for such a unique and thrilling experience.
After safely making it across the rope bridges (and taking a few minutes to regain composure after how scary that was!) we then headed over to our own private safari vehicle for the next part of our adventure.
Climb aboard for more thrills!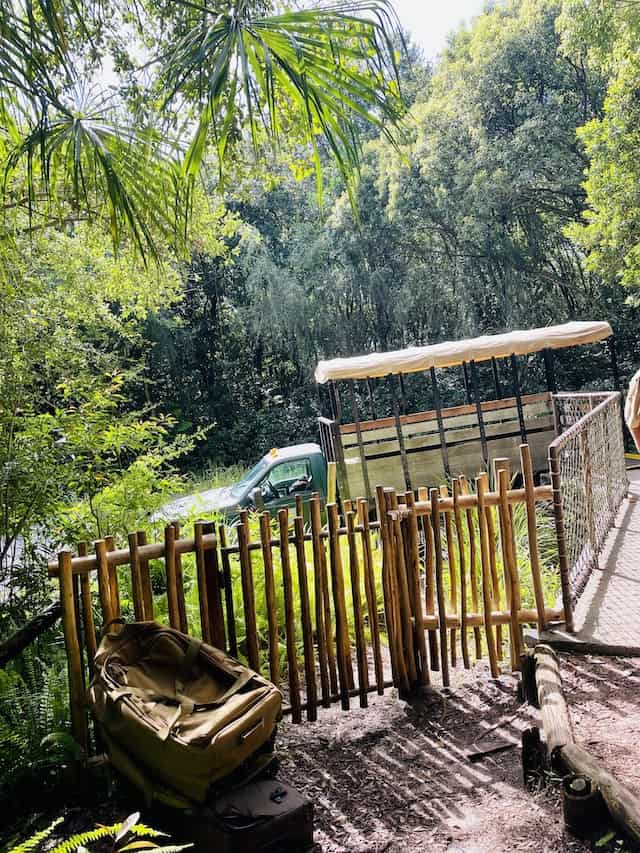 As if what we'd experienced so far wasn't amazing enough, there was still a whole other experience ahead of us! Our group next piled into our own private safari vehicle for our very own private tour of the African savannah. Here we drove through much of the area you see when you are on Kilimanjaro Safari, but we got to take other roads and veer "off the beaten path" several times and really got up close and spent some time with several giraffes!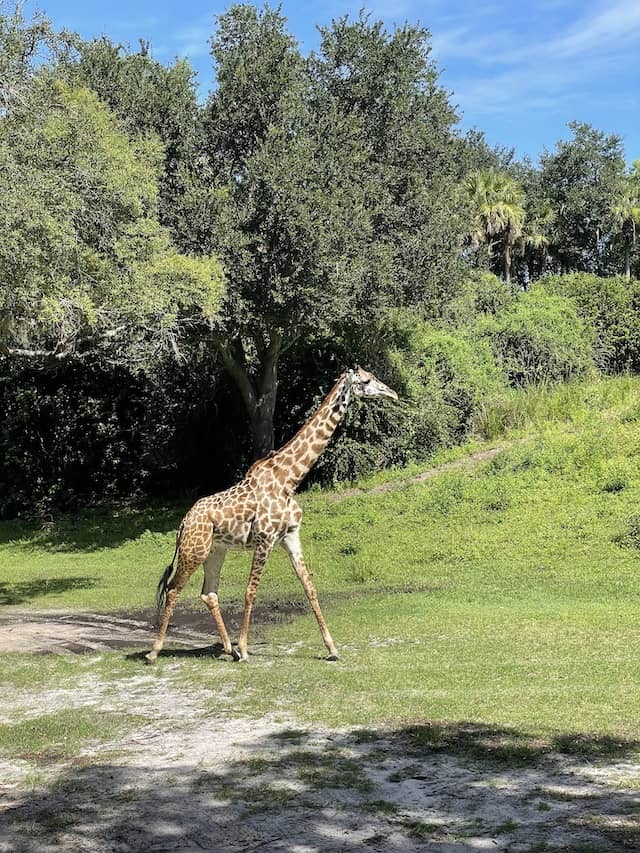 After riding around the Savannah for awhile, our Guides told us it was time for a break, and boy what a break it was!
Lunch with a view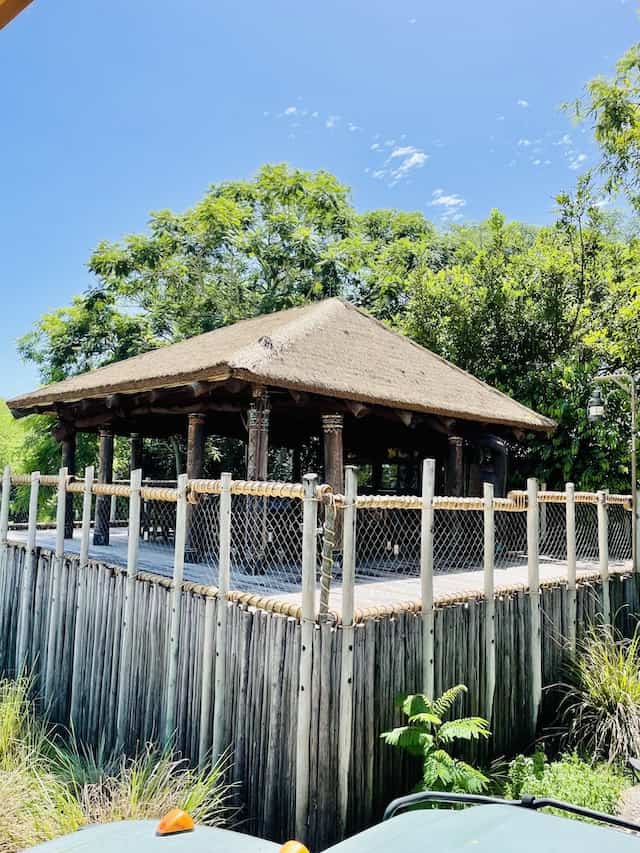 The final portion of our tour was lunch with a view! If you're familiar with Kilimanjaro Safari, you may have noticed a small building on the Savannah right near the Flamingo area. This building was the setting for our delicious lunch with the most amazing view!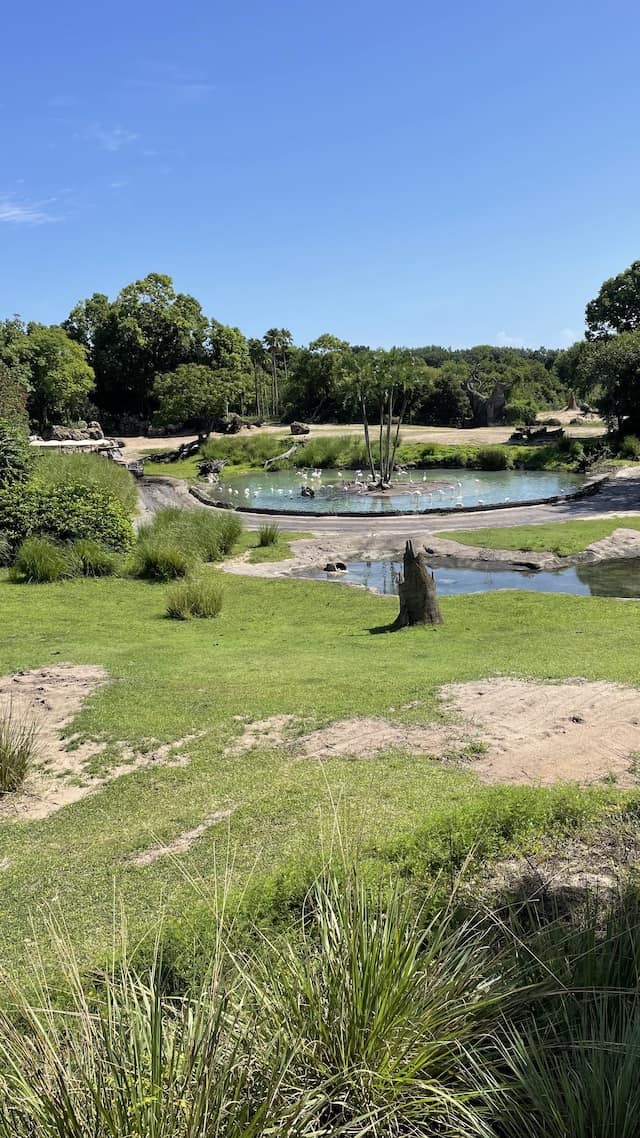 There were several small tables set up to accommodate four Guests each, and we were given the option to sit wherever we wanted. My daughter and I befriended some other Guests on our tour, so we chose to sit with them.
We were served lunch in a small tin with two layers to it. Each layer had several "small bites", so no matter how adventurous an eater you are, there was sure to be something you would enjoy! For beverages, we were given POG juice or water.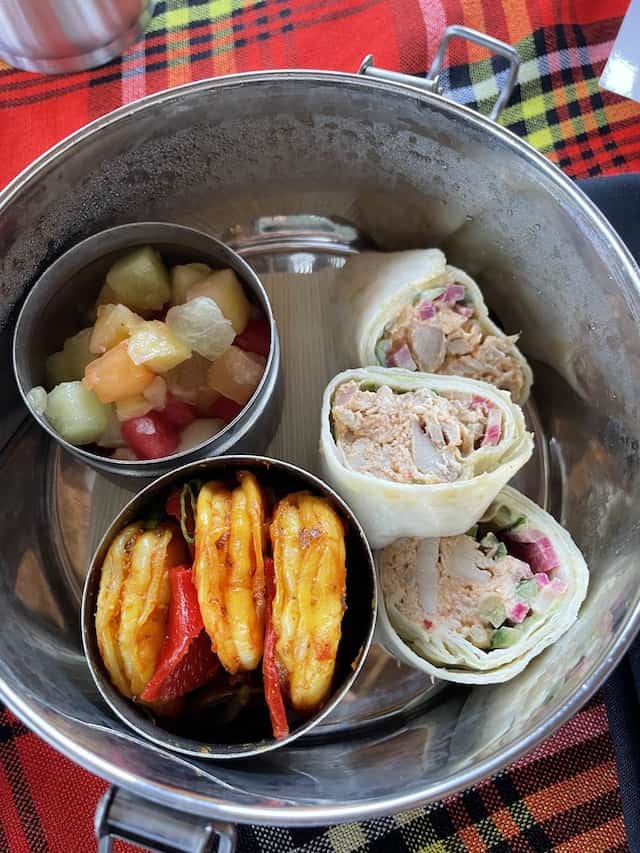 Disney's website lists the following foods as a sample menu for lunch on Wild Africa Trek. While the website does state these items can change, all of these were included with my meal.
Chicken curry salad
Sun-dried tomato hummus and mini pita
Marinated tandoori shrimp
Smoked salmon roulade with dill
Air-dried beef and prosciutto
Fresh fruit marinated in mint and ginger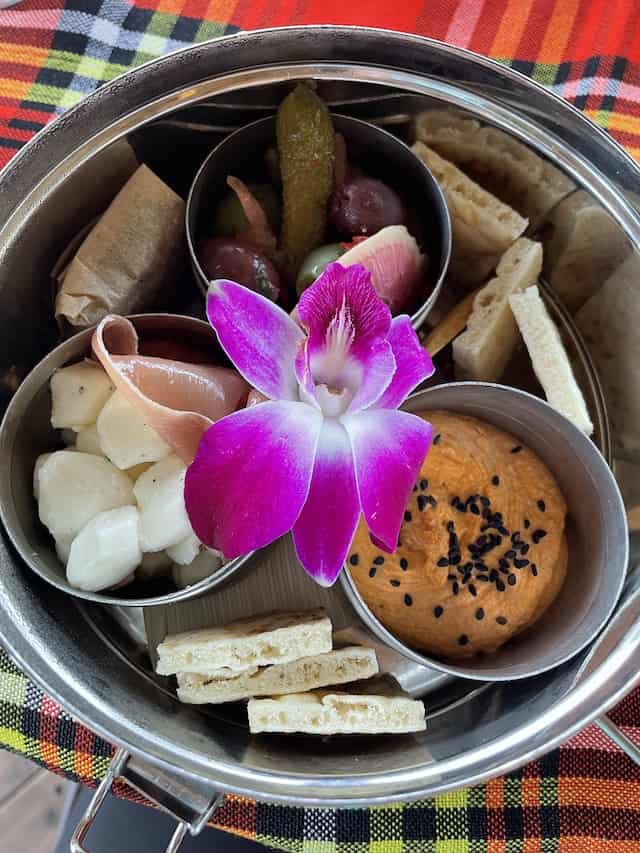 Even the flower was edible, although I will admit it had absolutely no taste! The rest of the food was absolutely amazing, much to my surprise! I especially enjoyed the chicken salad and the shrimp.
Two of the Guests at the table I was at had food allergies, and Disney was very accommodating with the meals. Check out the gluten free lunch option below, which featured a gluten free bread instead of the pita.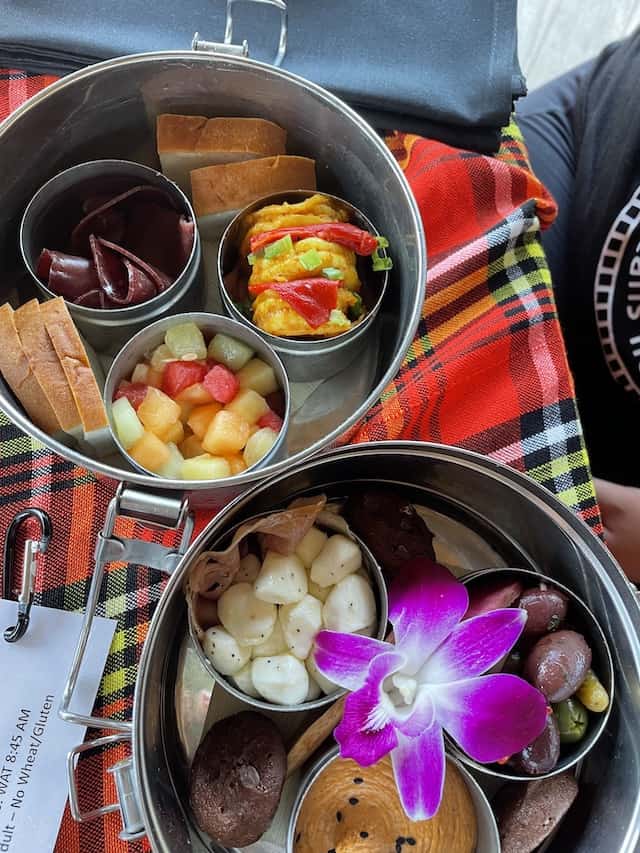 The details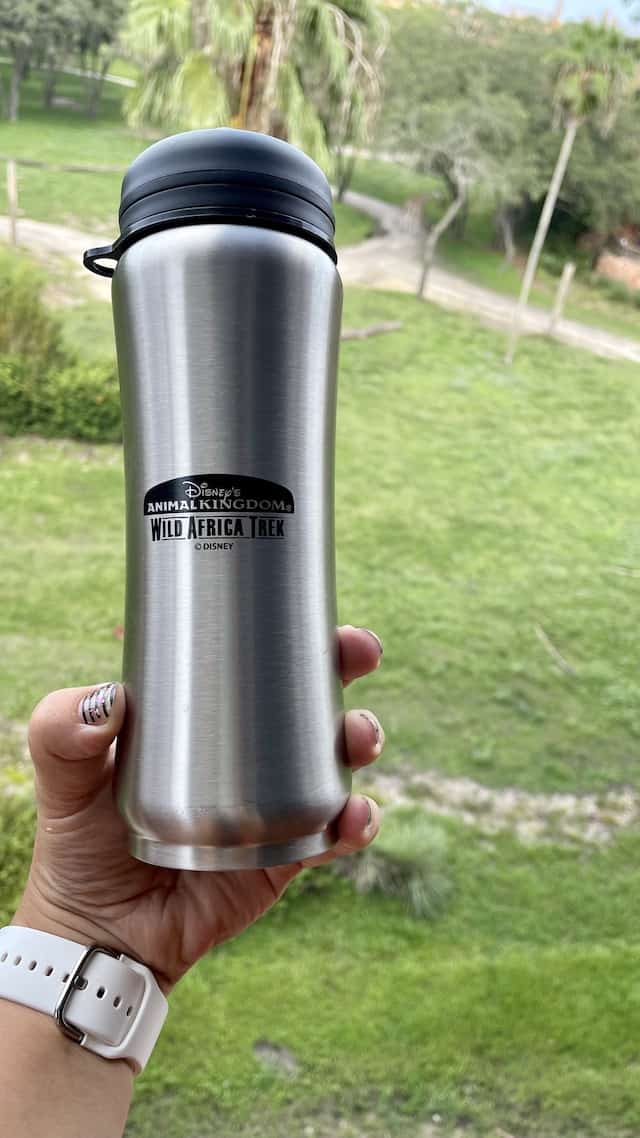 Now that I've convinced you to try this amazing tour, here are all of the details you'll need to know. This three hour tour will need a special reservation ahead of time, and it typically books up immediately. If it is something you are interested in trying, you'll definitely want to start looking for available tours at 60 days out.
To participate in this wild tour, Guests will need to be aged 8 or older and between 45 and 300 pounds. There were some Guests around age 8 on our tour, and while I'm sure they enjoyed it, I think I would definitely wait until my 8 year old is a bit older before bringing her on this tour.
The cost of the tour is $199 per person, plus tax. Park admission and a Park Pass for Disney's Animal Kingdom are required and not included in the cost.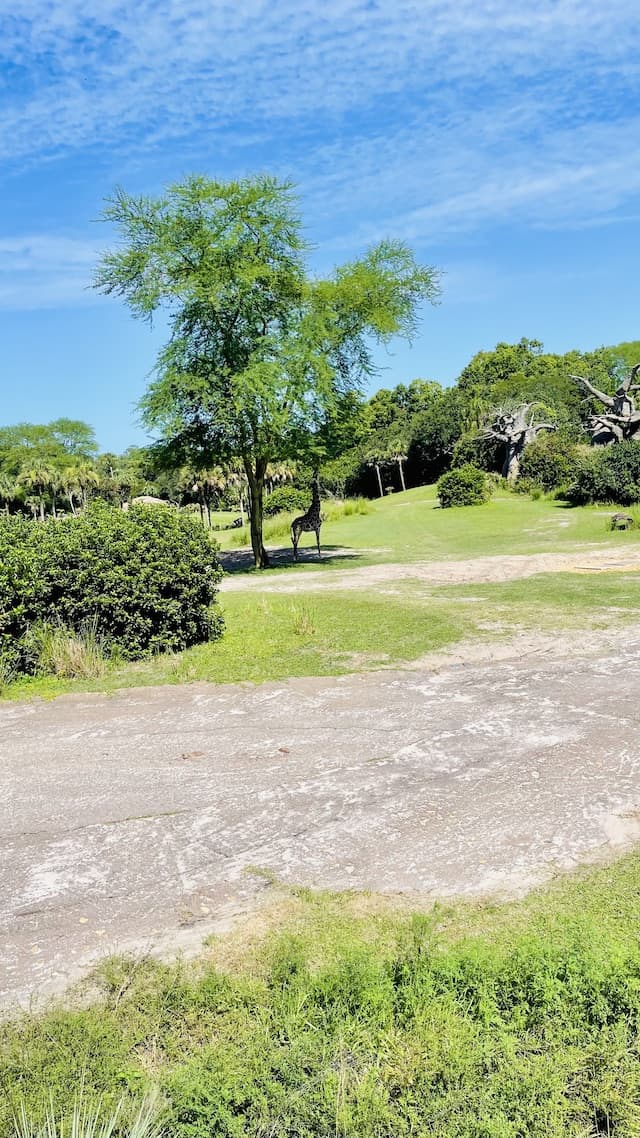 All Guests receive complimentary Photopass photos on this tour. The tour guides have cameras and are ready to capture all of your amazing adventures!
Finally, you do need to be in healthy physical condition to do this tour. It is very long and does require some stamina to get through, with the climbing and traversing rough terrain. Closed toe shoes are required, and I would suggest wearing athletic, moisture wicking clothing as you are really working hard throughout!
Do you think you'll try Wild Africa Trek some day? Let us know in the comments below, or tell us on Facebook.