Do you enjoy all-you-can-eat food at Disney? Or, are you just looking for reasonable table service? Let's compare Trail's End and Whispering Canyon Cafe.
Getting There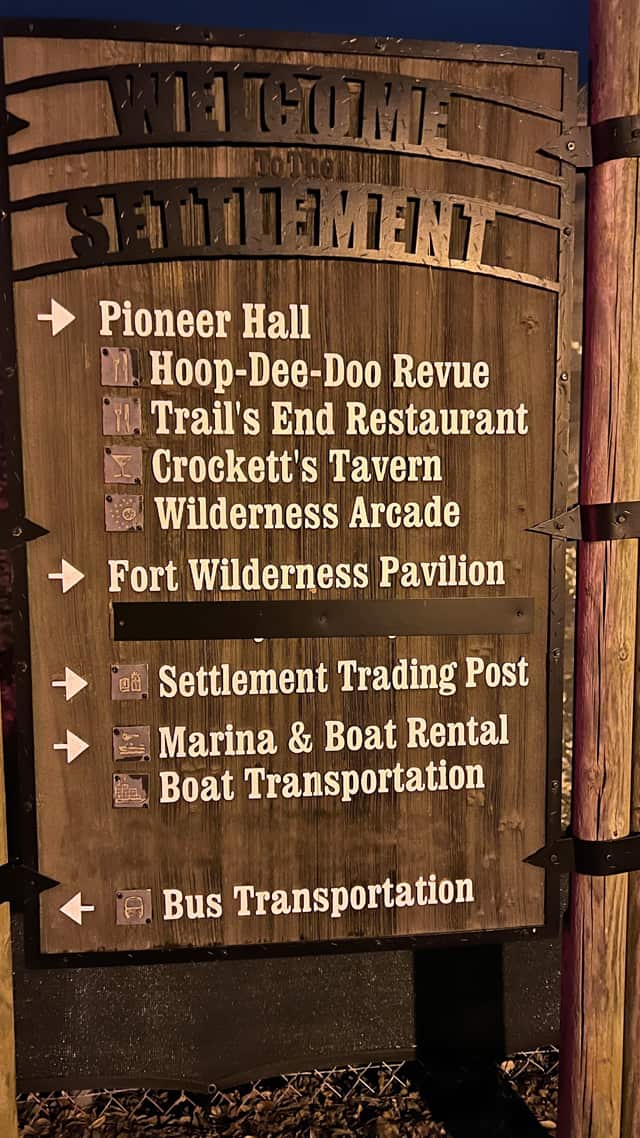 If you're leaving Magic Kingdom, look for the boat launch to Fort Wilderness Resort and Campground. Then, catch the water taxi, and Trail's End Restaurant is very close to the dock. Because Disney's Fort Wilderness is so huge, there's an extra step when arriving by bus or car. You'll need to catch the internal bus to Pioneer Hall.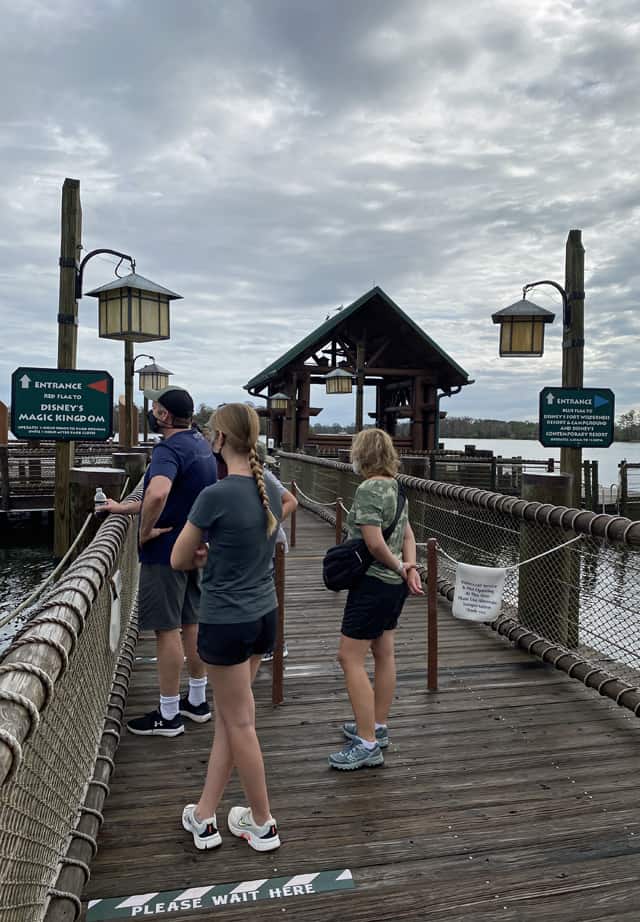 Because Whispering Canyon is located in Disney's Wilderness Lodge main building, it's simple to find it. Just take a Disney bus or car and enter the lobby. You can't miss it!
Winner in this category: Whispering Canyon
Atmosphere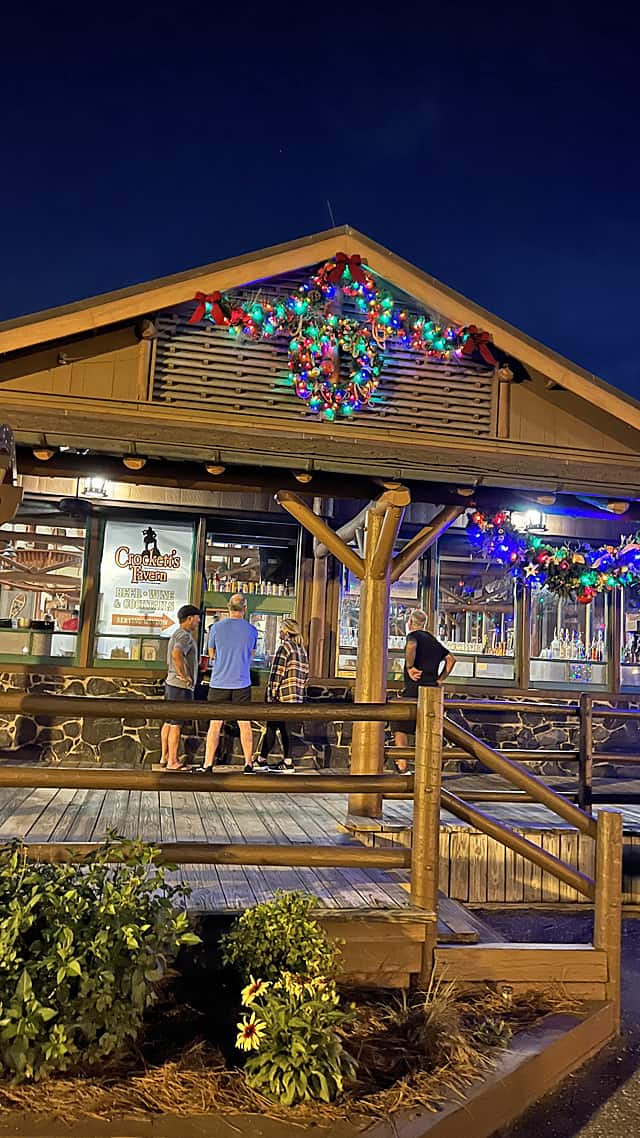 The outside of the Frontier Hall is really fun! When I (Susan) went at Christmas, I felt like I stepped back in time. There are two seating areas. First, the main seating area is located up a set of stairs. This is the largest area where most guests sit.
However, there's a second seating area in front of the bar. When walking it, turn right and you'll see it. We sat in the smaller area which was quieter than the main dining area. While I liked it being more quiet, the view from our table was nothing spectacular.
There are various artifacts of pioneer life, such as a portrait of Daniel Boone, a canoe hanging overhead, and exposed beams. However, the decor was very minimal here. I wouldn't recommend coming to Trail's End for the atmosphere.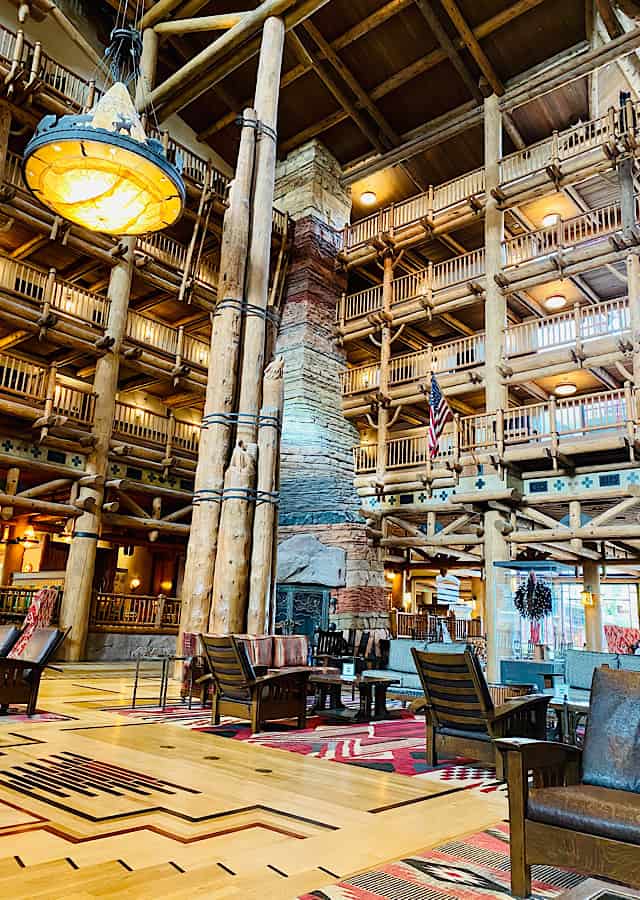 Walking inside Disney's Wilderness Lodge is nothing short of spectacular! There are numerous fireplaces not only in the restaurant, but throughout the lobby here.  It consists of the main dining area, a smaller space, and the "porch" area. We sat in a smaller space one meal with a fireplace, and the porch another meal. It was quieter in both places than the main dining area but still well themed.
Theming mimics the rustic wood along with American pioneer details. The pioneer details are similar to Trail's End, but theming is more pronounced here. We loved the vibe at Whispering Canyon!
Winner in this category: Whispering Canyon
Service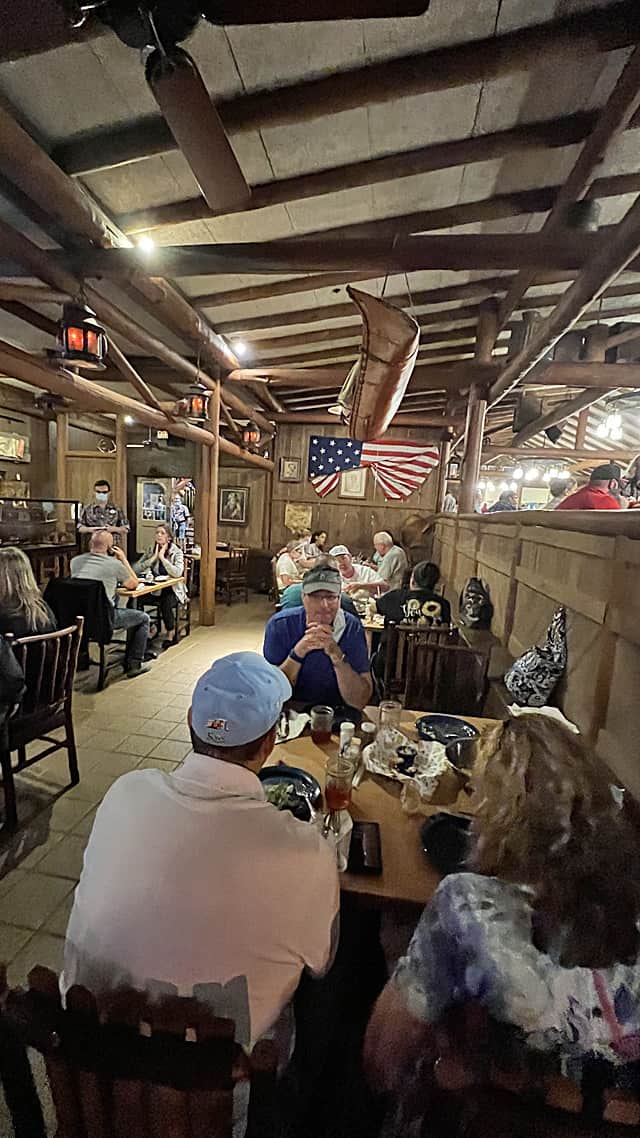 When we arrived at Trail's End, our server explained how the courses worked here and emphasized that everything is all you can eat. We asked for fried instead of roasted chicken and were accommodated. It was so tasty!
Not only that, but we were asked several times throughout the meal if we wanted more of anything. Each course flowed seamlessly, and our server was very attentive.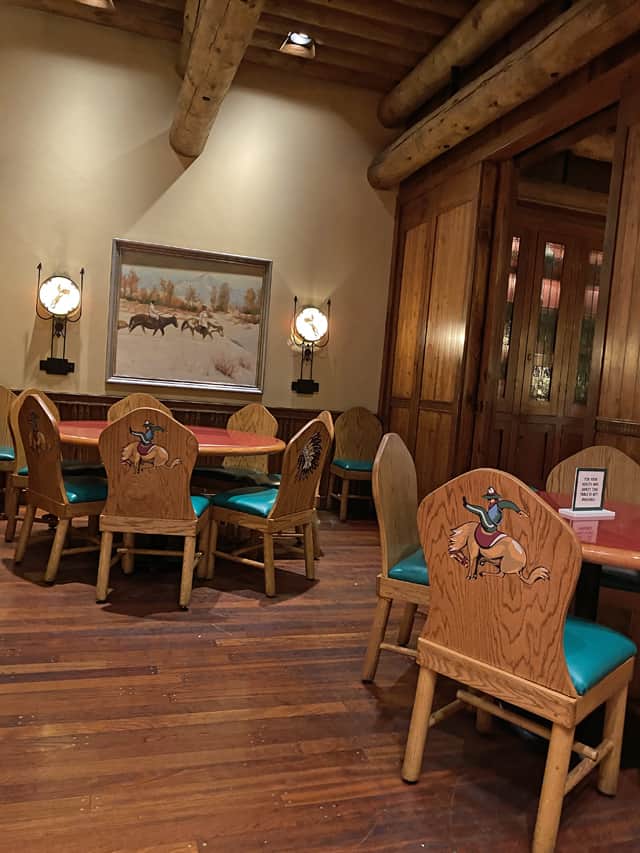 We heard about shenanigans before dining at Whispering Canyon. However, these have been cut back drastically since Disney reopened in 2020. Our server was friendly and cut up with us when she realized we were willing participants. Here, we received pretty standard service. Sometimes, we were asked promptly if we wanted more food or drink while other times we waited a bit.
Winner in this category: Trail's End
All-you-can-eat Offerings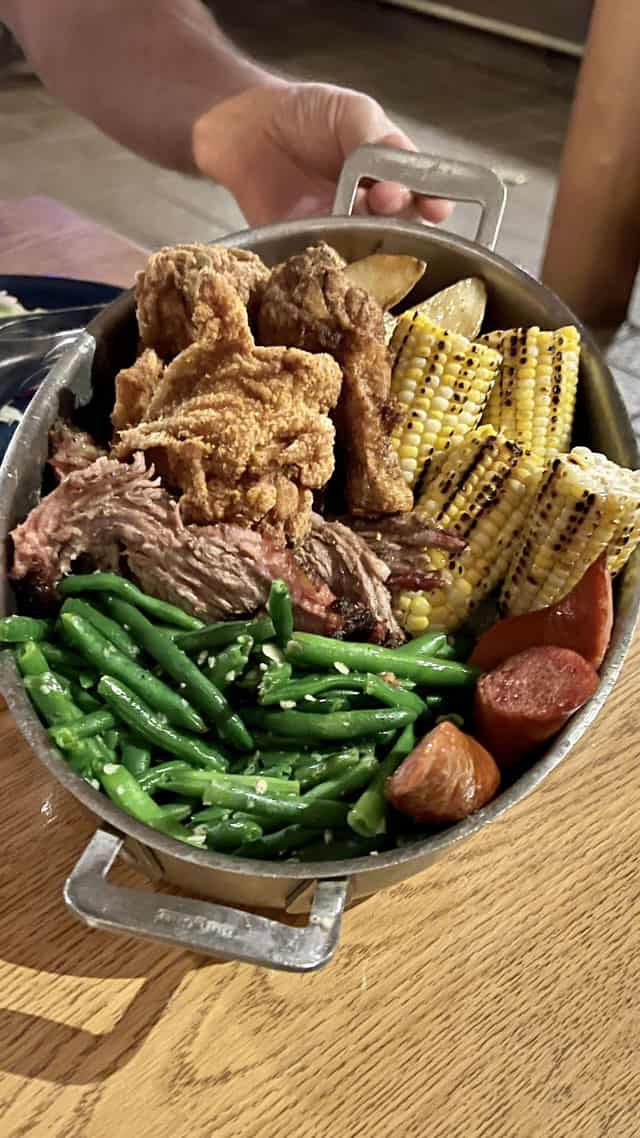 Both of these locations serve dinner "family style." Rather than a traditional buffet, servers bring the food to your table. Do you prefer that, or do you like buffets better?
For dinner, guests enjoy all-you-care-to-enjoy skillets featuring pecan-smoked brisket, smoked chicken, pulled pork, sausage, roasted potatoes, corn-on-the-cob and green beans. Not only that, but dinner also includes salad, dessert, and a non-alcoholic beverage.
For dinner, adults pay $29.99 and children 3-9 it's $17.99, not including tax and gratuity. Everything we ate here was delicious and served fresh.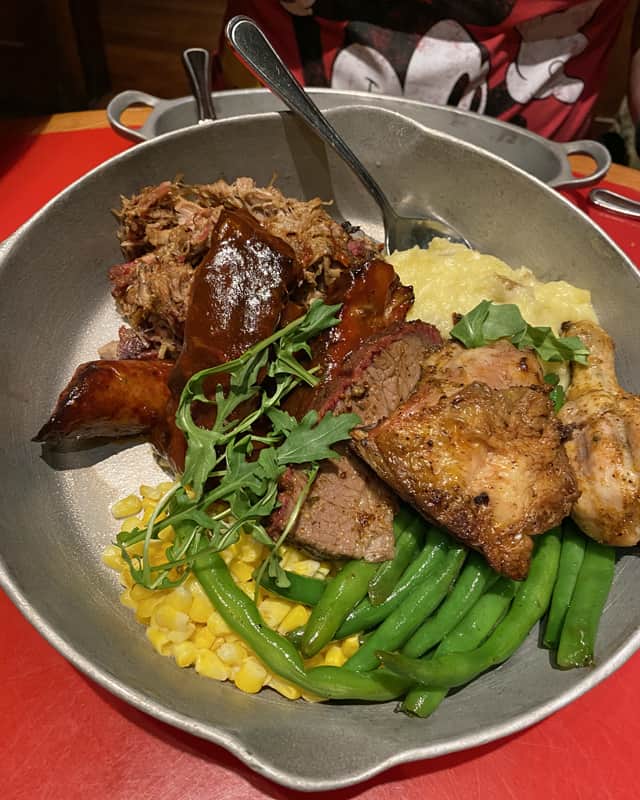 Choose from a variety of all-you-can-eat skillets for dinner. We were also given tasty cornbread with honey beforehand. Although the price is $34.00 per person, our server allowed each of us to share skillets. These are plentiful and arrived hot.
The Traditional – Oak-smoked Mustard-Barbecued Beef Brisket, Maple-Chipotle Pork Ribs, Slow-smoked Pulled Pork, Citrus-Herb Chicken, Western-style Sausage, Smashed Potatoes, Buttered Corn, Sautéed Green Beans
The Pig – Braised Pork Belly, Maple-Chipotle Barbecued Pork Ribs, Slow-smoked Pulled Pork, Mustard-Barbecued 'Piggy Wings', Western-style Sausage, Smashed Potatoes, Buttered Corn, Sautéed Green Beans
The Land and Sea – House-smoked Salmon, Citrus-Herb Chicken, Spicy Vegan Sausage, Charred Portobella, Barbecued Cauliflower, Roasted Potatoes, Sautéed Green Beans, Oven-roasted Carrots
While I like the option to choose various skillets, dessert and beverages are not included.
Winner in this category: Trail's End
Other Menu Items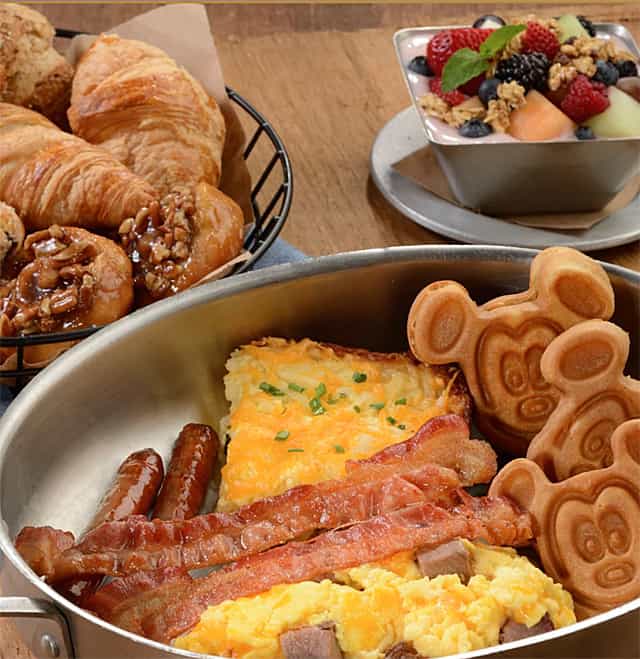 Although Whispering Canyon offers a wider variety, Trail's End still offers more for your money. Both of these locations offer breakfast service also. Take a look at breakfast pictures below.
Trail's End offers the following plant-based dinner options:
Oven-fresh Bread Basket with plant-based butter spread
Chopped Salad – Mixed greens, grape tomatoes, red onions, cucumbers and cornbread croutons with House Vinaigrette
Smokehouse Skillet – Beyond Italian Sausage, Crispy Cauliflower, Barbecued Jackfruit, Roasted Potatoes, Green Beans, Corn on the Cob and Chipotle Barbecue Sauce
Mason Jar Dessert – Lemon-Blueberry Trifle
Other than this option, Trail's End does not have anything other food items that can be ordered. They only offer all-you-can eat meals.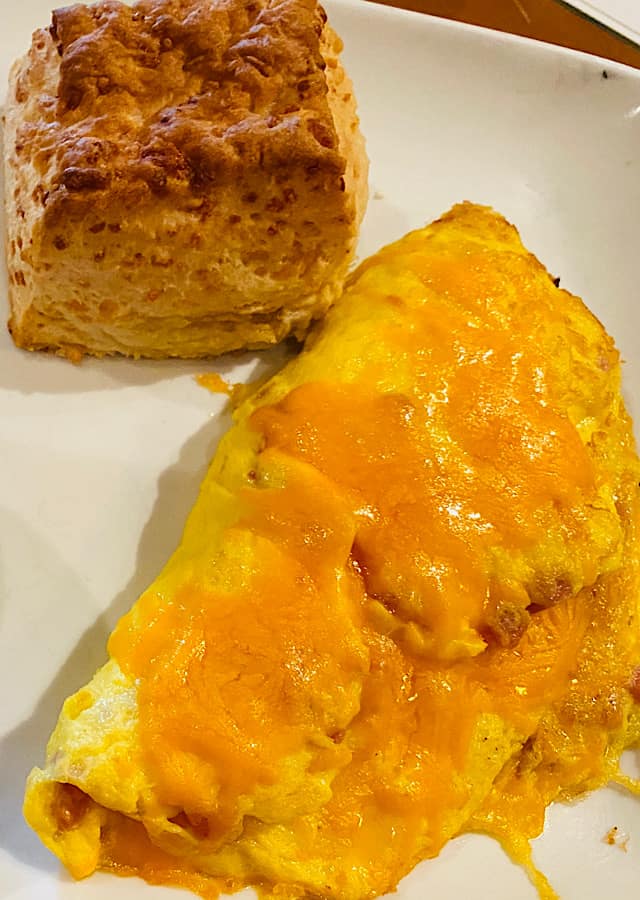 Whispering Canyon offers the following plant-based dinner options:
Maple-Chipotle Barbecue-braised Jackfruit Dip – Plant-based Pepper Jack Cheese, Jalapeño, and Tortilla Chips (plant-based)
Plant-based skillet – Maple-Chipotle Barbecued Jackfruit, Spicy 'Sausage', Mustard-glazed Beefless Tips, Herb-brushed Trick'n Chick'n, Roasted Potatoes, Oven-roasted carrots, sautéed green beans, and charred peppers
Pan-fired Red Quinoa Cakes – Pickled corn, oven-roasted peppers, and avocado spread
Rice Milk Panna Cotta, A No Sugar Added Dessert with marionberries and strawberries
Each of these must be purchased separately bringing the cost significantly higher here than Trail's End. However, if you're not in the mood for a skillet, Whispering Canyon offers the following individual entrees: char-crusted New York strip and cedar plank salmon. Desserts and nachos can also be ordered separately.
Winner in this category: tie
Final Thoughts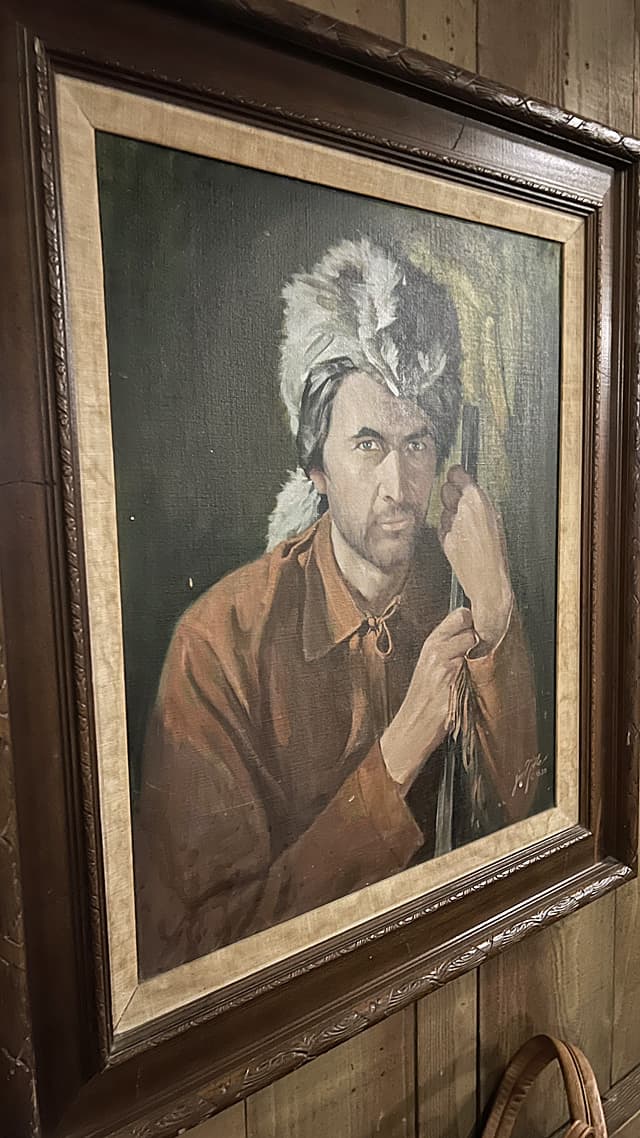 Since we drove to Disney's Fort Wilderness, it took awhile to arrive to Trail's End. Once we got there, it was so worth it! Even though it was December, the weather was very pleasant. Waiting for our table allowed us to explore the outside area nearby.
Also, driving around Wilderness Lodge allowed us to see the fun holiday decorations left by guests. Disney's Fort Wilderness is a huge campsite that looks so fun! There are golf carts everywhere, allowing guests easy access to the entire area.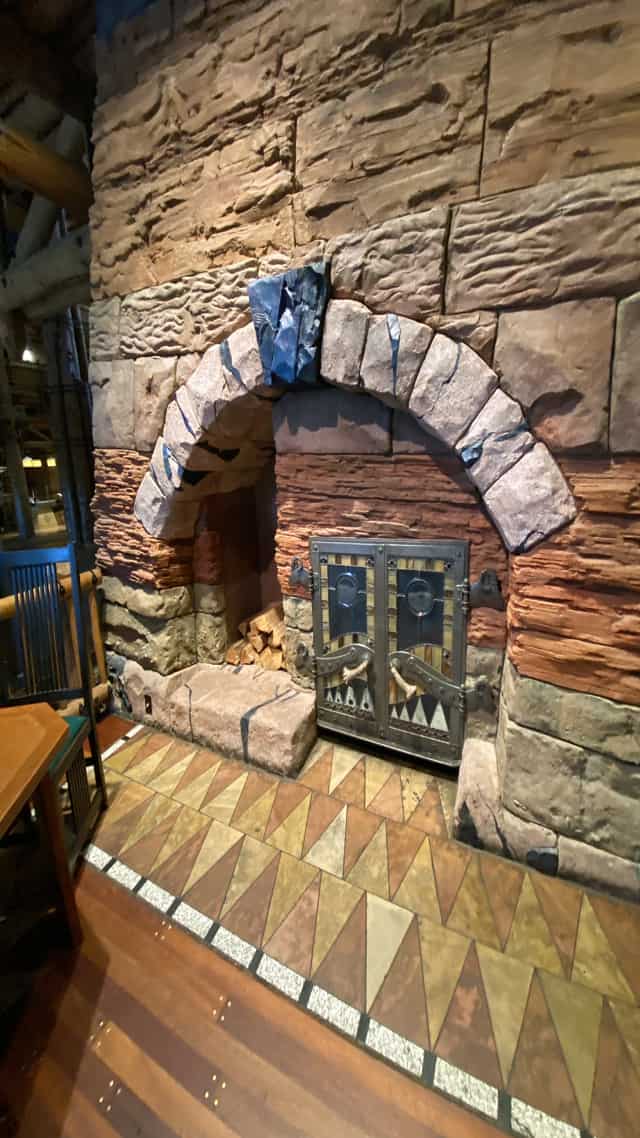 I've made several reservations for Whispering Canyon Cafe in the past but ended up cancelling them every time. It just seems so far away. But in reality, it's just a short boat ride away from Magic Kingdom! So, if you need an afternoon or evening park break, check out Whispering Canyon Cafe.
Overall Winner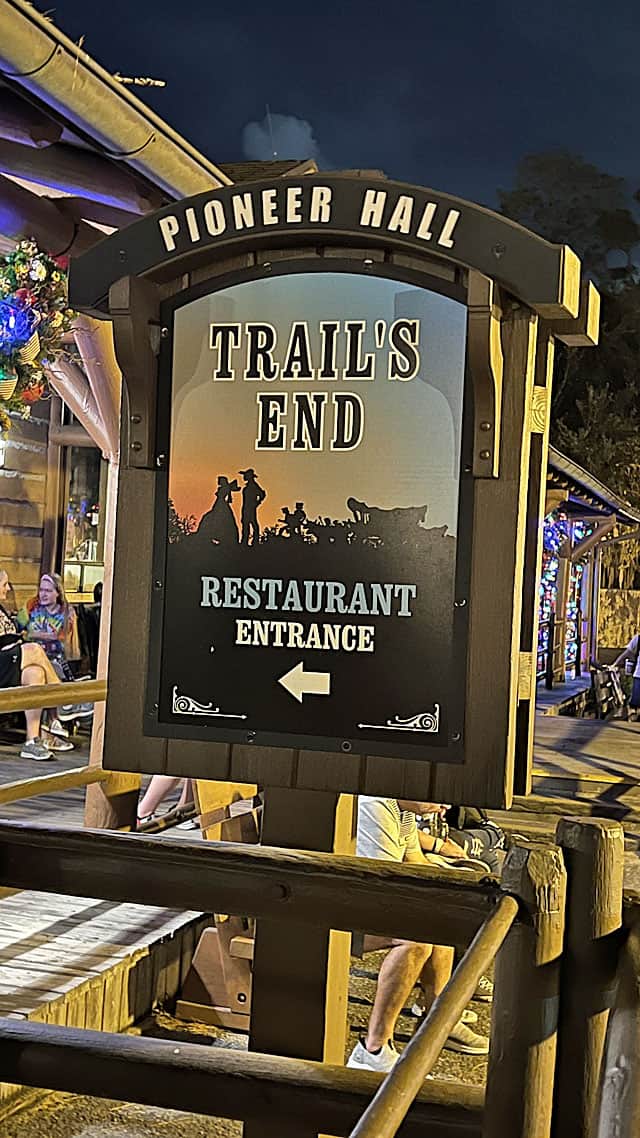 At Trail's End, the food was delicious and plentiful. And the service was top notch. The skillets coming out were perfectly timed without feeling rushed. Would I go back again? Definitely! Trail's End is a Disney hidden gem and one of the best dining bargains in all of Disney! 
Check out our recent Trail's End review and Whispering Canyon Cafe review.
The overall winner in best all-you-can eat restaurant is Trail's End.
Have you eaten at Trail's End or Whispering Canyon Cafe? Or, will you try them on a future trip? Please share your thoughts in the comments below or on our Facebook Page.

Are you planning a vacation? Reach out to our trusted travel agency sponsor Authorized Disney Vacation Planner
Mouse Class Travel
!