Are you looking for a great breakfast buffet at Walt Disney World? Be sure to check out this great location on your next trip!
Buffets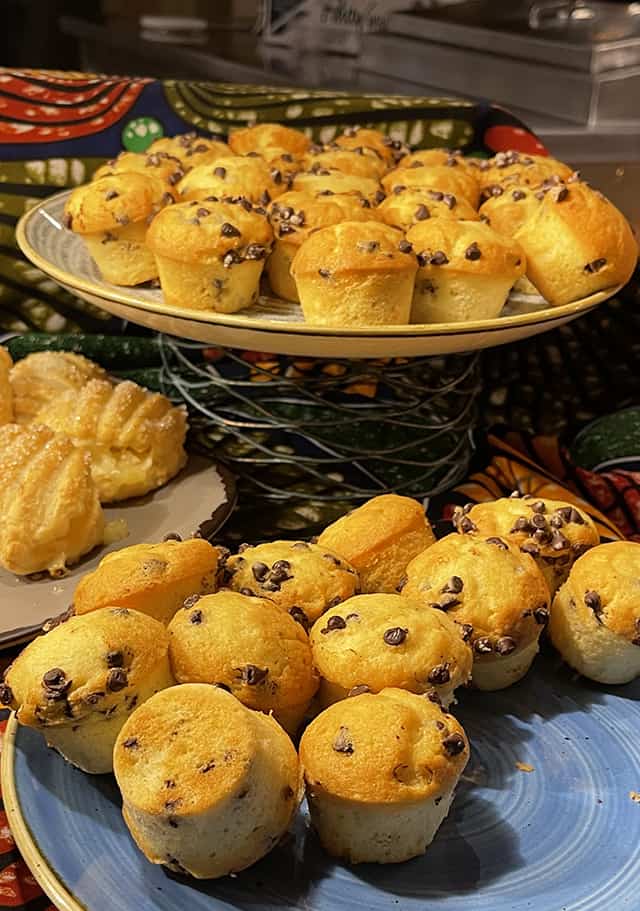 After the parks reopened, one thing that did not return right away were buffets. Buffet service was temporarily suspended. This was another way to eliminate contact with anyone else. However, as restrictions were lifted, buffets have been making a slow comeback to Walt Disney World. Boma – Flavors of Africa was the first buffet to return. See why I think this is the best buffet at Walt Disney World right now in this post HERE.
There are only a handful of other breakfast buffets available right now. Grabbing a quick and healthy breakfast is a great way to start your day before visiting the parks, and buffets are a great way to do that! Currently, the only places offering buffets are the following:
Biergarten Restaurant (lunch and dinner)
Boma – Flavors of Africa
The Crystal Palace (lunch and dinner)
Hollywood & Vine will be welcoming back their buffet service beginning on August 28th. You can read more about the buffet's return at this location in this post HERE.
Ale & Compass Restaurant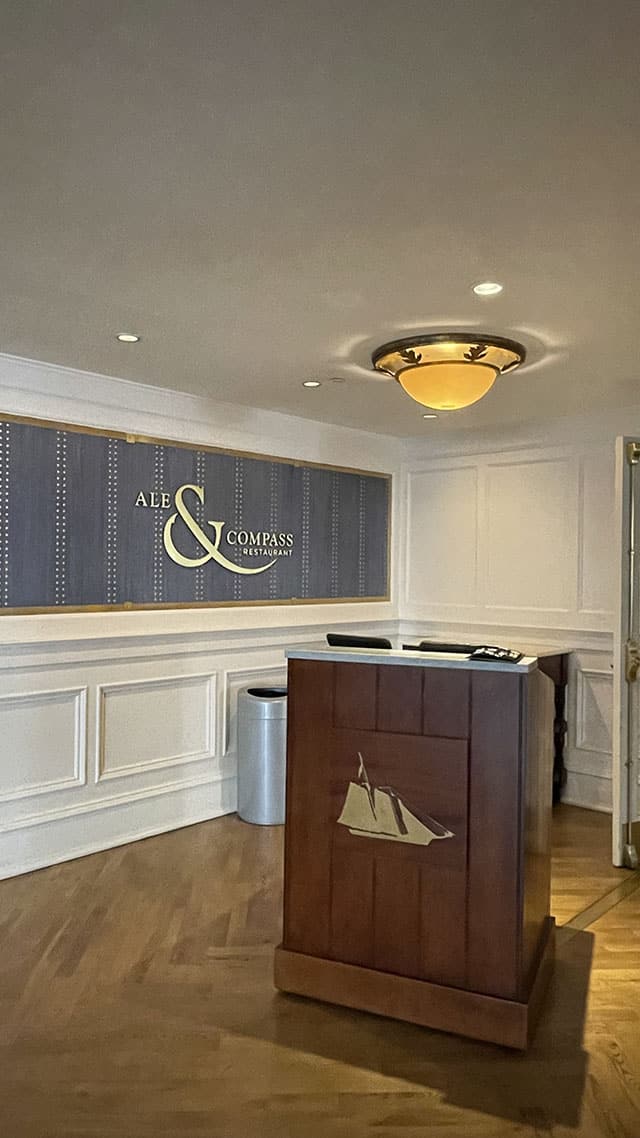 If you are looking for a great breakfast buffet and are planning to start your day at EPCOT or Disney's Hollywood Studios, Ale & Compass at Disney's Yacht Club Resort is a great location.
Here, guests can dine on New England style food and other seafood dishes. You will see many nods to coastal living and nautical references all over.
The atmosphere is very calm and relaxed. I (Maggie) love the blue and gray hues throughout the restaurant. Guests here can dine for breakfast, lunch and dinner. Hours for each are as follows:
Breakfast 7:30 am – 11 am
Lunch 11:45 am – 2 pm
Dinner 5:00 pm – 9:00 pm
Menu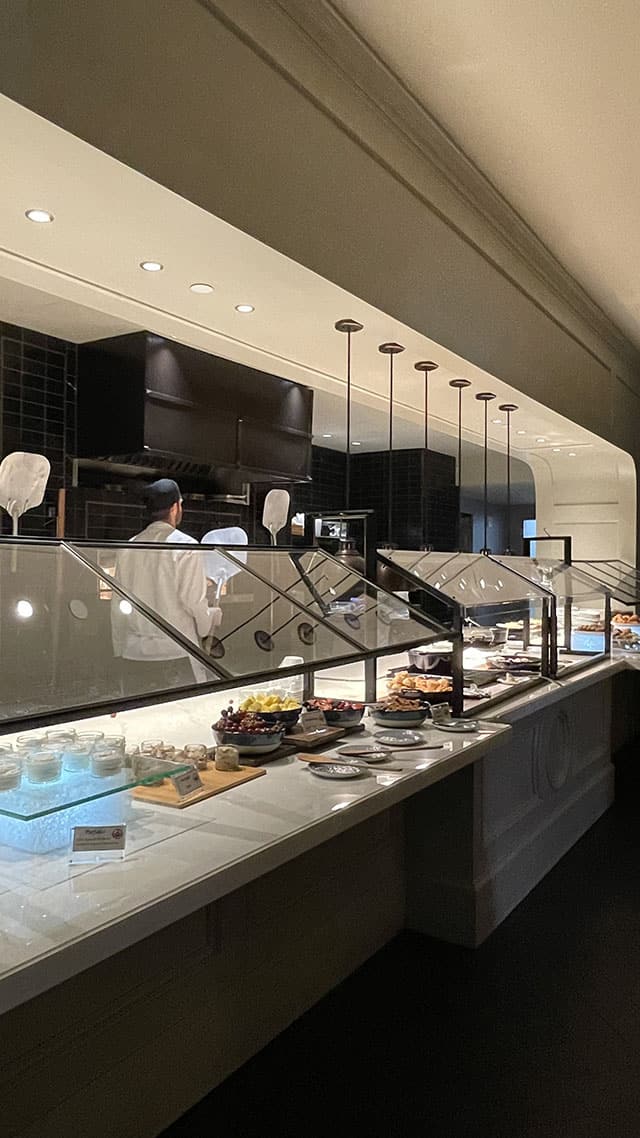 One of the things that stood out to me the most here was the large selection of entree selections and that this location offered a breakfast buffet as well!
Breakfast is the only meal that has the buffet option.
Breakfast Buffet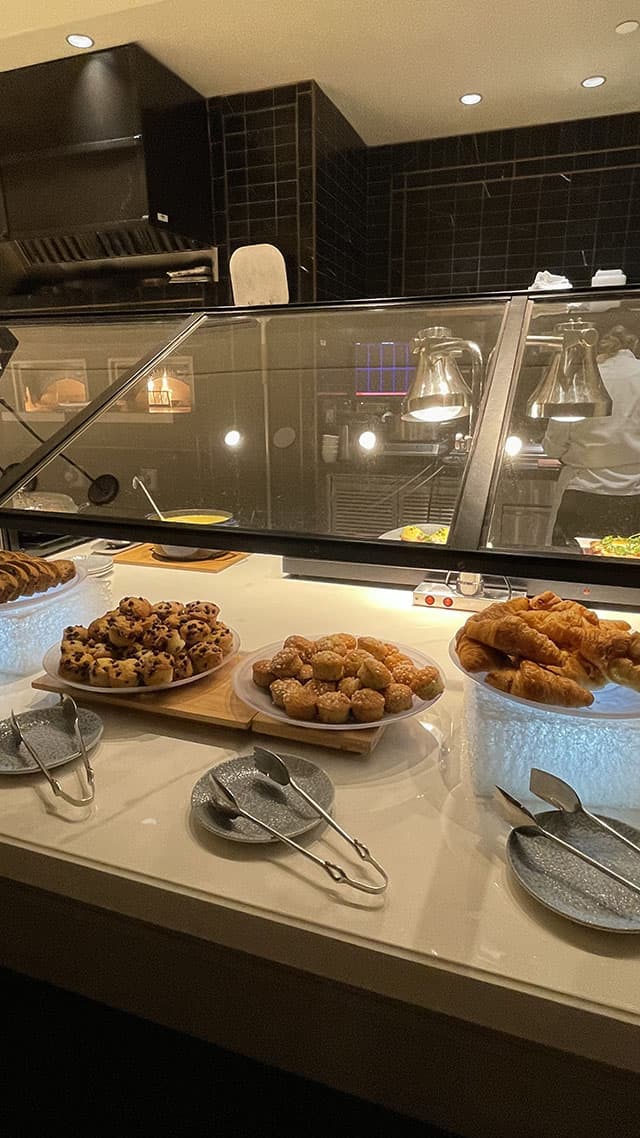 If you would like to have the buffet option, it comes with the following items:
Seasonal Fruit, Assorted Yogurt Parfaits, Assorted Breakfast Pastries, House-made Granola, Cheddar Biscuits and Country Gravy, and Warm Cinnamon Rolls. Includes choice of one (1) Entrée. Coffee, Tea, Juice, or Soft Drinks are included.
The breakfast buffet costs $23.00.
Entrees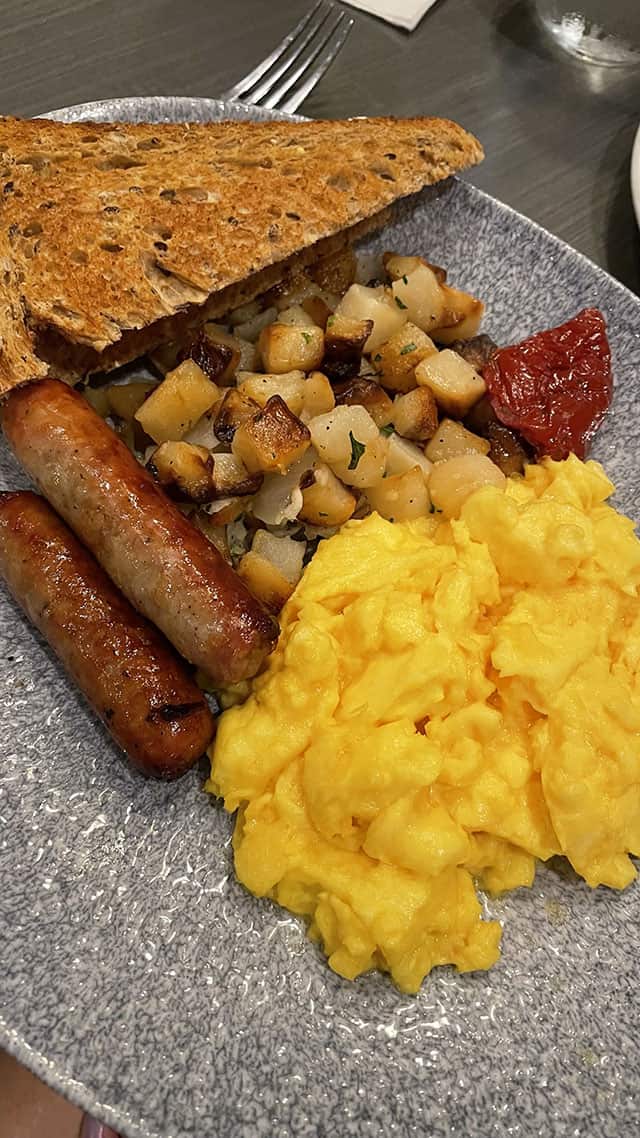 American Breakfast – $16.00 Two Eggs-Any Style, choice of Sausage or Bacon served with Potatoes
Dark Chocolate Waffle – $15.00 Dried Cherry Compote, Espresso-Mascarpone Cream, Chocolate Shavings, and choice of Sausage or Bacon
Salted Caramel-Apple French Toast with a choice of Sausage or Bacon – $16.00
Shrimp and White Cheddar Grits – $18.00 with Poached Egg, Chorizo, and Charred Tomato Stew
Smoked Salmon and Toasted Bagel Sandwich – $17.00 Herbed Cream Cheese, Pickled Red Onions, Vine-ripened Tomatoes, and Avocado with House-made Chips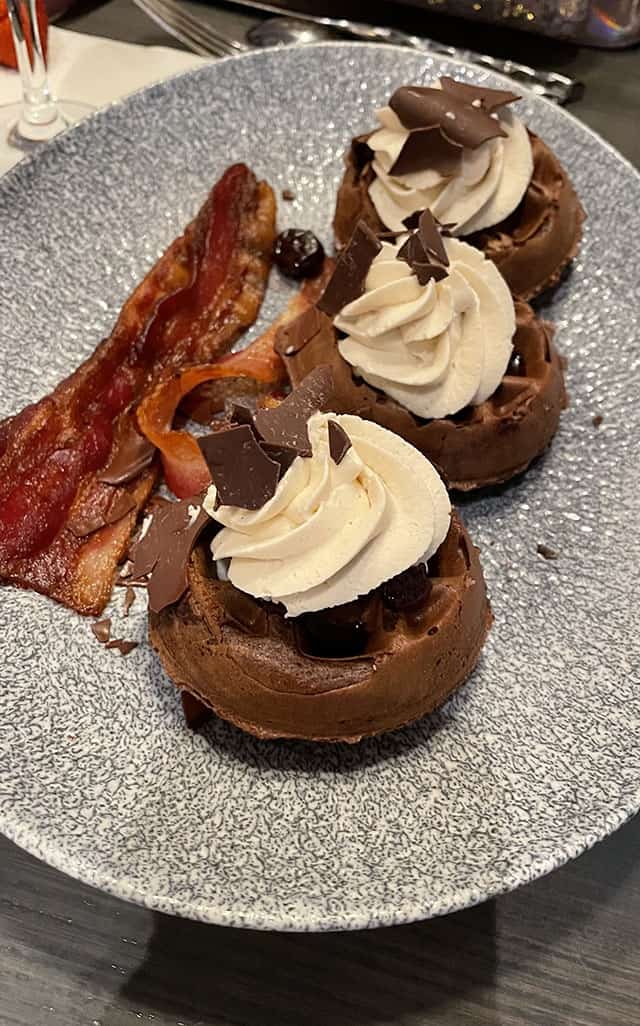 Country Ham and Cheddar Omelet – $17.00 with Arugula and Breakfast Potatoes
Crab Cake Benedict – $19.00 Poached Egg, Jumbo Lump Crab Cakes, and Arugula with Lemon-Herb Hollandaise
Breakfast Flatbread – $14.00 with Sunny–side Egg, Applewood-smoked Bacon, Ham, Provolone, and Arugula
Breakfast Protein Bowl – $20.00 Choice of Tofu Scramble or Plant-based Eggs with Plant-based Sausage, Quinoa, Sweet Potatoes, Chard, Kale, and Pickled Carrots served with Carrot-Ginger Dressing and Chocolate-Avocado Toast (Plant-based)
Blueberry-Bacon Pancakes – $15.00 with a choice of Sausage or Bacon
Experience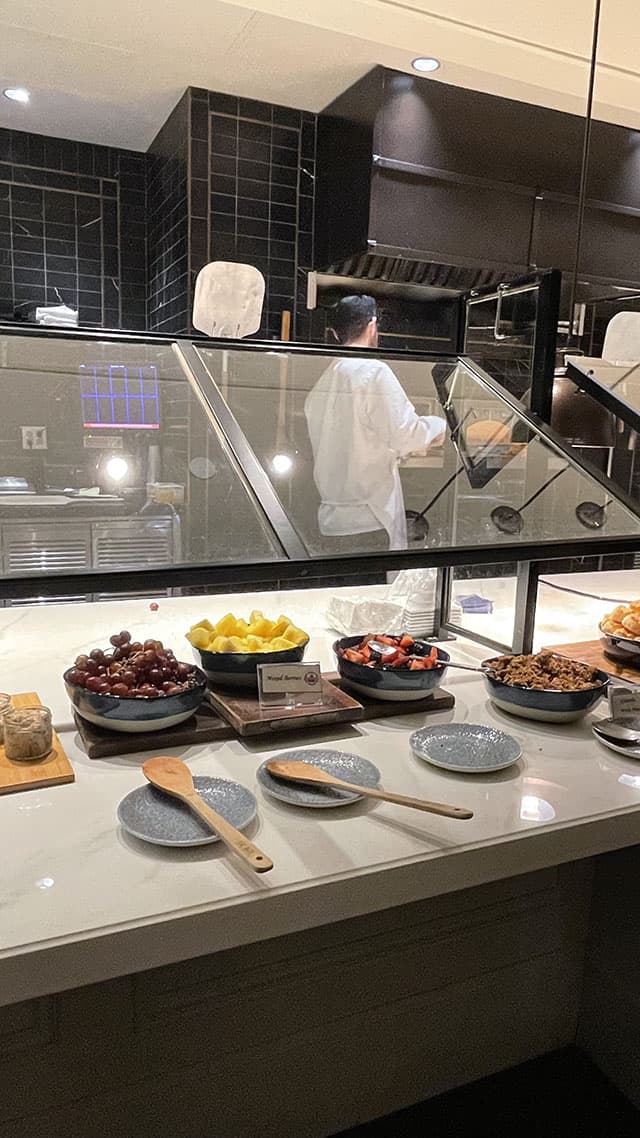 I decided to have the breakfast buffet since it came with such a variety of different breakfast items and also included an entree from the main menu. I do not eat breakfast all that often, but when I do, I love breakfast pastries and biscuits, so the buffet was perfect!
For my entree, I chose to have the American Breakfast, which is probably one of the more traditional items on the menu. I am not a fan of seafood, but if I were, it seems like this would be a fantastic menu for seafood lovers.
Everything in the buffet was fresh and warm. Our entrees came out quickly and were served warm and hot. My friend, Cheryl, had the Dark Chocolate Waffles pictured above and described them as being rich and soft. It looks amazing and if I were to go again, I might choose this entree.
Reasons to go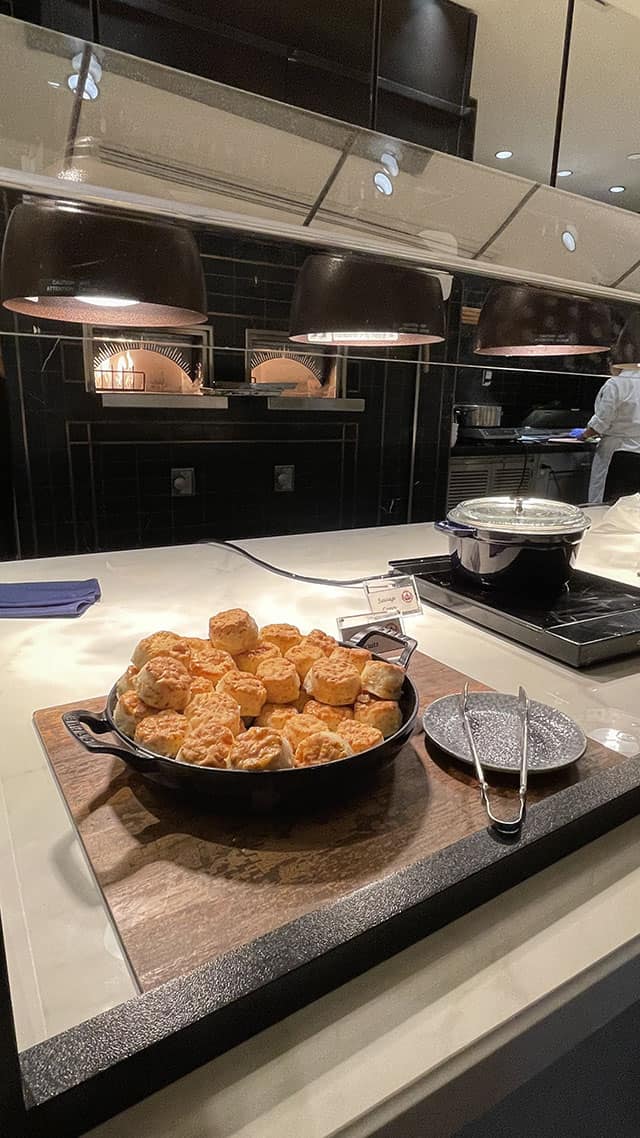 There are a lot of reasons to try Ale & Compass for breakfast! If you happen to be staying at an EPCOT resort, it's a great choice. Come here and relax before heading to the parks. The overall menu is not all that expensive compared to other restaurants around Walt Disney World.
The atmosphere is very calm and quiet, so if you want to get away from those Disney crowds in the parks or a more upbeat atmosphere (like Chef Mickey's), it's a good spot to go and just enjoy a nice meal.
Our service was fantastic and attentive. If you do plan on dining at this location, advance reservations are highly recommended. Reservations for this location are pretty common, so grabbing one should not be too difficult.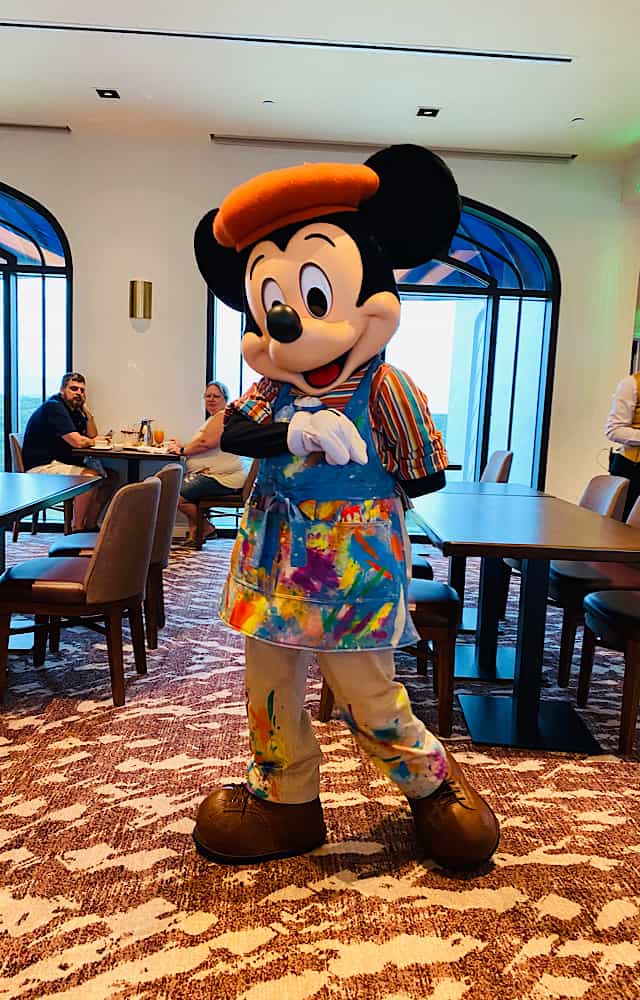 On the other hand, if you are looking for themed dining, this would not be for you. Other than the nautical theme throughout the restaurant, there is really no other theming at all. If you are looking for characters or anything that reminds you of being at Disney World, then try another location like Topolino's Terrace or one of the other character meals available.
Overall, I really enjoyed my experience at Ale & Compass! It was my first time dining at this location, and I would definitely go again. I would not call it the very best buffet or dining experience at Walt Disney World. On this particular day, it was our last day and we were looking for a nice place to eat that was close to our resort. Ale & Compass was a great choice for our last day and gave us a nice breakfast before heading home.
Have you ever dined at Ale & Compass Restaurant at Disney's Yacht Club Resort? What did you think of your meal when you were there? Would you add this as a place to eat on your next trip? Tell us about it in the comments below or on our Facebook page.