Disney World and Disneyland have come up with some delicious summer menu offerings. Check out all the details and pictures here.
Disneyland Resort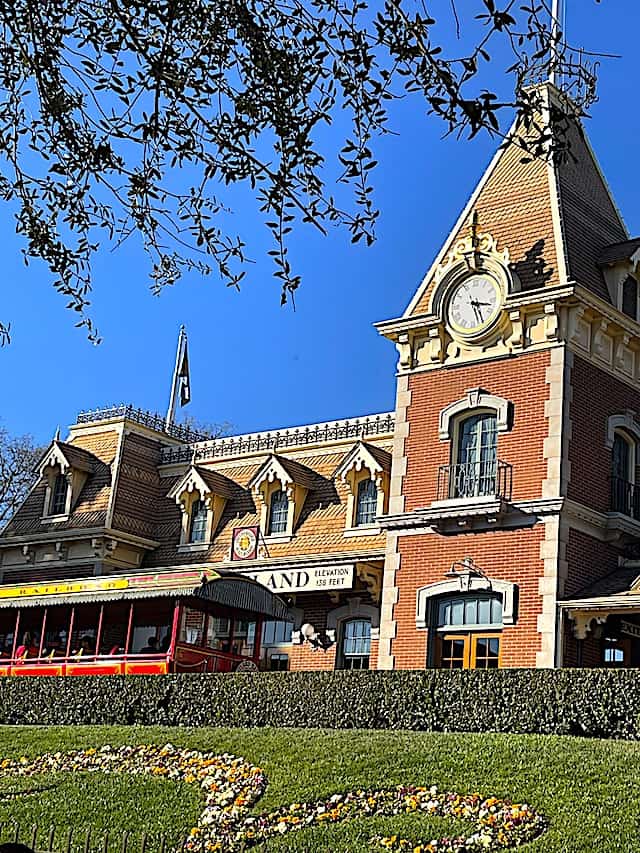 Paradise Garden Grill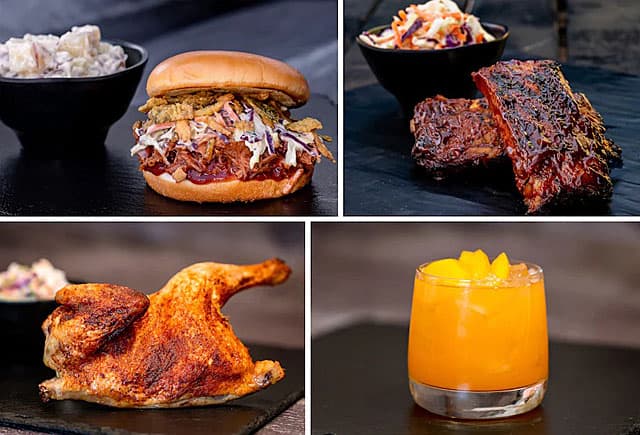 At Disneyland Resort, you'll find some mouthwatering dishes and sips over at Paradise Garden Grill nestled within Disney California Adventure park. Here, you can now enjoy some BBQ dishes. Try the Kansas City-style BBQ Ribs has pork ribs with house-made BBQ sauce, pickles, and onions. Also, the North Carolina-style BBQ Pulled Pork Sandwich has creamy coleslaw, crispy jalapeños, pickles, and onions is available.
The St. Louis-style BBQ-Rubbed Chicken is a beer-brined, roasted half chicken with pickles, and onions. All of these options come with your choice of side. You can choose from the Poblano Mac & Cheese, Chuck Wagon Beans, Potato Salad with Bacon, Creamy Coleslaw, Andouille Sausage, or the Jalapeño-cheddar Cornbread.
For beverages try the Peach Cobbler Cocktail with moonshine, peach schnapps, and peach-cinnamon purée or the Pabst Blue Ribbon Beer.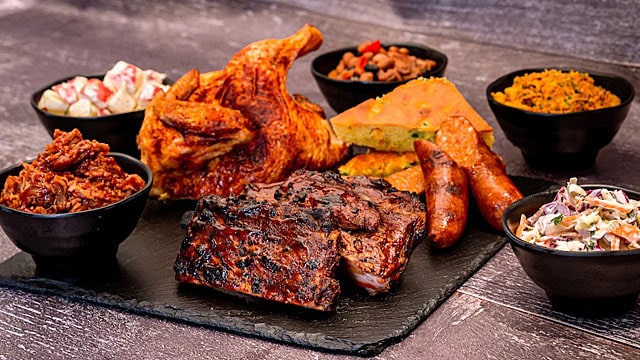 If you want a little of everything, then the Family Picnic Platter is for you. This has a BBQ half chicken, pulled pork, ribs, andouille sausage, poblano mac & cheese, chuck wagon beans, potato salad with bacon, creamy coleslaw, jalapeño-cheddar cornbread, pickles, and onions. To top it off, it is also served with cherry cheesecake.
Red Rose Taverne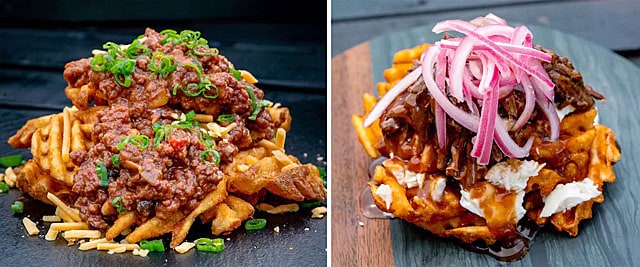 Red Rose Taverne will be featuring a new Late Night Menu with some tasty eats to enjoy. The plant-based Bonsoir Chili Cheese Poutine includes a hearty plant-based chili, shredded "cheese," and seasoned waffle fries. The Classic Poutine dish has slow-cooked beef, gravy, cheese curds, and spiced, pickled red onions on waffle fries.
Lastly, the Firelight Fries features tangy spiced chicken and pepperoncini ranch sauce on ranch-seasoned waffle fries. This yummy Late Night Menu is currently available from 8:30 p.m. until 11:30 p.m. daily.
Harbour Galley
At Harbour Galley you can treat yourself to Soup in a Sourdough Bread Bowl with your choice of clam chowder, steak gumbo, or the plant-based vegetable gumbo. There's also the new Harbour Muffuletta Salad with cured meats and cheese on mixed lettuce with olive tapenade, giardiniera, pepperoncini, and Italian dressing with sliced sourdough. For those looking for a satisfying sip, the Pelican Punch is a chilled tropical blend of pineapple, coconut, and lime.
Royal Street Veranda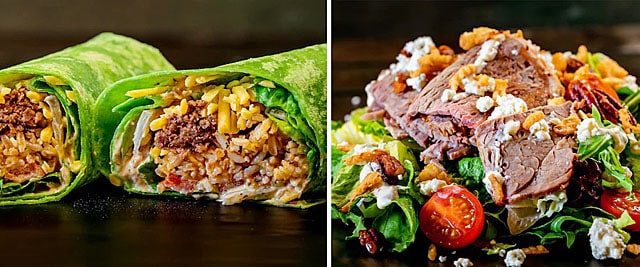 These aren't the only updates to New Orleans Square because Royal Street Veranda also has some new dishes recently added to the menu. For those looking for a plant-based option, the Hoppin' John IMPOSSIBLE Royal Wrap has seasoned plant-based meat with rice, black-eyed peas, "cheddar," lettuce, and Cajun dressing in a spinach tortilla.
Then, the Street Steak Salad is made up of chilled steak on mixed greens, cherry tomatoes, blue cheese, candied pecans, and fried onions with a horseradish dressing. For a delightful finish or a little pick-me-up for those with a sweet tooth, the Blueberry Fritters with blue sugar and lemon curd dipping sauce is for you!
Disney World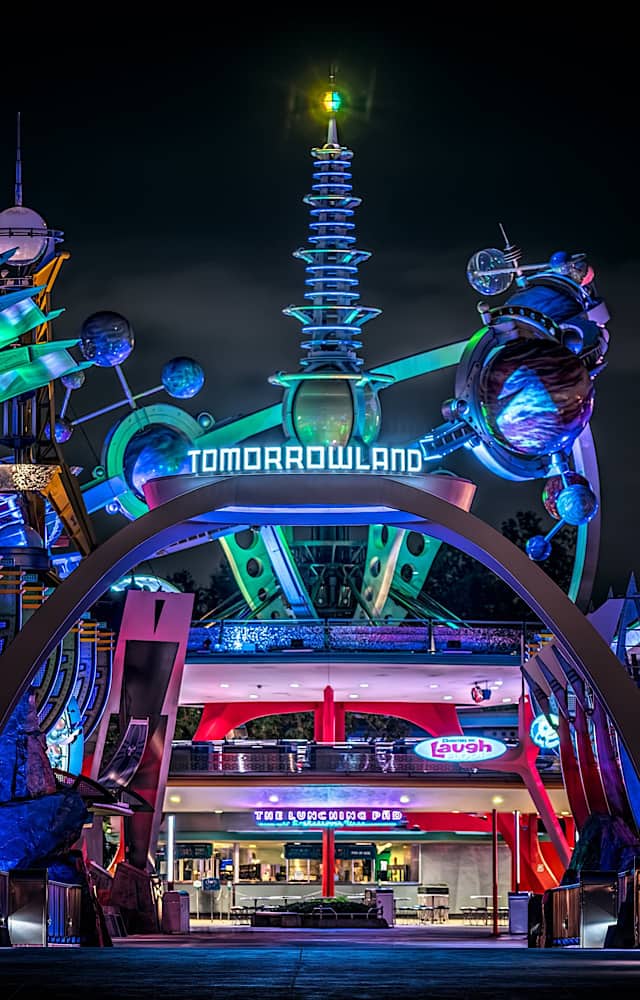 Auntie Gravity's Galactic Goodies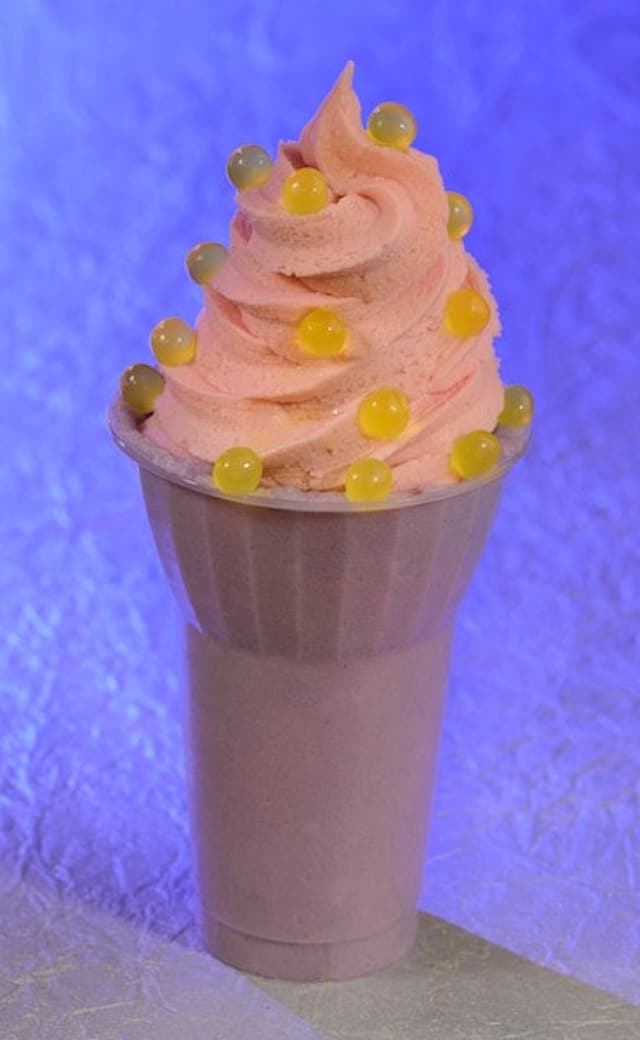 At Magic Kingdom Park, join in on galactic celebrations for everyone's favorite space ranger with this special treat inspired by his new film "Lightyear." The new Zurg Freeze can be found at Auntie Gravity's Galactic Goodie. Check out more details on these fun treats HERE.
Garden Grill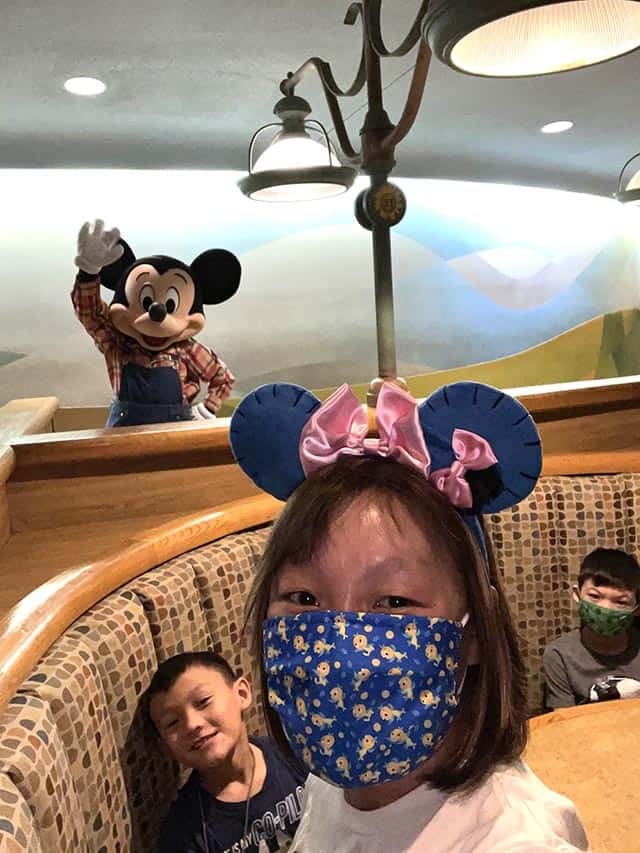 EPCOT also has some exciting delights to indulge in. Over at The Land, two locations are getting a few new dishes – Garden Grill and Sunshine Seasons. A tasty Barbecued-roasted Chicken with Sweet and Tangy Barbecue Sauce as well as a Southern-style Spoon Bread is now available at Garden Grill.
Sunshine Seasons
At Sunshine Seasons starting today, you can enjoy a Roast Beef Sandwich with chilled roast beef, chimichurri aïoli, cheddar, arugula, and red onion on a flour-topped kaiser roll served with potato chips. For a plant-based option, try the Mediterranean Vegetable Sandwich featuring roasted red pepper, red onion, tomato, arugula, hummus, and balsamic vinaigrette on herbed focaccia.
And rounding up the new additions to this tasty spot is the Spicy Fish Taco. This dish has a fire-roasted corn salsa, creamy jalapeño Piri Piri sauce, and radish served with plantain chips.
Coral Reef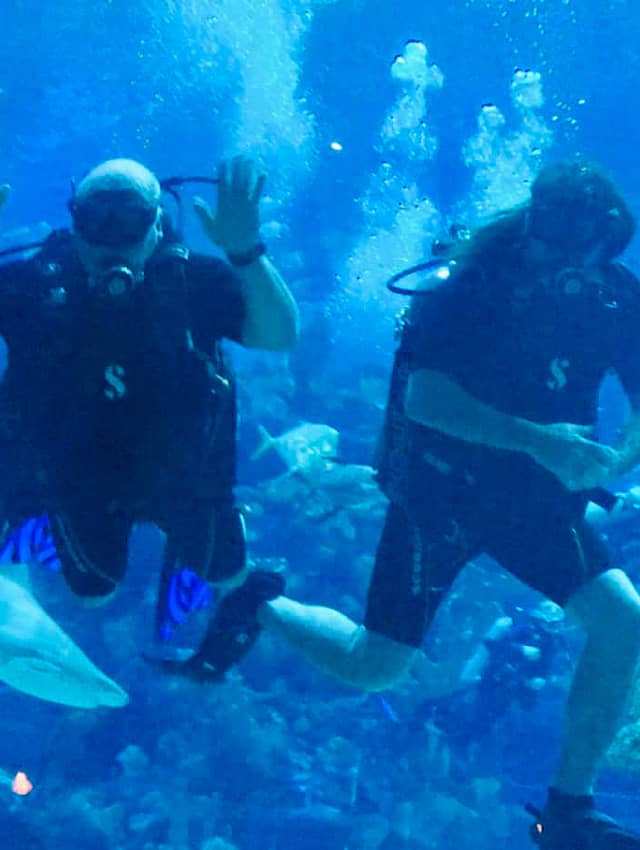 Coral Reef Restaurant has also seen some enhanced items recently. Start off your meal with new appetizers like the Trio of Seasonal Dips with fresh vegetable crudité and crisps or the New England Clam Chowder.
As you enjoy the incredible, underwater views, feast upon entrée additions like the Orange-glazed Sustainable Salmon. Check out more details on this menu update HERE.
Hollywood and Vine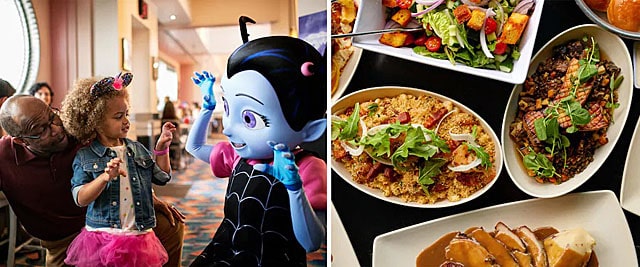 I hope your appetite is ready because Hollywood & Vine at Disney's Hollywood Studios will be welcoming back their buffet soon! As you get to meet some of your favorite Disney Junior pals for breakfast and Minnie and her friends for lunch and dinner, you'll be able to feast upon all-you-care-to-enjoy delights.
Take a look at the menu as well as when the buffet restarts HERE.
Mama Melrose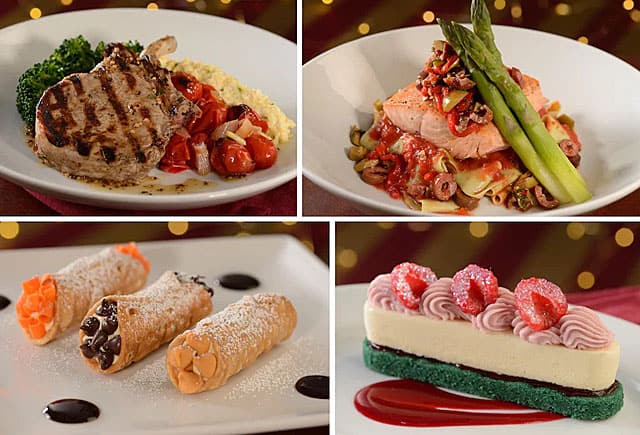 Mama Melrose's Ristorante Italiano is debuting new menu items inspired by classic Italian cuisine in late June. For starters, the Fried Fresh Mozzarella is a must-try with marinara sauce, ricotta salata, and lemon oil, while the Grilled Bone-in Pork Chop entrée can't be missed. This dish is accompanied by creamy polenta, roasted tomatoes, mustard vincotto, and charred broccolini.
You can also indulge in enhanced versions of Mama's Italian Pasta and the Sustainable Fish dish. For a grand finale, there are several new eats to choose from – the Mini Cannoli Trio, Colors of Italy Cheesecake, Mama's Cookies To Go, and Blueberry Frangipane Tart. Now that's a well-rounded dessert menu.
Which of these would you try? Please let us know in the comments below and on Facebook.