There have been many parades at Walt Disney World over the years that hold a very special place in the hearts of Disney fans. The infectious music, colorful costumes and special character encounters have made these parades stand the test of time. They will forever go down as some of the best parades in Disney history. Let's take a trip back in time as we honor the memory of these beloved parades!
Disney World Parades
Parades are a special part of the Disney magic. I have so many fond memories of all the past parades that have come and gone in the parks over the years. Each one had a special charm and magic of its own and they were all unique in their design and story. Some were heavy on Disney IP, some were original concepts and others were nighttime light spectaculars. 
Let's look back at the grandeur and history of these amazing parades!
Remember the Magic – Magic Kingdom (1996-2001)
The Remember the Magic Parade was one of my favorite parades of all time at Disney World. The music was catchy and the costumes and floats were beautiful. One of the most magical features of this parade, was at certain locations on the parade route, the floats would stop and some of the characters would step off of their floats and dance with the guests around them.
I can remember being a little kid and the famous silver and blue mirror castle float stopped right in front of us with Cinderella on it. I may or may not have practically tackled people in front of me to get to her.
It was a truly magical experience that made this parade extremely unique. Remember the Magic also featured a lot of Disney characters. There was an entire float dedicated to characters you don't usually see on parade floats, such as Pocahontas, Step-in-Time Mary Poppins, Bert, Alice, and the White Rabbit. 
The Remember the Magic Parade was truly one of the best parades in Disney History and made a special addition to the 25th Anniversary Celebration!
Share a Dream Come True/Disney Dreams Come True/Celebrate a Dream Come True Parades -Magic Kingdom (2001-2014)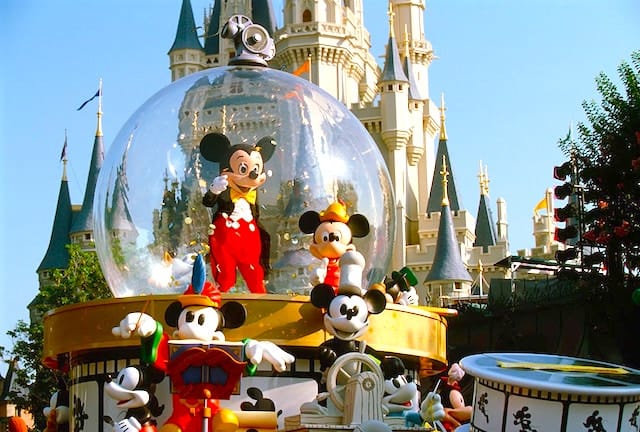 From 2001-2014, three parades came through the Magic Kingdom. All three used mostly the same floats and similar unit structures featuring Mickey, Pinocchio, Aladdin, the Villains and Princesses showcased in the float units.
The original Share a Dream Come True Parade debuted in 2001 as part of the 100 Years of Magic Celebration and featured seven float units designed to look like snow globes. In each unit, there would be special characters inside the snow globes and other characters related to that unit either below the globe on the float or walking beside it.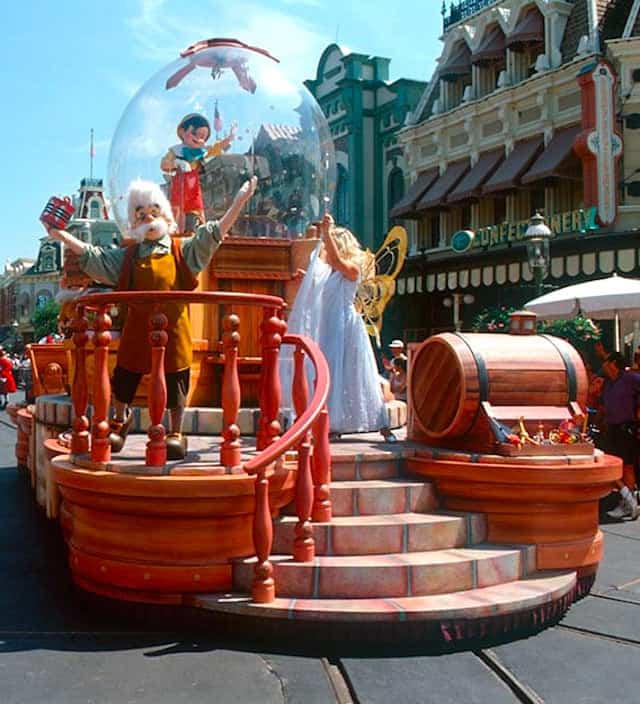 One thing that made this parade unique was the special effects and show elements used. At different points in the parade, the floats would stop and special music scores would play along with various moving parts and special effects. During these moments the Evil Queen would often transform into the Old Hag.
In 2006, the snow globes were removed and small other parade elements were changed. The "new" parade was called Disney Dreams Come True and out of the three versions of this parade, it was the least exciting.
It was basically a stripped-down version of the original Share a Dream Come True Parade without all of the special effects and elements. The music didn't fit quite right, either.
In 2009, Disney made some much-needed changes to the parade with colorful updates to the floats and a much better musical score. The new version, Celebrate a Dream Come True, was like watching a super lively block party bash.
The Celebrate a Dream Come True Parade lasted until 2014 when it was replaced with the all-new Festival of Fantasy Parade. While we loved Celebrate a Dream Come True, after 13 years of the same parade structure, it was a breath of fresh air to have all new floats, music and costumes.
Festival of Fantasy Parade – Magic Kingdom (2014 – present)
When the Festival of Fantasy Parade stepped off for the first time on March 9, 2014, guests were dazzled by the gorgeous and enormous floats. The parade features many characters from beloved Disney films such as Frozen, Beauty and the Beast, Cinderella, the Little Mermaid, Sleeping Beauty, Tangled, Brave, Peter Pan, Dumbo, Pinocchio and more.
One of the most spectacular features of this parade is the costumes. Designed by Mirena Rada, who has designed costumes for many Disney Parks entertainment, the entire collection took over a year to create.
Just the Seashell Girl's costume from the Little Mermaid Unit takes over 30 yards of fabric to create one costume. The famous steampunk Maleficent float was also designed by former Tapestry of Nations Parade designer Michael Curry.
Festival of Fantasy is one of those parades that is just so unique. Everything from the floats to the music is amazing.
After a long hiatus, it's so exciting that the Festival of Fantasy parade has returned to Walt Disney World! The parade currently has cut quite a few characters from its floats, but we hope over time that this parade will return to its full splendor!
Tapestry of Nations/Tapestry of Dreams – Epcot (1999-2003)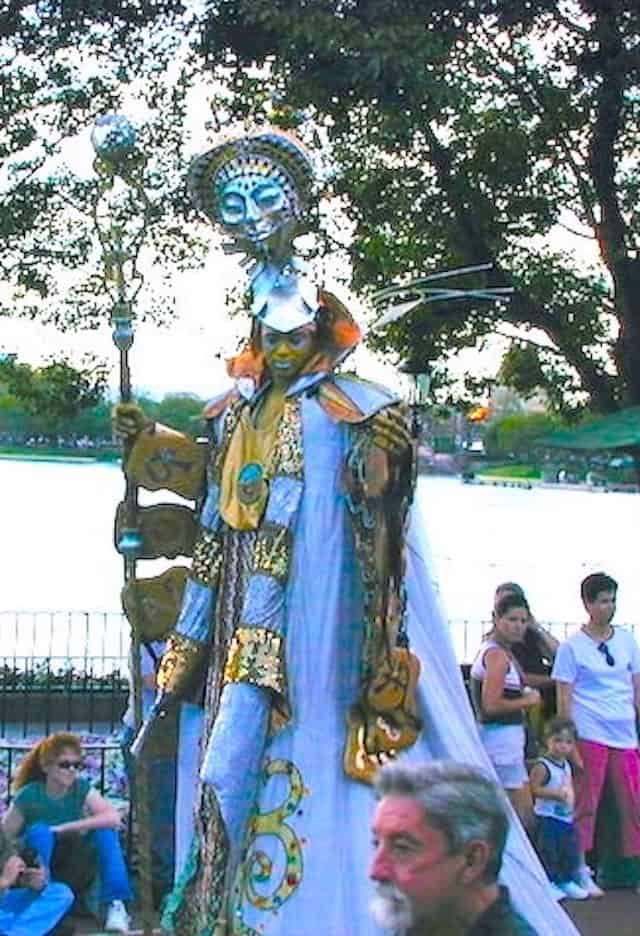 The Tapestry of Nations Parade was one of the greatest parades ever to come to Disney. The puppets were amazing and the music was so catchy. The parade used to run twice a day (one time during the day and once at night) around the World Showcase.
The Tapestry of Nations Parade debuted in 1999 as part of Disney's Millennium Celebration and moved around the World Showcase Lagoon. The main theme was world peace and featured larger-than-life puppets that danced and delighted guests with the help of very talented Cast Members. Between each section of puppets were giant revolving drum floats with live drummers playing them as they turned.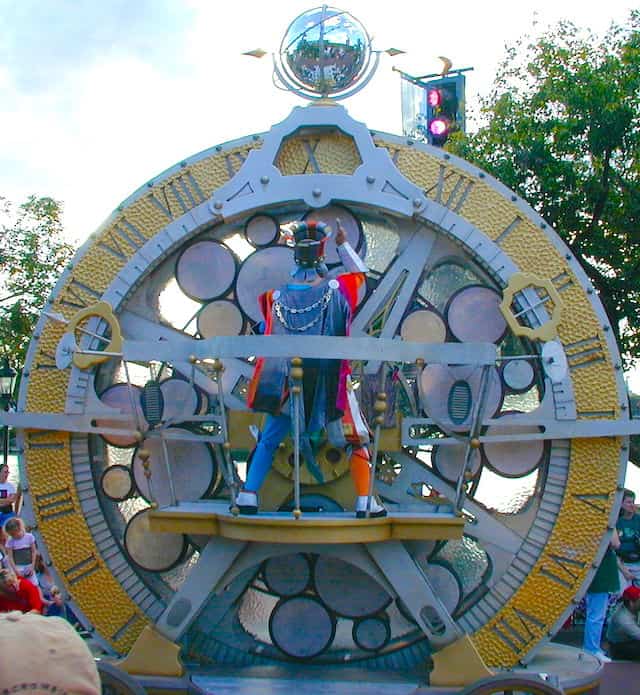 Not only was the design unique and whimsical, but the music was incredibly catchy. Gavin Greenaway wrote the music for the Tapestry of Nations Parade along with the Illuminations: Reflections of Earth Medley.
He said he designed the music with made-up words to sound like a proto-language in order to avoid using a real language that some would understand and others wouldn't. Choosing instead to use simple vowels and consonants, it was more unifying that everyone didn't understand the lyrics.
In 2001, the Tapestry of Nations Parade was transitioned into the Tapestry of Dreams Parade and focused on the idea of Dreams and the world's greatest dreamer: Walt Disney.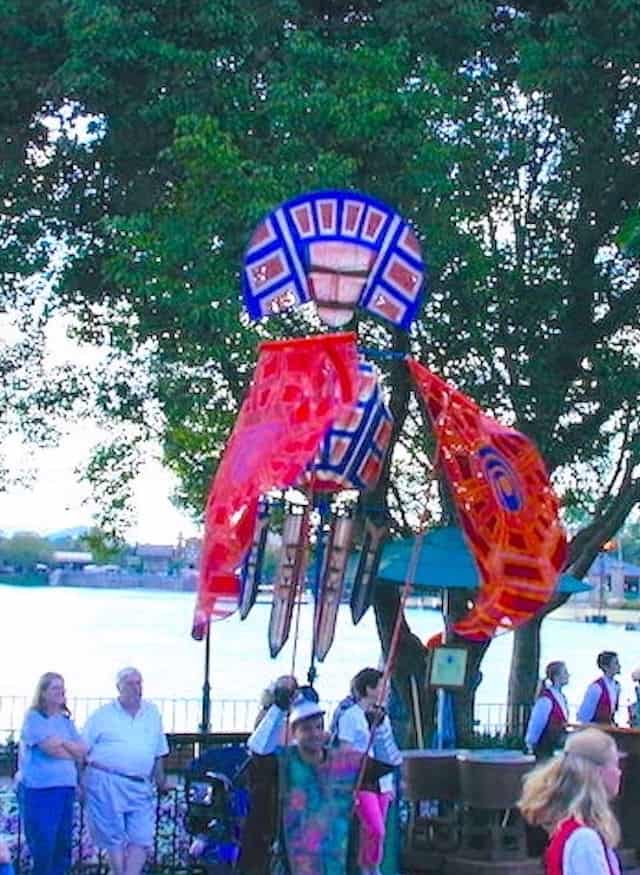 The leader of the original parade, The Sage of Time, was replaced by three Dreamseekers who represented discovery, invention, and genius; nature, magic and emotions; and space and the unknown.
Unfortunately, due to deterioration in parade elements, safety concerns and crowd issues, Tapestry of Dreams was retired in 2003 and never replaced.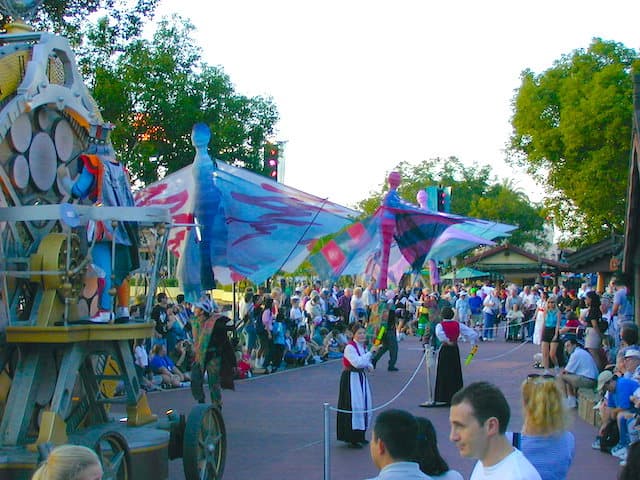 The music from the original Tapestry of Nations Parade could still be heard long after the parade retired as the exit music to Illuminations: Reflections of Earth. There was nothing more toe-tapping to get you on your feet than this music.
It would be great to see a parade return to Epcot one day. So many people loved the Tapestry of Nations Parade and would love to see either a version of it return or a brand new Epcot parade.
Disney Stars and Motor Cars Parade – MGM Studios (2001-2008)
One of the coolest parades I remember as a kid was the Disney Stars and Motor Cars Parade at Disney's MGM Studios (n/k/a Disney's Hollywood Studios). The parade debuted on October 1, 2001, as part of the 100 Years of Magic Celebration and featured popular Disney characters riding in decked-out convertible cars.
The parade would run from the gate near Star Tours to the one on Hollywood Boulevard near guest relations.
What was so magical about this particular parade was the use of some often forgotten and underrated movies such as Hercules and Atlantis: The Lost Empire. There was even a Power Rangers float at one time. Of course, the Little Mermaid float was my (Christina) all-time favorite.
The original car floats featured were:
Float 1: Toy Story (characters: Woody, Buzz, Jessie, Bo Peep and Toy Soldiers)
Float 2: Marry Poppins, Bert and the Penguins
Float 3: The Muppets (characters: Kermit, Miss Piggy and Sweetums)
Float 4: Star Wars (characters: R2-D2, Princess Leia, Luke Skywalker and Darth Vader)
Float 5: Mulan Mushu and Chinese Warriors
Float 6: Aladdin, Jasmine and Harem Girls
Float 7: Hercules, Megara, Philoctetes, Pain and Panic
Float 8: Villains (characters: Hades, Cruella De Vil, Jafar, Evil Queen, Captain Hook and Frollo
Float 9: Atlantis (characters: Milo Thatch and Kida)
Float 10: The Little Mermaid (characters: Ariel, Sebastian, Flounder and Fishes)
Float 11: Playhouse Disney (characters: JoJo, Goliath the Lion, Bear in the Big Blue House, Treelo, Stanley, PB&J Otter, Rolie Polie Olie and Zowie)
Float 12: Snow White
Float 13: The Grand Marshal – varied
Float 14: Finale Mickey, Minnie, Donald, Goofy, Pluto, Alice, Pinocchio, Gepetto, White Rabbit, Chip 'n' Dale.
Throughout the years, other floats were added such as:
Monster, Inc. (characters: Mike and Sulley)
Lilo and Stitch
Power Rangers
Cars (Lightning McQueen and Mater)
The music for this parade was equally amazing and to this day, I still listen to it. The Disney Stars and Motor Cars parade ended at Hollywood Studios on March 8, 2008, but it will remain one of the best parades that ever ran in Disney World.
Mickey's Jammin Jungle Parade – Animal Kingdom (2001-2014)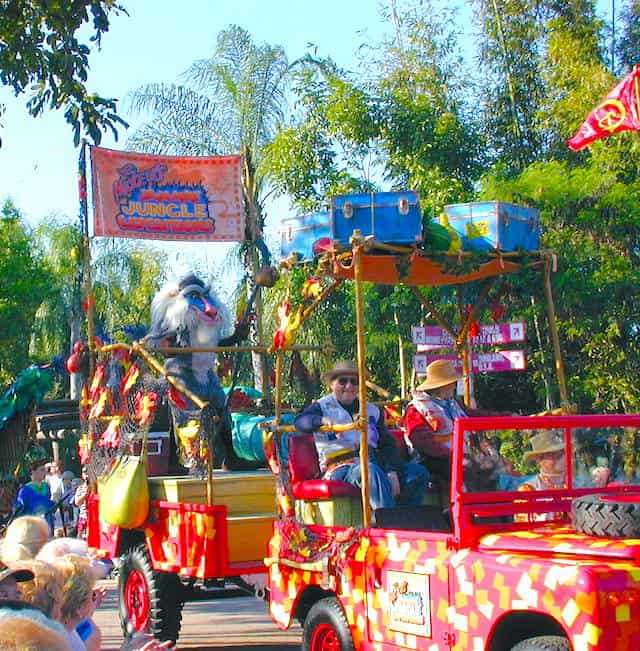 Mickey's Jammin' Jungle Parade also debuted on October 1, 2001, as part of the 100 Years of Magic Celebration. It ran at Disney's Animal Kingdom until 2014 when construction began on Pandora: The World of Avatar. This parade was one of the most fun and lively parades at Disney. It featured stilt walkers, giant animal puppets, drums and characters dancing on safari trucks.
Mickey's Jammin' Jungle Parade was one big moving block party filled with great music and colorful costumes designed by legendary designer, Michael Curry.
Since Mickey's Jammin' Jungle Parade left in 2014, there has never been another parade inside of Animal Kingdom. We wish this amazing parade would return or at least a new parade would come to Animal Kingdom in the future! It was a great experience and fit the theme of Animal Kingdom so well!
SpectroMagic – Magic Kingdom (1991-1999; 2001-2010)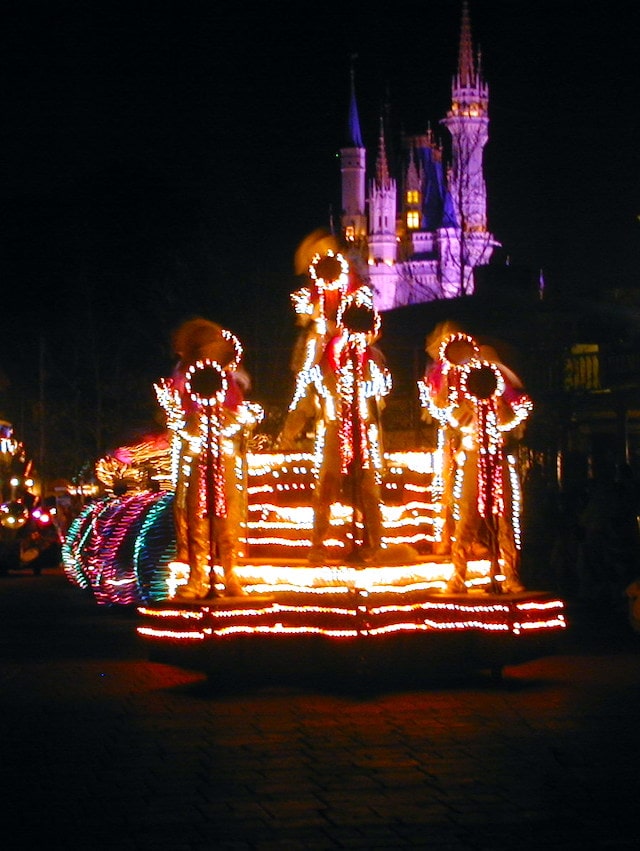 I have such fond memories of watching SpectroMagic as a kid. Everything about this nighttime parade was amazing.
SpectroMagic consisted of 5 main themes:
"The Worlds of Music from the Silly Symphonies"
"The Wonder of Sleeping Beauty's Garden"
"The Fantasy of The Little Mermaid's Ocean"
"The Imagination of Fantasia"
"And The World of Dreams in a Grand Disney Cavalcade"
In each theme, there were multiple units totaling 39 floats in all. Not only were there a lot of floats, but SpectroMagic took over 65 Cast Members nightly to bring the magic to life.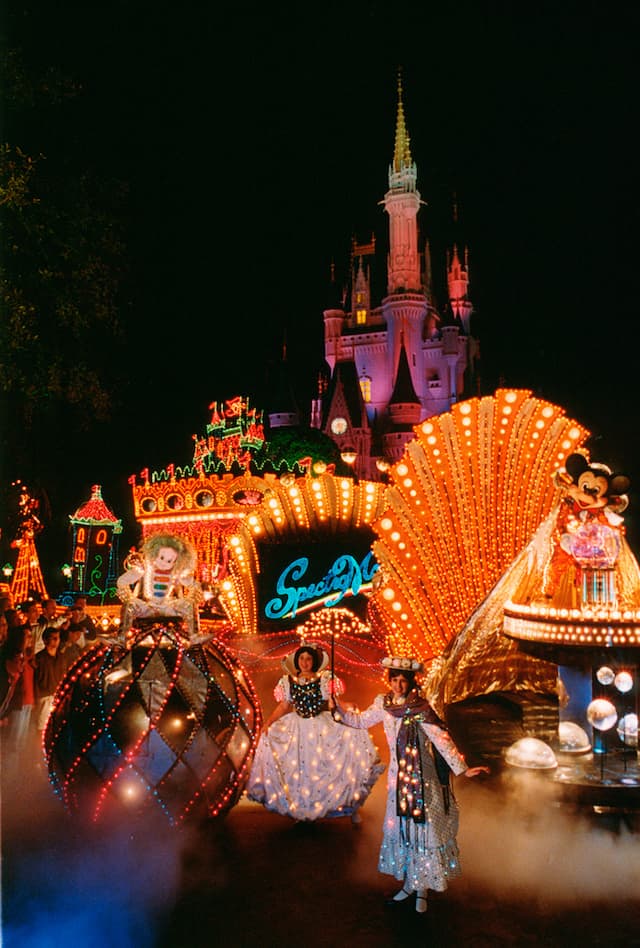 SpectroMagic had a nearly 17-year run between its two tenures at the Magic Kingdom. The first was from 1991-1999 and the second being 2001-2010. In 2013, Disney confirmed that the SpectroMagic parade would be permanently retired ending many guests' hope that it would one day return.
The music of SpectroMagic was equally amazing. There was something so magical and whimsical about its orchestration. As much as I enjoyed the Main Street Electrical Parade that took its place, it lacked the same musical emotion that SpectroMagic had.
Main Street Electrical Parade – Magic Kingdom (1977-1991; 1999-2001; 2010-2016)
The Main Street Electrical Parade has long been loved by many Disney guests. The very first version of the parade debuted in Disneyland in 1972. It traveled many times to various other parks over its long run including Disney's California Adventure Park, Disney World's Magic Kingdom Park and Disneyland Paris. 
The Main Street Electrical Parade featured the first-ever automated parade show-control program using radio-activated "trigger zones". By using these trigger zones, guests would hear float-specific music through the park's audio system as it entered the 70-100ft zones.
This ensured that all guests would experience the exact same show regardless of where they were standing along the parade route.
The "Baroque Hoedown" is the track that is heard throughout the Main Street Electrical Parade and features a very distinct synthesized sound due to its use of 11 different synthesizers including the Moog synthesizer. It was hard to not start dancing in your parade spot as this stunning parade went by.
The last run of the Main Street Electrical Parade ended at Disneyland in September 2019. In February of 2022, Disney announced the Main Street Electrial Parade would return to Disney for its 50th Anniversary! For its special return, the "To Honor America" grand finale float was reimagined in a Mary Blair-style design that showcases more than a dozen new beloved Disney and Pixar characters!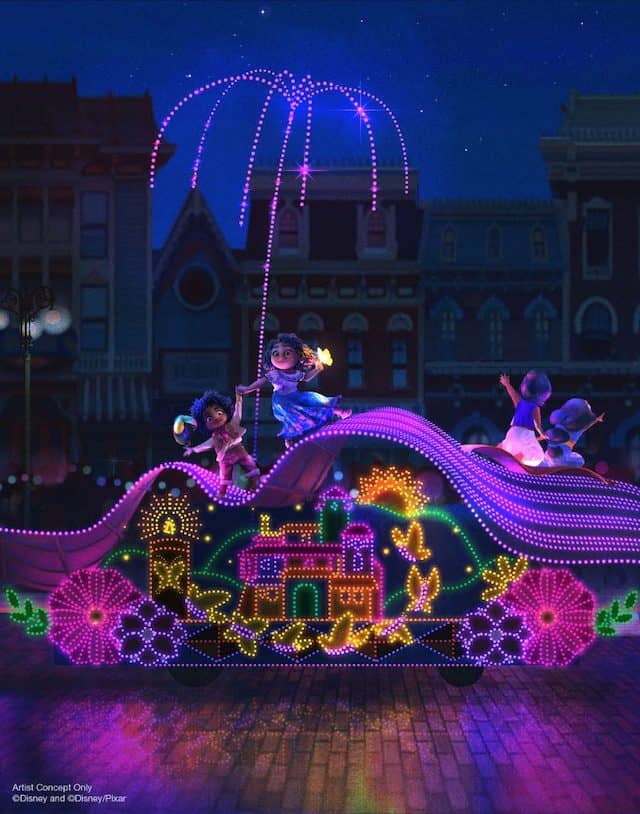 There were so many wonderful parades throughout Disney history. They will live on forever in our hearts as special memories of our vacations with our family and friends. We miss these amazing parades and hope Disney will continue to keep wowing guests with more fantastic parades for years to come, especially in the other theme parks besides Magic Kingdom.
What do you think about this former parades? Which was is your favorite? Let us know in the comments below and on Facebook!
-Christina