Curious what the Galactic Starcruiser is like? Wondering if it's worth the big price tag? Should kids go? Here is everything you need to know about it to help you decide!
What is the Galactic Starcruiser?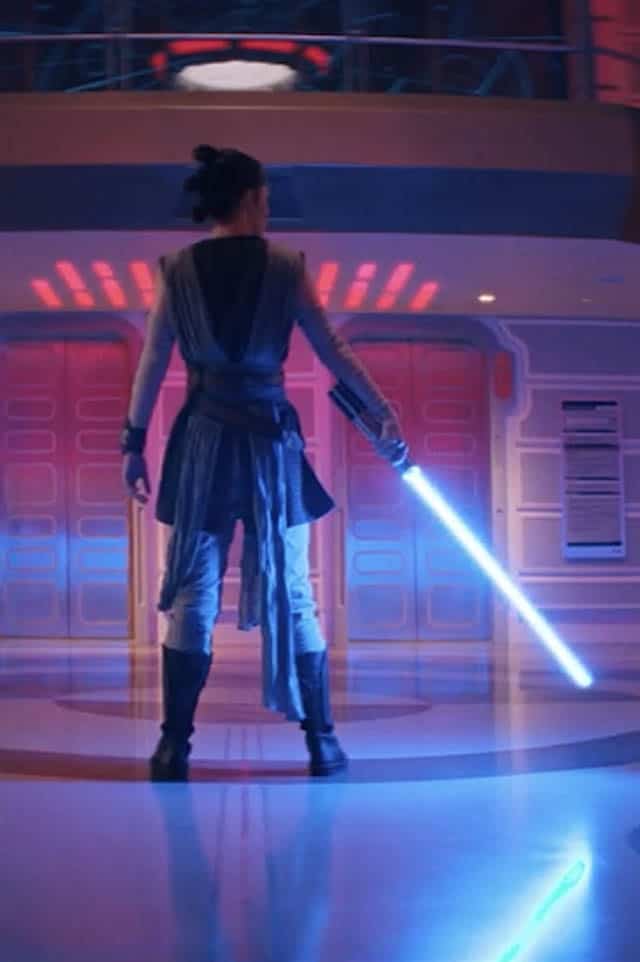 Disney World's Galactic Starcruiser is an immersive multi-day role-playing adventure. Basically you are the hero as you live out your wildest Star Wars fantasies. Think of it like a Star Wars version of a cruise…on land. There are missions and experiences, excursions to Batuu, and opportunities to interact with your favorite characters.
A friend of the blog recently went on one of the Starcruiser voyages and was gracious enough to share her experience with us. We loved learning all about it and want to pass along the information to you! To set some demographics, her party of 7 included 4 adults, 2 children, and 1 infant. They used Disney Vacation Club points to book the Starcruiser adventure for the end of March – less than a month into opening.
5. Missions and Experiences play a major part on Starcruiser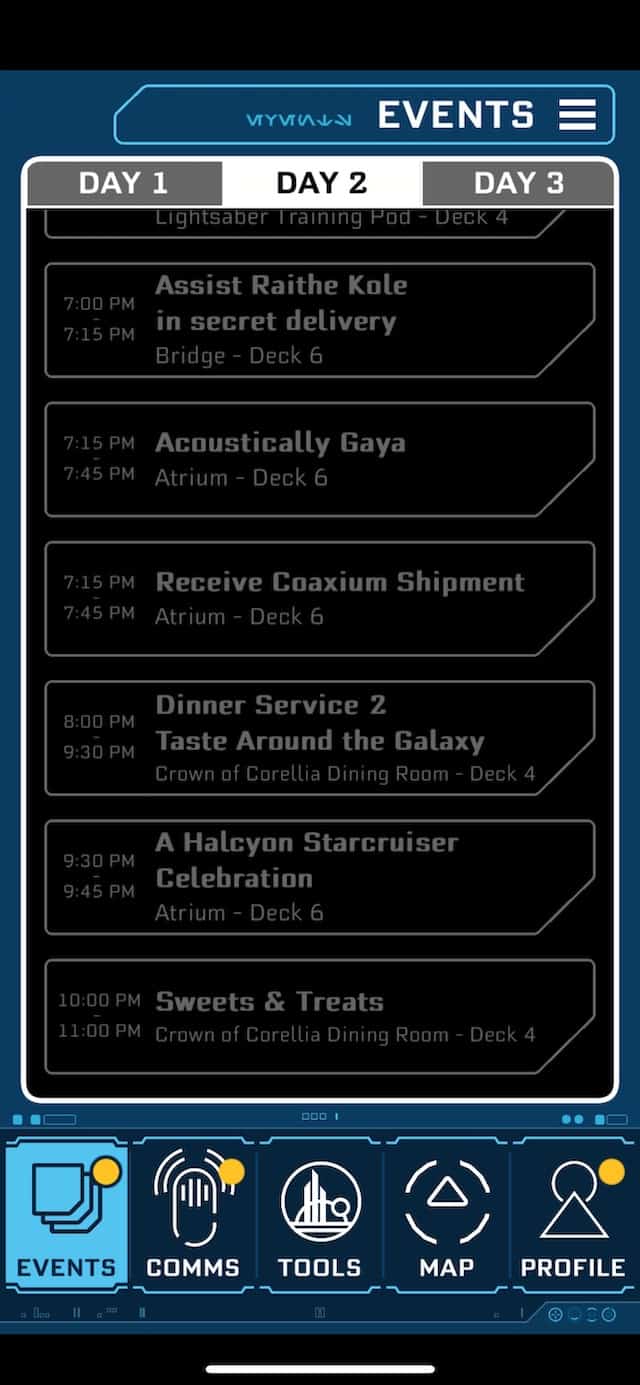 The missions and experiences play a vital role in the adventure portion of the Starcruiser experience. One of the most important pieces you need to consider when deciding to book a Starcruiser adventure or planning for one is that it is based heavily on technology.
The missions and experiences are all based on the Datapad/Play Disney app. They will either provide you with one or you can use your own device, but you will need to download the Play Disney app. Remember how I said earlier it's like being on a cruise? Like the Navigator app that Disney Cruise Line utilizes, you will find your itinerary on here.
You can also communicate with crew members, use the translator, and find the map. It is also where you participate in your missions and experiences. Anyone who will be participating on their own will need a Datapad! Your DataBand (aka MagicBand) also plays a huge role in the experience as well and helps you complete your missions.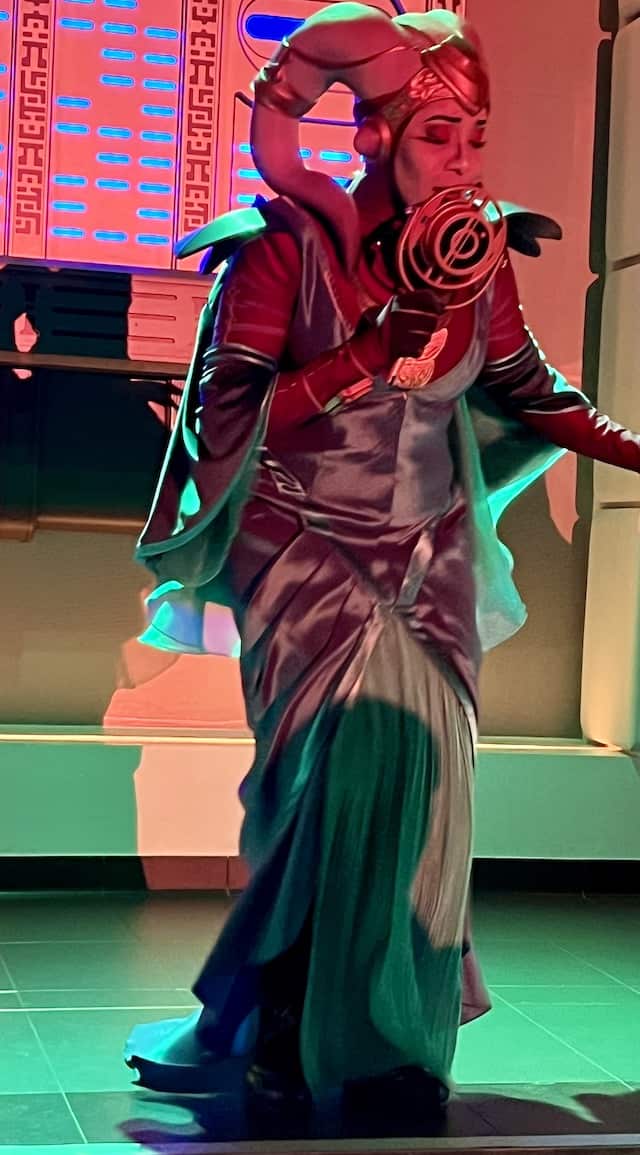 Basically how the experience works is that as you interact with characters and complete missions you develop a "reputation" for who you sympathize with. Scanning your DataBand around the Starcruiser helps you access different features, and your Datapad allows you to communicate with characters and advance through your mission.
Our friend of the blog shares that while she enjoyed the missions, she felt like they were a lot of work. She wishes there was more time to relax and enjoy the Halcyon itself without feeling the need to run around and complete missions. It almost felt like she had to get her money worth since the missions play a huge role in the experience.
4. Traveling to Batuu is not necessary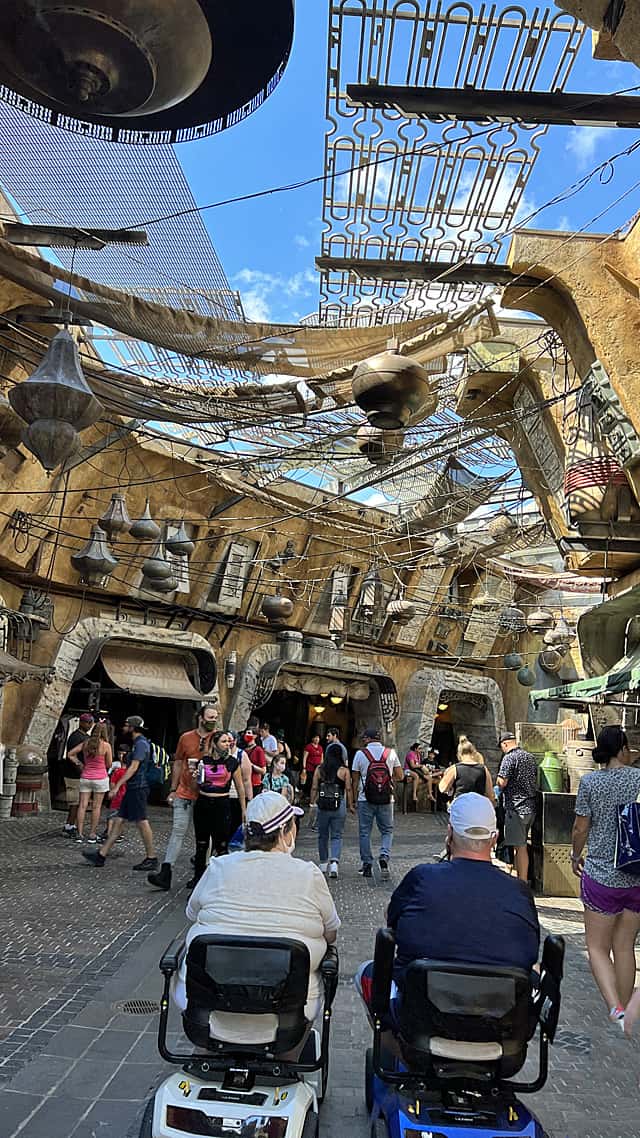 An excursion to Batuu at Hollywood Studios is also part of the immersive experience. You will be transported over to Hollywood Studios to complete more missions and ride the two attractions in Galaxy's Edge. It also includes a meal voucher, and you can participate in experiences like lightsaber or droid building.
Our friend mentioned that she did not feel like the excursion to Batuu really added to the experience due to the time constraints you have there. She would have rather stayed on the Halcyon and enjoyed the ship more. It would not be possible to do everything in Galaxy's Edge during your excursion, so she recommends maybe doing the attractions on a separate day.
In fact, she recommends planning a day at Galaxy's Edge before your Starcruiser adventure. This will give you plenty of time to experience all that it has to offer and you can build your lightsaber and/or droid if wanted. You do actually use these on the Starcruiser, so it would be nice to have for the entire adventure.
3. Be sure to use this feature in your cabin!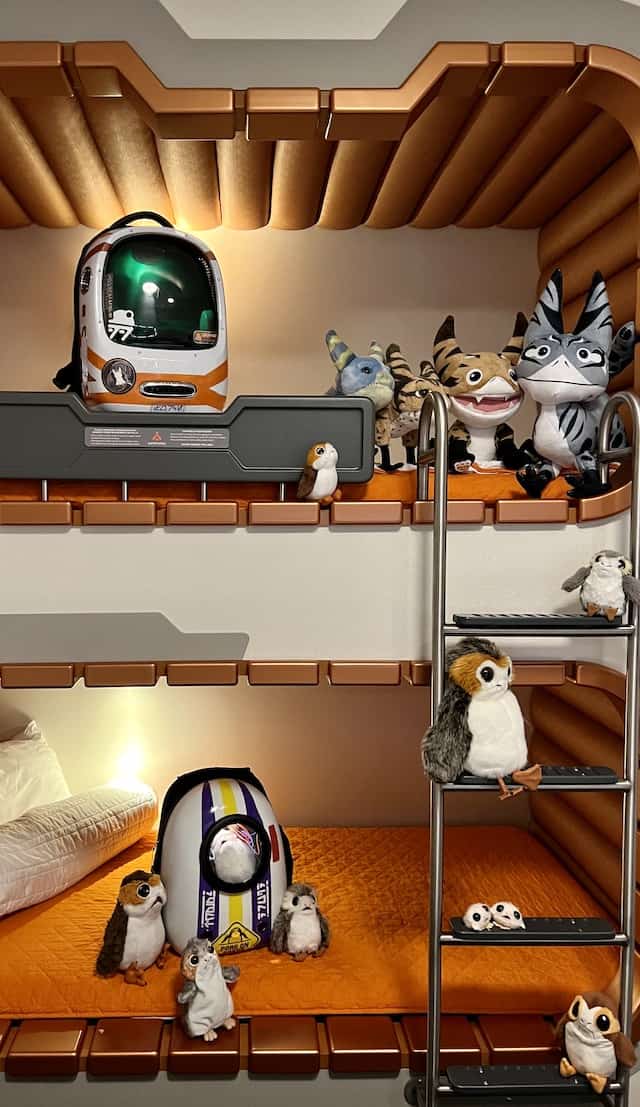 Our friend booked two of the standard cabins and had no complaints or concerns about the room. She did want to share a really cool feature in each room which is the interactive droid that you can talk to and carry on conservations with while you are in your room.
The droid can tell you bedtime stories and other fun stories. It will also tie into the plot and overall story of the ship, which is really fun for continuing the storyline during your downtime. She really recommends you try to use this interactive feature as much as you can when in your room.
As for the room itself, it is a standard cabin like you would experience on a cruise ship. As you can imagine, space is one of the concerns on the Halcyon so the rooms really utilize as much as they can. I will speak more on her experience with traveling with kids, but she did want to share that a pack-n-play will fit comfortably in the standard cabin! Accommodations for children is a big concern for most parents, and Disney did a great job with these.
One thing to watch out for, however, is how much luggage you bring onboard with you. The room can get a bit tight if you bring an entire week's worth of clothing and toiletries for multiple people. It would be wise to find another solution for the belongings you do not need on your adventure.
2. Dining on the Starcrusier is hit or miss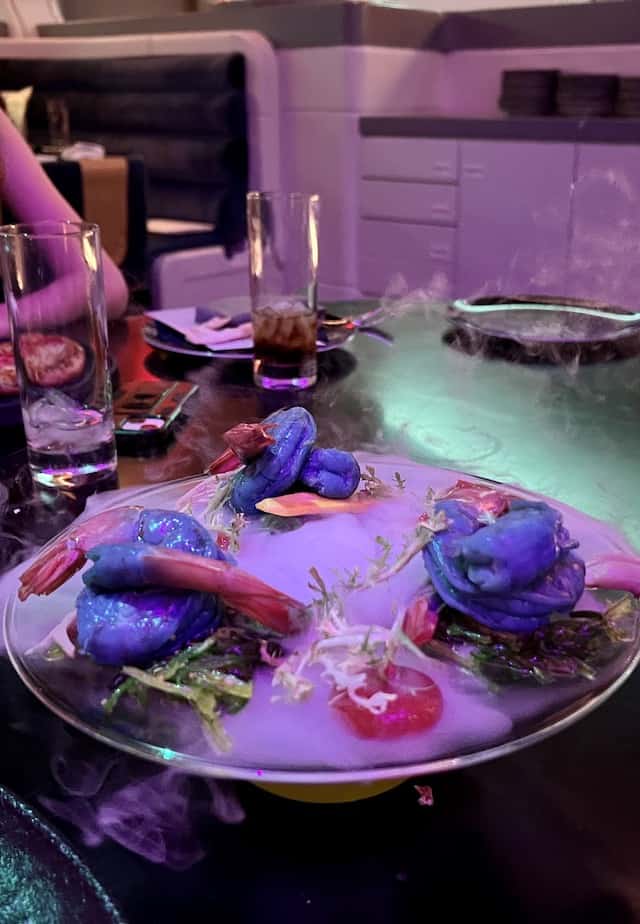 The Starcruiser provides plenty of dining during your adventure from snack carts to three-course meals. She described the food similar to what you see in Galaxy's Edge or even Pandora. The flavors are unique and the presentation is creative. Some things were a bit odd, which could be troublesome for picky/plain eaters.
If the meals do not look appealing, our friend shares that there is a strolling buffet with all kinds of snacks, cookies, fruit, and more. All food is included with your price, so you are free to take whatever and however much you want.
You do get unlimited water at Galaxy's Edge and a meal voucher to use at Docking Bay 7, which is pretty awesome. The meals on Starcruiser felt rushed at times, however. Disney is currently in the process of changing a few things due to complaints they were getting about a meal getting interrupted "as part of the story".
1. Traveling with kids definitely changes the experience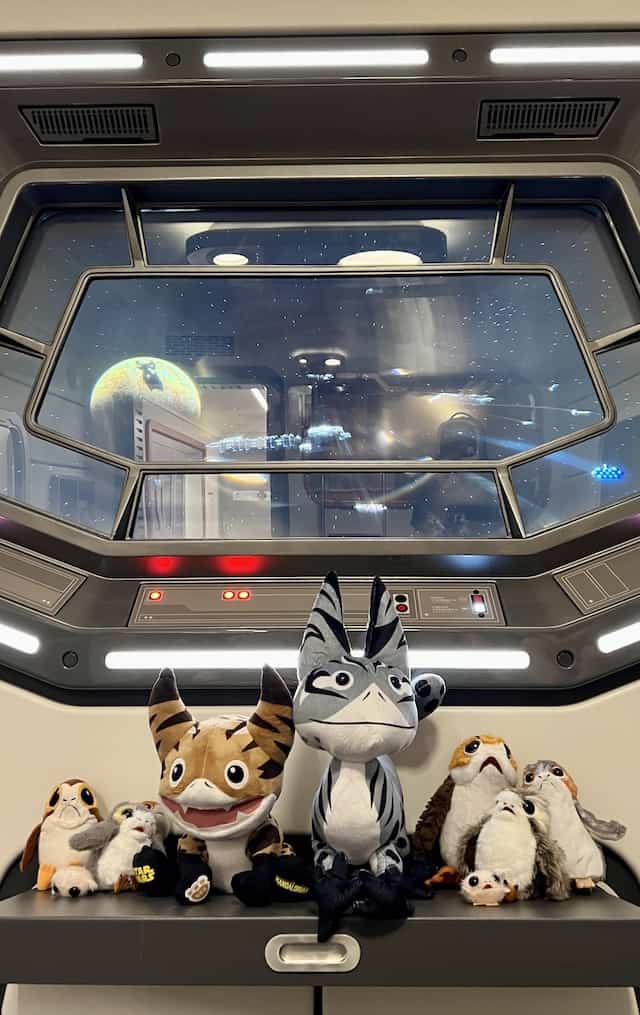 Children bring a unique dynamic to planning Disney vacations, and the Galactic Starcruiser is no different. There are some special considerations to take into account when planning to bring your little ones.
The biggest consideration would be how they would be able to manage the missions. She shared with me that since these missions are unique to each individual and rely so heavily on technology, she was unable to help her older child who went off on their own doing individual missions. When that child came back with a problem or needed help, she was not able to help them due to the nature of the missions.
Our friend did buddy up with her other child for the missions, so this was helpful because they could stay with one another and she could help out. It also created a great bonding experience because they spent more time together. Children can choose to stay with parents or they can venture on their own.
She did share that since her and one child did missions together and her husband and other child went off on their own individual missions, they all enjoyed coming back together at meals to share about their day.
There are pros and cons to doing it either way, but do be aware that children who want to do individual missions will be roaming around the Halcyon on their own. If your child has also time management issues it may be helpful for them to stay with you. The itinerary can change throughout the day depending on the paths taken, and children need to use the Datapad to get where they need to be. This could create more work for parents as now they have yet another schedule to manage.
There are also so many other activities on the itinerary for kids and families to participate in. Age 7 is the magic age because they can participate in both the child activities (7 and under) and adult activities (7 and up). Much like Disney Cruise Line, the kids tend to integrate into social groups and roam around the Halcyon with others completing missions.
Final Thoughts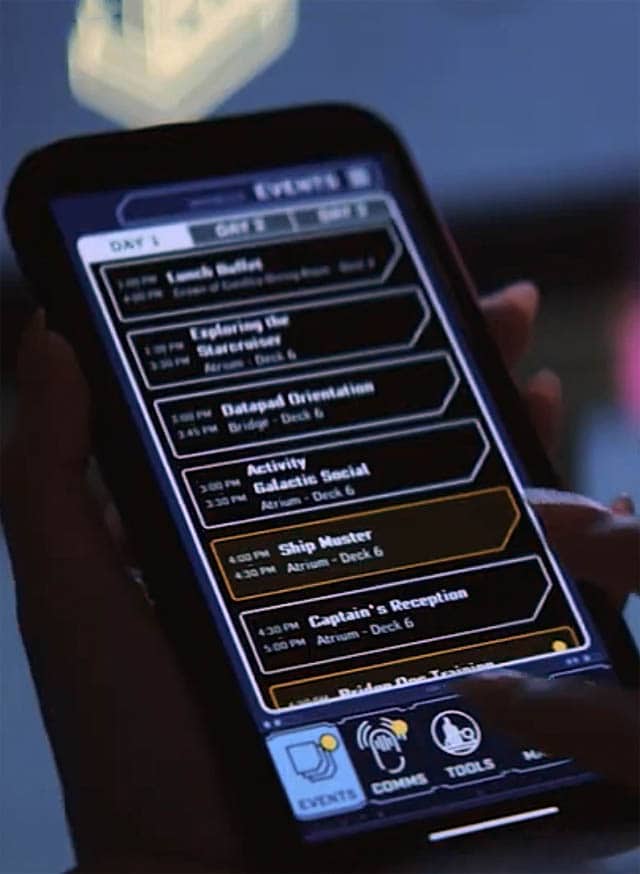 I asked our friend if she would be willing to do this experience all over again, or if it was one and done for her family. She shared that she would love to do it again because it is impossible to complete everything in one adventure. There are other side missions and quests to participate in that she would like to do in the future.
As a non-Star Wars fan myself, I was also curious if it is possible to enjoy the Starcruiser without having watched any of the movies. She did state that you need to have a basic knowledge of films 7 and 8 to be able to follow the storyline and missions.
There were some issues with technology and she did make it clear that she felt rushed throughout the entire experience. She would wait a bit longer for Disney to work those technology issues out and then take the time to appreciate just being on the Halcyon.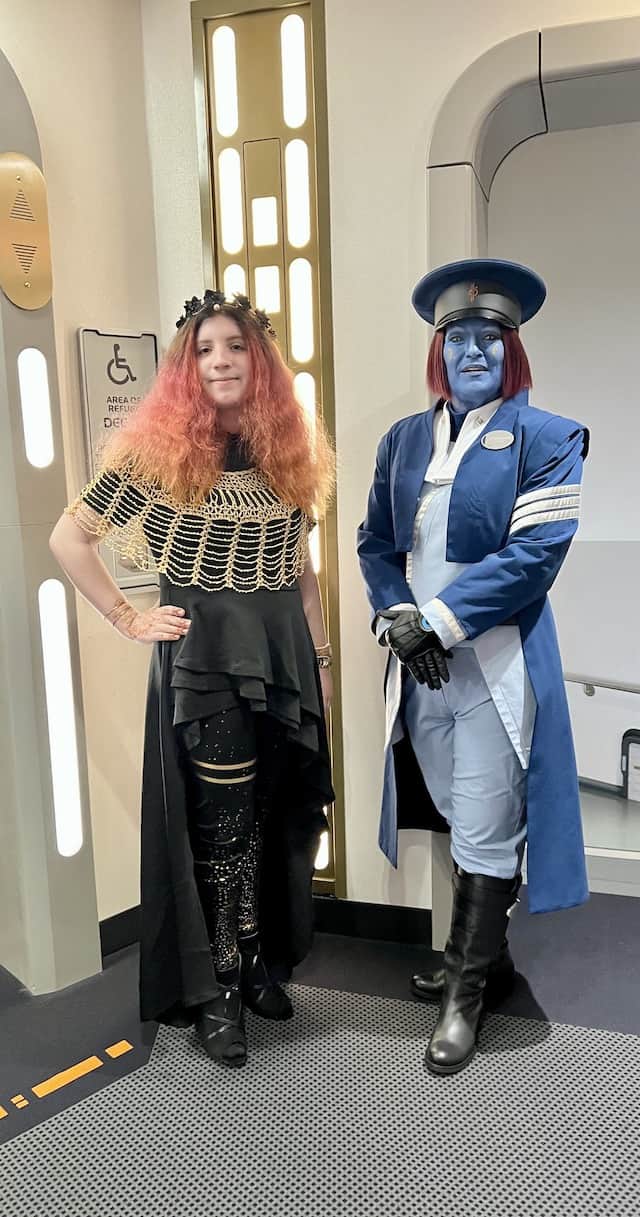 One other thing she stressed was preparing for your adventure ahead of time with costumes. Taking the time to plan the outfits and purchase them ahead of time was beneficial to her family because it helped them get into the story more and receive extra attention from characters and crew onboard. She said some families got on the ship not realizing it was a cosplay opportunity, and they rushed to the shops to get generic Disney costumes.
Pirate tip: there are Facebook groups out there dedicated to voyage dates where you can meet others and share ideas ahead of your trip.
Overall, our friend summed up the experience nicely. She said it's a mix of dinner theater and an escape room with a Rise of the Resistance theme. There are definitely some things Disney needs to improve upon, but this is truly an experience that you will never forget.
Have you been on the Galactic Starcruiser? Would you ever want to go? Let us know in the comments below and on Facebook.