Disneyland Paris is truly a dream Disney location to visit. From characters to lush landscaping and unique themed attractions, this is a Park to add to your bucket list. Check out this list of top 10 favorite attractions at Disneyland Paris.
1. it's a small world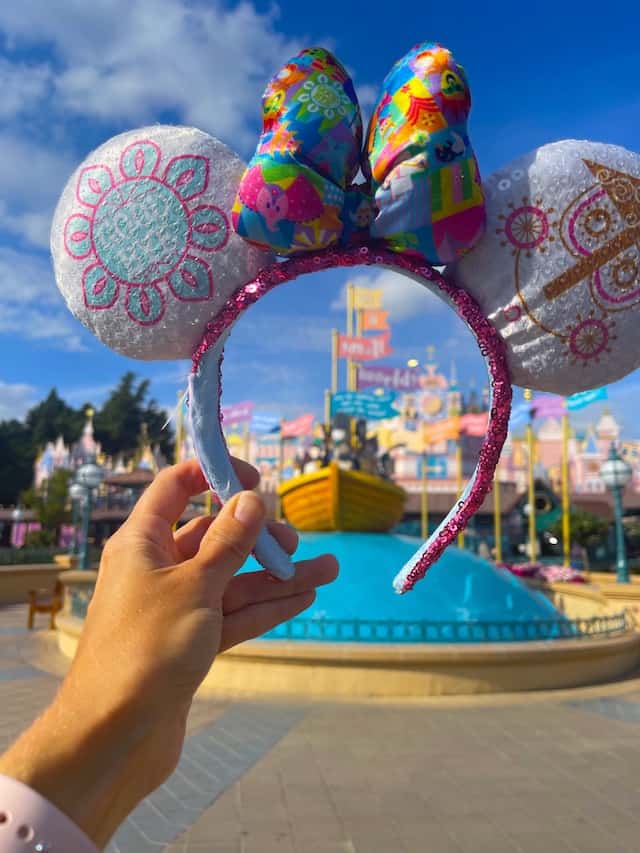 I (Donna) absolutely love the "it's a small world" attraction." It is one of my "can't miss" attractions at every Disney Park. I have been blessed to enjoy this attraction at both Walt Disney World and at Disneyland in California. When making our touring plan for Disneyland Paris, I immediately added this attraction to our itinerary.
The true beauty of this attraction may be enjoyed even before first setting sail on the "happiest cruise that ever sailed." Bright colors adorn the exterior of this iconic attraction. As seen throughout the Disneyland Paris Park, beautiful landscaping and topiaries help invite Guests into a land of wonder and imagination.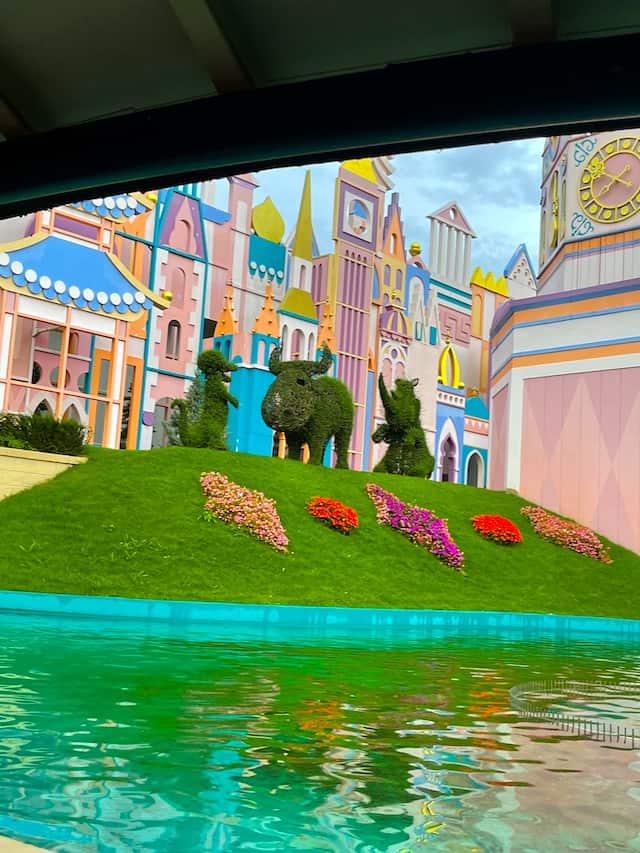 As we sailed from the exterior, we were transported into a vibrantly colored tour around the world. I loved the bright colors and the more modern updates to this classic attraction.
Of course, I was curious to see the United States depicted in this attraction. Our first view of home was of a wild frontier complete with covered wagons, singing cacti, and rocky terrain.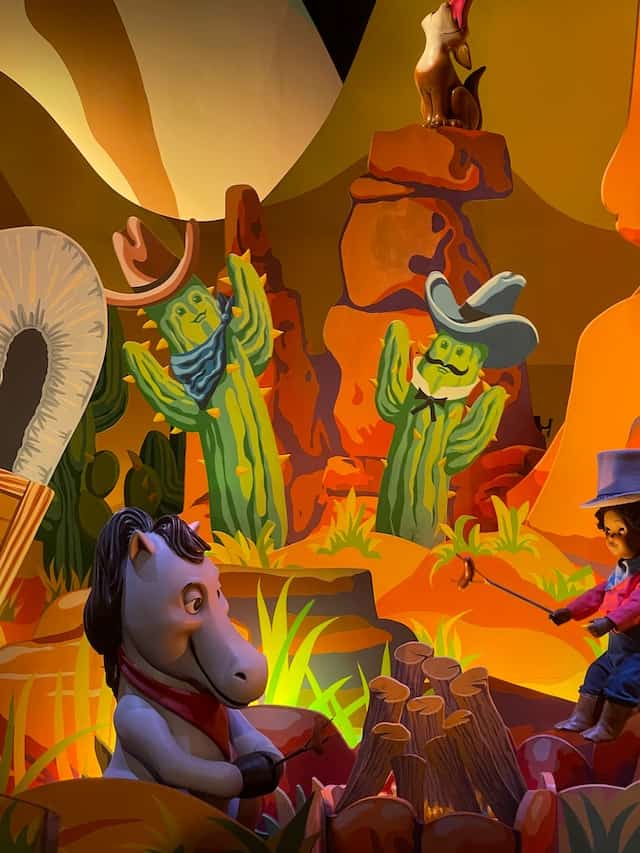 Journeying through our tour of America, we then saw the Statue of Liberty, the Golden Gate Bridge, and of course the Hollywood sign. It was quite interesting to see that our home country was featured in this attraction.
2. Les Voyages de Pinocchio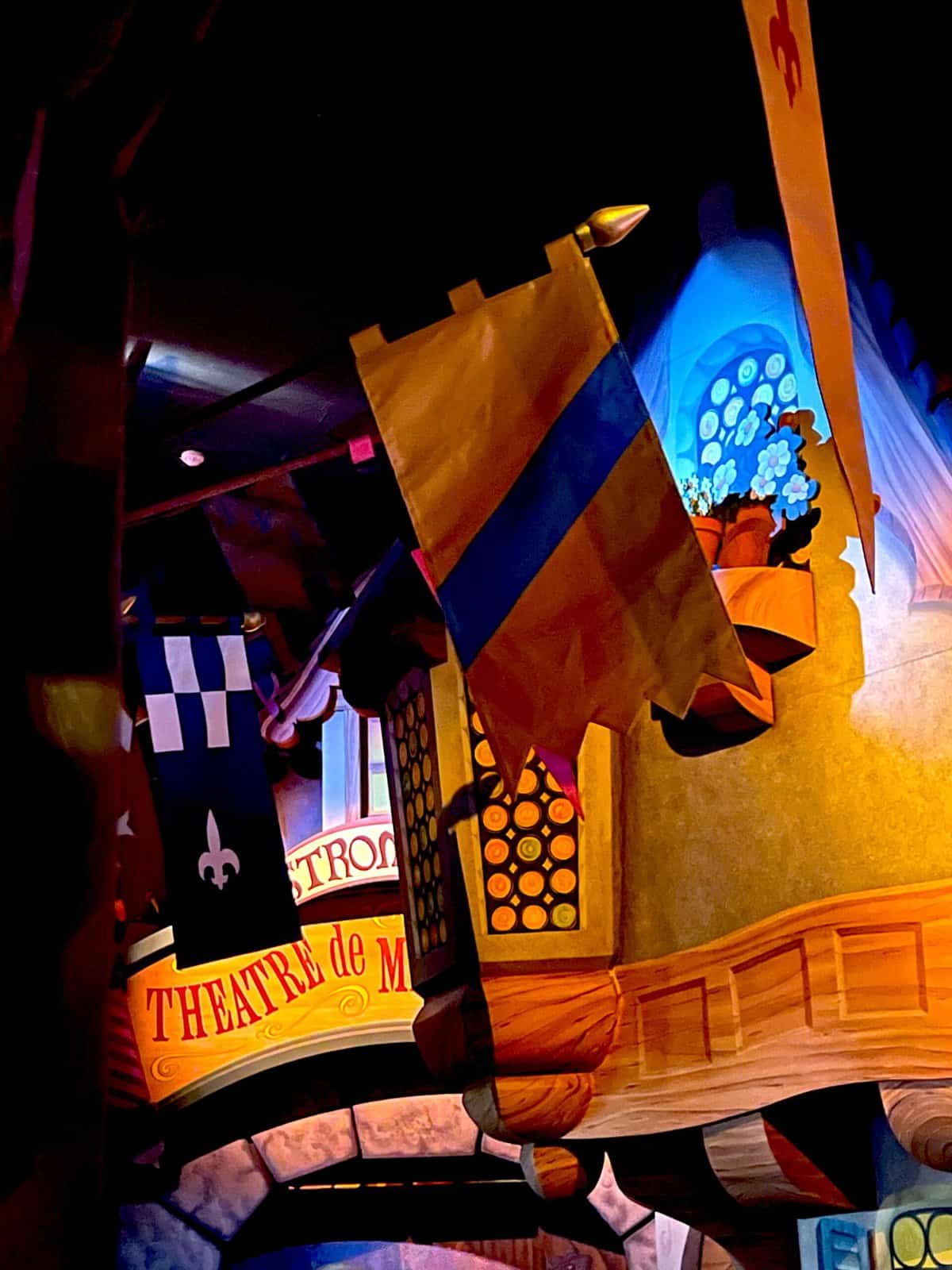 If you happen to love Peter Pan's Flight at Walt Disney World, you will absolutely love Les Voyages de Pinocchio. As you enter the queue line for this attraction, you are transported into Geppetto's workshop.
Guests journey through the story of Pinocchio as he is crafted by Geppetto and makes some questionable life choices that leads him on an adventure of a lifetime.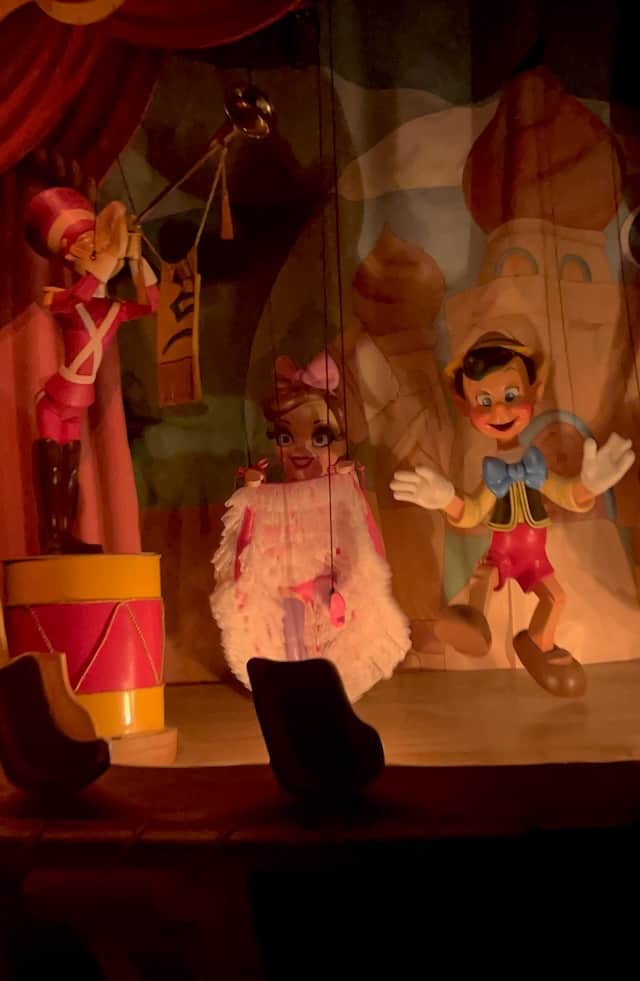 This attraction truly has you experiencing all of the feels in a very short amount of time. You experience the joy as Pinocchio is created, the despair as he turns into a donkey, the defeat as he is swallowed by Monster, and the "Happily Ever After" as he is transformed into a real boy by the Blue Fairy.
This attraction is still delighting Guests at Disneyland in California. I enjoyed the immersive experience in Gepetto's workshop at the end of this attraction in Disneyland Paris. I truly wish this attraction was included in Fantasyland at the Magic Kingdom in Walt Disney World.
3. Pirates of the Caribbean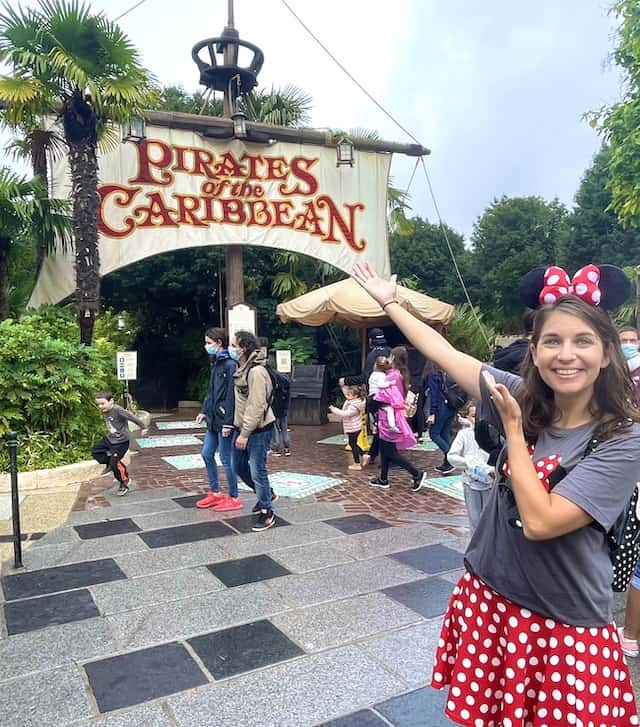 "Dead men tell no tales." This attraction is very similar to both Walt Disney World and Disneyland in California but is better in many different regards. The entrance to this attraction is similar to the Disneyland version. Guests may dine at Captain Jack's: Restaurant des Pirates and enjoy the immersive queue as Guests prepare to take sail on the attraction.
Without offering too many spoilers, there are many different moments that are bit scarier than the US counterparts. Guests are greeted by Captain Barboassa, but as he turns around he turns into a skeleton. It is also pretty cool to hear Captain Jack Sparrow speak in French throughout the attraction.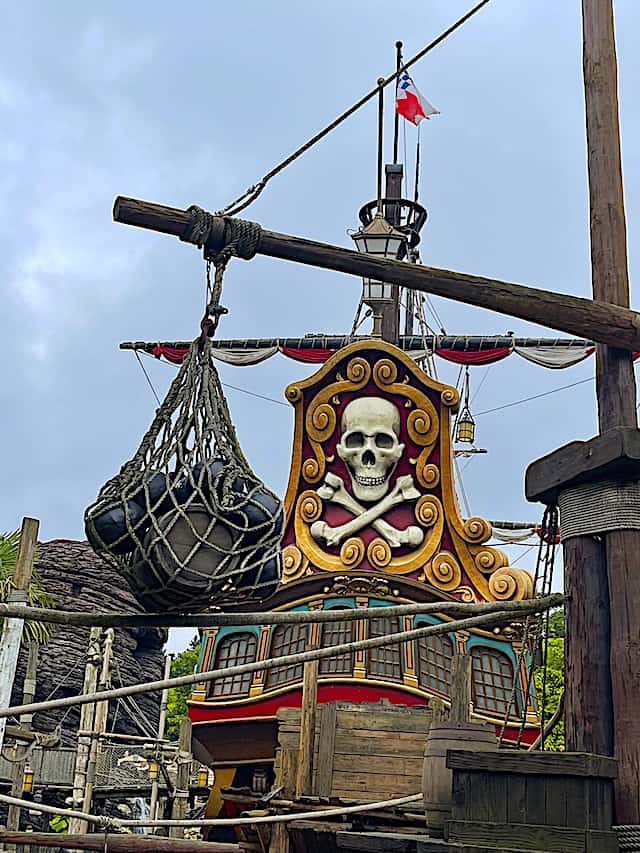 The adventure does not end in the attraction. Young buccaneers can play along Pirate's Beach and jump aboard the favorite Jolly Roger at the Pirate Galleon.
4. Mad Hatter's Teacups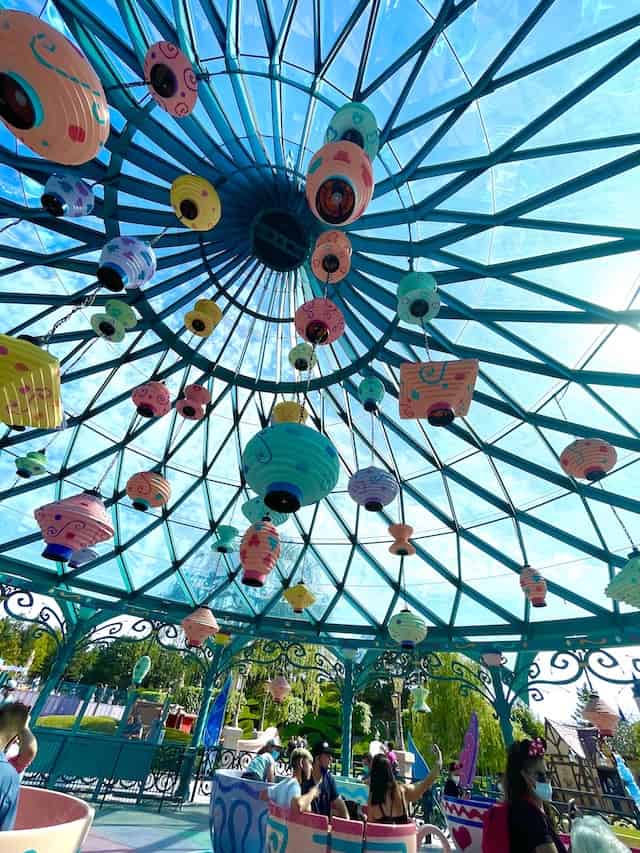 Do you enjoy taking a spin in the Mad Hatter's Teacups? You will not want to miss the opportunity to enjoy this gorgeous attraction. With the glass ceiling, brightly colored lanterns, and whimsical designs this attraction is truly a site to behold.
Alice in Wonderland is one of my favorite Disney animated classics. When we first arrived in Disneyland Paris, this was literally the first attraction that we raced off to. This is by far my favorite version of this attraction. You can also check out the beautiful Alice's Curious Labyrinth HERE.
5. Star Wars Hyperspace Mountain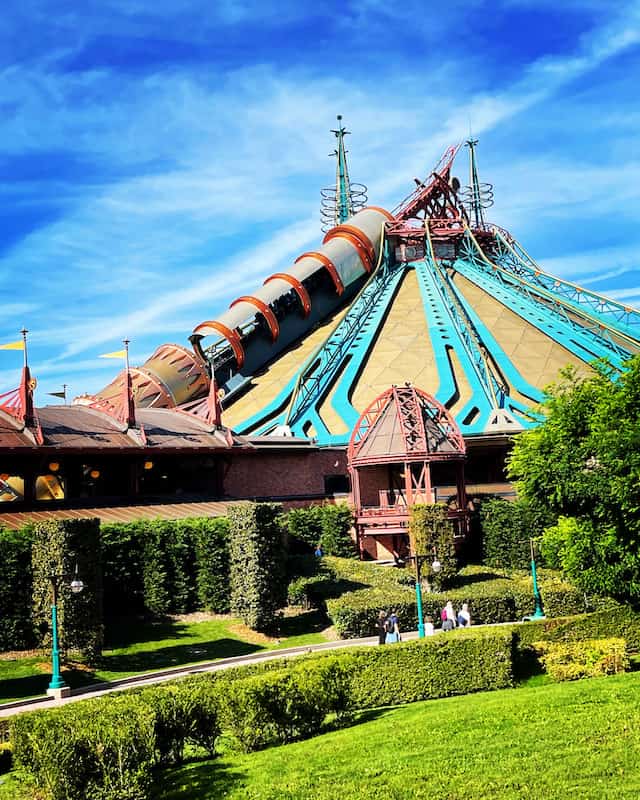 Are you a fan of Space Mountain? Experiencing Hyperspace Mountain may be worth a trip to Disneyland Paris. Prior to our trip abroad, we enjoyed watching the Behind the Attractions series on Disney+. In this series, they shared that Hyperspace Mountain in Paris is the only Space Mountain attraction to feature a launch. It honestly feels as though you are in warp speed as you are blasted off through this attraction.
The Hyperspace Mountain theme was to be a temporary overlay such as at Disneyland, but it has now become a permament change to this attraction.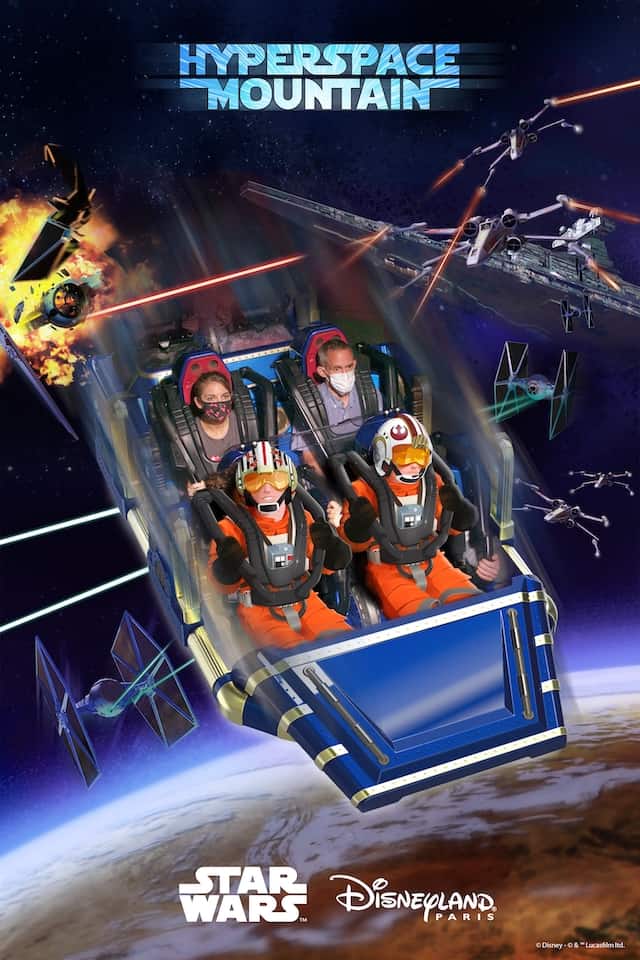 Disney Parks describe this as, "With a frenzy of red and green blaster fire, the wicked whirr of TIE fighters and a stunning Star Wars™ score, Star Wars Hyperspace Mountain is a jaw-dropping experience fit for the most fervent followers of the Force."
This is the largest Space Mountain of all of the Disney theme parks and offers inversion, interior and exterior tracks, and an audio track that Guests can enjoy in the headrests.
This is the largest Space Mountain of all of the Disney theme parks and offers inversion, interior and exterior tracks, and an audio track that Guests can enjoy in the headrests.
6. Tower of Terror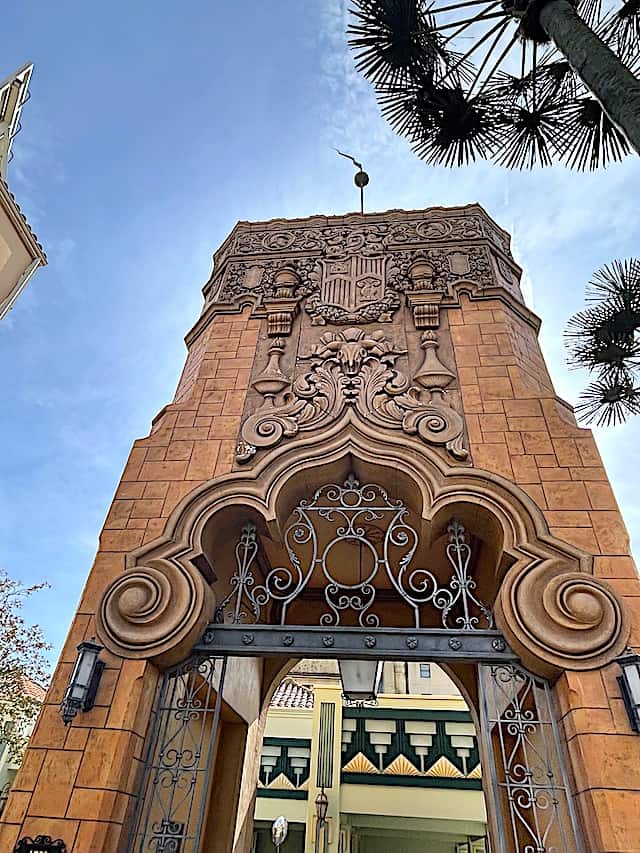 The Tower of Terror attraction may look similar to the Disney's Hollywood Studios on the exterior, but the attraction takes a very different turn. Prior to entering the attraction, we experienced so many fantastic Cast Members that prepared us before entering the 5th dimension.
We had previously watched the Behind the Attraction episode on Disney+ for Tower of Terror. I was delighted to see a familiar face from this episode. When I first approached Cedric I asked if he was on Behind the Attraction. He got a whimsical smile on his face and responded, "But of course."
I may have fan-girled just a bit, and Cedric offered an amazing pre-show for us prior to the start of this attraction. Apparently the French really enjoy being scared, and they looked to create an even scarier scenario in the Tower of Terror.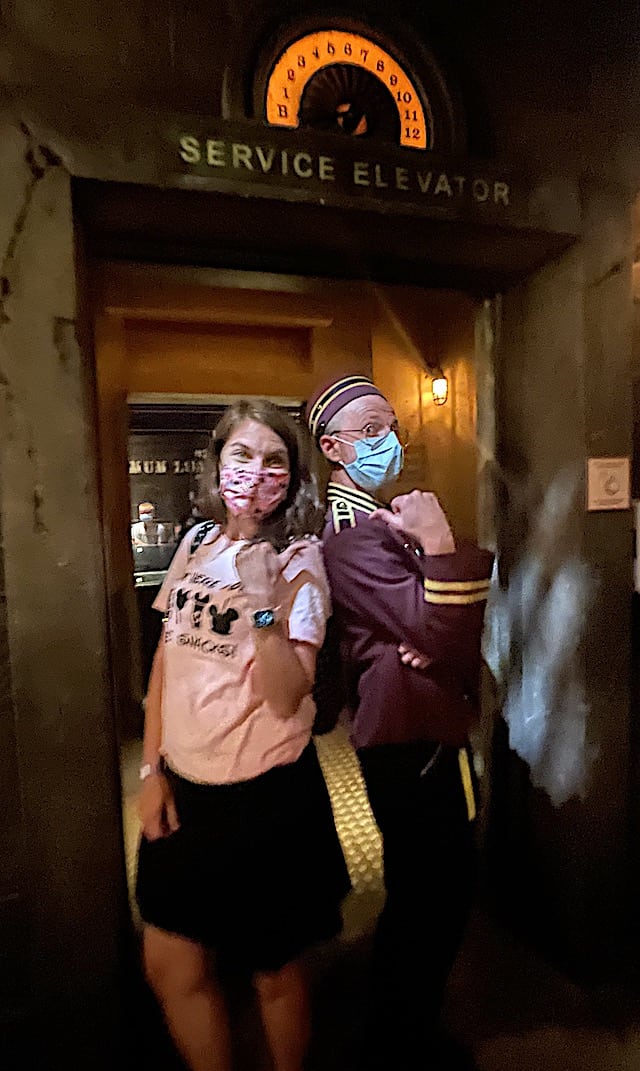 Disney Parks shares, "A little ghost girl haunts this elevator. But she is the least of your worries. Because as soon as you take your seat, this malevolent machine only has one thing in mind – to trap you in its mechanical prison and clank and screech with glee as it catapults you up and plummets you down at its wicked will."
"The only thing you can do is hold tight. And scream!" This attraction was definitely scarier, but we raced to get back in line for the attraction as soon as we exited.
7. Cars Road Trip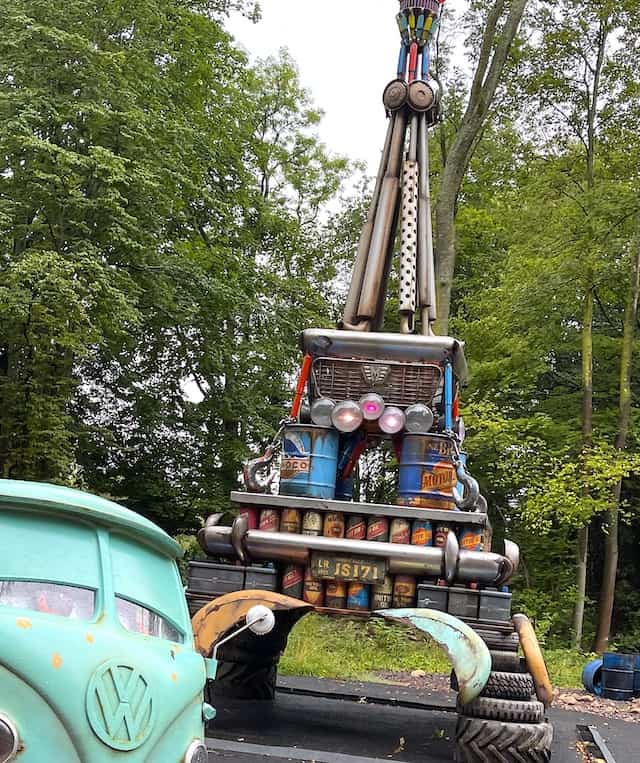 Do you miss the Studio Backlot Tour that was previously at MGM Studios at Walt Disney World? They have re-themed this attraction at Disney Studios at Disneyland Paris to allow Guests to travel through Radiator Springs. When I was younger, I experienced the Studio Backlot Tour and still remember the amazing water tower scene.
I was thrilled to experience a similar explosion and water tower scene aboard the Cars Road Trip. Of course, Mater had to class up the place a bit by creating the I-Fuel tower.
8. Phantom Manor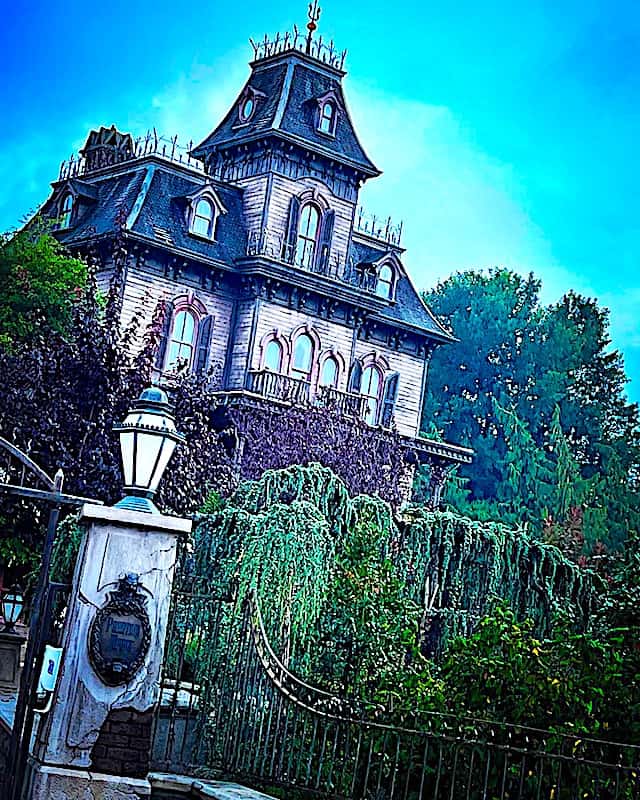 What is most most interesting with this attraction is the land in which is located. Phantom Manor is located in Frontierland which is an interesting mashup of Haunted Mansion and Big Thunder Mountain Railroad. Similar to the Tower of Terror version, this attraction is even scarier than the US Disney Parks.
This attraction features the Phantom which has a Phantom of the Opera vibe. There are similar elements that we all love found in the other attractions such as the ballroom scene and with a French speaking Madame Leota. Near the end of the attraction, you enter a haunting western town.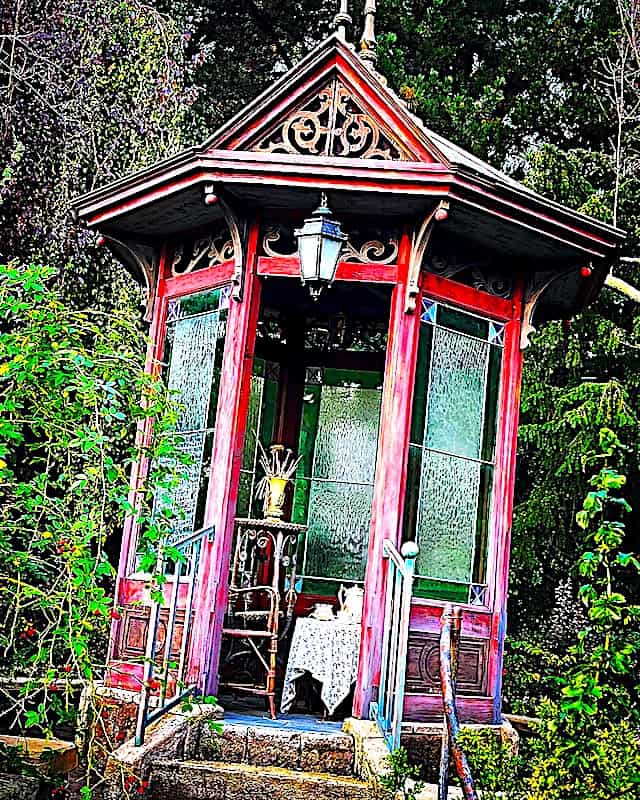 The entrance and exit of this attraction are so much fun to explore. There is a whole cemetery to walk through upon exiting this attraction which continues the theme of this attraction. If Haunted Mansion is one of your favorite attractions, this is definitely a "can't miss" attraction for you.
Check out the fun Ride and Learn for this attraction HERE.
9. Ratatouille: The Adventure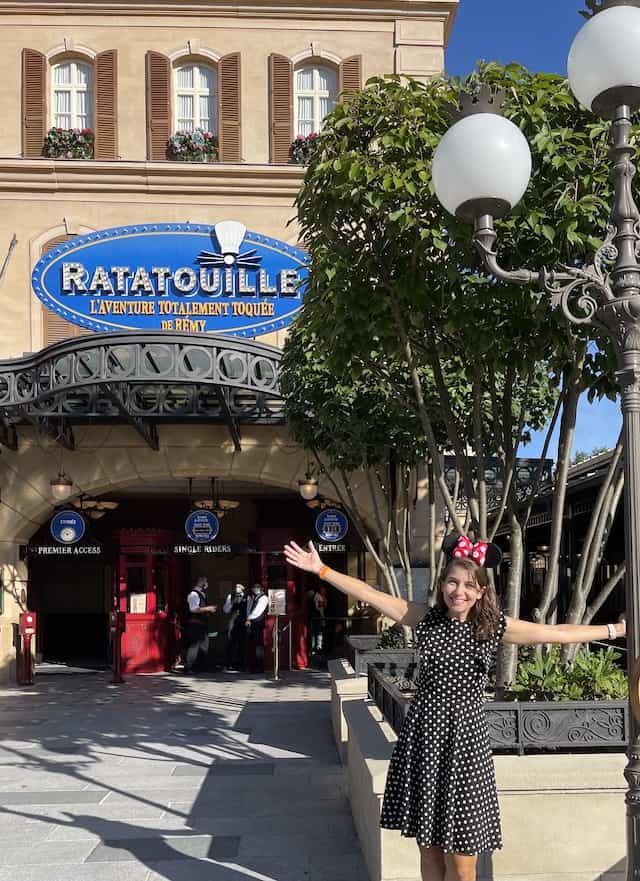 Not to give away any spoilers, but the attraction in EPCOT is extremely similar to the original attraction in Disneyland Paris. The primary difference is found in the grand finale moment.
In Disneyland Paris, we enjoy seeing a Happily Ever After for Remy and his pals. Not only is it a happy ending for Remy, but for the Guests as well. Guests have not only journeyed through the kitchen of Gusteau, but now they are looking into the dining room of Bistrot Chez Remy.
Be sure to check out the review of dining at Bistrot Chez Remy HERE.
10. Crush's Coaster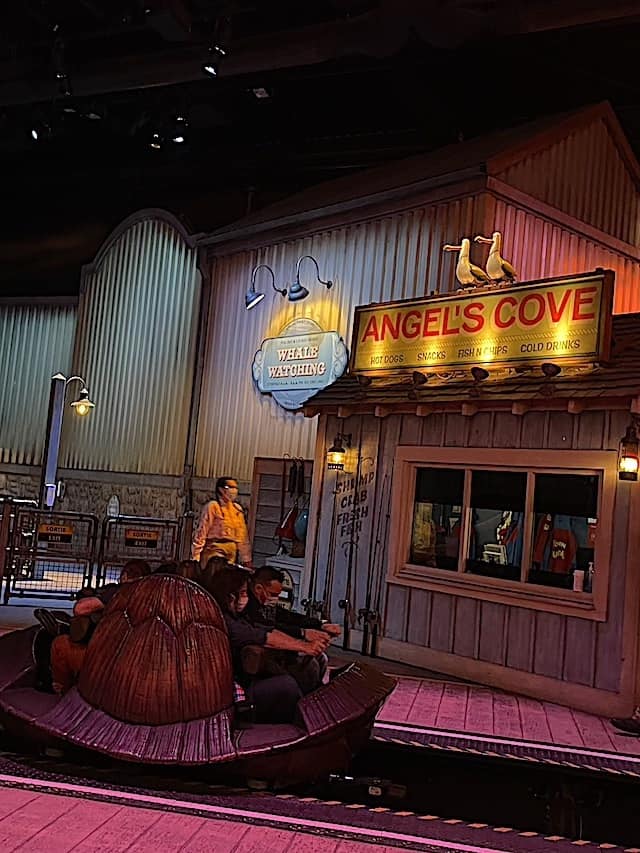 Righteous! You can hitch a ride in a turtle shell and travel the EAC with your favorite pal, Crush. Crush's Coaster does not have a counterpart at Walt Disney World or Disneyland, but this attraction is far superior to the Seas with Nemo & Friends in EPCOT.
This coaster offers a 360° ride vehicle. You start taking in the cool ocean vibe, but soon you are plummeted into the deep blue with many surprising obstacles in the way.
This attraction was so much fun and gave us the same thrilling experience as Space Mountain while also enjoying many of our favorite Pixar pals. This would be such an amazing coaster to have in EPCOT rather than the current Seas with Nemo & Friends.
Which attraction would you want to try first? Have you visited Disneyland Paris before? What do you think of Disneyland Paris? Do you hope to visit this park in the future? Share your thoughts with us on our Facebook Page.