Disney opened up Hollywood Studios for one night only to Deluxe Resort Guests, and we had the best night ever! Check out our strategy, the crowds, and why we hope they offer this again.
Extended Evening Hours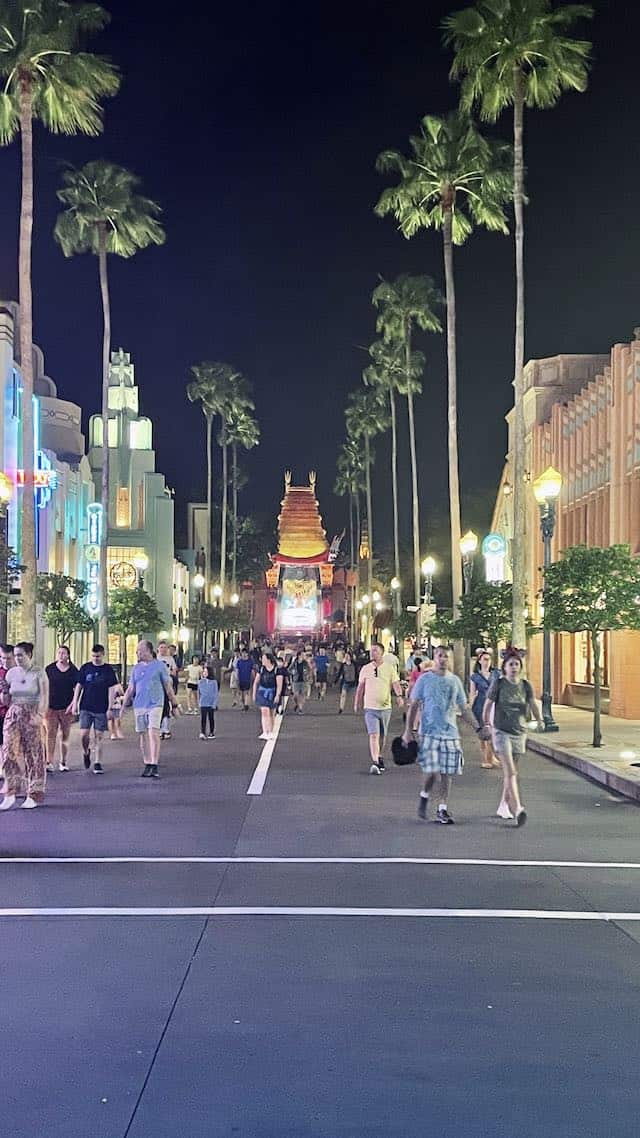 There are three types of hotel accommodations at Disney World: deluxe, moderate, and value. I have stayed in all three types, but my favorite is deluxe. Not only will you find better room accommodations like softer beds and more space, but there are other perks as well!
Then there is Early Theme Park Entry and Extended Evening Hours. While Early Theme Park Entry is included for all onsite Guests, Extended Evening Hours are only for deluxe and deluxe villa Guests.
When Disney announced that evening hours would only be for Guests staying in the most expensive rooms, many were understandably upset for obvious reasons. Disney took away a benefit that used to be for everyone. Many simply cannot afford to stay at deluxe resorts (although there are ways to get around that).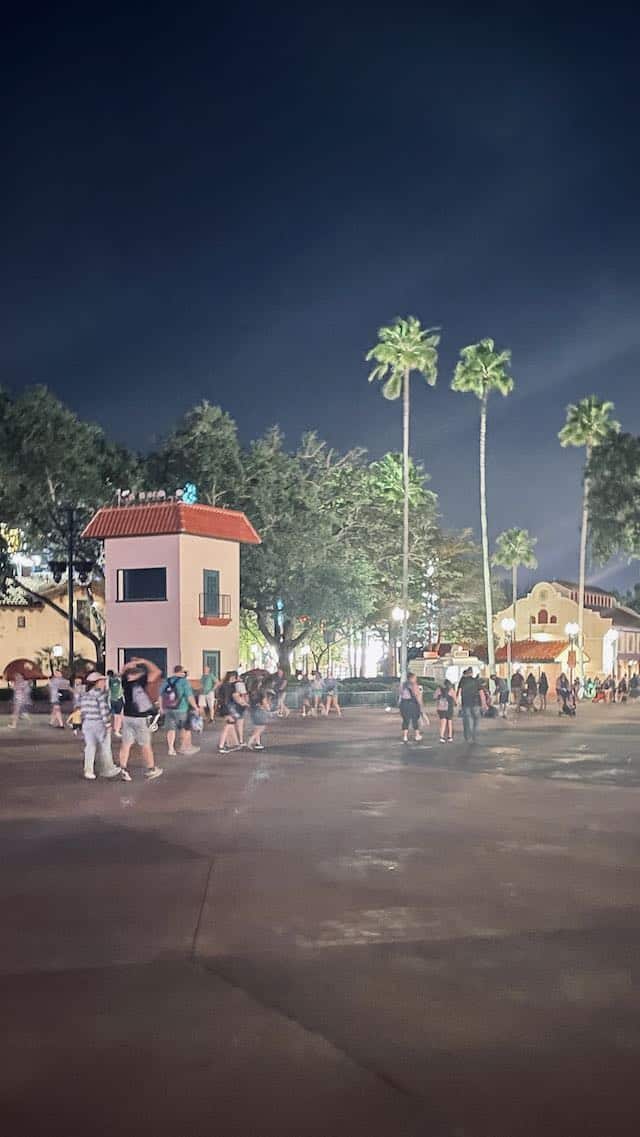 However, if you can save enough money or move some things around in the budget, the Extended Evening Hours is the biggest benefit to staying at a deluxe resort. I spent the week at the Grand Floridian and participated in these nighttime hours Magic Kingdom last December and loved every second of it.
Donna and I are here this week checking out all the Easter activities as well as the extended evening hours at Hollywood Studios. The event last night, April 13 (9-11 pm), is the only night Disney has offered this special perk at Hollywood Studios.
Let's take a look at how the evening went and why we loved it so much!
Before the event started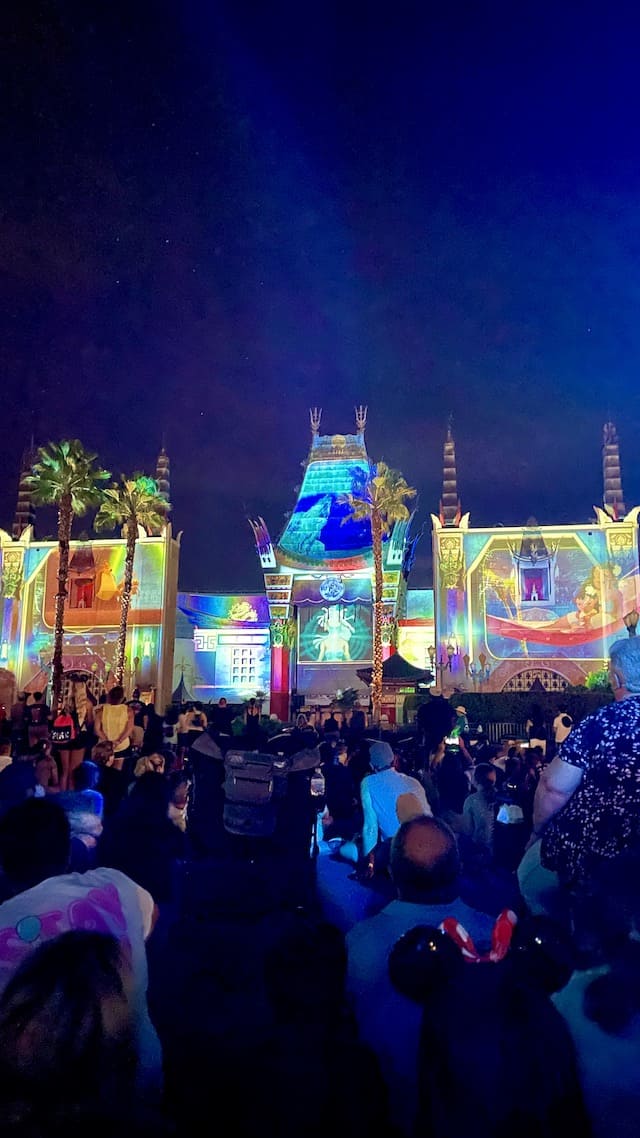 We headed over to Hollywood Studios from Epcot using the Skyliner. The park officially closed at 9:00 pm so we got there a bit early to watch the nighttime shows on the Chinese Theater.
Disney does not have a separate line for Deluxe Guests like they do Early Entry since the park is already open. Instead, they scan MagicBands at each attraction to ensure only Deluxe Guests are the only ones getting in line after the park closes.
Crowds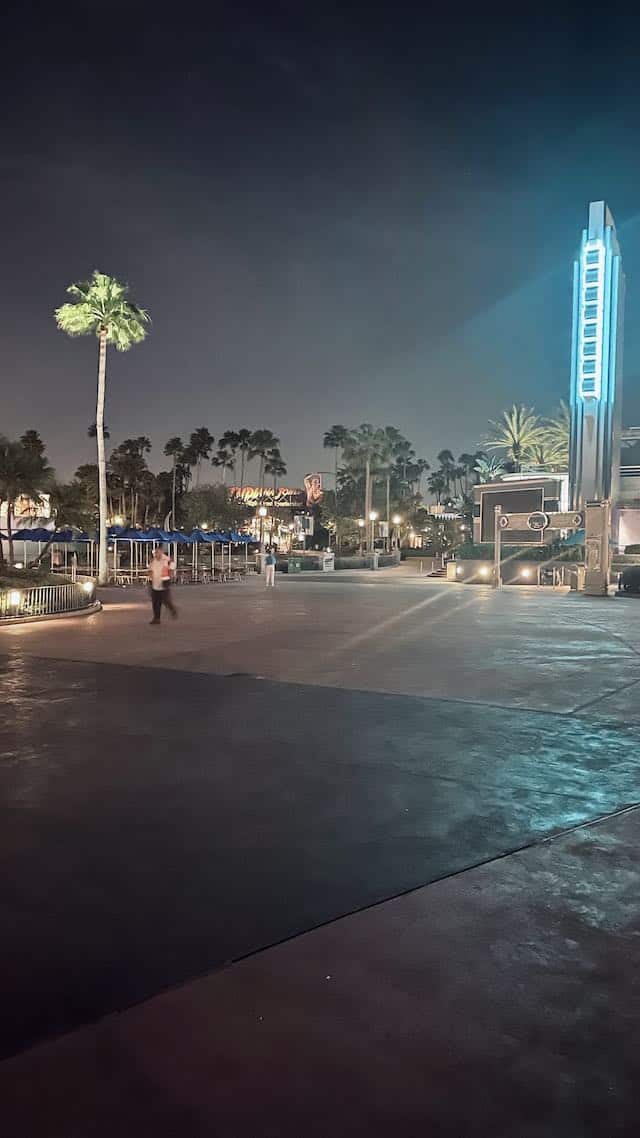 Because this is the only Hollywood Studios event ever, I was a little worried going in. Combine that with the fact that we are at peak Spring Break/Easter week, I was definitely expecting the park to be crowded.
Fortunately, the evening actually turned out to be quite the opposite! Once the day Guests left there really were no crowds at all to compete with. It made the evening feel incredibly relaxed.
Dining and Other Offerings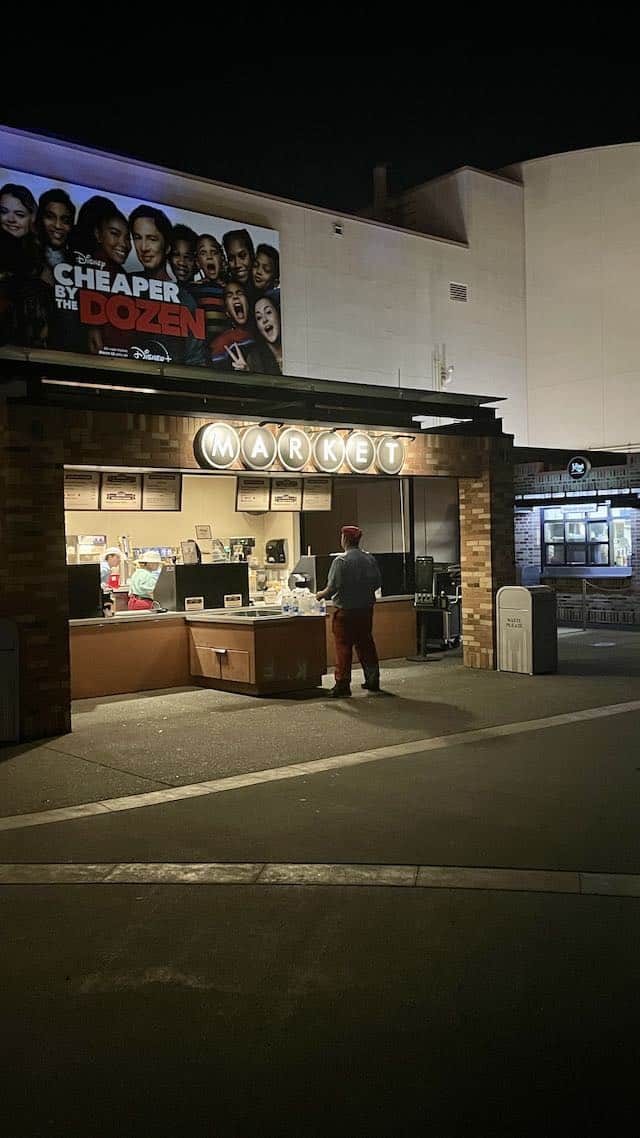 Snack locations were open for Guests to enjoy during these special hours. We saw several popcorn and snack carts open and serving throughout the night. Table service and quick-service, on the other hand, are not open during this time.
We also noticed that merchandise locations were open throughout the night but closed promptly at 11:00 pm. Additionally, we only saw one PhotoPass photographer out on Sunset Boulevard the entire night. There was no one in Toy Story Land or in front of the Chinese Theater.
Touring Strategy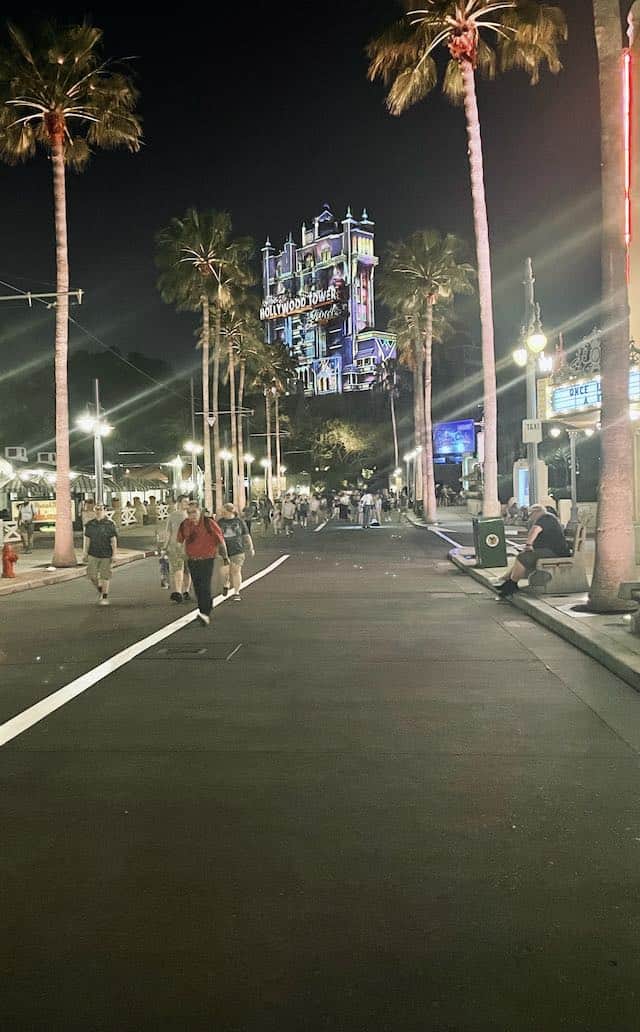 The general touring strategy for these evening hours at Epcot and Magic Kingdom are to ride the less popular attractions during the first hour and then hit the headliners during the second hour. However, the problem with Hollywood Studios is that are so many headliners!
Rise of the Resistance is arguably the most popular ride in all of Disney World right now. Then, you have Slinky Dog Dash which usually has a multi-hour wait no matter what time of day you try to ride. Plus, there are the thrill rides like Tower of Terror and Rock 'n' Rollercoaster.
Donna and I started at the Chinese Theater to ride Mickey and Minnie's Runaway Railway since we were right there for the nighttime shows. We also thought this was the best strategy because the posted wait was only 15 minutes. We got in line at 9:13 and waited the full 15 minutes.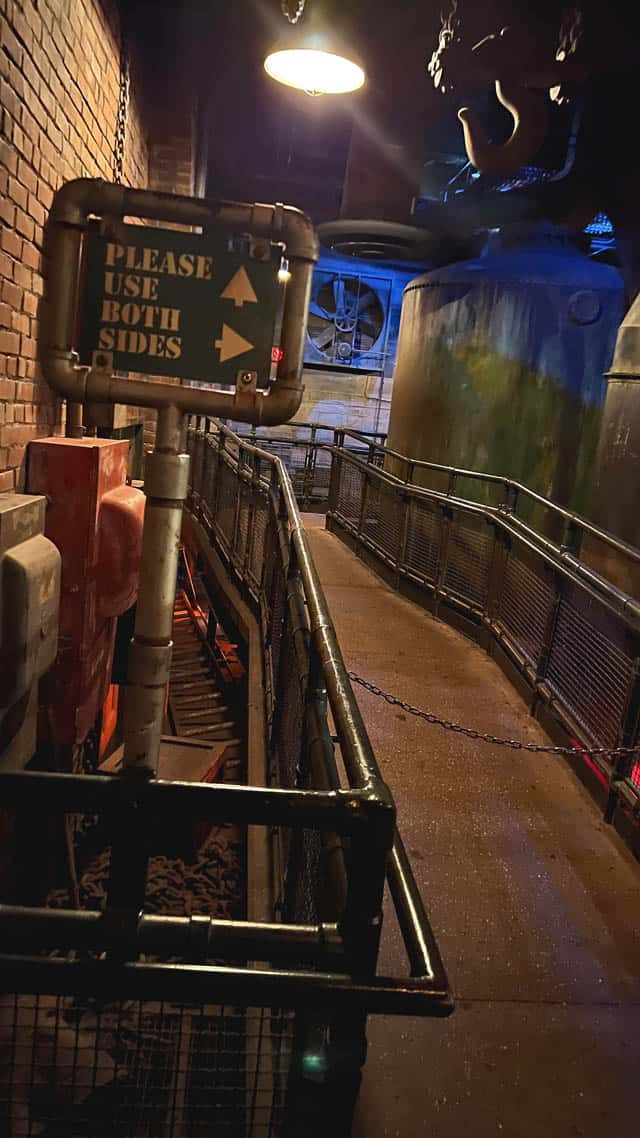 We then decided to head over on Sunset Boulevard to ride Rock 'n' Roller coaster and Tower of Terror. Rock 'n' Roller coaster had a posted wait of 15 minutes but we only waited for 10. Tower of Terror's posted wait was 40 minutes. However, we only waited 25 minutes. The wait times definitely felt more inflated as the evening wore on.
By the time we completed Mickey and Minnie's Runaway Railway, Rock 'n' Roller coaster, and Tower of Terror it was already 10:30 pm. We knew we would not be able to complete Slinky Dog Dash AND Rise of the Resistance like we had hoped for, but Slinky Dog Dash won out.
So, we made our way back to Toy Story Land to ride Slinky Dog which had a posted wait of 45 minutes at 10:48 pm. However, we only waited for 20 minutes!
Final Thoughts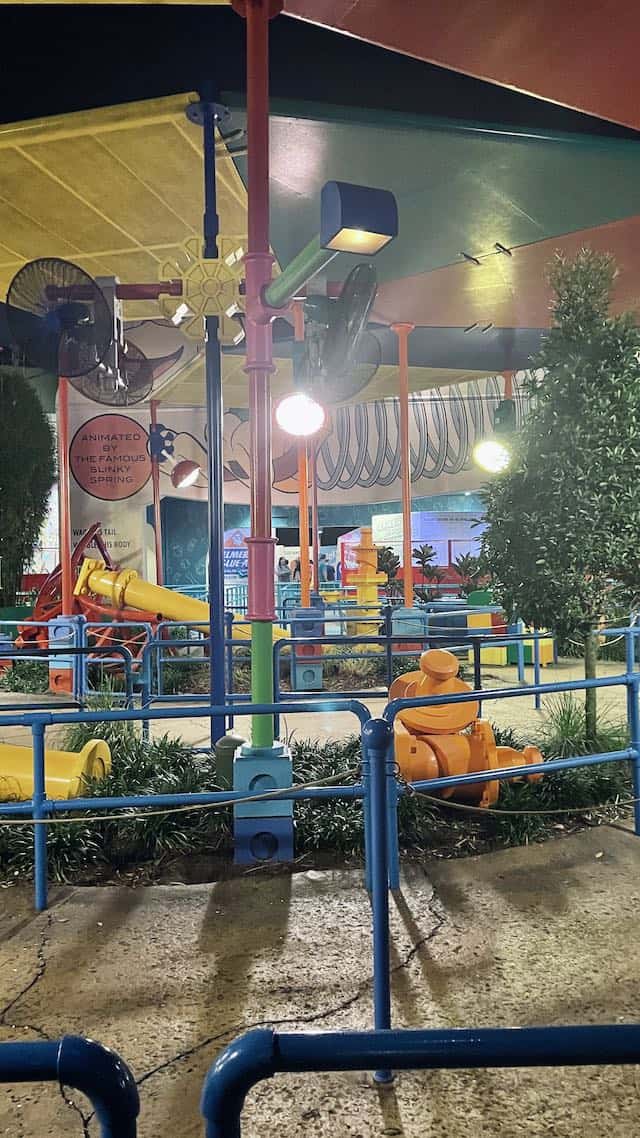 Because there are so many headliners at Hollywood Studios, it is a bit different compared to the Magic Kingdom and Epcot Extended Evening Hours. You will not be able to accomplish as much as you think you can! We had hoped to ride 5 headliners but only rode 4.
But, 4 incredible attractions in a 2 hour span with no crowds was amazing! We haven't experienced low crowds like this since the early days of the reopening. While you will still need another day to complete smaller attractions and shows, this perk is an excellent way to ride your favorites without a crazy wait.
Overall, we absolutely loved this event. Guests are desperate to have longer hours again like it was before the parks closed in March 2020. We are used to staying in the parks late, and with the parks just as busy if not busier, it is really important to have a good strategy.
Staying at a deluxe resort to have access to Hollywood Studios for two hours is definitely a good strategy!
Were you at the extended evening hours at Hollywood Studios last night? What did you think? Join the conversation in the comments below and on Facebook.