LATEST VIDEOS
Subscribe to my Youtube!
LIVE - Just Mousing Around
LIVE - Just Mousing Around Tonight!
When life gives you lemons, put them on Disney merch! Epcot has some gorgeous new lemon-inspired items.
Say Saluti! To Lemons
It's Flower & Garden season in Epcot! The World Showcase is brimming with beautiful topiaries and delectable treats!
And now, the Italy Pavillion is saying "Saluti!" to some plant-based merch of its own! You are going to love it!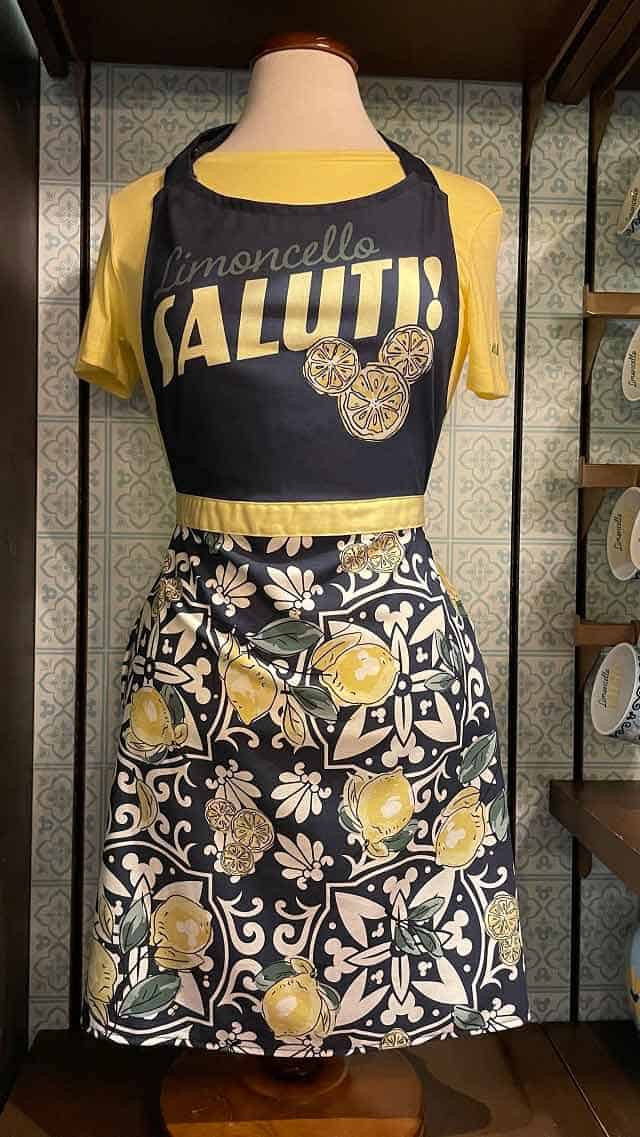 A new line of lemon-themed merch has begun popping up on shelves in the pavilion including an adorable ear headband! I (Katie) have to say this line of lemon merchandise definitely has appeal (pun intended).
I do not keep my love for citrus fruit-themed items a secret. For example, I adore all things Orange Bird as I know many of you, dear readers, do as well.
Now, Disney has a new treat for citrus fans. They have gone and combined Mickey with lemons to create what you see in these gorgeous vessels.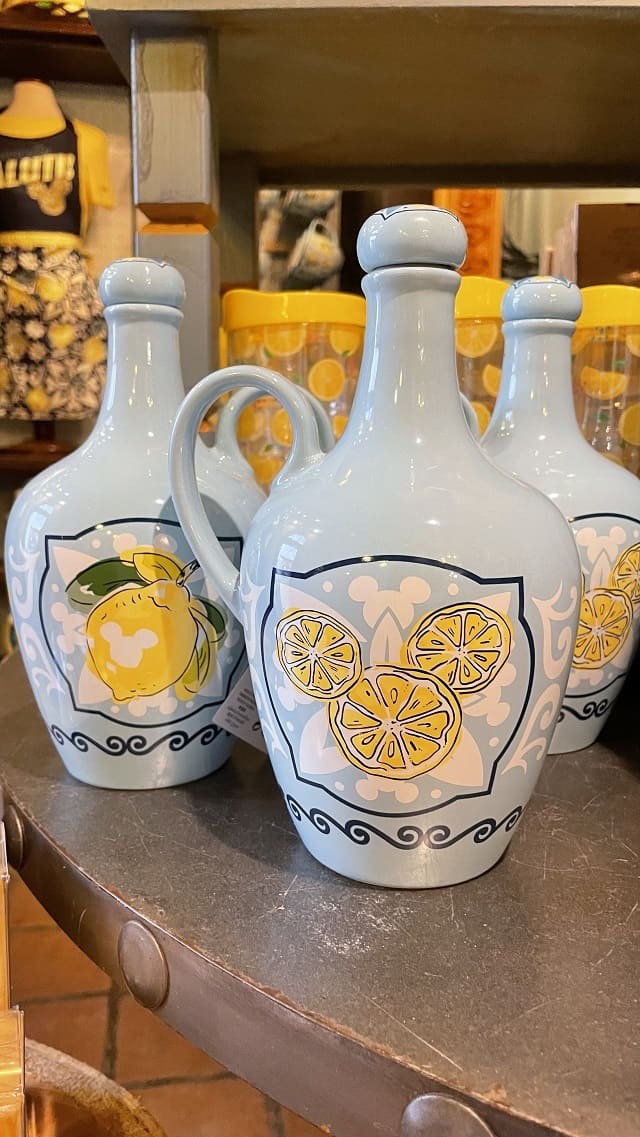 Hidden Mickey lemons? This is the sweetest I have ever known lemons to be!
Where to Find the Lemons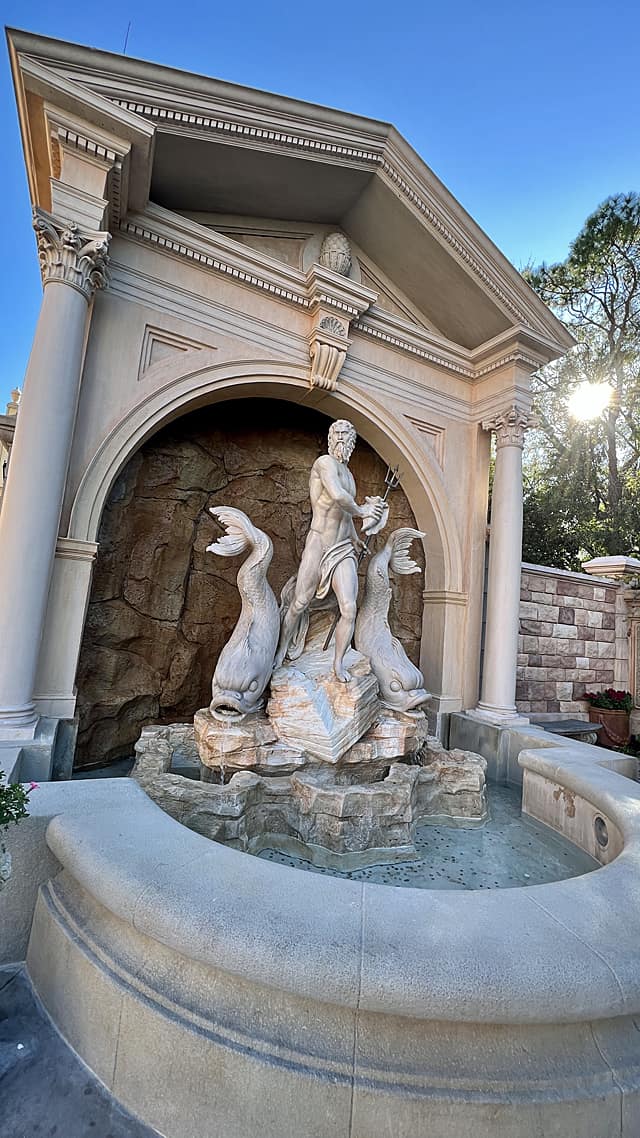 As I mentioned, the lemon merchandise is nestled in the gorgeous Italy Pavilion in World Showcase. In Walt Disney World, this line is currently only for sale in Italy, so you will have to head there to shop.
However, there is plenty in the Italy Pavilion to see and enjoy while you are stopping by to do your merch shopping. You can read Susan's full guide to Italy!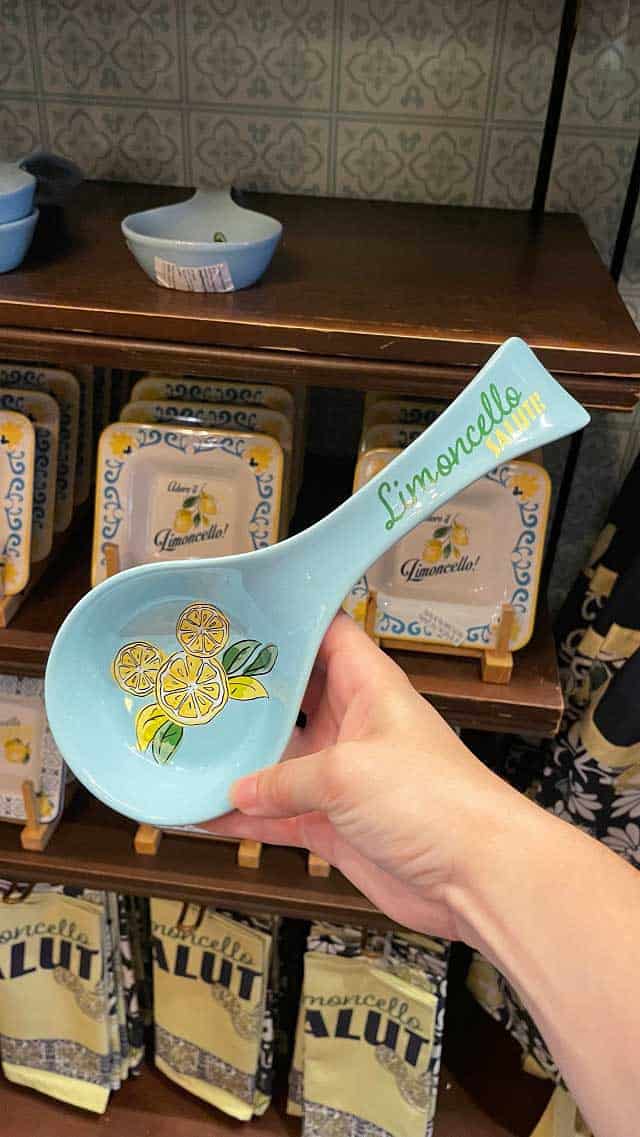 You will find the lemon merch in La Bottega Italiana. The charming shop stocks kitchenware, apparel, and foods from Italy!
Merch Photos!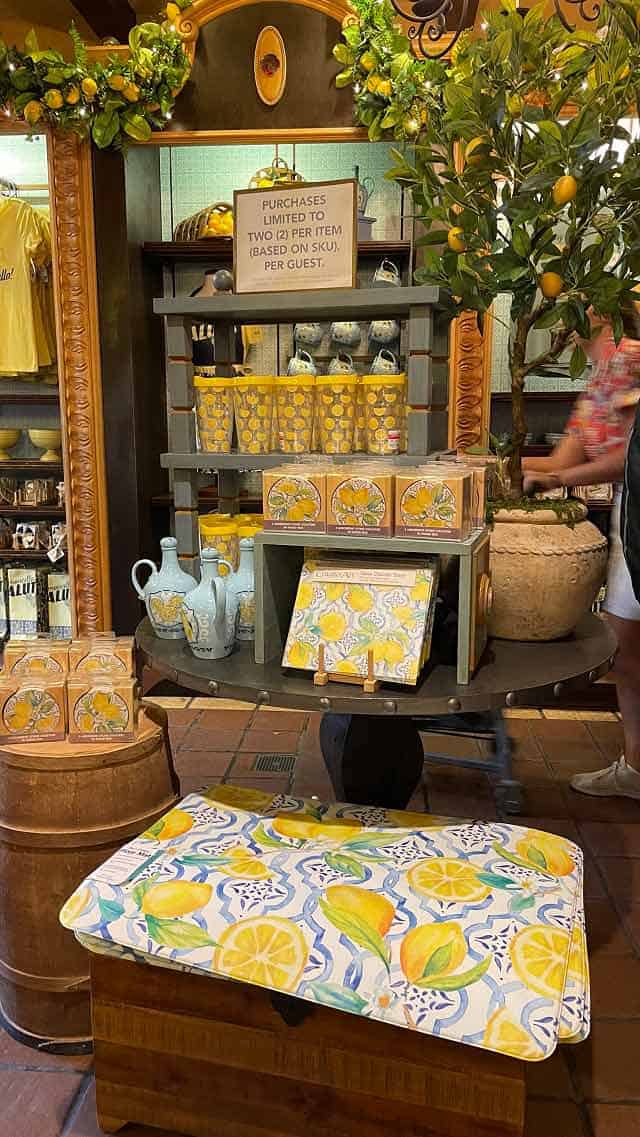 You will find a mixture of limoncello-specific merch as well as items decorated with lemons and hidden mickeys! There is also some plain ole, non-Disney lemon merch. However, I am partial to the Disney tie-ins.
Apparel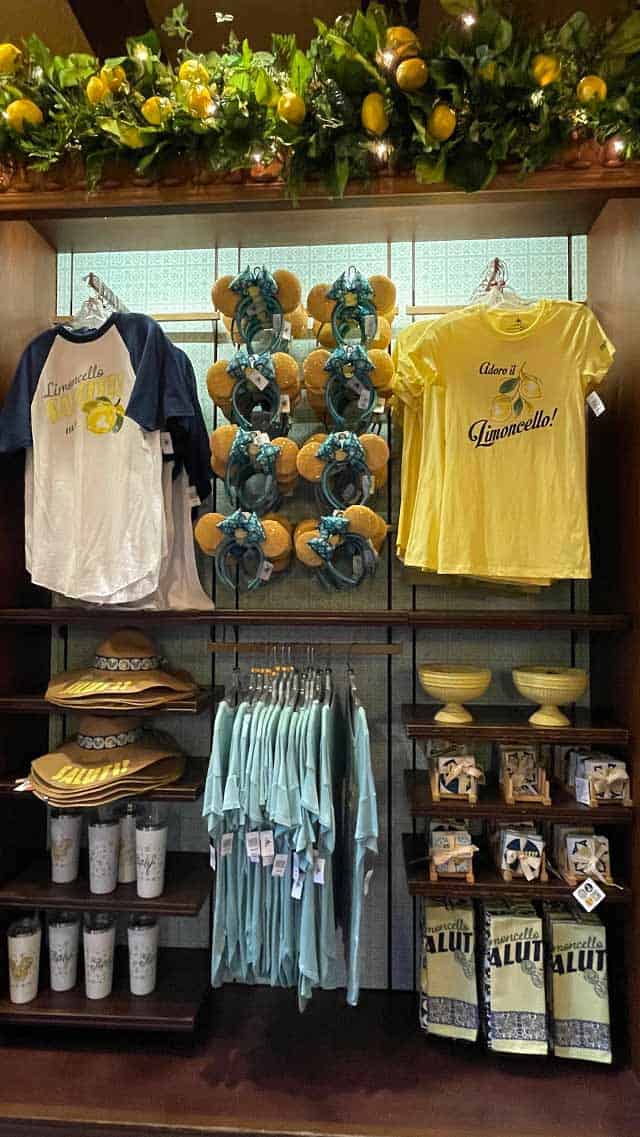 The apparel is adorably citrusy. There are some limoncello tops including a baseball tee and a yellow top.
However, I am more partial to some of the other clothing. One of the tops has a Mickey made from lemons and simply says, "easy peasy lemon squeezy."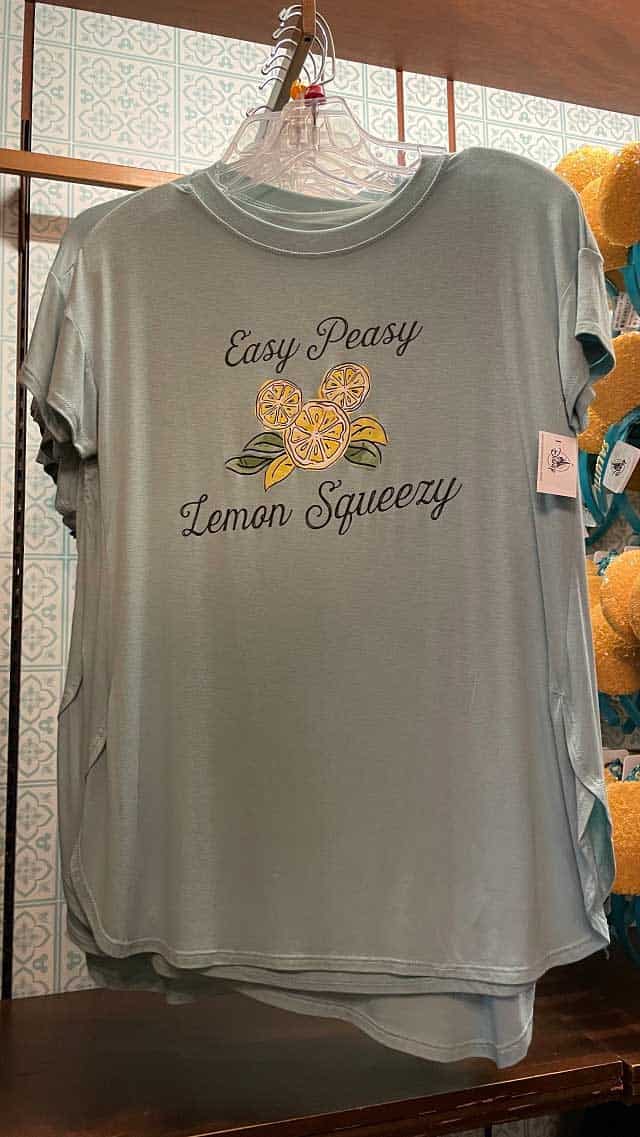 I can picture teachers wearing that one. In fact, I think the first time I heard that phrase was from a teacher!
I also love the subtle mickey-lemon print on this tank top. It has hidden Mickeys in the reflection of the lemon as well as the lemon slice Mickey design.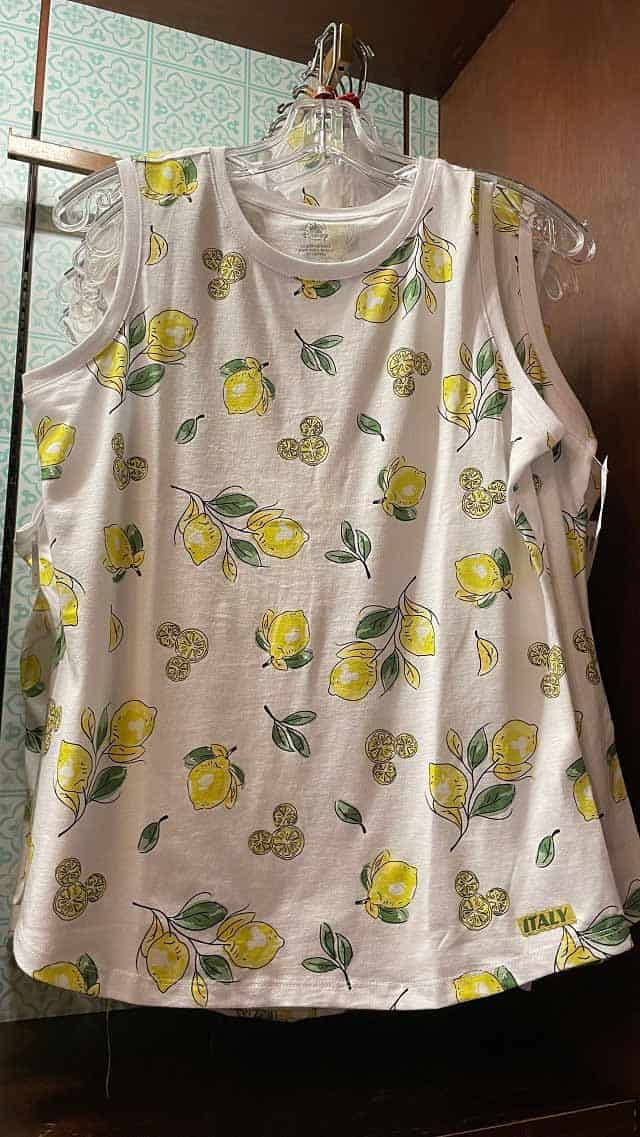 It also has a little "Italy" tag. I think it makes a nice memento of the trip around World Showcase.
Finally, there is a gorgeous straw hat. I love a good straw hat, and this is a GOOD straw hat.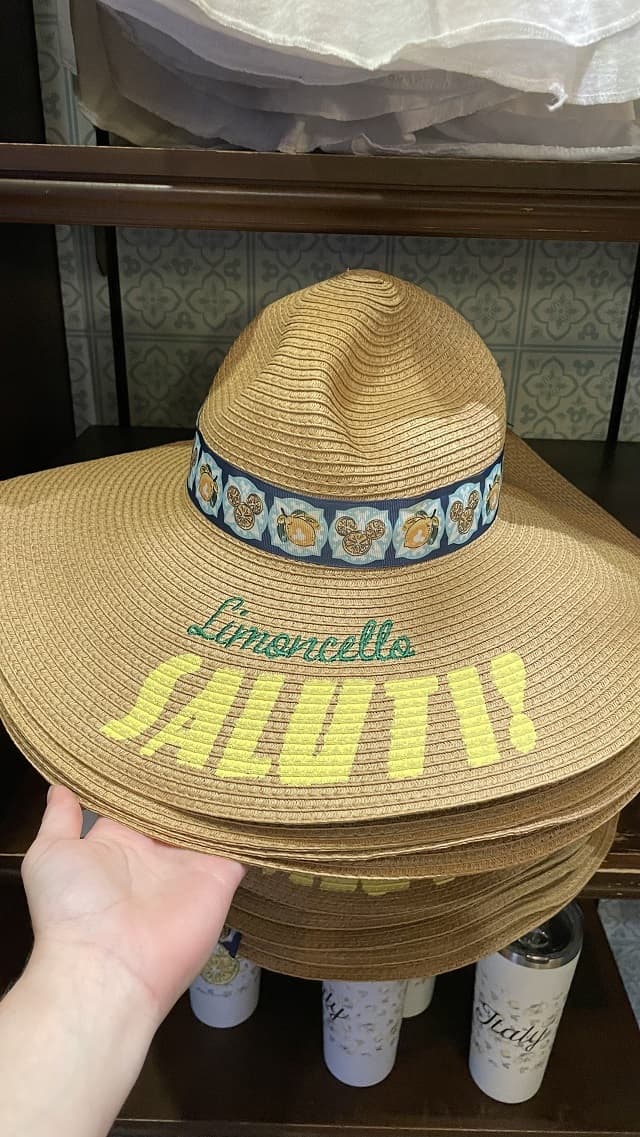 It features a lemon-infused ribbon and embroidery. It makes me want to charter a Mediterranean cruise!
Mementos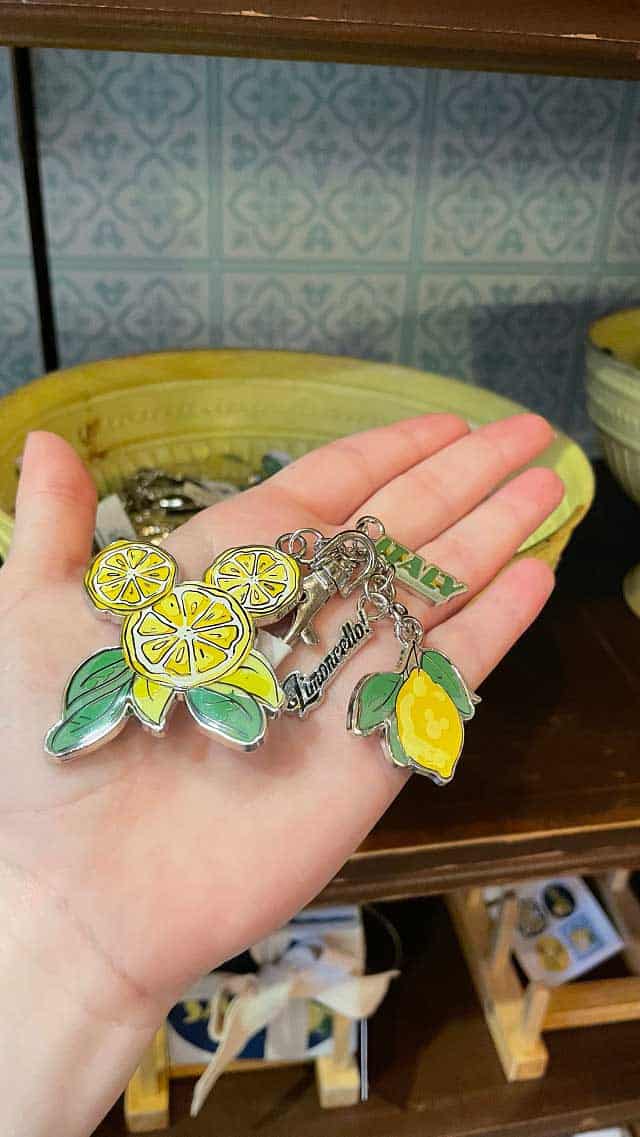 What line of Disney merch would be complete without a few little touristy souvenirs and trinkets. This line has several little mementos you can take home.
This, of course, includes keychains. There are is a fun one with multiple dangles.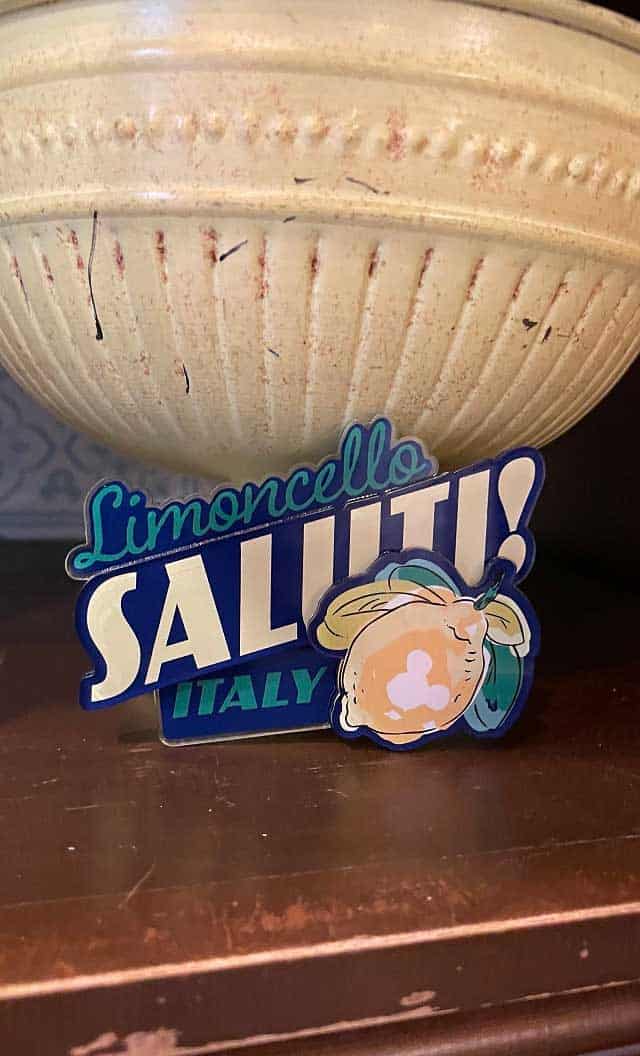 Also, I know many World Travelers love to collect magnets. It is a fun way to showcase the places they have enjoyed visiting.
The lemon lineup includes a cute magnet. And, naturally, it has a Mickey!
Housewares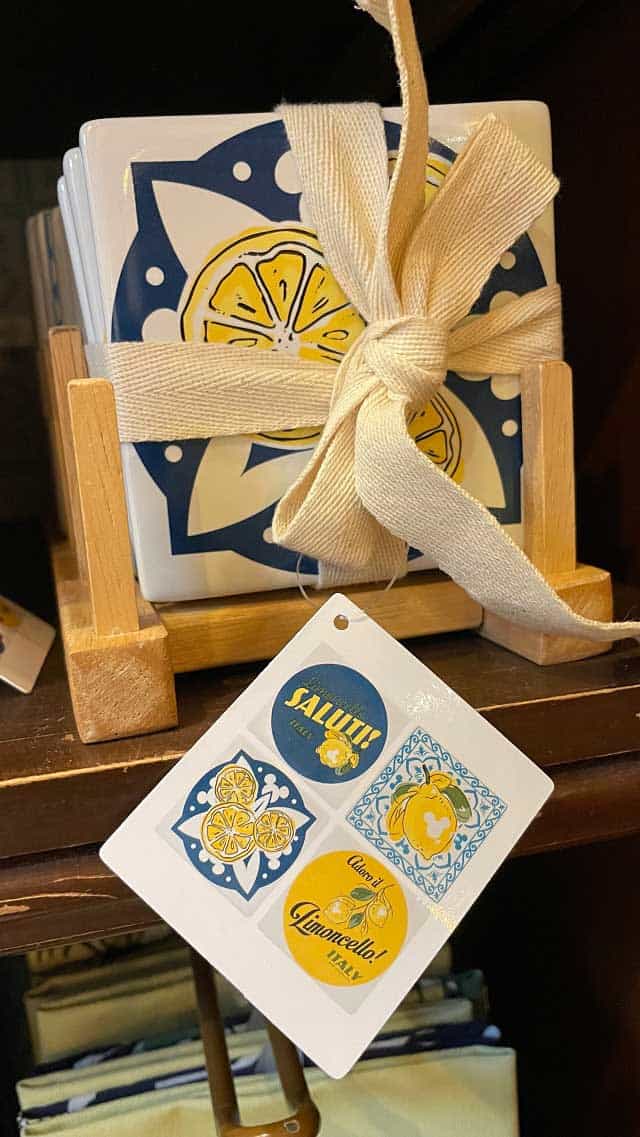 There is an array of housewares available as well. This includes a set of coasters featuring four lemony patterns.
A set of plates is also available. The plates come in several patterns as well.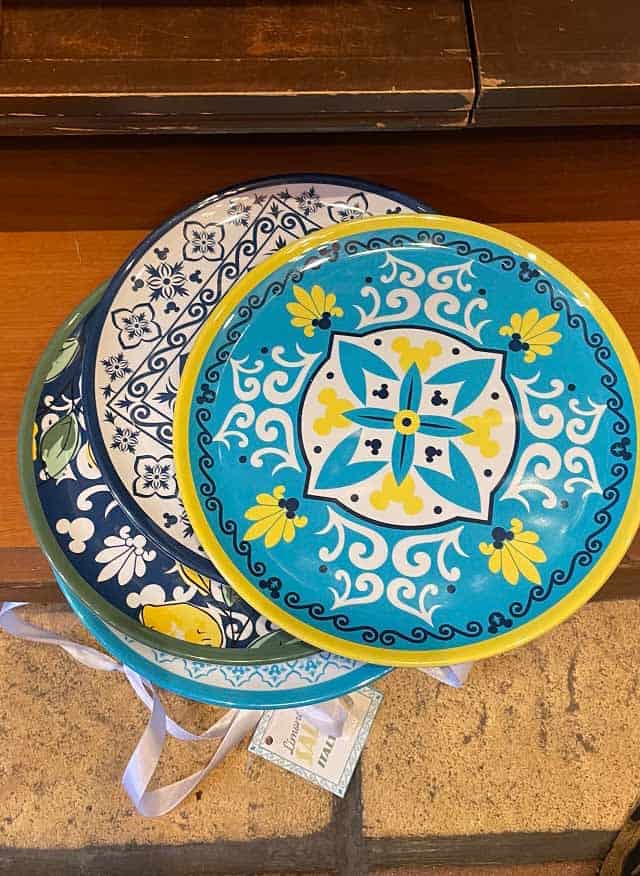 If you want to brighten up the kitchen a bit more, you can grab a set of hand towels! Of course, there are also aprons for people to wear to protect their garments.
Oh-my-actual-goodness! They have mugs, too!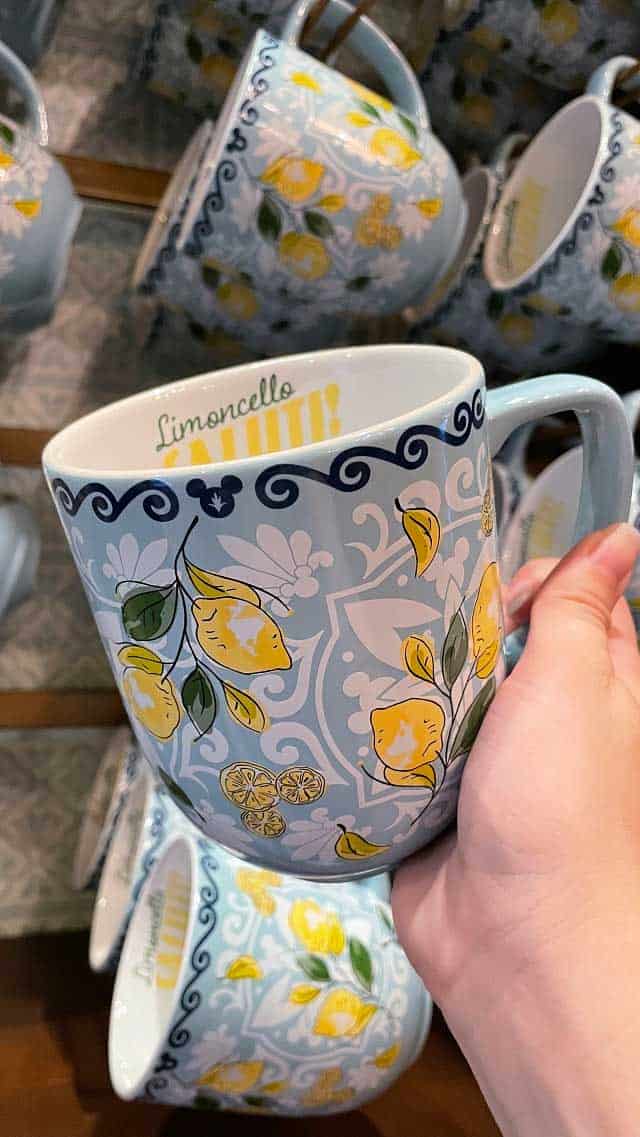 I just love to collect fun drinkware. Then I am reminded of my travels as I sip my morning tea.
Speaking of drinkware, the collection also features a gorgeous travel cup!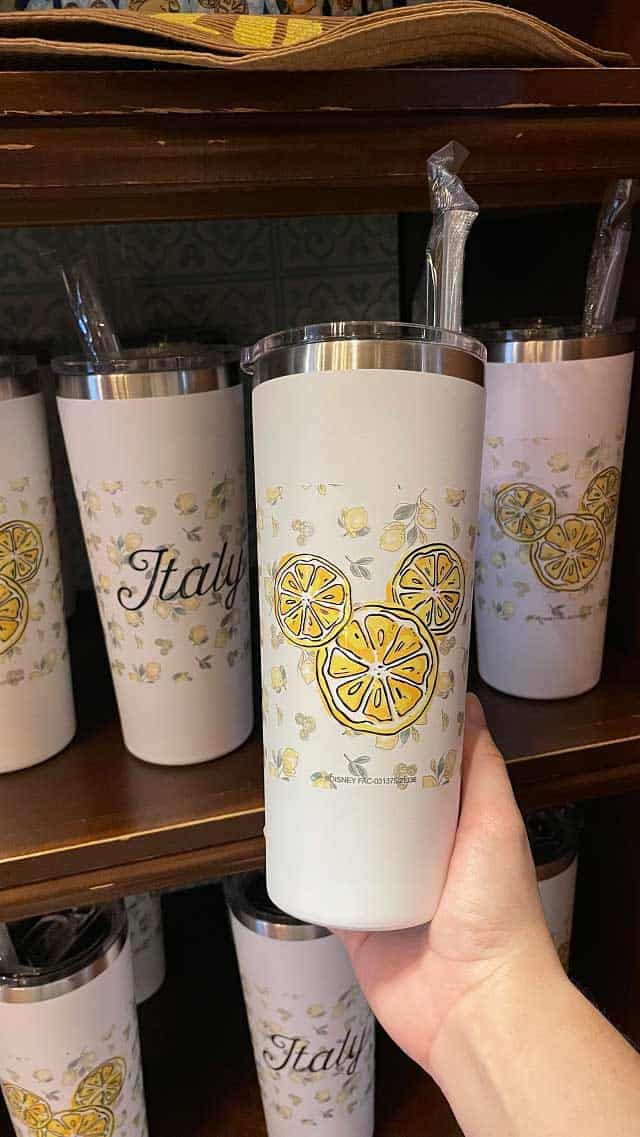 The cup has a pattern made from the collection's pretty plants and fruits. It also features the Mickey lemon slices and the word "Italy."
Ears!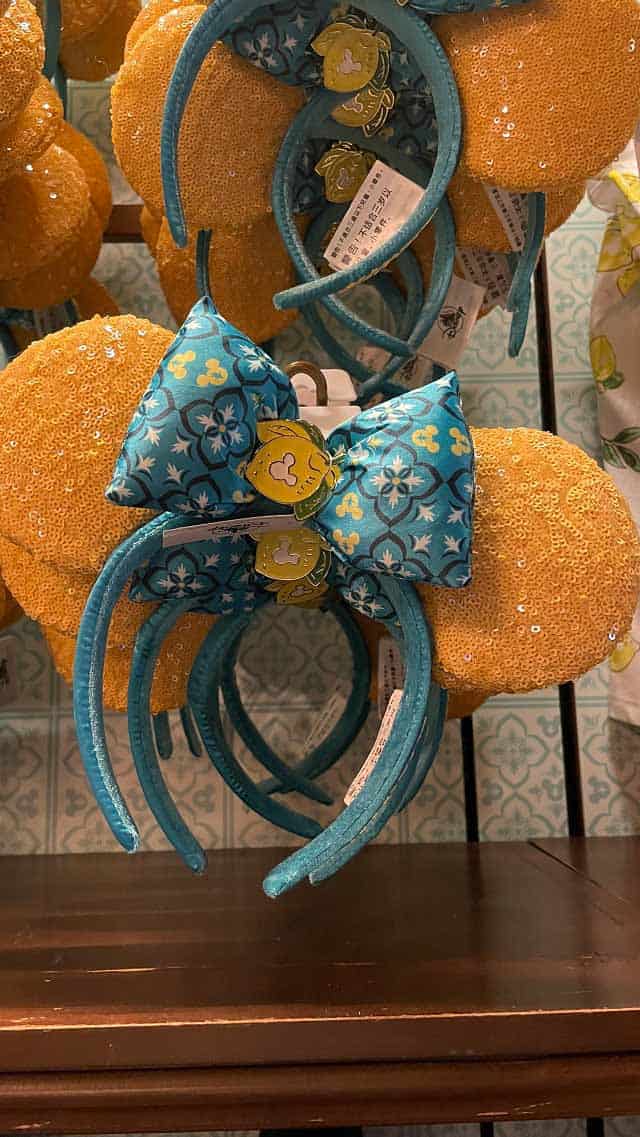 What collection would be complete without a Minnie Ear headband? This lemon-inspired pair of ears is a real treat!
Bedazzled in yellow sequins, these ears coordinate beautifully with the blue headband and trellis-patterned bow. A lemon charm completes the look!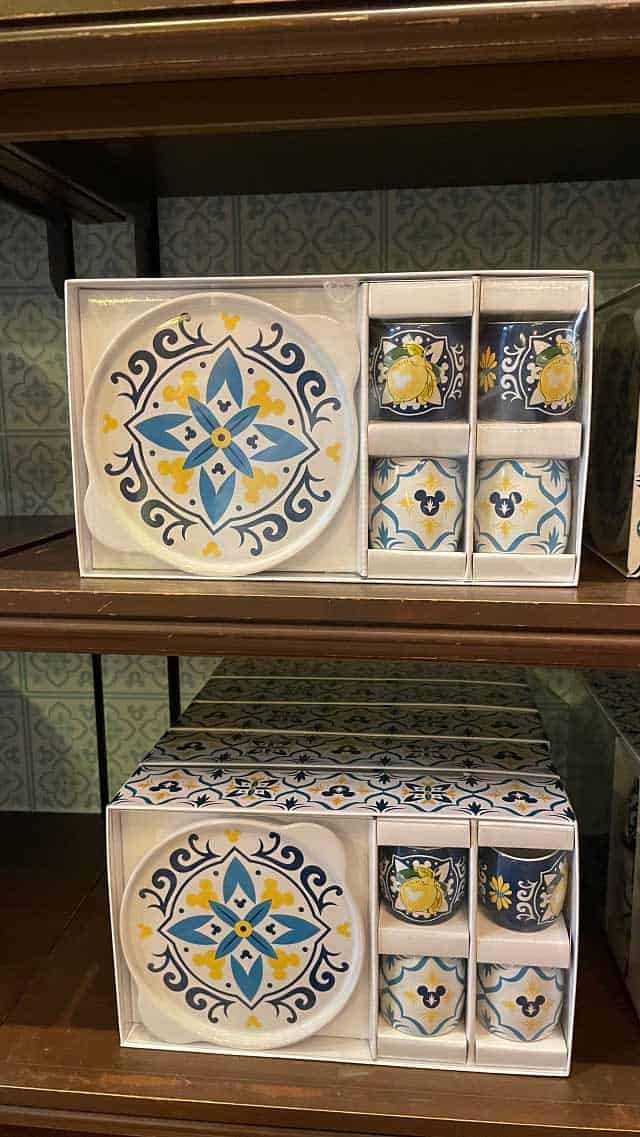 What a fun collection for the spring! I am going to have to unsee all of this.
Will you be stopping by Italy to pick up some lemon merch? What are your favorite items? Let us know in the comments below, or tell us on Facebook.
Are you planning a vacation? Reach out to our trusted travel agency sponsor Authorized Disney Vacation Planner
Mouse Class Travel
!