I (Rebecca) recently previewed Remy's Ratatouille Adventure during a paid D23 Gold member preview. It was definitely worth the cost – both in dollars and in sleep.
Event Details and Sign Up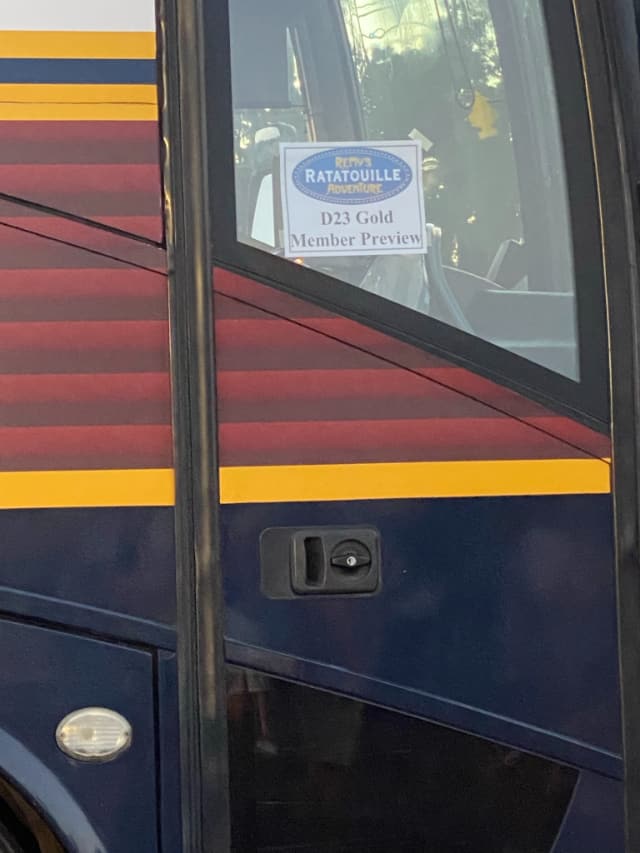 The event took place prior to Epcot park opening and cost $75 per ticket in addition to your paid DVC Gold membership ($99). It ran from 7 a.m. to 10 a.m. on both Saturday and Sunday mornings during Labor Day weekend.
Each D23 Gold member could purchase a ticket for themselves and a guest. The tickets sold out relatively quickly, so if they do another event like this make sure to log on at the exact time they're releasing tickets.
No transportation to Epcot was provided, but free parking was included. We parked in the Epcot Journeys lot, where several coach buses were waiting to take us over to the France pavilion.
Arrival at Epcot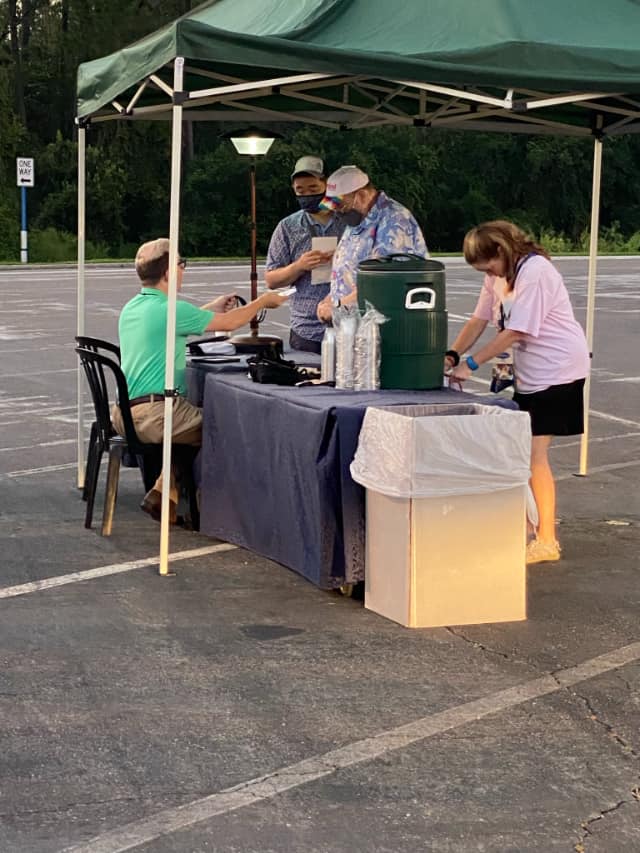 My Lyft driver was able to drop me off right near where others were parking. I simply showed the parking attendant my email confirmation.
After checking in, my guest (Mrs. Kenny the Pirate herself) and I enjoyed some ice cold water and waited to board our bus. We chatted with other guests in line.
It was fun to be in a group comprised of such hardcore Disney fans! I spotted so many Haunted Mansion tattoos and unique Disney clothes and accessories.
Impressions de Remy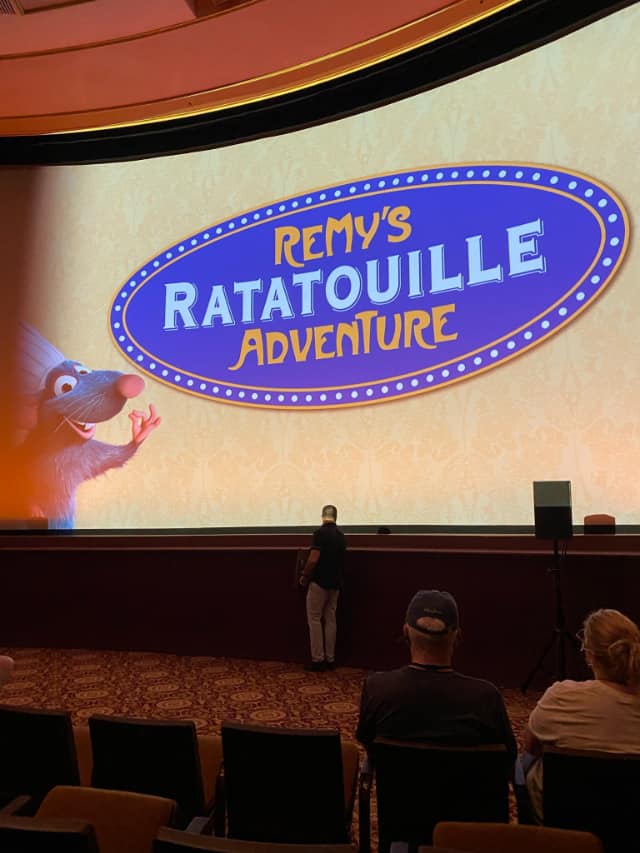 Upon arrival to the France Pavilion, we were served orange juice and butter croissants. We were on the last bus to arrive in France, so we had a short time to enjoy our croissants before we needed to get into the theater for the presentation.
They led us into Impressions de France, and we took our seats in the theater.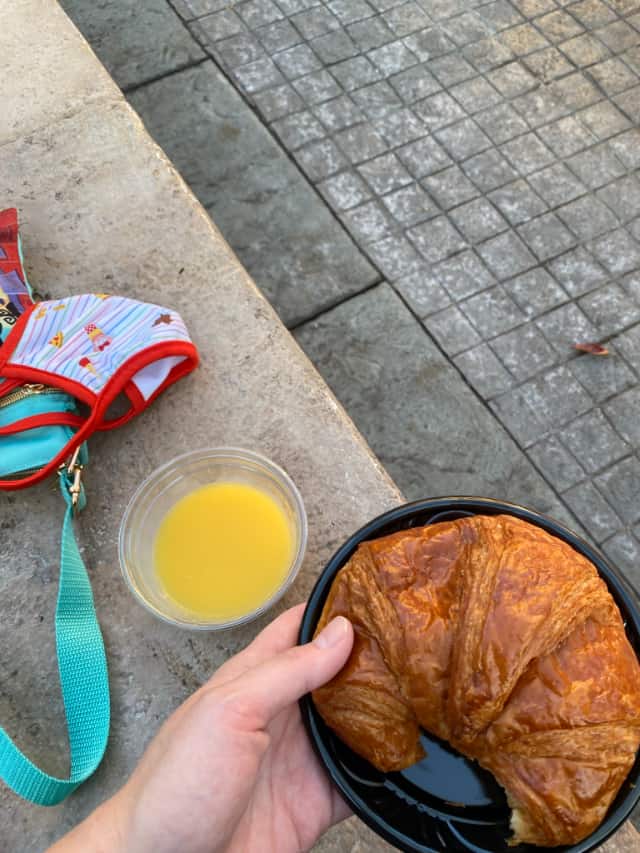 Design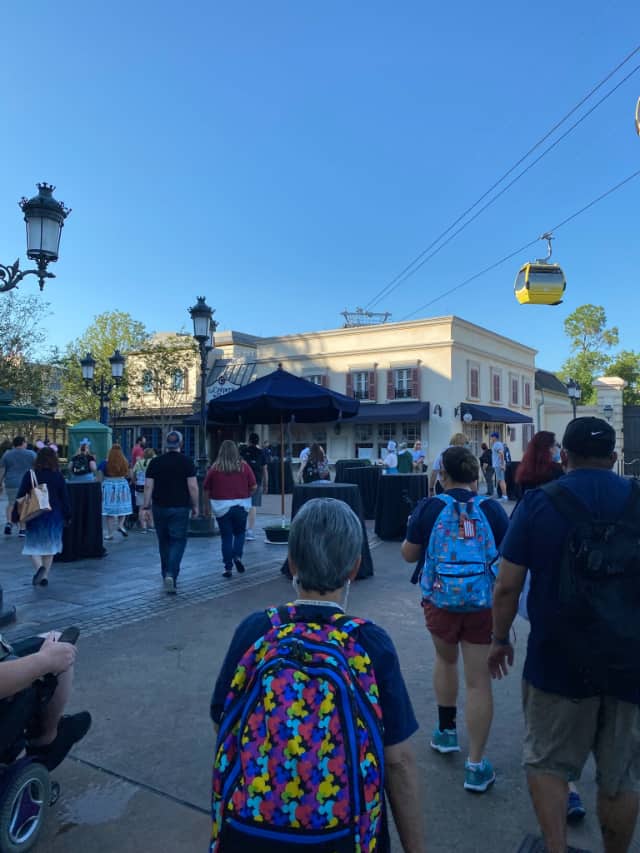 We were not allowed to take photos or videos during the presentation, but it was very interesting to see how they brought the Parisian neighborhood of Brittany into World Showcase.
The presenters referred to "Act 1, Act 2 and Act 3." The Act 3 is the existing France pavilion, and Act 2 is the entry to the new area. Act 3 is the Remy ride itself.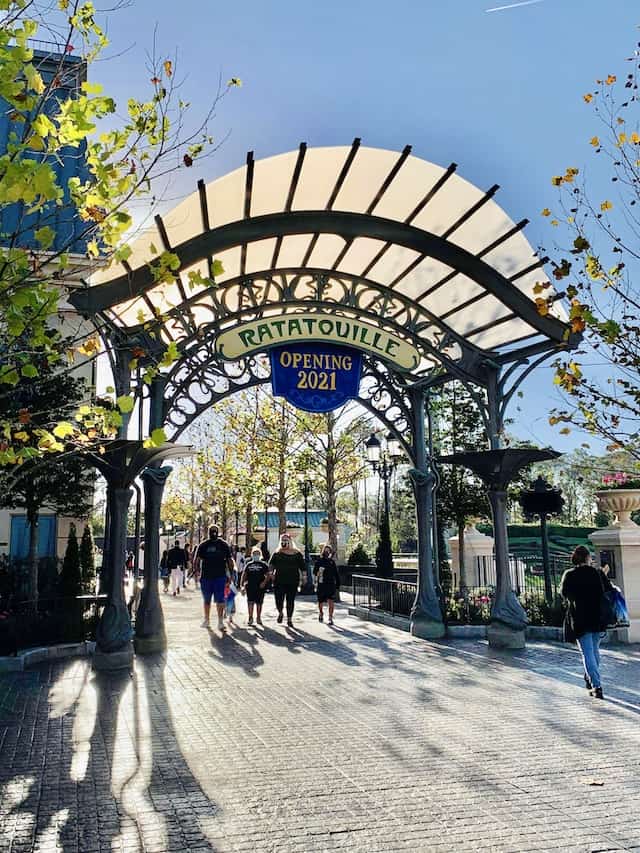 We saw pictures of the real life Paris juxtaposed with photos from the parts of the pavilion inspired by those real life places. It really made a good case for "this belongs here in Epcot".
Construction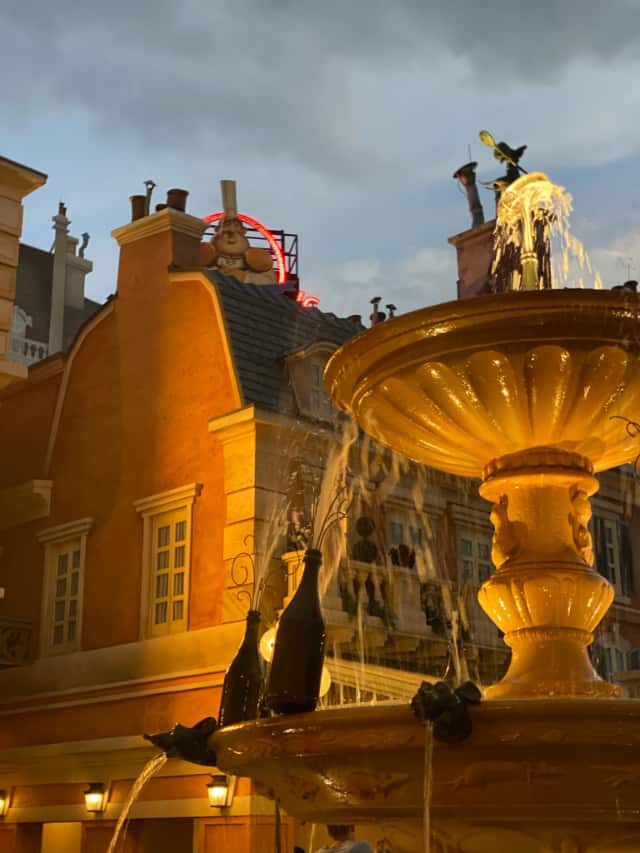 We also learned about the construction of design elements in the expanded pavilion, such as the fountain. I found the process by which they bake color into concrete so that over time the color looks better to be particularly interesting.
They stated that process was also used on Expedition Everest, and that's why they've never put scaffolding up around Everest to repaint it. We will see if that holds true this winter when Everest goes down for refurbishment.
Remy
One of the Disney experts on the video explained a little more about Remy and what drives him. He pointed out that Remy, like many Disney/Pixar characters, has a desire and drive to do something that society doesn't think he should do.
For Remy, a love of cooking drives him to break the mold and go in search of his place in the world. As Remy states in the film, he can't choose between being a rat and being a cook, as those are two halves of himself.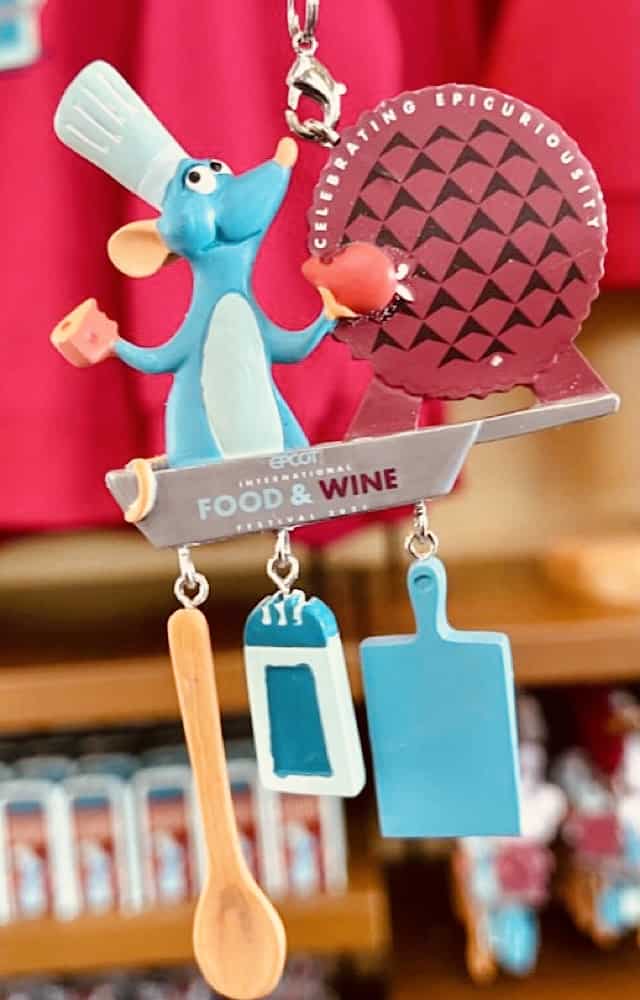 He is both a rat and a cook, and both rats and people needed to drop their preconceived notions about what it means to be either for Remy to achieve his dream.
Remy's Ratatouille Adventure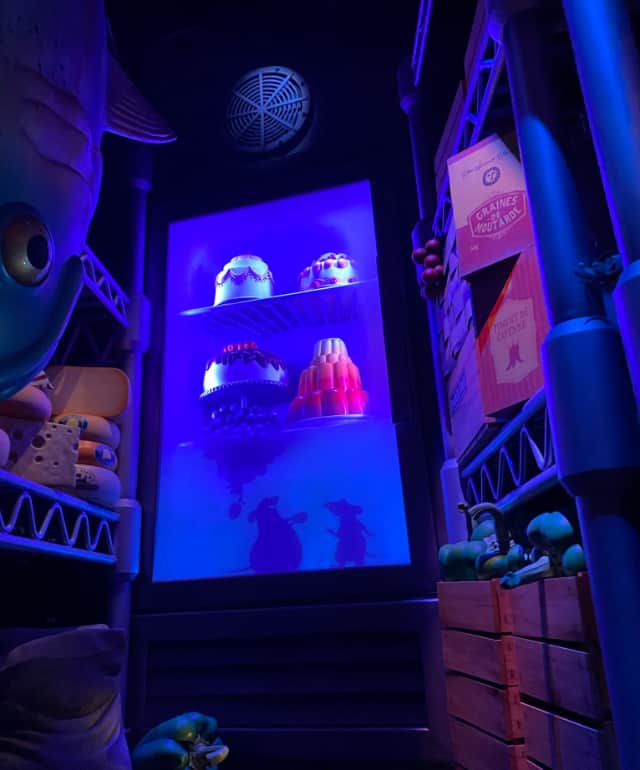 On Remy's Ratatouille Adventure, we shrink down to the size of a rat and navigate a restaurant as though we are tiny.
Queue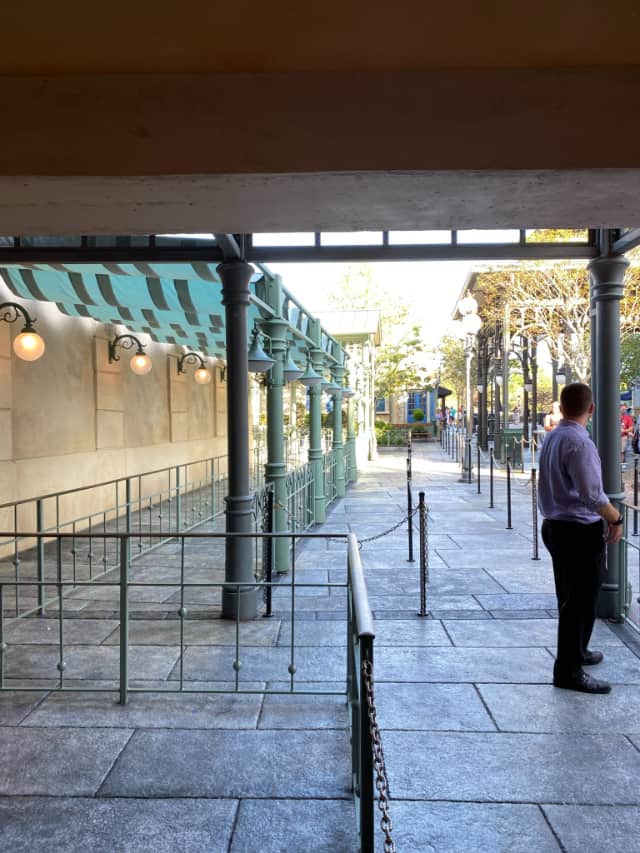 In order to make guests feel like they're shrinking, certain elements in the queue, such as the floor tiles, got larger and larger until you reached the ride vehicles.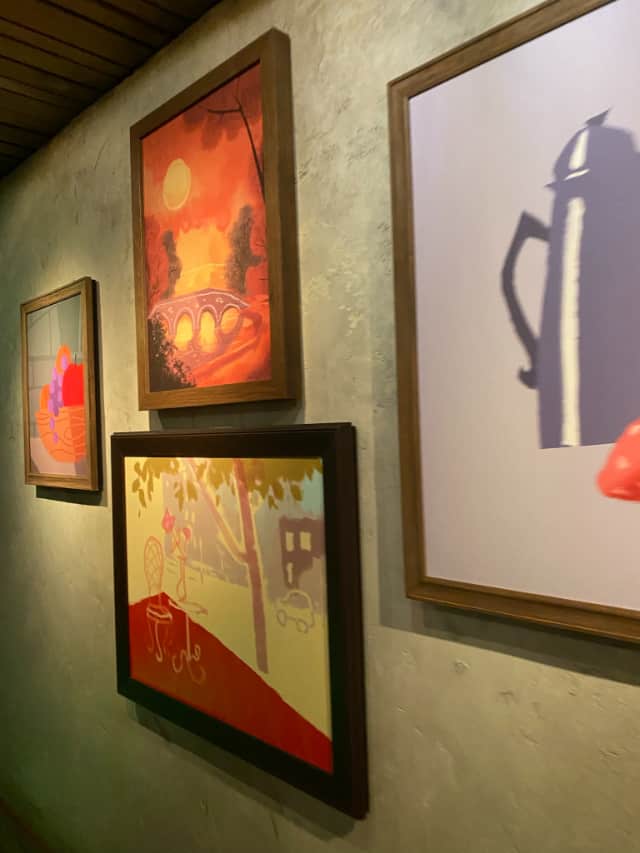 Pixar artists made the paintings in the queue specifically for the ride. Two of the paintings "come to life" with ride safety instructions!
Remy's Ratatouille Adventure requires 3D glasses, and those are picked up in the room just before you board.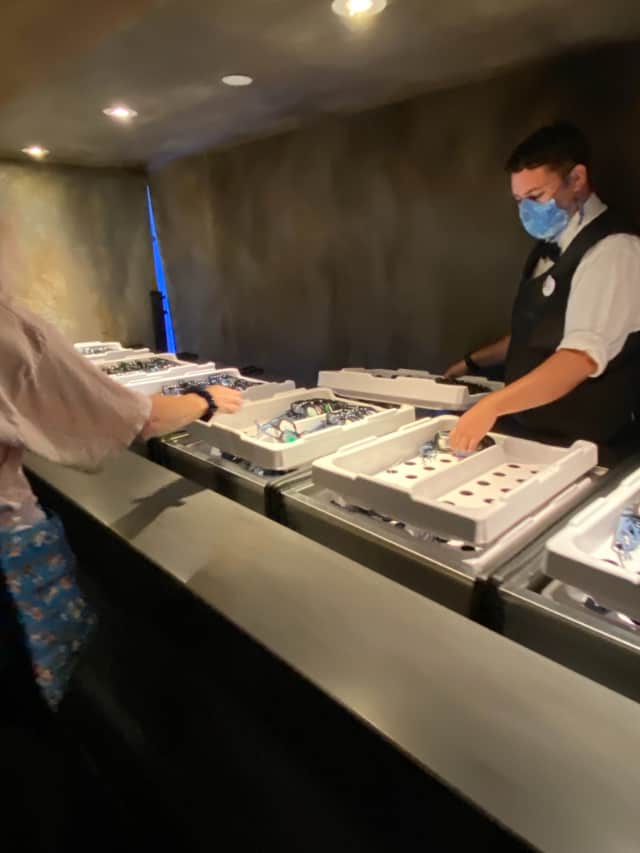 Ride Vehicles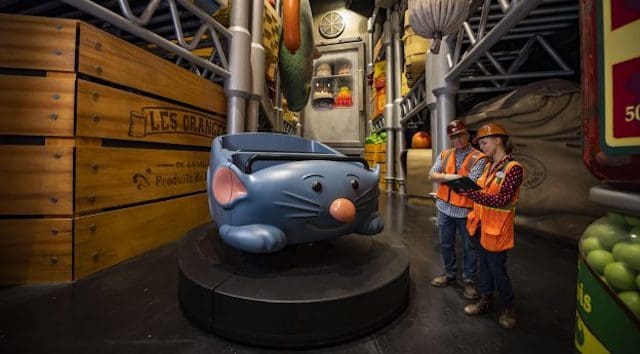 The ride vehicles are little rats atop what kind of looks like giant hockey pucks. Or maybe regular sized hockey pucks? Since we're small now?
This is a trackless attraction, similar to Mickey & Minnie's Runaway Railway or Rise of the Resistance.
The rat vehicles come in four colors, which are colors used on rats in the film.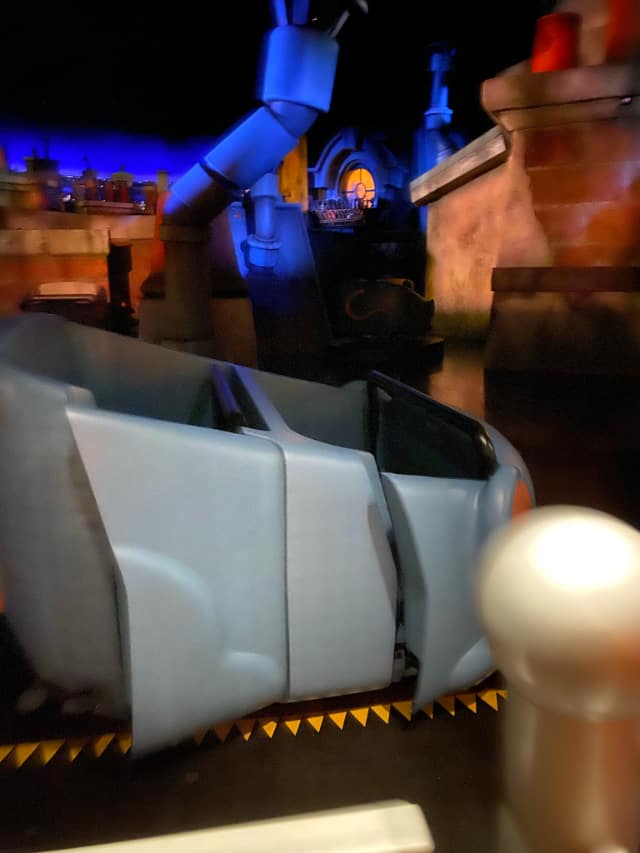 The most fun part, to me was that different ride vehicles have different "personalities" some spin more often, and one of them was vibrating a lot! We asked the ride attendant if that was this rat's personality and he said it was. So that time we got a timid rat, I guess.
The Ride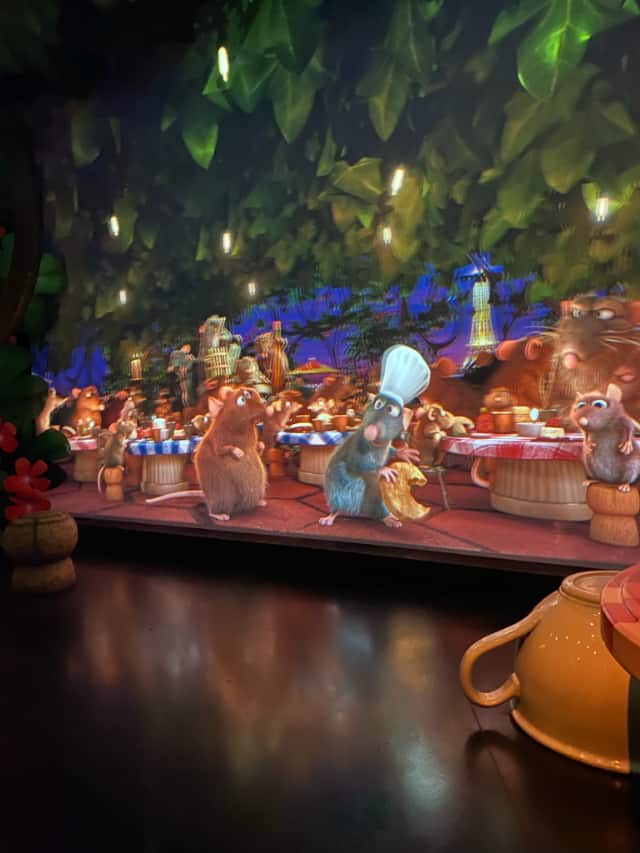 While they used screens a lot, some of the time it was hard to tell when we were actually moving and not! It is very seamlessly done.
I also really liked the scene where we are supposed to be under a cart in the dining room. On either side of us were two actual giant wheels spinning to make it more immersive.
It was cute and a lot of fun. I probably wouldn't pay to ride it with individual lightning lane, but I'm happy for more rides at Epcot for sure!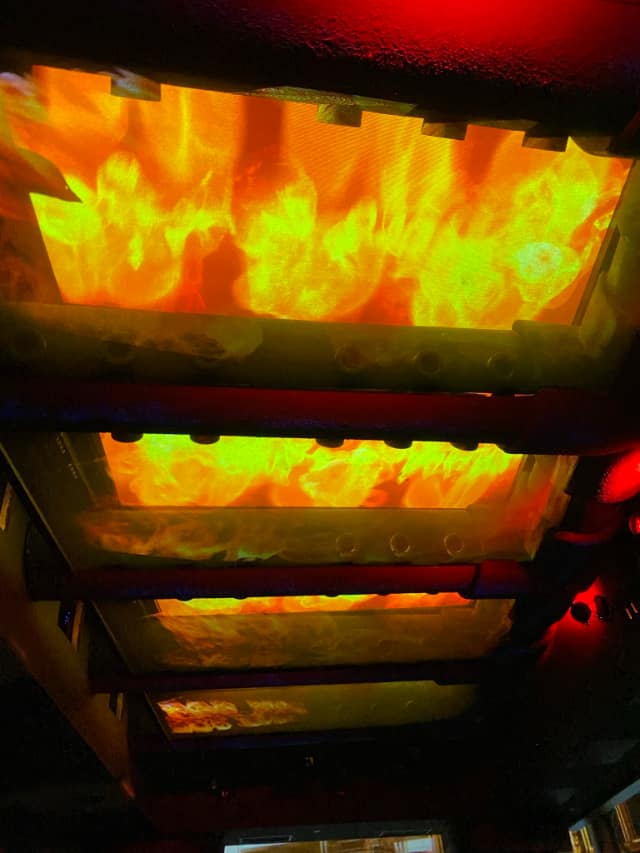 I plan to do a "social story" for it, as it does have three scenes that could startle a timid or anxious person. The mop, under the oven and the champagne bottle all stuck out to me as things my timid child might want a heads up on.
We got to ride 5 times during the D23 event! Someone on the previous day squeezed in 6! But after a few rides, we were ready to go try some crepes.
Crepes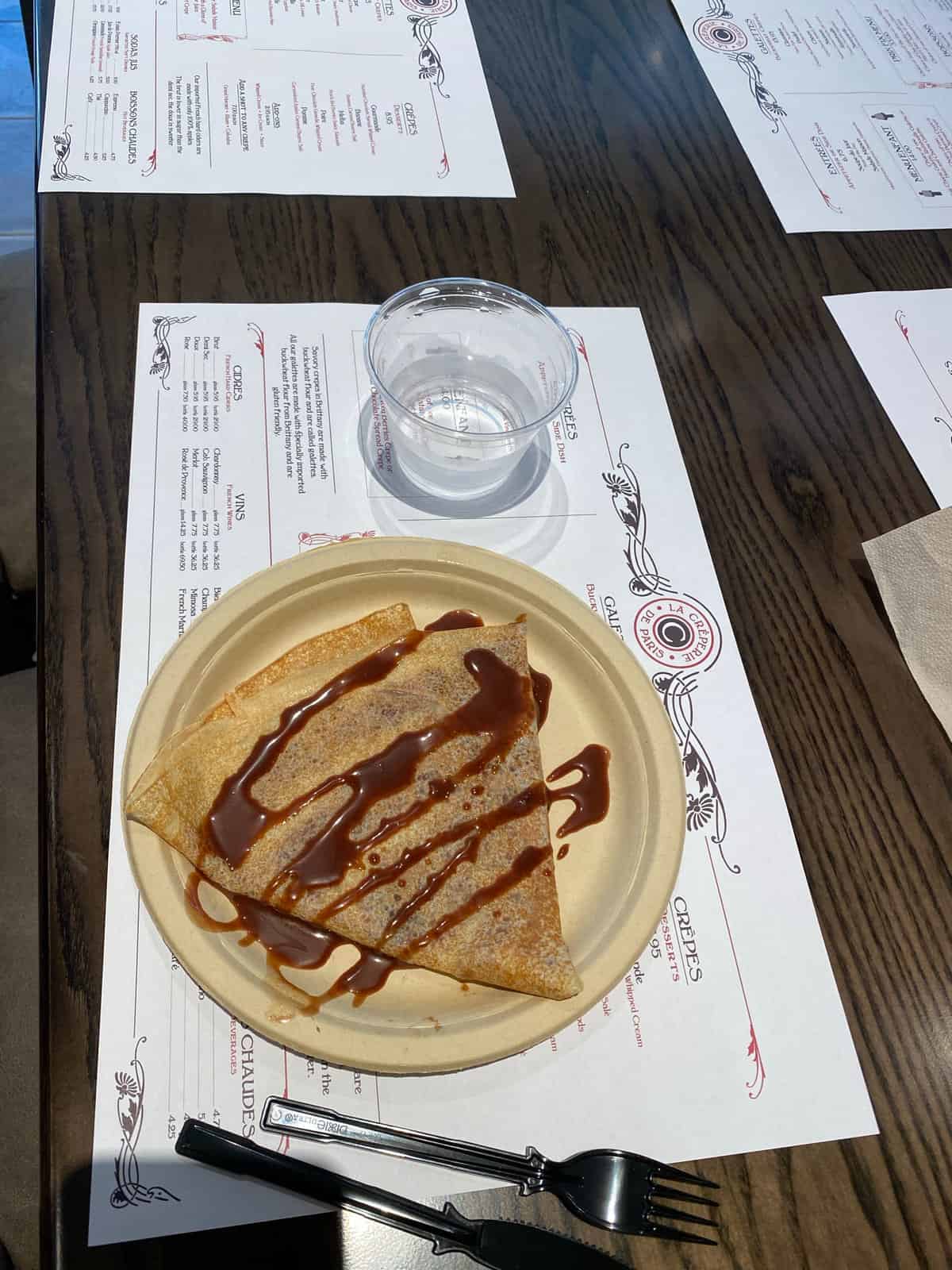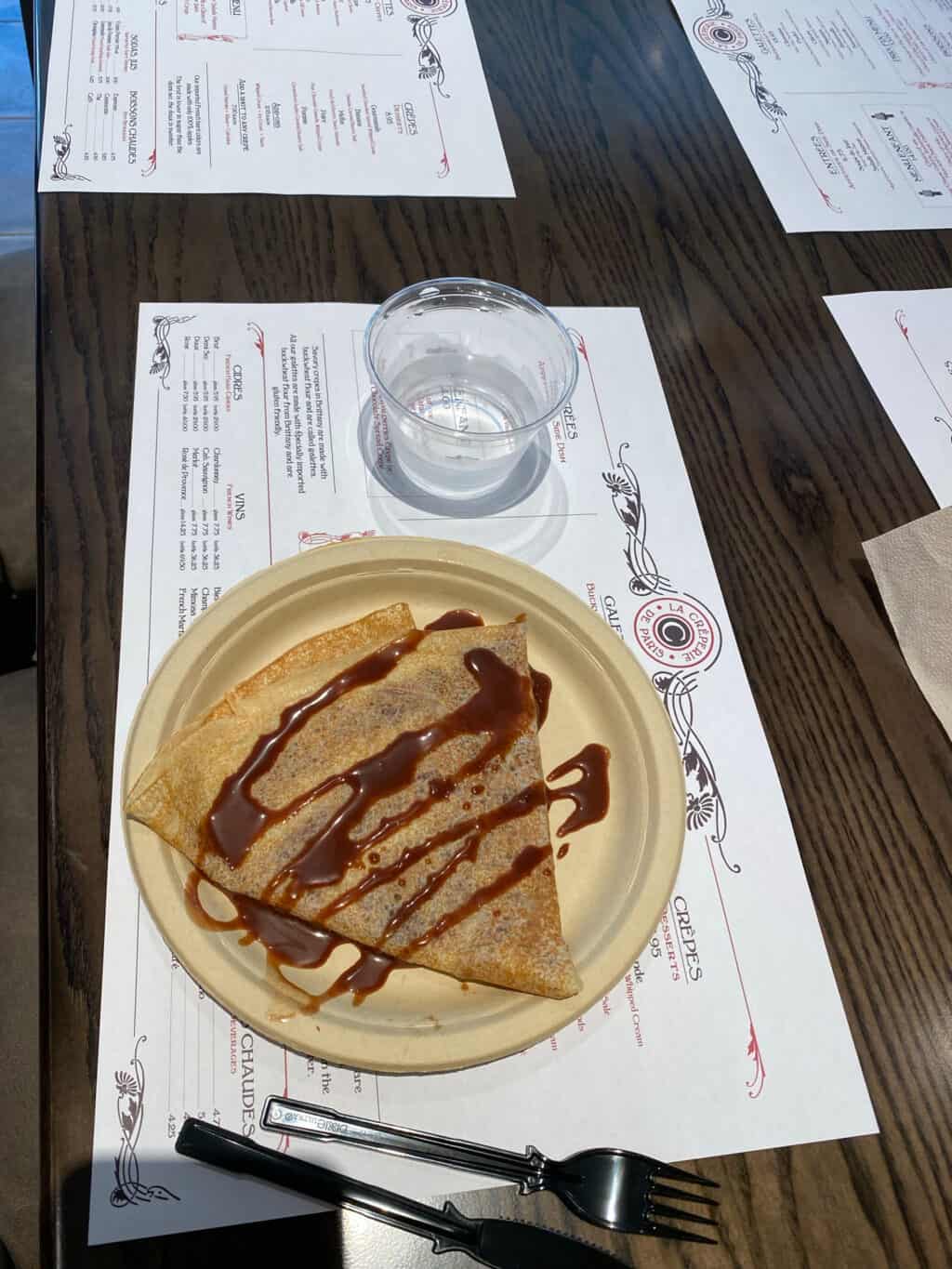 The event also included a crepe from the new quick service crepe place, La Crêperie de Paris!
We could choose from either hazelnut or berry. Both of us chose the hazlenut, which was amazing!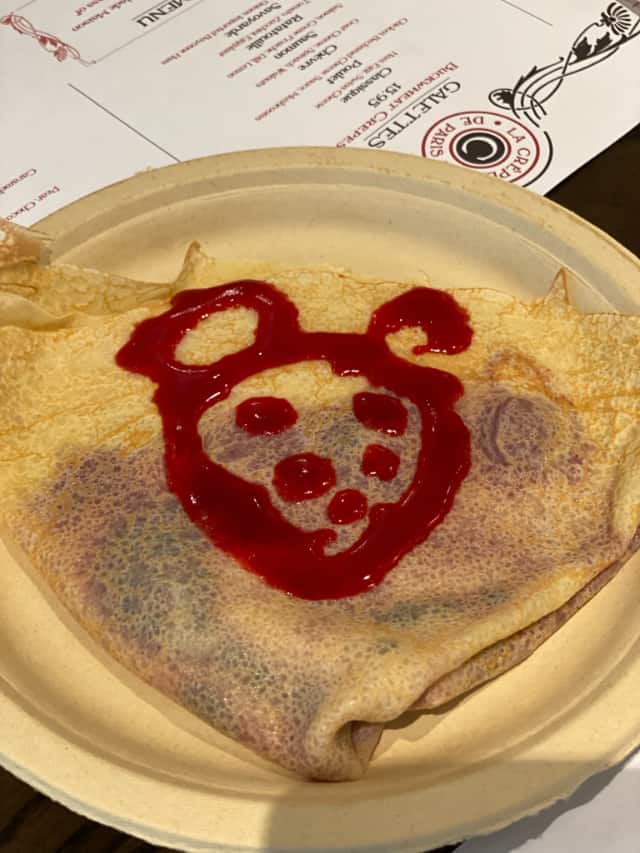 My friend asked a neighboring table if we could snap a pic of their berry crepe, which had a Remy drawn on it in berry syrup!
I'd definitely go back here for a sweet crepe, and the savory crepes sound delicious as well!
End of the Event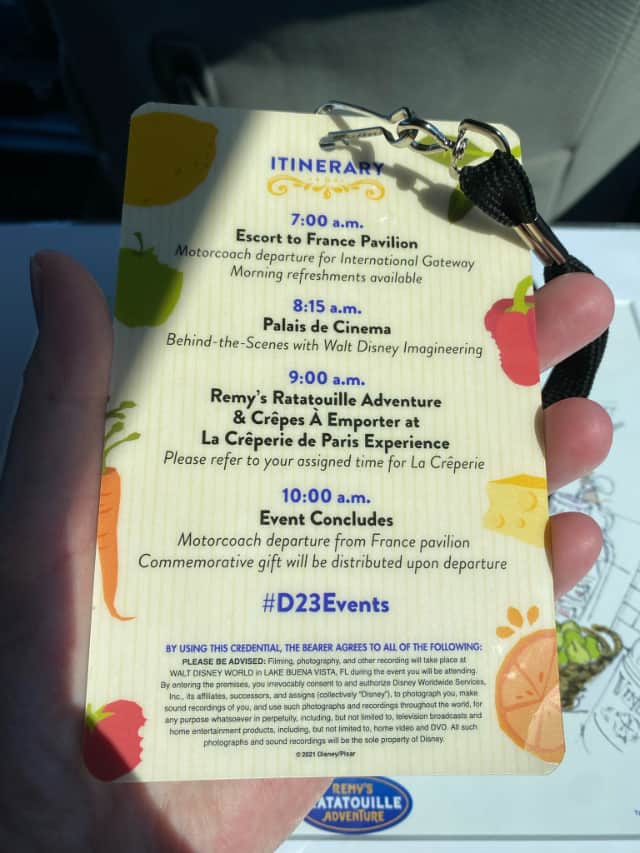 As the event ended, guests made their way either to the parking lot via bus or the International Gateway to exit. We had been promised a special gift!
They handed each one of us a print of concept art from the ride, signed by Harley Jessup, production designer for Ratatouille and other Pixar films.
It's the perfect keepsake from that morning. I need to get it in a frame ASAP!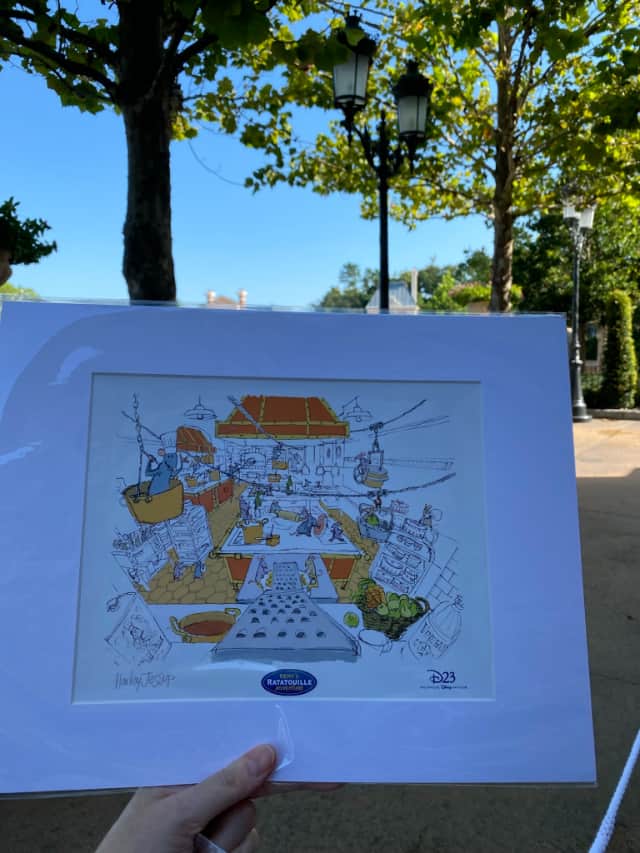 We walked away with a newfound appreciation for the effort that goes into every aspect of designing a park addition. I've always been stunned by Disney's attention to detail.
If you're like me, I think you'll love Remy and the extension of the pavilion!
Final Thoughts
Both the event and the ride were even better than I had expected! I know some balked at the $75 per person price tag.
I felt that between 5 rides on Remy, a crepe, a croissant, a special presentation and a keepsake, $75 was priced just right for 3 hours of entertainment.
If they offer this event again for another new addition, I'd book it in a heartbeat. As for the ride, I thoroughly enjoyed riding it again the next day for the passholder preview with some other friends!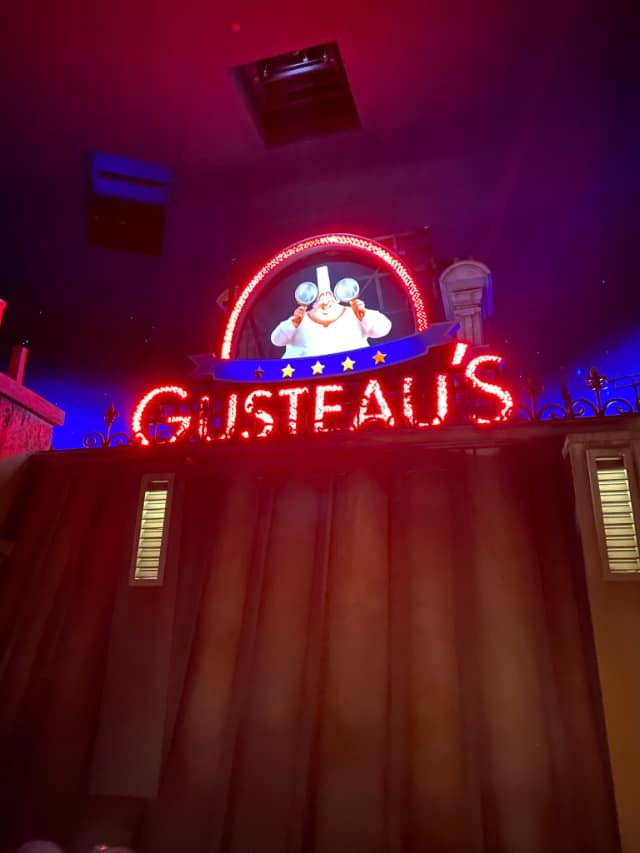 I like doing previews because then I feel I don't need to worry about getting on it again for awhile. I can let others have their chance to enjoy it now.
Would you do an event like this? Let us know in the comments on Facebook and in our Facebook group.
-Rebecca W Davis
Are you planning a vacation? Reach out to our trusted travel agency sponsor Authorized Disney Vacation Planner
Mouse Class Travel
!