The second entry in our Social Story series is none other than Frozen Ever After at Epcot!
A social story is a walk–through of a ride from queue to ending that offers explanations, gives a heads up about sensory items, and offers suggestions to make the ride easier on those who are anxious. Let's get started!
In Frozen Ever After, we take a boat ride to see all of our favorite characters and hear familiar songs!
We begin by entering the queue which is made to look like the marketplace of Arendelle (where we first see Kristoff and Sven sharing a carrot in the beginning of the movie).
Queen Elsa has opened the gates and invited us all to see the ice palace!
The boats we board are similar to the boats used for Pirates of the Caribbean or it's a small world. They appear to be wood carved and fit about 4 people across.
If a small splash of water would bother you, I suggest sitting towards the middle in your row.
After boarding the boats, we first see these icicle lights hanging down. These are meant to make us feel like we are in a frozen wonderland. The icicle lights give way to two familiar friends, Olaf and Sven!
On our left, we see Kristoff's love expert friends, the trolls!
As we near the ice palace, Olaf reappears and he's skating on the ice Elsa made! Ice skating in Summer? Olaf is so silly!
Anna and Kristoff are outside the palace to welcome us too! They are singing their own version of "For the First Time in Forever"
Finally we reach the beautiful interior of Elsa's ice palace! Elsa is performing Let it Go, just like in the movie! Then, with a wave of her hand, she sends our boats backwards out of the palace! The boat moves quickly out of the stunning palace.
After a few quick moments of traveling backward, we come to a medium–sized hill. Marshmallow and some snowgies are there to greet us. Our boat switches back to a forward position and just as Marshmallow roars, we drop down the hill! We get away just in time!
This is also where people on the ends of the boat may feel a small splash of water as we head down the hill.
It is during this drop where the ride snaps our picture! Nearly every Frozen Ever After picture shows scared kids or kids being comforted by their parents. Don't worry if you are looking a bit scared in the pic, that is to be expected for this ride!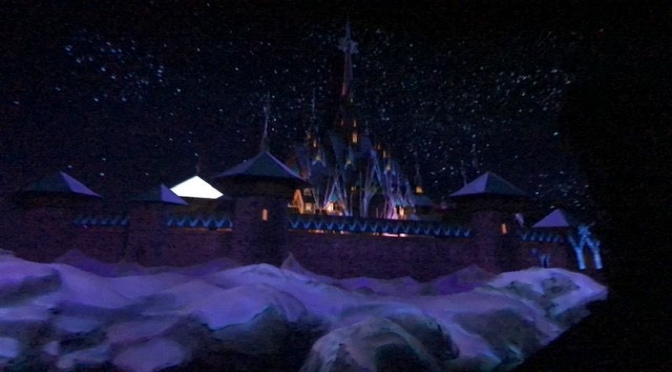 At the bottom of the hill, we are back in Arendelle.
Our silly friend Olaf has returned to sing "In Summer" along with Anna and Elsa in their spring outfits. Elsa has thawed the ice and brought back Summer!
The ride is over! Wasn't that a lot of fun? Was it your first time riding backward on a ride? It wasn't too bad, was it?
That's all for Frozen Ever After. You can step off the ride and head over to Royal Sommerhus to meet Anna and Elsa! Tell them how proud you are of your backward journey and that narrow escape from Marshmallow!
Want to see more social stories? Check out this one of Space Mountain! I'll be keeping this series going for kids like mine who need to know what to expect before they try an attraction!
Is there an attraction you would like to see a social story for? Let me know on facebook!
-Rebecca W Davis