Disney has dropped a peek at the 9th and newest installment of Stitch Crashes Disney. Get a sneak peek right here! What do you think of this collection?
Stitch Crashes Disney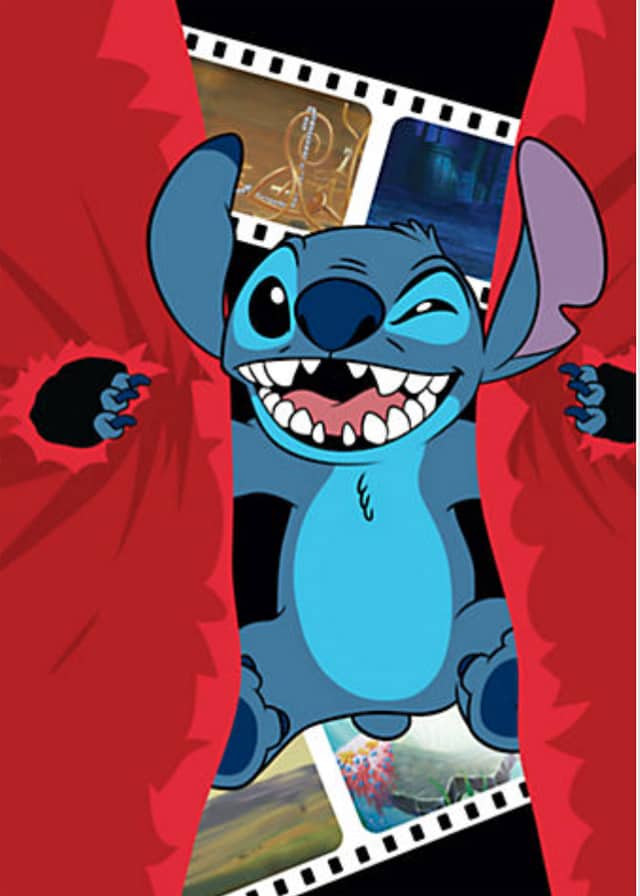 Experiment 626 is at it again! He has already crashed seven Disney films, and now he is invading the Jungle Book!
This year, Disney launched a crazy mixed up merchandise collection featuring your favorite interstellar Disney character. Each collection's design scheme features Stitch from Disney's Lilo and Stitch as if he has crash landed in the midst of a scene from a beloved Disney Film.
Of course, some of the designs have been met with more aesthetic success than others. As a result, the collection has been met with mixed reviews.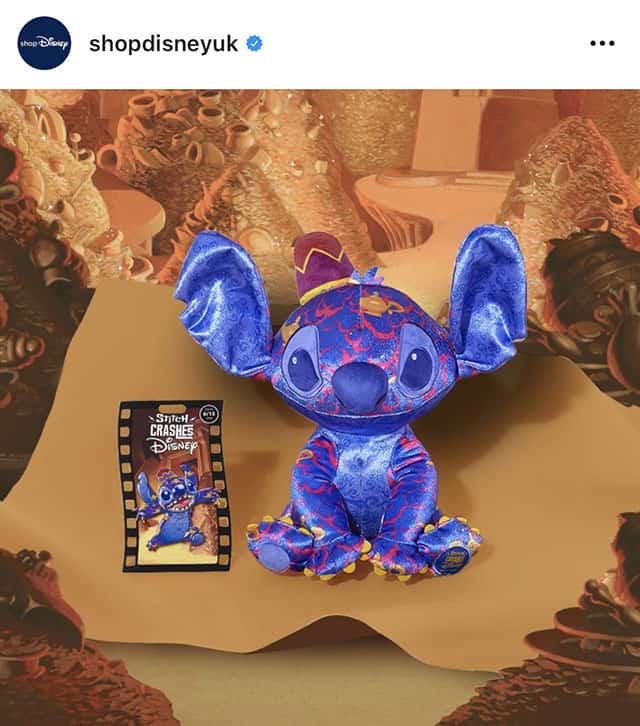 Regardless, the collection has apparently had mass appeal for Stitch Fans. Love it or hate it, the Stitch plush sells out swiftly each month leaving some fans at the mercies of the secondary market.
Clearly, Stitch's truest fans love him unapologetically. They embrace the cuddly stuffed representations of him even when he is bedecked in grubs or topped with meatballs or birthday candles.
Stitch Crashes the Jungle Book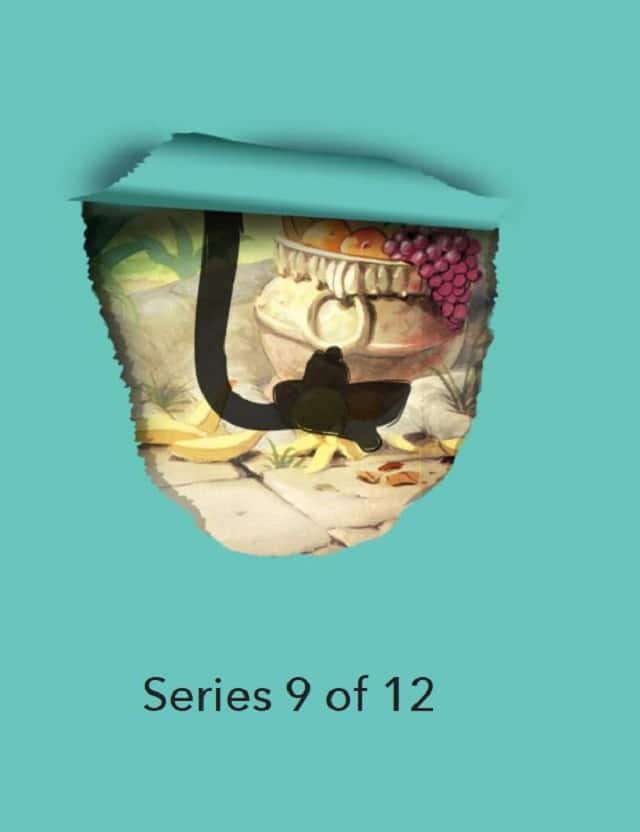 This month, Stitch is crashing Disney's the Jungle Book. If I (Katie P) could add music to this post, I'd call upon Gwen Stefani because I think you will see that this Stitch is Bananas.
This time, Stitch appears to have slipped in the depths of the jungle. His pattern is predominantly green and yellow. He is covered in foliage as well as silhouettes of characters like Baloo, King Louie and Kaa.
This Stitch is almost cute except that atop his head is a banana. I, for one, feel that this peel detracts from his appeal.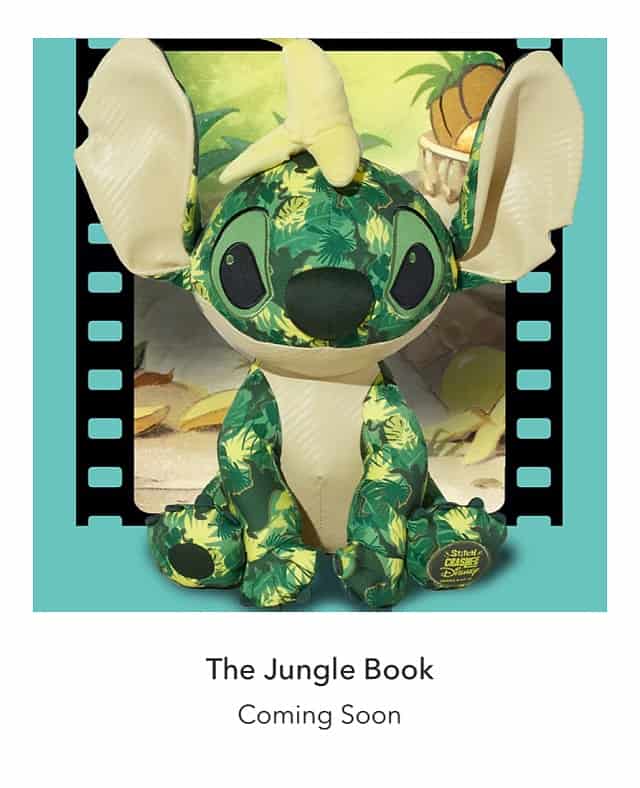 Overall, several of the Stitches have some form of headgear; however, among them there is a distinct split–in this case a banana split. Pinocchio and Abu's hats and Ariel's flowers, for example, are sweet. However, meatballs, candles, grubs, and bananas create a visually messy stitch-uation.
I will say that on the pins, the visuals translate more nicely. Check out the little stitch pin to see for yourself.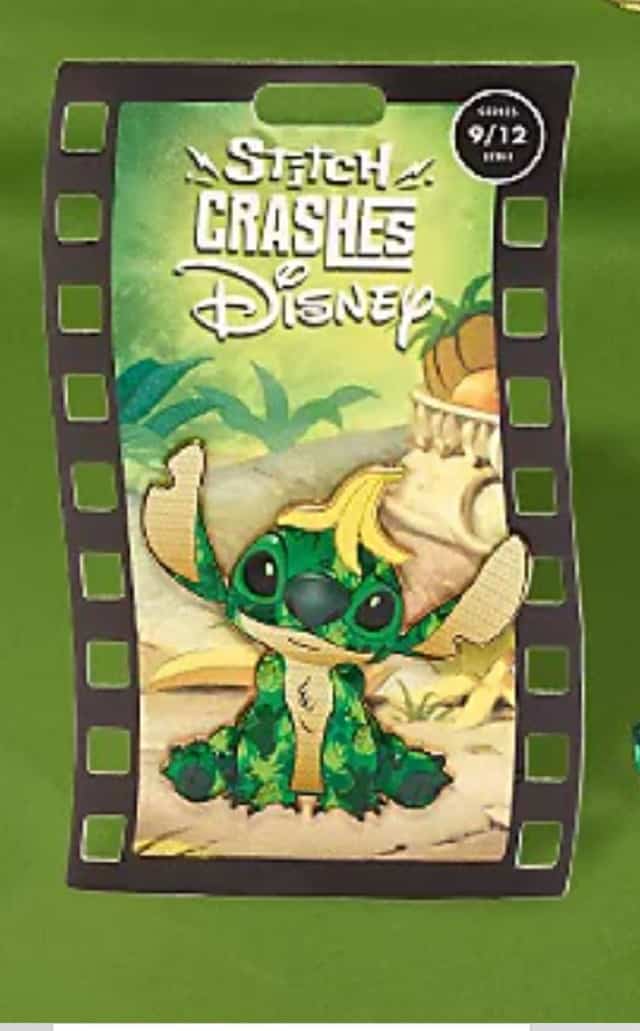 It may be fine for the pin, but the banana just isn't sitting well in plush form. In truth, it reads a little bit as "Stitch crashes the Teletubbies."
This morning, I had a friend text me a picture of this Stitch and the term "LOL." That was it. That was the text. And, I can't say I disagree.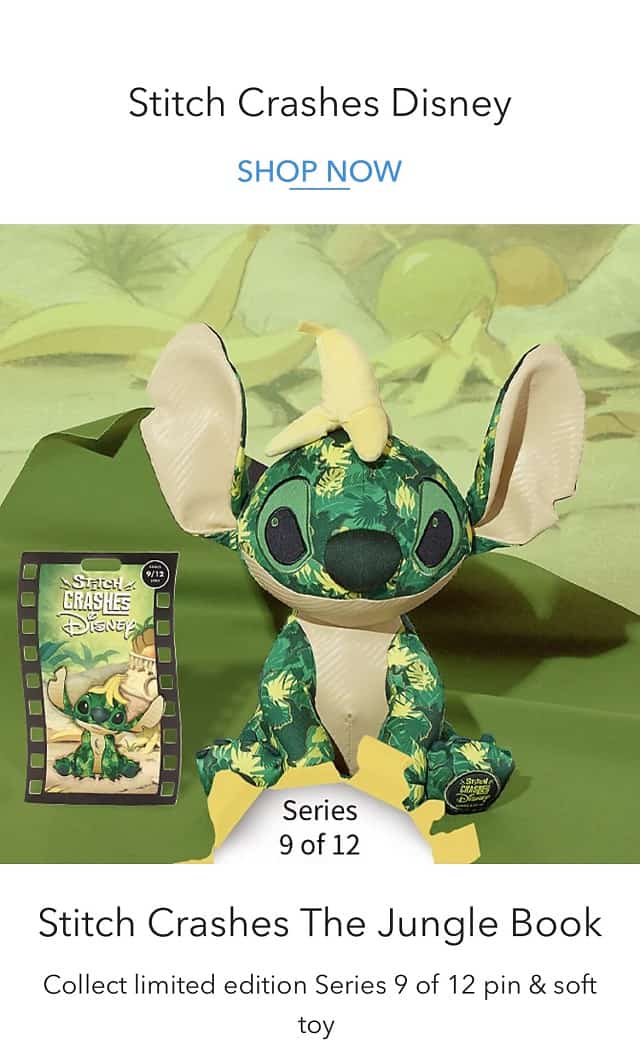 Regardless of visual "apeel," it is likely that Jungle Stitch will sell out and then pricing will go bananas on the secondary market. As it stands, Disney has yet to release a launch date at time, but we won't let it give you the slip! We will update you when the news drops.
In addition to the plush, fans can purchase a pin and a MagicBand each month. It also appears that mugs and t-shirts are available for collections from past months.
Stitches of the Past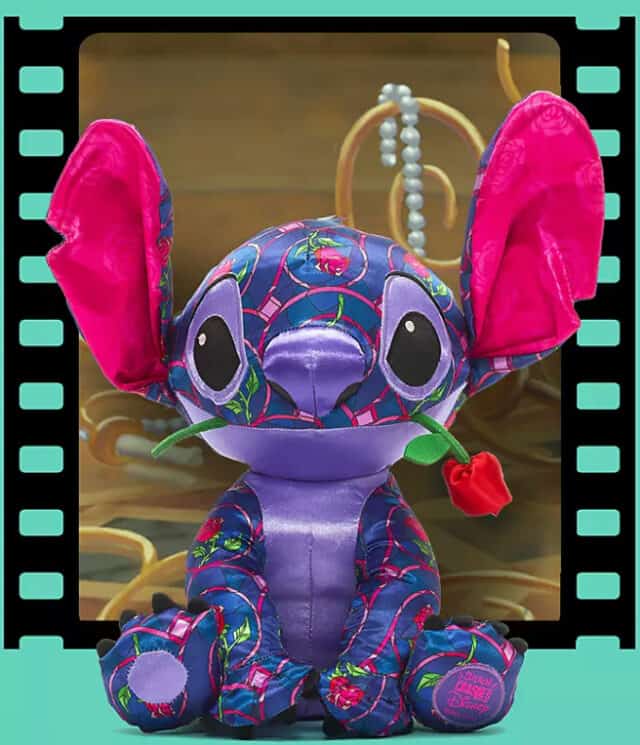 Did you miss any of the past installments? Did you want a review of all the beauties and beasts that have appeared in this collection thus far? We've got you!
Here are all the stitches! Speaking of BATB, above is Stitch one, the stitch that started it all, Stitch crashes Beauty and the Beast!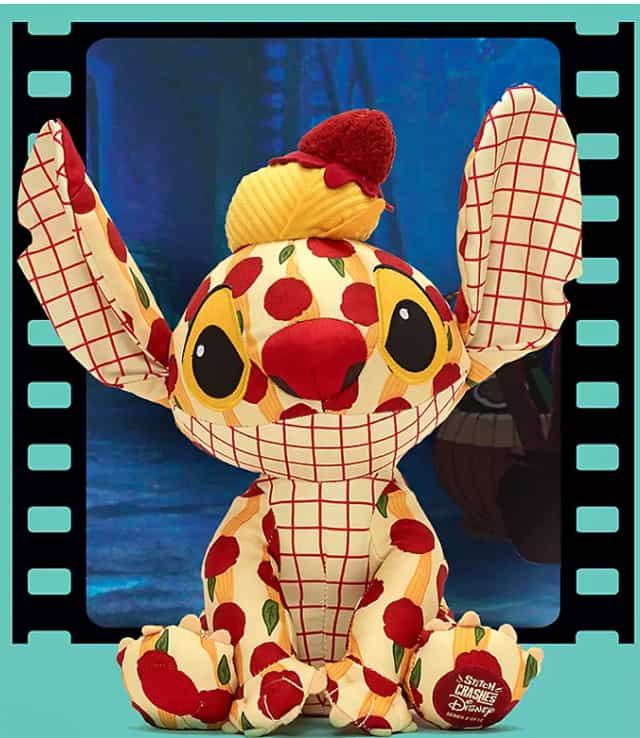 Next, Stitch crashed Lady and the Tramp. This one is a bit of a meathead.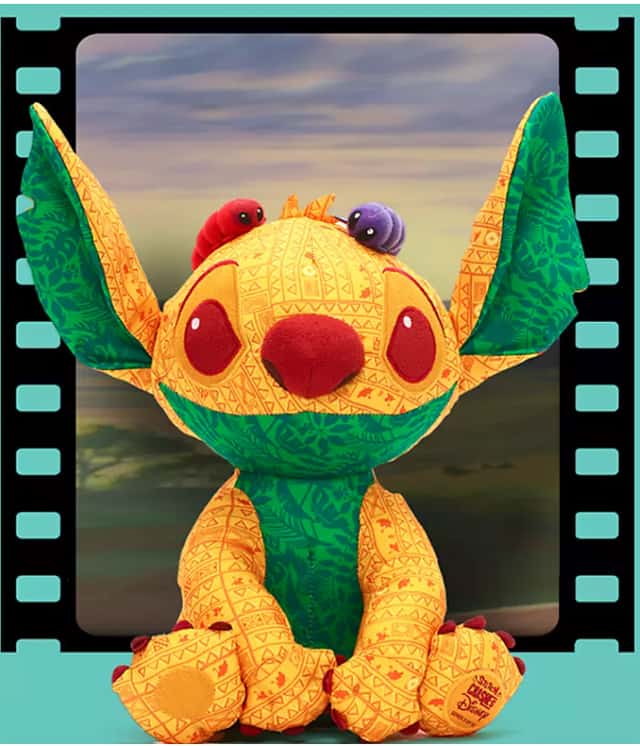 The next month brought us Stitch Crashes the Lion King. This stitch was a bit Grubby and bugged many Stitch fans, but Hakuna Matata won the day, and he sold out anyway.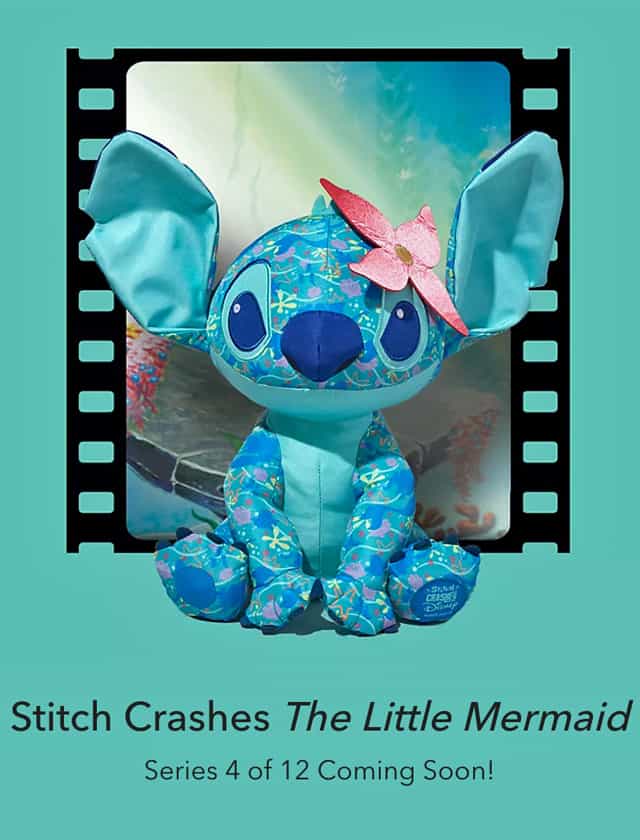 After that, the 4th installment brought us a beautiful Stitch, in my opinion. Stitch journeyed under the sea to crash land-or rather splash land- in the Little Mermaid.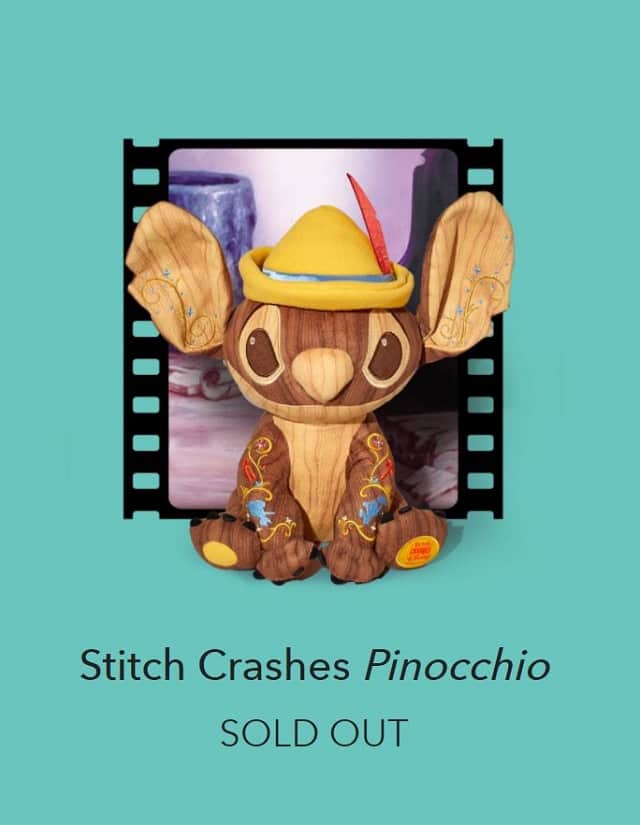 Stitch 5 was Stitch Crashes Pinocchio. Stitch transformed into a little wooden head for the occasion.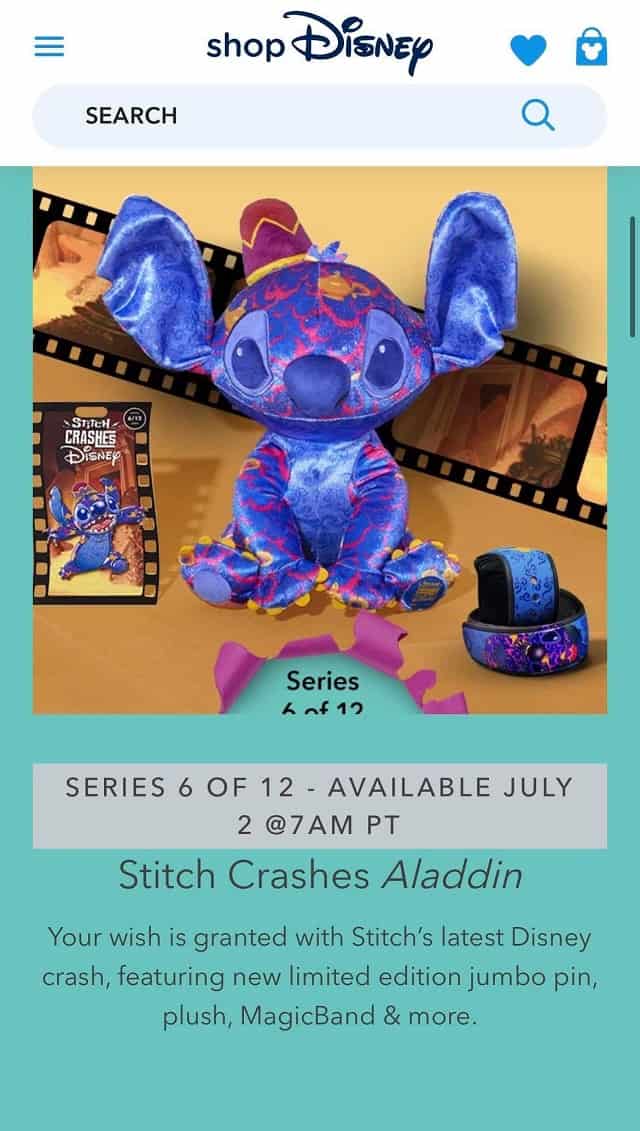 Stitch 6 hopped a carpet and crash landed it in Aladdin.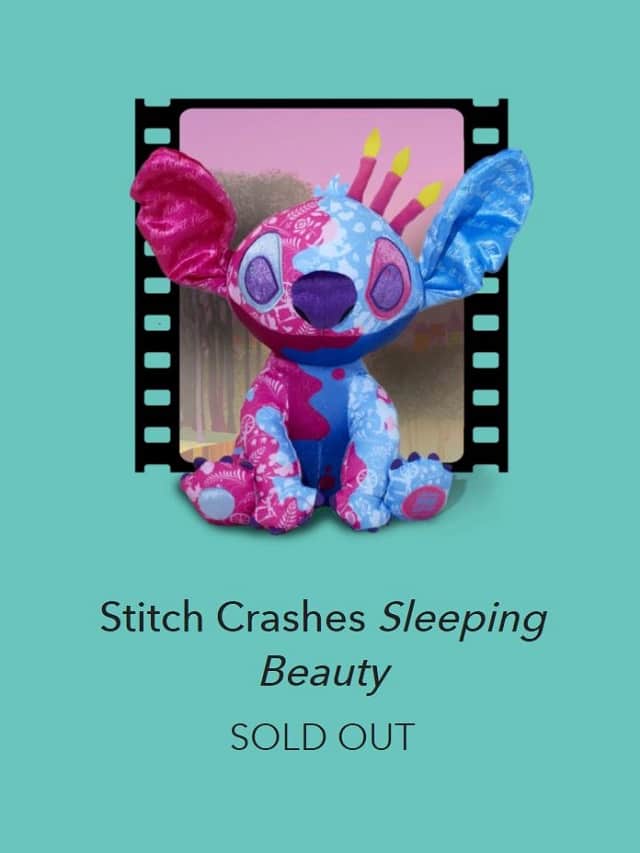 And the 7th Stitch crash landed in Sleeping Beauty. More specifically, he landed in her birthday cake. We are burning to know who dreamed up the idea of topping a plush with candles.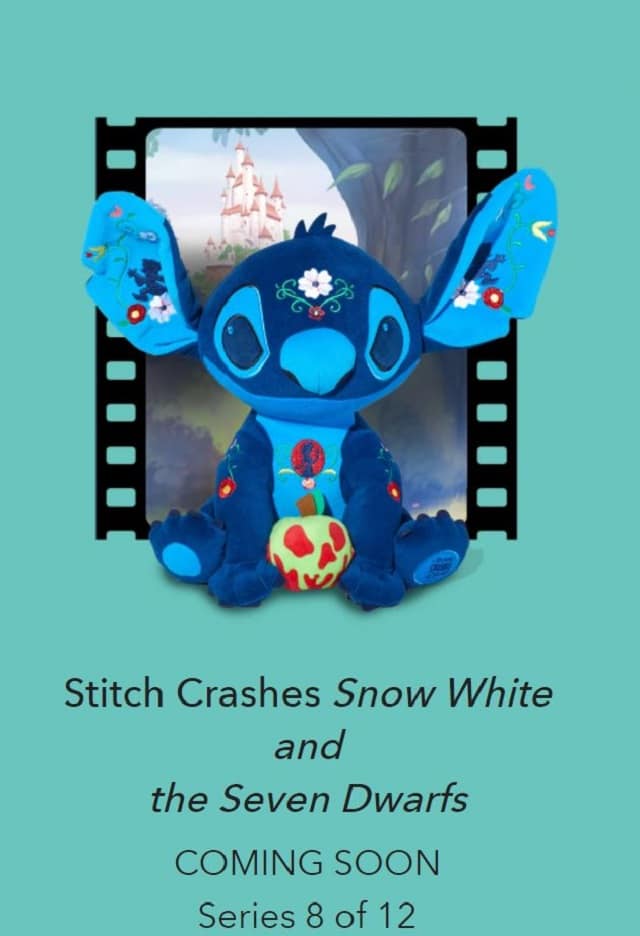 The 8th day of Stichmas brought us Snow White. This one is pretty cute in a grandma's living room sort of way. We are still awaiting a release date for it.
Want More Stitch?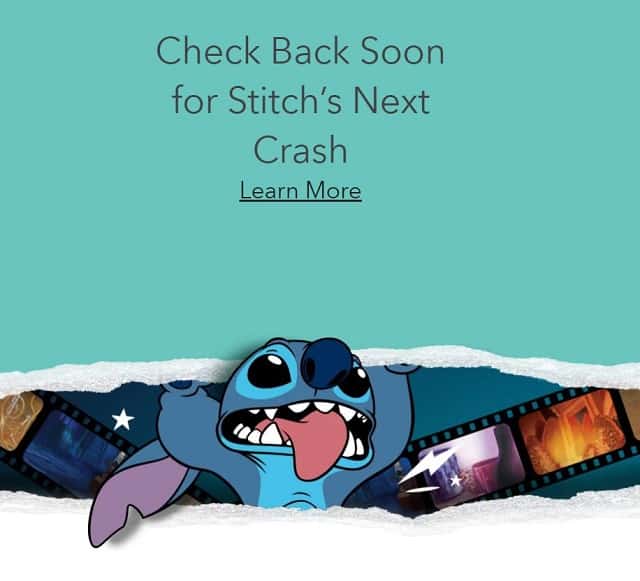 If this Stitch leaves you wanting more, you are in luck because we are only half way through the series. We also know what films will inspire the next round of Stiches! Disney has released a sneak peek for the remaining collections in the series.
We have the following collections to look forward to: Pocahontas, Peter Pan and Mulan. Some of us are looking forward to seeing what lands next, and others are just looking forward so seeing what lands on his head.
As always, the KtP Writing Crew will keep you up to date on any new Stitches. So, stay tuned!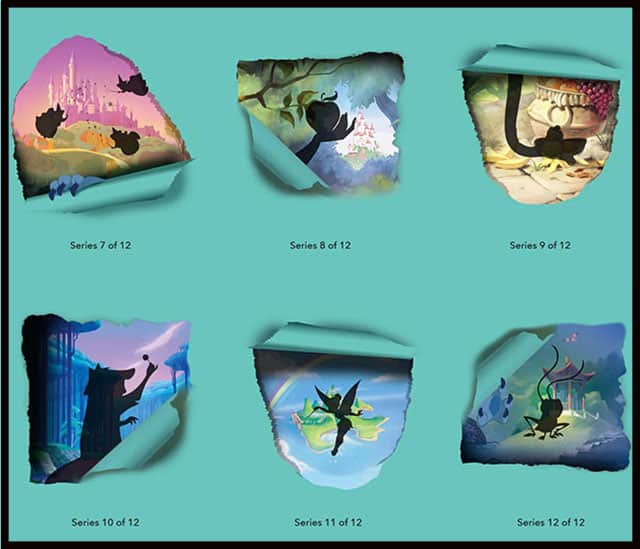 Do you plan to try for this Stitch? Tell us about it in the comments below or join the conversation on our Facebook page.