In case you have not seen it, Disney has dropped a peek at the newest installment of Stitch Crashes Disney. Check him out right here! What do you think of this collection?
Stitch Crashes Disney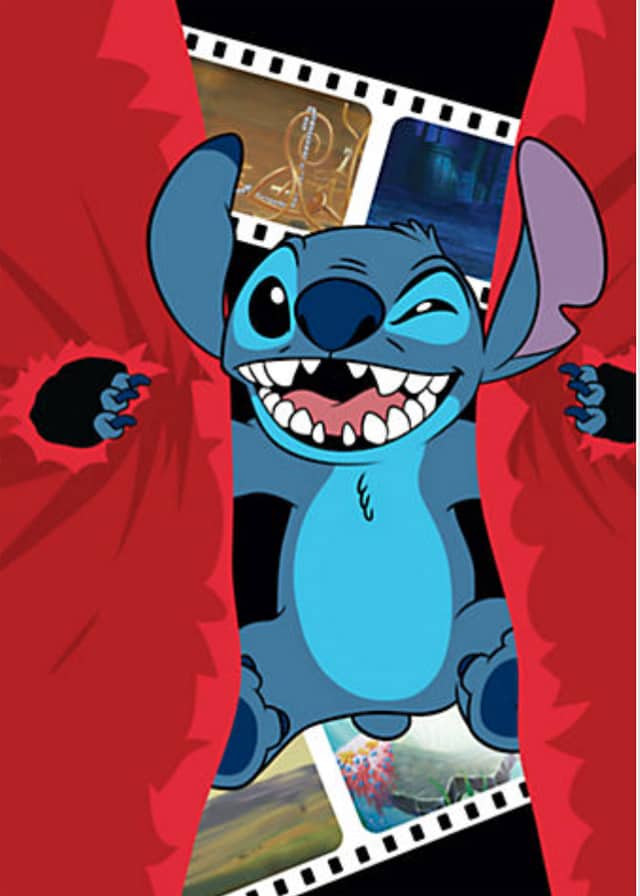 Experiment 626 is at it again! He has already crashed seven Disney films, and now he is invading another one!
This year, Disney launched a crazy mixed up merchandise collection featuring your favorite interstellar Disney character. Each collection's design scheme features Stitch from Disney's Lilo and Stitch as if he has crash landed in the midst of a scene from a beloved Disney Film.
Some of the designs have been met with more aesthetic success than others. As a result, the collection has been met with mixed reviews.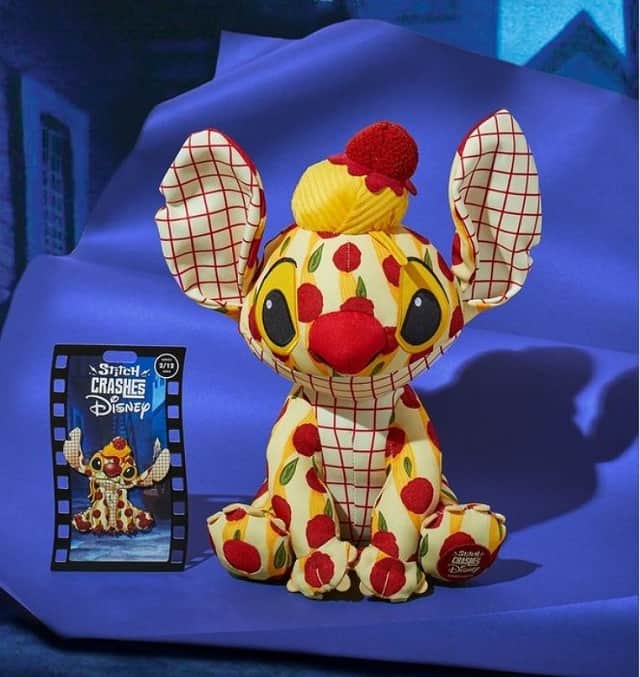 Regardless, the collection has apparently had mass appeal for Stitch Fans. Love it or hate it, the Stitch plush sells out swiftly each month leaving some fans at the mercies of the secondary market.
Clearly, Stitch's truest fans love him unapologetically. They embrace the cuddly stuffed representations of him even when he is bedecked in grubs or topped with birthday candles.
Stitch Crashes Snow White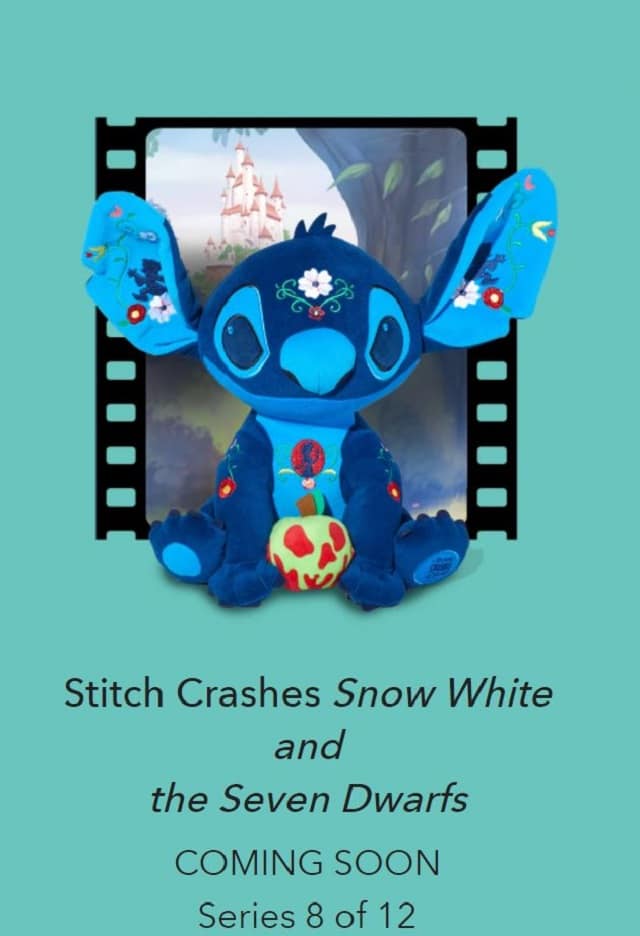 This month, Stitch is crashing Disney's first full length animated feature: Snow White and the Seven Dwarves. But this Stitch is starkly different than its predecessors.
While all the other Stitches are busy with pattern reminiscent of their respective films, this Stitch appears to have crash landed in Grandma's house. Grandma has in turn whipped out her sewing kit and embroidered him with images from Snow White.
It's as if Stitch has been Stitched. Although, I (KatieP) have to say, this design choice makes him one of the more attractive additions to the collection.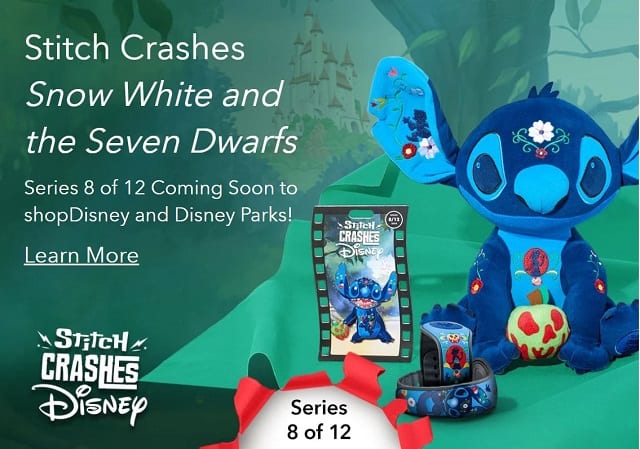 Stitch is a beautiful shade of blue, and the embroidery includes flowers reminiscent of German design. It also includes silhouettes of Dopey and Snow White.
Most notably, this stitch is clutching the iconic poison apple. It is unclear whether he trying to save Snow White or assist the Wicked Queen.
Fans can purchase a plush, pin, and MagicBand each month. It also appears that mugs and t-shirts are available for collections from past months.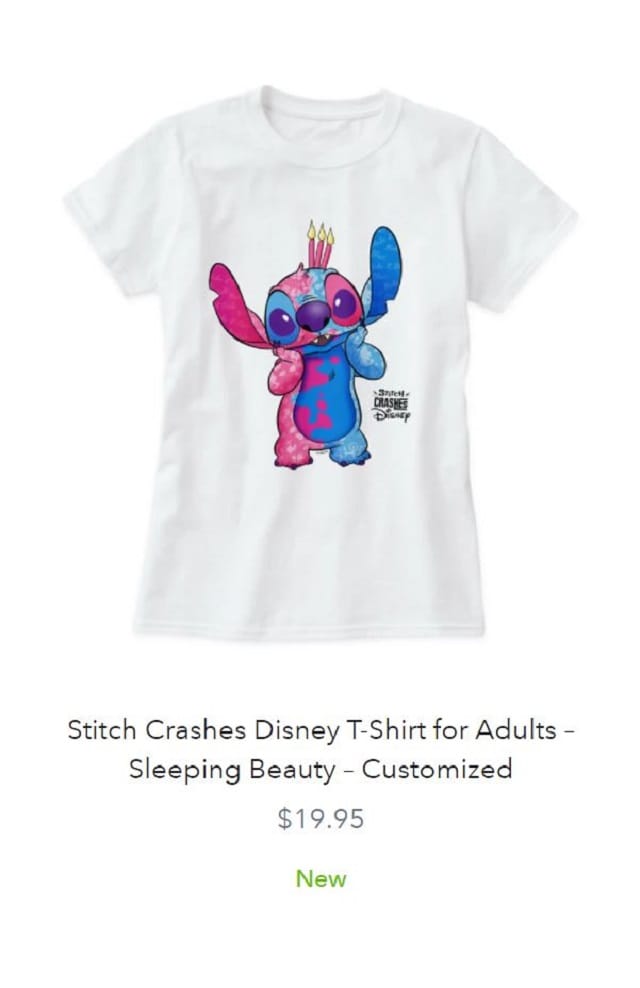 It is probably safe to say that this Stitch Plush will sell out. Disney has yet to release a launch date at time, but we will update you when the news drops.
Stitches of the Past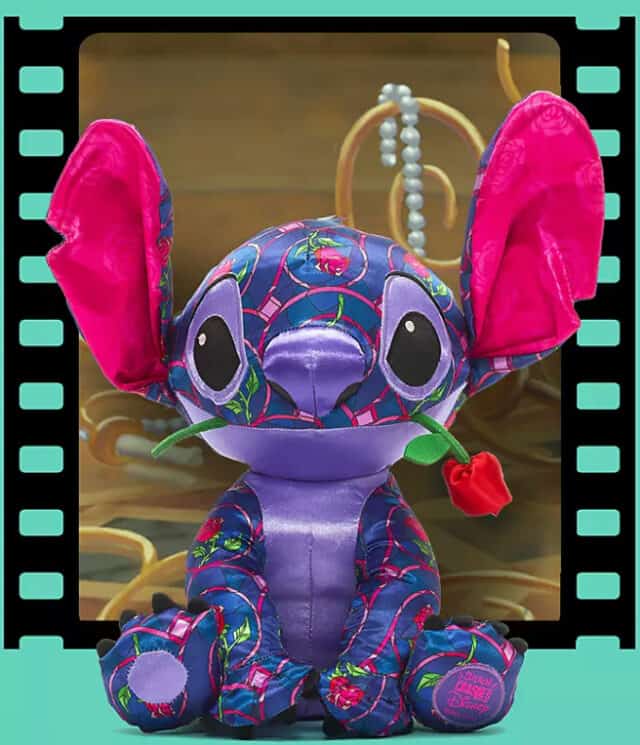 Did you miss any of the past installments? Did you want a review of all that has transpired in this collection thus far? We've got you!
Here are all the stitches! Above is Stitch one, the stitch that started it all, Stitch crashes Beauty and the Beast!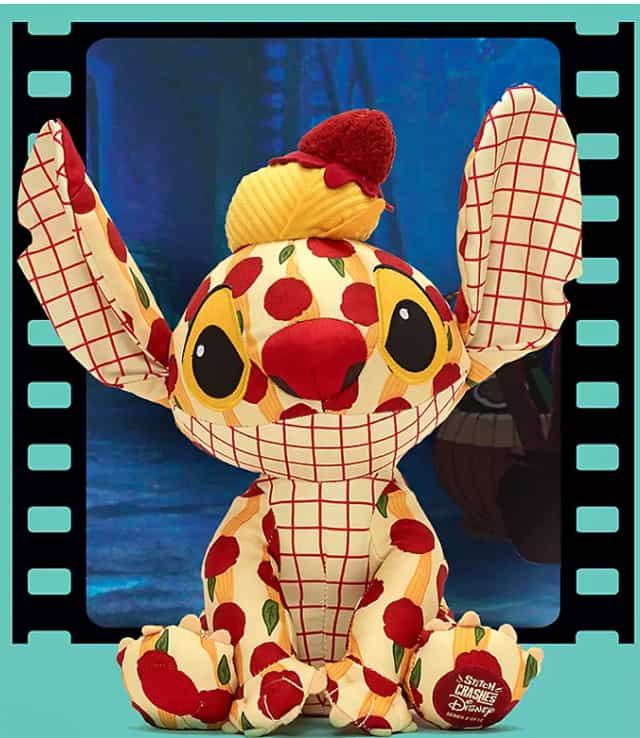 Next, Stitch crashed Lady and the Tramp. It was a Stitch-gheti and meatballs Stitch-uation.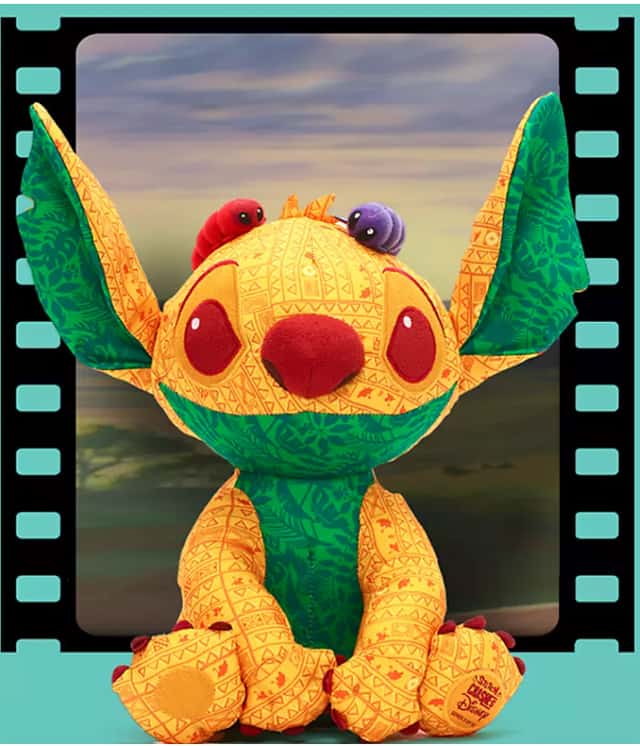 The next month brought us Stitch Crashes the Lion King. This stitch was a bit Grubby, but Hakuna Matata won the day, and he sold out anyway.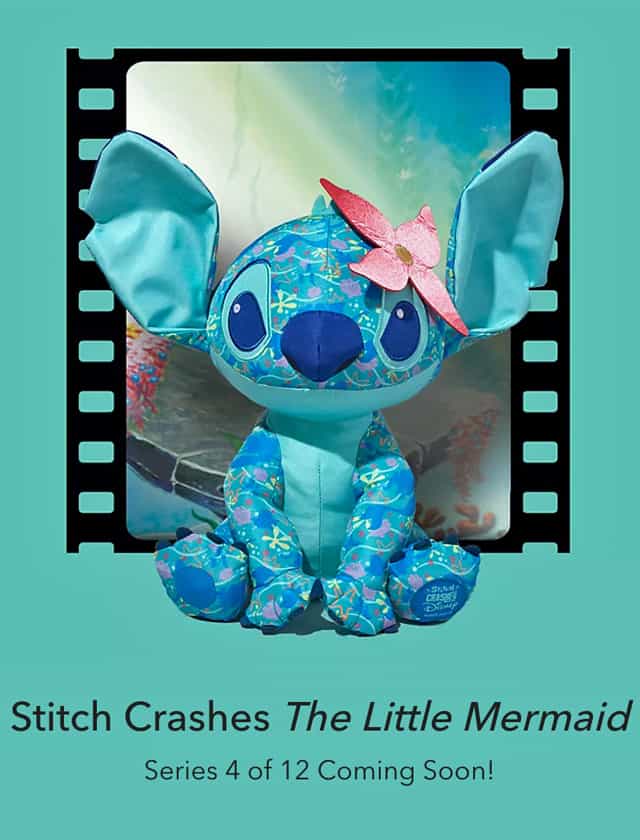 The 4th installment was a pretty one, in my opinion. Stitch journeyed under the sea to crash land-or rather splash land- in the Little Mermaid.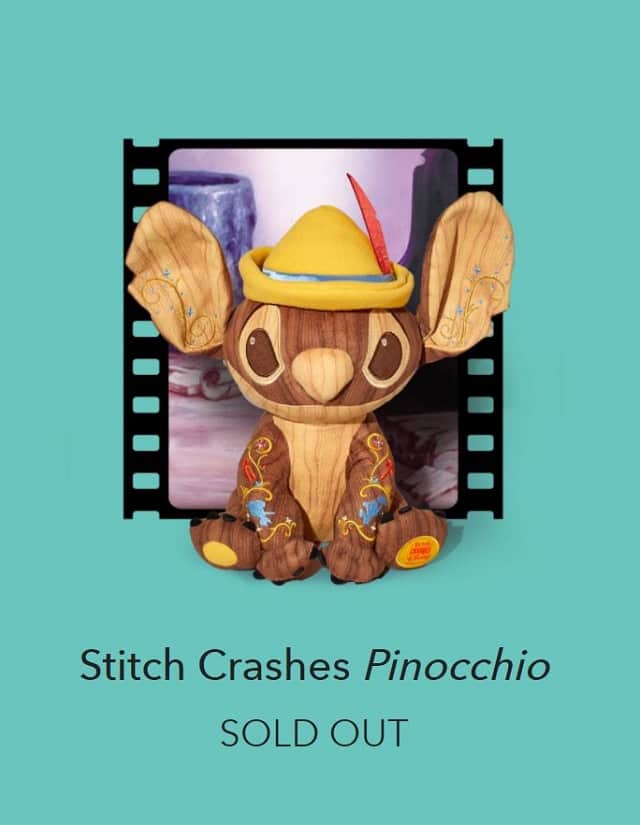 Stitch 5 was Stitch Crashes Pinocchio. Stitch transformed into a little wooden head for the occasion.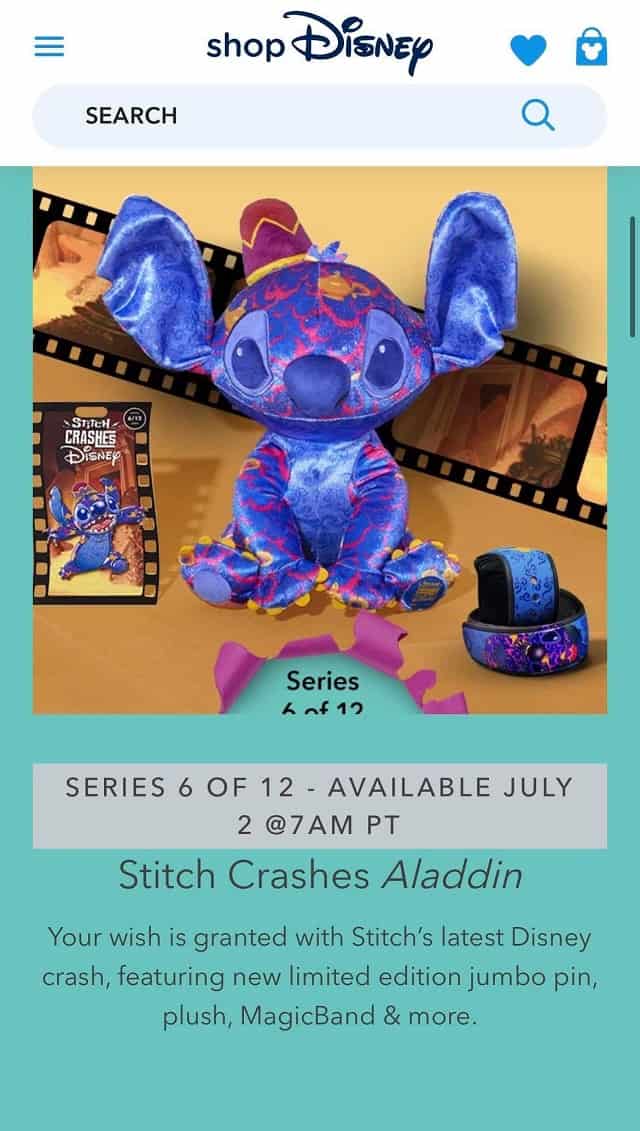 Stitch 6 crashed in a land in a far away place where the caravan camels roam to land in Aladdin.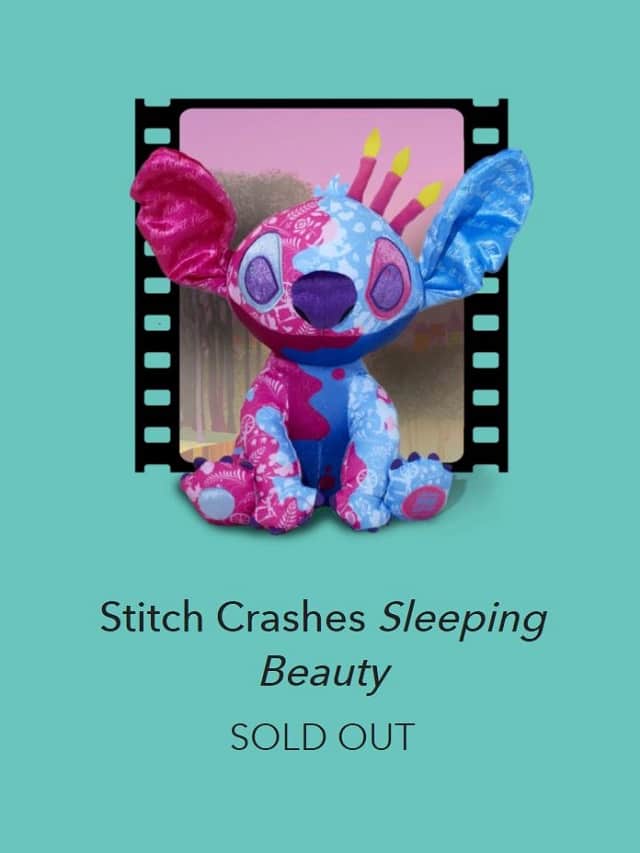 And the 7th Stitch crash landed in Sleeping Beauty. More specifically, he landed in her birthday cake.
Want More Stitch?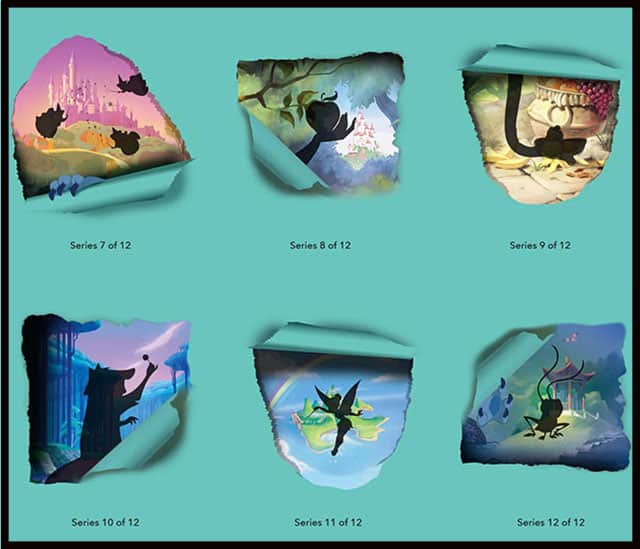 If this Stitch leaves you wanting more, you are in luck because we are only half way through the series. We also know what films will inspire the next round of Stiches! Disney has released a sneak peek for the remaining collections in the series.
We have the following collections to look forward to: The Jungle Book, Pocahontas, Peter Pan and Mulan.
As always, the KtP Writing Crew will keep you up to date on any new Stitches. So, stay tuned!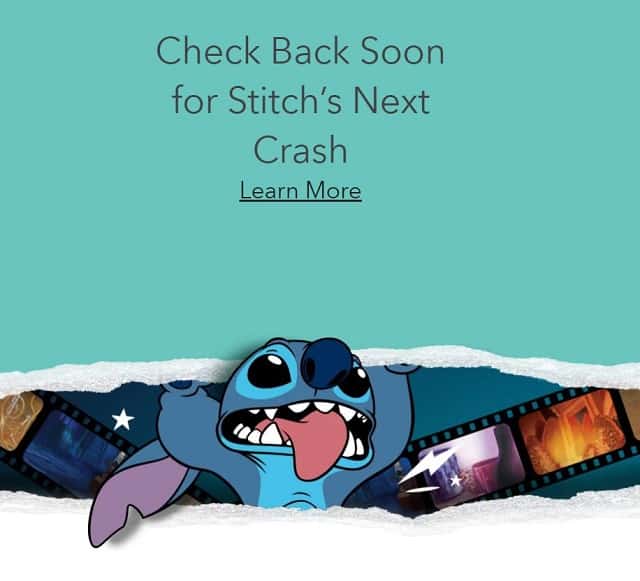 Do you plan to try for this Stitch? Tell us about it in the comments below or join the conversation on our Facebook page.