Avengers, assemble! I've come to provide you with valuable information regarding Disney's newest land in all of Disney parks. I'm also sharing tips and tricks to help make your visit enjoyable.
Avengers Campus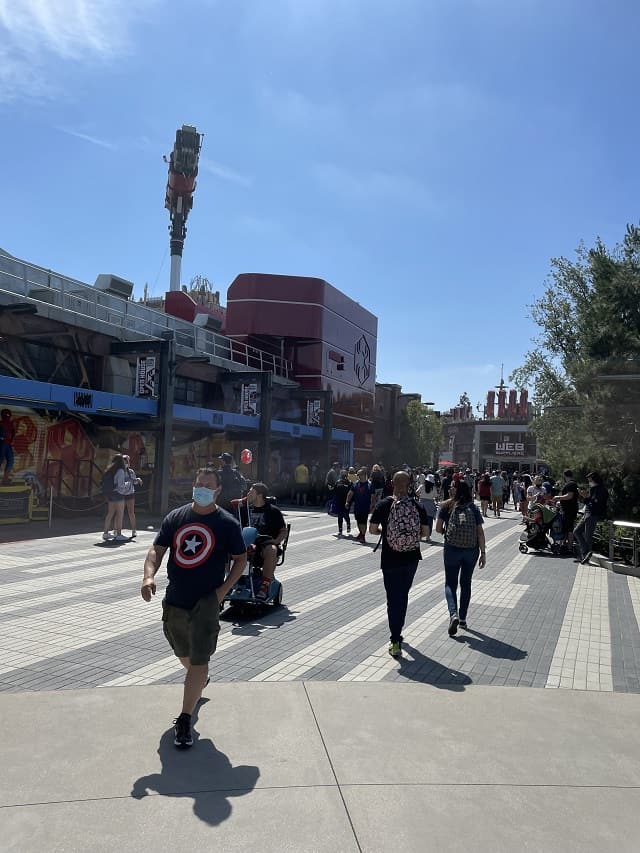 Disney first shared the announcement of the Avengers Campus taking over A Bug's Land at the 2017 D23 Expo.
Disney announced the Guardians of the Galaxy attraction would be joined by Spider-Man and the Avengers as part of the new immersive superhero themed area at the park.
In late December 2020, Disney announced that Avengers Campus would open in 2021 a year late due to the pandemic. In April 2021, an opening date of June 4, 2021 was announced.
Many of us have learned to love the Marvel Cinematic world of superheroes. Did you know that due to a 1994 contract with Universal Parks & Resorts, Disney is not able to incorporate or use the word "Marvel" in any of the parks branding or on attractions?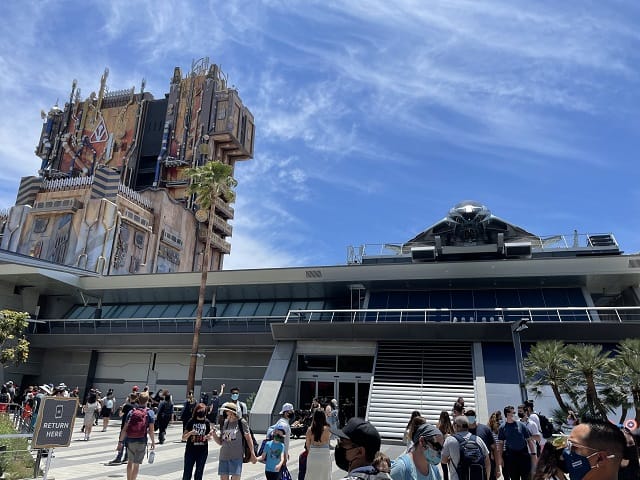 At the moment there are two attractions: Guardians of the Galaxy – Mission: BREAKOUT! and Web Slingers A Spider-Man Adventure. A third attraction, Avengers Quinjet Experience, will open in Phase 2.
Entertainment around Avengers Campus includes Guardians of the Galaxy-Awesome Dance Off!, Heroic Encounters, Ancient Sanctum and Avengers Headquarters.
In a future article, I will focus solely on the brand new Web Slingers A Spider-Man Adventure attraction and the entertainment that can be found throughout the campus as there is so much to write about!
Where to Eat?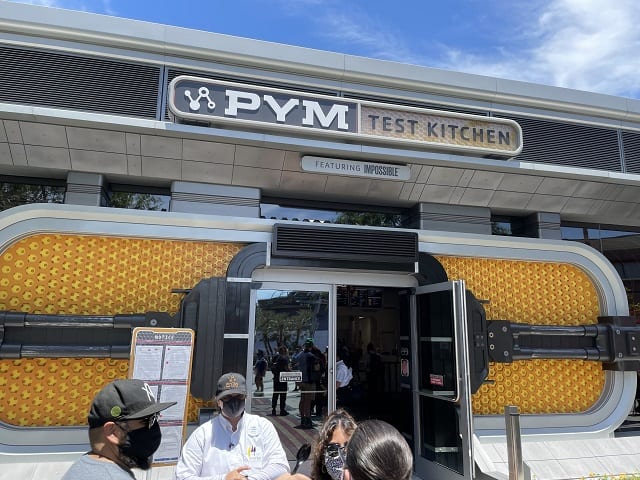 When it comes to food options, guests are in for a treat as there are several places to try different types of food. These include Pym Test Kitchen, Pym Tasting Lab, Shawarma Palace and Terran Treats.
If you are a Marvel fan, you will recognize right away that all the food locations have a very strong connection to the superhero universe itself!
Take for example Shawarma Palace.  After an epic battle, Tony Stark lies helpless on the ground and comments how he and the rest of the team should try the shawarma joint he spotted during the battle.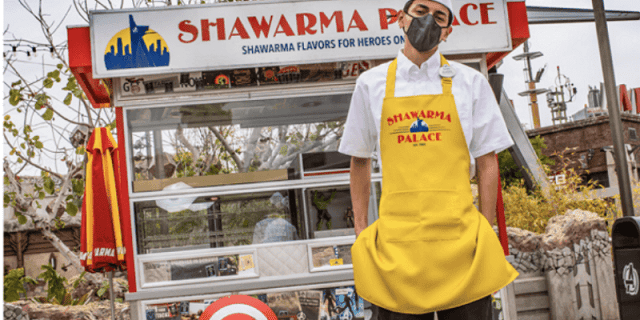 Sure enough when the last credit rolled, the credits cut to the gang sitting silently around a table, munching on pitas.
Now, guests of all ages can enjoy delectable shawarma's within Avengers Campus. Shawarma Palace is Quick Service and does not offer Mobile Ordering.
Pym's Test Kitchen is known for its phenomenal food at unusual scales!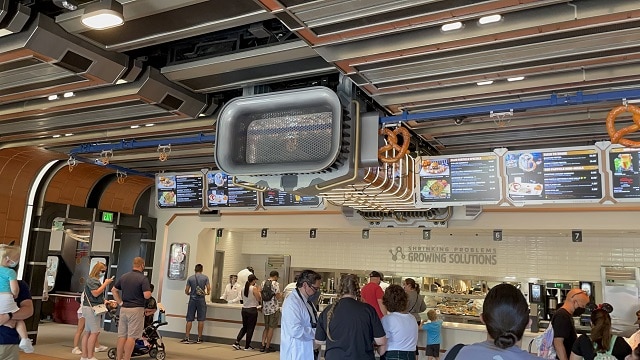 It utilizes the revolutionary shrink-and-grow technology of Pym Particles, Ant-Man and The Wasp.
The team of research chefs have come up with a menu packed with tiny treats, shareable bites, and some not so little size food portions.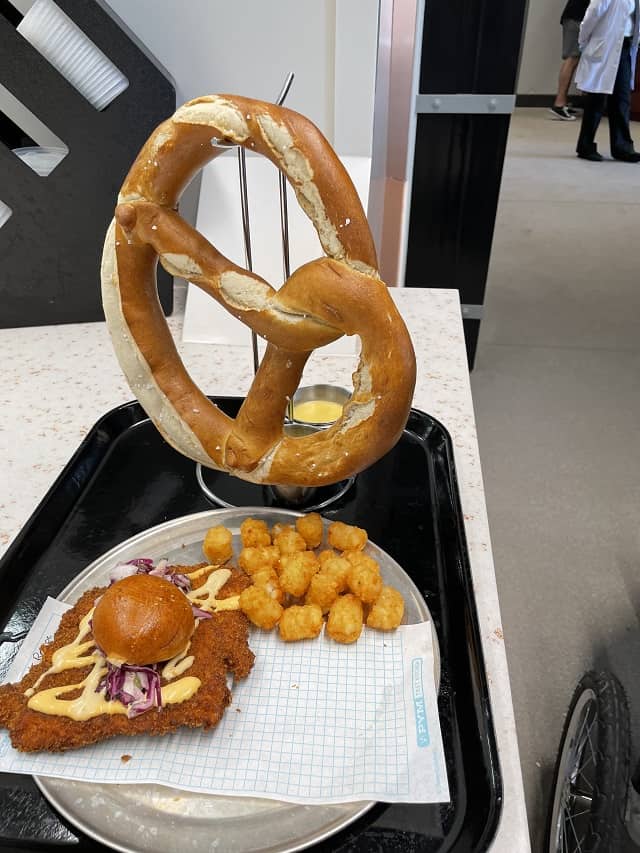 Check out the Quantum pretzel, the Not so Little Chicken Sandwich, and the Impossible™ Spoonful.
Breakfast, lunch, and dinner are served here. This location is Quick Service and is Mobile Order only.
Meet and Greets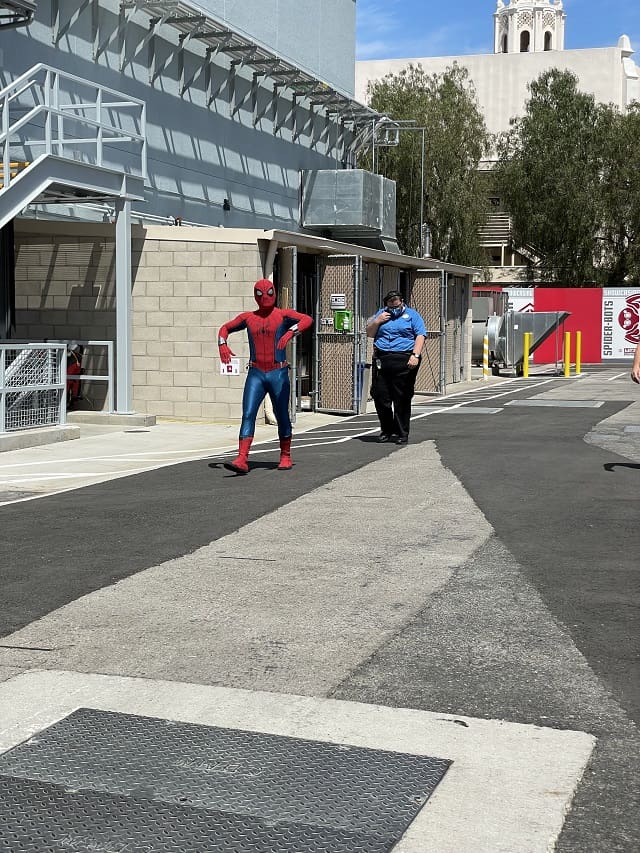 One can not imagine having an entire campus devoted to superheroes and villains without seeing them out and about all day long.
Guests can expect to see characters such as Iron Man, Spider-Man, Captain America Steve Rogers, Black Panther, the newest Captain America, Sam Wilson, Loki, the God of Mischief, Dr. Strange, The Wasp, Ant-Man and Black Widow.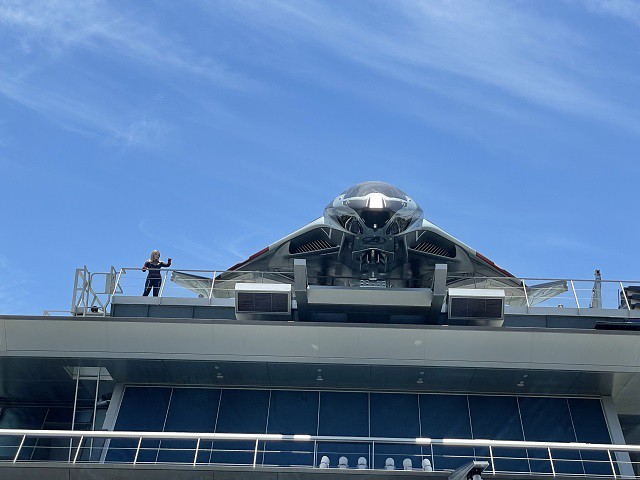 There are many locations where guests can meet their favorite character such as on the first floor of Avengers Headquarters, at the Avengers vehicle, the raised seating area in the middle of the Campus, or the balcony of the Avengers Headquarters building.
Tips for Visiting Avenger's Campus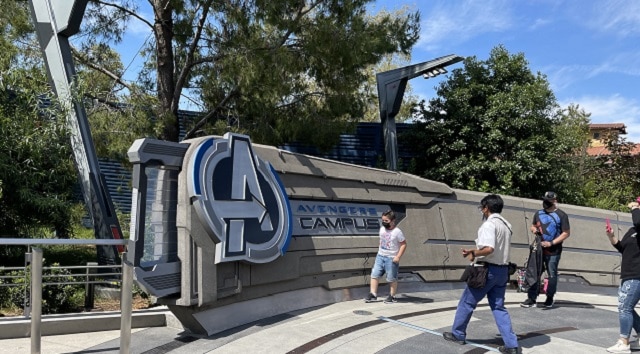 Accessing Entrance Into Avengers Campus
Getting into Avengers Campus requires the patience of a well trained superhero as it is not so easy to enter this recruitment location.
Web Slingers A Spider-Man Adventure: Attraction requires guests to join a virtual queue via the Disneyland App. There is no standby for this attraction. The process to join a boarding group is the same as joining the virtual queue for Star Wars: Rise of the Resistance.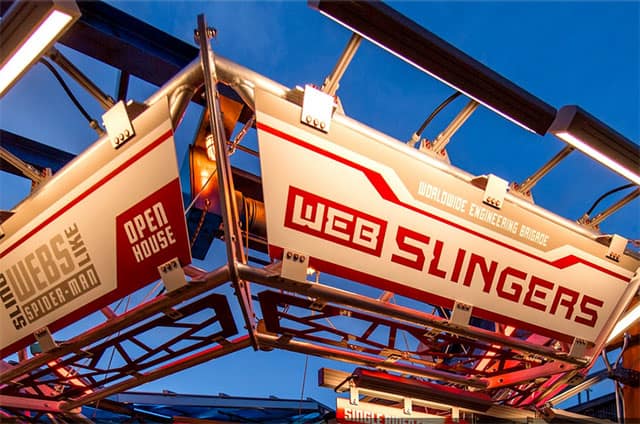 At both 7 am and noon, guests with a valid entrance ticket to California Adventure will be able to access the ability to acquire a boarding group for WEB SLINGERS: A Spider-Man Adventure: Attraction virtually anywhere such as in a hotel room, the car ride or from home.
There are four ways to gain access to Avengers Campus.
1: Arriving Hours Early: Since the reopening of the Disneyland Resort, it has become tradition to arrive early.
Arrive at least 3 hours before park opening. This means between 5:15-6:00 am on the Harbor Boulevard side of the park to guarantee access into the campus when the park first opens. Disney hotel guests gain access before the other security areas open.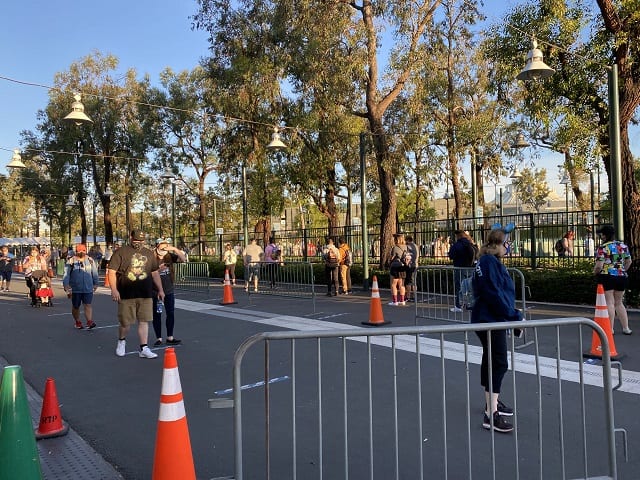 Keep in mind that rope dropping is still your friend as Disney is known to open the park before the opening time listed.
2: Boarding Group: Remember the boarding group that you frantically hoped you would obtain? Well, it has paid off as you are able to enter the land when your group number has been called! Make your way to the left of the land's main entrance along the parade corridor.
If you do not acquire a morning boarding group and you are not in the land before it hits capacity, set your alarm on your phone for 11:55 a.m. to prepare to join at noon. This way you are able to enjoy the rest of the park before your boarding group is called.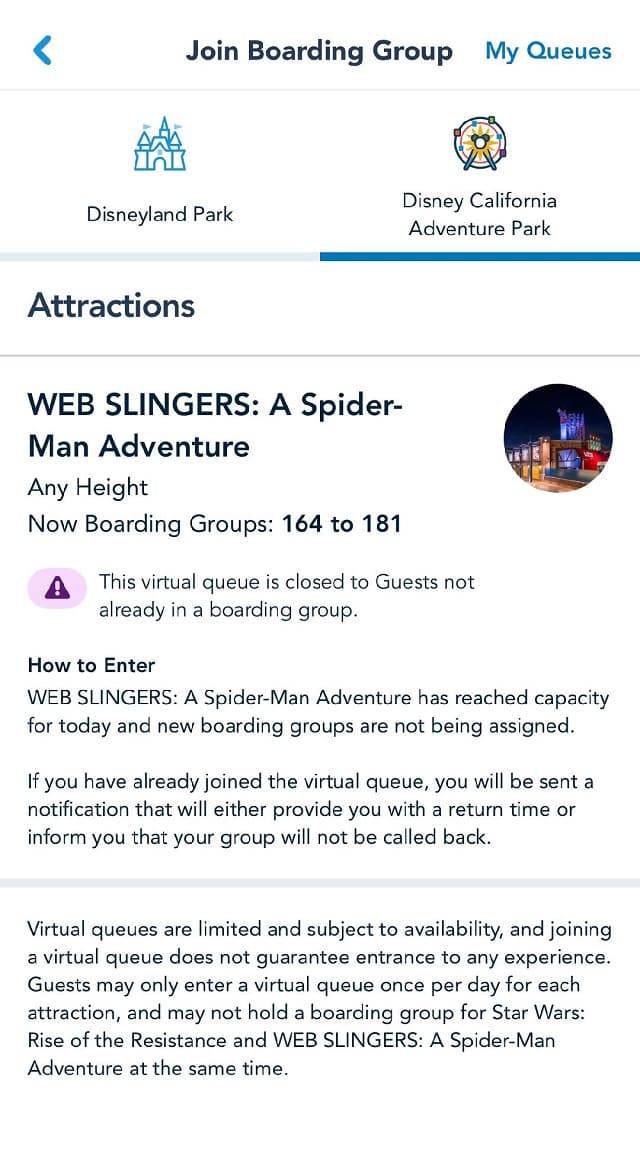 3. Standby Queue: This requires waiting in a standby line waiting to access the parks. As of opening day, this process has been a 3-5 hours wait! If you are familiar with the park, just to give you an idea, the line wrapped past Pixar Pier!
4: Wait Later in the Day: This one is tricky as there is no clear way of knowing when the land has reached capacity. As of opening day, I have only heard of one afternoon where people were able to walk right into Avengers Campus later in the afternoon.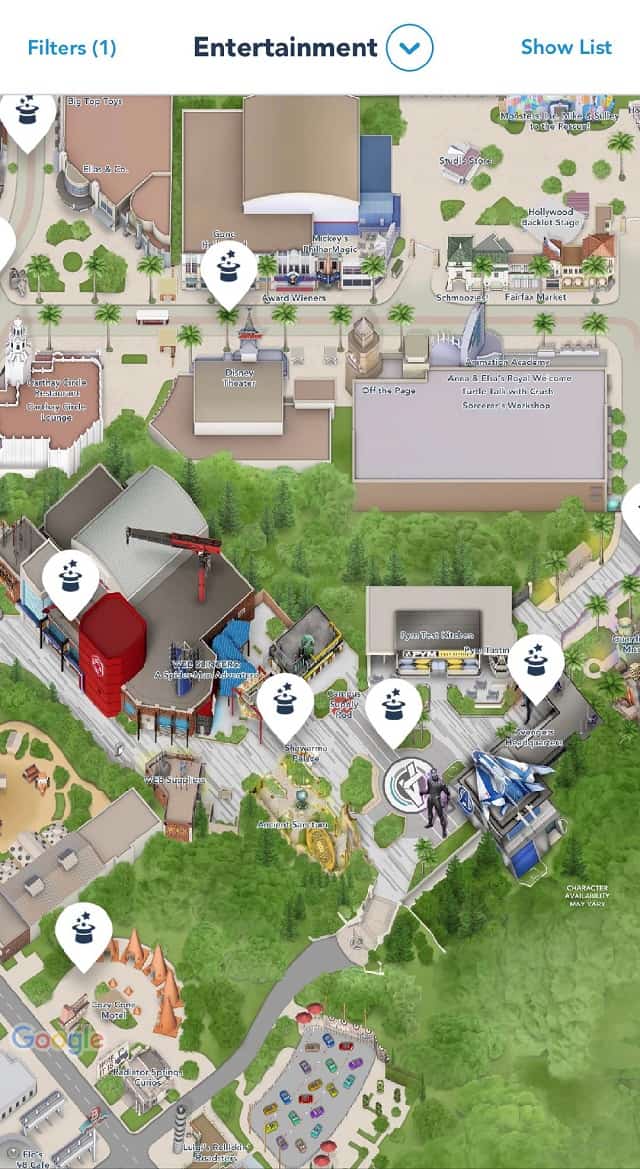 TIP: If Web Slingers runs through all the Boarding Groups, cast members might let standby riders in to ride at the very end. But availability may vary per night.
There are three entrances to access the land: Hollywood Land, Cars Land and the main entrance off of the parade route near the World Worldwide Engineering Brigade (WEB).
As of now, the main entrance is the only entrance and the others are exits only.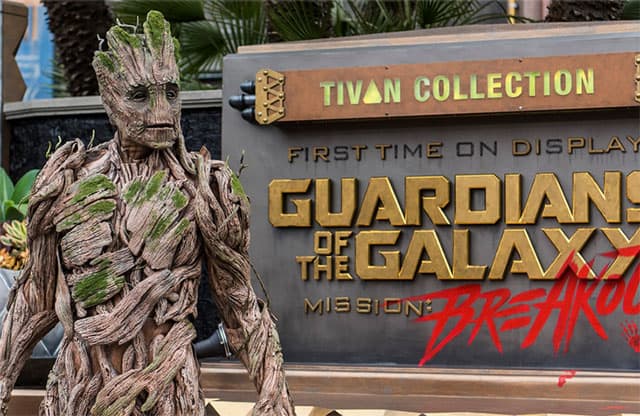 Guardians of the Galaxy is part of Avengers Campus. However, it is not accessible by other park guests when the land hits capacity.
Accessing Food in Avengers Campus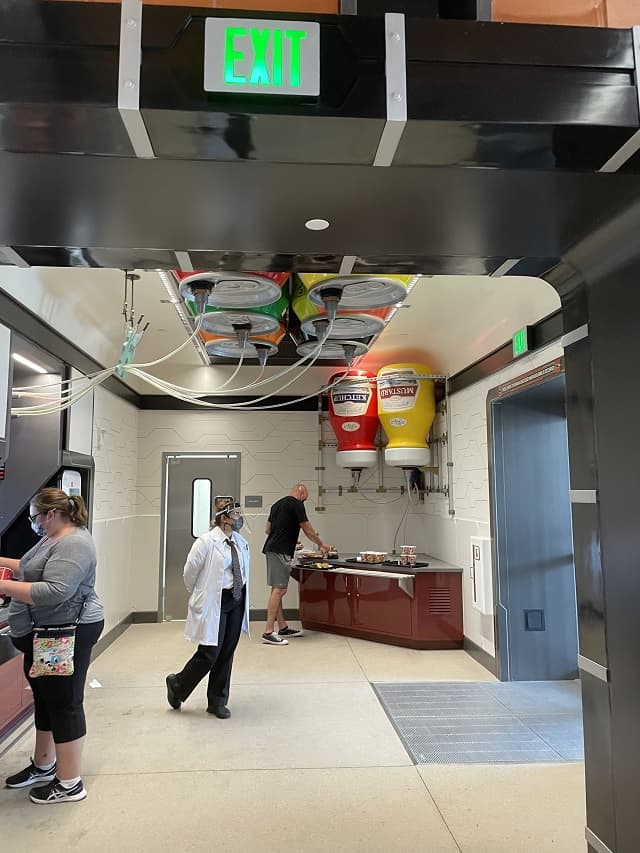 Even before the pandemic, Disney was very much guiding and recommending guests to place Mobile Orders.
This is where Mobile Ordering at the parks at the Disneyland Resort has become quite stressful and frustrating.
For example, say you want to enjoy a Dole Whip. It's best to place the order first thing in the morning as the time slots available will soon book up and you will have to enjoy the rest of the day without your Dole Whip.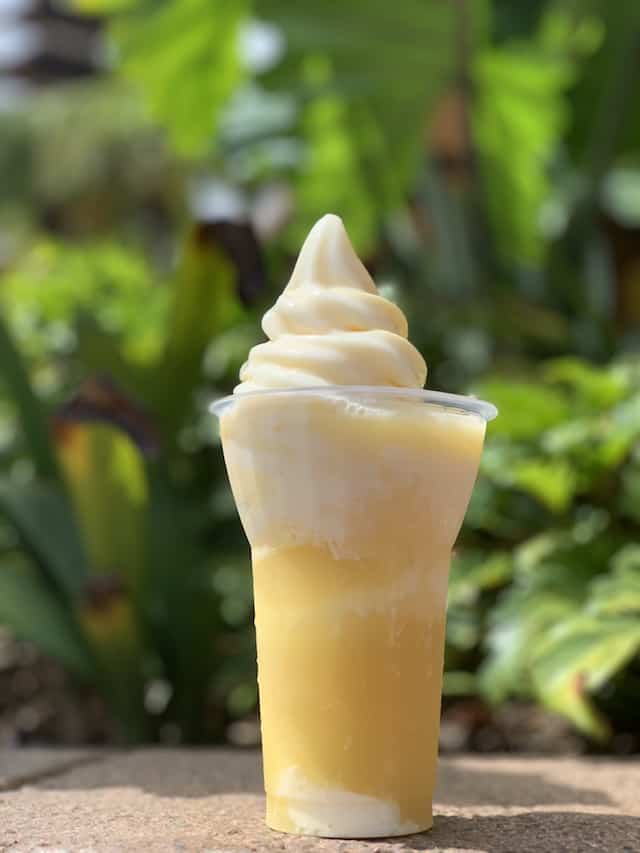 The frustration here is that you are guessing at what point of the day you are going to be hungry and you also have to select ahead of time what you want to eat!
On my last trip to Disneyland, I had to cancel mobile orders because I was not hungry, or more importantly, I was on the other side of the park and it would take would take time and dedication to pick up my order!
The same can be said for mobile ordering at Avengers Campus!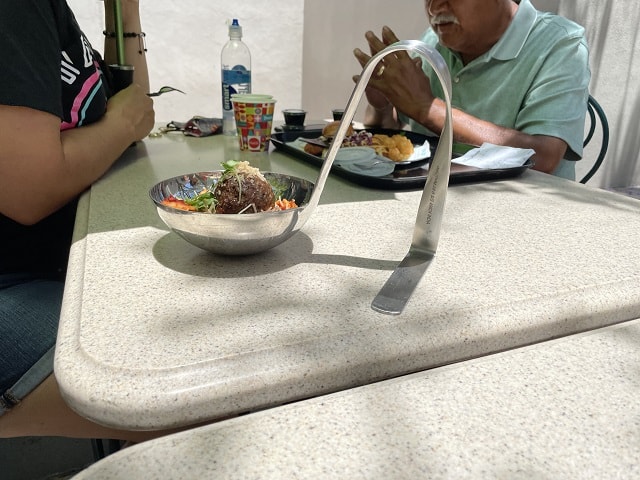 Mobile Orders may be offered on a rolling basis, with only breakfast in the morning and lunch rolling out later. The first windows open for breakfast as soon as the land opens.
I would highly suggest that after you attempt to obtain a boarding group, that you start checking the Disneyland app to see which Mobile Order windows are open.
Tip: People who place Mobile Orders from outside Avengers Campus will not be allowed inside the land to pick up the food.
My advice is to select a window that falls after your entry time into the land. If your boarding group is noon, then I would place a Mobile Order for 1 or 2 pm.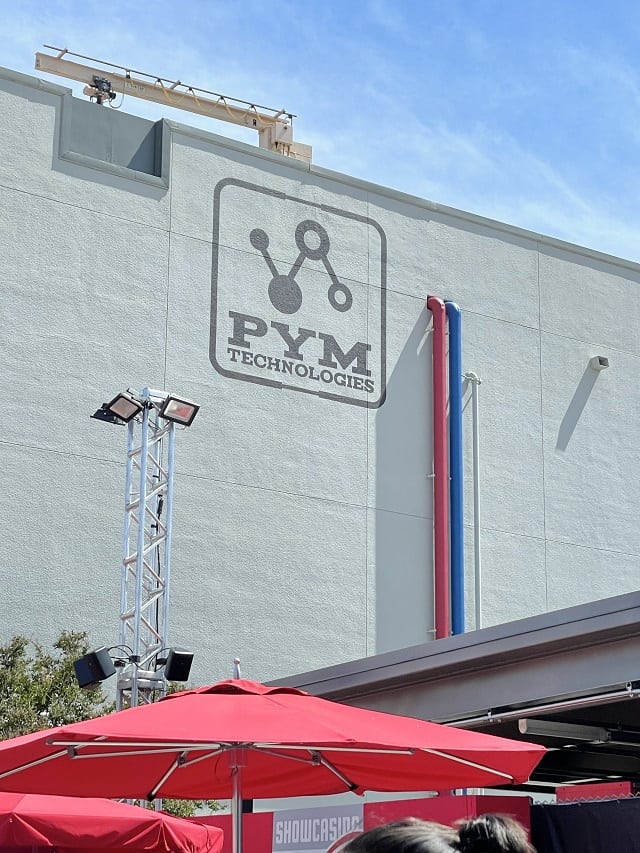 However, this advice would not work if you are in the standby line that may take 3-5 hours to enter the land. In this case, I would suggest placing your order for later in the day.
Therefore, access to the land may affect your meal planning all together!
It will be interesting to see if Disney will change its procedures on orders placed. When the campus first opened, Shawarma Palace was strictly Mobile Order, however, it has now been changed to walk-up only.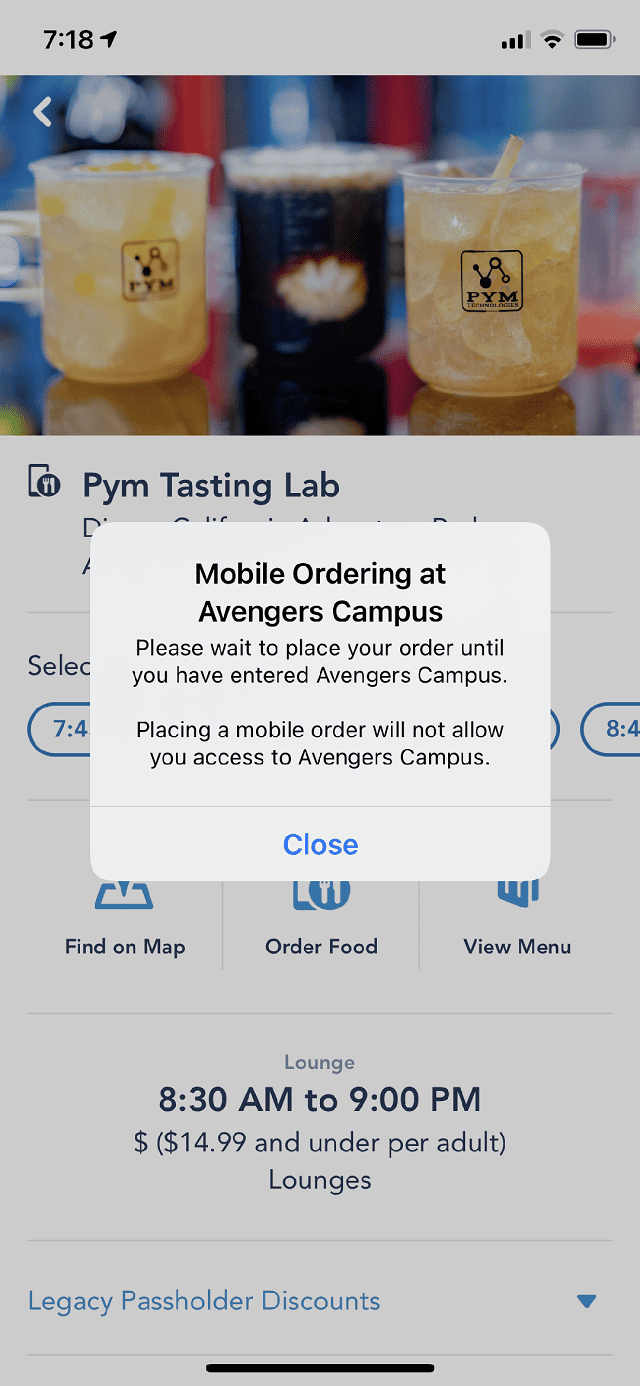 One note to keep in mind is that if you do order your food and cannot get into the land or your plans change, it is VITAL to cancel the order before you tap I'm here, prepare my order as you will be charged for your order and you will not be able to be reimbursed.
Should You Visit Now Or Later?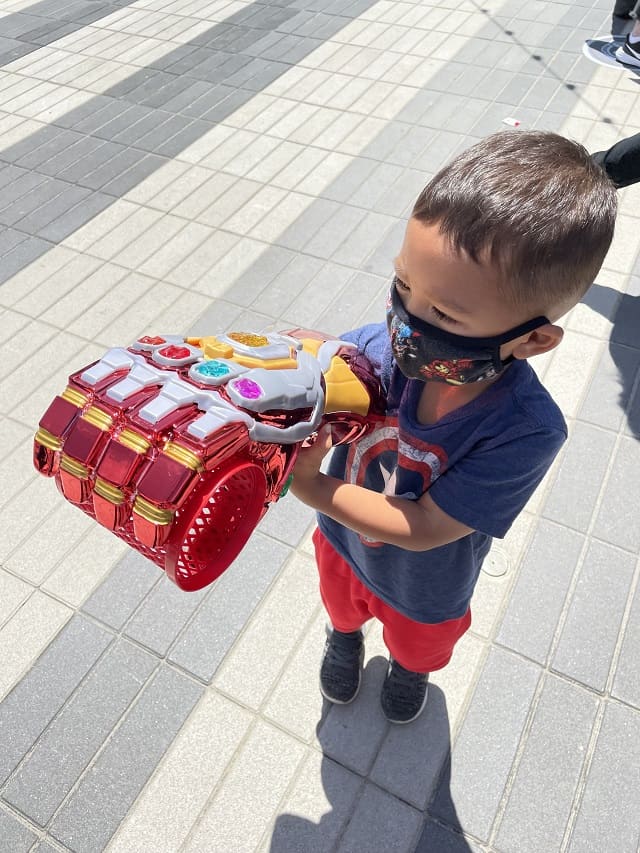 My personal advice is that if you are a huge Marvel fan and do not mind waking up before the break of dawn to make sure that you have access to the campus first thing when the park opens, then go for it!
I am a frantic mess when it comes to obtaining a boarding pass for Rise of the Resistance and I have only been able to be successful two times out of at least six different opportunities. My record is not very good.
I also do not have the patience or the willpower to stand in line for 3-5 hours when I know that I paid for a full price admission park to also enjoy the rest of the park!
Tip: Once you leave the campus you are most likely not going to be able to get back in again!
Friends of ours that visited Avengers Campus the day after it opened informed me that they tried to get back into the campus later at night as they had noticed a Pym's Taste Testing Lab Mobile Order and so they booked it.
When they arrived to the entrance of the land, a Cast Member had them cancel their order because they were only allowing people with a boarding group for the attraction or those that were currently in the stand-by line of waiting for over five hours to get in!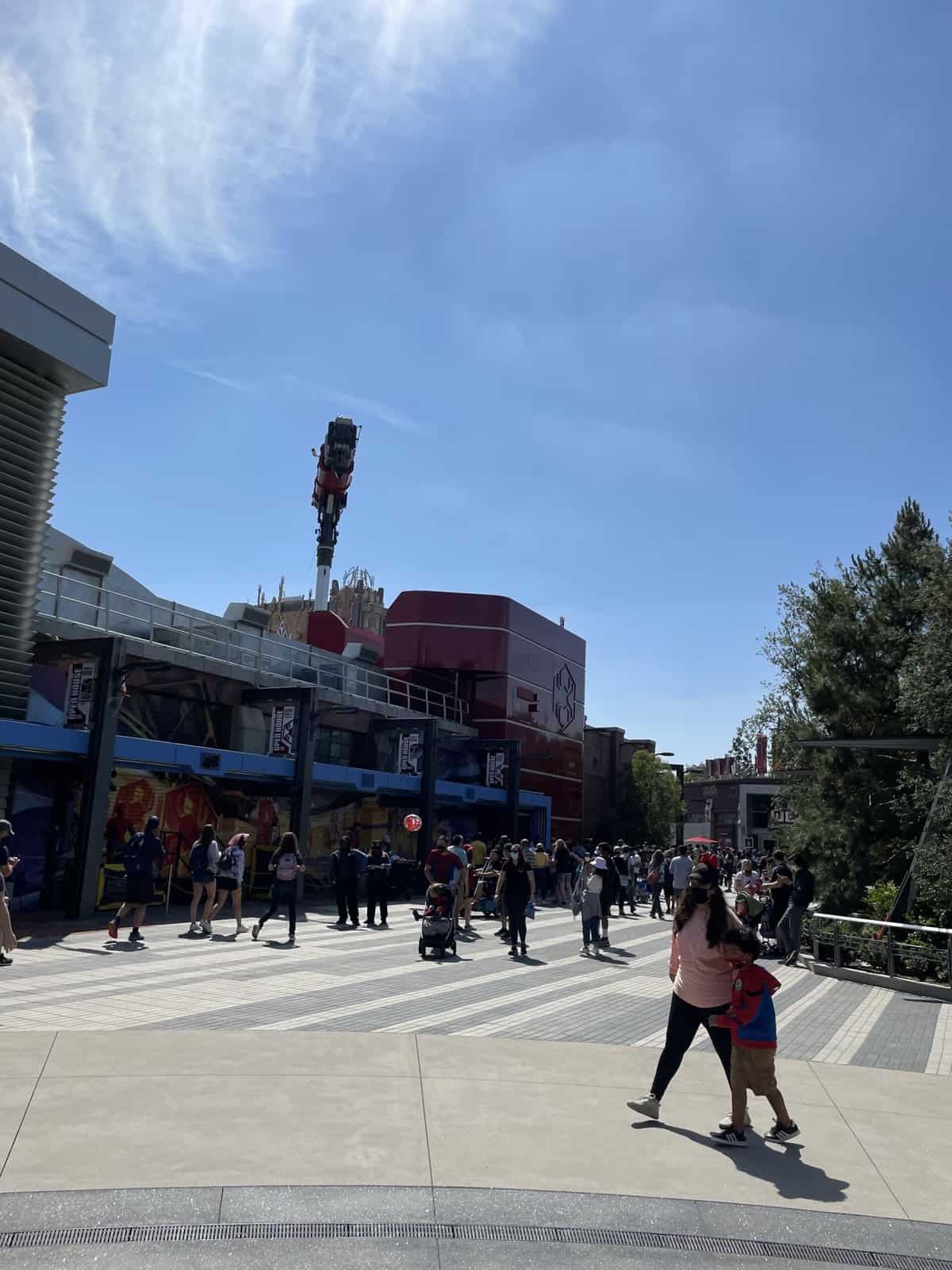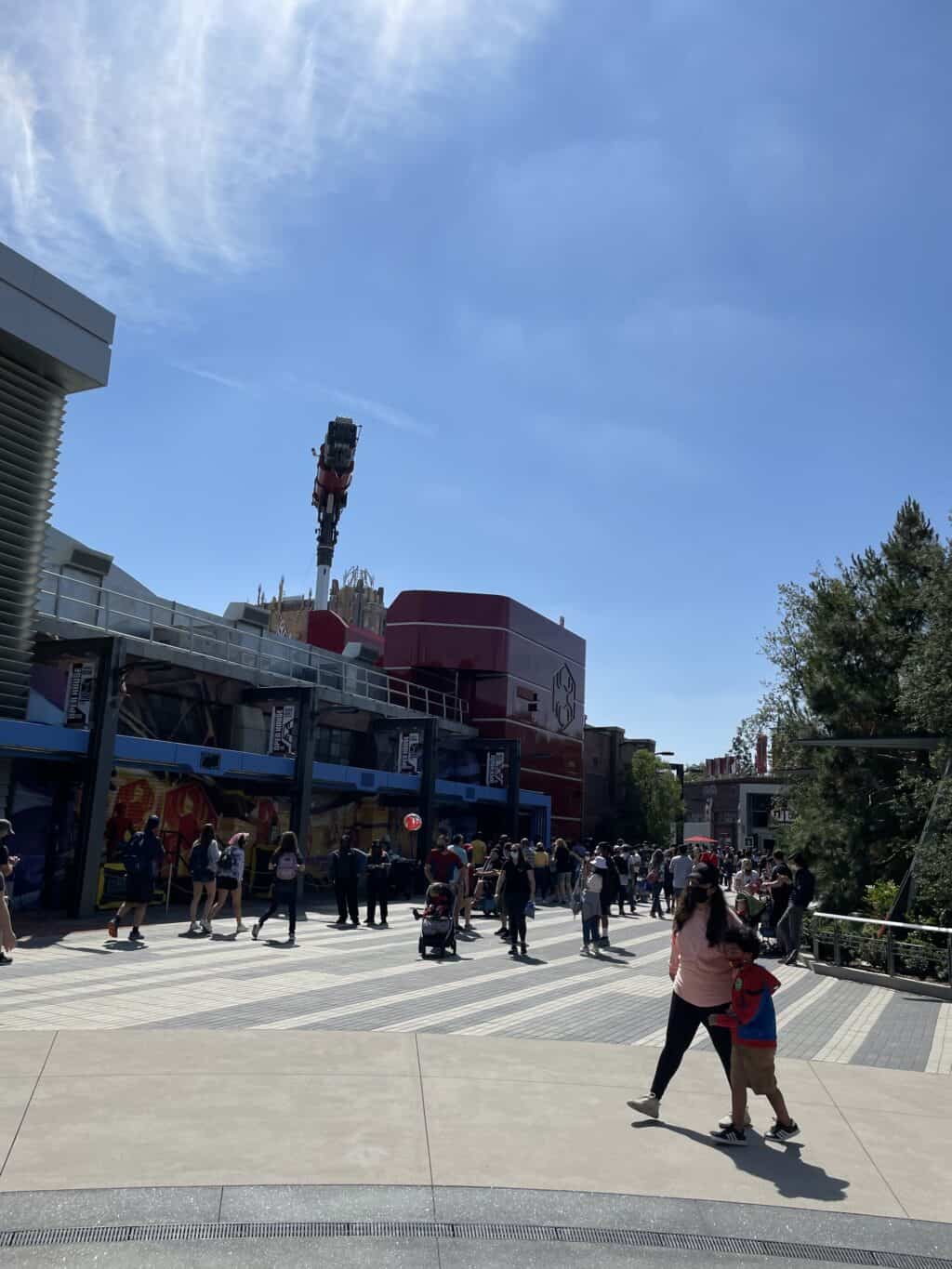 Of course, I'm guessing that as time passes by the standby queue of entering the campus will not be hours on end and you will simply be able to walk right in with no problem or wait.
However, at the moment, that is not what we are seeing as of opening day!
If you want to enjoy the campus at nightfall and you have a boarding group from the ride at 11 am, then you would have to stay in the land the entire day waiting for nightfall and not to mention that you would be quite limited in terms of purchasing food as many of the quick service locations are Mobile Order.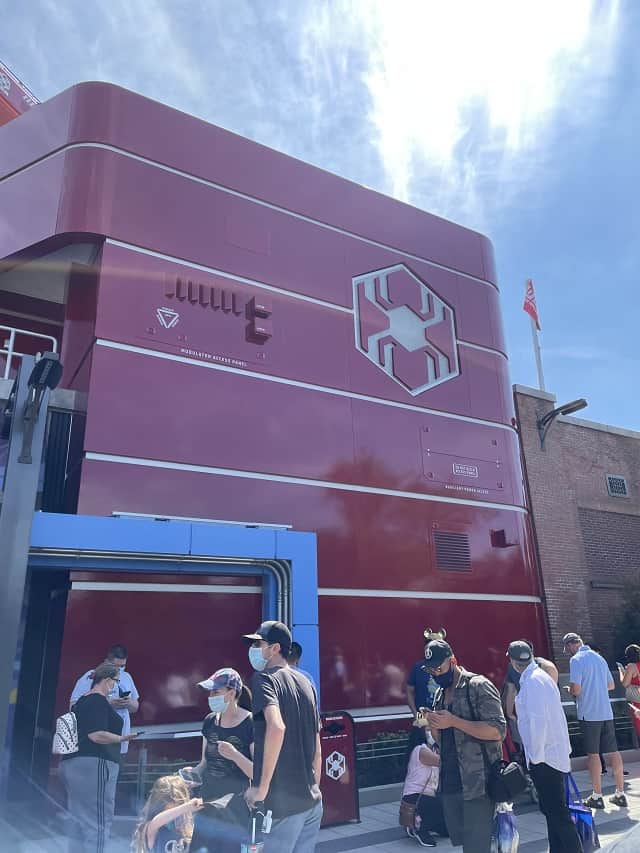 Personally, I will be waiting a little bit longer to enjoy the brand new Avengers Campus. I'm hoping that my tricks and tips will help you navigate and enjoy the new superhero campus!
Will you be visiting Avengers Campus soon? What food within the land are you most excited to enjoy? Let us know in the comments on Facebook and in our Facebook group.