Refurbishments are a common occurrence around the Walt Disney World Parks. The newest refurbishment in Magic Kingdom is not only unsightly at the moment, but may also lead to a bit of frustration. Check out this newest refurbishment below.
Refurbishments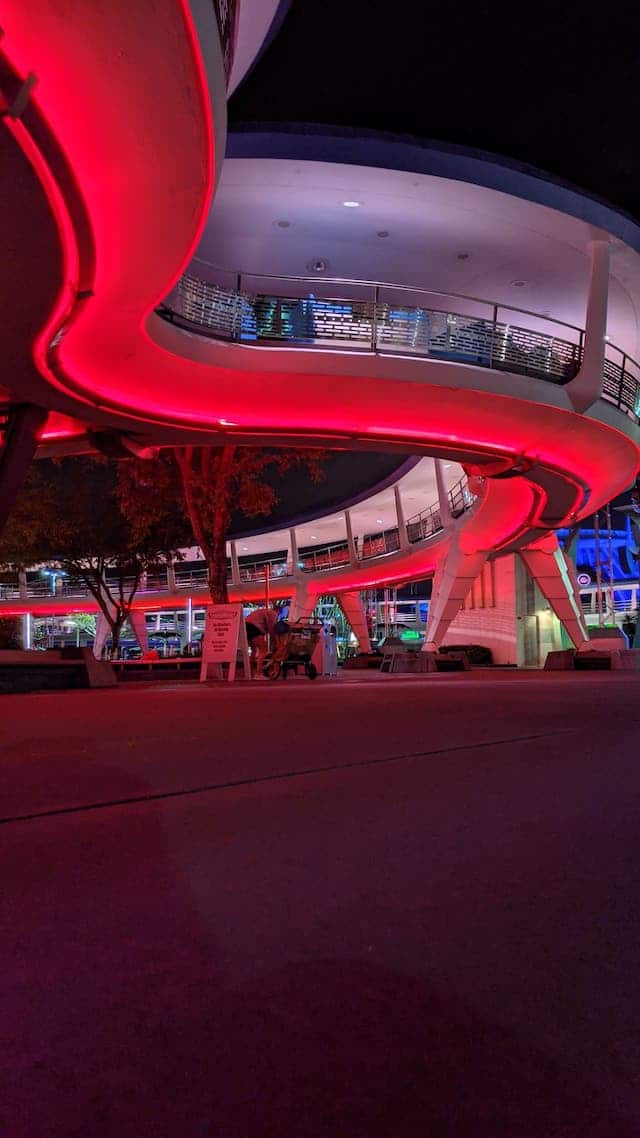 Refurbishment is a dreaded word for Disney fans that will soon be visiting Walt Disney World. In theory, we all understand that refurbishments are a very necessary part of keeping each Park magical. However, it is sad when one of your favorite rides, attractions, or even photo opportunity are affected by an extended refurbishment.
We recently posted a master list of refurbishments found around the Walt Disney World Parks. You can read all about these refurbishments HERE.
We are all excited for the 50th Anniversary celebrations for the Magic Kingdom this year. In preparation for this golden anniversary, Walt Disney World will be completing refurbishments to make sure this event is even more magical.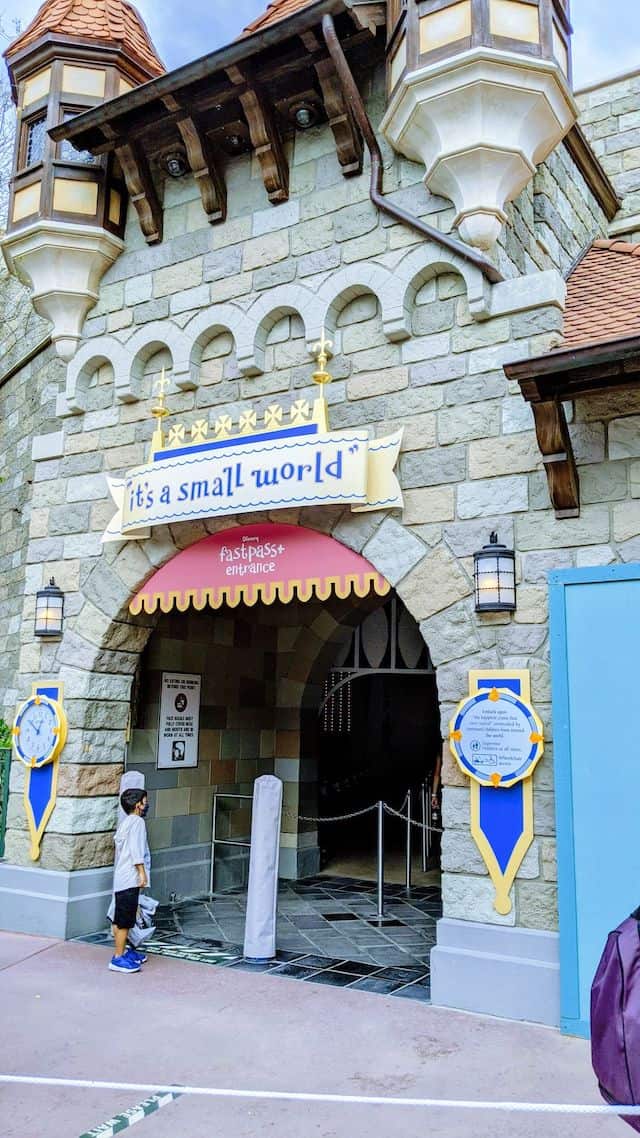 For months, scrim was placed around it's a small world to allow for a refurbishment of the front entrance. Guests were still able to enjoy this timeless attraction during the refurbishment. Guests loved the BIG reveal as the scrim was removed. Check out the new look to it's a small world.
Cinderella Castle received a royal makeover mixed with missed reviews. We visited in July and found that this was really a great big paint-by-number project.
Recently a scrim was partially installed at the front entrance to the Magic Kingdom around the the Walt Disney World Railroad Station. This is usually the first stop for families to take photos at before entering the Magic Kingdom.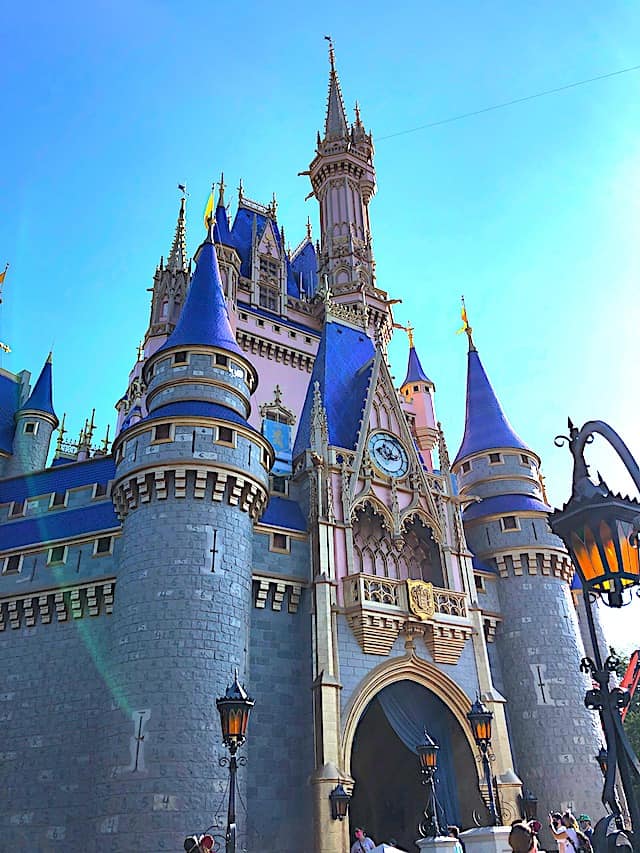 This is such a magical photo location complete with a seasonal array of fresh florals forming the iconic Mickey Mouse head image. Guests are still welcome to take photos at this location, but it will look quite a bit different. Check out photos of the Walt Disney World Railroad Station refurbishemnt HERE.
Peter Pan's Flight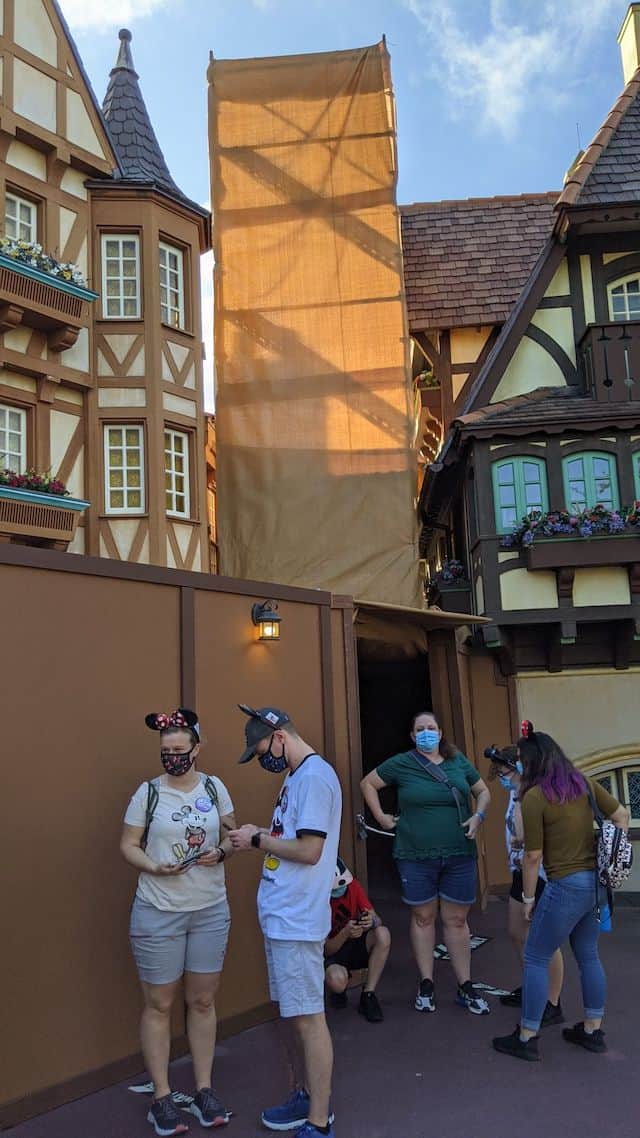 Guests wishing to take flight on Peter Pan's Flight in Fantasyland will find a new refurbishment underway. Currently, walls have been installed and a large scrim has been put in place at Peter Pan's Flight. This opening day attraction will receive a fresh coat of paint similar to the refurbishment at it's a small world.
The unsightly scrim is not quite so magical. Soon a new overlay will make this somewhat "blend in" to the surrounding Fantasyland. The real concern for Fantasyland Guests is the congestion that this may cause.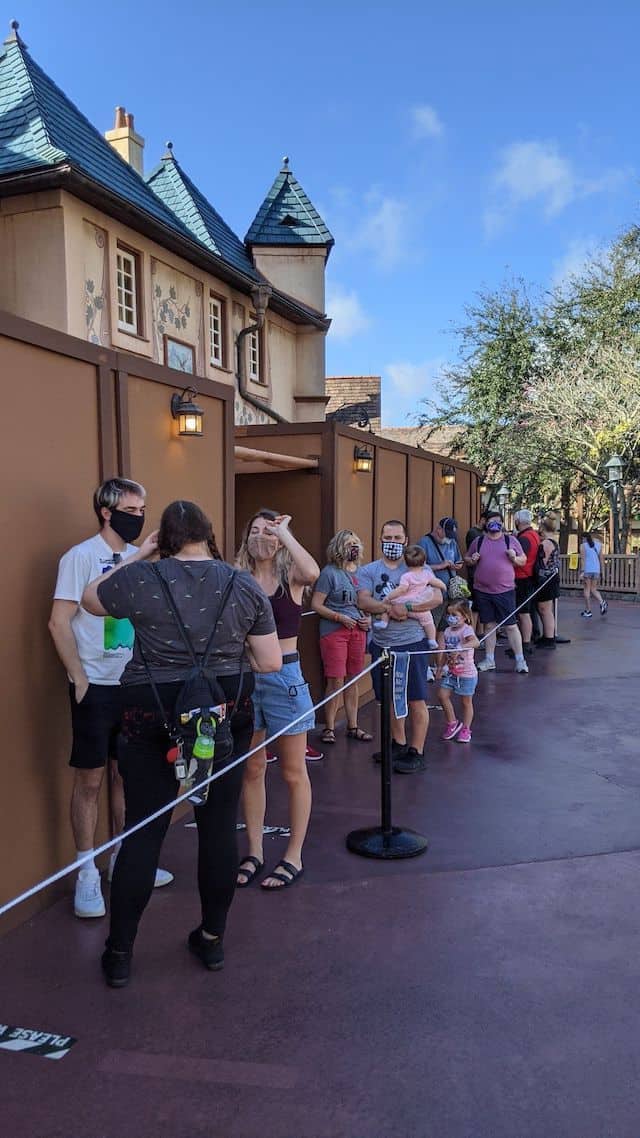 The queue for this attraction now extends through Columbia Harbor House when needed. One of our KtP writers visited Magic Kingdom yesterday. She shared that she was able to quickly move through the queue in the Columbia Harbor House. In about 15 minutes she was ready to take flight with the help of a little Pixie Dust.
During the it's a small world refurbishment, Guests encountered traffic congestion due to the construction walls and scrim. The construction walls for Peter Pan will also create congestion for Guests.
These photos were taken around Park opening. Our own Kenny the Pirate predicts that around 10:30am this area will be a bit difficult to navigate through.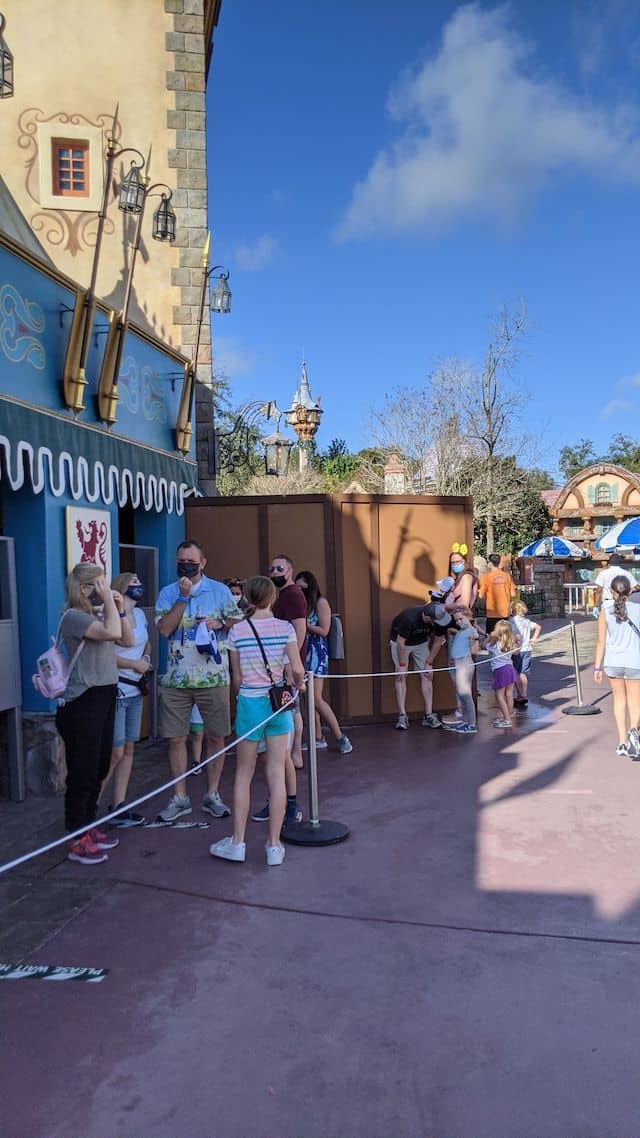 The refurbishment for it's a small world lasted 6-8 weeks. Unfortunately, these new construction walls around Peter Pan's Flight may be around for just as long.
New construction walls around Peter Pan's Flight will make navigating through Fantasyland a bit difficult.
What do you think of this refurbishment? How do you think this may affect your future touring plans? Share your thoughts with us on our Facebook Page.