Check out all the details on the Disneyland survey asking guests what they would like to see going forward for ticket options.
Were you disappointed when Disneyland announced they were ending the Annual Passholder program? Now, Disneyland is considering replacement options. Read what we've learned so far below.
Disneyland Passes Cancelled
Disney World is selling Annual Passes to a select number of guests. You'll find all the details here, including seeing who is eligible to purchase an annual pass. Unfortunately, Disneyland discontinued its Annual Passholder program.
Disneyland President Ken Potrock sent a letter to Disneyland Annual Passholders. After 40 years of offering Annual Passes, he shared the heartbreaking news of the programs cancellation. To see all the details, please read our recent article on the Annual Pass cancellation here.
Passports and sunsetting the current Annual Passport program due to the continued uncertainty of the pandemic and limitations and expected restrictions around the reopening of our theme parks.

Letter from Disneyland President, Ken Potrock
Annual Passholder Discounts
Annual Passholders who held active Passports as of March 14, 2020 will continue to receive applicable discounts, based on their Passport type. Also, this includes merchandise and food and beverages at select Downtown Disney District and Buena Vista Street locations.
In addition, now through February 25, 2021, these Passholders will receive a 30% discount on select merchandise at select locations in Downtown Disney District and Buena Vista Street, Monday through Thursday. For more details, visit Disneyland.com/APSpecialOffers.
Survey Details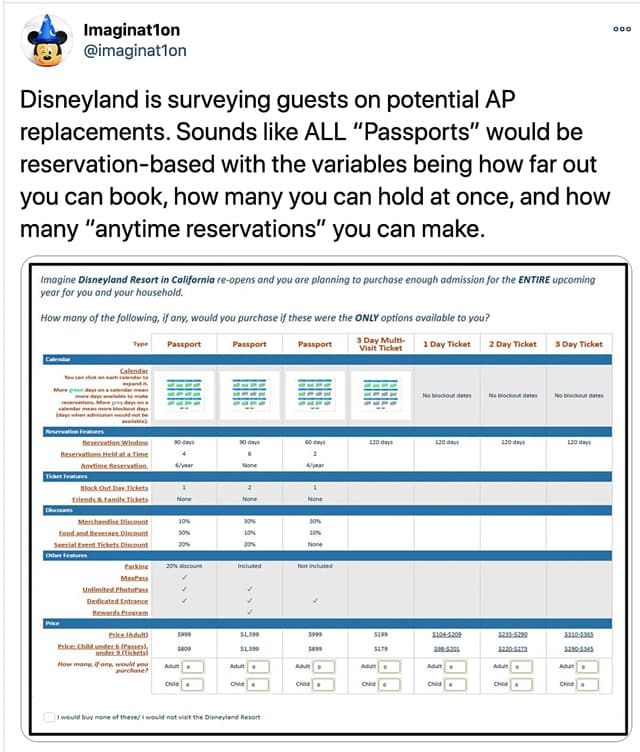 According to @imaginat1ion's tweet, Disneyland Resort is surveying guests about future passport options. According to the survey, all options would require a park reservation. This is not surprising, given park capacity limits at Disney World and other public places. For a step-by-step guide on creating Disney World park reservations, check out our article here.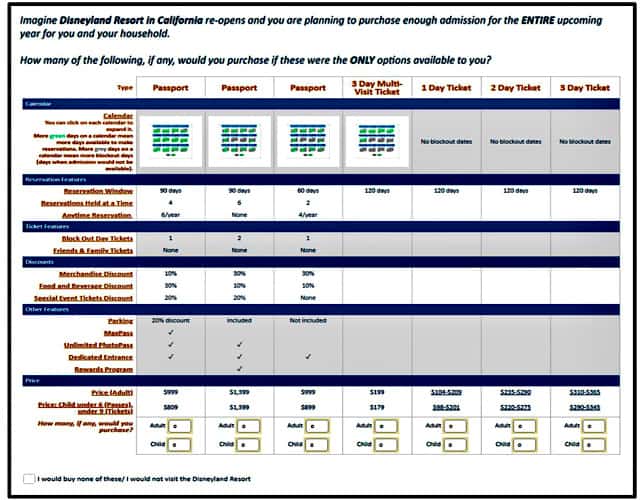 According to the above chart, there are 3 Passport options in the survey that include limited access. Based on Passport type, guests could book either 120, 90, or 60 days ahead of time. Also, merchandise, food, and special tickets give variable discounts. Prices of passports range from $999 to $1,399. Lastly, looks like Passports could contain black out dates.
What are your thoughts on Disneyland survey options? Do you think this will affect Disney World Annual Passes? Please share your thoughts with us on Facebook to continue the discussion.
Source: @imaginat1ion