Need a giggle? Here are 10 times Universal Orlando's Twitter had us laughing in 2020.
@UniversalORL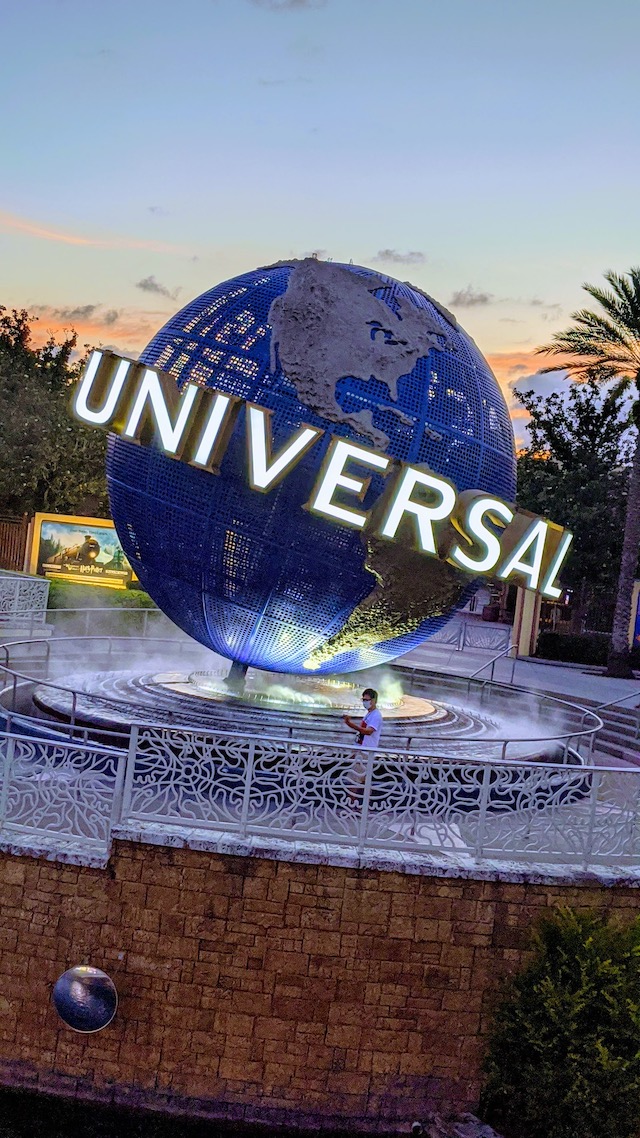 Every time I head over to Universal, it feels a little like cheating on Mickey. But, let's face it, there are a few things Universal does a little bit better than our beloved mouse.
One of the areas where Universal is super savvy is social media account management. Universal's Twitter is usually good for a giggle.
Oh, sure there was that one time @DisneyParks tried to make "Fetch" happen via Twitter. They snuck it into a post about the new Reigning Cats and Dogs Collection. (P.S. Disney, if you are reading this, we'd like a cats spirit jersey, please!)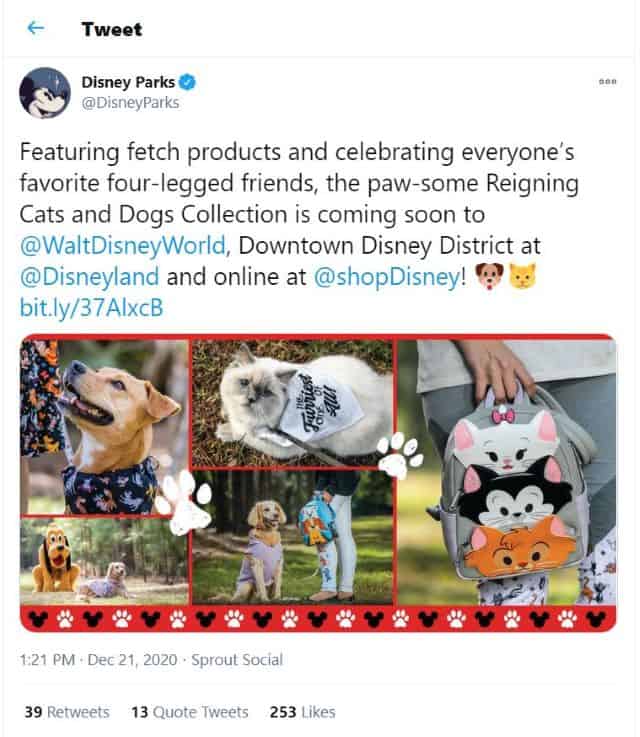 And while we love them for it, it is rare for them to be super funny. We surely wouldn't consider Disney our Twitter Laughing Place.
Goodness knows we all probably needed some laughs! And, Universal Orlando's Twitter stepped in time and time again to fill the bill! Here is a round up of 10 times Universal Orlando Resort's Twitter (@UniversalORL) made us giggle in 2020.
10. The Time They Had the Best Response Ever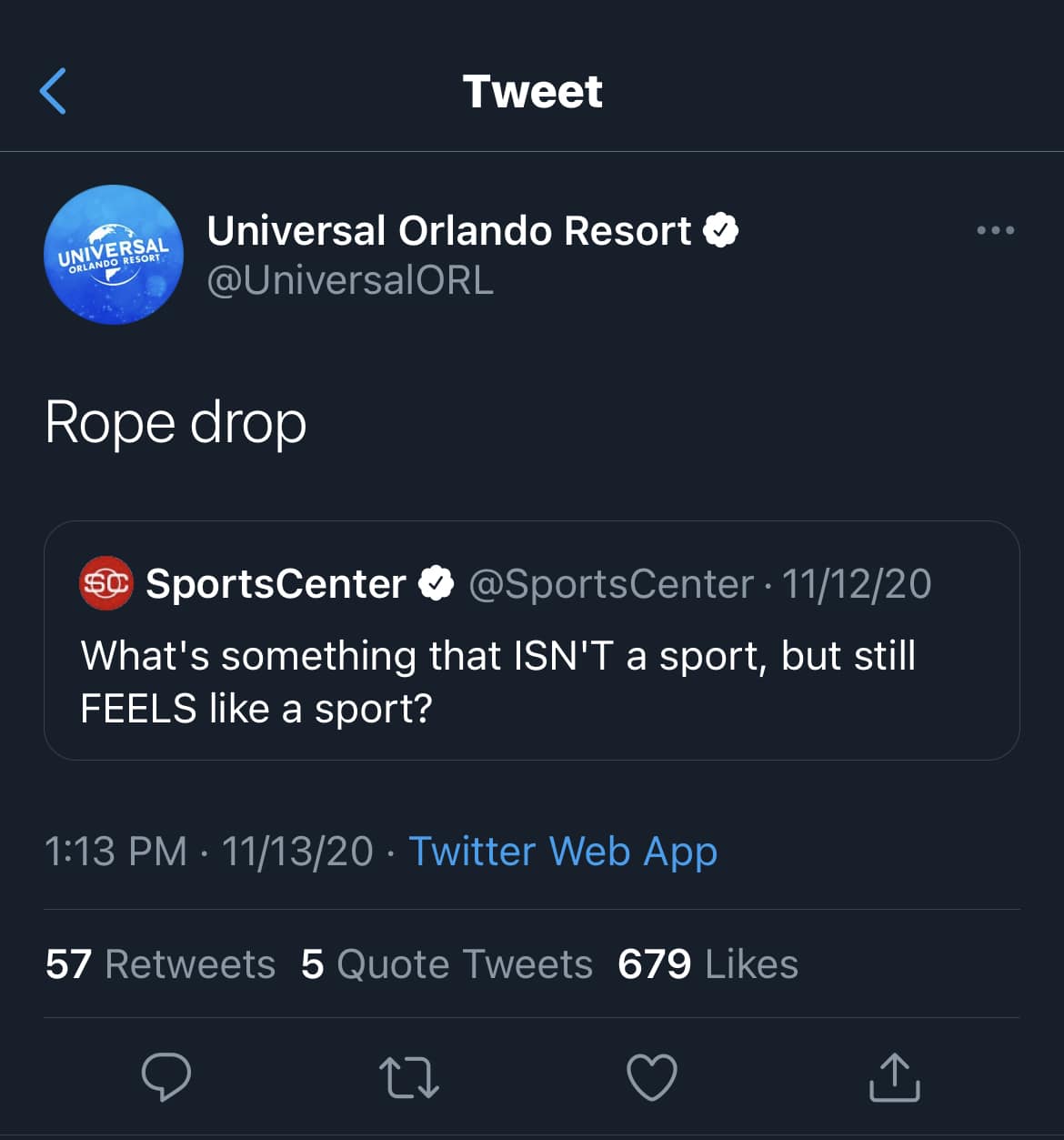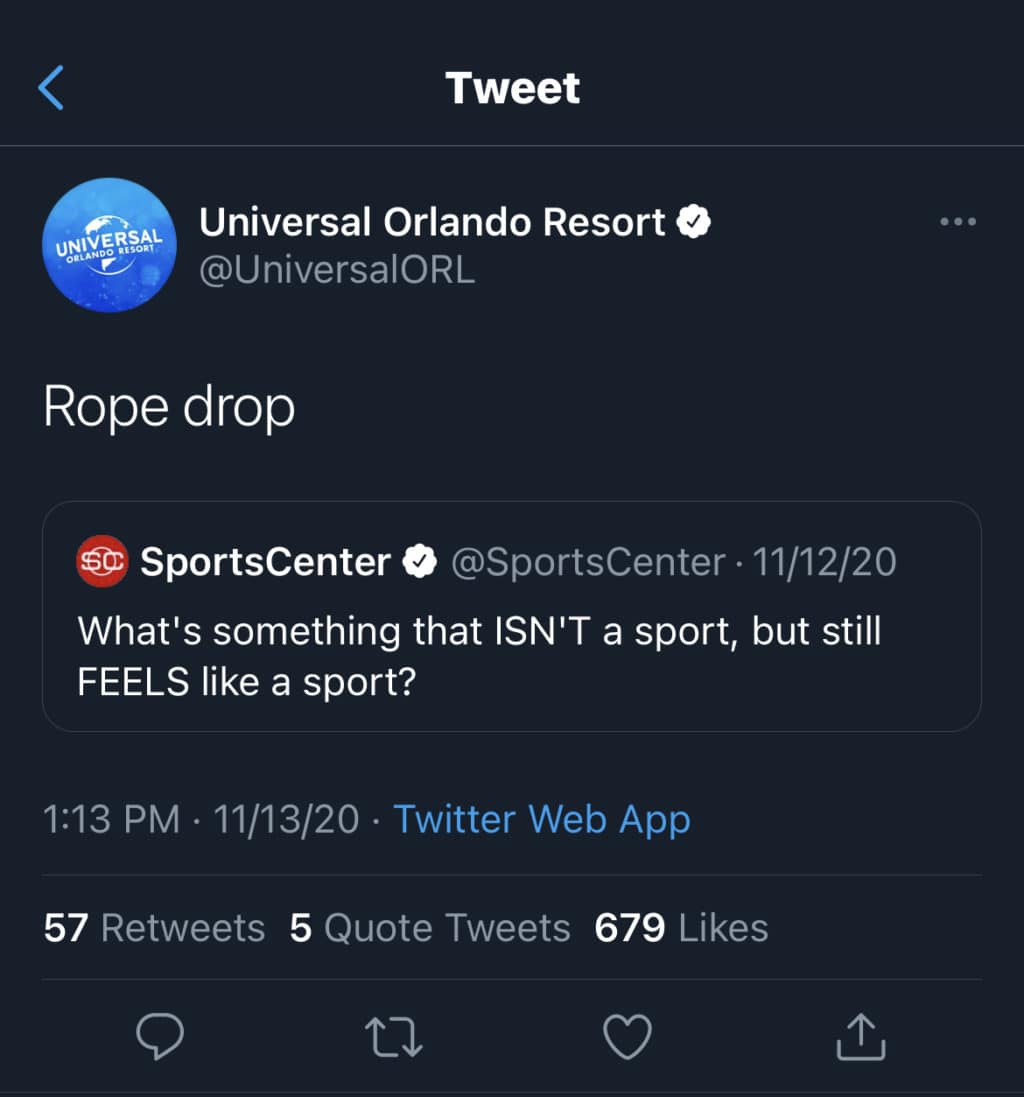 Sports Center asked fans to name something that isn't a sport but still FEELS like a sport. @UniversalORL replied: Rope Drop.
They say Rope Drop, but we say MIC DROP. Rope Drop feeling like a sport is a truth and a half!
9. The Time They Gave Us a Spelling Lesson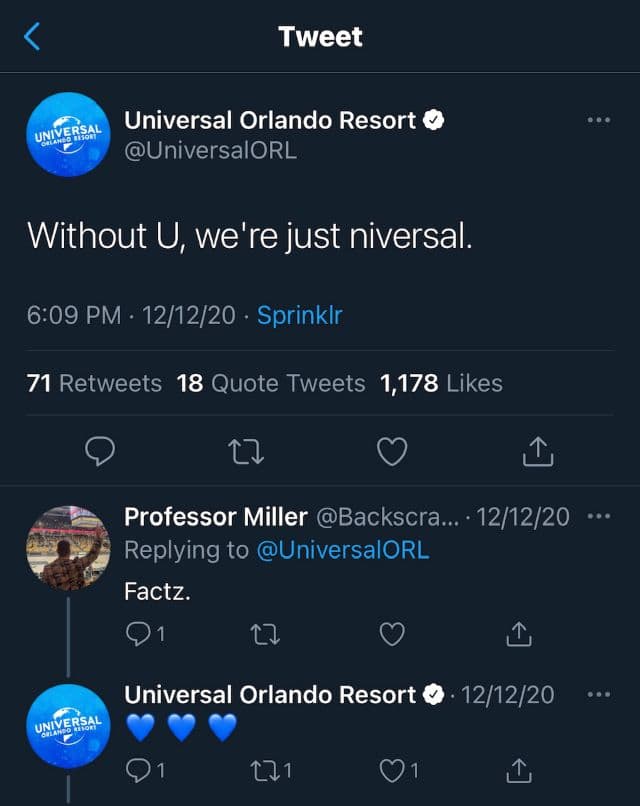 They do have a point. Without "U," they'd just be "Niversal."
But, in all honesty, we'd still go to Niversal. Afterall, the "Btterbeer" would probably still be delicious.
8. The Time They Played Nicely with Their Fans
Over the summer, @UniversalORL posted about a fan favorite snack. Our own KTP writer Rebecca got in on the banter.
She mentioned wanting some theme park nachos. Universal joked with her about the prospect of shipping them. "Sounds Soggy."
She joked that she could come pick them up in person on a planned trip. That's when something unexpected happened!
Universal responded by hooking her up with a gift card! That way, she could nosh on nachos during her trip.
What do we call Universal's version of Pixie Dust? Wizard Spells? Ogre Onions? Troll Fart Glitter? I am not sure, but I like it!
7. The Time They Made Snack Jokes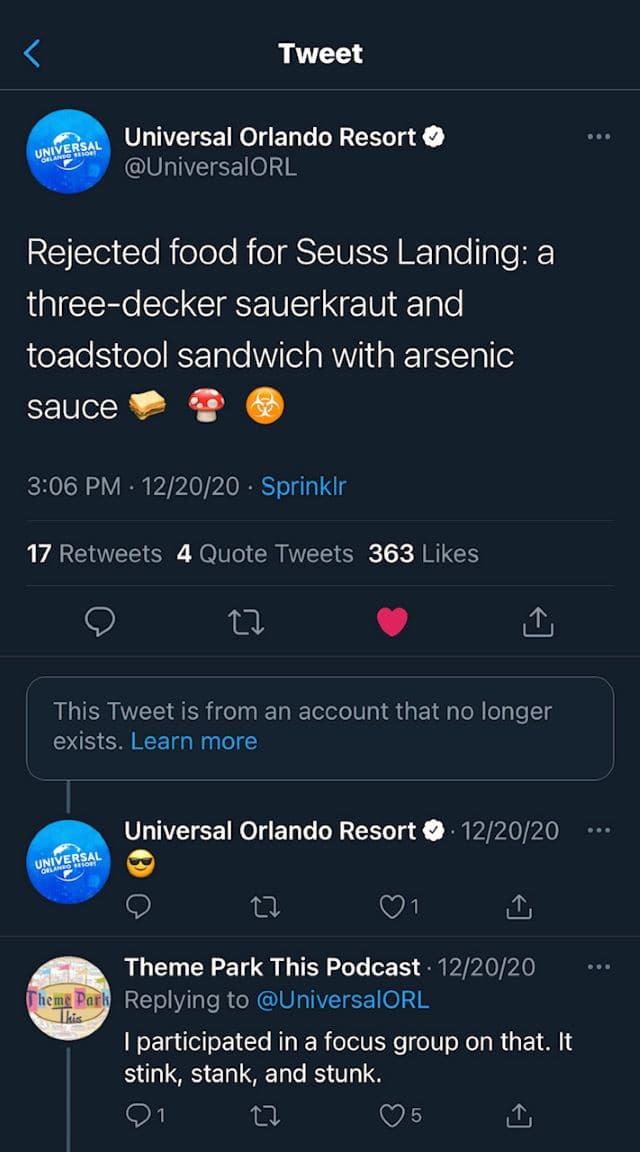 Does anyone enjoy the song lyrics to "You're a Mean One, Mr. Grinch" as much as I do? Apparently @UniversalORL enjoys them enough to conceive of a snack!
Also, peep that focus group comment. It's awesome when the fans get in on the fun.
6. The Time They Dropped Some
Truth Bombs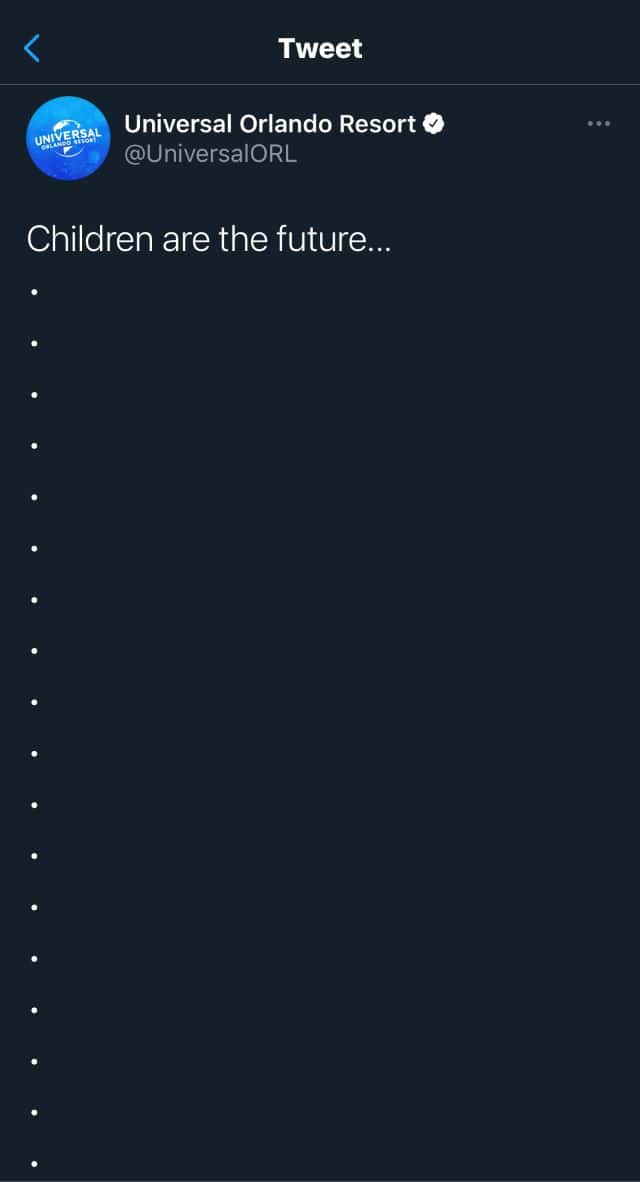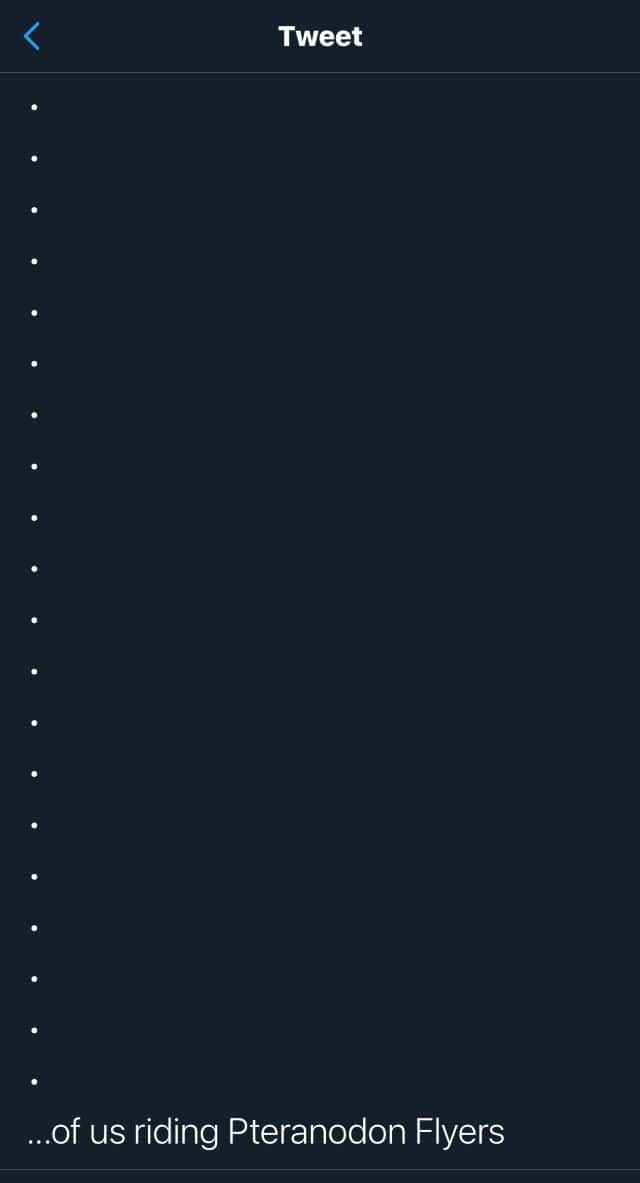 If you are a childless Millennial, you know that there is one huge drawback to traveling sans children. That's right. You cannot ride Pteranodon Flyers without them.
For those that don't know, this is Universal's ride where you can soar through the air with the aid of a Pteranodon. It sounds glorious. Thanks, Universal, for rubbing some salt into that papercut.
5. The Time They Got in Our Heads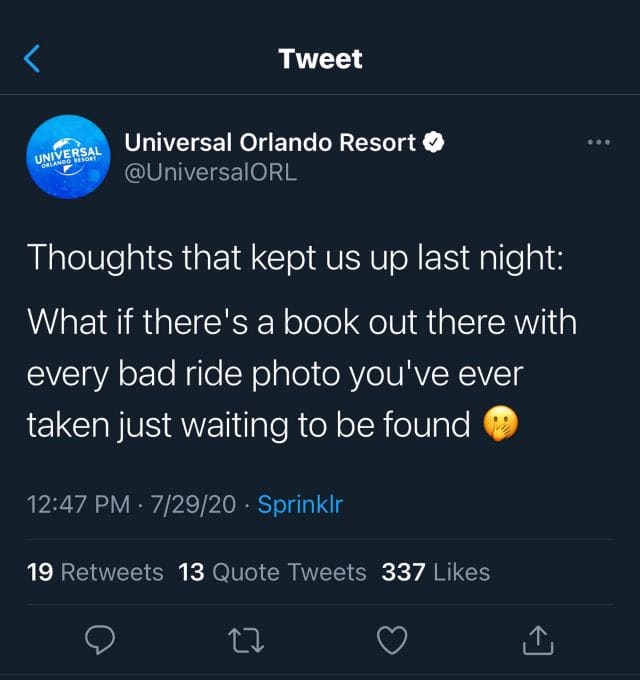 Well, if you didn't have something to have nightmares about, you do now. Every bad ride photo in one spot? Wouldn't that be a doozy!
But wait! Wait! Imagine if they threw in all the times you were unknowingly the awkward person in the background of someone else's family photo.
4.The Time the Grinch Took Over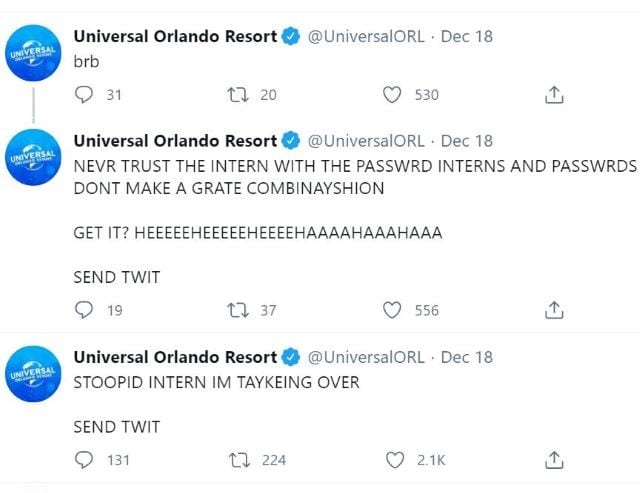 When the account manager stepped away, his shoes were filled by someone large and green and grinchy. That's right. The Grinch took over Universal Orlando's Twitter!
He insulted the intern and his lack of care with account passwords. Then he proceeded to send Tweets that all ended with "Send Twit."
As you can imagine, the Universal fans were delighted. And, the account remained in character in response to all of their comments.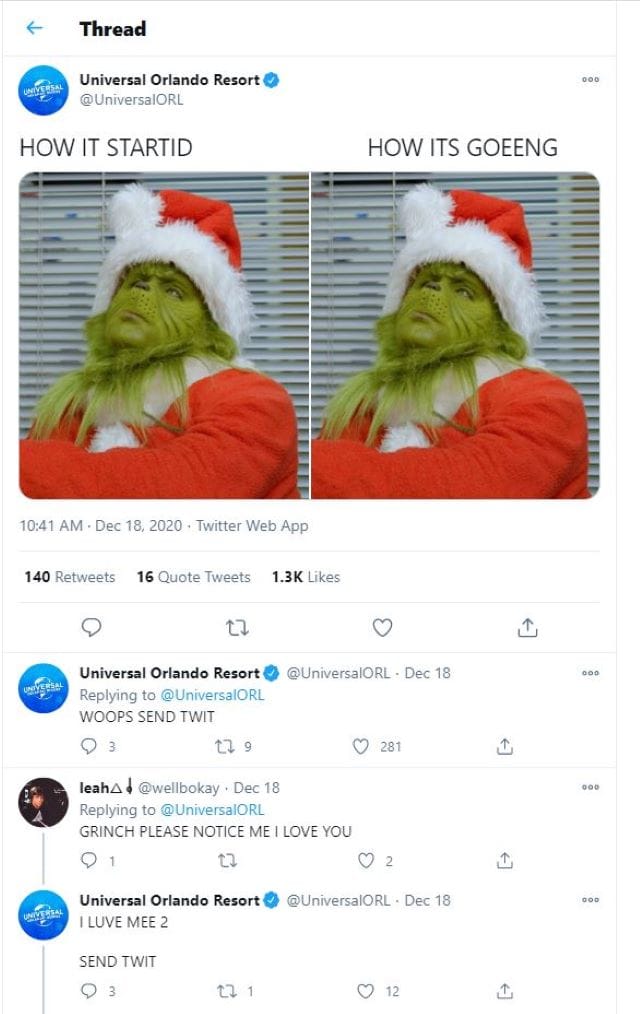 The Grinch Took Over
I Luve You for this, too, Grinch. Even if you are as cuddly as a cactus.
The Grinch continued checking in throughout the day. He had plenty of additional grumpiness to spread.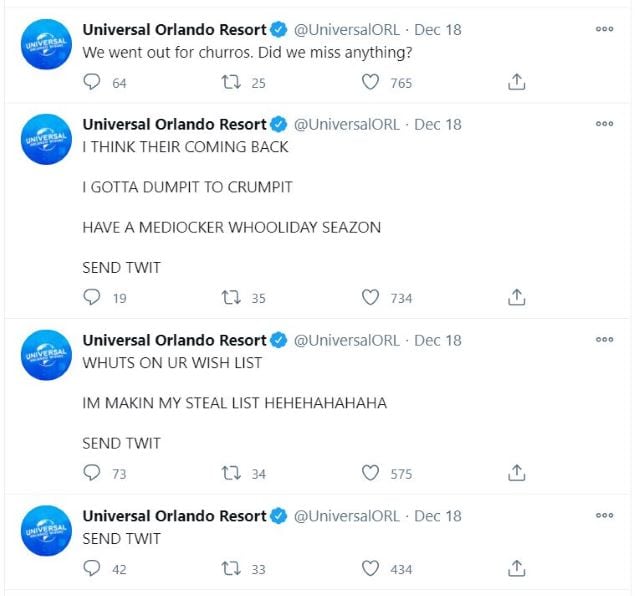 Sadly, he signed off at the sound of the return of the Intern, who had been allegedly off in search of Churros. I am sure the old Grinch had some onions to prepare for a holiday feast and would have departed soon enough anyhow.
We normally love our regularly scheduled @UniversalORL. However, we love the Grinch even more!
3.5 The Time Max Took Over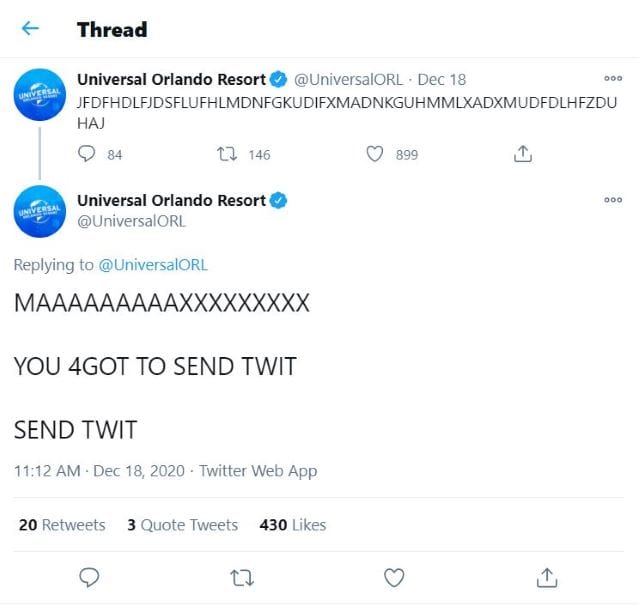 Listen. Sometimes when you are making lists, you just need a half. This is definitely half-worthy.
While the Grinch was running Twitter, MAX, his beloved dog, evidently walked across the keyboard. If pets on the keyboard isn't relatable in 2020, I don't know what is.
3. The Time They Roasted Their Own Tweet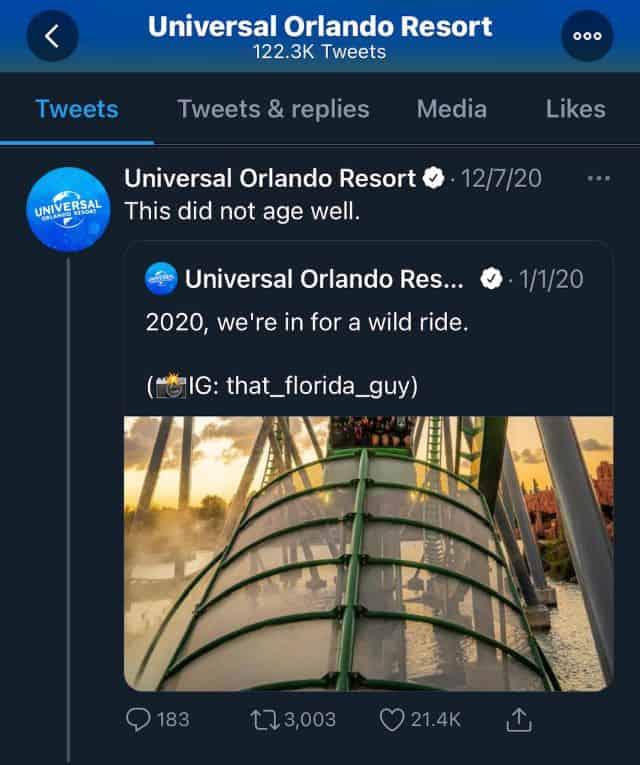 On the Very first day of 2020, UniversalORL put out a Tweet. It said, "2020, we're in for a Wild Ride."
We agree with the reflection upon that Tweet. That did NOT age well. However, it did prove to be quite accurate. Are we SURE Universal doesn't have a time machine?
2. The Time They Found A Silver Lining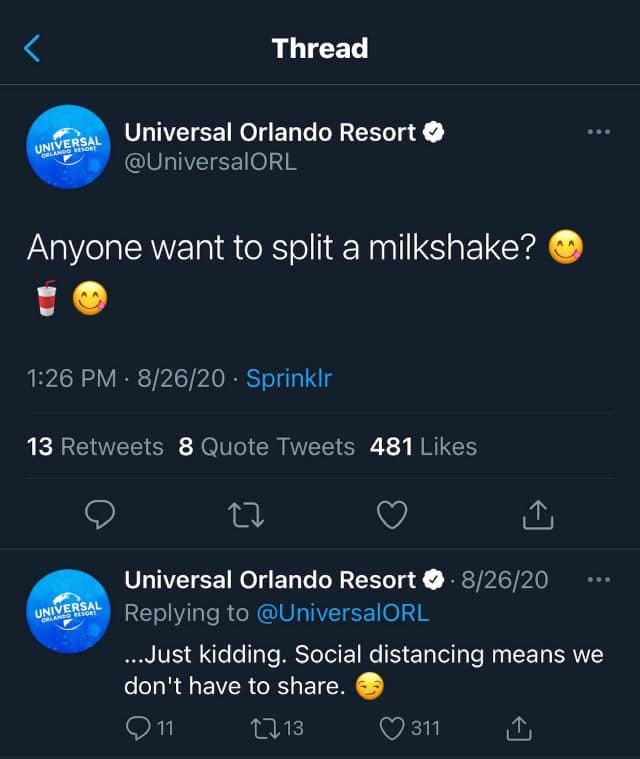 Listen. We know Universal's milkshakes are huge. This particularly applies to the ones at Toothsome Chocolate Emporium that come topped with entire other desserts like cupcakes or slices of pie.
But, we also love having an excuse to have a milkshake all to ourselves. We just need to avoid thrill rides like the Hulk afterwards. Although, I suppose you could go for a spin on Kang and Kodos Twirl and Hurl if you were feeling super literal.
1. Our Favorite @UniversalORL 2020 Tweet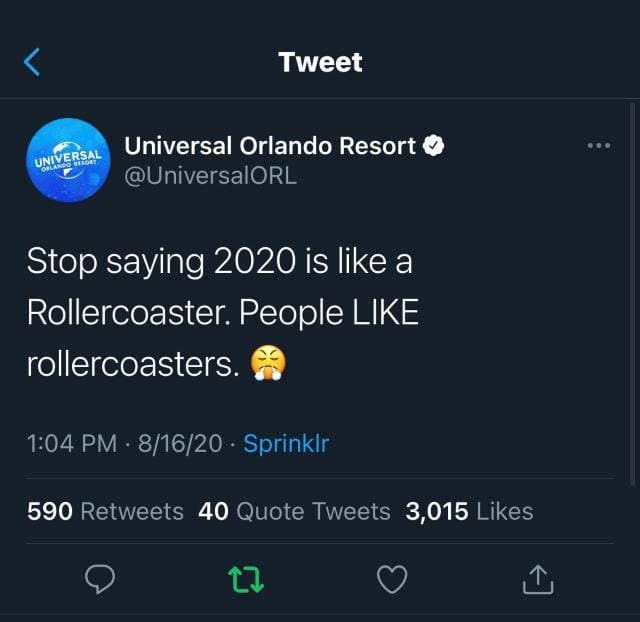 When the world started likening 2020 to a rollercoaster, @UniversalORL responded. What did rollercoasters ever do to be compared to 2020?
By these standards, we agree. 2020 is in fact NOT a rollercoaster.
Anyway, thanks for the laughs, @UniversalORL. We are looking forward to more Twitter fun in 2021!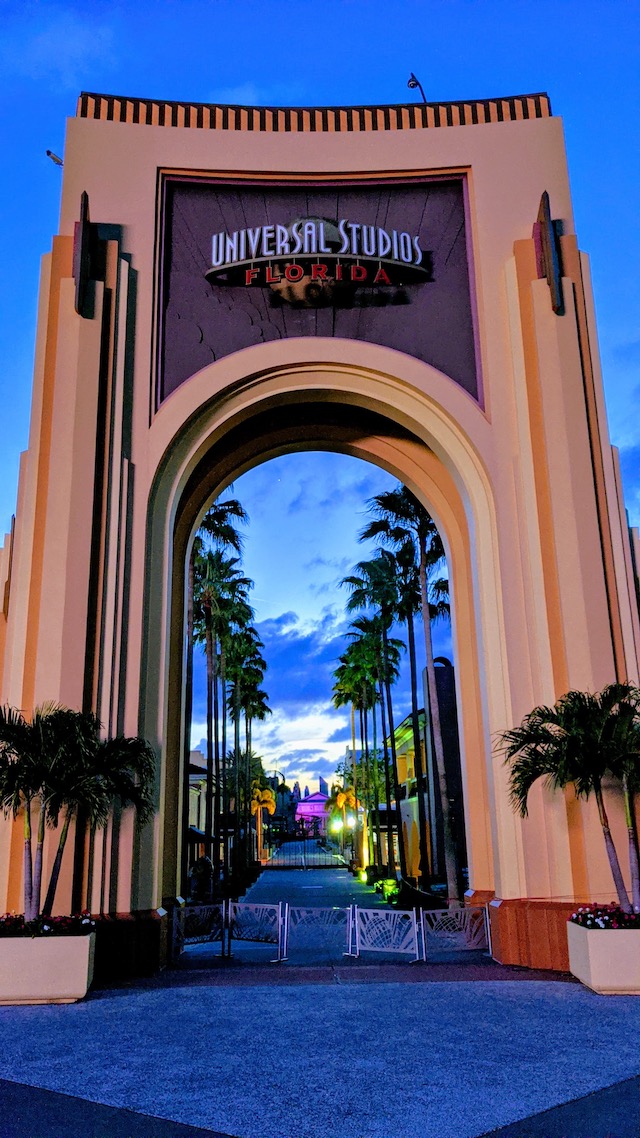 Did we miss any Tweets that made you giggle? Let us know in the comments below or on our Facebook page. Don't forget to keep the conversation going and share them with us in our crew too!
Are you planning a vacation? Reach out to our trusted travel agency sponsor Authorized Disney Vacation Planner
Mouse Class Travel
!