Check out exactly which December Park Pass Reservations have been added, including Christmas for some guests!
Nothing is more magical than spending the holiday season at Disney World. If you've been wanting to visit but haven't seen Park Pass availability, now's your chance to grab the elusive passes.
Theme Park Guest Availability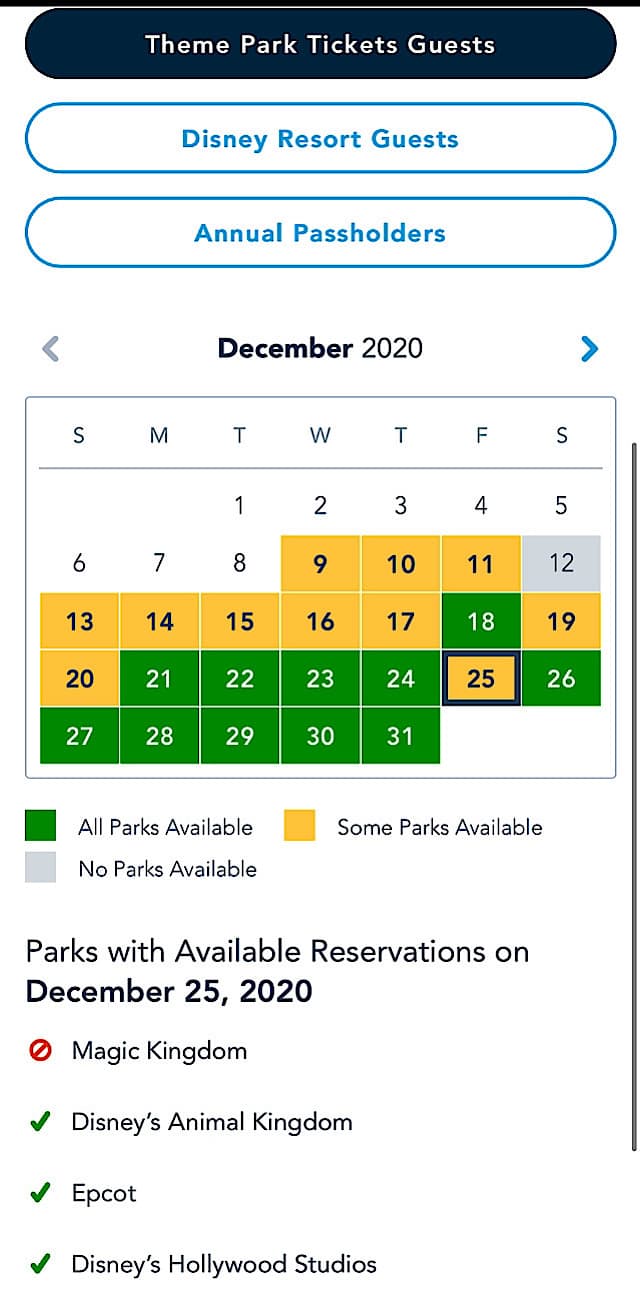 Compared to other Disney Resort guests, theme park guests are have more limited availability for Disney Park Passes. However, check out the My Disney Screenshot below for today's newly refurbished Park Passes. Hollywood Studios is most popular (and has the least days available).
Theme Park guests dreaming of spending Christmas at a Disney Theme Park will need to reserve Hollywood Studios, Epcot, or Animal Kingdom. Also, theme park guests can also snag New Years Eve Park Passes. Magic Kingdom is open until midnight!
Disney Resort Guest Availability
In terms of availability, Disney Resort guests have always had the largest pick of available days. In order to attract guests to stay at Disney Resorts, they lure them in with the promise of Park Pass Reservations. However, Magic Kingdom is totally booked for Christmas Day.
Annual Passholder Availability
To my surprise, all four Disney World Theme Parks, including Magic Kingdom, can make Park Pass Reservations for Christmas Day! I would make that reservation now!
Not only Christmas, but New Years Eve shows availability in each Disney Park now also! Looks like Annual Passholders have received an early Christmas gift!
Remember that Disney has announced there will be no New Year's Eve fireworks or celebrations at Disney Theme Parks. However, check out our recent article on Disney's New Years Eve happenings here.
Are you planning to visit Disney Theme Parks this holiday season? If so, have you already made your Park Pass Reservations? If you've cancelled a holiday vacation, please share your thoughts below or on our Facebook Page.