A new Stitch Interactive Figure, the first animatronic Disney collectible of its kind, is available now! We tested him out for several days, and here are my thoughts on this fun new toy.
Interactive Stitch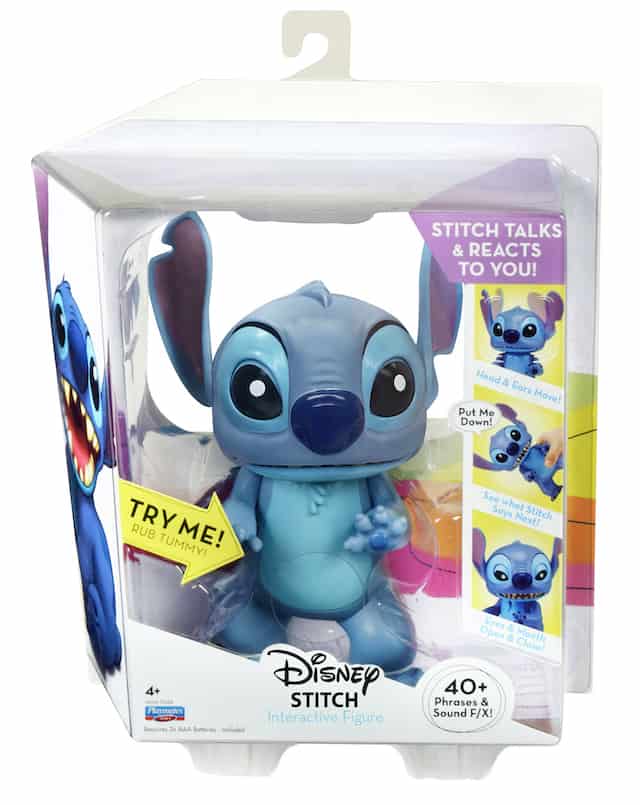 The 6.5-inch Magic Motion Figure from Playmates Toys features over 40 phrases and sounds in Stitch's authentic voice. He also has articulated eyes, ears, mouth and head.
Sensors on the head and belly activate sounds and other effects – Stitch's head, ears and move, and his eyes open and close. An interactive tilt sensor lets Stitch know it's time to play.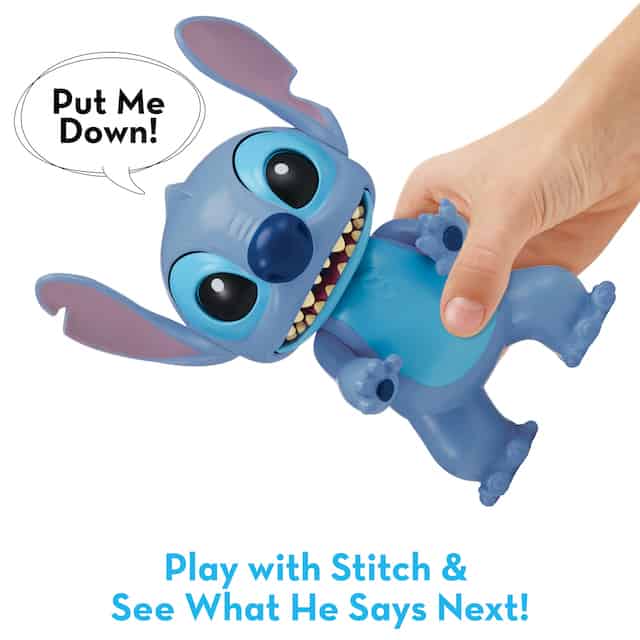 A fan favorite, Stitch is featured in four "Lilo & Stitch" animated films and the popular "Lilo & Stitch: The Series" animated show, all now streaming on Disney+. 
"We've incorporated many of Stitch's iconic phrases into an animatronic figure to create a super cool, interactive experience," said Pat Linden, vice president of marketing and product development, Playmates Toys.
"Stitch fans – children and Millennials alike – will find this unique figure to be the perfect addition to their ohana."
Our Ohana's Review of Stitch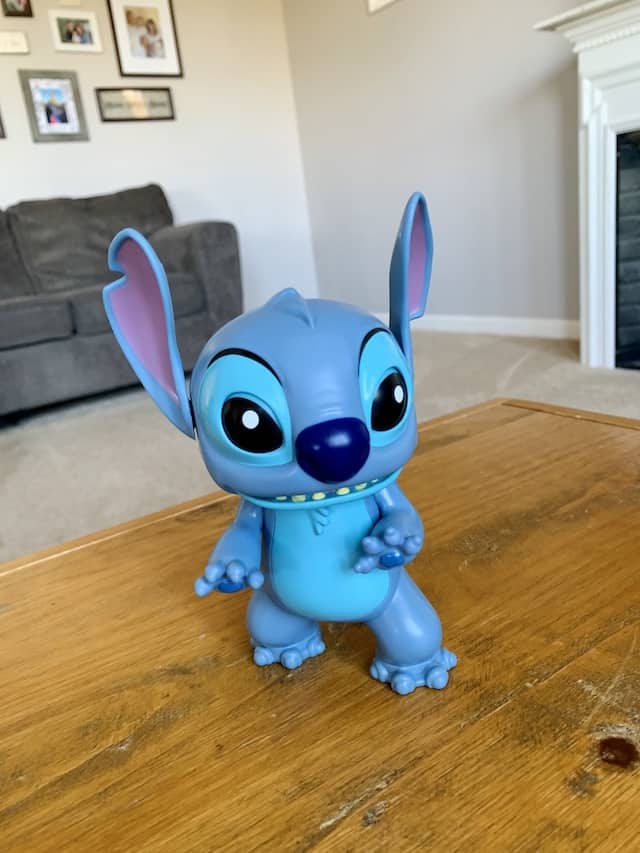 Our ohana had the opportunity of checking out this super fun toy for Kenny the Pirate readers!
Please note, Stitch landed in our home from the company, but all thoughts and reviews are my own (and my kids).
All four of my children (ages 10, 9, 6, and 4) have been playing with Stitch nonstop for the last 3 days. Three of my children were present for the unboxing.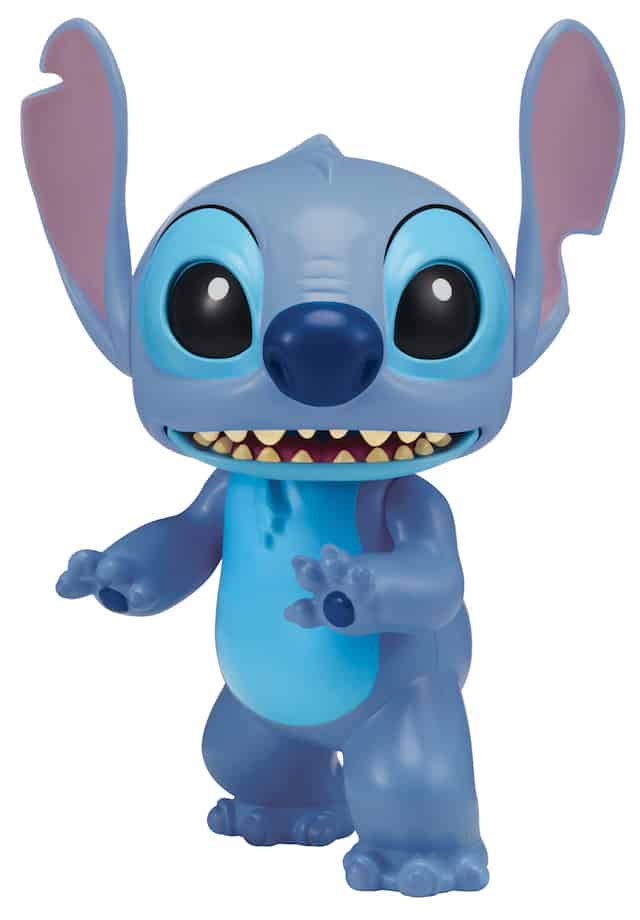 The first thing they said was they loved his pose! It looks like he could get on a surfboard any second. He even says "surfs up!" The second thing they did was immediately start arguing over who would get to play with it first.
I think the creators did a wonderful job giving him enough life-like features. He doesn't just talk. His ears and head move. Both his eyes and mouth open and close. My son thought he was so real he wanted to offer him food!
Plus, when you tilt him he knows that it is "play time" and talks accordingly. When it is nap time, his eyes start to close and he yawns.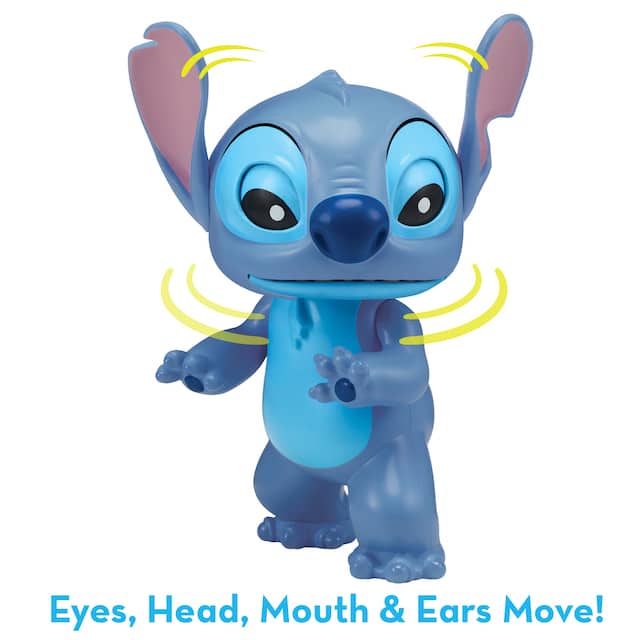 He says several different phrases like "I'm cute!" and "I missed you!" When you haven't touched his head or belly in a little while he says, "bye, bye."
My personal favorite is, "Ohana means family." So sweet! In total, he says over 40 different phrases and sounds. That's pretty impressive for a toy!
Stitch makes sound effects like burping and laughing as well. The creators did an impressive job keeping Stitch in character with all his mannerisms and using his original voice.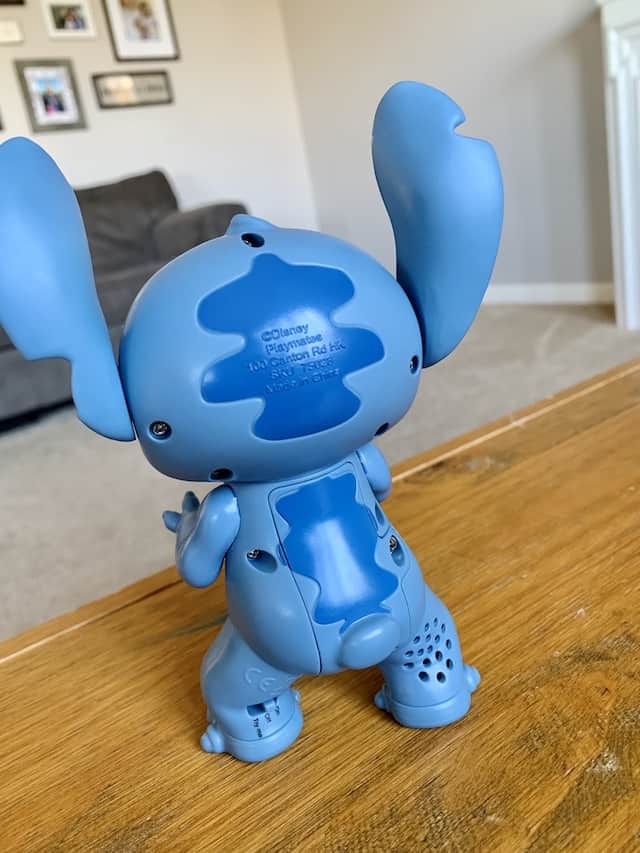 The only complaint I have about the Stitch interactive toy is he is not very loud. There are no volume adjustment so sometimes it is hard to understand what exactly he is saying. This is something all of my children commented on. "Mommy, what did he say? I can't hear."
The only switch he has is one for on, off, and try me. The speaker is on the other leg.
How You Can Get Your Hands on Stitch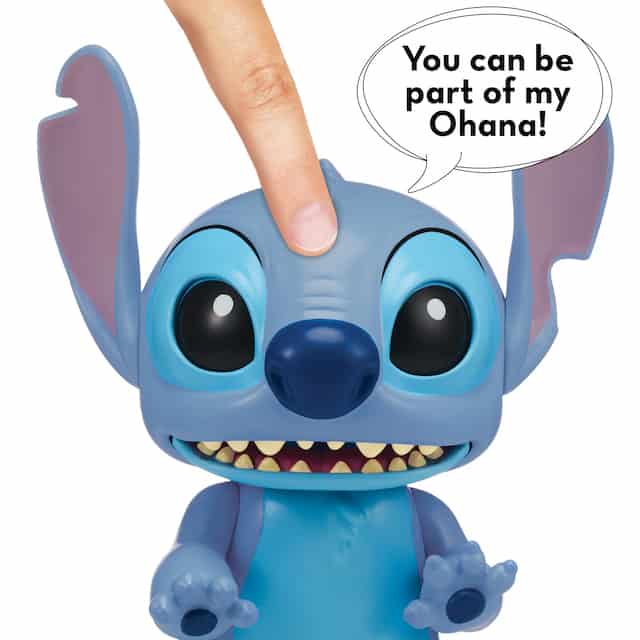 Ok, so now you want to get your hands on one of these, huh!? They are pretty cool.
You can find Stitch exclusively at Walgreens locations nationwide. However, you must act fast because he's only available in stores in limited quantities.
He costs $19.99 and would be a fantastic and reasonably-priced Christmas present for the Stitch-lover in your life. Stitch is my oldest daughter's favorite Disney character. He goes so well with the Stitch Loungefly bag she got on a recent trip!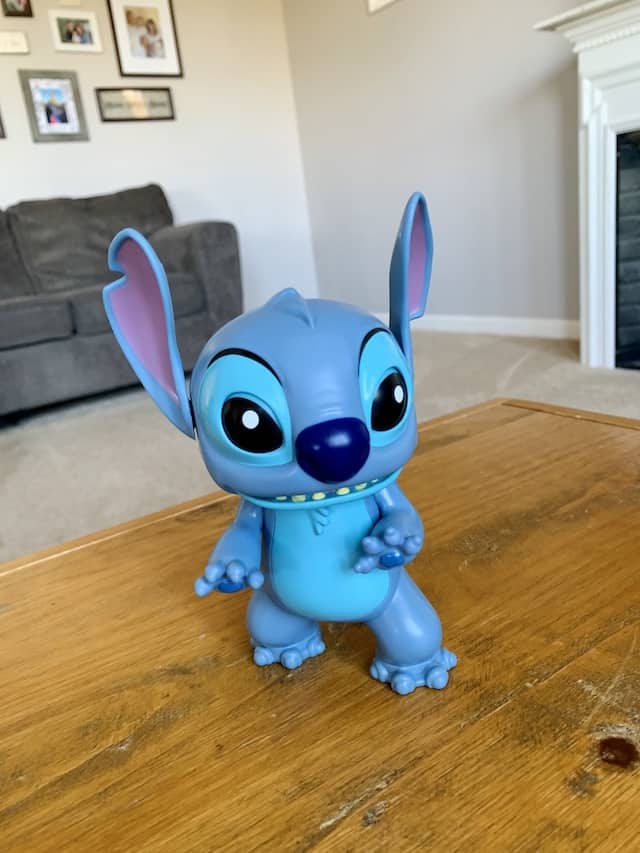 Plus, don't forget the fact that Stitch is the first animatronic Disney collectible of its kind! Hopefully we will see more Disney characters release in the future.
Will you be heading to Walgreens to get this interactive Stitch? Do you have someone in mind you will be purchasing this for? Let us know on Facebook!