My (Rebecca's) family recently visited our local Great Wolf Lodge. Read on for what's the same and what has changed at the resort upon reopening.
My family loves visiting water parks. My son (10) is autistic and fixates on water slides, so we hit the water parks any time we have the chance!
Great Wolf Lodge is great for us because there's lots to do and the Williamsburg, VA location provides us with a lot of fun just a short drive from our home near Washington, D.C.
What is Great Wolf Lodge?
Some readers may not be familiar with Great Wolf Lodge! This chain of resorts features themed accommodations and an indoor water park.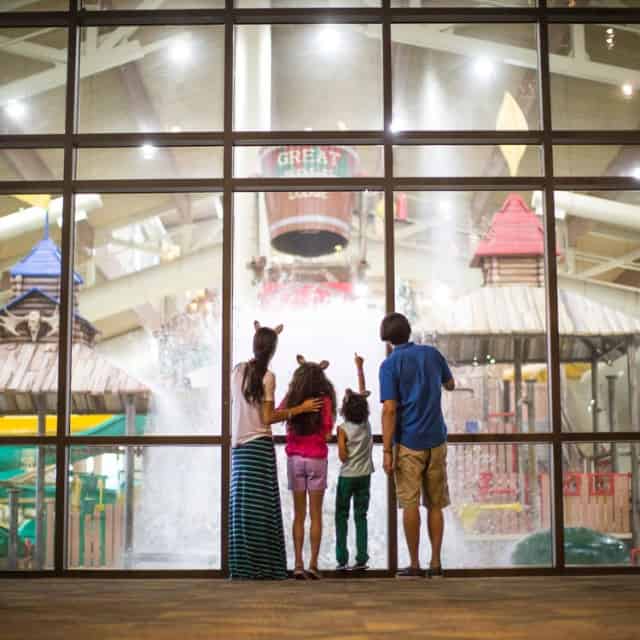 Most similar to Disney's Wilderness Lodge, though not as deluxe, the rooms at Great Wolf have a cabin/camping theme.
Admission to the water park is included with your stay. The resort also offers many other activities for an additional fee. Your family can play in the arcade, bowl or see a 4D movie, or hit the salon and spa.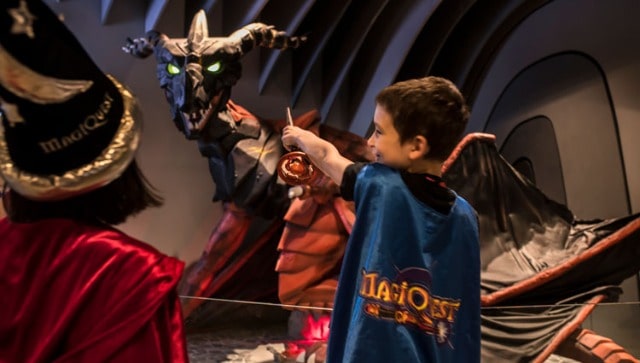 Similar to Walt Disney World, Great Wolf Lodge acts as a self-contained family vacation.
Obviously, the Great Wolf resorts are much smaller than Disney World, but a family could find plenty to do within the resort and not have to leave during their stay if they were so inclined.
Water Park at Great Wolf Lodge
Speaking of staying busy, there's plenty of entertainment at Great Wolf Lodge! Families generally spend most of their time at the indoor water park.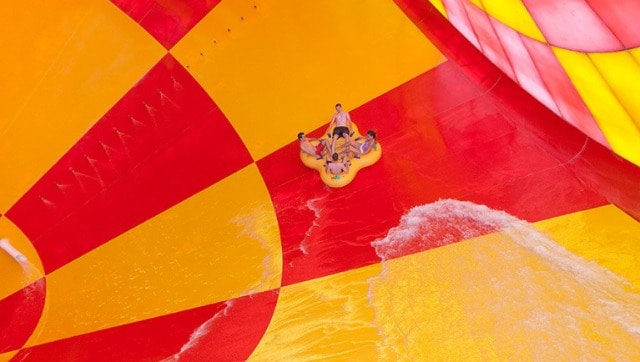 The indoor water park is the signature attraction of the Great Wolf resorts! Our Williamsburg, Virginia Great Wolf Lodge offers a nice variety of attractions!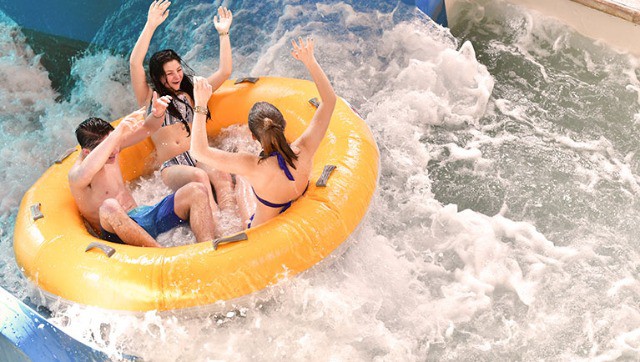 There are two family raft rides (one thrilling and one tame), two innertube slides, a lazy river, a wave pool, a quiet pool with ropes course and an impressive kiddie area.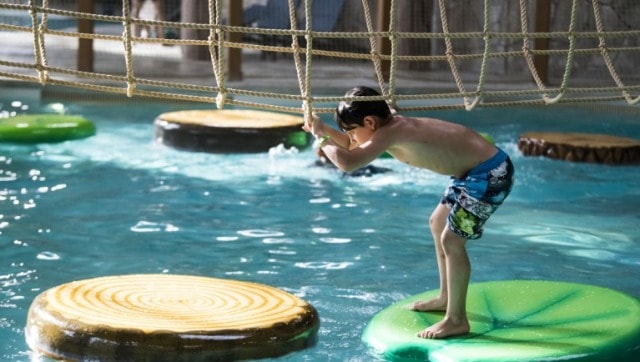 The kiddie area has a couple of slides and a giant bucket that fills and dumps on the kids every few minutes.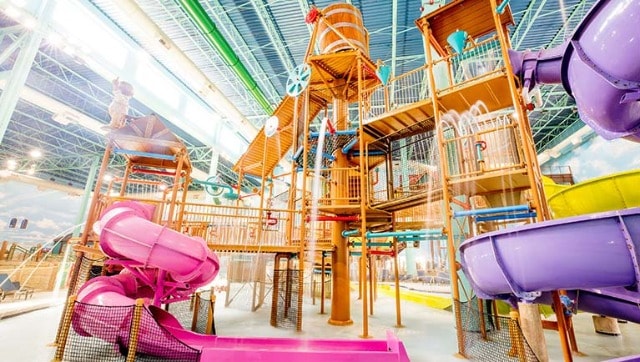 Our location also features a Flowrider, for kids and adults who wish to try their hand at surfing.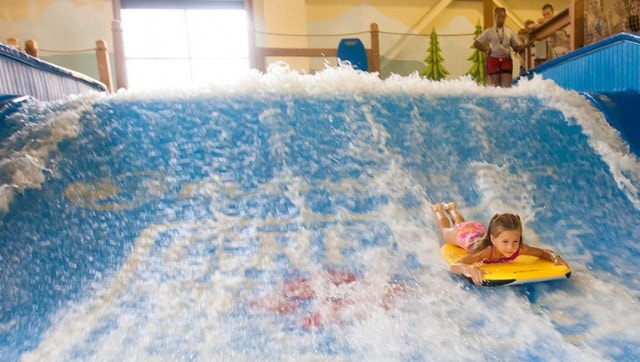 My favorite thing to do is to hop in the hot tub! They have a family hot tub AND an over 18 hot tub.
Fun Outside the Water Park
In addition to the water park, the resort offers a variety of unique activities.
Kids really enjoy the Magi Quest game, which involves going around the resort to various spots with a special wand.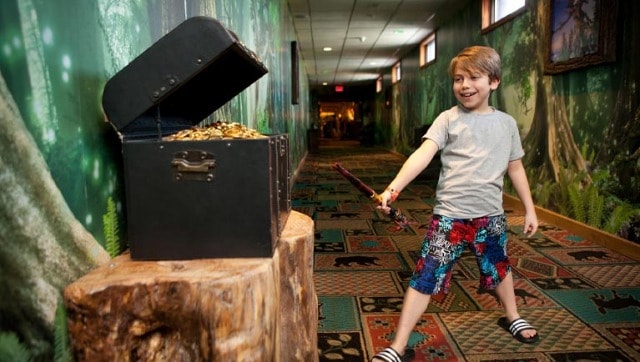 There's also a large arcade, a few small bowling lanes, a miniature laser tag game, and an Aveda salon and spa.
There's also a spa just for kids! Scoops offers manicures, pedicures and ice cream themed treatments for younger guests.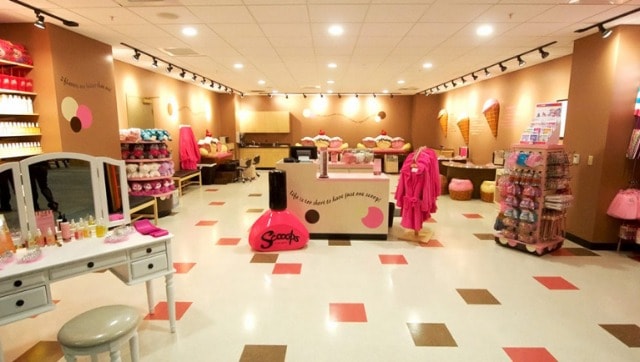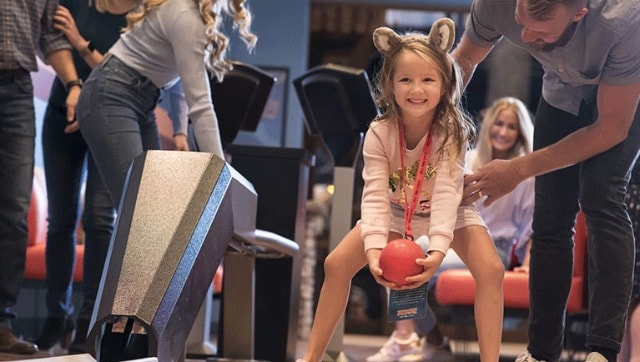 The lodge also houses a small Build-a-Bear Workshop!
Love Build-a-Bear? Check out Jess's article on the Child available at Build-a-Bear as well as Donna's on Lion King Build-a-Bear.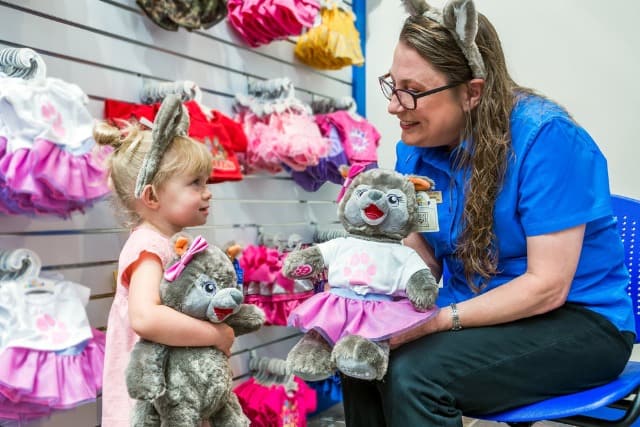 Food and Drink
Honestly, the food at Great Wolf Lodge leaves a lot to be desired.
The Williamsburg location has a sit down restaurant, a Dunkin' Donuts, and two quick service-style dining locations in the water park.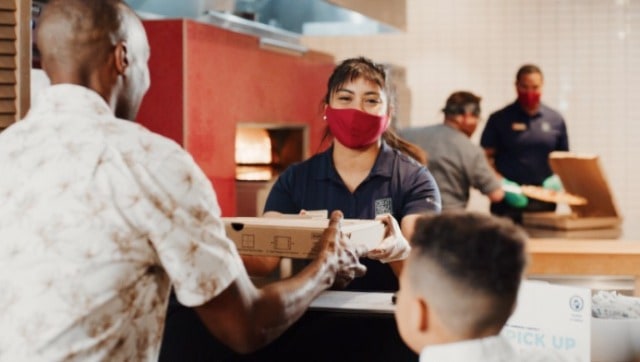 My son adores the pizza at Hungry As a Wolf just outside the water park. And actually, the standard fare at the stand inside the water park has pretty good chicken fingers and burgers.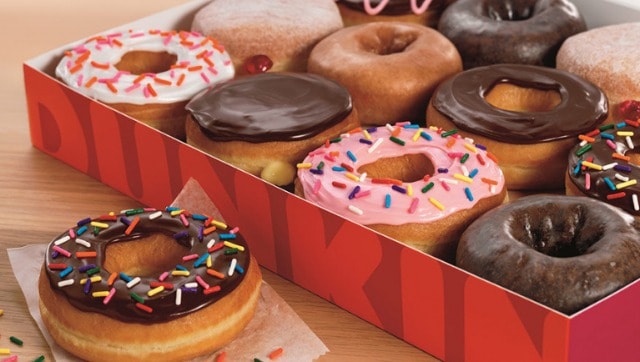 We do love Dunkin' Donuts and we mobile order our donuts for quick pick up each morning of our stay!
KTP Tip: SKip the Loose Moose Bar and Grill
On the other hand, the sit down restaurant at our preferred Great Wolf Lodge was awful. We had a dining credit one time so we gave it a try.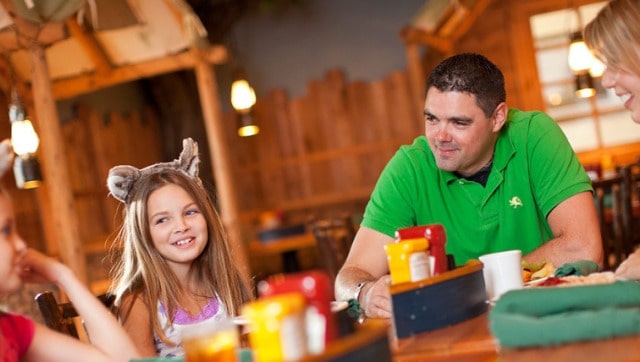 None of us liked anything at the buffet. We ended up going out for fast food afterwards. So, I do not recommend that restaurant.
Accommodations
We have stayed in several different room types at our Great Wolf Lodge.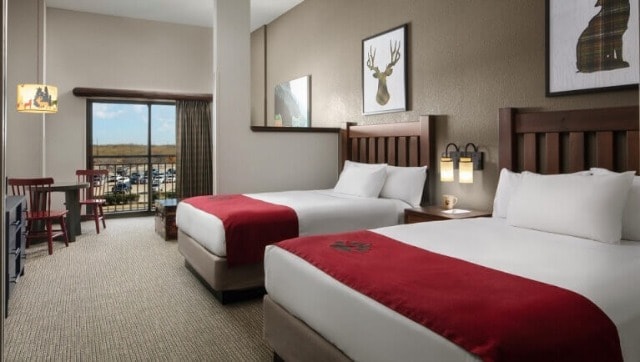 The most affordable rooms are called Family Suites. These standard hotel rooms offer two queen beds or one king bed, and a sleeper sofa. Some have a fireplace, as clearly indicated in the room type (i.e Family Fireplace Suite).
The next room category is Themed Suites. These rooms have a queen bed in the main area and a bunk bed located inside a built in tent or cabin.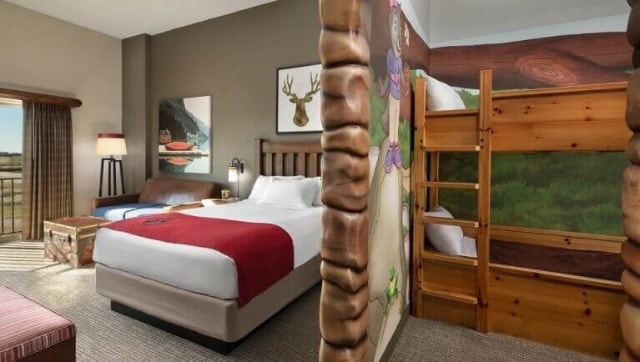 The themed rooms delight the youngest guests, who may wish to pretend they are camping.
Finally, we come to the Premium Suites. Of these options, we have stayed in the Fireplace loft suites and most recently the Grizzly Bear 2 bedroom suite.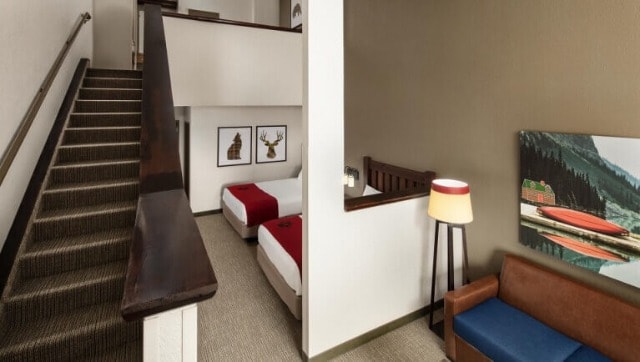 The beds and pillows don't impress us much, but the rooms make up for it with cute theming.
The main complaint I hold with the rooms would be the fact that kids run up and down the halls and the rooms literally shake.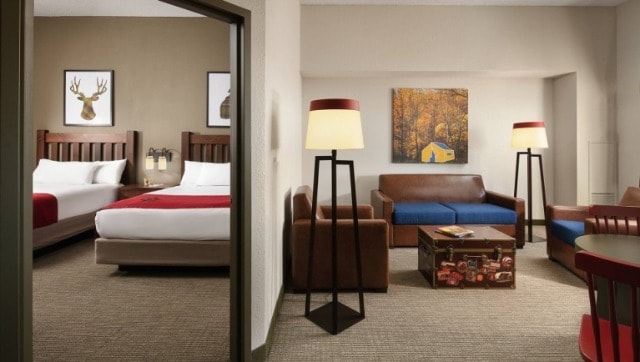 In contrast, I've never had a room at Walt Disney World where our rest was so disturbed by unsupervised kids.
My best advice to this end: request a room far away from the Magiquest activities. This can be done via the app before arrival.
KTP Tip: No matter your room type, request a room away from the Magiquest activities to avoid hearing kids run through the halls at all hours!
If you download the Great Wolf Lodge app, you can check in 24 hours ahead of your trip and begin chatting with the virtual assistant, Willow, to make these requests.
Great Wolf Lodge Post Covid-19
Great Wolf Lodge has implemented several changes since reopening. You can read about them at their website.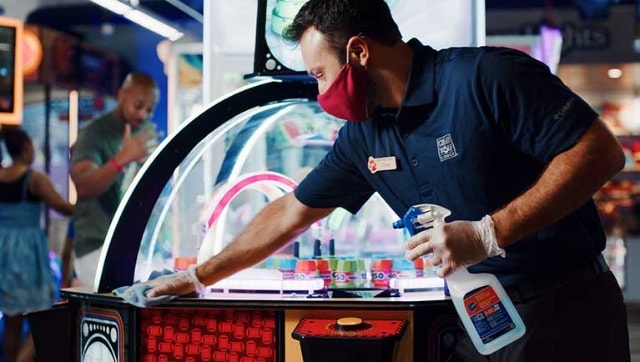 Some of these changes may be specific to Virginia, so always check with your locality to see which features remain available. I find Virginia to be among the stricter states when it comes to Covid-19 restrictions.
The spa and fitness center were both closed during our stay. Additionally, the hot tubs were not in operation (oh no!), and they had removed the basketballs and basketball hoops from the quiet pool.
Like many hotels right now, the resort does not offer room cleaning services during your stay.
The arcade, Magiquest and dining locations all remained open for our stay. Masks were required in common areas when not eating or swimming.
Inside the water park, life guards sanitized life jackets between users. Not much else had changed.
Capacity seemed particularly low, and we never waited more than 3 minutes for an attraction!
Overall, I would recommend a stay at Great Wolf Lodge during the Covid-19 restrictions. Definitely bring ear plugs, and prepare to go offsite for food!
Have you been to Great Wolf Lodge? Do you like it? Let us know in the comments on Facebook and in our Facebook group!
-Rebecca W Davis