Christmas is one of my favorite times of the year under any circumstances, but there is just something extra magical about spending the holiday season at the Walt Disney World Resort. Check out my list of the Top 8 Disney Worlds Resorts you should definitely visit at Christmas!
No one does Christmas better than Disney! With all the festive things to do at the parks, it's easy to forget that there is so much to see at the hotels too.
Disney's Grand Floridian Resort and Spa
It would be wrong of me to start off this list with any other hotel except the Grand Floridian.
Being Disney's premiere resort, the bar is set quite high each year to deliver jaw-dropping decor, and the Grand Floridan never disappoints!
From the moment you walk into the grand lobby, you'll be speechless. The first thing that catches your eye is the 40-foot tall Christmas tree in the center of the floor.
The entire tree is decked out in more than 45,000 golden lights and thousands of elegant victorian-style ornaments and accents.
In years past, there has been a PhotoPass photographer available for that perfect Christmas card photo-op.
If the 40-foot tree isn't enough to put you in the holiday spirit, there are tons of regular-sized trees all over the resort too. I just love the pink and gold color scheme. It exudes a sense of regality that is so fitting for the Grand Floridian.
For the past 21 years, guests have been greeted with a delicious whiff of sweet and spicy gingerbread as they entered the lobby.
This isn't just from the smellitizers pumping delicious aromas into the air, but actual fresh gingerbread from the giant gingerbread house on the lobby floor.
As 2020 continues to break our hearts, it has claimed another beloved Disney tradition. For the first time since 1999, the gingerbread display will not be returning.
Please Note: Due to crowding concerns, the gingerbread displays will not be available this year.
Check out Monica's detailed guide for more important information regarding the 2020 holiday season.
Hopefully, next year things will return to normal and we will have our gingerbread displays once more! The display at the Grand Floridian is truly a sight to behold. As you can imagine, building this 14 foot house is no easy feat.
The bakery department spends over 400 hours baking the pieces to the house and uses 1,050 pounds of honey, 140 pints of egg whites, 700 pounds of chocolate, 600 pounds of powdered sugar, 800 pounds of flour and 35 pounds of spices.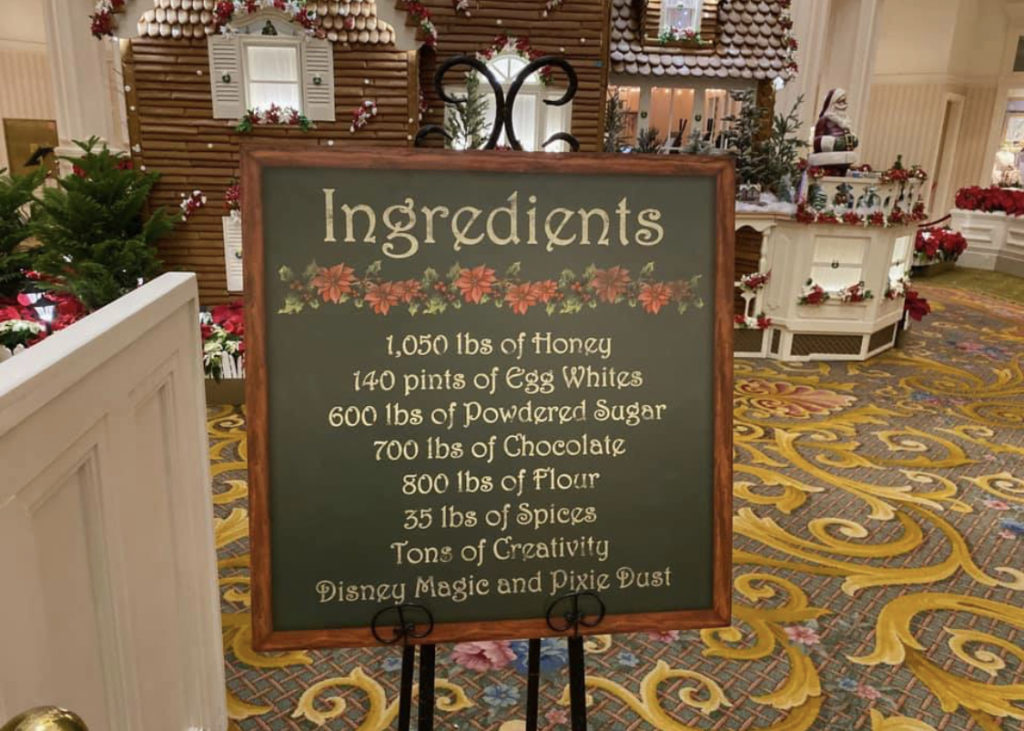 It then takes another 160 hours to decorate and assemble it. The final product is just amazing! When I visited the first week of November last year, they were just putting the house together, which uses over 60 sheets of plywood.
The Disney bakery team was on hand passing out fresh cut gingerbread shingles too! By the end of that week, the entire house was finished!
This gingerbread house isn't just for show either. It functions as a mini store selling lots of fresh gingerbread goodies!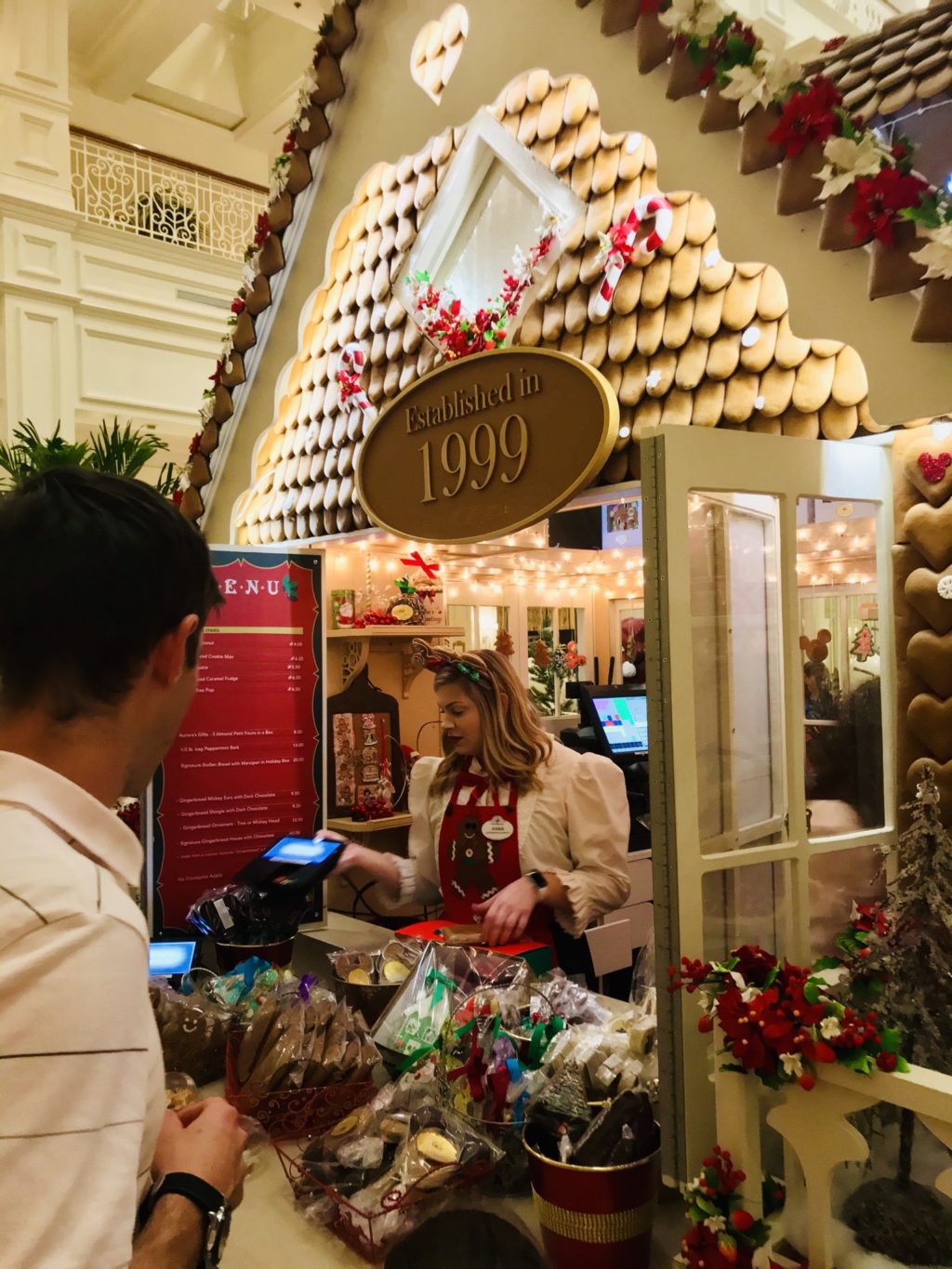 Be sure to check out Susan's amazing article with more details on the gingerbread display!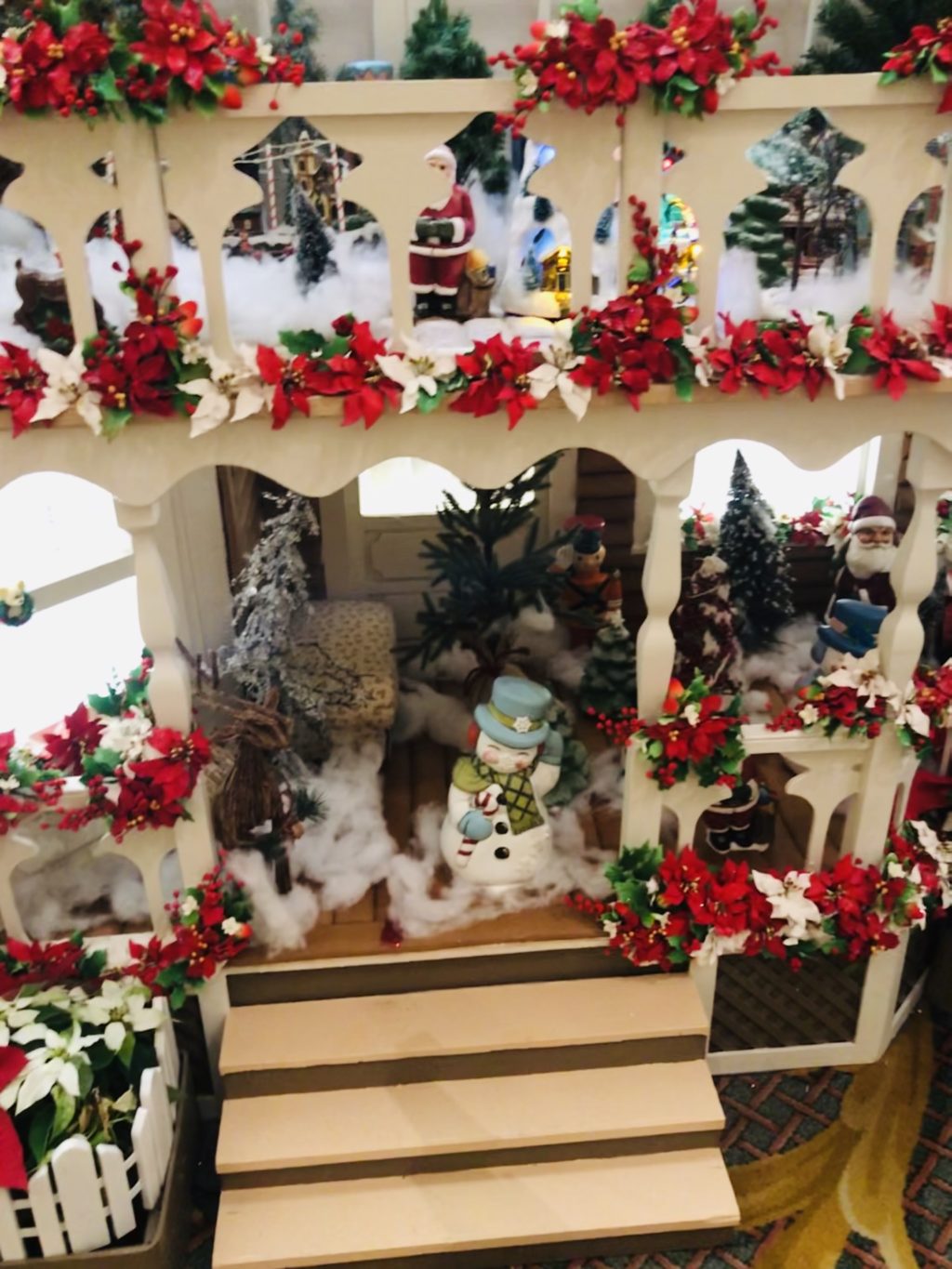 We can't wait to see the return of the gingerbread house (hopefully) next year! This year just won't be the same without it.
Disney's Port Orleans French Quarter Resort
Of all the places I could stay during the holidays, French Quarter is always at the top of my list. As a moderate resort, this hotel can easily be overlooked due to it's location.
Guests are more likely to visit the deluxe resorts because they have easier access to them with various modes of transportation.
I can't stress highly enough – you need to put this place on your list of resorts to check out!
The decorations at French Quarter are so vibrant and beautiful. Mardi Gras-style decor, including decorative masks and beads, are abundant throughout the trees and garlands.
During the day, the holiday decorations are beautiful and you'll be able to appreciate the tiny details more.
During the evening is when this resort really shines though! Literally! It's like walking into an etherial dream.
The colors are more stunning than pictures can show, but I hope that some of these photos will convince you that you need to see it for yourself.
When we would come back from the parks late at night it was so peaceful in the lobby.
All the trees glowed and there was no one around. I could have sat there all night and admired their beauty.
While this resort may not be the easiest to get to, you can still hop on a boat from Disney Springs or take a bus from one of the theme parks.
Be sure to pop into the new Scat Cat Club Cafe and grab some warm beignets before you leave too!
The seating area at the cafe has a great view of the lobby so you can munch on your delicious treat while taking in the gorgeous Christmas decorations too!
At the front of the resort entrance, there are rows of wreaths hanging from the portico.
This was the first thing we saw when we arrive at the hotel and it was so charming.
There are also wreaths hanging on the high walls of the lobby decorated with Mardi Gras beads and fleur de lis.
Be sure to walk outside too because at the back entrance are more wreaths and garlands on every light post.
I just love the check-in area too. They have long strands of garland covered with Mardi Gras beads and beautiful ornate masks.
Disney's Beach Club Resort
One of my all time favorite resorts to stay at in Walt Disney World is the Beach Club. I just love the casual elegance of all the beach decor throughout the resort. Plus that Clover and Aloe scent in the lobby is everything!
At Christmastime, the Beach Club doesn't disappoint either!
They have tons of miniature and regular sized Christmas trees all over the lobby and hallways.
I just love the wreaths and garland too with all of their beach and sea themed accents!
In the Solarium, we love how they opted for beautiful red and gold decorations instead of the pastel color palette used around the rest of the resort. It made it unique and special.
This is a great place to stop by in the evening and just hang out with a cup of decaf coffee or a nighttime snack. It's very quiet and tranquil.
The decorations don't stop once you walk outside either. Every light post is adorned with a festive garland wrapped around its pole.
Not to mention there are a ton of beautiful red poinsettias planted in the flower beds.
The Beach Club doesn't have a gigantic Christmas tree like some of the other deluxe resorts do. That is because the main attraction is the handmade gingerbread carrousel display.
This display is absolutely gorgeous! It even fully rotates like a real-life merry-go-round!
The massive carrousel is made with 36 pounds of honey, 96 pounds of bread flour, 100 pints of eggs, 100 pounds of spices, 10 quarts of simple syrup, 150 pounds of icing, 50 pounds of chocolate, 50 pounds of modeling chocolate and 200 gum paste flowers!
Unfortunately, the carrousel will not be returning for the first time in 21 years due to social distancing concerns.
We hope that things are able to return back to normal soon so that we can enjoy this beautiful display again next year!
With no gingerbread carrousel, it will be very interesting to see what Disney comes up with to take its place. I am hoping that we might get a larger tree in the lobby instead!
I'll admit, I got super excited that they had a "my size" mini Christmas tree here too!
Disney's Yacht Club Resort
The Yacht Club does a fabulous job with their decorations each year! Instead of beachy accents, their lobby features lots of nautical decorations.
You'll see lots of darker blues and gold tones throughout the trees, garlands and wreaths.
I especially love the ships that are in the center of the wreaths! Such an elegant and unique touch!
The Yacht Club does have a large Christmas tree in the center of the lobby.
I waited a long time to get the perfect shot with no one in the picture, but it was totally worth it!
Another awesome detail that is unique to the Yacht Club is the Christmas village display.
This is so adorable and features hidden gems such as Disney characters, Disney restaurant buildings and even moving pieces.
I just love to stop in and see it every year.
They even added Elsa's ice palace to the village!
There is no official word from Disney yet regarding the fate of the Christmas village yet.
FINGERS CROSSED THAT IT MAKES THE CUT FOR 2020!
Be sure to take a walk outside the resort too. There are some beautiful poinsettia arrangements out back.
Also more garlands hang on the light posts.
Disney's Wilderness Lodge
Wilderness Lodge is one of my family's favorite places to visit. My parents actually were at the resort on the very first weekend it opened in 1994.
We love the rustic elegance theming and great dining locations at Wilderness Lodge. The log-cabin design feels so homey and comforting.
We love to stop in and sit on a rocking chair in front of the large fireplace in the lobby. It's the perfect place to decompress and relax.
The Christmas decorations are just gorgeous at the Wilderness Lodge resort!
There is a massive 60-foot tall Christmas tree in the center of the lobby that is covered in various decorations modeled from Native American and southwestern cultures.
There are even little teepees on the tree similar to the large chandeliers hanging from the ceiling.
Right above the entrance doors, you'll see a light up reindeer display. I thought this was so adorable and enhanced the winter cabin feeling.
The wreaths and garlands all over the resort are just stunning too.
I love that they use red poinsettia accents.
The classic red, green and gold color palette is just so elegant and festive!
If you are looking for that perfect cozy feeling, be sure to stop in and enjoy all this amazing hotel has to offer!
Disney's Animal Kingdom Lodge
If you have ever walked into Animal Kingdom Lodge and thought it looked eerily familiar to another Disney resort, you aren't imagining things.
Animal Kingdom Lodge was designed by Denver architect Peter Dominick who also designed Disney's Wilderness Lodge and Disney's Grand Californian resorts.
I love the designs of all three of these hotels, and Animal Kingdom Lodge at Christmas is spectacular. There is a 40-foot Christmas tree in the lobby, fully decorated with animal print ornaments and bows, and African instruments.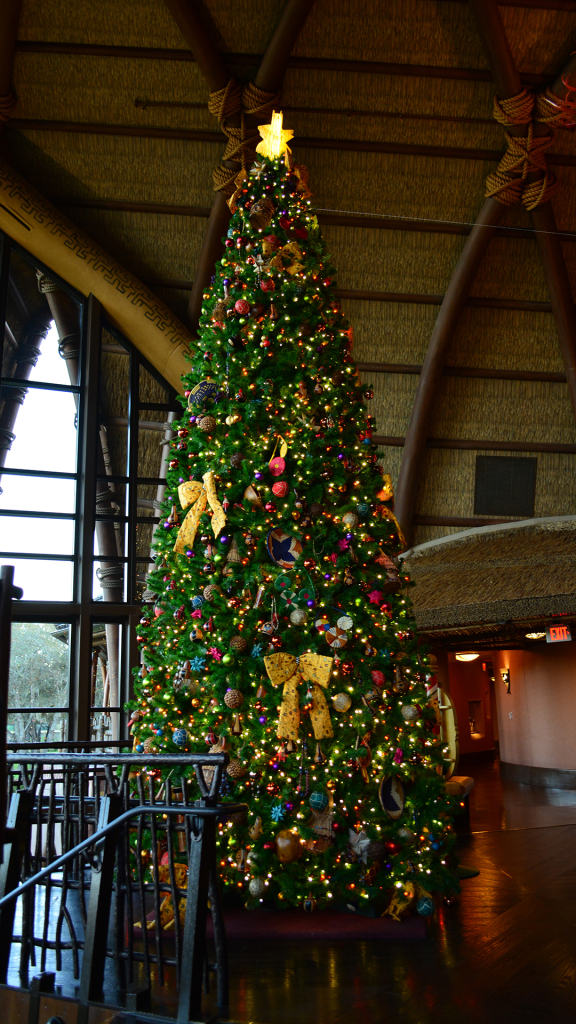 I think the chandeliers balance out the tree perfectly.
I know it can be a little bit out of the way to visit, but if you have the time, this resort shouldn't be missed!
Contemporary
The Contemporary has some really unique Christmas decor that you definitely should stop in to check out.
For starters, it has the tallest Christmas tree of all the resorts! Topping off at 70 ft tall, this monster actually sits outside in front of the hotel.
Normally the Contemporary also puts up an amazing gingerbread display. The theme varies from year to year, but we have seen Cinderella and Frozen characters featured in past years.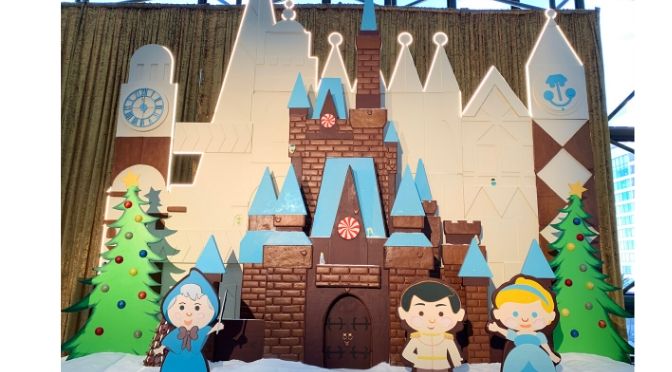 The characters are usually modeled after Mary Blair's (who designed the it's a small world attraction) style of art.
This year would have been the 11th anniversary of the gingerbread display, but sadly, we will have to wait until 2021 to see them again.
Hopefully, you'll still be able to pick up some fresh gingerbread snacks at the resort though!
Disney's Polynesian Village Resort
If the tropical vacation life is more your style, you need to check out Disney's Polynesian Village Resort!
While the Polynesian's monorail station will not be open for a while, you can still hop on a boat from the Magic Kingdom or walk over from the Transportation and Ticket Center fairly easily.
The Polynesian is a great hotel to visit during any time of the year, becuase there is so much to see and do. I especially love stopping in during the holidays to see all of the decorations.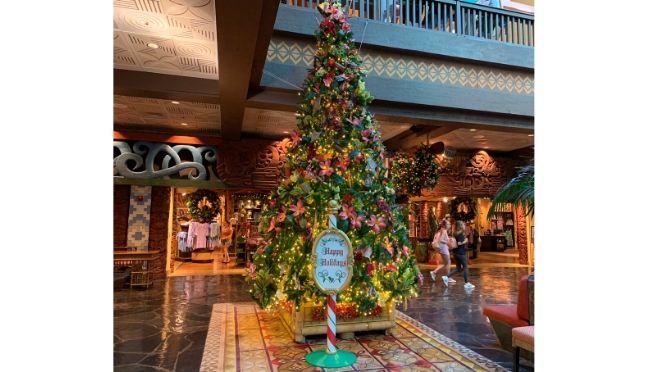 I love how they incorporate the Hawaiian theming throughout their wreathes, garland and Christmas trees. You'll see lots of hibiscus flowers, pineapples and bright colors used around the resort decor.
Grab a dole whip at Pineapple Lanai, kick back and start singing "Mele Kalikimaka" this holiday season when you visit Disney's Polynesian Village resort!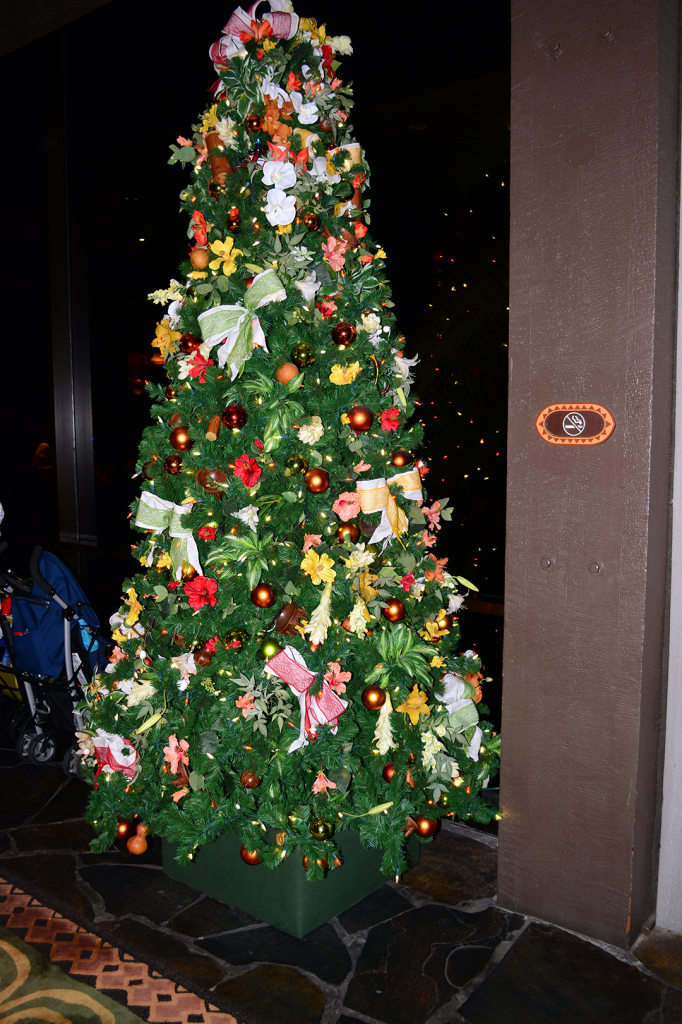 What is your favorite resort to visit at Walt Disney World during the holiday season? Do you have any must-do traditions each year? Let us know on Facebook!
-Christina