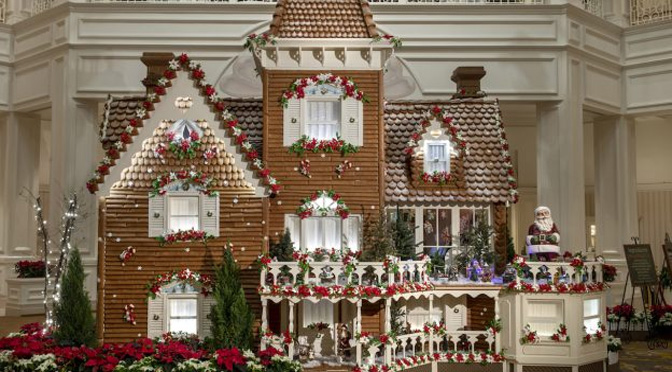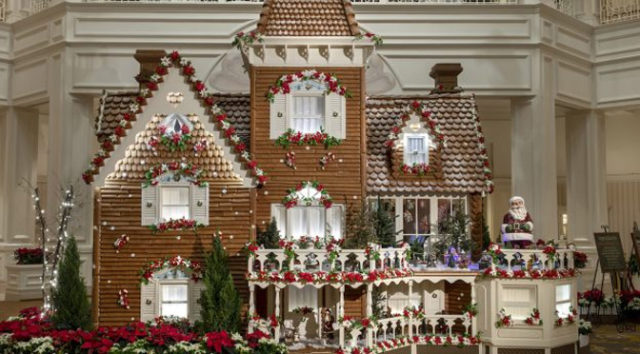 Seeing the Grand Floridian in person is something everyone needs to experience! On my most recent trip, I was able to do just that! Read more for details, pictures, and thoughts on my first time seeing it.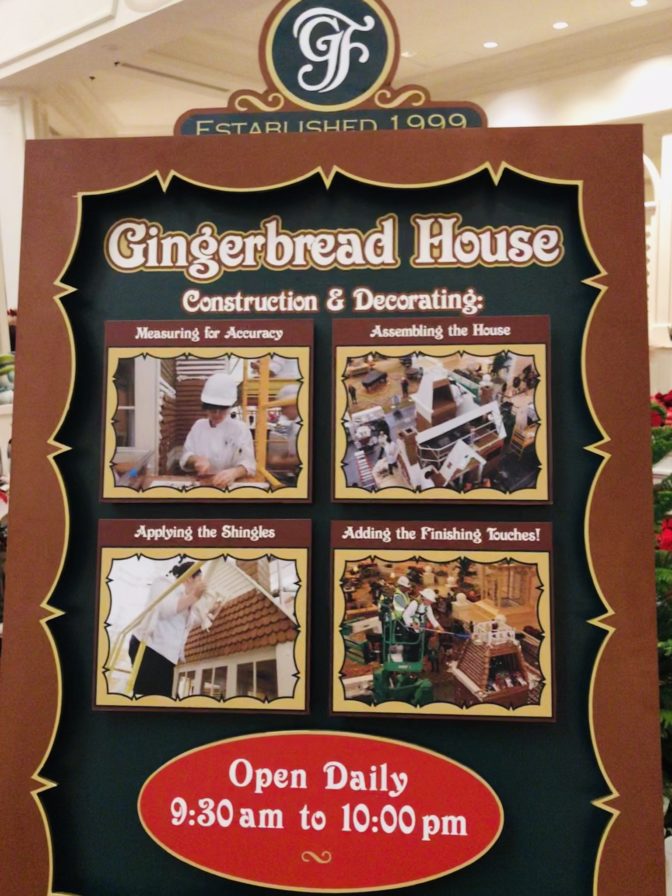 Blew Me Away At First Sight!
The very first moment I saw the gingerbread house from the 2nd floor balcony, it was evident that it took many hours of labor and love to create it.
It is also very popular! During the busy Christmas season, visitors aren't allowed to park at the Grand Floridian unless they have a resort or dining reservation. Unfortunately, the number of visitors wanting to see the gingerbread house makes this necessary so resort guests have a place to park.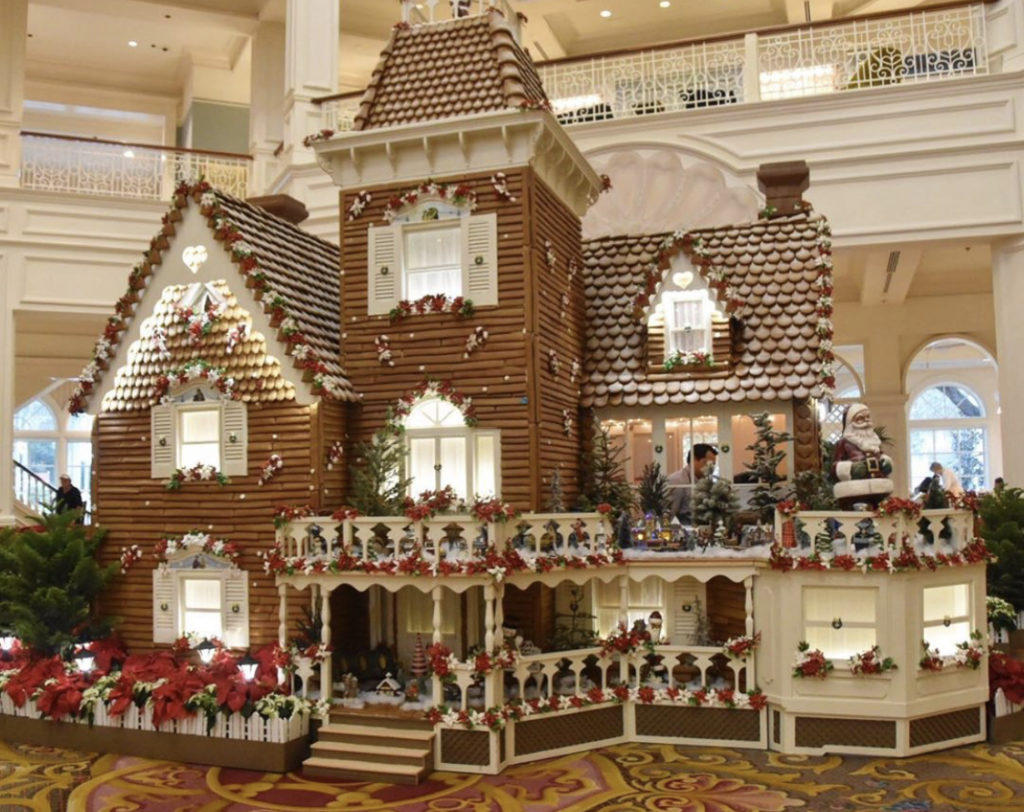 Details abound in every inch of this life-sized gingerbread house. I've taken lots of closeup photos, along with this beautiful shot showing the entire creation!
Amazing Details In Every Corner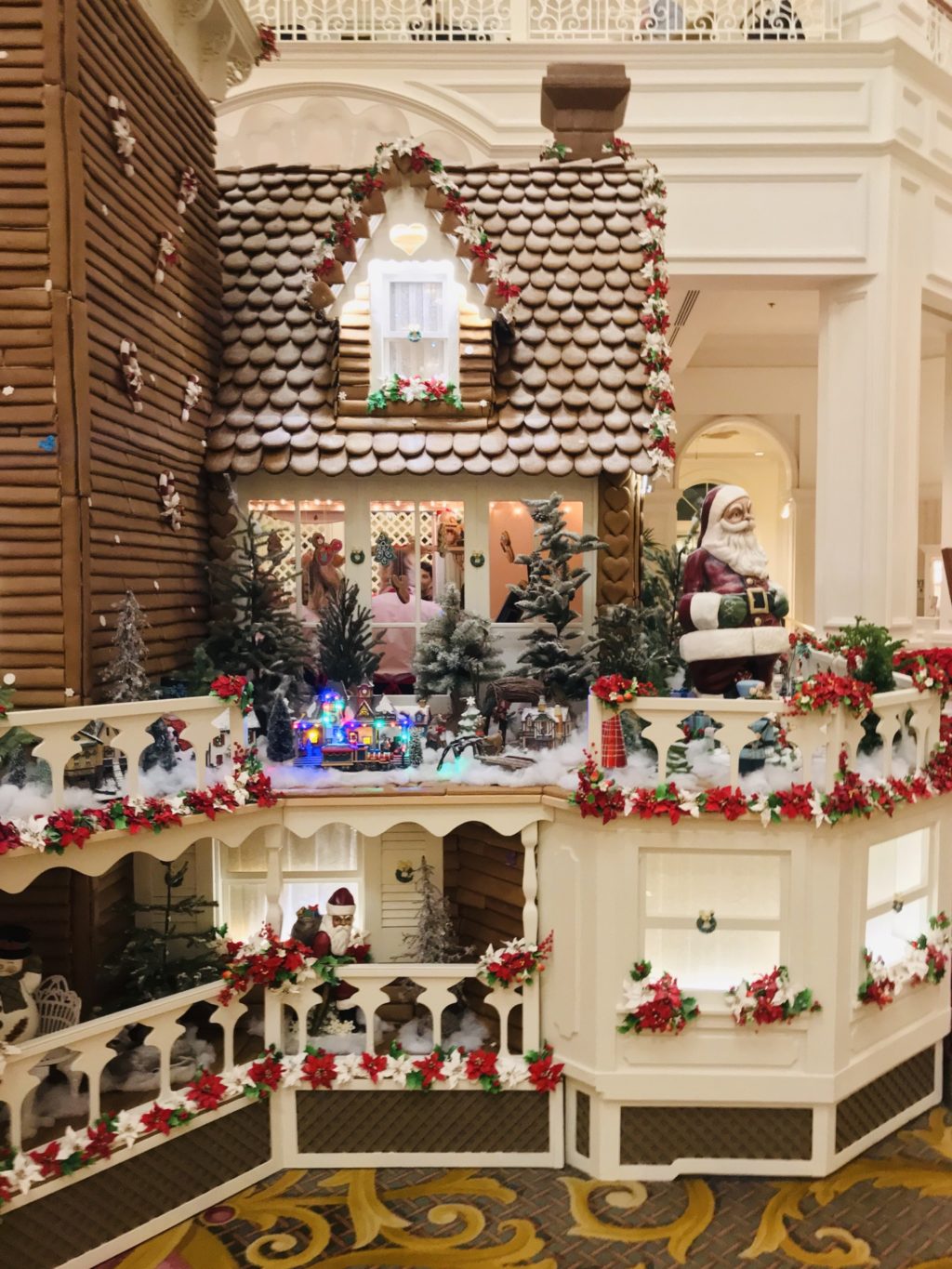 Wouldn't you love to be one of the talented designers who created each of these heartwarming Christmas creations?? Plus, the poinsettias add such a festive touch without overwhelming the other details.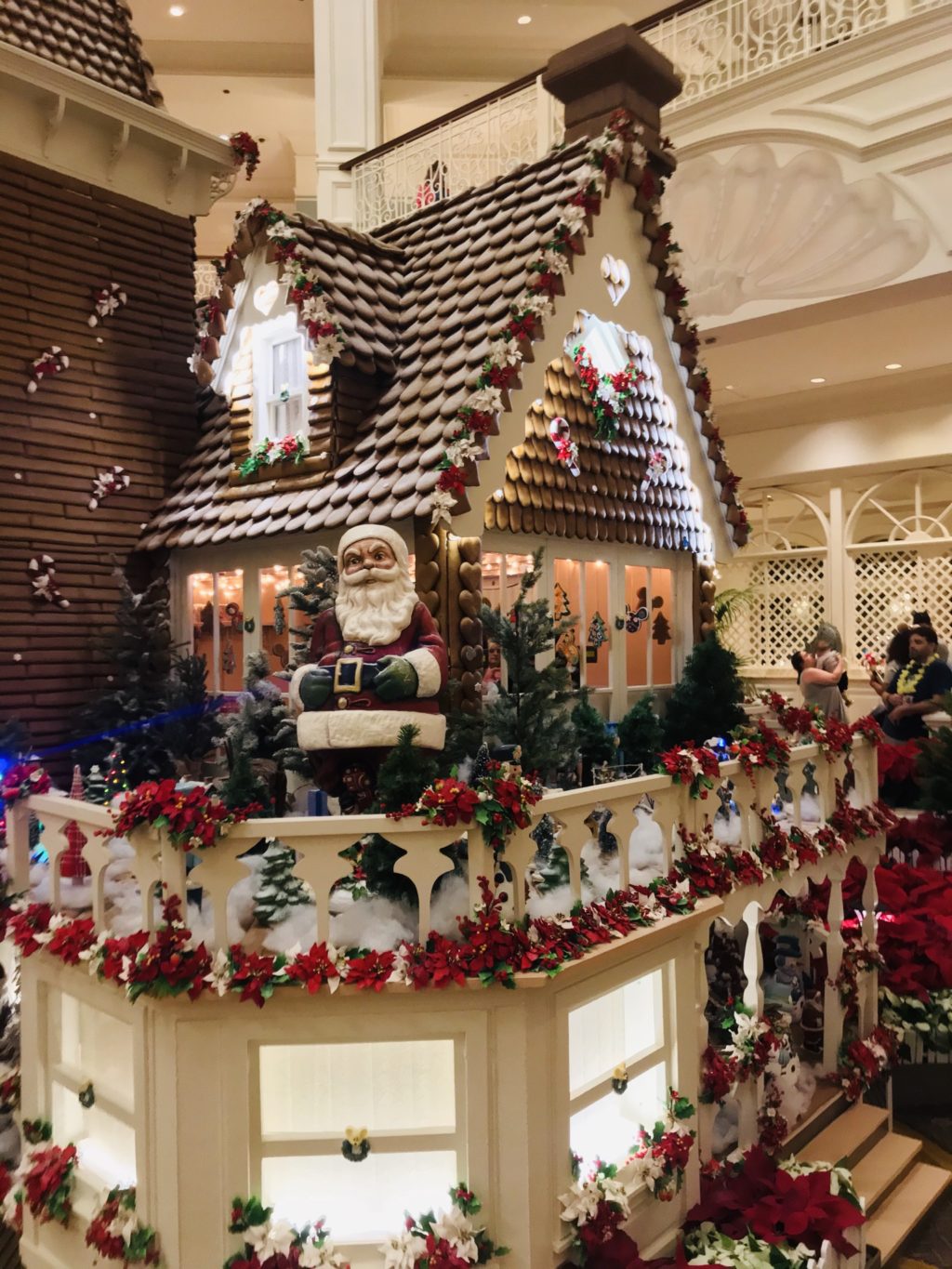 Check out the upstairs and downstairs porch, along with all the windows! The large Santa centerpiece is fun for children of all ages! Also, you can really see the edible gingerbread shingles from this shot. This portion is a "wing" of the main house.
Can I Live Here? No Really…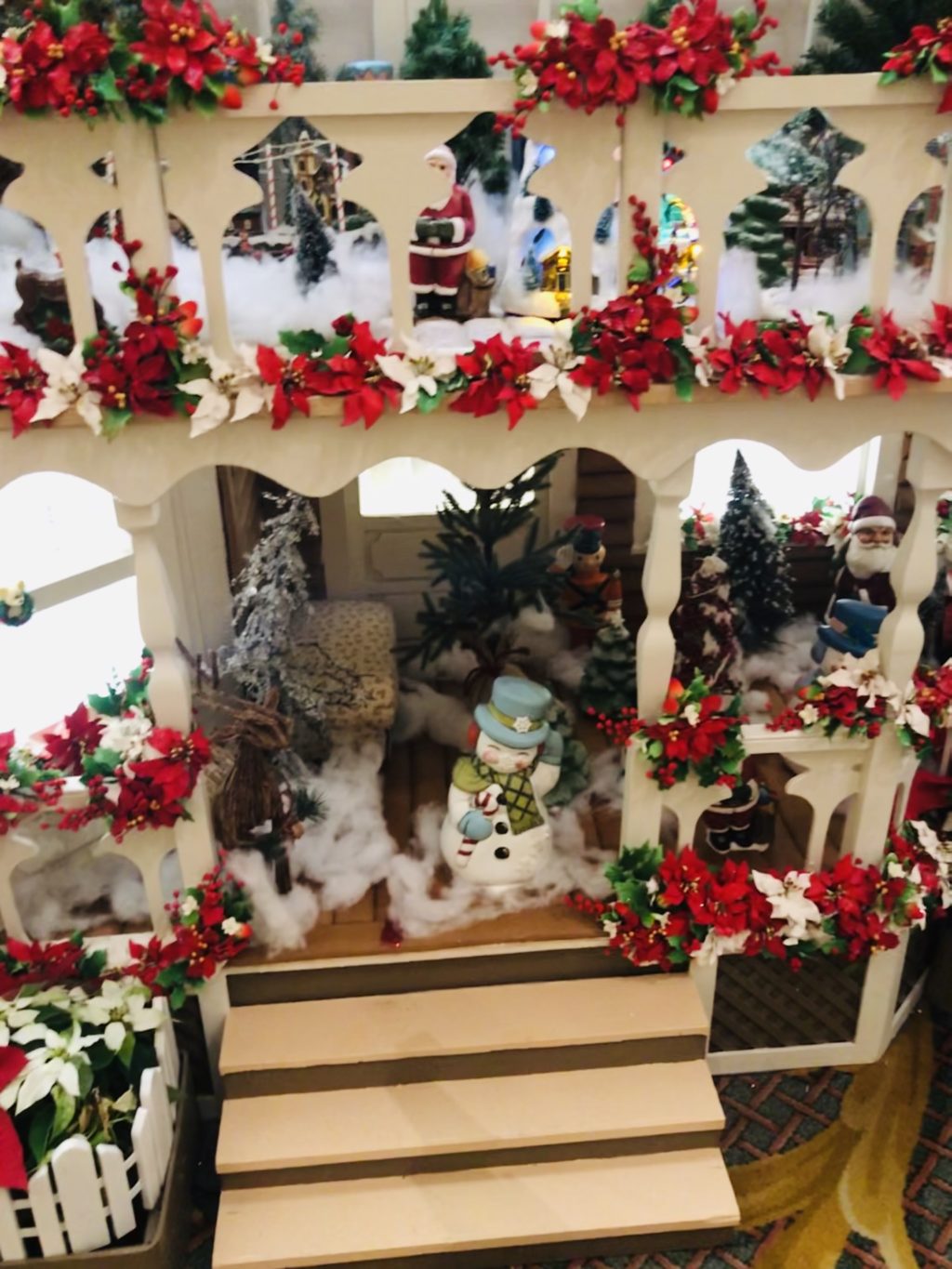 As you can see, the attention to detail is off the chart. Can I just move in now?? There are so many special touches it's hard to see them all! I wish I could sit on the porch and watch the snowfall. The white picket fence is beyond adorable.
How Do I Make One?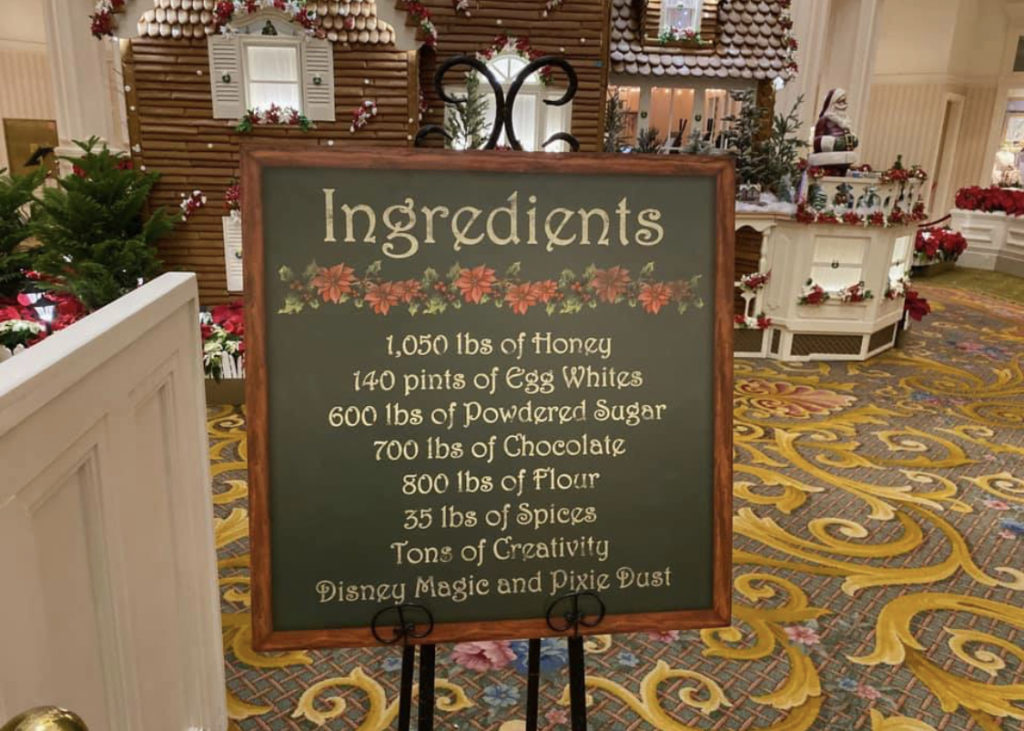 In case you're wondering how in the world goes into such a creation, Disney isn't joking when they say it required tons of creativity, Disney magic, and pixie dust!! I would love to know how many hours it took to build the house and decorate it!
Special Meet & Greet / Limited Edition Pin Event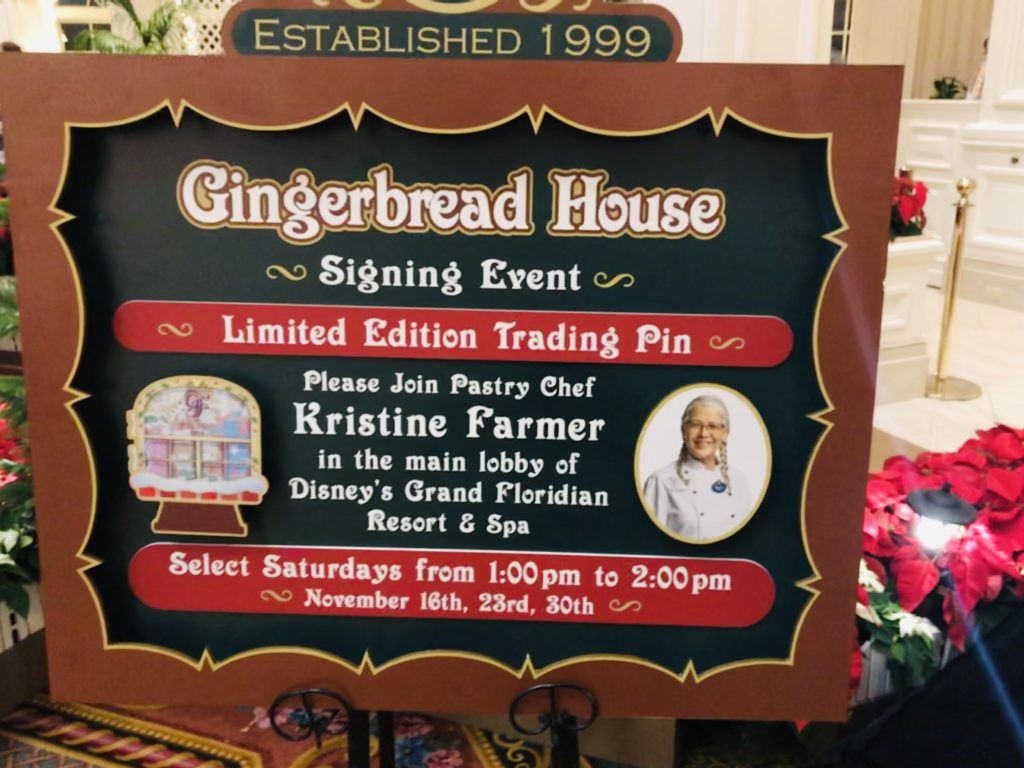 Per Disney Parks, Kristine Farmer is the Pastry Chef at Disney's Grand Floridian Resort & Spa, Walt Disney World Resort. She leads a team of 45 Cast Members that support 7 restaurants including Victoria & Albert's – the only restaurant in Florida to receive the AAA Five Diamond Award and Forbes Travel Guide Five-Star Award. She's been with Disney since 1988.
She is passionate about teaching and mentoring the next generation of pastry chefs; enjoys landscaping and hot yoga; fueled by expressing herself through food arts; loves fall flavors so no surprise that her favorite spice is cinnamon and pumpkin pie holds favorite childhood memories of hayrides, cornfields, and bobbing for apples; popcorn junkie; described as a person with integrity, organized, and creative.
How fun would it be to meet her and ask her questions?
Gingerbread Shingles Everywhere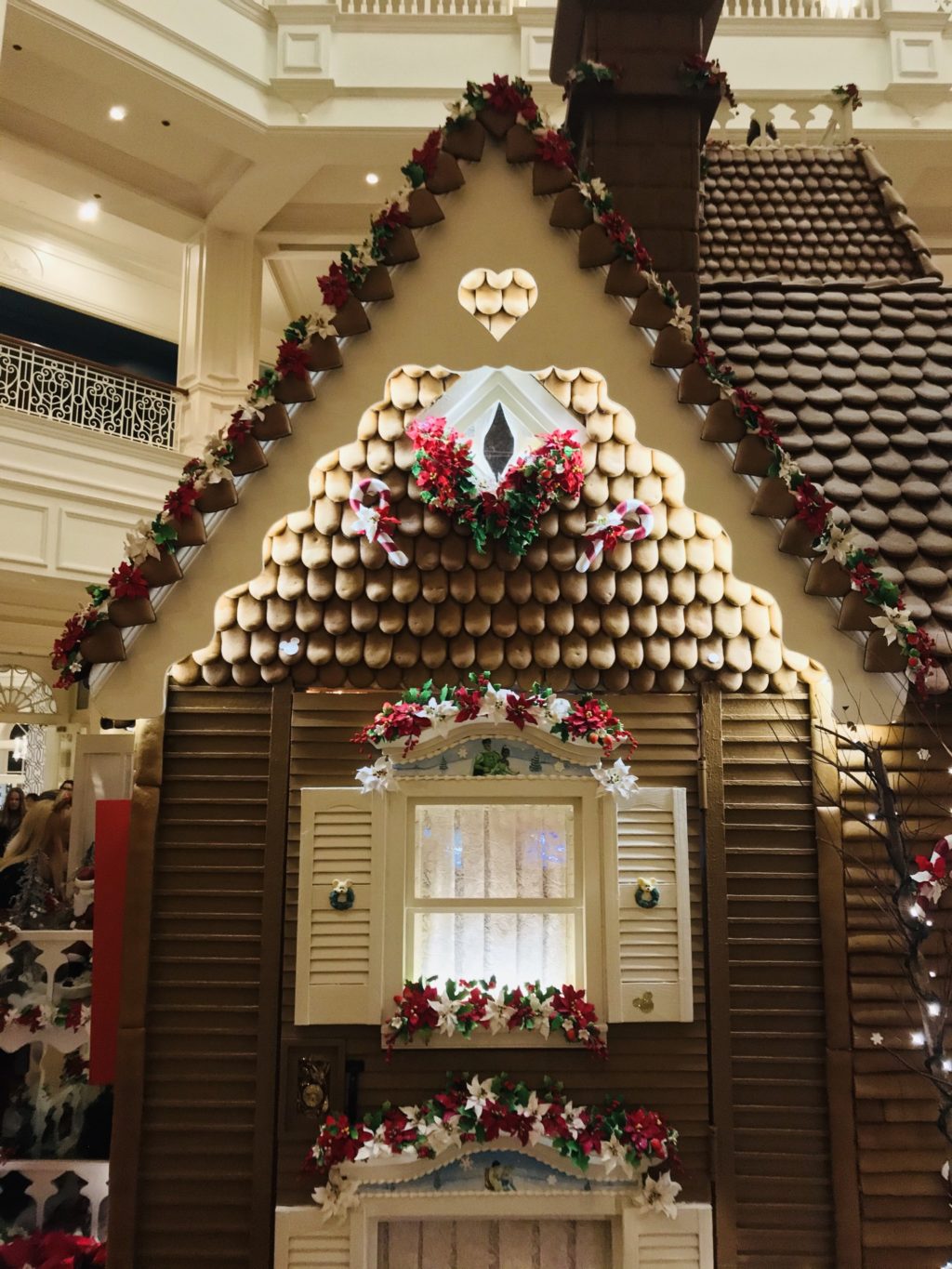 More poinsettias, tiny window wreathes and gingerbread shingles/shutters adorn this side of the gingerbread house. Maybe that can be my room??
Live Entertainment While You Visit
Grand Floridian Resort offers a variety of charming entertainment in its lavish lobby. We listened to someone play a grand piano then transition to the band shown below playing classic Christmas music. The live music truly adds to the festive ambiance here.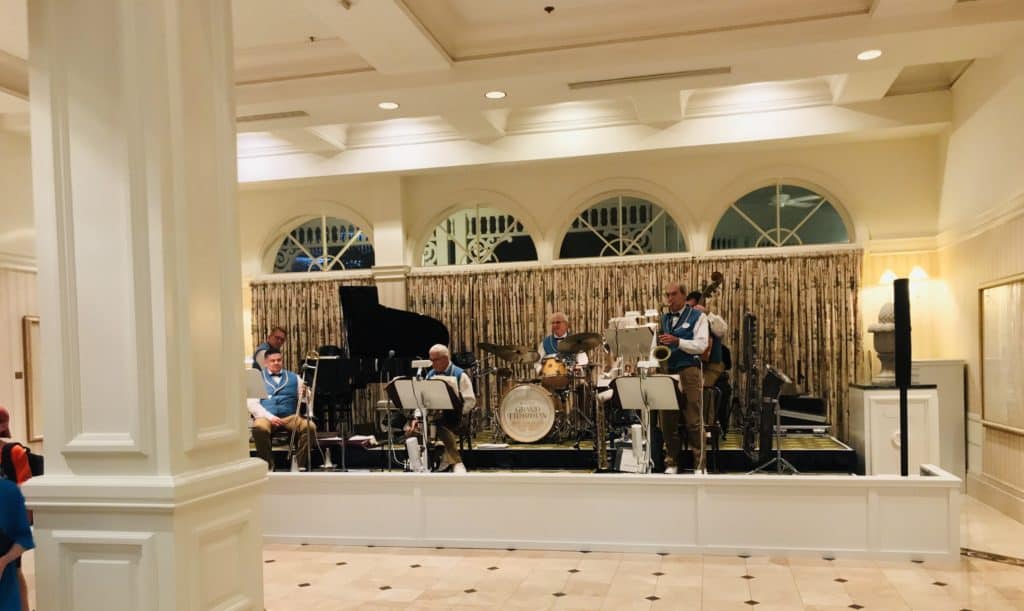 Not Just a Pretty House, There's A Store Inside…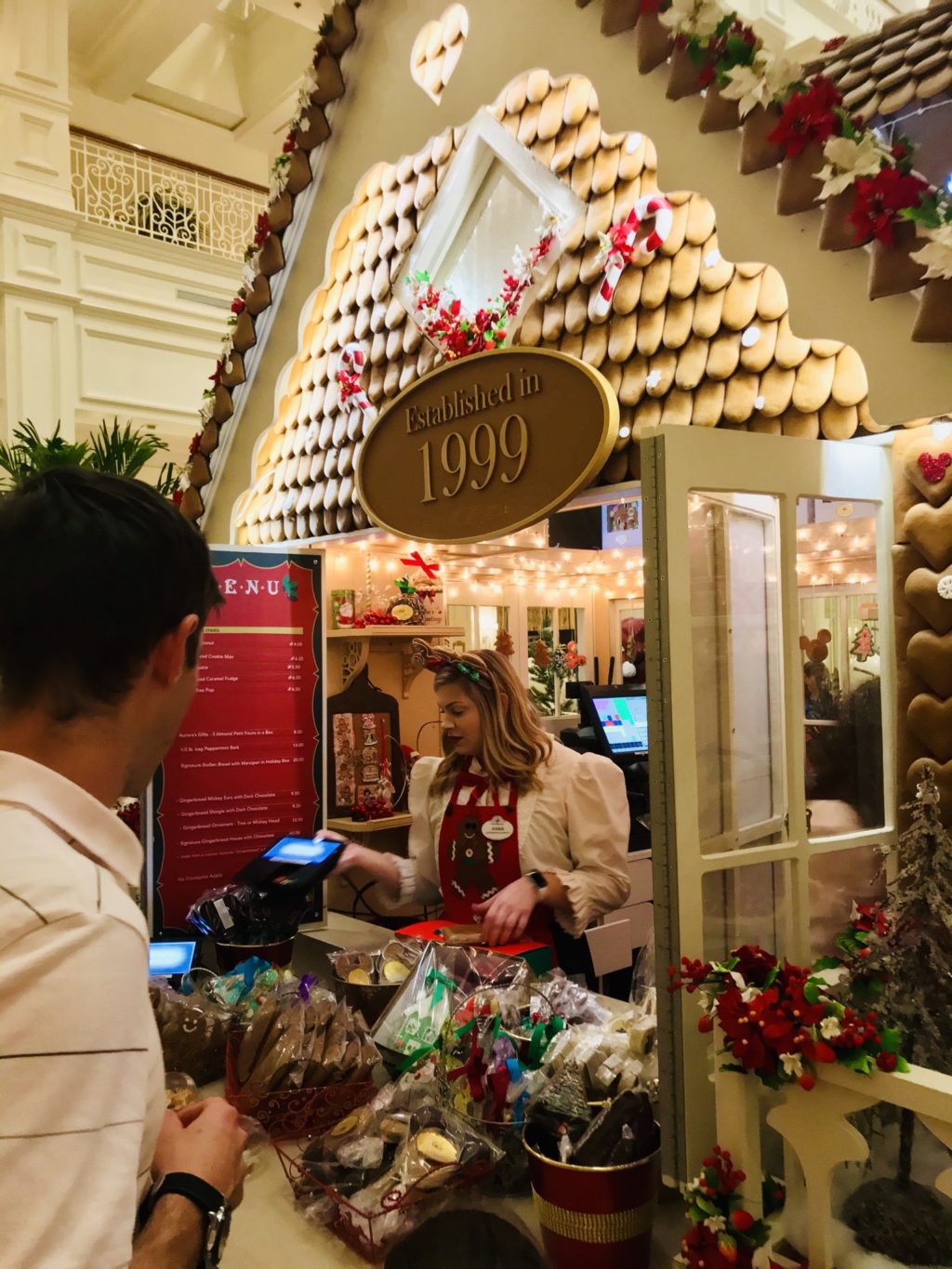 There were two charming Cast Members inside the gingerbread house offering an assortment of edible treats and keepsakes. See the menu of items available shown below.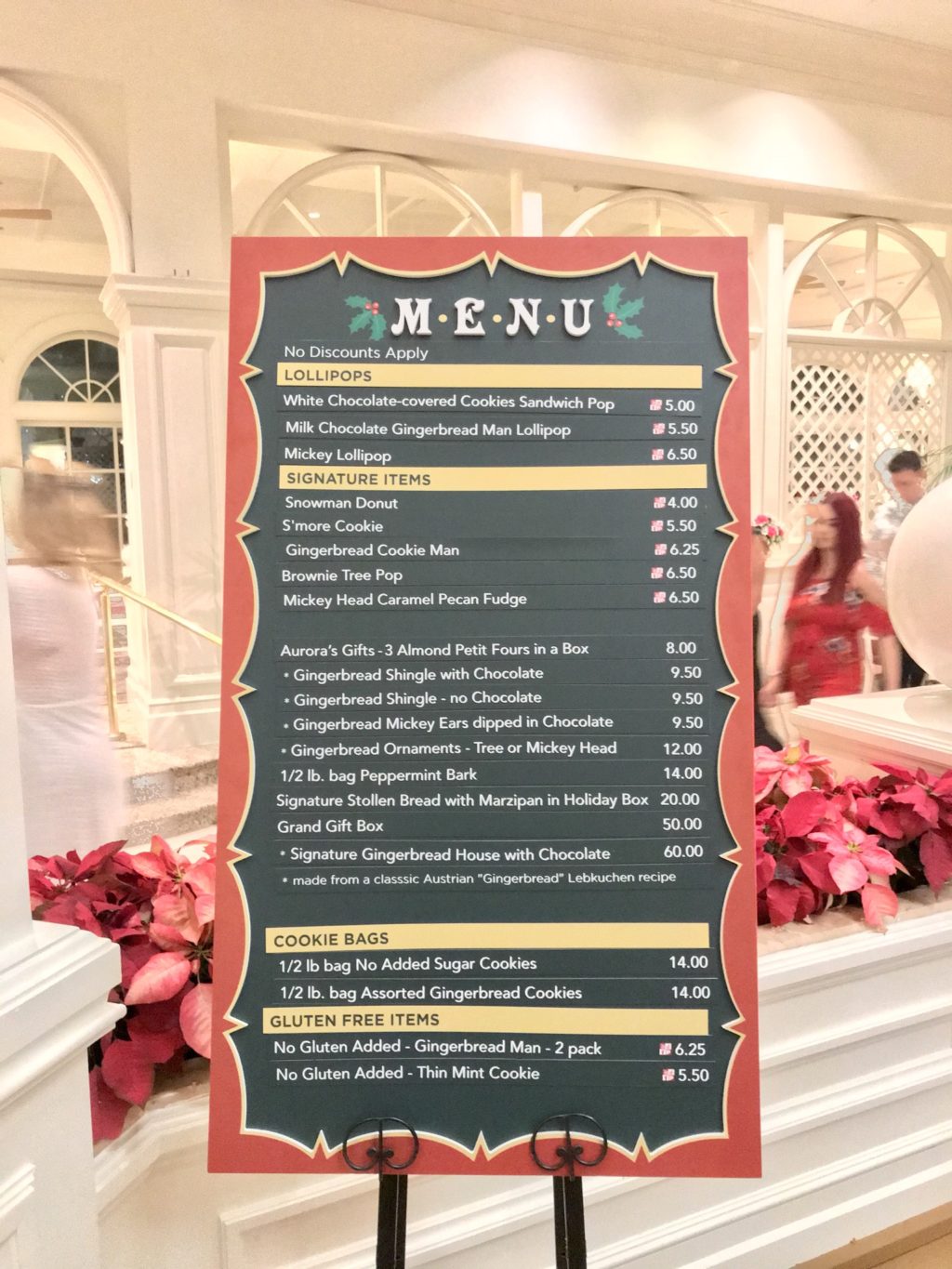 Sweet Treats
The highlight of the sweets is the gingerbread shingles; available with and without chocolate. These were larger, a little more expensive, and not a Dining Plan snack.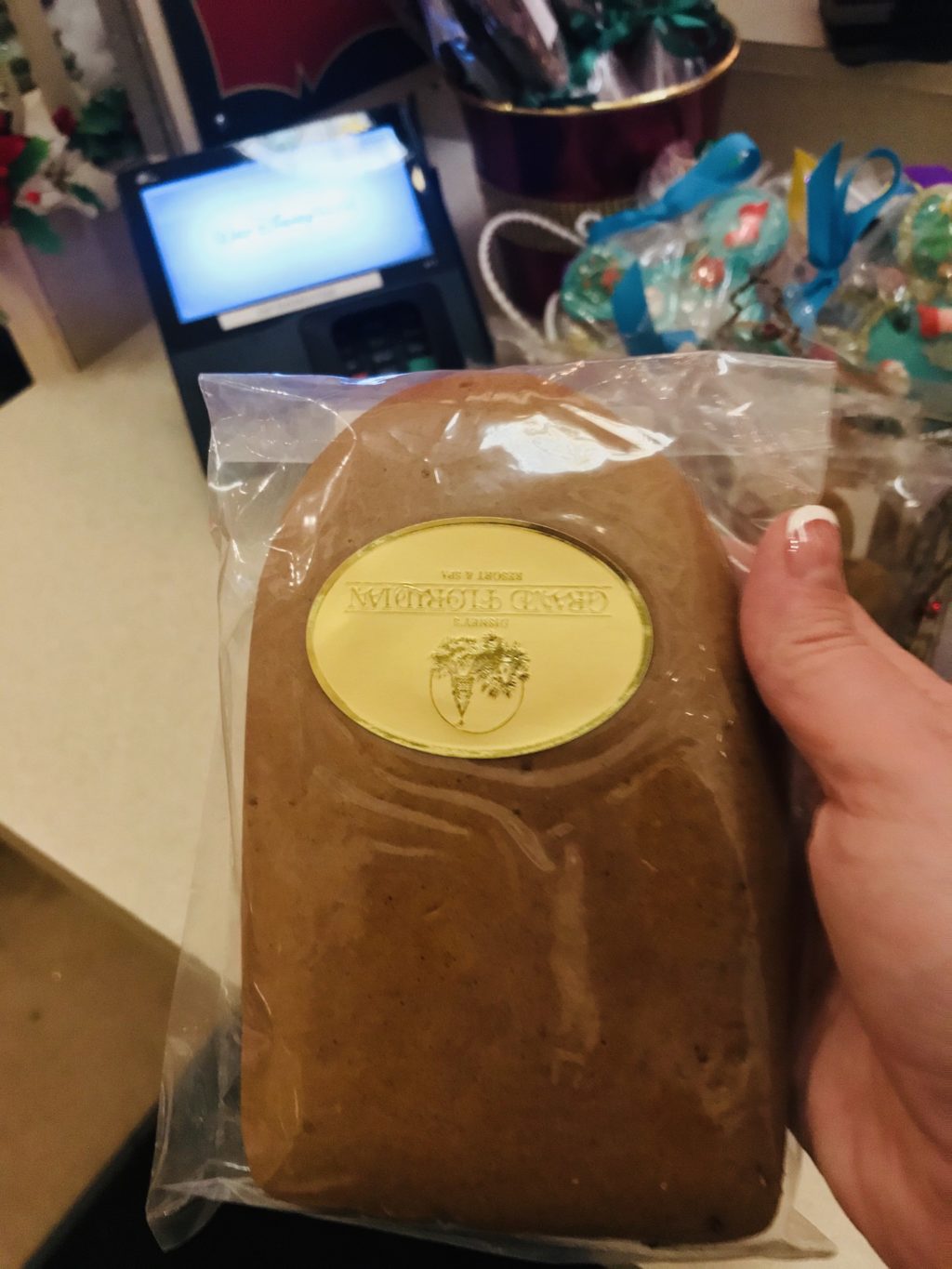 Listed below is a variety of snacks, including the lollipops, gingerbread man, and chocolate-covered gingerbread tree. All of these are listed as a snack on the Dining Plan per the above menu. They also make great gifts to take home!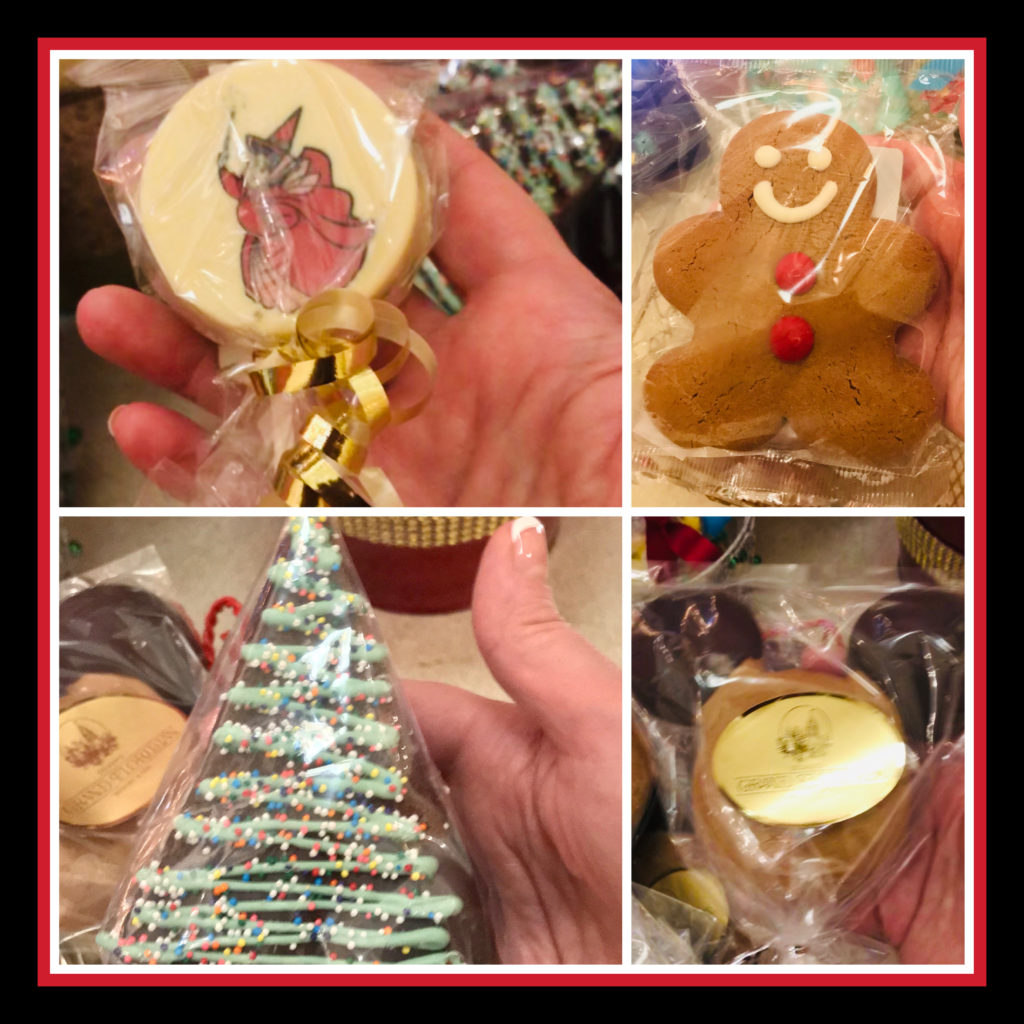 Take-Home Gingerbread House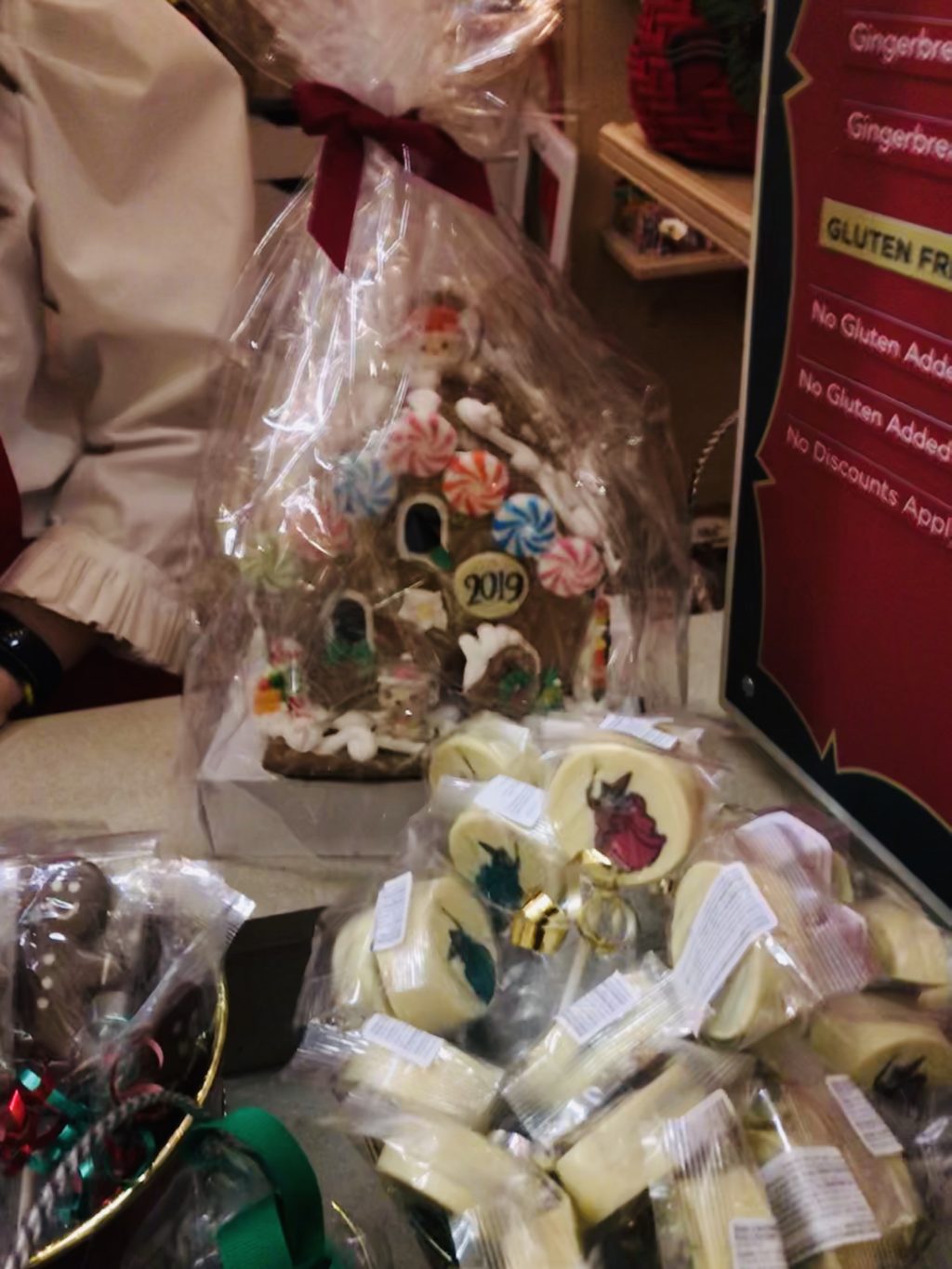 According to the Grand Floridian menu, this house will set you back $60. It includes chocolates, so there's that, but for that price, I expected more! Hopefully it tastes delicious.
For a special treat at home, Disney shares their gingerbread cookie recipe here.
Cutest Ornaments Ever!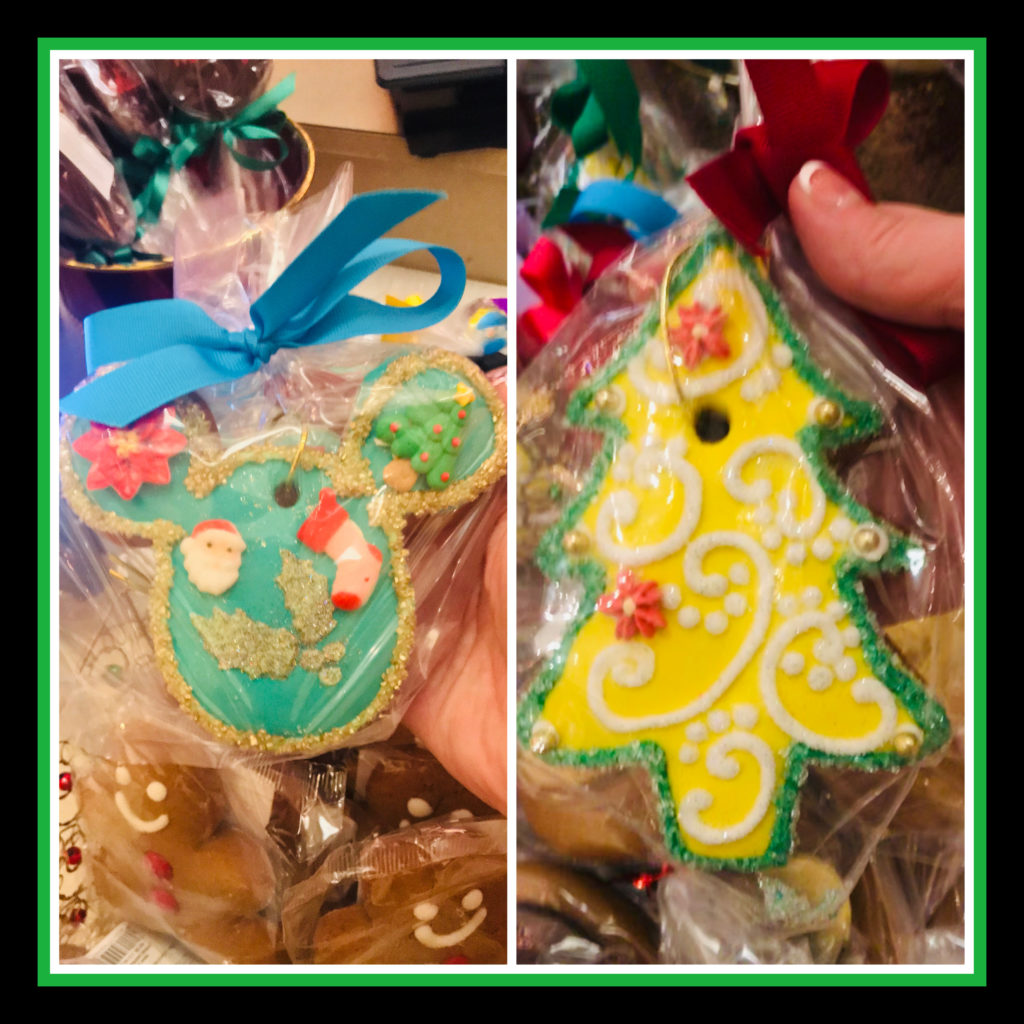 Not sure how these are made differently than the sweet snacks, but Cast Members said they do not recommend eating these ornaments. They said they would last from year to year on our Christmas trees though. Both the Mickey and tree ornaments were offered in a variety of colors. I purchased the green Mickey head ornament shown above. It was just too cute to pass up!! (Thinking about spraying it with a thin protectant to increase its shelf life.)
Inside The Store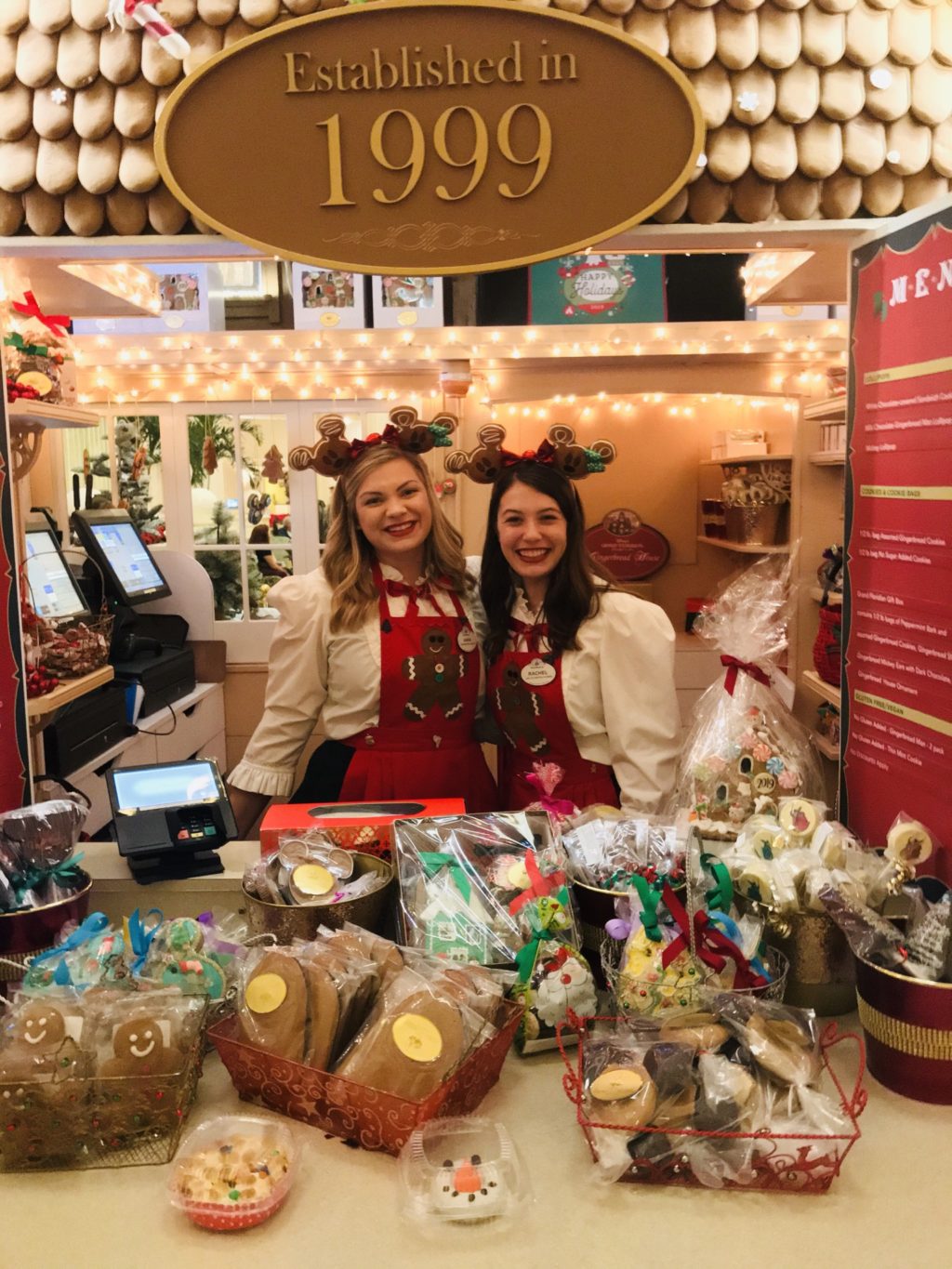 Two of the sweetest Cast Members I've ever encountered were working the Gingerbread House Store the evening I visited. They were so patient to answer my questions and encouraged me to take photos of everything. They even asked if they could be in one, so of course, I obliged!! Cast Members are truly what makes Disney magical!
If you get a chance, I highly recommend going to the Grand Floridian and seeing this amazing Gingerbread House! It's just a quick trip on the monorail from either Magic Kingdom, the other monorail resorts, or the Ticket & Transportation Center.
What are your thoughts on the Grand Floridian's gingerbread house and treats? Do you have a favorite you've tried or want to try? Please share your thoughts on the KtP Facebook Page. You can also share this information by clicking the large blue Facebook button below.
-Susan