When visiting this weekend, we found several spooky new Haunted Mansion items for sale. We spotted brand new exclusive items that are hot! Check out details and where to find these scary and fun items before they're sold out!
Fall is in the air, and with it cooler temperatures will be coming to Disney World. In addition, Disney is bringing out fun treats and merchandise now to celebrate Halloween Disney-style! Check out the Haunted Mansion items I spotted on my recent trip to the Magic Kingdom.
Haunted Mansion Spirit Jerseys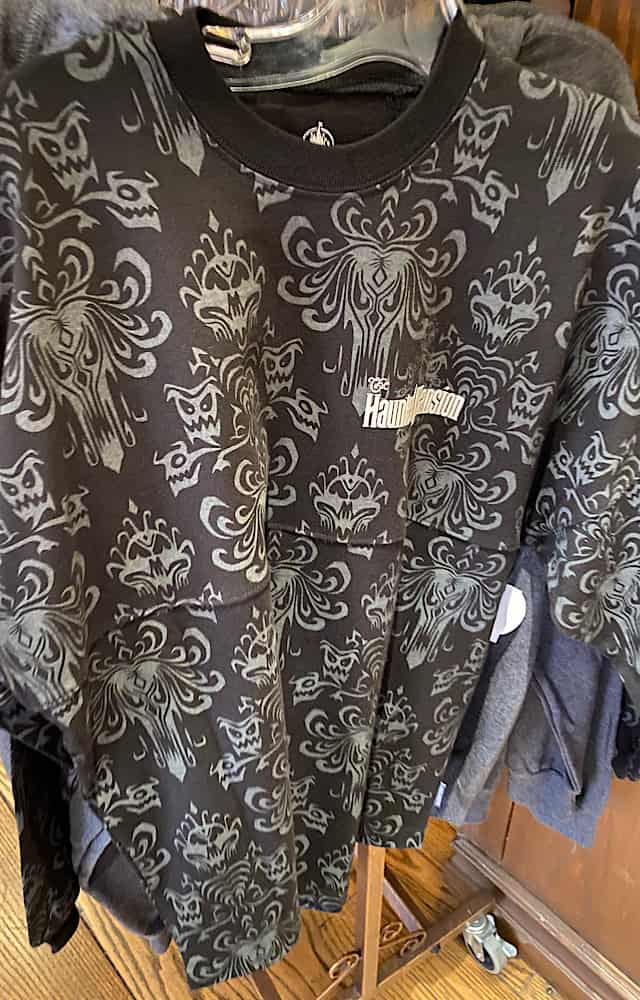 We spotted a variety of spirit jerseys on our most recent trip. Haunted Mansion has released some of my favorites! Check out the exclusive black wallpaper spirit jersey sold at Memento Mori store located near the Haunted Mansion entrance.
Although I would have preferred a more Halloween-themed back, the font fits the theming at least. The muted black and smoky gray colors give a ghostly vibe.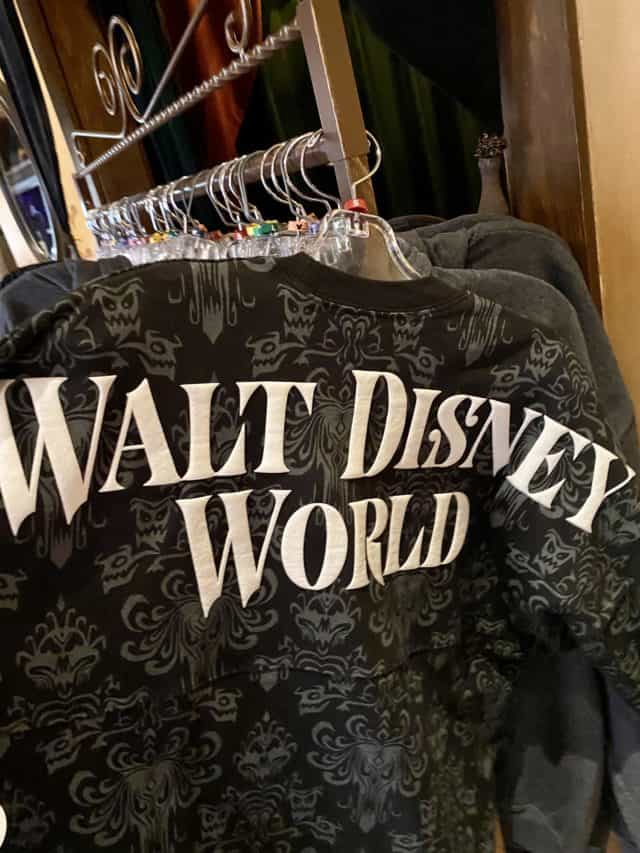 Other spirit jerseys, along with a host of other Halloween items, have been spotted on shopdisney.com. Check out a fellow writer's article on Halloween merchandise available on shopdisney.com to see what's currently available.
Haunted Mansion Mickey Ears
New Haunted Mansion themed Mickey ears can be found throughout Disney Parks shops, resorts, and on shopdisney.com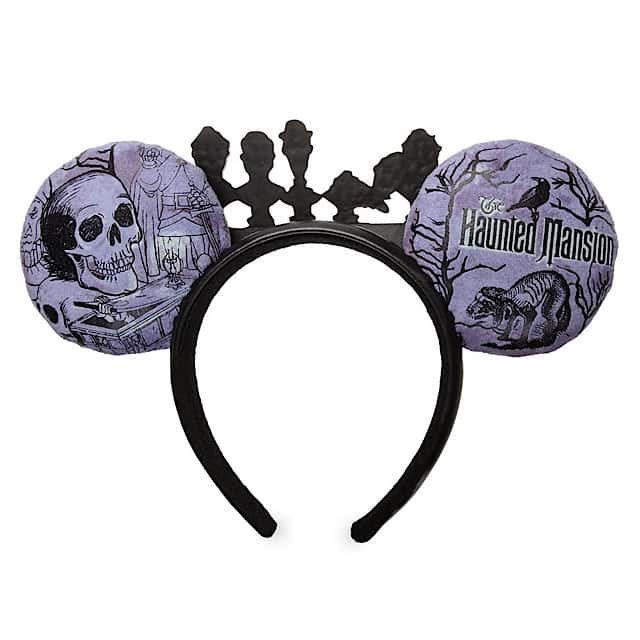 I adore the playful theming of the tightrope ears. The colors here are lighter and whimsical. A new version of the Haunted Mansion ears has been released featuring the singing busts and other scenes from the ride.
This is the first time I've spotted these ears at the Magic Kingdom. They're also currently for sale on shopdisney.com.
Haunted Mansion Ornaments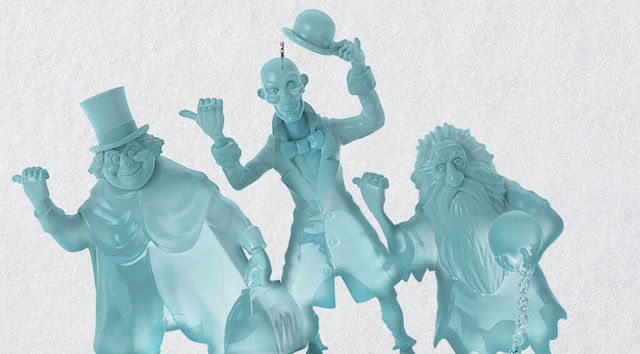 A few months ago, Hallmark released an ornament of the beloved hitchhiking ghosts. Check out all the details on this quirky ornament here.
Shopping at Ye' Olde Christmas Shop across from Sleepy Hollow, I spotted a wall of mini-ear ornaments. My absolute favorite is the Haunted Mansion themed ornament.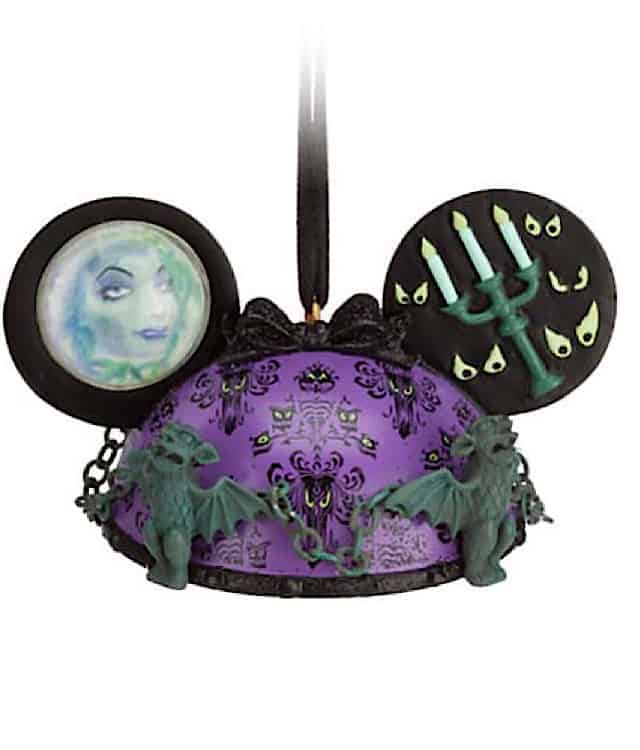 This is one of the most incredibly themed ornaments I've ever seen. So many ride elements are incorporated into it. These mini-ear ornaments are hand painted, and fragile due to the small parts.
Haunted Mansion T-Shirts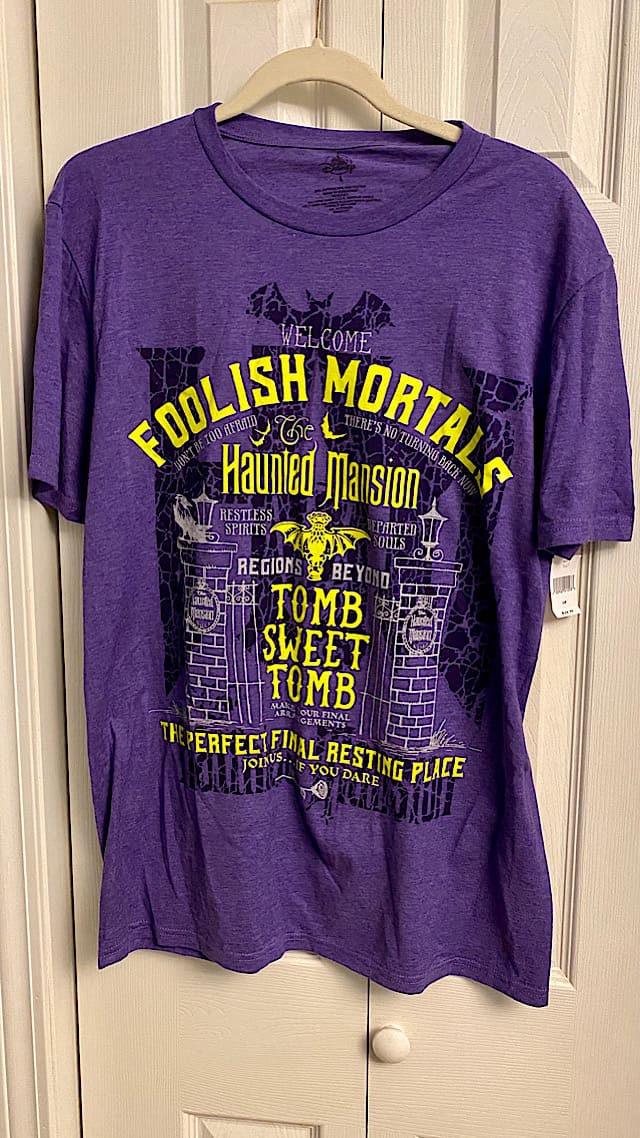 When shopping at Memento Mori, I stumbled upon this amazing graphic t-shirt! Pretty sure this one's also exclusive to this store. The color combination coupled with the bold yellow lettering really make this t-shirt stand out.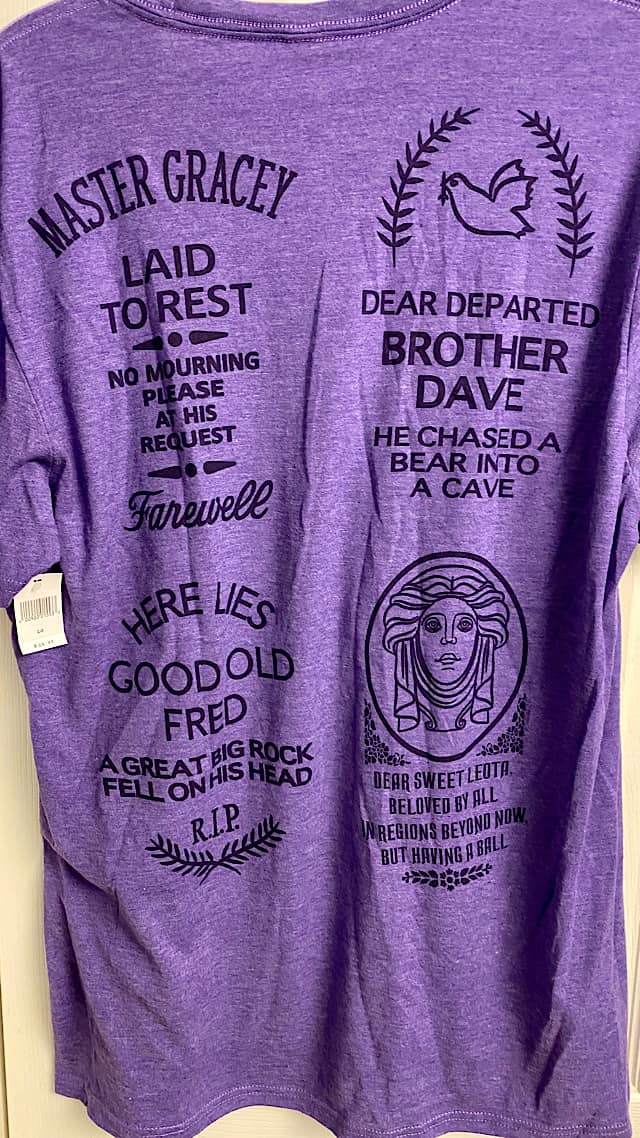 The back contains some of my favorite tombs ever! Graphic tees were on sale for $20 this weekend. With my Annual Pass, it was only $16 plus tax!
I also spotted this Foolish Mortal t-shirt at Memento Mori. Isn't this just the most quirky, fun place to shop? The hot pink seems to "glow" in person.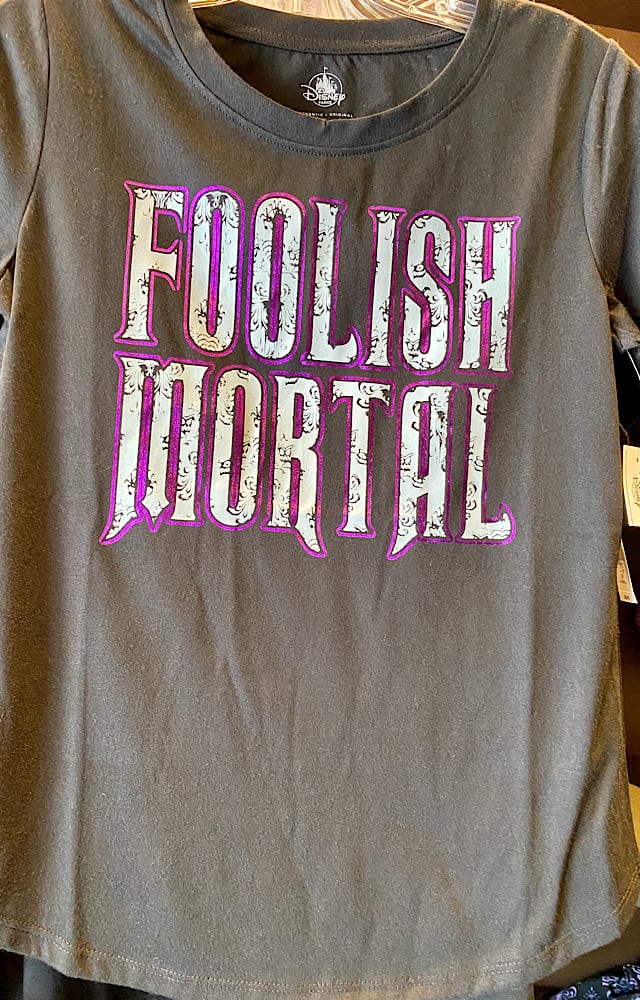 Exclusive Madame Leota Sipper Cup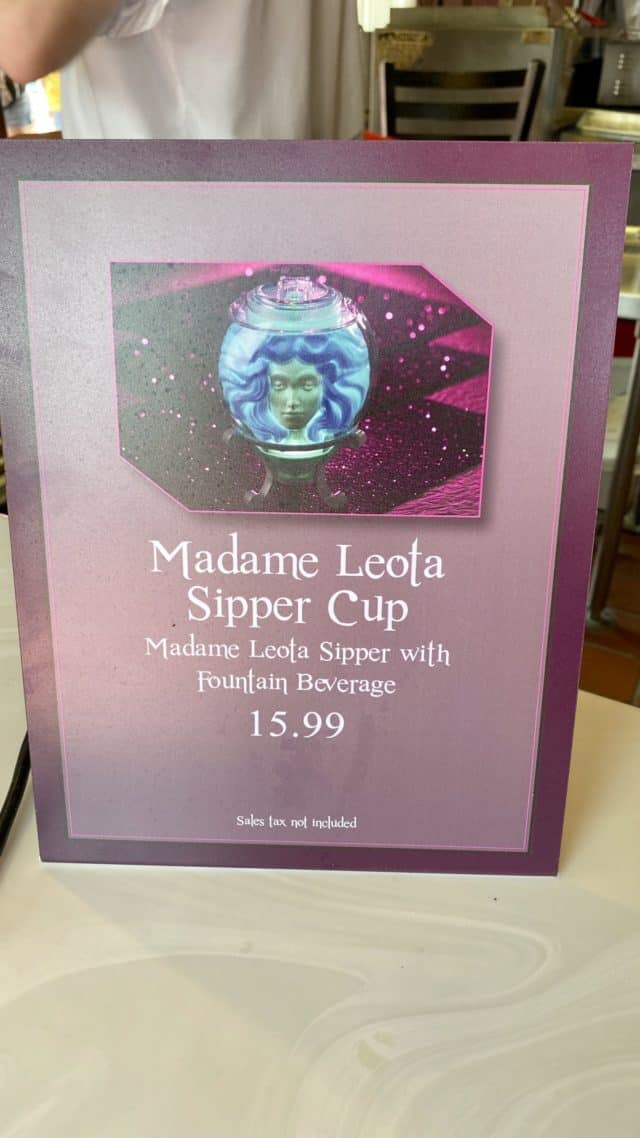 Disney has stepped up their merchandising game with Haunted Mansion!
On Thursday, September 3, Disney released a brand new Madame Leota found only at Magic Kingdom, and it retails for $15.99 plus tax.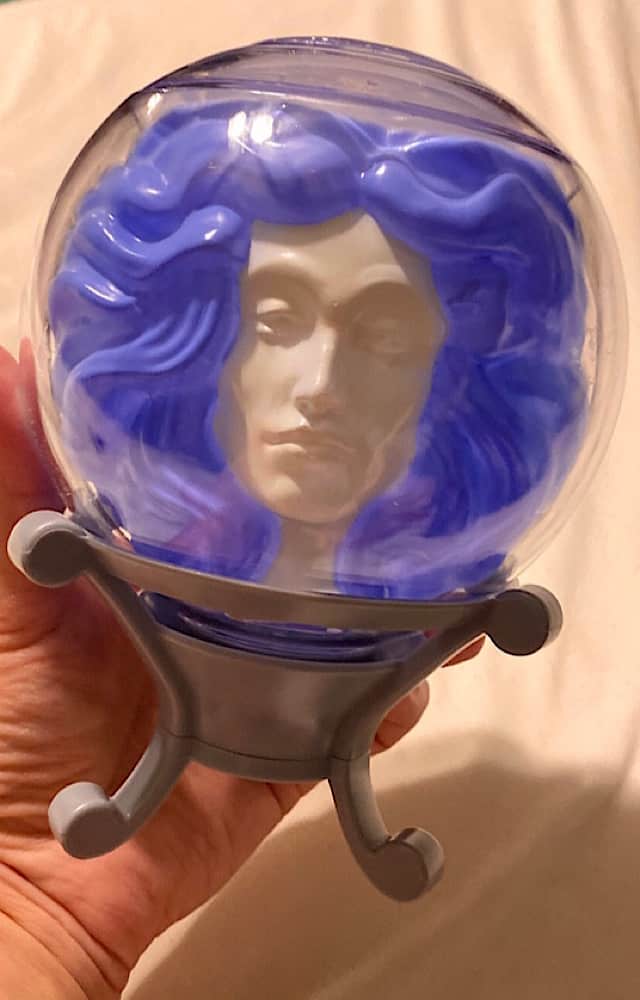 The Madame Leota sipper includes a built-in straw that pops up when the lid is opened. When guests purchase the sipper, a fountain drink (in a separate cup) is also included.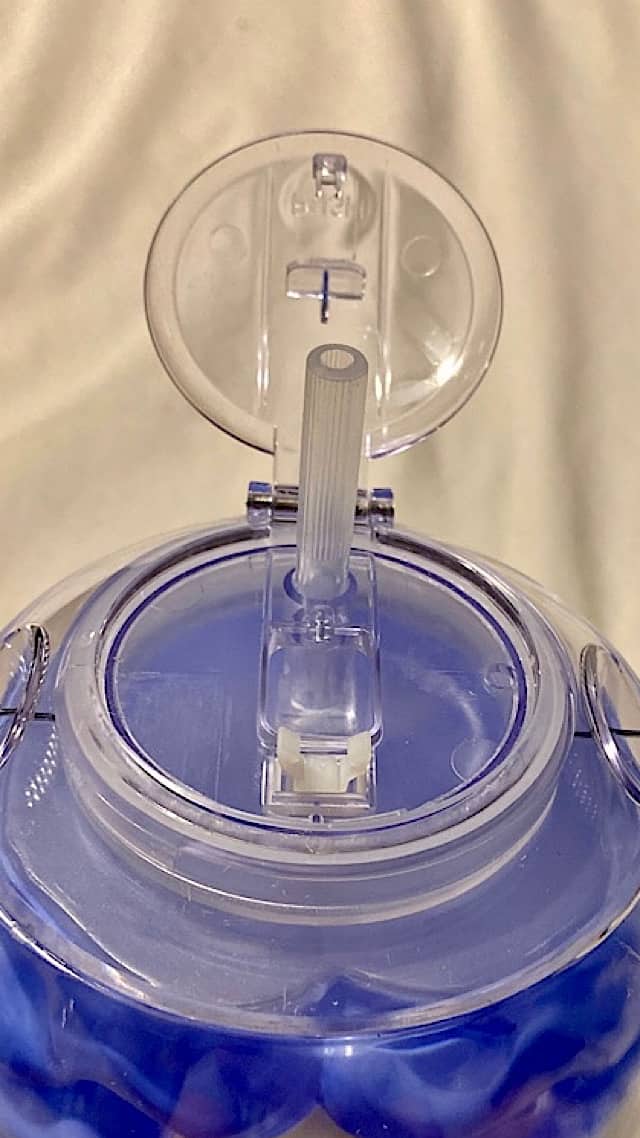 She also illuminates with the touch of a round button located at the bottom of the sipper. There's also a battery compartment shown here.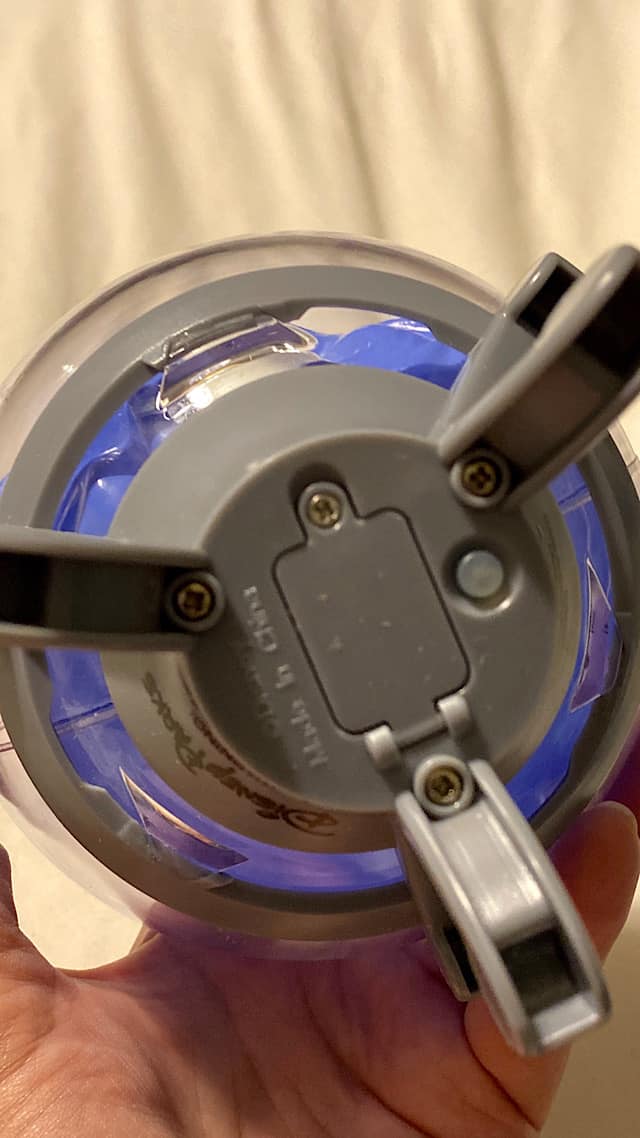 Mine hasn't started spouting out spells yet, but I can hear her from the Haunted Mansion ride when I see it.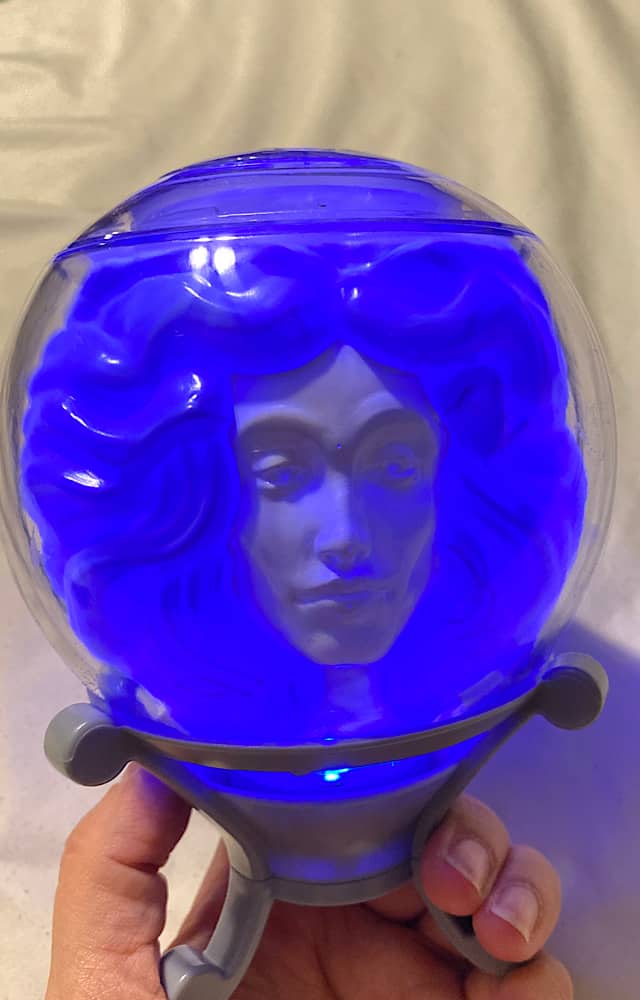 Headless Horseman Straw and Clip
My favorite part of the Disney World parade is when the Headless Horseman trots by to signal the upcoming parade. There's something so spooky and ominous about his presence.
I'm so happy that the Headless Horseman Straw and Clip have arrived at Disney World!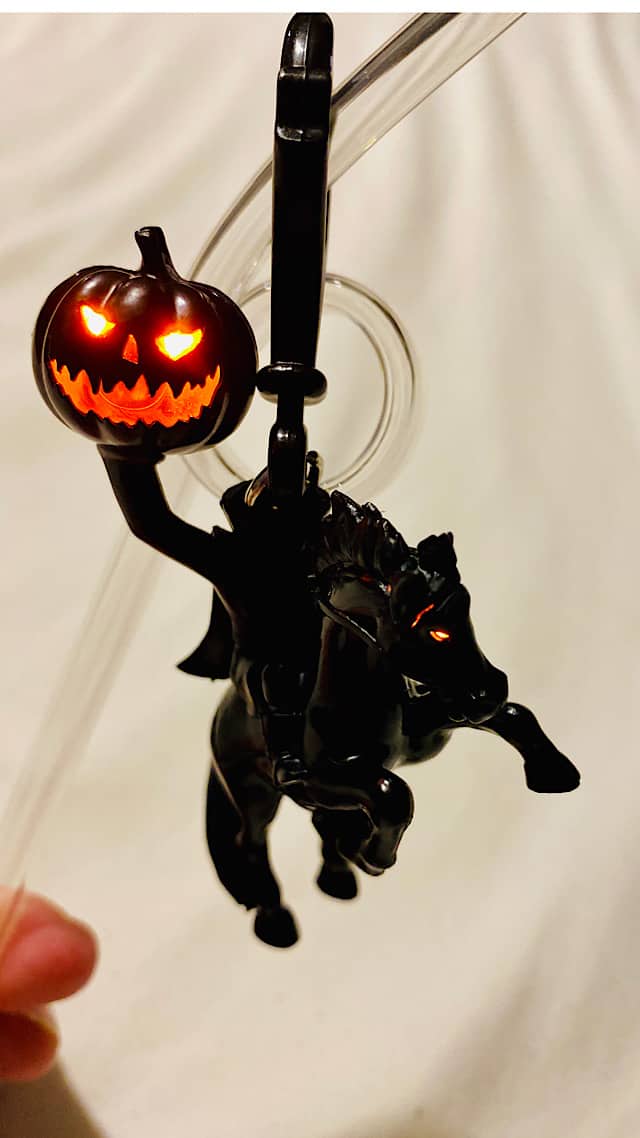 Disney not only gave us our beloved Headless Horseman, but it lights up in 2 places!
Also, Disney includes separate buttons for each area. First, the jack-o-lantern's button is at the back of the pumpkin. See below for a close-up photo.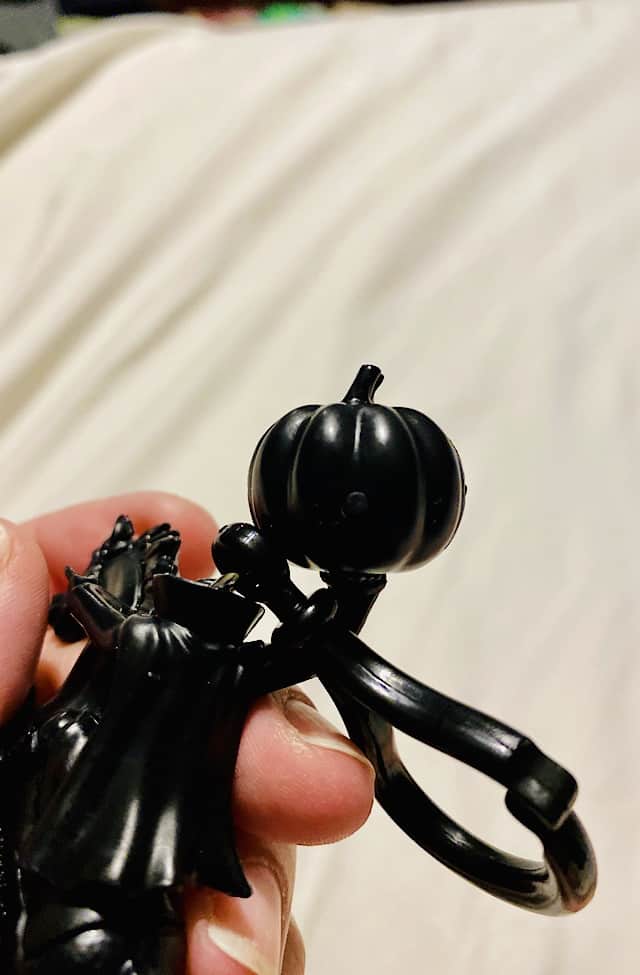 I absolutely love the eerie glow coming from the jack-o-lantern face. And to jazz things up even more, the eyes of the horse glow.
Check out the close-up photo below of the button on the bottom of the horse.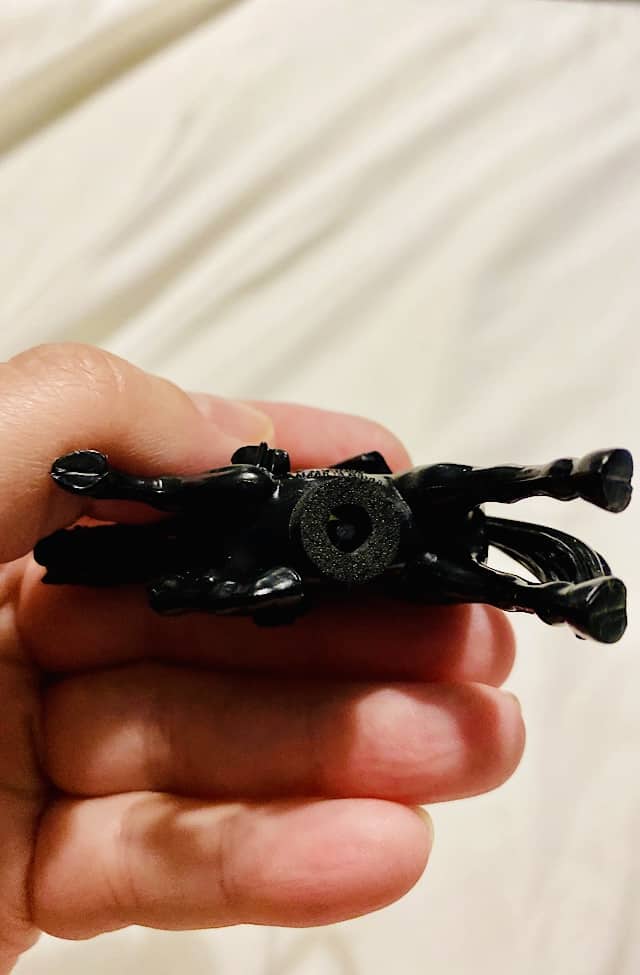 Guests can choose one or both items to glow, and there's an optional blinking feature.
There's also a foam circle that surrounds the light control button. This prevents it from being accidentally turned on and draining the battery.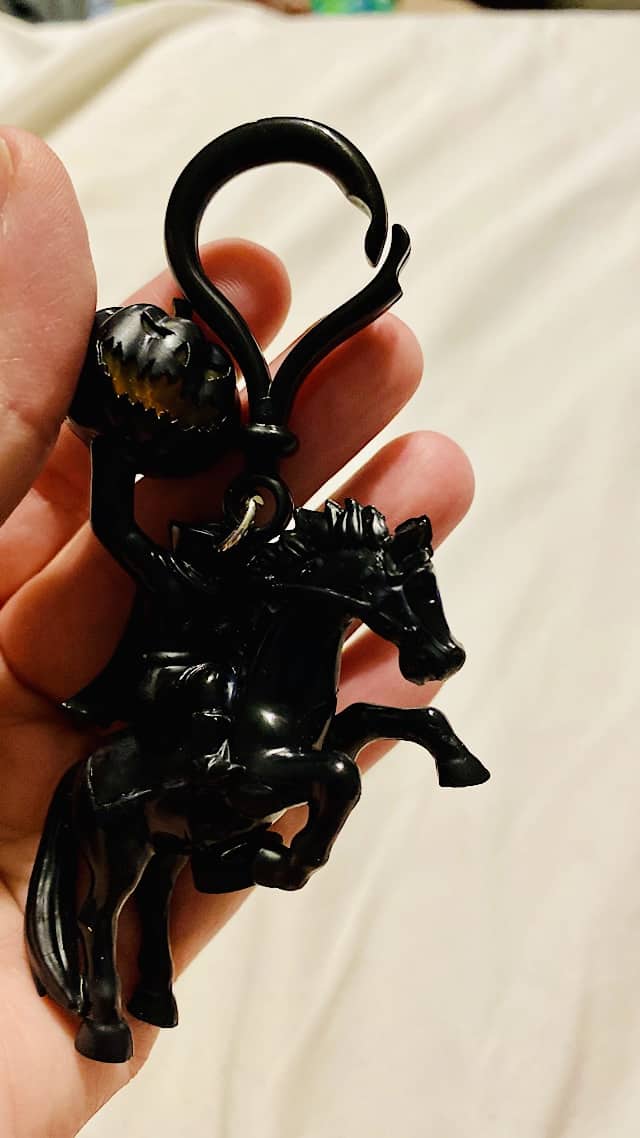 Disney has added such detailed features in the horse that it evokes feelings of the actual Headless Horseman clip-clopping down Frontierland in the dark. This item comes with a curly straw, but the clip make this item even more versatile. I'm going to attach mine to my Disney Halloween wreath.
The Headless Horseman clip and straw are a steal at $7.99 each.
Location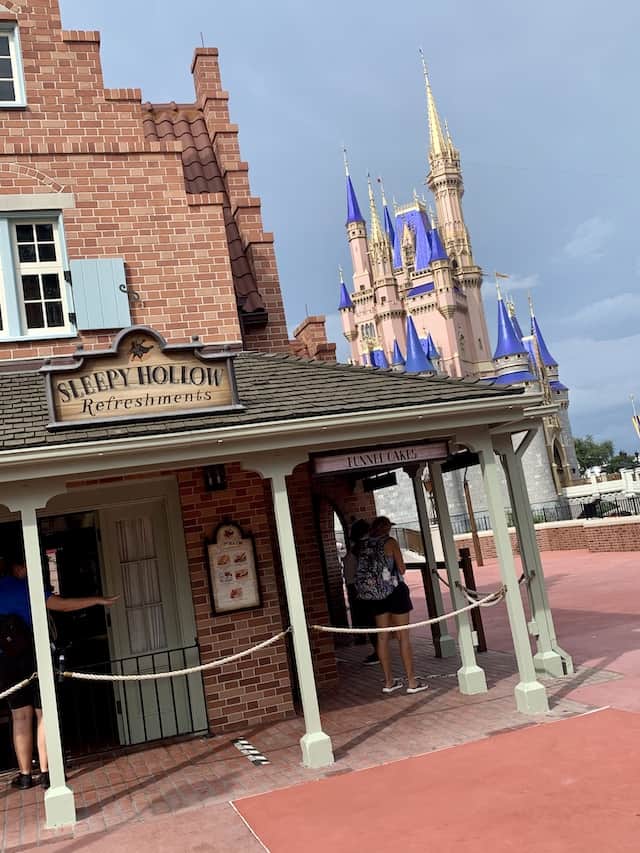 Both the Headless Horseman clip and straw and the Madame Leota sipper can be purchased at Sleepy Hollow in Liberty Square at Magic Kingdom.
Sleepy Hollow is known for it's fun Halloween treats and other tasty items. Check out 5 reasons to eat at Sleepy Hollow here.
Tips for Purchasing Exclusive Items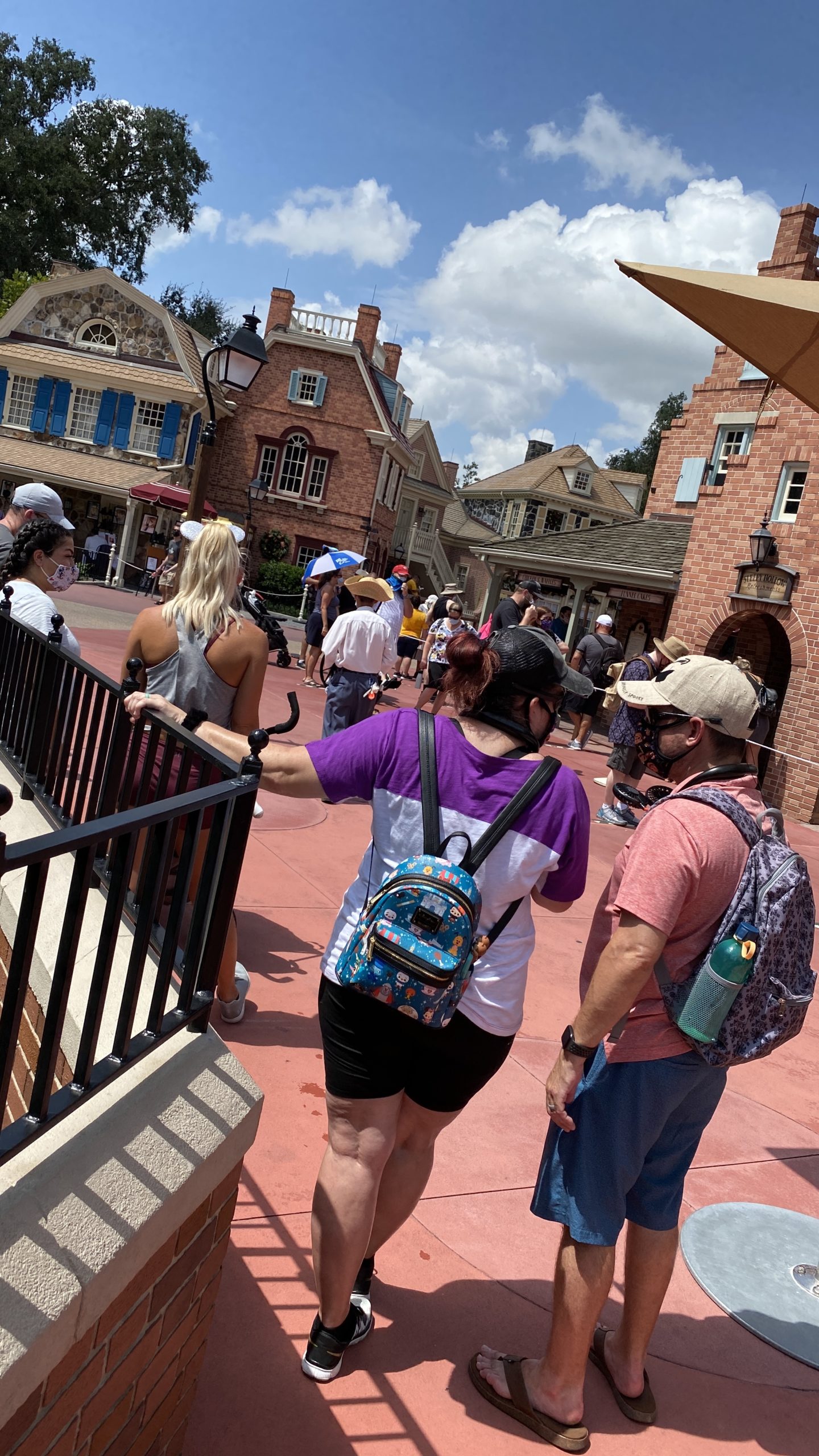 When I arrived an hour before park opening, Sleepy Hollow was open but didn't have much of a line. Avoiding the mainstream crowd rushing toward Seven Dwarfs Mine Train, I set my sights on Big Thunder Mountain Railroad.
I rationalized that I would be thirsty later in the day, and since the sipper included a drink, I would purchase it later in the day. Unfortunately, this was the day before Labor Day, and I didn't realize Labor Day is one of the busiest weeks of the year at Disney World!
PIRATE TIP: DISNEY ISN'T ADVERTISING THIS, BUT GUESTS CAN ALSO PURCHASE THIS WILDLY POPULAR SIPPER AND STRAW AT THE LIBERTY SQUARE TICKETING OFFICE WITH NO WAIT!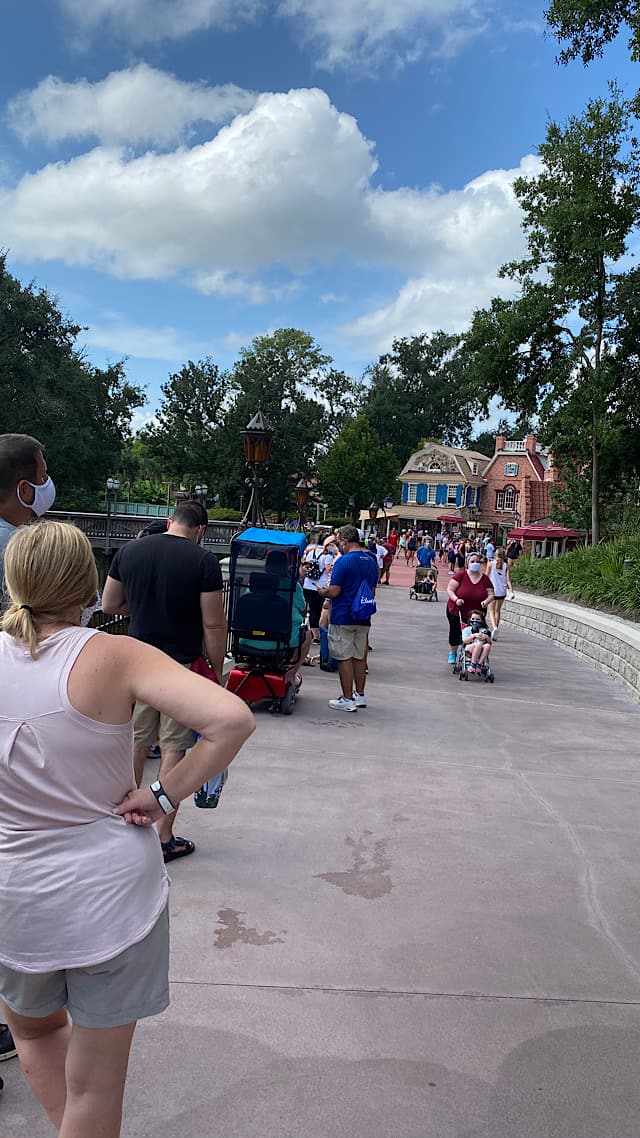 During Labor Day weekend, Memento Mori also had a line to enter the store. To minimize waiting, I recommend getting your must have Haunted Mansion items first thing.
The only exception to this if items are really heavy or awkward to carry around. Unfortunately, Disney isn't sending merchandise to Disney Resorts or to the front of the park at this time.
Do you love Haunted Mansion merchandise? If so, what is your favorite new item? Do you prefer a more Mickey themed Halloween jersey? We would love to hear what you love best on our Facebook Page.