We at Kenny the Pirate want to wish all of you fathers out there a very Happy Father's Day. Think of the Dad in your life. Is he brave and strong, like Mufasa? Chill like Crush, from "Finding Nemo?" Supportive and proud, like Fa Zhou from Disney's "Mulan?" Whomever he may be like, today, we are celebrating you, Dad!
Disney dads, in my opinion, have to be some of the best kind of Dads. For one, they are just really good sports. Who else agrees to wear matching family shirts or Mickey ears and does all of the heavy lifting and stroller pushing through the parks? Dads, that's who!
When they ask where we want to go on our next vacation and we answer, "Disney!", instead of groaning, "Oh, again….?" (at least out loud) they say, "Let's go!"
Let's take a look at the many Disney memories the KtP writers have shared with the Disney dad in their life, and we invite you to do the same!
Monica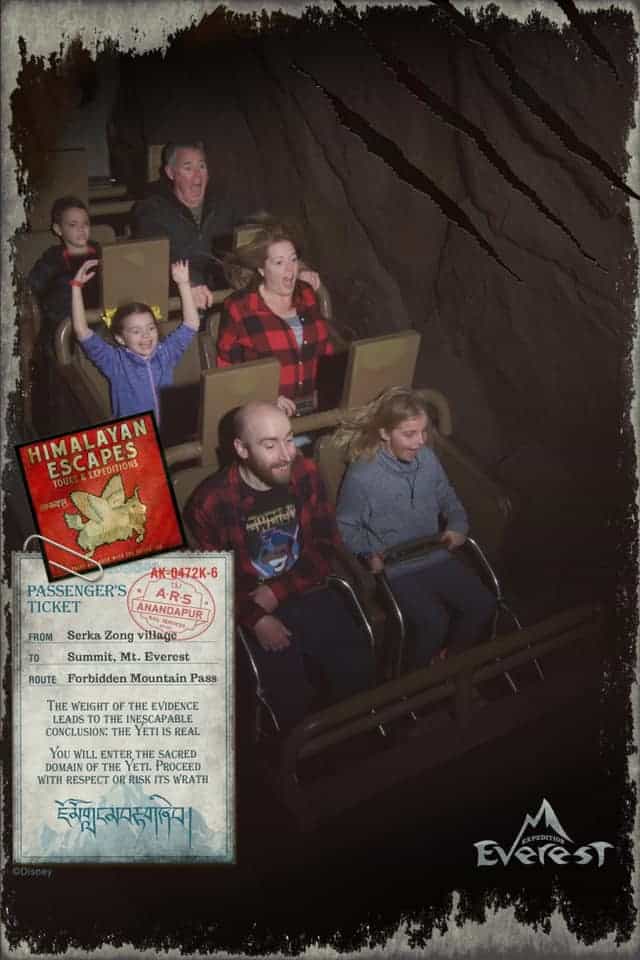 My Disney Dad is the official stroller pusher on our trips. He's the one who gladly sits out with anyone who doesn't want to ride.
When I was a kid he always made me wake up so early so we could get to the parks, and I love getting my payback by making him get up early for rope drop!
Above is a photo of him riding Expedition Everest with a priceless expression! (He's back right). Happy Father's Day, dad, wish we could spend it at Disney!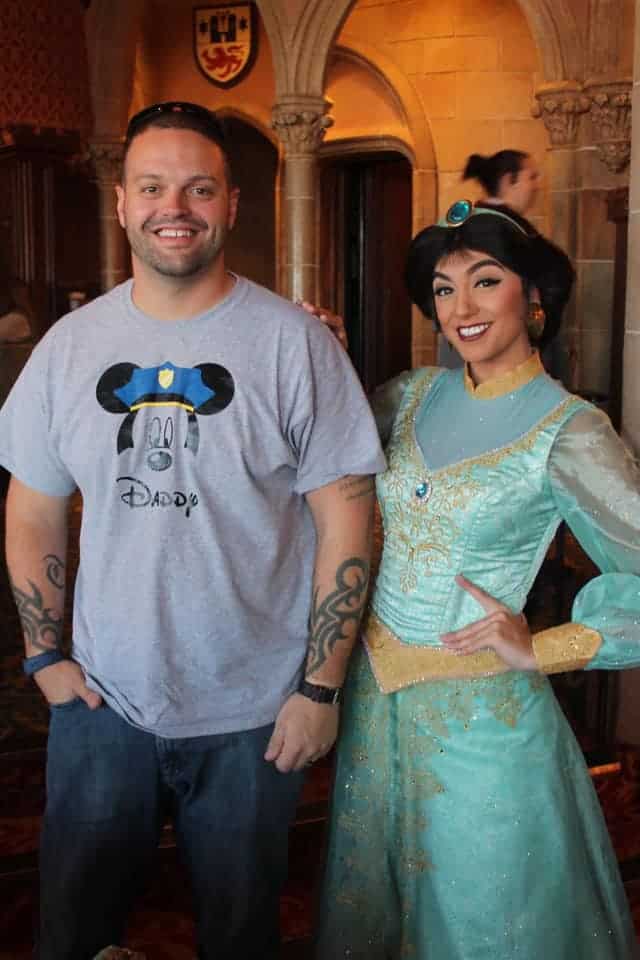 I have turned my once Disney grumpy husband into a Disney fanatic. He loves our Disney trips now and is always the first to suggest Old Key West when we are considering resorts.
He's such a good sport about all my Disney shenanigans – like the time I made him get birthday photos with all the princesses at CRT breakfast (and then later that night at 1900 park fare). Jasmine is his favorite princess!
Happy Fathers Day! I wish we could spend it at Disney!
Jessica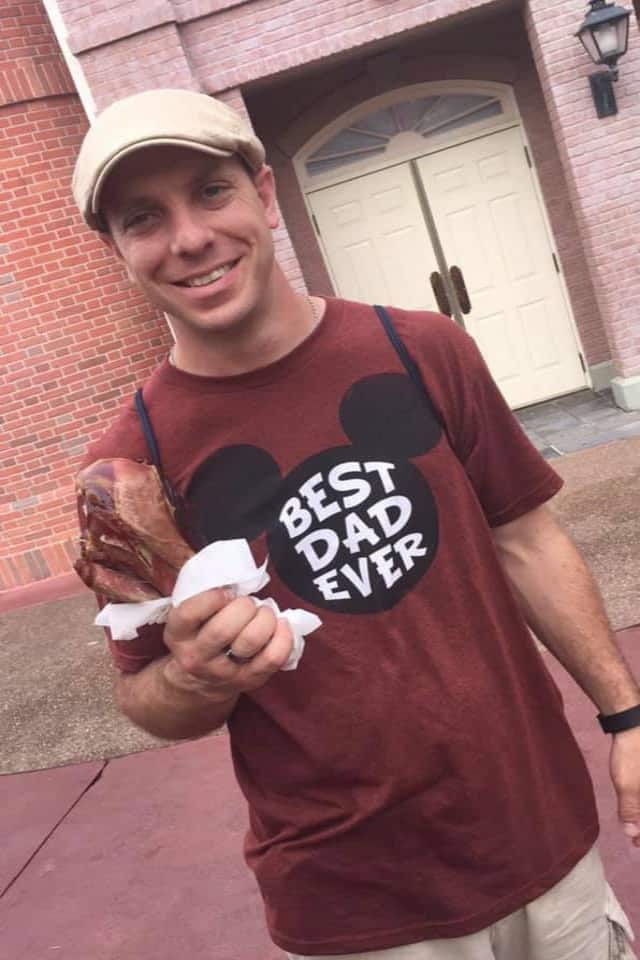 My husband Ray is the Best Disney Dad Ever! He embraces my crazy Disney planning and wears matching family shirts with a smile. He runs to multiple snack stands to ensure everyone has their favorite Mickey treat while watching the parade.
We can't wait to make more magical memories on our next Disney family vacation!
Christina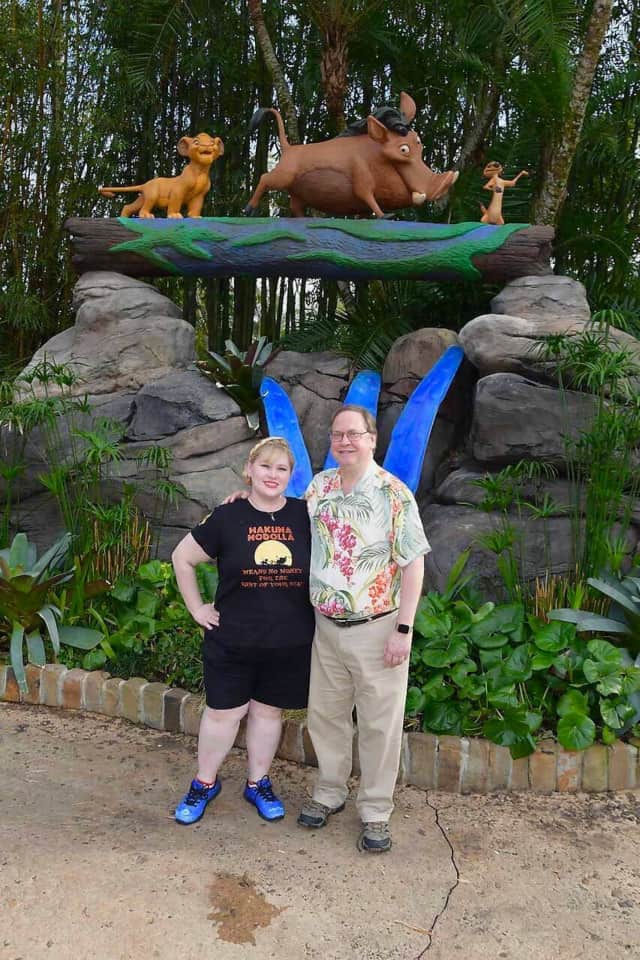 My Dad gave me my love for Disney. My very first trip was when I was 3 months old. My parents would trade in their Pocono time share weeks to the Orlando area. We would make the 17 hour drive straight through and stay for a week or two.
My dad loved to explore. If it wasn't for his adventurous spirit we never would have discovered half there is to see around the Walt Disney World Resort area. He loved to drive around and find backroads to places. We would drive over to the resorts and just walk around to explore what there was to see and do.
Disney was our favorite place to visit and spend time with family.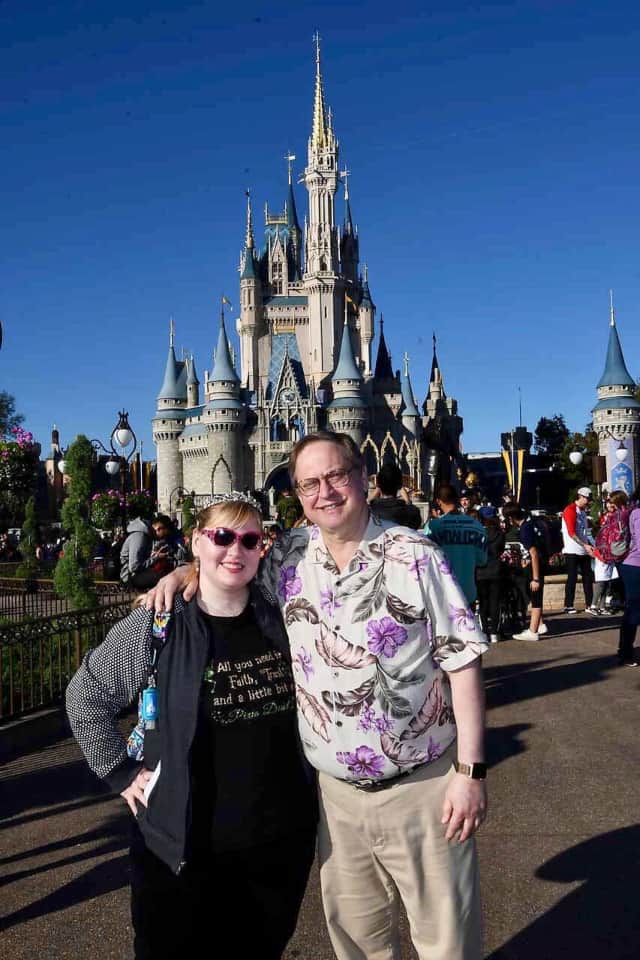 One thing I learned from Dad was, how to make the most out of your trip when things don't go the way you planned. He always had a "backup" ready to go. If something fell through, he'd find something else to do to fill time. We never sat around waiting for our plans to realign.
I will always be grateful to my dad for all the memories he's given me over the years and I am pretty sure that my obsession has way surpassed his, but he taught me you will be never too old for Disney! Happy Father's Day Dad! Love you!
Marisol
My husband. He puts up with my love of Disney. He acts like he doesn't like it as much… but he secretly does! Just the other day he told me it would be nice to be back at Epcot.
We love you so much and are thankful and blessed that you are in our lives. Thank you for everything you do for us. We love more. We win!
Ito has always been the Grandpa that if you even mention the word Disney, he asks "when?"
He always enjoys going to the parks with his two granddaughters and enjoys taking in the views and pointing out all the plants and trees at Animal Kingdom.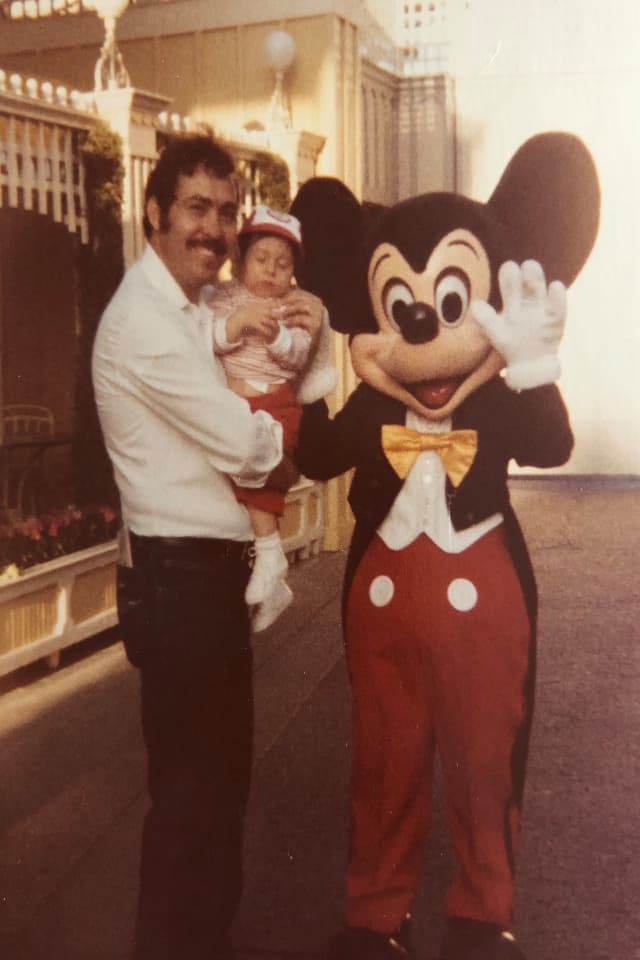 Just the look on his face in this picture shines how much he loved taking me to the parks when I was little. He always reminds me how he visited Disneyland the first year that it opened and that he still has E-ticket books tucked away in a trinket box at home.
It's funny because I always joke that Walt Disney is his spirit animal. Their joy in childhood innocence and creativity aligns them quite perfectly. Those two would have made great friends.
Heather
This isn't the most current picture, but it is one of my favorites!
My husband loves Disney almost as much as I do. He wears the matching shirts (most of the time) and buys me all the Minnie ears!
Donna
I remember when my dad took us on our first trip to Walt Disney World. It was in July of 1991 and I remember how he kept checking to make sure everyone was having a magical time. We opened and closed every park for a week and so many memories were made.
This photo is one of my favorites of my dad from that trip. We were all excited to ride Space Mountain, but someone needed to sit out with my young cousin. My dad isn't the biggest fan of roller coaster, so he was happy to take one for the team and sit out. We exit Space Mountain to find both my cousin and dad taking a nap.
In a few seconds, he was ready to roll for our next adventure. Love you Dad! Thank you so much for beginning my love for Disney and for encouraging me to always dream for my "Happily Ever After!"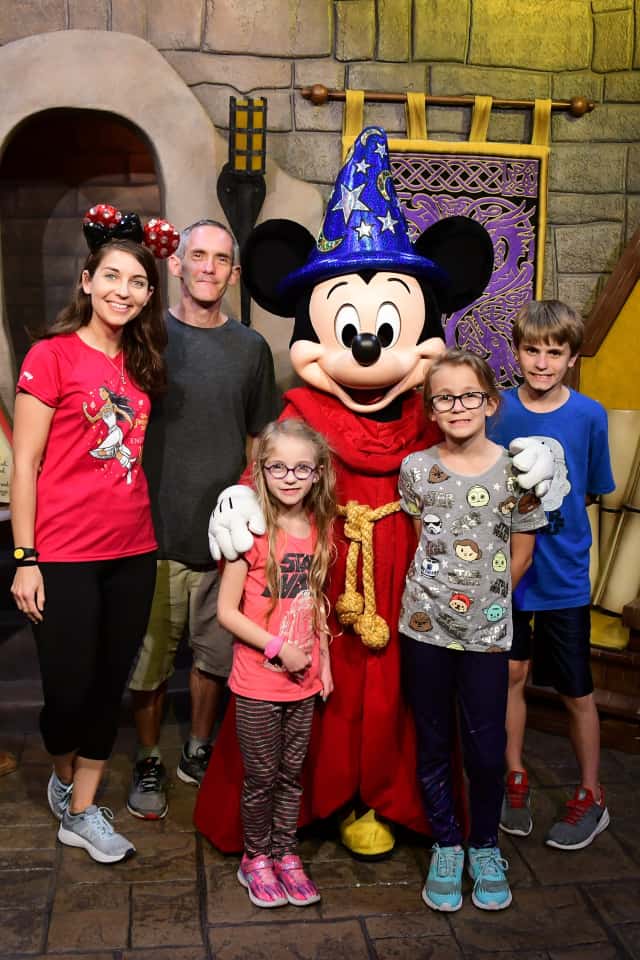 My husband supports my love of all things Disney and he has helped us create so many magical memories in the Disney Parks from splashes down Splash Mountain, waiting in line to see Mickey just one more time, character meals, and sprinting through Animal Kingdom to rope drop Flight of Passage.
Matthew is a wonderful dad and husband. He always encourages each of our children to "Dream Big!" His enthusiastic spirit and encouragement is contagious. He has a true spirit of adventure and he loves to plan surprise trips and tells us to "get in the car and we'll be there in 5 minutes."
I hope our children will remember many happy memories from the "Most Magical Place on Earth" with our family, but I also hope they carry with them this spirit of adventure to see what is "just around the river bend" from their dad.
Jamie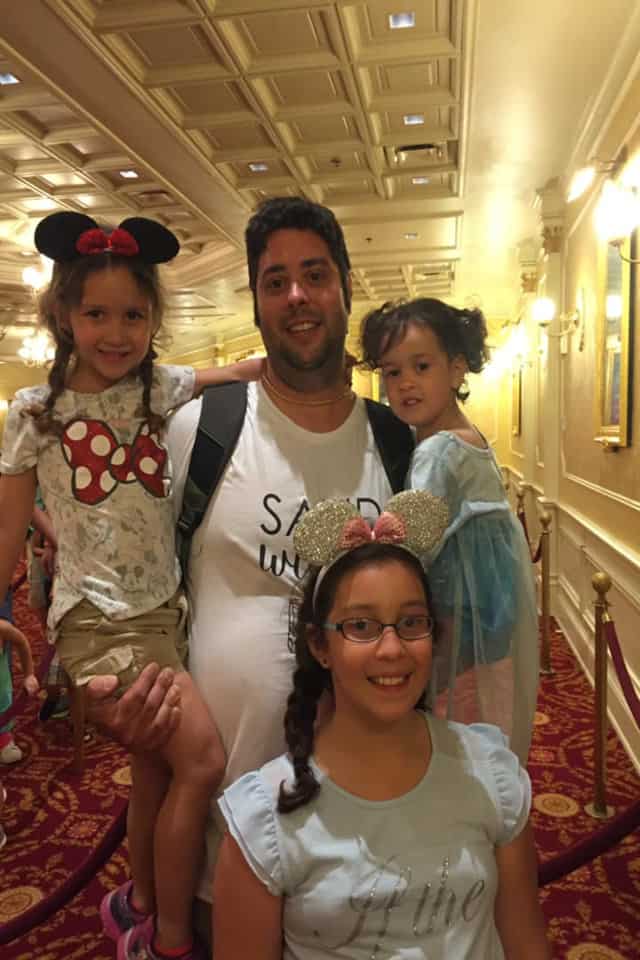 My non-Disney loving husband is the best Disney dad! He wears the Disney shirts, poses for the endless pictures, and carries the exhausted kids at the end of the night.
His one request: we never wait more than 20 minutes in line for anything!
Thankfully I found Kenny and Character Locator, and my husband agrees to keep coming back with all of the great planning tips we've learned! Happy Fathers Day Kevin!
Susan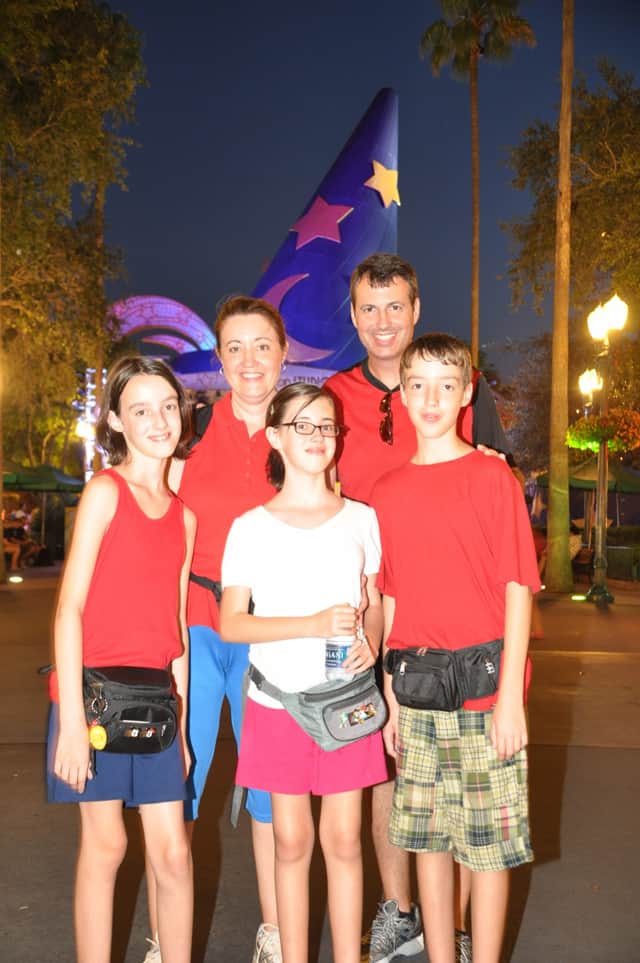 Although our children (triplets) are 21 now, my husband continues to be a loving supportive father. We have shared so many fun adventures with our children.
He loves to be silly and make us laugh. Over the years, my love of Disney has rubbed off on him. We had the best 25th Anniversary trip this past November. His interactions with the dwarfs at Artist Point was hilarious.
Thank you so much for always supporting my passions and adventures, including the way I may go just a little overboard with all things Disney. Happy Fathers Day!
Maggie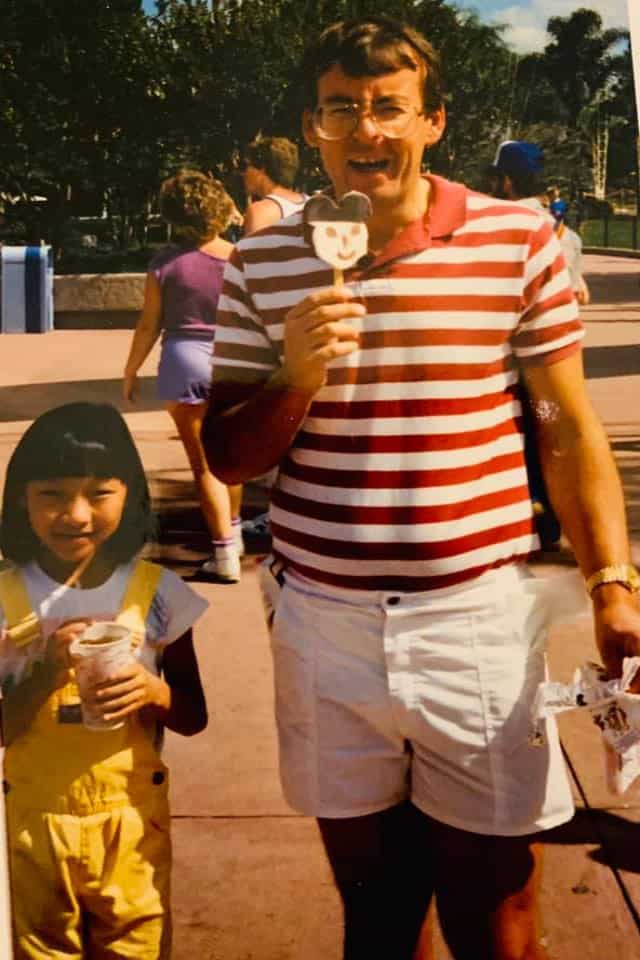 This is a picture of my stepdad on our first trip to Disney together. It was his very first trip to Disney, and I actually remember him being more excited about it than me at the time.
Even though the trip didn't mean much to me then, it means more to me now. I'm happy to have shared a "first" trip with him and it's a special memory I will always have.
My love of Disney trips couldn't have happened without all of the trips we took growing up!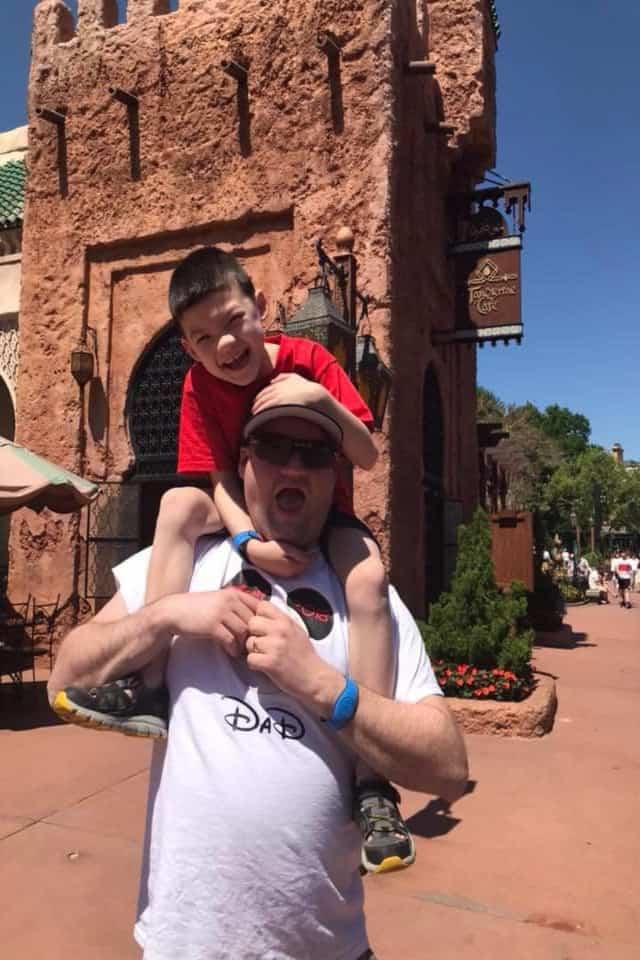 Our trips wouldn't be complete without my husband too. He has agreed to many trips that include rope dropping the parks, packed schedules and a lot of special character meals!
Thank you for wearing our matching family shirts, carrying souvenir bags, waking up before the crack of dawn (hello, Rise of the Resistance), giving the kids an endless amount of piggyback rides and driving us to and from the parks! We love you!
Special Shout Out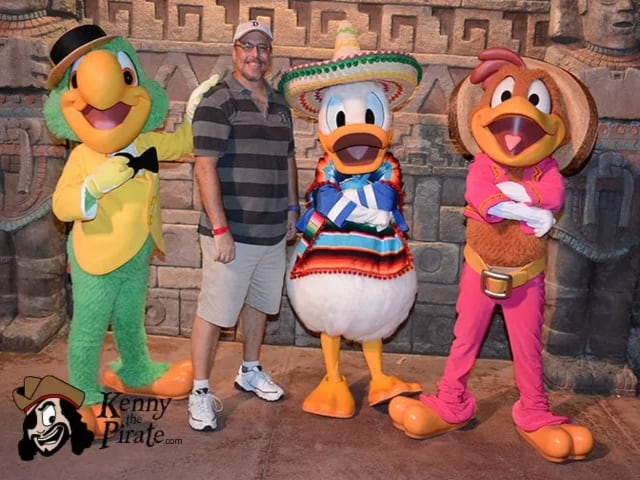 Finally, we all would like to spend a special Happy Father's Day to our fearless leader, Kenny the Pirate! Disney trips would not be the same without his great tips and advice!
He's a Dad too, so let's celebrate him too! Happy Father's Day, Kenny!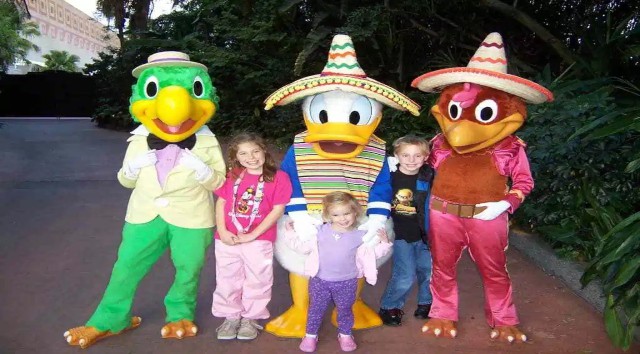 Thank you to all of the special Disney dads out there! We appreciate you and today we celebrate you.
Please share your favorite Disney Dad memories with us! We would love to hear about them in the comments below or post a picture of a special memory on our Facebook page or in our crew!
Maggie Baltz