I admit that I am basically the paparazzi when I am on vacation with my child. Now that almost everyone carries a smart phone around with them everywhere it's easy to take hundreds of photos a day if you want to. Check out some of these unique photos to take of your children at Disney World!
I am blessed with a child who LOVES to have his picture taken. But even if your child hates posing for photos you can still take candid shots all day long which in my opinion do a better job of capturing the moment than posed photos.
In addition to the classic photos of children in front of the castle and posing, there are are many unique photos you can take at Disney World that make for wonderful memories.
1. On a ride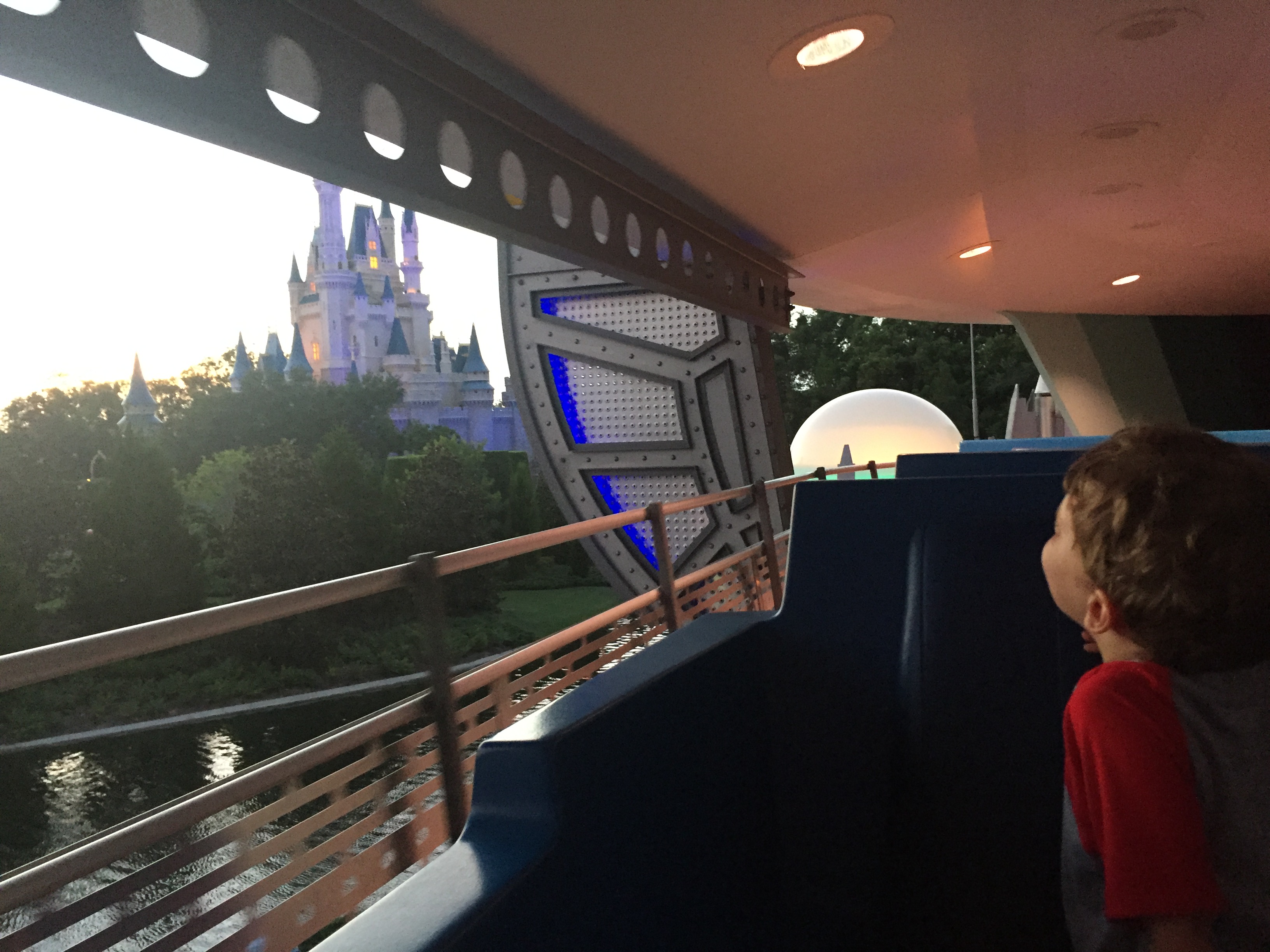 My two favorite rides for photographing children are the PeopleMover and the Mad Tea Party. Both are outside so the lighting is good, you can sit across from your child to get a great shot and you can capture pure joy!
Wearing Mickey ears is of course a great addition to these photos. On the PeopleMover you have the benefit of some great views of the Magic Kingdom in the background.
I love candid shots of children looking in awe at the view. The ride has great views of the castle, the Tomorrowland bridge, Astro Orbiter, and Space Mountain… which all look impressive in photos.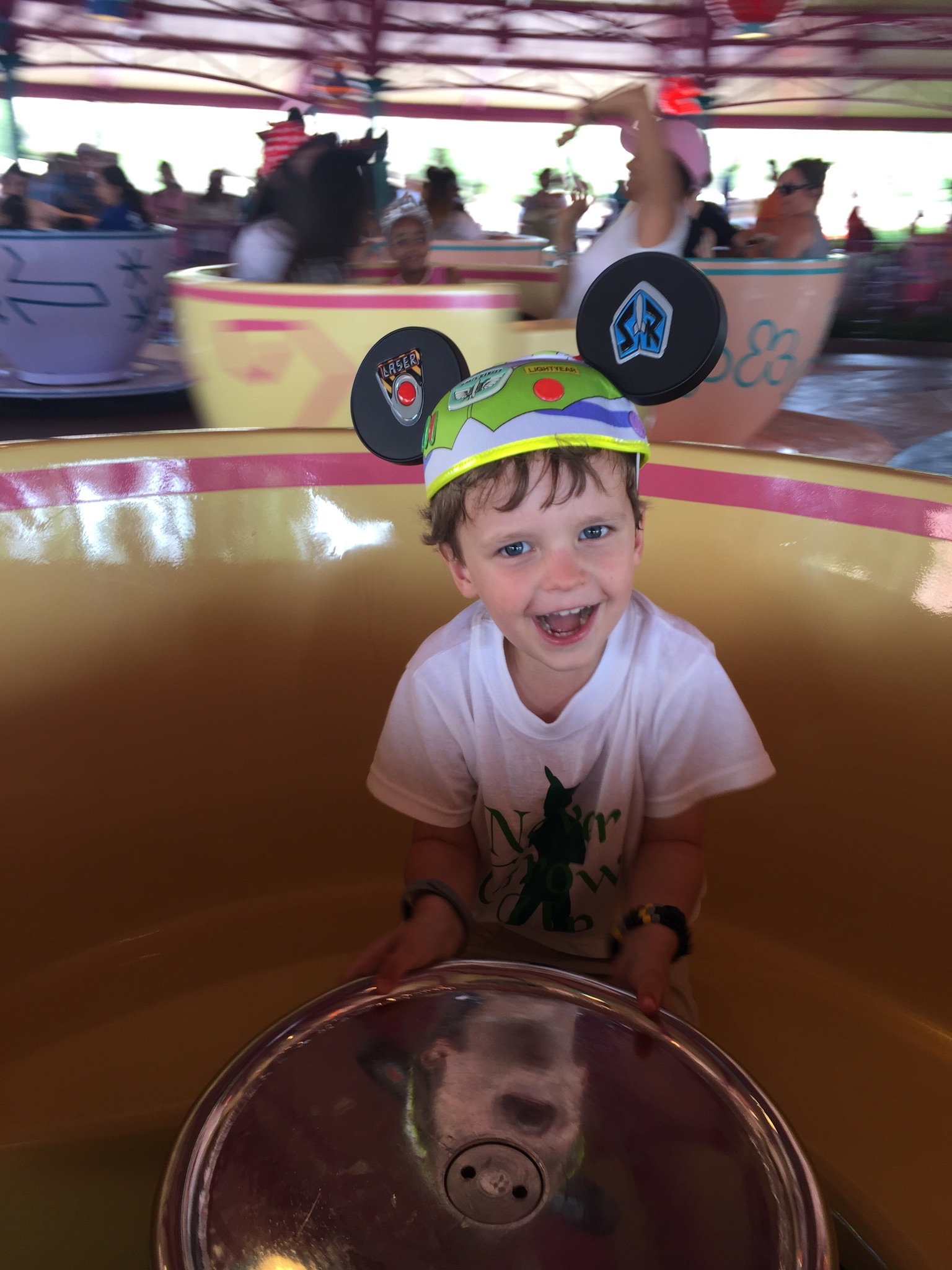 On the Mad Tea Party you have the challenge of motion so you may have to take several photos to try and get a good one with your child in focus. Let your child take over the spinning (if you can handle it!) while you hold your phone and snap away!
Another benefit of taking pictures on both of these rides is the ability to sit next to your child and take selfies with them.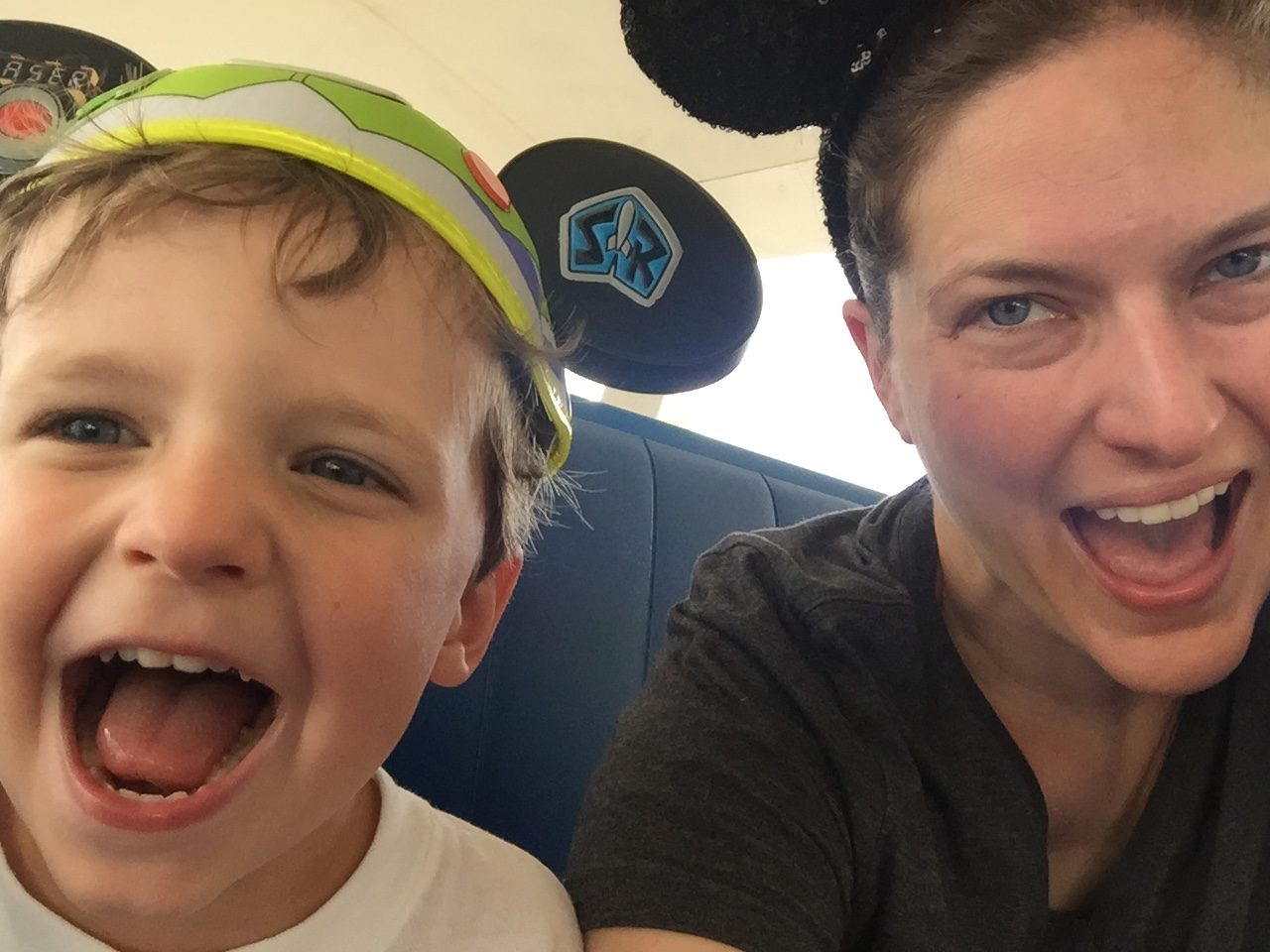 These pictures have turned out to be some of my favorite Mommy/son photos ever. We both look so happy!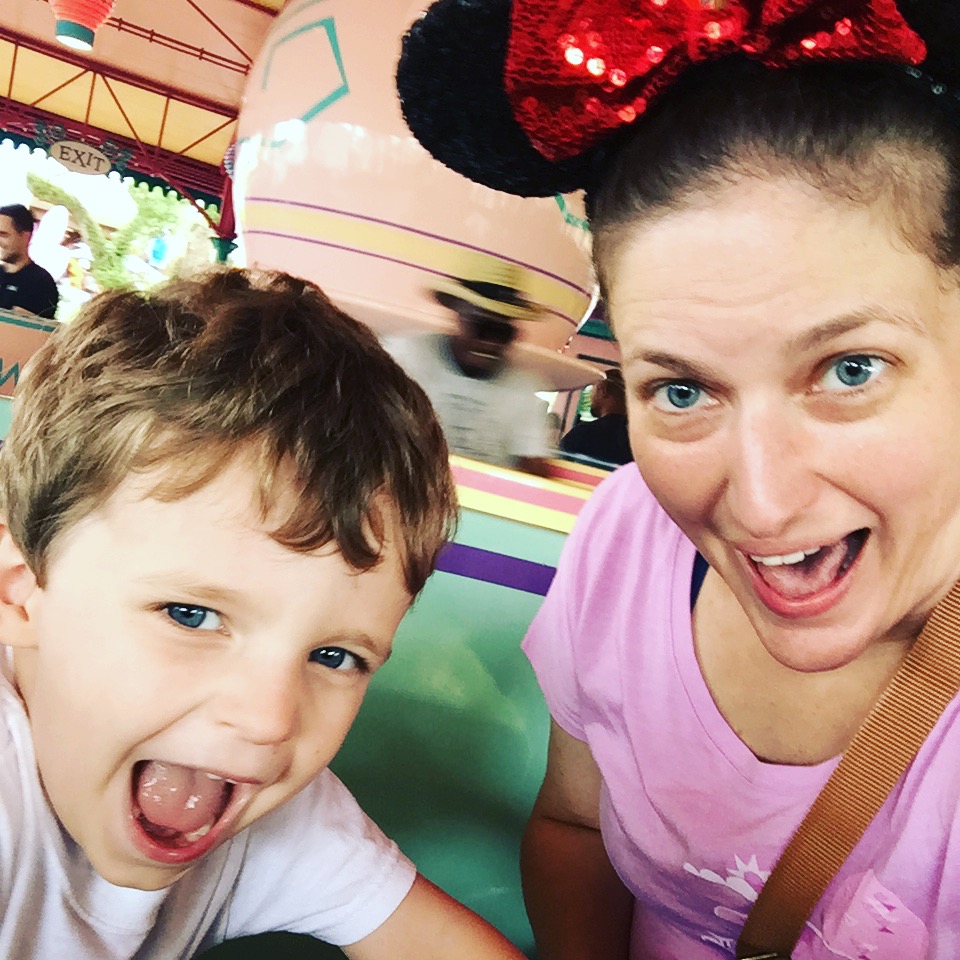 2. In the hotel room on arrival day
Arriving at a Disney hotel to start a Disney vacation is such an exciting time.
Before starting to unpack or rushing out to the parks make sure to capture this joy with pictures of your children jumping on the beds, looking out the windows at the view, or finding hidden mickeys in the room.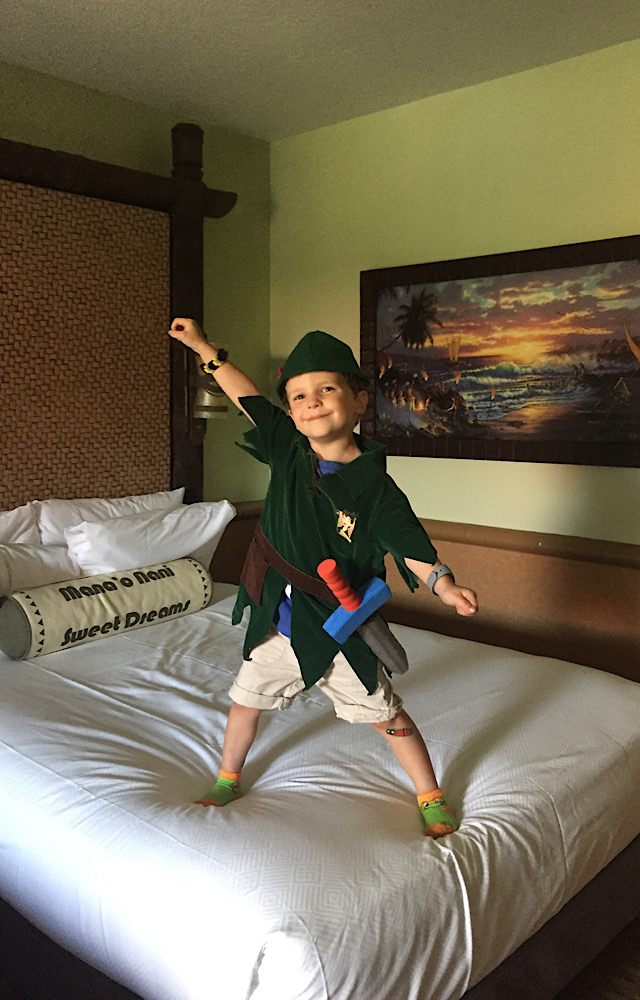 And if you're staying in a resort with a unique view such as a Savanna view room at the Animal Kingdom Lodge make sure to take advantage of the photo opportunity when your child first notices giraffes outside their room. Magical!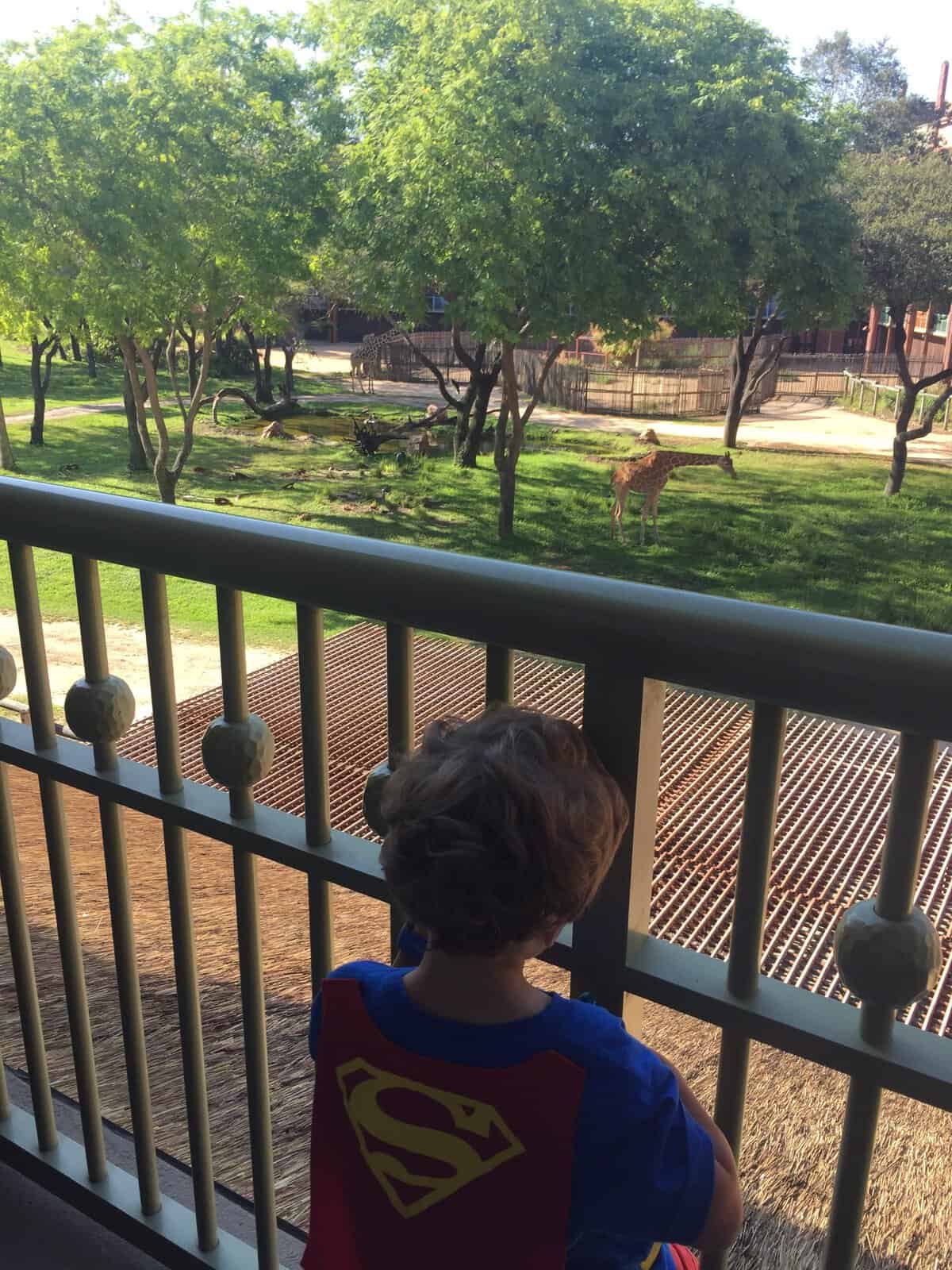 3. Eating classic Disney snacks:
There are certain Disney snacks that are begging to be photographed.
One of these is The Kitchen Sink at Beaches and Cream at the Beach Club Resort, including the oversized spoon it comes with. It's worth ordering for the photo-op alone!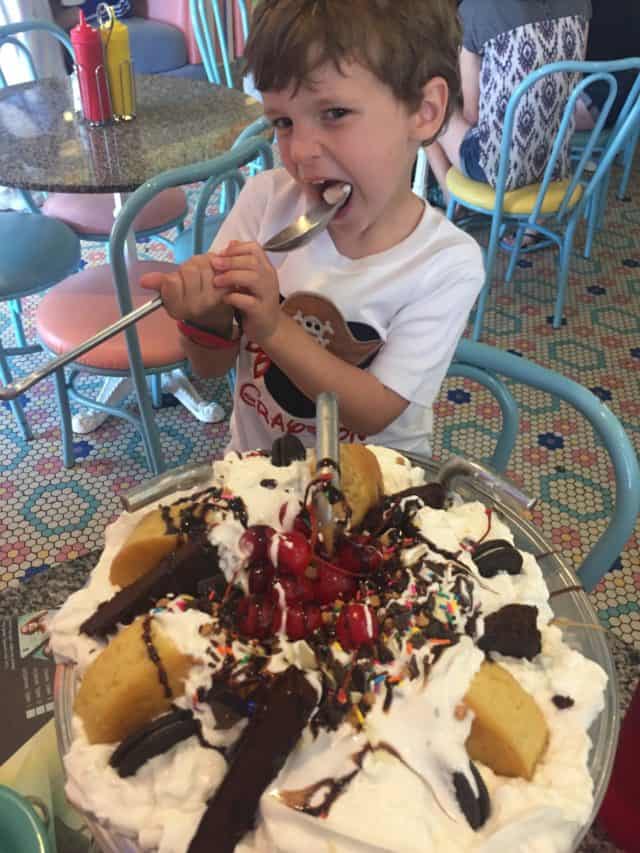 Other ideas are Mickey ice cream bars, Mickey pretzels, dole whips, and the beautifully decorated cupcakes such as this Enchanted Rose Cupcake from Gaston's Tavern.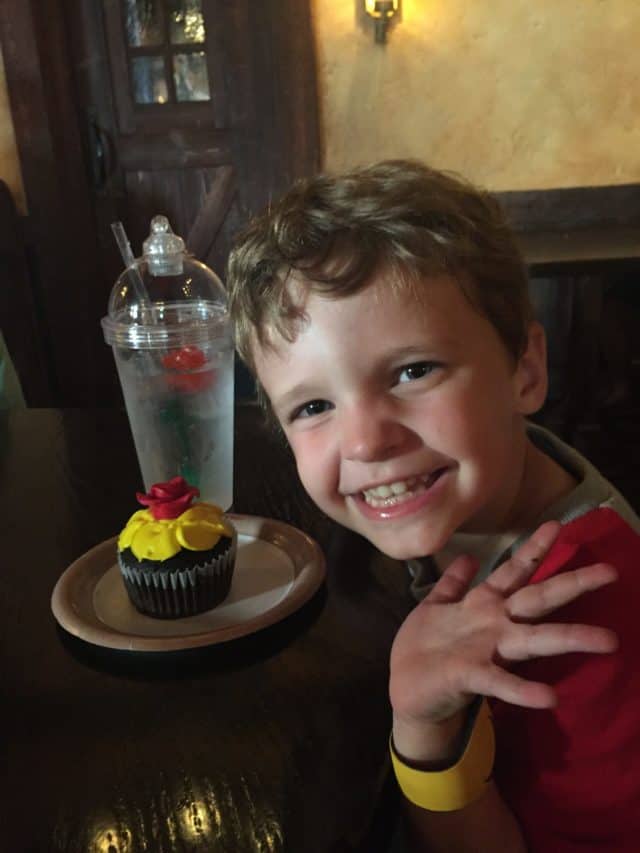 One of the most colorful and photographic snacks at Disney World is the Night Blossom found at Pongu Pongu in Pandora.
There are also some fun backgrounds near the restaurant to pose your child in front of.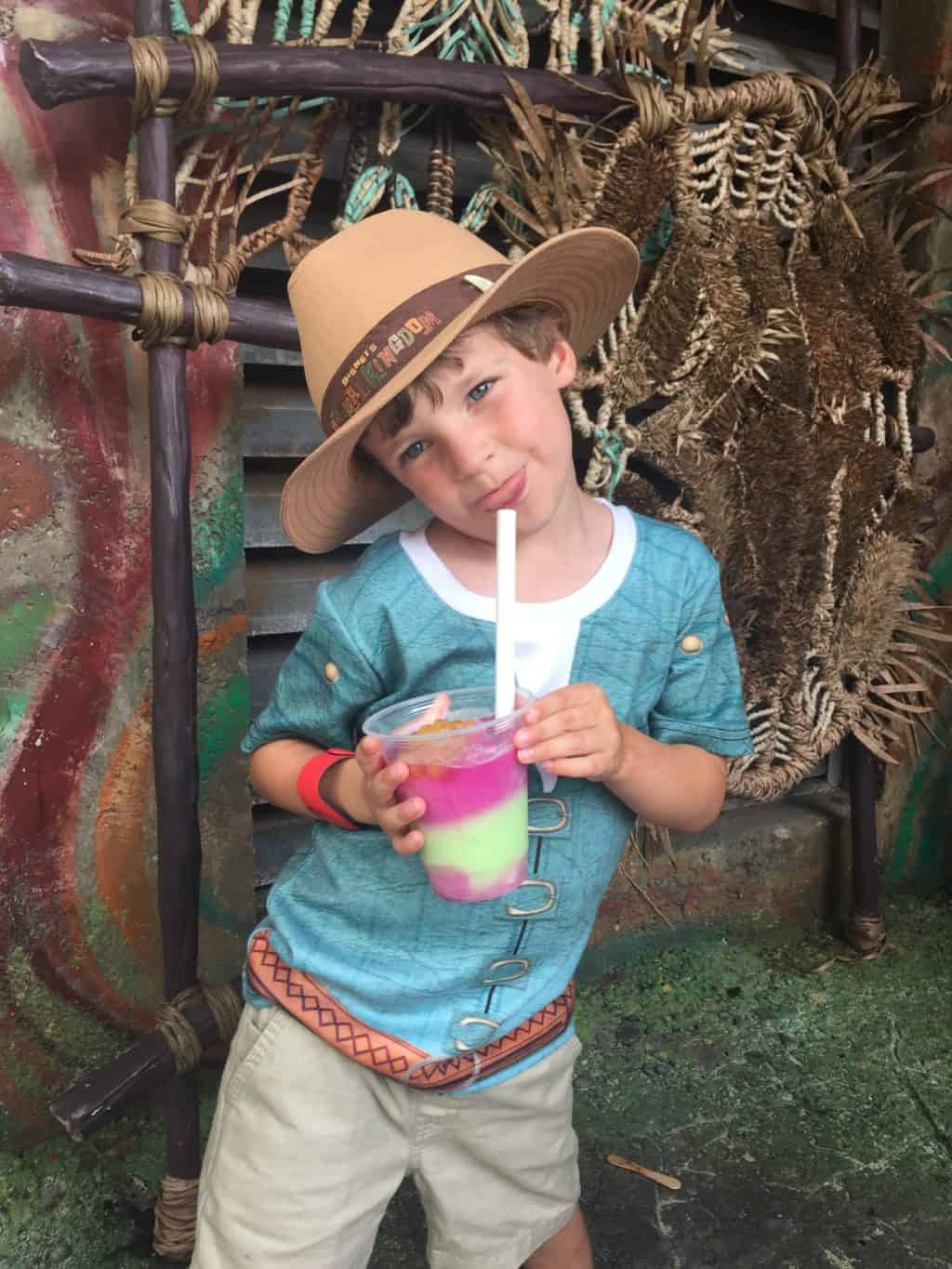 4. From behind while wearing Mickey ears
I love, love, love these types of photos! Here is one I took of my son wearing Buzz Lightyear ears while looking at Buzz meeting guests in Tomorrowland.
We didn't even end up waiting in line that day to meet Buzz but I think I love this photo even more than if it had been a posed photo standing with him.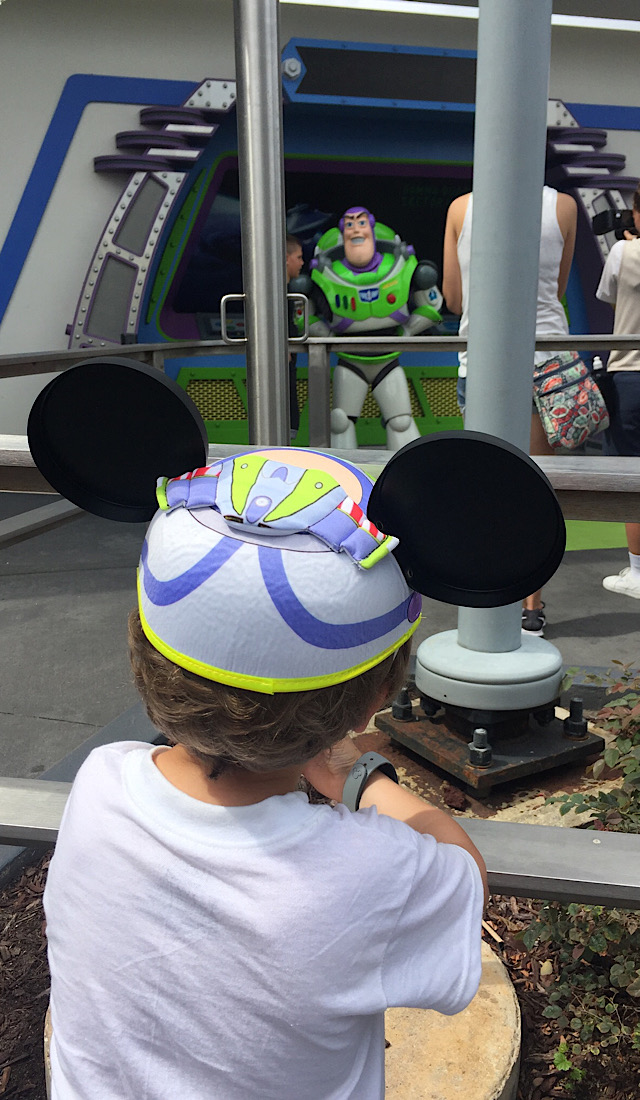 Some other good ideas are looking at the castle, the monorail, Spaceship Earth, the Tree of Life, or the Millennium Falcon.
Bonus points if you match the theme of the ears to the subject they are looking at! Peter Pan's Flight was my son's favorite ride for a long time, and I love this picture and how the sail on his Peter Pan ears matches the ships on the ride.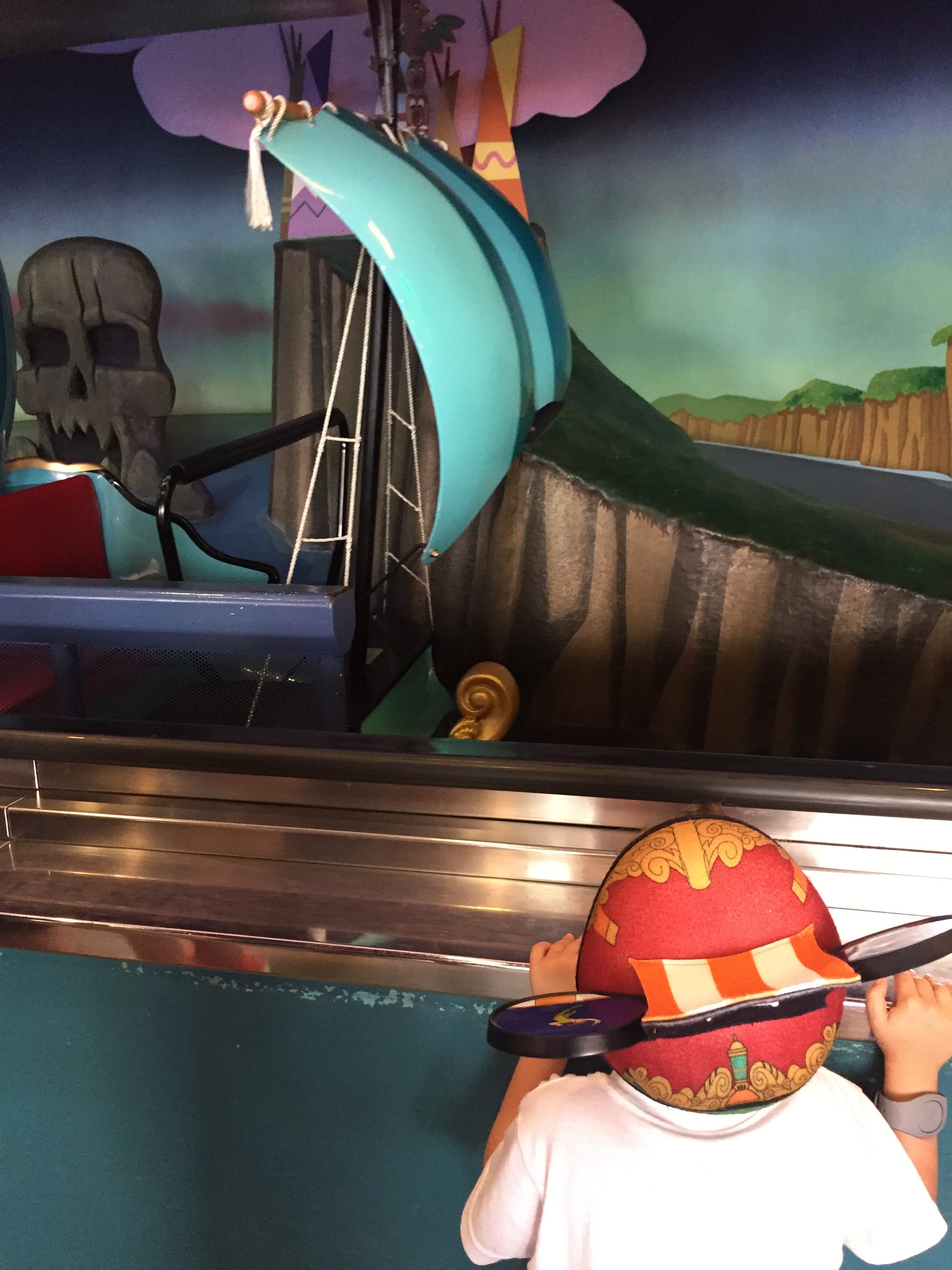 5. At the swimming pools and water parks
One of the best things I did was to buy a waterproof pouch for my iPhone that hangs around my neck so that I could continue to take photos of my son in the swimming pool and at the water parks.
I have some great selfies I took with my son while floating in a tube down the lazy river at Typhoon Lagoon.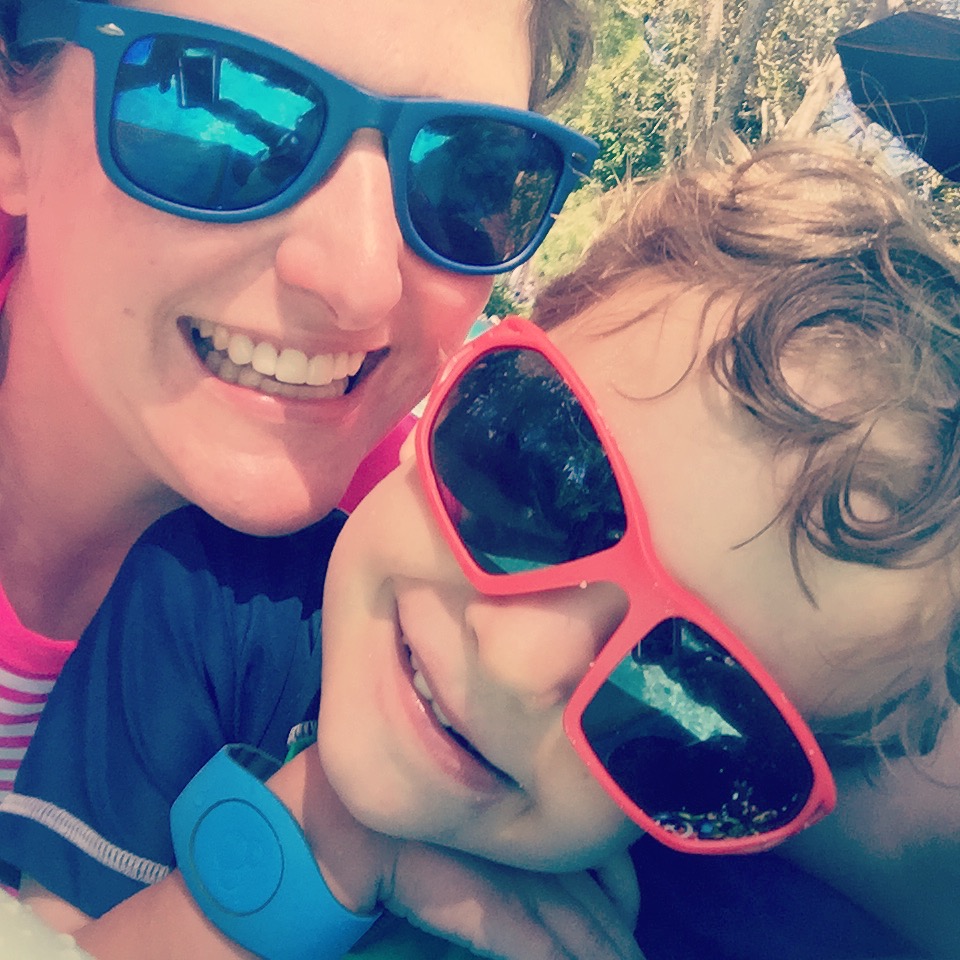 This is one of my favorite trip photos ever – I love how small he looks in Typhoon Lagoon's massive wave pool.
Water photos are a great way to capture that vacation vibe. I love looking at our pool and water park photos on cold winter days when I find I'm really craving a Disney vacation in the Florida sunshine!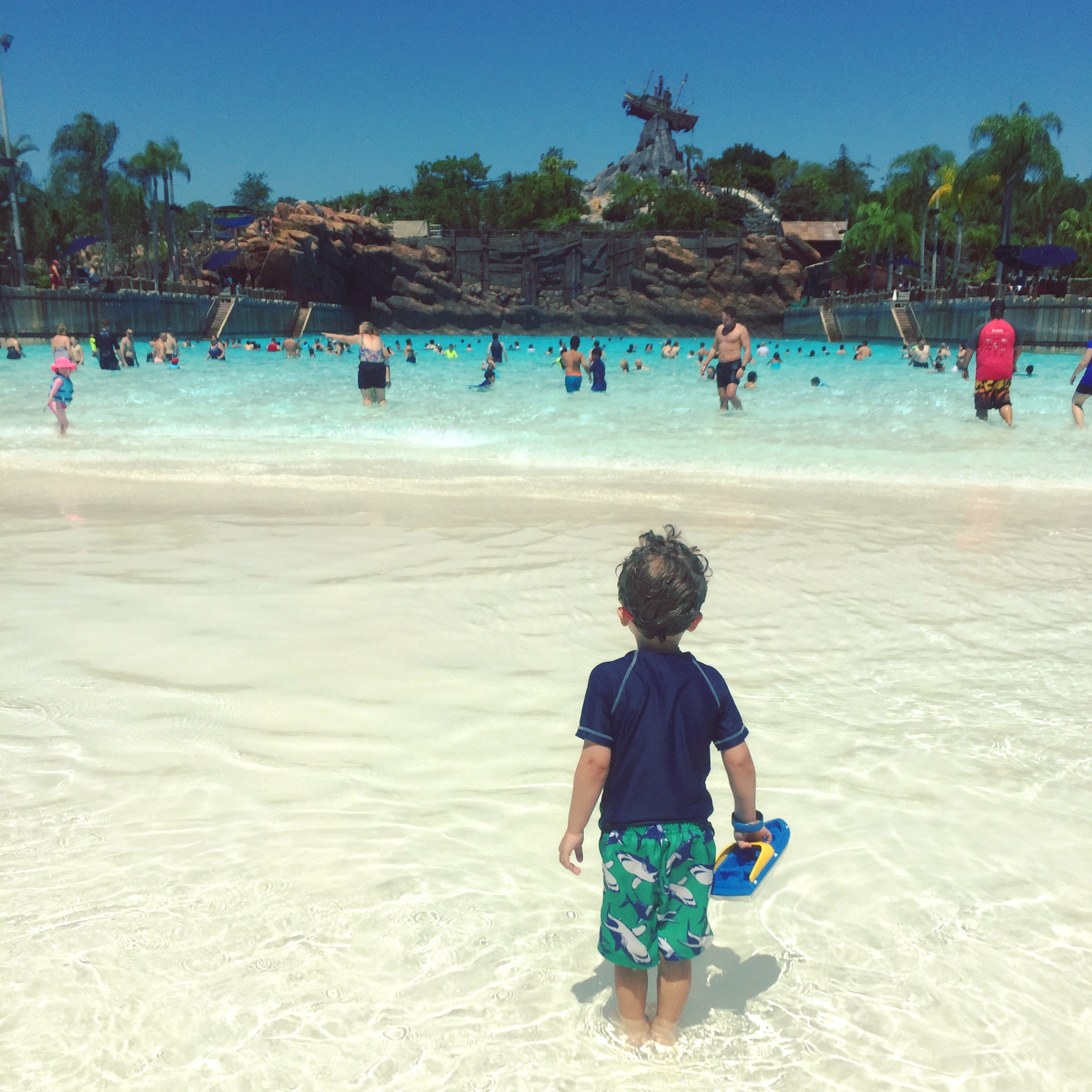 6. Asleep after a full day at the parks
This picture was taken of my son the morning after his first day at the Magic Kingdom. He was only 3 years old but made it through 12 hours in the park and loved every minute!
Needless to say he was exhausted, and it showed. I also love how he had to sleep with his new swords from the Pirates of the Caribbean gift shop.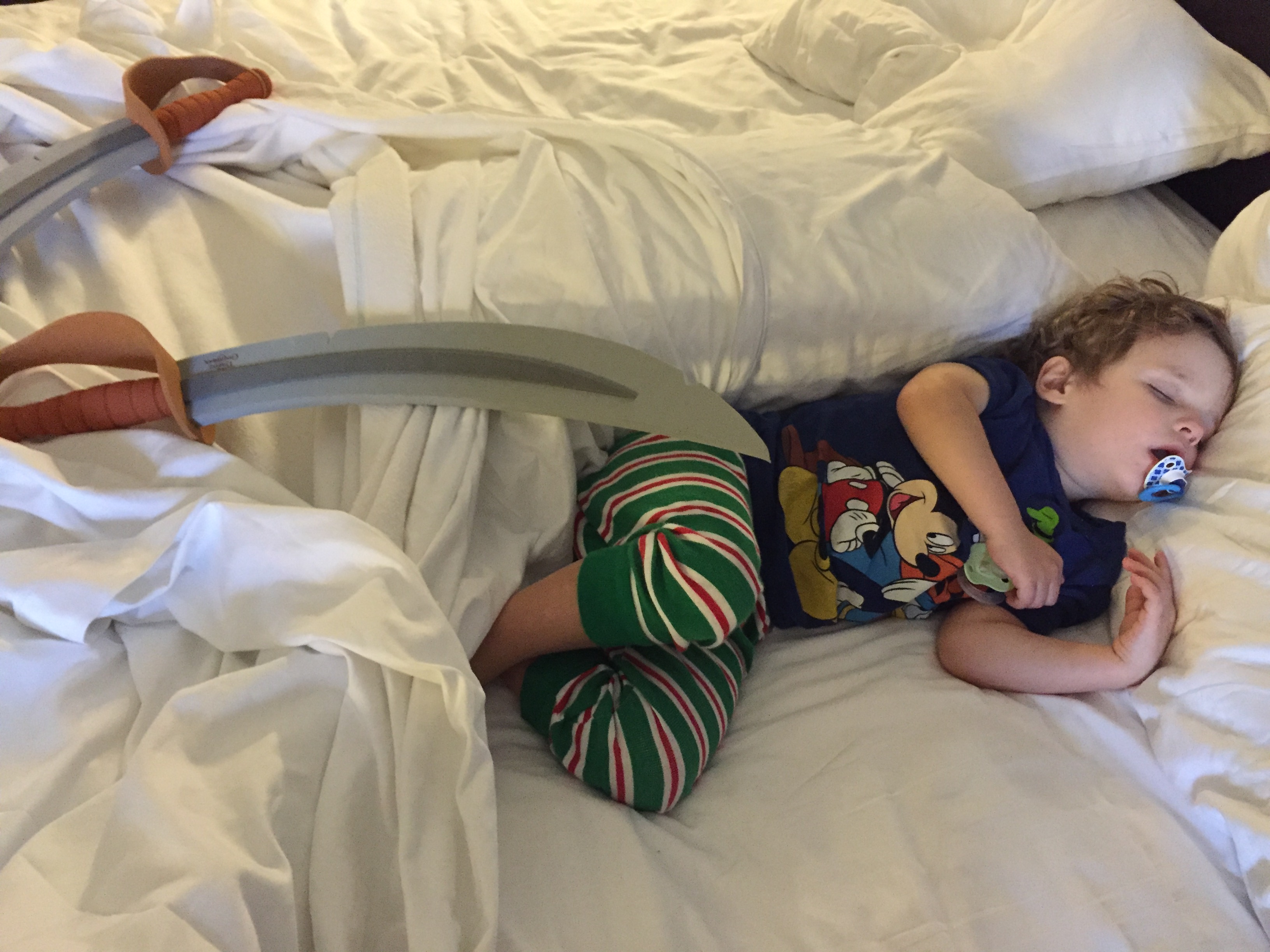 After a full day at the parks it's possible your child will collapse while still wearing Mickey ears or a Princess dress – take advantage of the photo opportunity! I've seen some photos like this posted by friends, and they are adorable.
I also love to take pictures of my son napping in the stroller – especially if he is still hanging onto his new favorite Disney souvenir.
We got lots of attention strolling around the Magic Kingdom while my son was passed out wearing a bathing suit top, Prince Phillip hat, and spiderman sunglasses and holding onto his favorite sword and shield and new Fuli stuffie.
I'm glad I was able to capture the moment!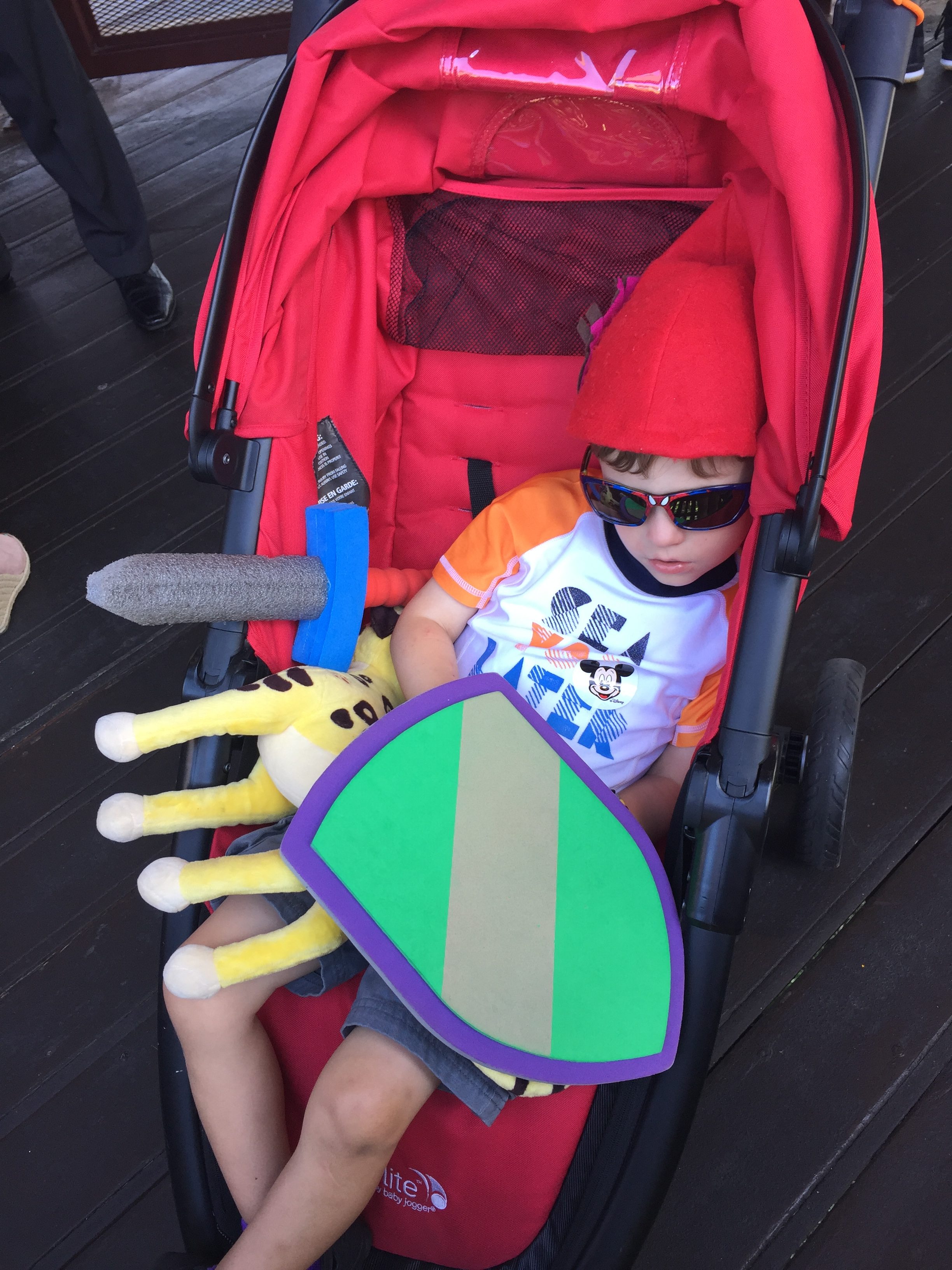 Bonus photo opportunity
When the Festival of Fantasy parade returns to the Magic Kingdom (remember, parades, shows, and other entertainment is temporarily suspended), you can follow these tips for taking photos of your child watching the parade.
While you're taking photos of the characters and amazing floats in the parade, make sure to turn the camera on your child to capture the look of wonder as they wave to their favorite Disney characters who have come to life before their eyes.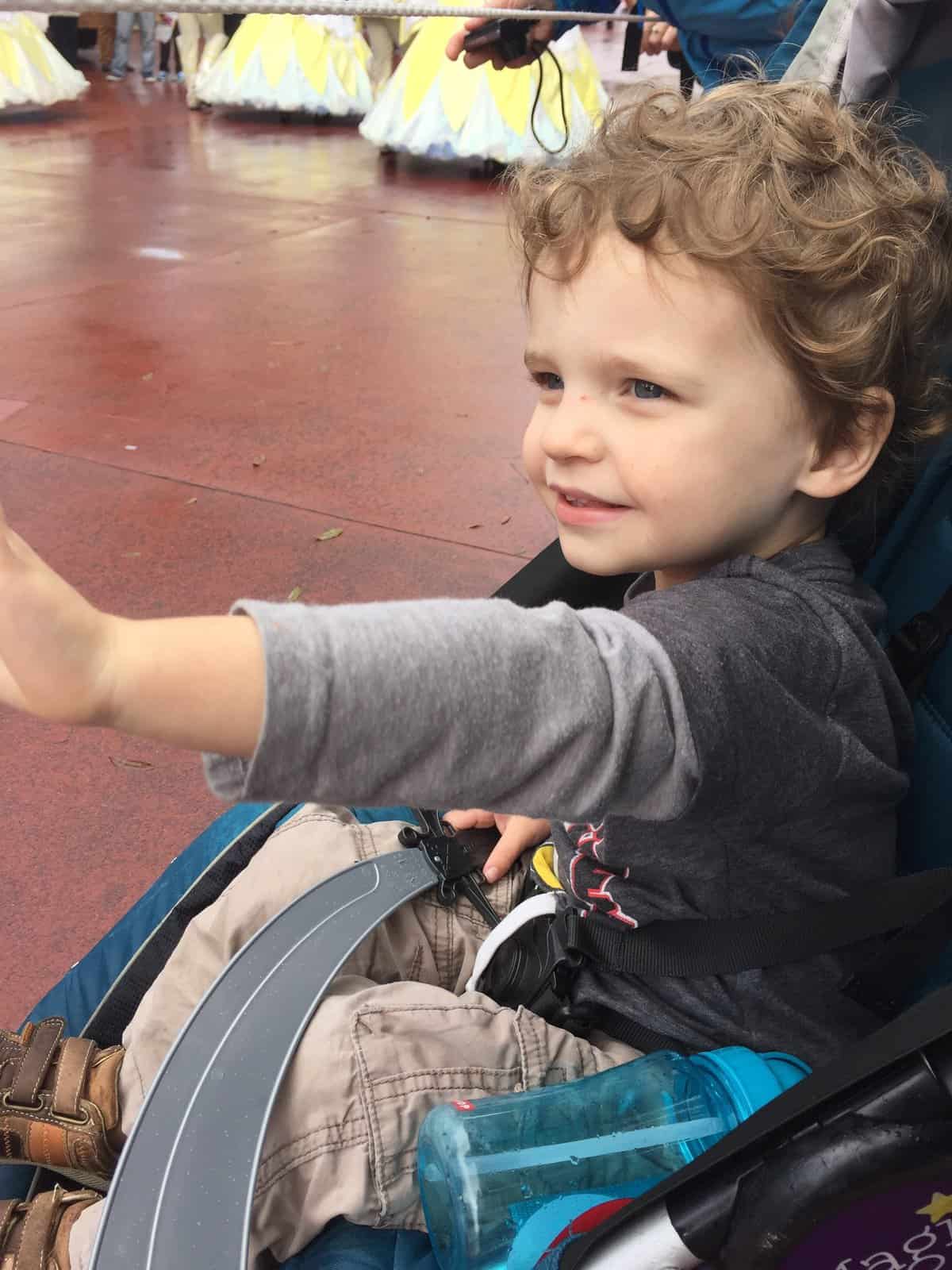 This can be a bit of a challenge on crowded days but you also can reverse the camera on your iPhone to capture your child's face while standing behind them.
More photo taking tips
Make sure you have a plan to always have your phone or camera handy in the park so you can capture candid moments. I usually carry it in a small crossbody purse, but when I know a photo op is coming I keep it in my hand ready to go.
It's also a good idea to bring a portable phone charger into the park. After hours of taking photos and checking Character Locator, your phone battery will need to be charged at some point during the day.
Does anyone else have some favorite, unique Disney photos they'd like to share? I'd love to see them! Comment on Facebook.
Ashley Beckwith McKellar
Follow me on Instagram: @disneyparksmom