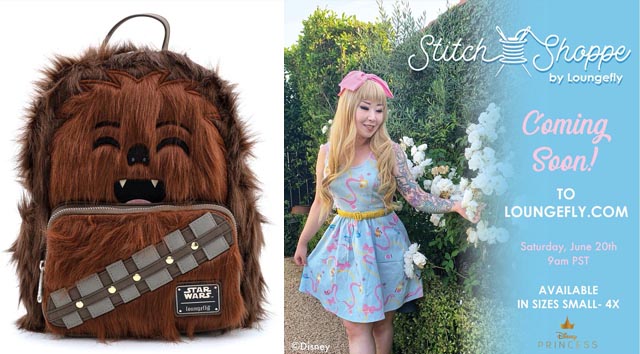 Just when you thought Loungefly accessories couldn't possibly be any more amazing they go and come up with an all new clothing and ear band line! If you love the detail and creativity of their bags and backpacks you are going to absolutely fall in love with this new collection! Let's take a sneak peak at the upcoming line as well as new Loungefly accessories that have recently arrived!
Stitch Shoppe by Loungefly will be available June 20th at 9am at Loungefly.com. They are promoting high quality fabrics with hidden details and of course collectibility!
Sizes will run from Small-4XL. The kick off to this collection is primarily geared towards females, with mostly dresses and ear bands, but Loungefly has quoted on Instagram that "unisex and menswear is coming later this summer."
I'm super hopeful for a kid's line as well! Can you just picture a coordinating family collection?! Mother/daughter dresses! Father/son shirts and hats! Loungefly take all my money!
Below is @colormecourtney showing how to wear some of the new pieces from the Disney Mickey & Minnie Stitch Shoppe!
How adorable is this sneak peek of the Adventure is Out There collection from the movie Up?! I would love to see pictures of people wearing this in Magic Kingdom and posing with the balloon cart!
Word on the street is if you ask super nicely the Cast Member will sometimes let you hold all the balloons! I just love this!
I think I've found the perfect dress to wear for my next Cinderella Castle photo op! It even has a belt that looks like a measuring tape! The details are just so creative! This would just be so cute to wear to a bridal shower as well!
The Cinderella dress will go perfectly with the accessories that dropped earlier this year!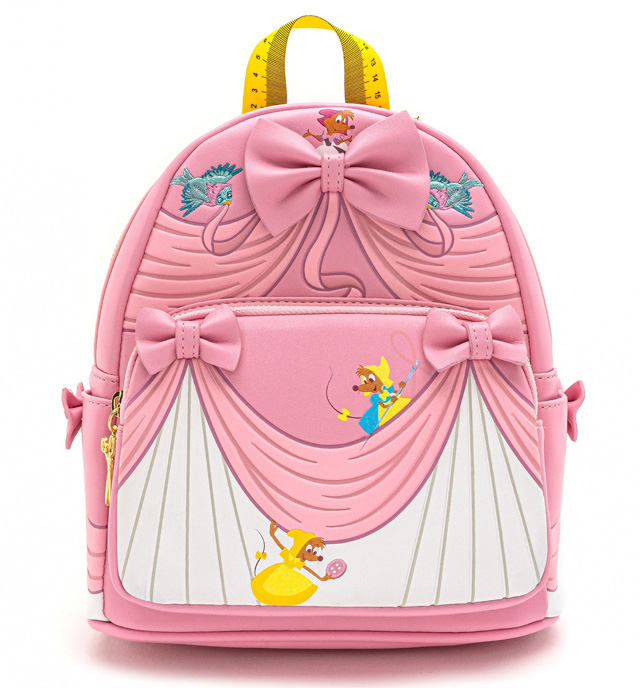 This next sneak peek is so insanely cute and fun for a park day, or just any casual outing really. You could really dress this up or down depending on the occasion.
It looks to be very comfy and, oh my, are those pockets?! Swoon! I will 100% be purchasing this to wear to the parks! There are also numerous Loungefly mini backpacks that can be paired with this too for park touring! So cute!
The vintage Minnie Mouse ears will also be available in this collection!
There are quite a few more sneek peaks for tomorrow's release so head on over to Loungefly.com to check out more!
Next, let's take a look at some of the latest accessories that you may have missed. First up is the latest in the Alice in Wonderland collection with the Mad Hatter, Dormouse, and the Cheshire Cat.
I so hope some apparel shows up in the new Stitch Shoppe to coordinate with these! A very merry un-birthday to you!
If you love all the Pixar characters or are looking for a cute park touring bag for Toy Story Land at Hollywood Studios or Animal Kingdom (It's a Bug's Life / UP) then this is the perfect mini backpack for you! It's available at Hot Topic!
Star Wars fans if you thought the Baby Yoda backpack was adorable wait until you see this fun and furry Chewbacca mini backpack and matching wallet!
This is a must have for touring Galaxy's Edge! Bright suns!
Well that's a wrap on the latest with Loungefly! I cannot wait to see the new Stitch Shoppe collections tomorrow! What a dream come true!
What are your thoughts? Is there anything you're hoping they come out with? I am so impressed with the sneak peeks that I am already looking ahead and hoping to see jaw dropping Halloween and holiday apparel! Share your thoughts with us on Facebook!
Amanda Wesche