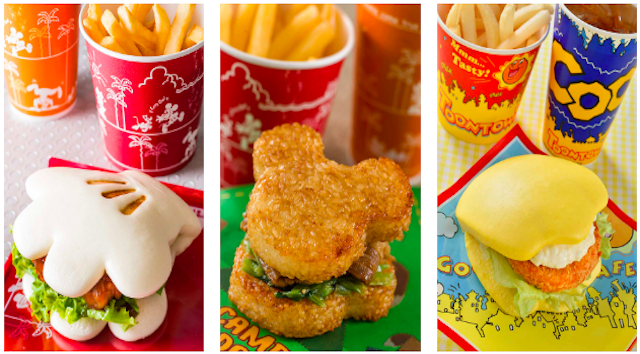 Fire up your grill because it is National Hamburger Day and Disney is sharing mouthwatering photos of their favorite burgers from parks around the world. They are also sharing the recipe for the popular Hawaiian Cheese Burger and green papaya slaw from Tangaroa Terrace at the Disneyland Hotel with us. Read on and tell us which featured hamburger is your favorite!
Shanghai Disneyland Resort
Our world hamburger tour starts off with two burgers from the Shanghai Disneyland Resort. Shanghai Disneyland Resort recently opened on May 11th and you can see video highlights on their phased reopening and new procedures HERE.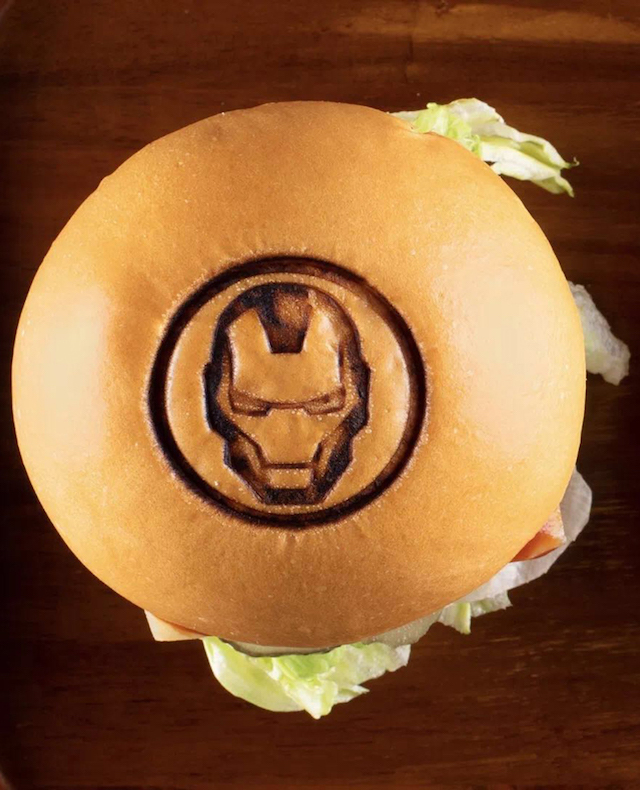 The first is the classic American cheeseburger with sour cucumber and barbecue sauce in the middle of a bun stamped with Iron Man's face and the second is the iconic Avengers Wagyu Beef burger that features a bright red bun.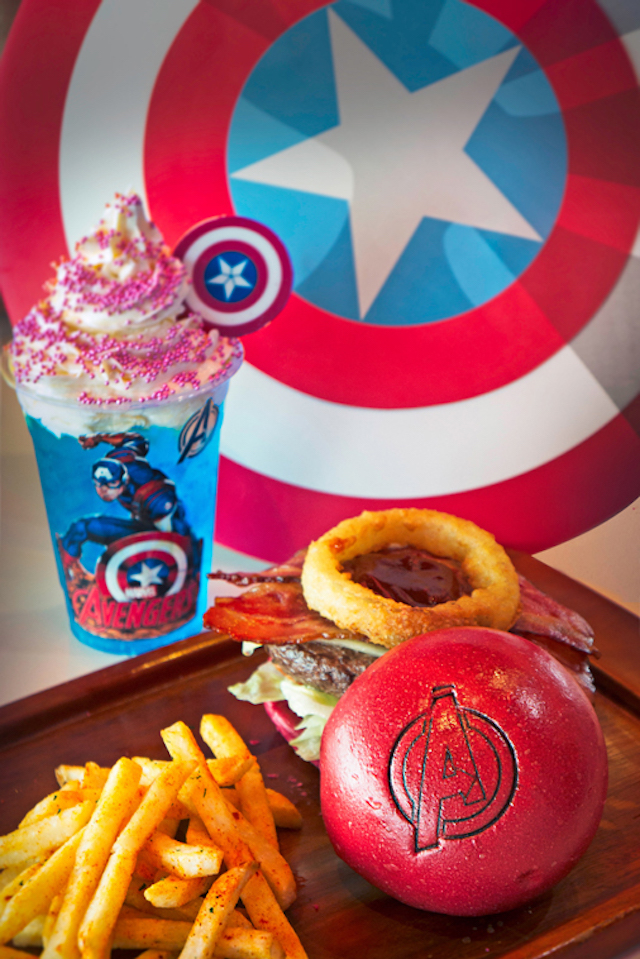 Tokyo Disney Resort
Tokyo Disney Resort is where you will find this unique Mickey Mouse Glove Burger and Mickey-shaped Rice Ball sandwich.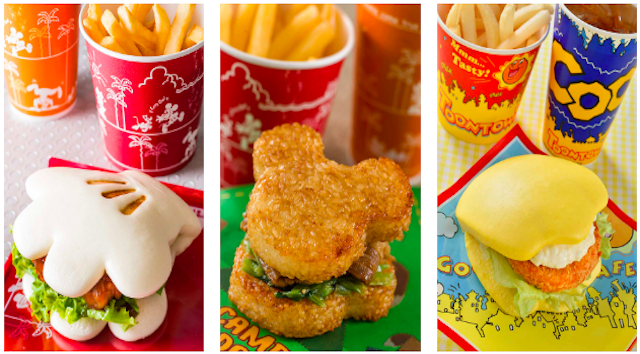 You can also try the fan favorite Donald's burger with shrimp cutlet and a special foot shaped yellow bun when you visit Huey, Dewey & Louie's Good Time Cafe! Tokyo Disney Resort has recently reopened it's shopping center but you will have to wait for the park to open to enjoy these burgers.
Disneyland Paris
This Dark Side Burger wowed guests at Disneyland Paris during the Star Wars Season "Legends of the Force – A Star Wars Celebration."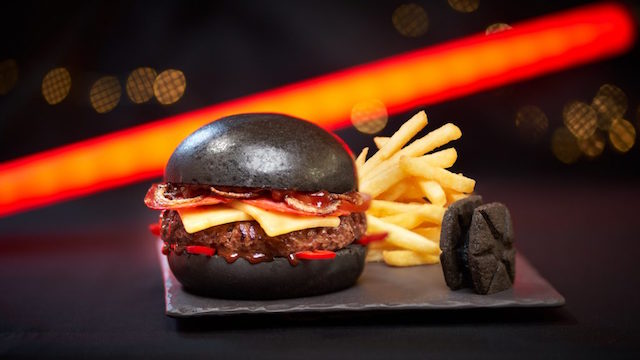 Hong Kong Disneyland
At Hong Kong Disneyland you can enjoy the amazing Beetroot and Cheese Burger that is inspired by the Marvel-themed attraction, "Ant-Man and The Wasp: Nano Battle!"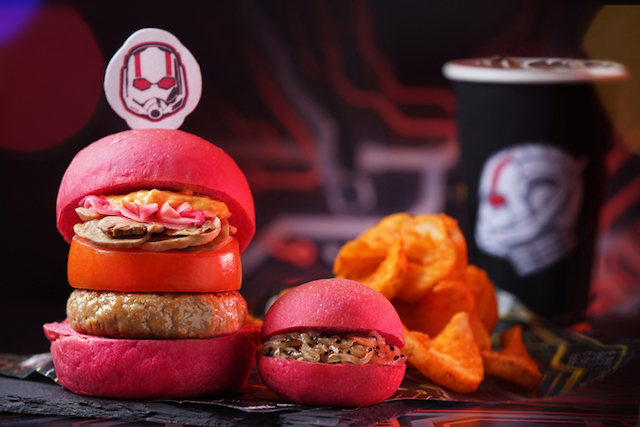 You can also sink your teeth into the Green Tea Cheese Burger with a green bun and a superhero-themed Spicy Chicken Burger. Hong Kong Disneyland recently reported a soft opening and you can read all the details HERE.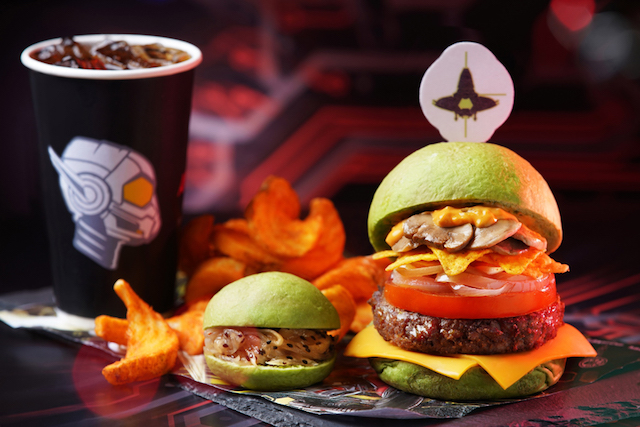 Disneyland Resort
The next three burgers can be found in California at the Disneyland Resort. The PCH Mesa Burger is served on a hefty pretzel roll and can be found at Disney's PCH Grill at Disney's Paradise Pier Hotel. Also pictured are the spectacular Hungry Bear's Bison Bison Blue burger and a delicious burger from Storytellers Cafe at Disney's Grand Californian Hotel & Spa.
To celebrate National Hamburger Day, Disneyland Resort has released the recipe for the popular Hawaiian Cheese Burger and green papaya slaw from Tangaroa Terrace at the Disneyland Hotel. You can find the printable recipe for this mouthwatering burger HERE.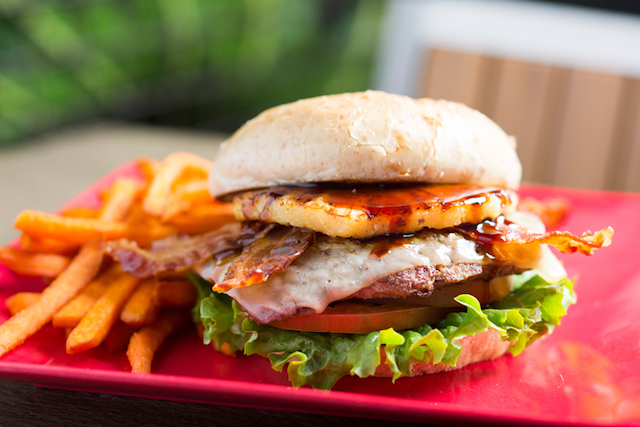 Walt Disney World Resort
It won't be long before you can again enjoy a burger at the Walt Disney World Resort. Yesterday they announced reopening plans and you can find out all of the details HERE. My husband Ray's favorite burger at the Walt Disney World Resort is the fantastic Mickey Burger at Cosmic Ray's Starlight Café. It could have something to do with the restaurant name but his favorite burger comes with macaroni and cheese, American cheese, cheese sauce, flaming hot cheese dust, and bacon served on a Mickey Mouse bun.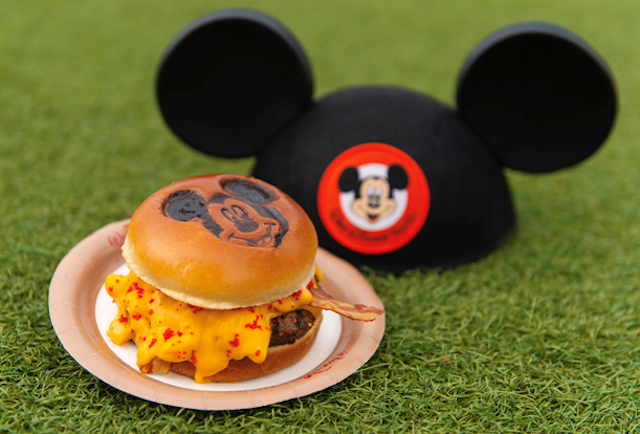 A few other Walt Disney World favorites are the unique Cajun King Burger with Andouille sausage and Creole mustard aioli that can be found at the Port Orleans Resort and the popular Southwest Burger from the ABC Commissary at Disney's Hollywood Studios. This spicy treat is piled high with Pepper Jack cheese, bacon, guacamole and jalapeño poppers.

Disney Springs
Disney Springs is NOW OPEN! If you need a burger fix ASAP, you should head over to D-Luxe Burger for their Southern Burger, a masterpiece topped with a Fried Green Tomato, Pimento Cheese, Lettuce, Grilled Onion and Bacon.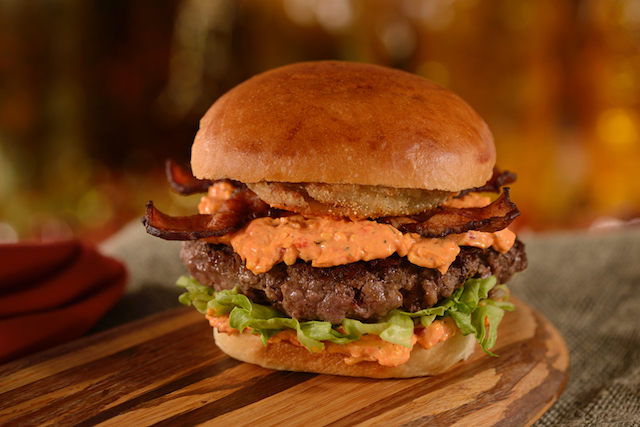 Plant Based Options
Disney offers delectable plant-based options at their parks and resort hotels and today they are sharing a few favorites with us. At Shanghai Disneyland Resort, the Gamma Ray Plant Burger features a large vegetable-based "pork chop", sweet and sour tomato sauce and fresh lettuce in between a green matcha-flavor bun.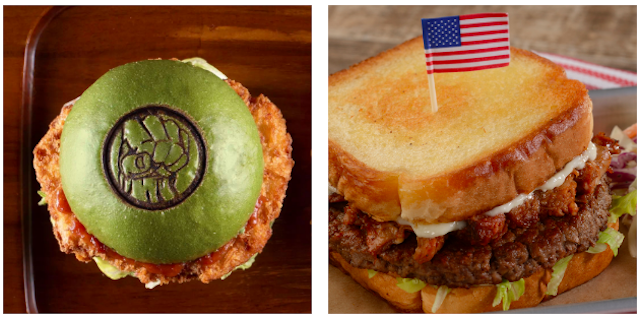 Other plant-based offerings include the BBQ Jackfruit Burger, a plant-based sandwich on garlic toast topped with BBQ jackfruit at the Regal Eagle Smokehouse's celebration in EPCOT and the popular Impossible™ Burger with Vegan Chipotle Mayo, Lettuce, Tomato, and Cherry Peppers at Disney's Blizzard Beach water park at the Walt Disney World Resort.
Is one of today's featured burgers your favorite or do you have another amazing hamburger to add to our list? Tell us in the comments below, on the Kenny the Pirate Facebook Page, or in our exclusive KtP Crew Facebook Group!
Jess Watkins
Jess is an experienced Disney traveler, wife, mom of two beautiful girls, and golden-doodle Maui. Disney World has always been her Happy Place. She embraces the motto 'Hakuna Matata' and looks forward to sharing her love of all things Disney with you!