We have great news for all of you Star Wars fans as you prepare for May the 4th. ShopDisney has new exclusive merchandise that you can purchased starting tomorrow. Find out about the exclusive merchandise and what time it will be available for purchase.
Collectible Star Wars Key
We shared with you before that the Collectible Star Wars Key would be available for purchase while supplies last from shopDisney.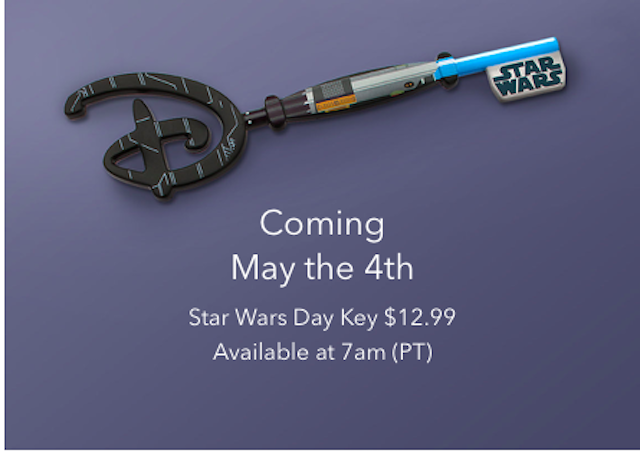 This will be available on May 4, 2020 at 7:00am (Pacific Time). The key is only available while supplies last.
Empire Strikes Back Exclusives
In honor of the 40th Anniversary of Empire Strikes Back, shopDisney is offering exclusive merchandise on May the 4th. Check out this Starbucks "Been There" mugs.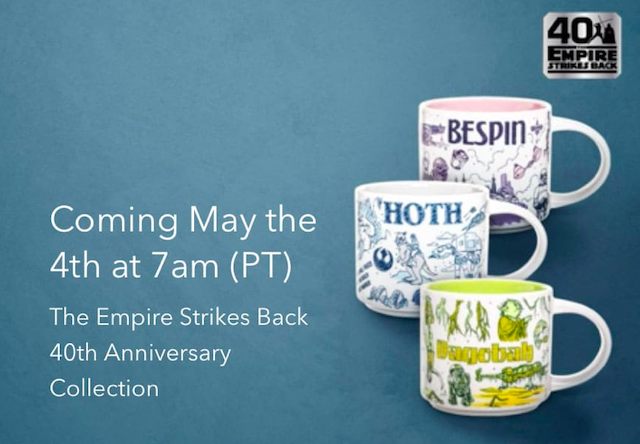 Also available in honor of the 40th anniversary is this Master Yoda plush. Add him to your cart, you must. Featured as well is the collector's pin and collectible mug.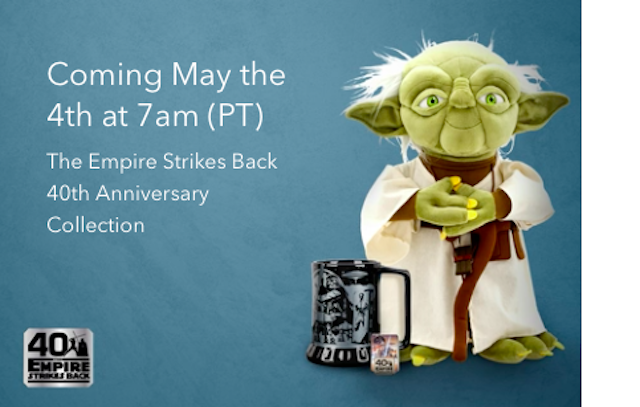 Collect all of your favorite figures with these 6″ fully posable action figures. The packaging is a nod to the original design.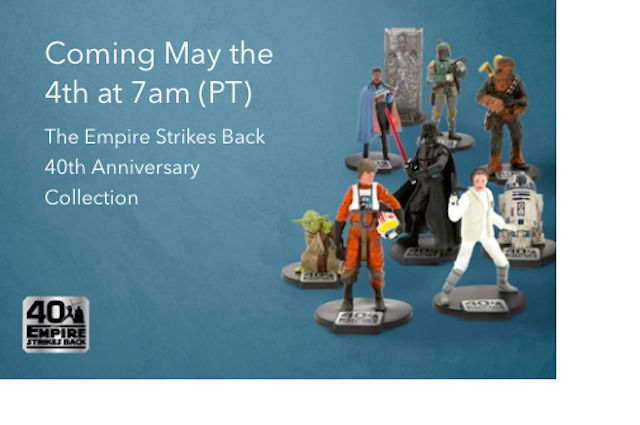 May the 4th Exclusives
May the 4th Be With You 2020 collectible pins will be available and you can choose which side you will be joining.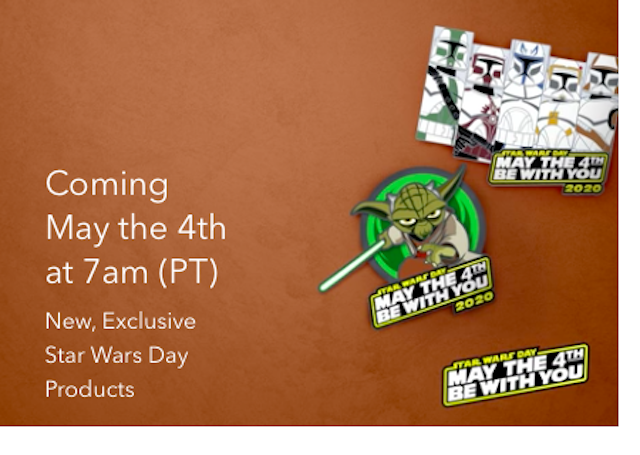 Exclusive tees and water bottles featuring the May the 4th logo will be available for purchase.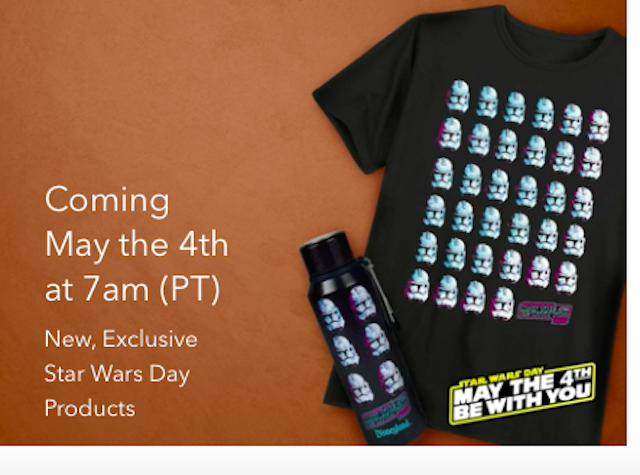 shopDisney Virtual Waiting Room
With other special releases many Disney fans have become frustrated due to the shopDisney website crashing, server glitches, and even collections selling out quickly due to automated bots purchasing items.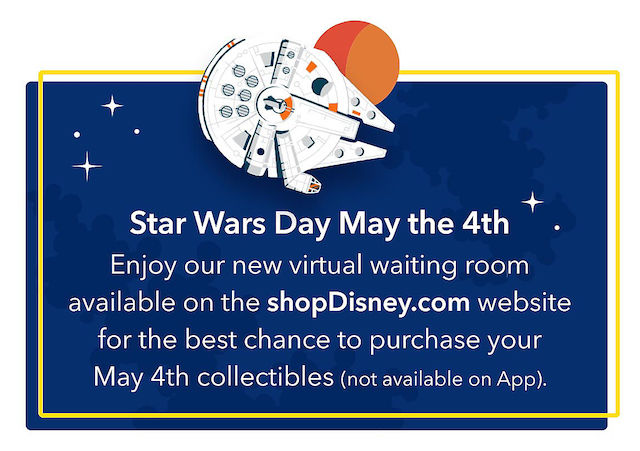 Now, shopDisney is introducing a virtual waiting room. To our understanding, once you make your selected purchase you will be entered into a virtual queue that will hold your place in line to make your purchase.
This will hopefully help to cut down on some of the frustration tomorrow for the May the 4th limited merchandise.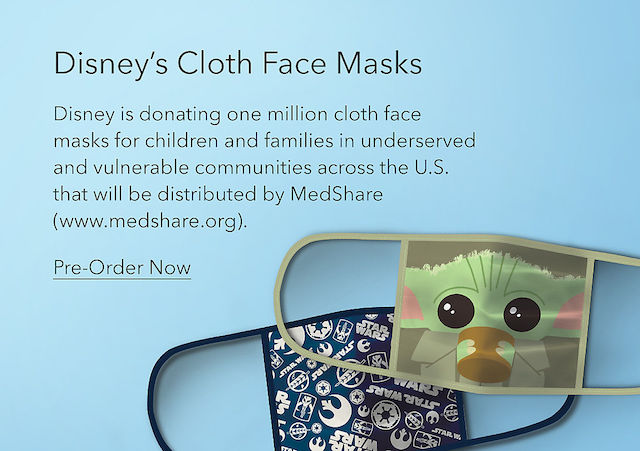 This past week we shared the Disney face masks that would be available on shopDisney. Many were purchasing these, and it appears that they may have been giving this new virtual queue a "trial run" as this screen was displayed as many were waiting to purchase their face masks.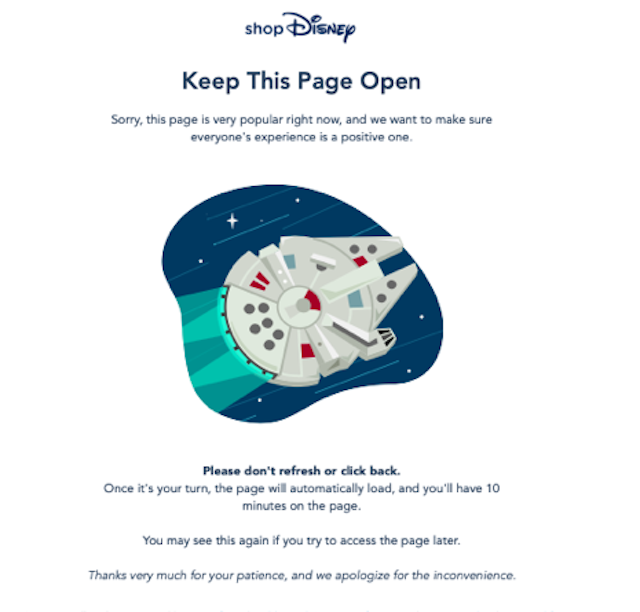 We join with shopDisney in hoping that this new virtual waiting room will help to ensure that each Disney guest will have a positive experience. May the force be with you all.
Celebrate May the 4th on Disney Plus
We have shared that Disney Plus will begin streaming the newest Star Wars film Rise of Skywalker and also Disney Gallery for Star Wars: The Mandalorian on May 4, 2020.
These will be great films to watch as you celebrate May the 4th at home this year.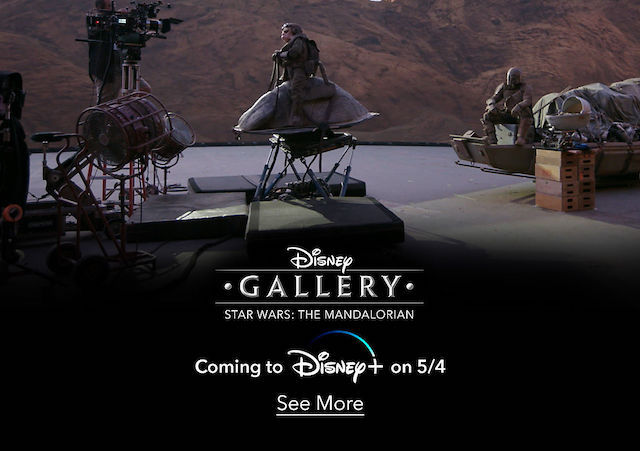 How will you be celebrating May the 4th? Which items are you most excited about on shopDisney? What do you think about the new shopDisney virtual waiting room? Please share your comments on our KtP Planning Page and on our Facebook Page.