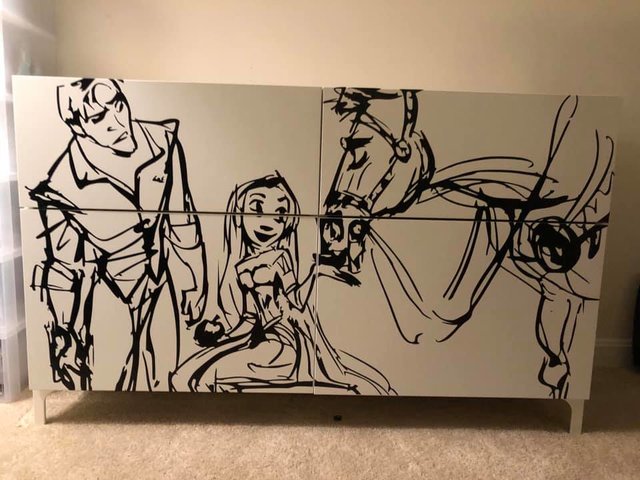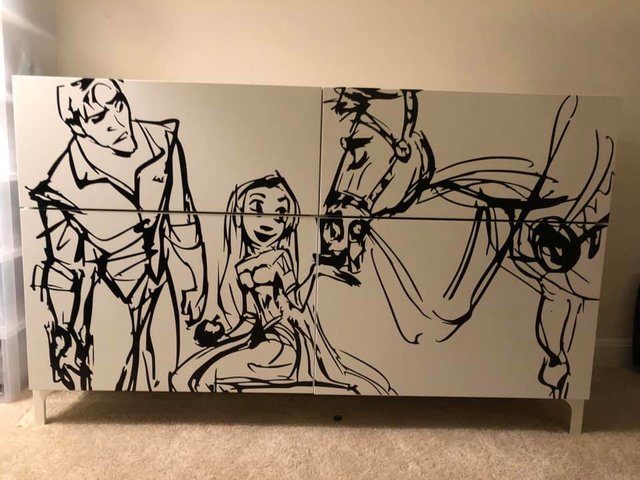 As Disney lovers, we not only enjoy visiting the parks but finding ways to bring a little Disney magic into our own homes. This week our KennythePirate writing crew was asked to share a DIY Disney themed project they completed. Read on for all the crafty details.
We hope we can inspire you to get crafty – Disney style!
Tara
About a year ago I made my daughter a Disney-themed shelf. It all started when my daughter and I saw an article in Disney family about creating wall letters that represented Disney princesses for a child's room.
My daughter loved the idea and asked if I would make letters for her. Of course, I said I would be happy to!
She chose Rapunzel, Ariel, and Cinderella since they are three of her favorite princesses. For the fourth character, she asked if we could make one representing Minnie since she has always been one of her favorite characters.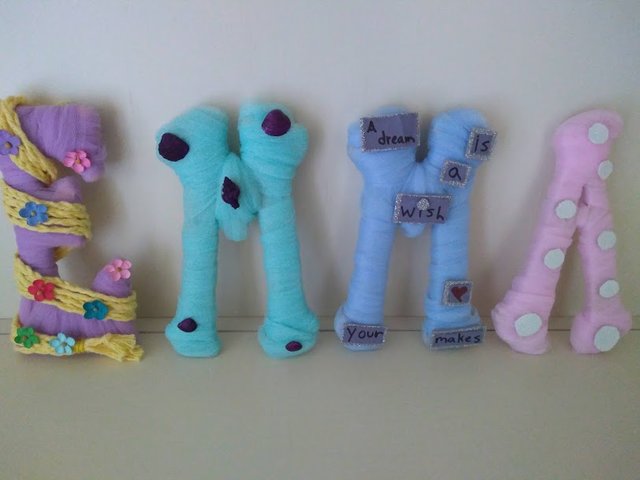 I used wooden letters that I covered in tulle, using hot glue to adhere the tulle to the letters. Then, I added little decorations to each letter, using hot glue again, to represent each character.
Originally I was going to just put the letters up on the wall in her room, but then decided I would rather devote a whole bookshelf instead.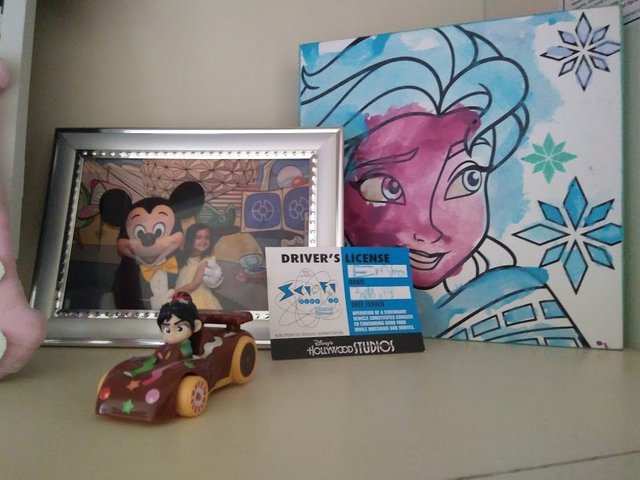 I decided to also put up some picture frames featuring photos with some of our favorite character interactions over the years. We also added paintings of Disney characters that my daughter had painted, a Minnie Mouse ballerina figurine, and small Wreck-it Ralph and Vanellope cars.
We also added some mementos from our time at the parks such as a wand from Cinderella's Royal Table, celebration buttons and a license from Sci-Fi Diner.
Although I enjoy doing crafts, I would not at all consider myself crafty. However, I was very happy with how the bookshelf turned out. My daughter loves it as well, which really is what's most important.
Donna
My family loves to collect pressed pennies on our trips to the Disney parks. We took the pressed pennies that we have collected and attached these with double-sided tape.
We attached these to a piece of paper in the shape of Mickey Mouse's head. With a few character stickers in place, it was perfect to frame. We still have plenty of room to add more pennies from our future visits "Home."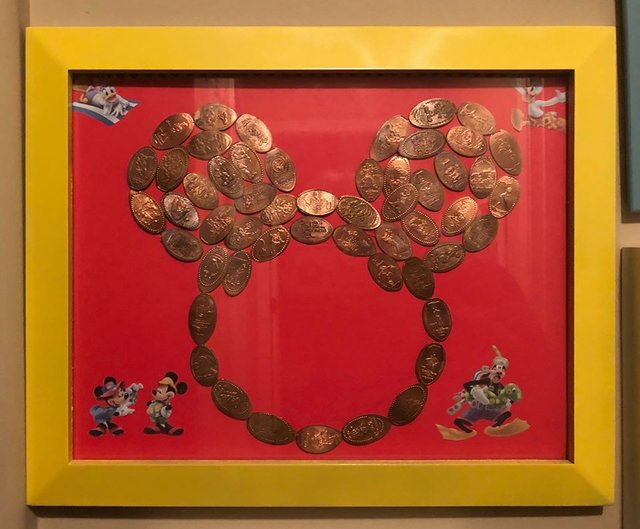 A couple of years ago we created footprint artwork of each of my kid's favorite characters. We used them to decorate our Disney cruise line cabin door.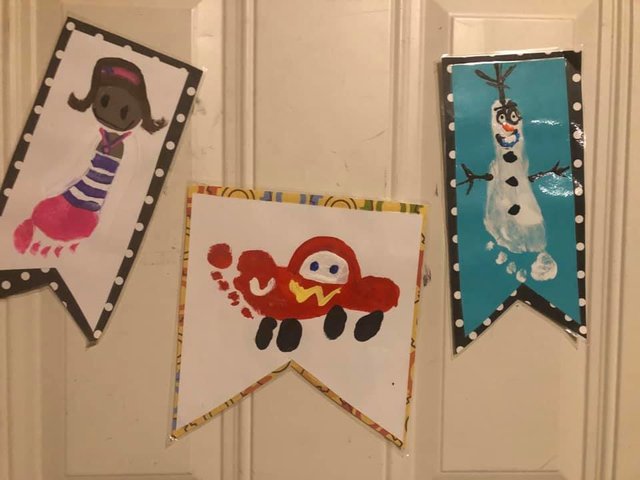 Rebecca
This is the Disney home project I'm proudest of! I made this image out of removable vinyl using my Cricut die-cutting machine. My room is all Disney princess concept art, and this image is a concept sketch from Tangled.
I had to break it up into small pieces and put it together like a puzzle.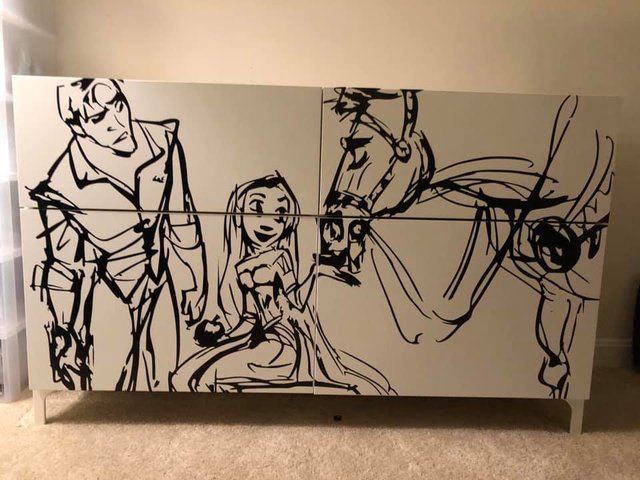 The cabinet is from Ikea. The entire project probably cost me around $300 and took maybe 4-5 hours. I will put a tutorial in the comments on Facebook for anyone who wants to attempt something like this!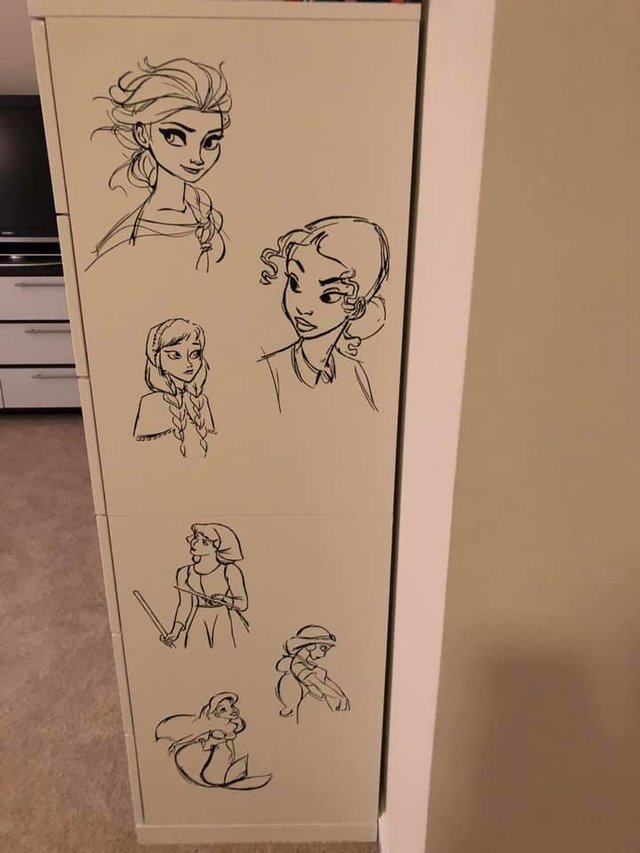 Jessica
My best friend did a Disney princess themed name for my daughter's room with wooden letters, scrapbook paper, and stickers.
We covered each letter in coordinating scrapbook paper and then added stickers to each letter. We have Cinderella, Aurora, Rapunzel, Belle, Jasmine, Ariel, and Snow White!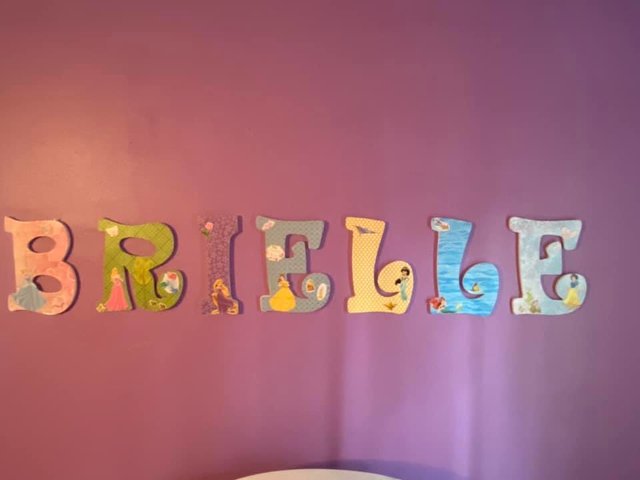 Amanda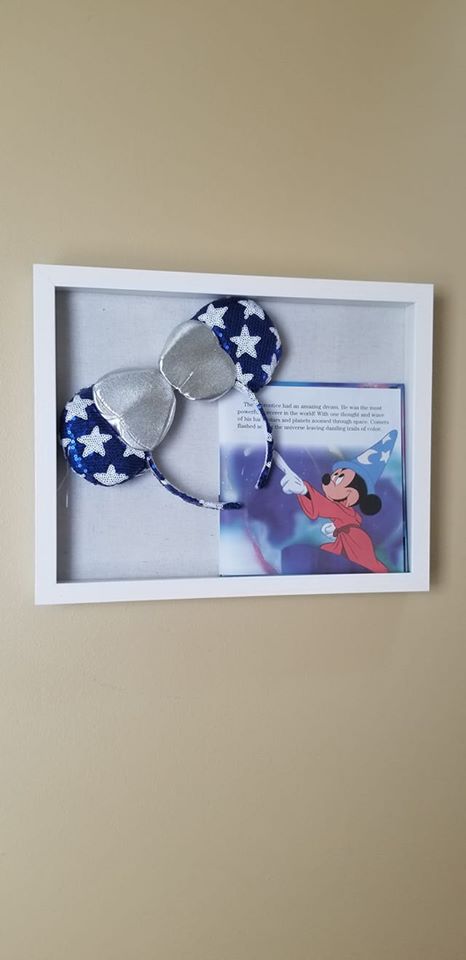 We wanted to display some of our Minnie ears and Disney books in our family room, so I ordered some shadow boxes from Michael's.
I had these three displays made in under an hour using some glue, scotch tape, and the pins that come with the displays.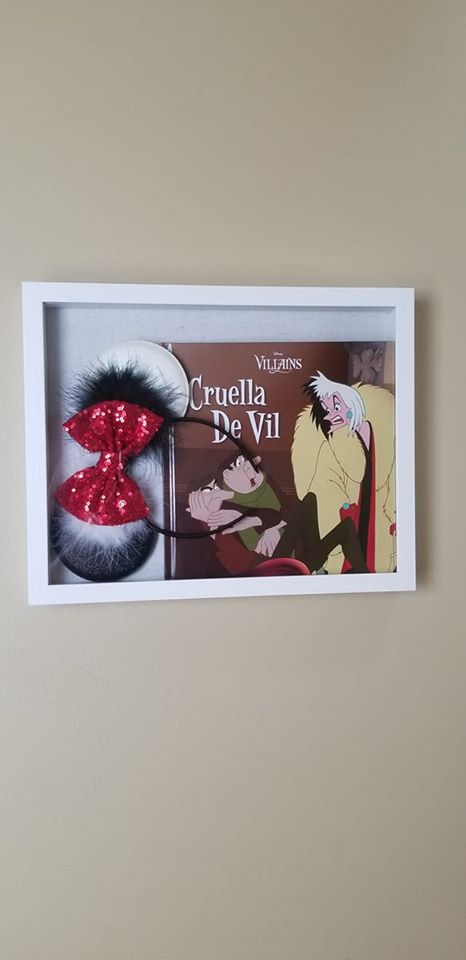 We like how they turned out and are excited to make some more for my daughter's room!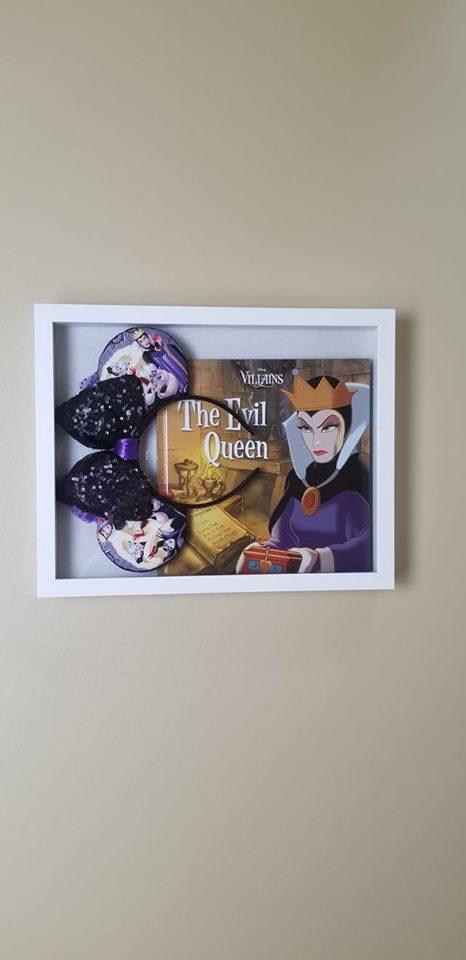 Susan
I've scrapbooked for over twenty years, and Disney layouts are my absolute favorite!
I create an album for each trip and include small souvenirs and maps along with photos. One of the things I love to do is scroll through different trip albums and see attractions, characters, parades, etc. that are no longer at the parks.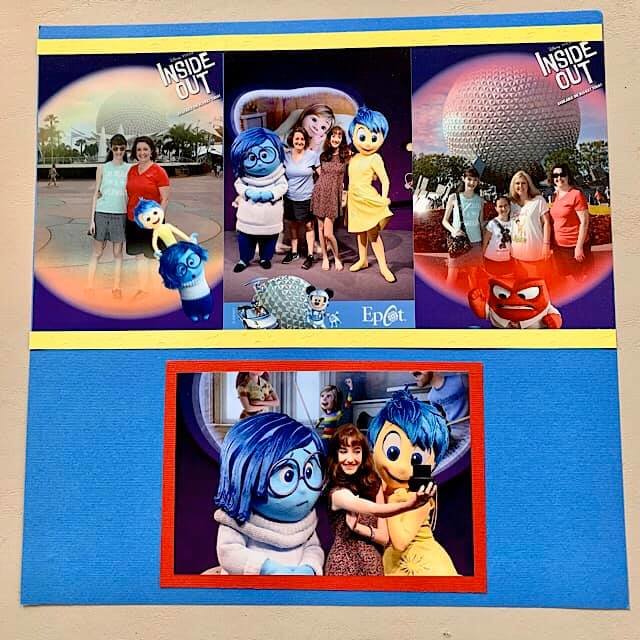 I purchased the Mickey and cut out die-cut using Cricut's Design Space. I've been to two Disney Halloween parties and am looking forward to going again.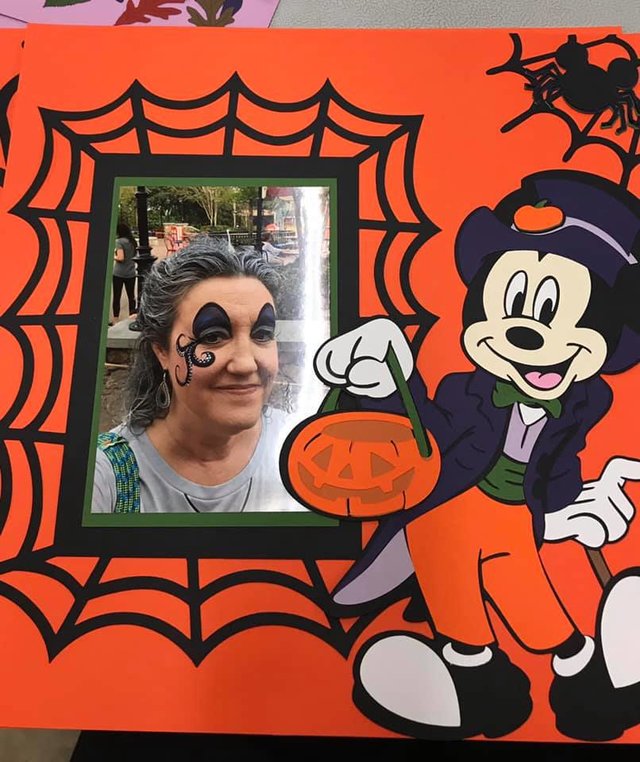 Marisol
On the Disney cruises, you are given a handkerchief in your stateroom that you can use on Pirate night. I came up with the idea to make a window valance!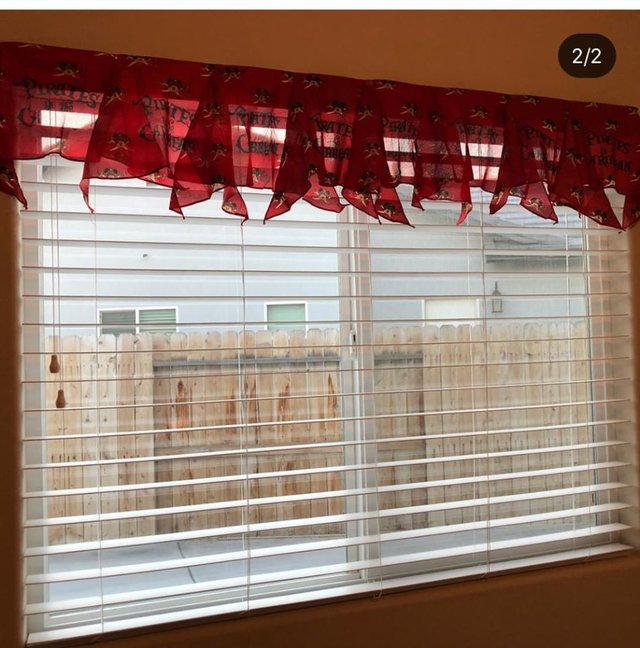 My other favorite craft that I made was this adorable Minnie snowman. I also made Mickey! They are very similar to the adorable collection at Tokyo Disneyland for the holiday season.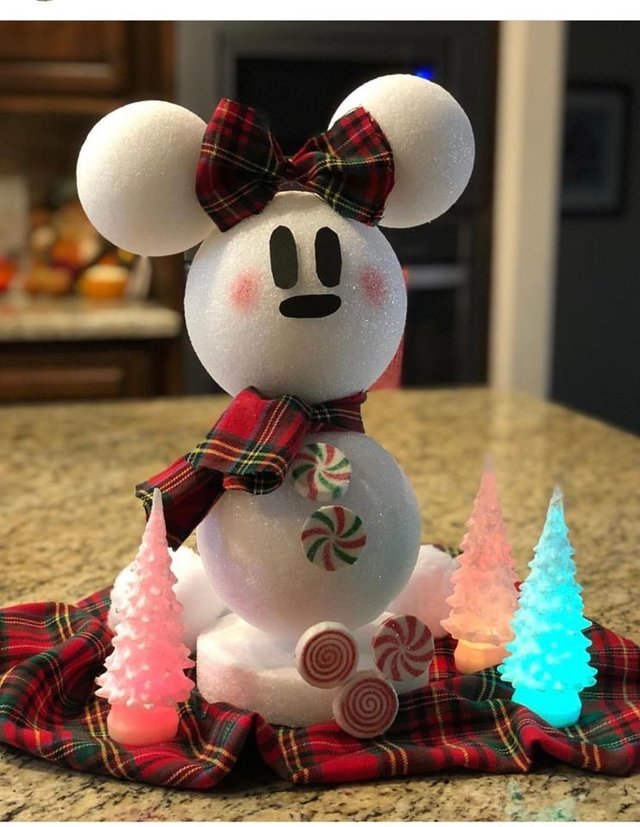 Kate
Mine is this Mickey inspired ornament wreath.
In the link above, you can find full directions. Basically, you get three foam wreaths and then use hot glue to attach the ornaments on.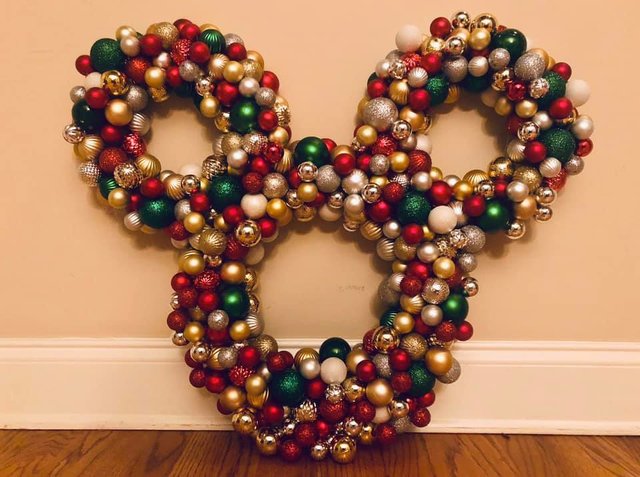 Heather
My favorite DIY Disney craft is the MagicBand holder. I have the full directions HERE!
The MagicBand display is a great way to repurpose those MagicBands you come home with and help relive some of your fondest memories for past trips.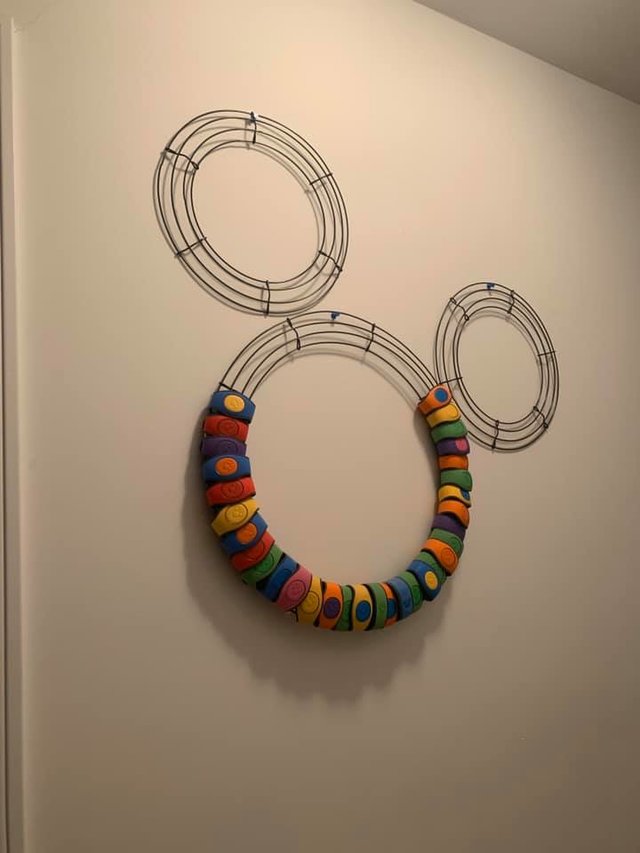 Jessica
This is our revolving artwork and award display wall in our house.
The decal is a great reminder of the current stage my children are in and to enjoy all the wonderful artwork and accomplishments of my kids!
You can attach a tension rod to the wall and use clips (like shower curtain holders!) to hang the artwork.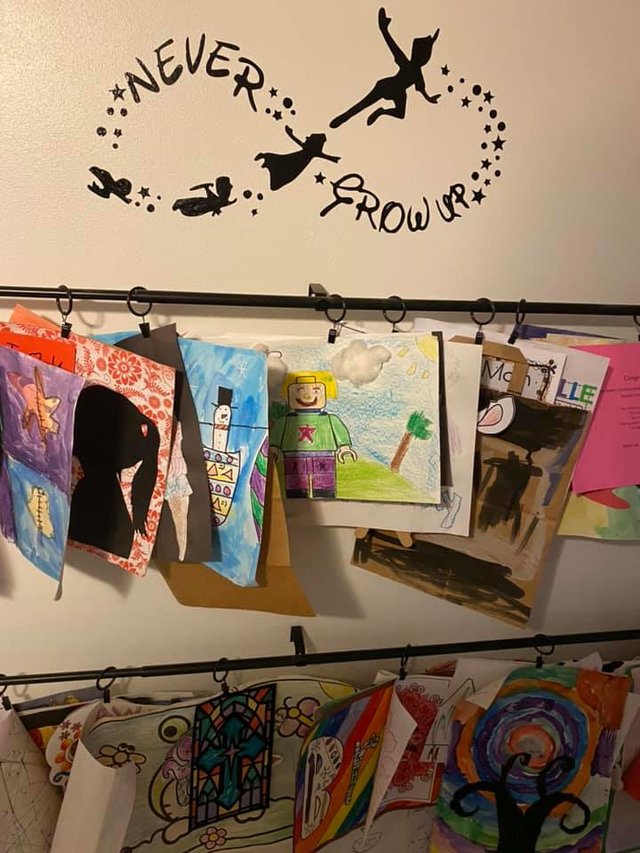 Maggie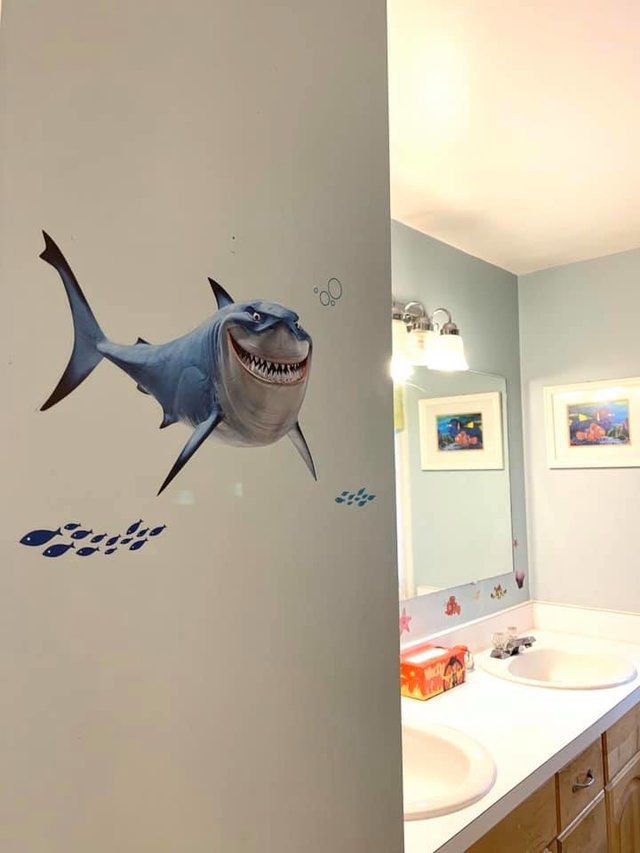 One of my favorite and very few DIY projects I have done is our bathroom. When we moved into our new house and found out our boys could have their own bathroom, I wanted to make it a kid-friendly theme so I chose Finding Nemo.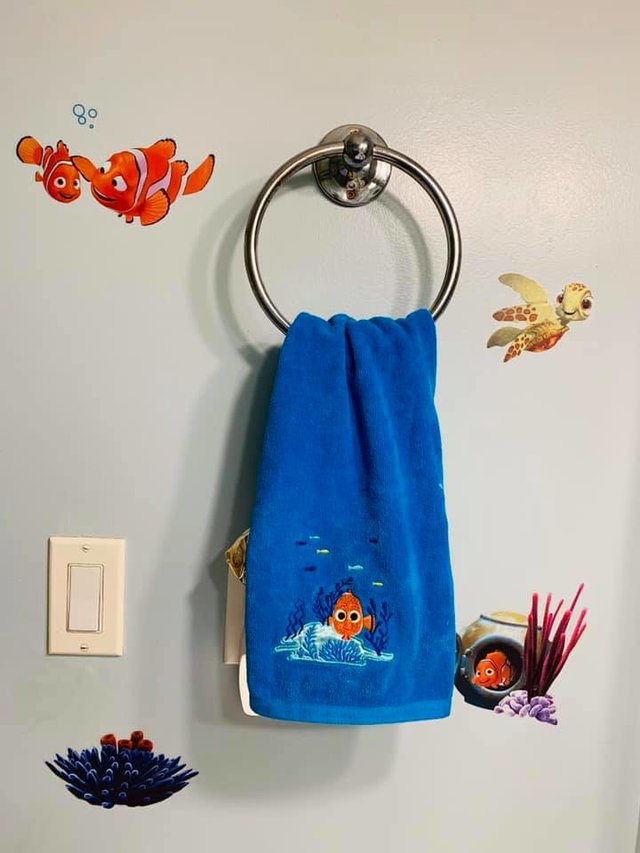 I bought wall decals off Amazon for the walls and bought a lithograph and framed it. I also bought Finding Nemo towels to go along with everything else.
It's not much, but I have been pretty pleased with it, considering I do not do many DIY projects myself.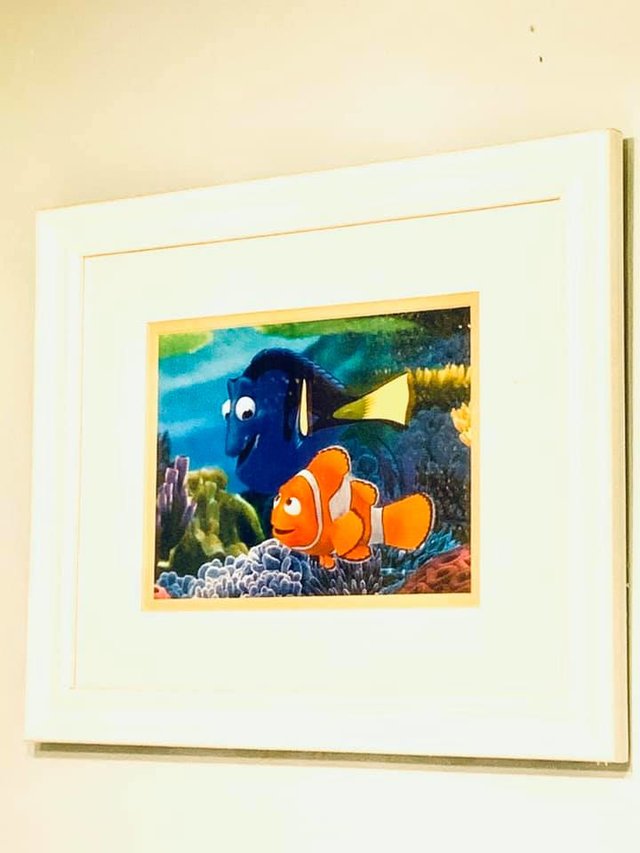 Have we inspired you to get started on your own Disney themed DIY project? Or do you have a favorite Disney DIY project you have completed? Let us know on Kenny the Pirate's Facebook page, or join our crew and continue the discussion.
Tara Duarte