Easter will be coming soon, and local Disney Stores are giving guests an event that will have you hopping with excitement. Check out how you can be a part of all of the fun.
If you'll be at a local Disney store near you grabbing your limited-edition Frozen 2 dolls and free Disney key, you may want to participate in this fun egg hunt stores across the nation are hosting.
Disney Store "Magical Egg Hunt Adventure"
Disney fans across the country may be making alternate plans this spring due to recent closures of theme parks and venues. Many of the Disney Stores are bringing a bit of the Disney magic to hometowns around the country.
This is a great way to enjoy the magic of Disney while possibly enjoying Spring Break at home.
Starting March 13-April 12, 2020, guests can visit participating Disney Stores to join in the "Magical Egg Hunt Adventure."
It's important to note not all stores may not be hosting this event. Please check online to locate the nearest participating store close to you.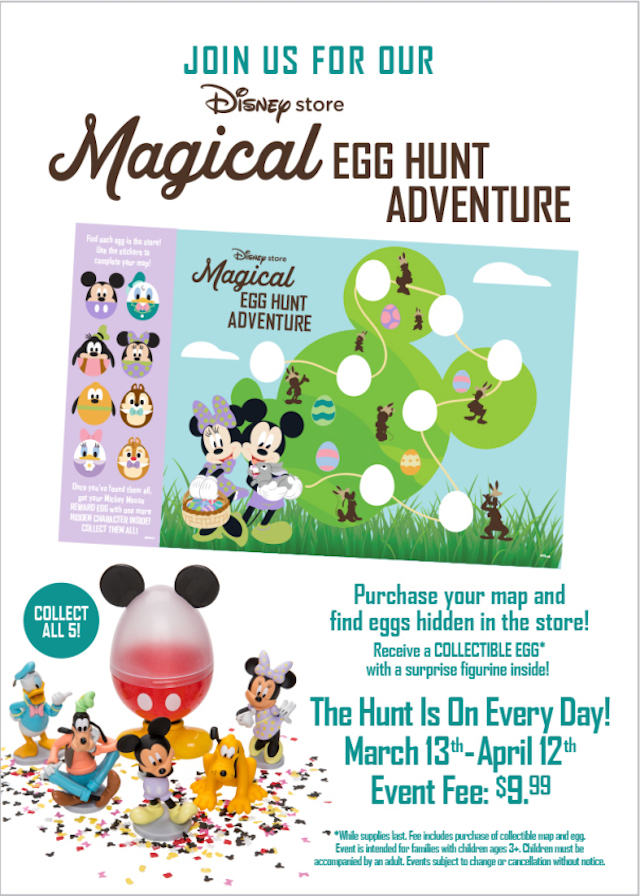 Event Details
The price is $9.99 to participate. This fee includes a map to locate eggs hidden throughout the store, a nifty Easter bunny hat, and each completed map will receive a prize egg.
Each prize egg includes Mickey-shaped confetti and a tiny figure of either Mickey or one of his pals. This is such a special opportunity to enjoy a bit of Disney magic closer to home.

Please visit Shop Disney to locate a participating Disney Store close to you. This event is set to be available from opening to closing of the store, but it can also be canceled if needed.
With unexpected closures occurring with the health concerns in various locations across our country, please check availability with your store prior to grabbing your Easter basket.
Have you ever participated in this Easter Egg hunt in the past? Do you plan to participate this year? If so, please share your pictures and memories on the Crew's facebook page. You can also continue the discussion in our KtP Crew Planning Group!