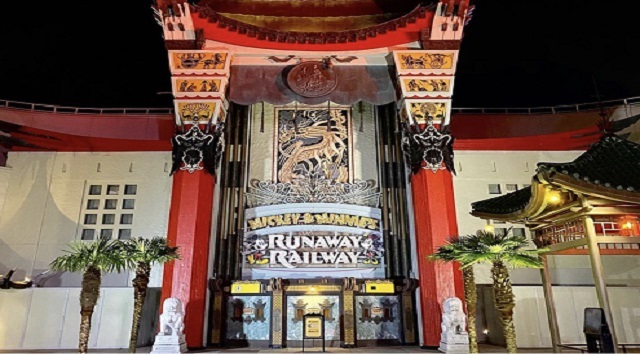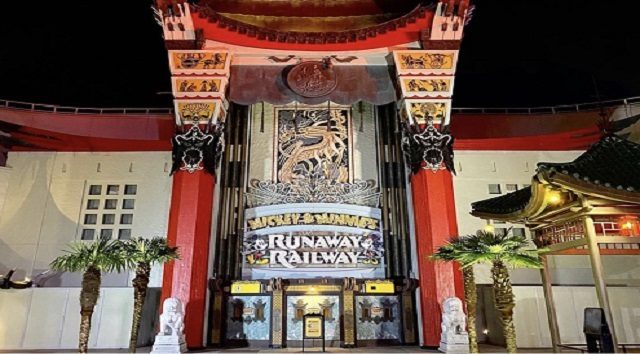 Exactly one month from today, March 4, 2020, Mickey and Minnie's Runaway Railway attraction will open its doors at Disney's Hollywood Studios at Disney World! We got a look at the brand new sign!
Last night, Disney's Imagineers were hard at work installing the sign on the facade of the Chinese theatre at Hollywood Studios. Perfect timing for a sneak peek, right?
As seen through the previous concept art of the marquee, it promises to be in line with personifying Hollywood glam. A red carpet premiere vibe with neon lights, bright lights, and of course, the iconic palm trees of Hollywood in Los Angeles will welcome guests to the attraction.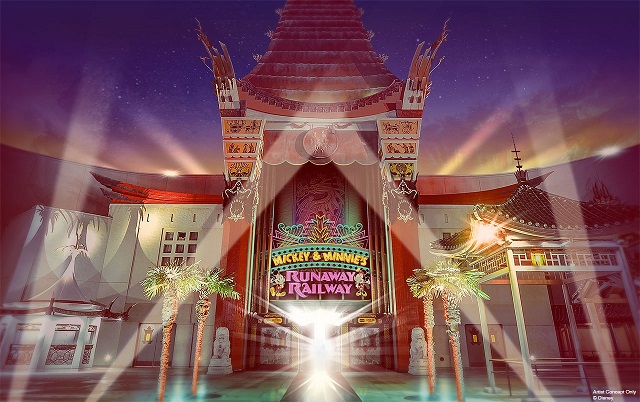 Many guests were very sad when Hollywood Stuios closed the doors to the Great Movie ride back in August of 2017. However, with great sadness came a great announcement of a brand new state of the art technology ride that was to come in a couple of years.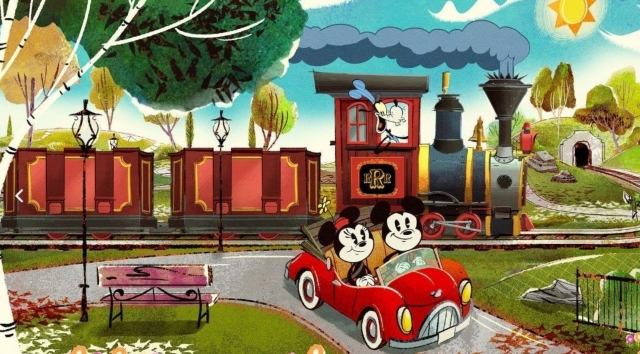 The ride has certainly gone through its fair shares of delays, at it was originally intended to open in the Fall of 2019. However, it was stated back in April of 2019 that the attraction would not open until the Spring of 2020. In December of 2019, it was revealed of its opening date in March of 2020.
As of this moment, guests have not been provided with any information regarding whether FastPasses or boarding groups will be used to ride the new attraction. Many guests who will soon be visiting Disney's Hollywood Studios await with much anticipation and eagerness to find out!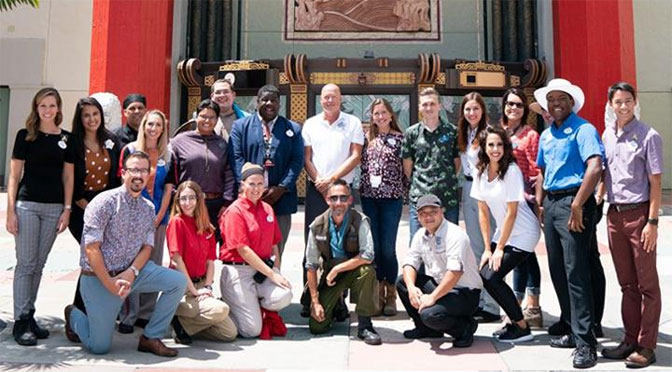 Throughout the process of the attraction's construction and progress, Disney has definitely provided many concept art photos, videos, and teasers regarding the anticipated attraction.
It was also announced that Mickey and Minnie's Runaway Railway will be coming to Disneyland in 2022.
Are you excited to ride Mickey and Minnie's Runaway Railway? Do you like the new marquee sign for the attraction? Be sure to comment your thoughts and follow Kenny the Pirate on facebook.
-Marisol White