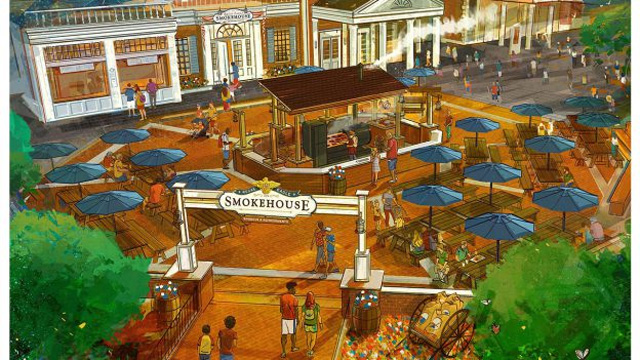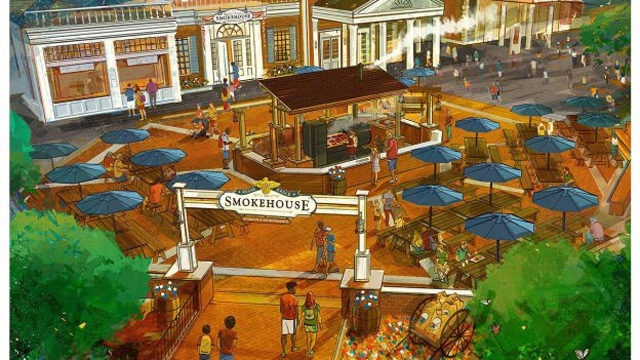 Barbecue lovers rejoice! It looks like Regal Eagle Smokehouse may be opening this week at Epcot!
Step inside a smokehouse celebrating the regions of American backyard barbecue and craft beers. Enjoy a delicious meal as the pitmaster uses techniques from classic barbecue regions to smoke meat selections over oak wood.
Regal Eagle is located where Liberty Inn Restaurant was as a quick-service restaurant.
The menu looks yummy!
Pork ribs, chicken, burgers, onion rings, and macaroni and cheese will be featured for guests to feast upon. You can see the full menu (with prices) HERE.
Plus, if you love the Muppets, I have even better news for you!
The restaurant takes its name from the venerable Sam the Eagle, the Muppet known for his patriotism and strict sense of duty and honor. He takes all things seriously…and barbecue is certainly one of those things.
According to Disney, Regal Eagle Smokehouse will be the site for "Sam's Centennial Cook-Off: A Salute to All Cook-Offs but Mostly Barbecue."
He will be part of the decor at the restaurant. You'll see him on the sign as you walk in and on the poster for the cook-off, as seen above.
There will also be Regal Eagle Smokehouse merchandise available to purchase, and he will be incorporated into those items.
Opening Date
While no official opening date has been announced by Disney, a quick Google search has revealed a potential timeline…this week!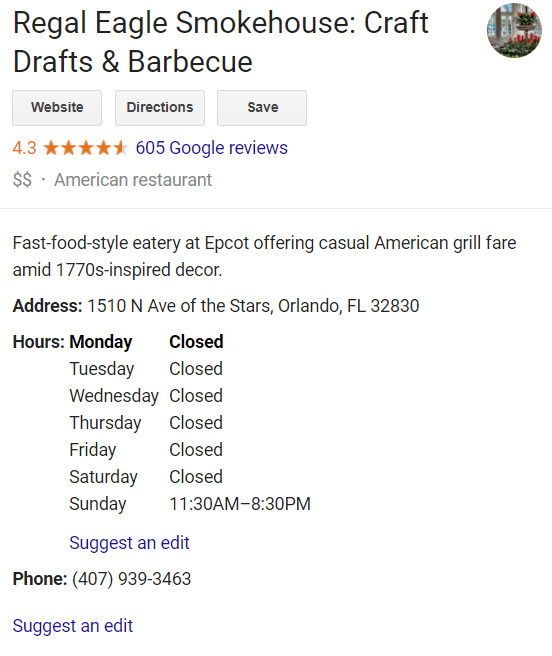 If Google is correct, Regal Eagle will be opening on Sunday, February 9!
Regal Eagle is one of many Epcot restaurants opening soon. Space 220 is rumored to open later in March after being pushed back. Taste Track Burgers and Fries is opening this month, according to the times guide. It was supposed to open January 17 to coincide with the beginning of Festival of the Arts.
Additionally, the new menu at Eats at the Epcot Experience was supposed to be open just yesterday. However, it looks like that did not happen.
Do you think Regal Eagle will open this week? I certainly hope so! I will be visiting later this month and want to try out all these new places! Let us know your thoughts over on the facebook page.
-Monica