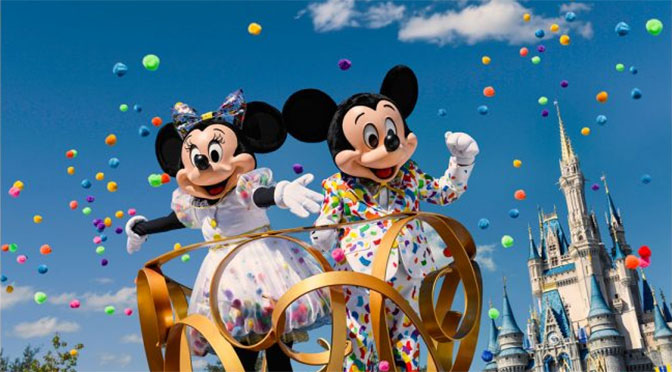 Monday will be a special day at Disney World: the star player of the Super Bowl will participate in a celebratory parade down Main Street U.S.A. – and you can watch from home!
"I'm going to Disney World!" Isn't that a phrase we all love to shout?! Every year a member of the winning Super Bowl team gets to say that, and then the following day they are joined by our favorite Disney characters to participate in a parade down Main Street U.S.A.
Monday's celebration continues a time-honored tradition of megastar athletes commemorating their greatest sports achievements at Disney theme parks. Join Disney Parks Blog for a super celebration LIVE from The Most Magical Place on Earth on Monday!
Coverage is expected to begin right around 2:40 p.m. local time, but exact times may change. Our KtP writers will keep you updated if any time changes occur.
Just head over to Disney Parks Blog to watch live!
Super Bowl MVP Ceremony
Also, don't forget Disney will be sharing which Super Bowl hero will be coming to Walt Disney World Resort right after the game on Sunday night as well as more about the big Super Bowl MVP ceremony surprise from Darrell's story.
Disney Parks has been named as the presenting sponsor of the Super Bowl MVP ceremony that will be taking place on the field immediately after the game on Sunday night.
According to DisneyParks Blog, Disney Parks will be "making a big splash during the ceremony by teaming up with Make-A-Wish in a new way, adding something new to a magical relationship that goes back nearly 40 years."
Disney has had a longstanding tradition with Make-A-Wish. The first official wish was granted to a Make-A-Wish child 40 years ago, which included a trip to Disneyland Resort. Since then, Disney has helped grant more than 10,000 wishes each year to children around the world!
Touring Magic Kingdom on Monday
Monday will be a very happy day at Disney World but also a very busy one! If you are at Magic Kingdom that day make sure you have an excellent touring plan from Character Locator so you will be prepared for the crowds!
Pirate Tip: if you are at Magic Kingdom and wish to view the parade, arrive at least by 1:30 p.m. Also, try to sit where Cinderella Castle will be in the background for any parade photos! Be ready to snap photos – Kenny says the vehicle moves very quickly.
Will you be at Magic Kingdom on Monday? Or will you watch the parade from home? Which team are you rooting for tomorrow night?! Let us know on the facebook page!
-Monica