We asked, and you delivered! Check out some of the best attraction photos from the KtP crew!
Some of my favorite memories from past Disney vacations have been enjoying rides and attractions with my family. I can still remember the trip where my youngest was finally tall enough to ride all of the mountains at Magic Kingdom.
I remember my son strutting off of Expedition Everest stating that it was no big deal. When we saw the ride photo we started laughing because he was scared to death.
The truth is, the PhotoPass ride photos tell the true emotions during the ride. Join me as we see the top 10 ride photos from our Pirate Crew members.
1. Galactic Duo on Buzz Lightyear's Space Ranger Spin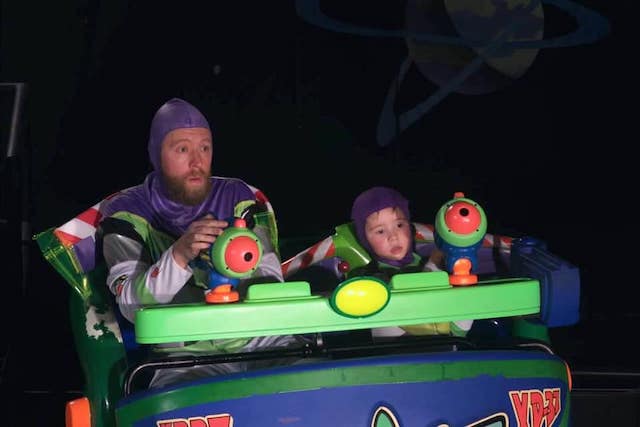 This photo was submitted by Amber Hartleroad and it is just too awesome!!! We loved the two Space Rangers protecting the galaxy. We loved this even more when Amber shared that apparently her husband makes the same expression every time he is protecting the galaxy. She created this collage: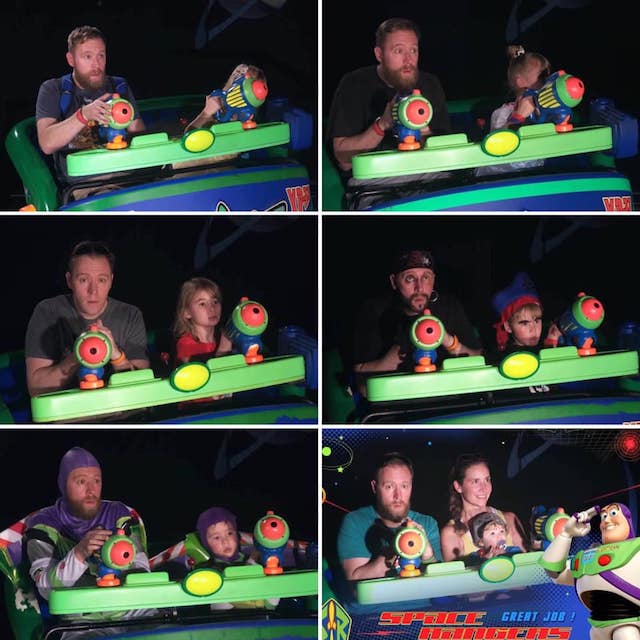 You keep being you, Mr. Space Ranger, Sir.
2. Little Mermaid "Under The Stars"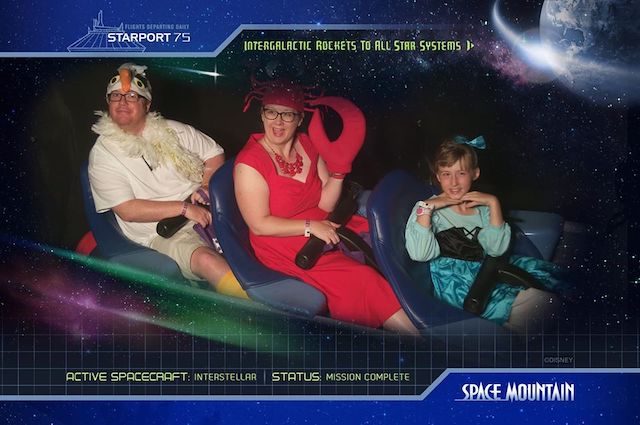 This photo was submitted by Heather Fairbanks. Special credit goes to this Crew because my Crew and I have never nailed a Space Mountain picture all at the same time. We loved the costumes and the poses. What a great night celebrating at Mickey's Not So Scary Halloween Party.
3. Mom and Daughter's 1st Visit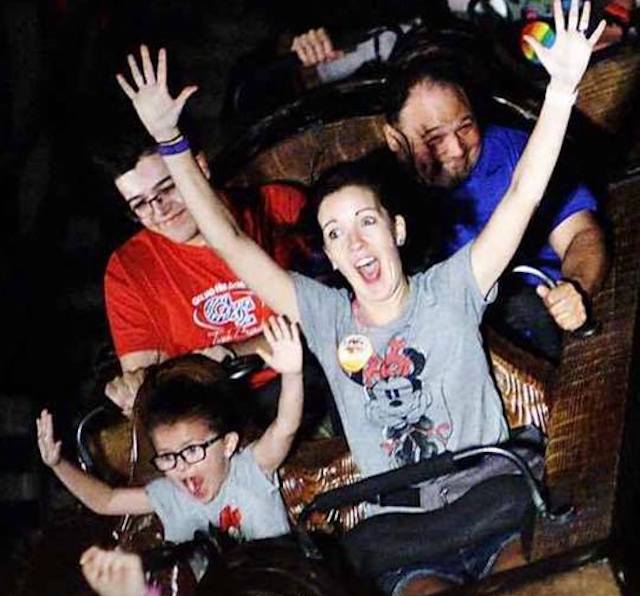 Disney is such a magical place and it doesn't matter if it is your first visit or your hundredth. We loved this photo of Brittney Cash and her daughter's first visit to Magic Kingdom. Their similar expressions of pure joy while riding 7 Dwarf's Mine Train was so sweet. We wish this family many more magical vacations to the "Most Magical Place on Earth."
4. Disney Brings Out the Kid In All Of Us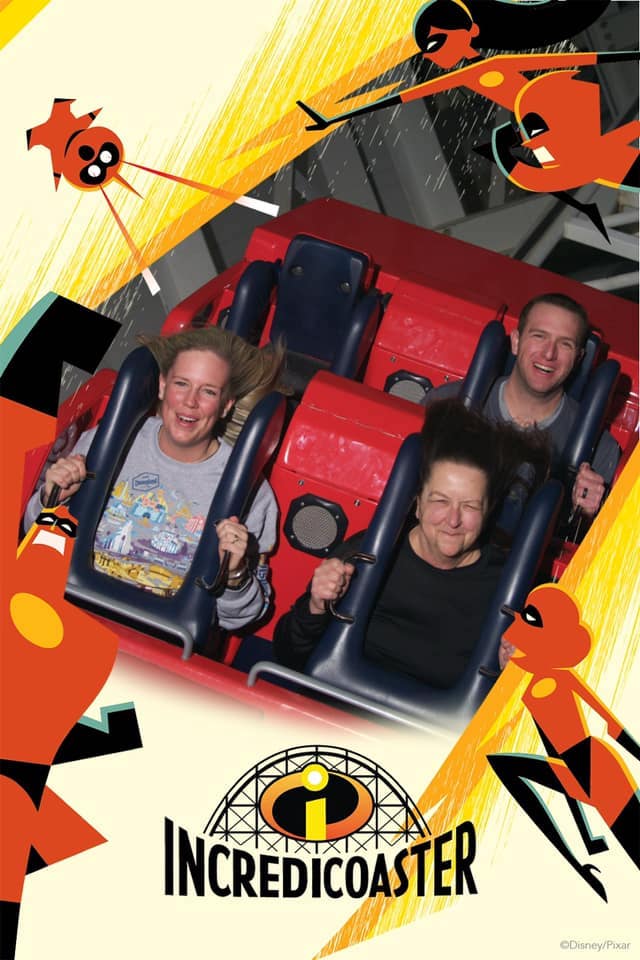 Ginny Huddle shared this photo of her riding the Incredicoaster in Disneyland with her 65-year-old mother-in-law. This is such an "incredible" picture from the west coast. It reminds us that you are always a kid at heart while at Disney.
5. "You'll Like It, They Said"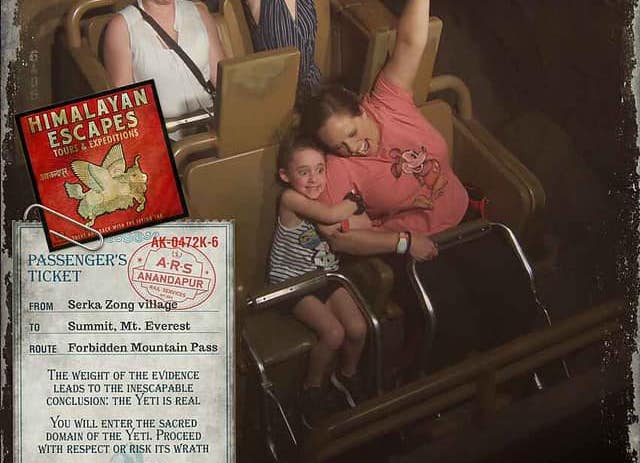 "You're tall enough, they said." "You'll like it, they said." Expedition Everest is such an awesome ride, but this picture is just too funny. Kristin Kaplan submitted this photo of her riding Everest with her daughter who was holding on super tight to her momma. Love it!
6. "Rock On! Oh No!"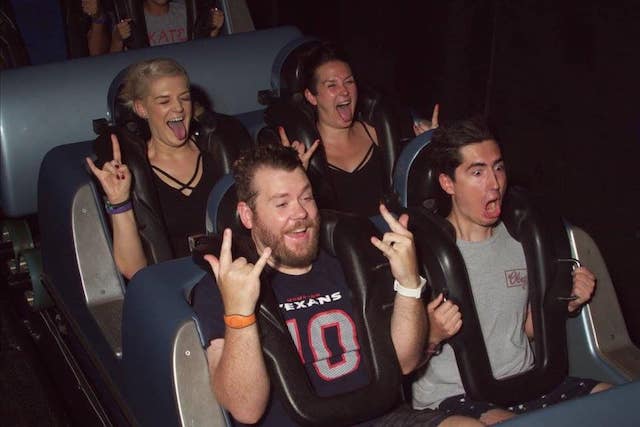 3 out of 4 riders agree that Rock 'n' Roller Coaster is awesome. This photo, submitted by Sarah Beth, confirms this. Just kidding, the majority of people love the ride, but the take off is a bit surprising to most of us. Rock On!
7. "Terror-fied"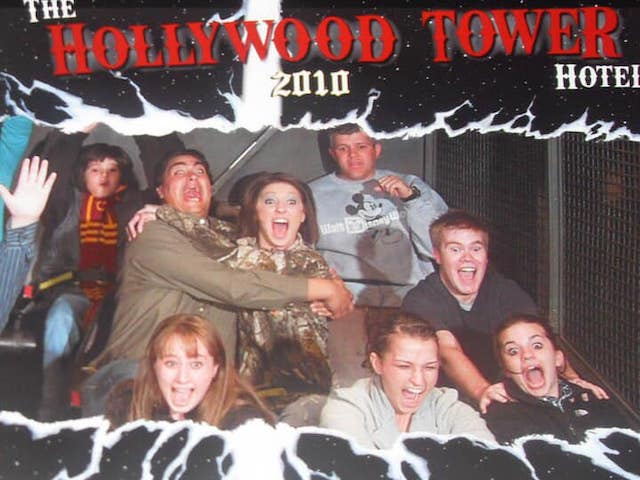 This photo may have been taken a decade ago, but the expressions are still just as amazing. Thank you to Shandi Pratt for submitting this photo from the Tower of Terror.
8. Unplanned, but hillarious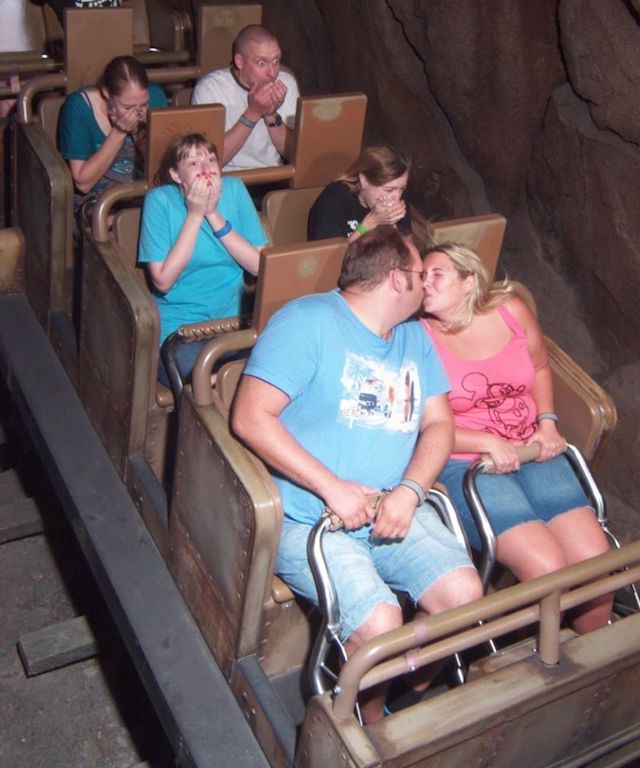 Some of the best photos happen by accident. This photo was submitted by Stacey Husted. She was planning to ride Expedition Everest with her family and they planned to act as though they were throwing while riding the ride.
Unknowingly, the couple in the front of the car had their own plan to have their kiss captured by the ride Photo Pass. Stacey and her family couldn't stop laughing at the end result as it appears that they are throwing up at the sight of the couple kissing.
Not exactly "Happily Ever After", but definitely a memory worth sharing.
9. The Cold Never Bothered Me Anyway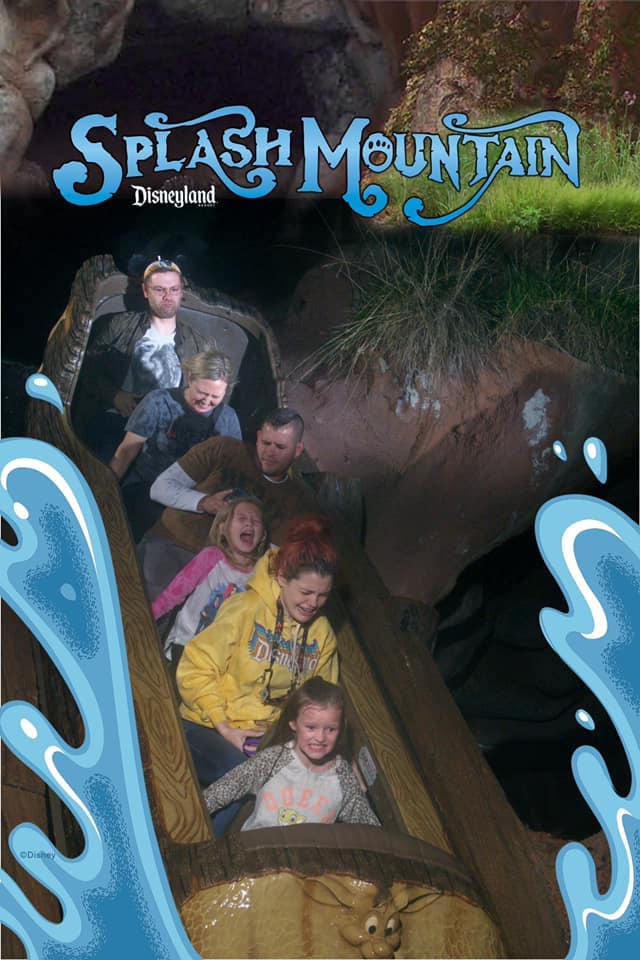 Jess Albertson submitted this photo from her family's trip to Disneyland. Her daughters were begging to ride Splash Mountain in the month of January. This picture shows that maybe they were rethinking that decision on the cold, wet ride down the mountain.
We have all been there. Luckily, they finally dried out, and now have a fun picture to relive that memory that "Mother Knows Best."
10. Pizza Planet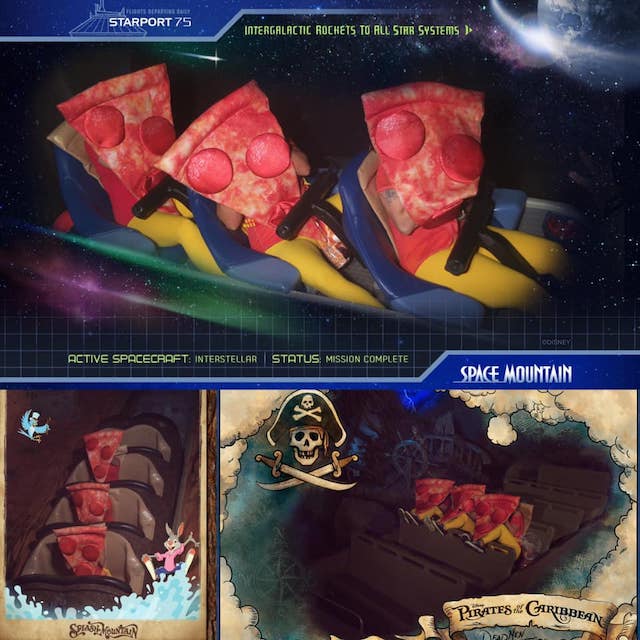 Our last photo was submitted by Nikki Lynn when her Crew dressed as pizza slices for Mickey's Not So Scary Halloween Party. We couldn't stop laughing to see the pizza ride not one, not two, but three Disney attractions. This is awesome!
Thank you so much again to our Pirate Crew for submitting so many wonderful memories and ride photos. It was truly a joy to share in some of your family's memories. For more information on rides, photo suggestions, and much more be sure to check out Character Locator!
If you haven't joined the KtP Crew facebook GROUP (different than the official KtP facebook page), what are you waiting for?! We are a community of Disney lovers who enjoy sharing advice, ask questions, and have fun doing things like posting our favorite ride photos! Head over HERE to join!