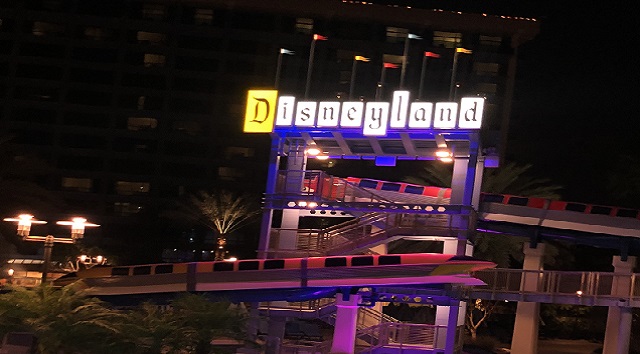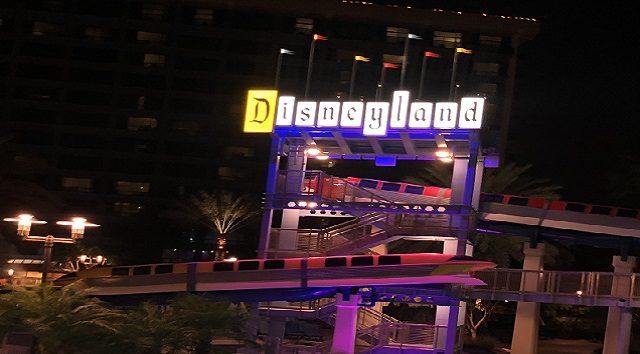 After 38 years of visiting the Disneyland Resort, would you believe me if I said that I had never visited the Disneyland Hotel? We just did during our last visit earlier this month. I finally have and am sharing my experience with you all today.
I have frequently visited Disney's Grand Californian Hotel & Spa because I love to visit the enormous Christmas tree and the beautiful gingerbread house that is displayed every year. Eating at Storyteller's Cafe is a must-do as well.
Our tradition at the gingerbread display is to purchase a gingerbread cookie and walk around looking for the hidden Mickeys! Well, on our last trip, my daughter and I began to walk around Downtown Disney and thought we should venture to the Disneyland Hotel.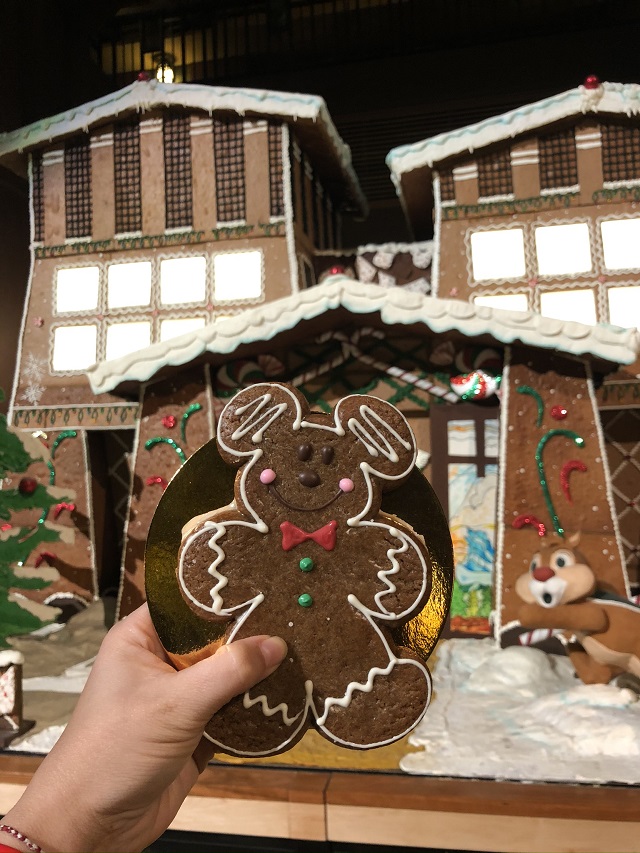 And that is exactly what we did! To be honest with you, I did not know ANYTHING about the resort itself. My parents always found it too expensive to stay since we were a family of six. Plus, we only live two hours away from Disneyland. So, we always stayed at other hotels as I wrote about in a previous article.
Entrances
There is an entrance to the Disneyland Hotel directly from Downtown Disney. As a matter of fact, this is where Disney Springs ends.
The Grand Californian Hotel & Spa also offers two different entrances that require going through security. One is a security checkpoint that will allow you into Downtown Disney and the other is to be able to enter California Adventure Park itself.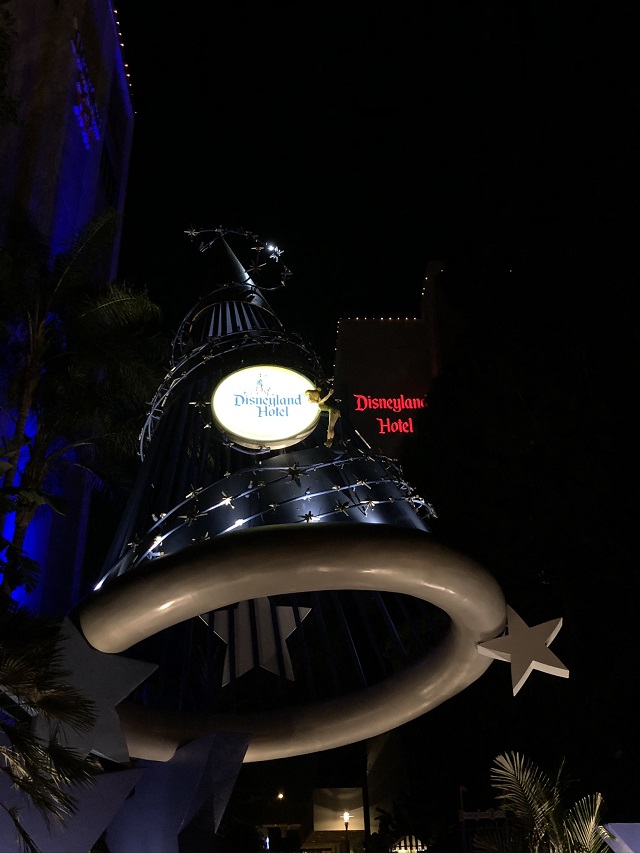 As my daughter and I walked under the ginormous Sorcerer Mickey hat, we really did not know where to go so we just walked forward and found ourselves in the Fantasy Tower.
We soon learned that the Disneyland Hotel houses the Adventure, Fantasy, and Frontier Towers, which are an homage to Disneyland's original lands when the park first opened.
Towers
The first location we wandered into was Disneyland Hotel's Fantasy Tower. Upon entering the lobby, you will feel like you are entering the Mad Tea Party because of the seating accommodations.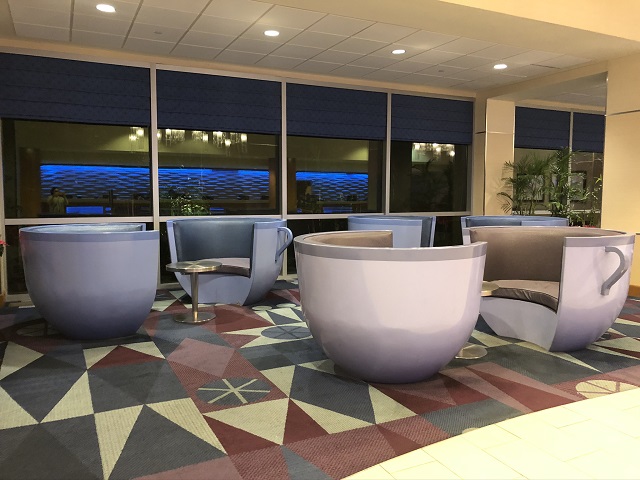 I mean come on… even the table in the middle between the teacup itself looks like the spinning wheel from the ride! My daughter and I must have looked crazy as we squealed with joy and ran over to sit and take pictures!
Pools
After taking a handful of selfies, we headed out of the tower and quickly gravitated to the pools, which are in the middle of the hotel. It was also nighttime so the waters glistened and made the entire hotel radiate sparkles straight out of a fairytale setting.
There are three pools at the Disneyland Hotel. Wait until I share with you the perfect names!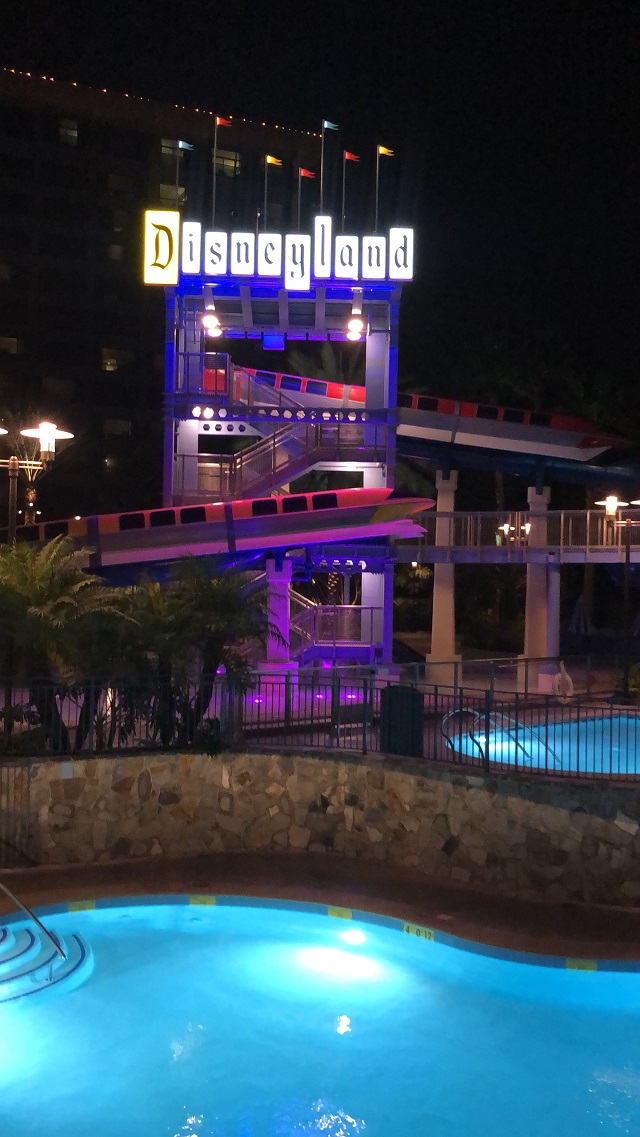 The first is the E-ticket pool, which plays tribute to the days when Disneyland first opened and attractions required a booklet of tickets.
The Monorail Pool includes two winding waterslides (red and yellow monorail) that feature a replica of the original monorail train with a nostalgic "Disneyland" sign.
The D-Ticket Pool is a more low key pool, which also offers the Mickey or Minnie Spa whirlpool. Cabana rentals are also offered in this location.
Note per Disneyland website:
From January 6 to 30, 2020, the Monorail Pool, Slides and Minnie Spa will be closed for refurbishment. Guests are invited to enjoy the E-Ticket Pool, D-Ticket Pool, and Mickey Spa during this time. Guests will also have access to the California Streamin' slide at Disney's Paradise Pier Hotel. There may be limited cabana availability.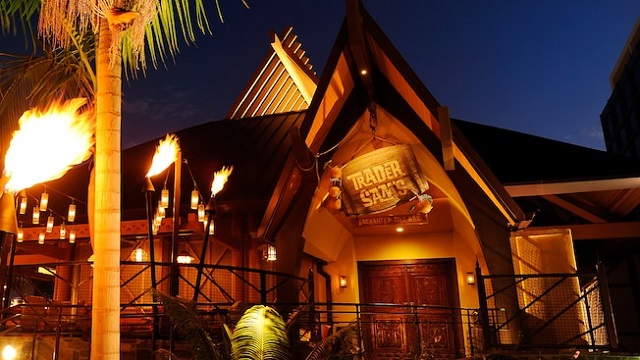 Restaurants Near the Pools
After taking in the pool sights, I had commented to my daughter that the Disneyland Hotel is also home to the famous Trader Sam's – Enchanted Tiki Bar. I had always seen pictures on Instagram but had never visited, considering I'm a huge Tiki Room fanatic as seen through the decor in my office in my home.
With a pre-teen in tow… we headed off to Trader Sam's – Enchanted Tiki Bar. Not going to lie when I say that I was pretty tempted to leave the poor kid outside the establishment while her mother indulged in a tropical drink herself!
No, do not fret. I did not leave her… that would be mean… Okay, the real reason is the line was too long! I, however, did take her next door with me to visit the Tangaroa Terrace Tropical Bar & Grill.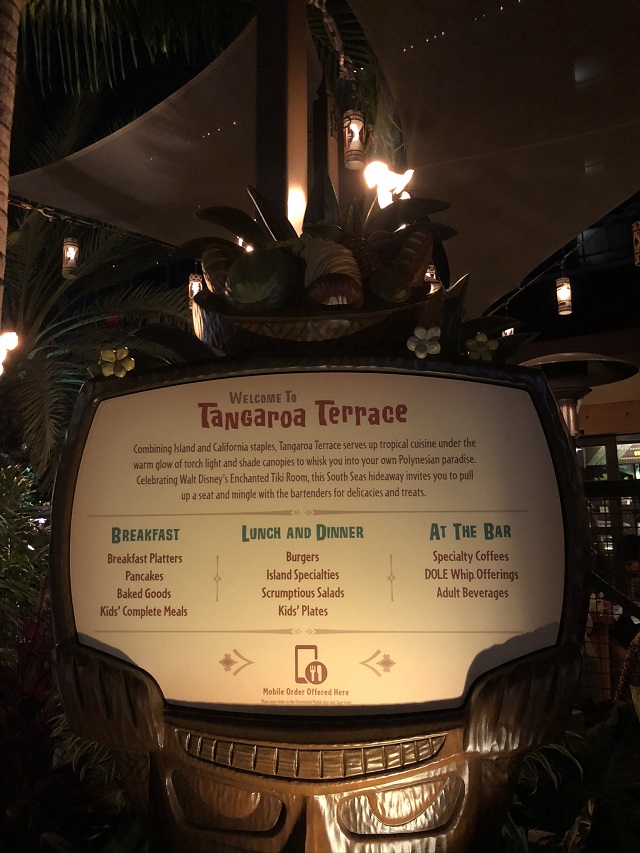 Situated next to Trader Sam's, this tropical hideaway offers a variety of tropical drinks as well as an array of Hawaiian-inspired dishes serving breakfast, lunch, and dinner. Not to mention that you can also use mobile ordering for this location by using the Disneyland App on your phone.
Guests are also able to purchase the famous DOLE WHIP® floats at this location and if you are lucky to be 21+ then you can order a DOLE WHIP® float with a splash of rum! I decided to go with the Piranha Pool drink. Funny, right?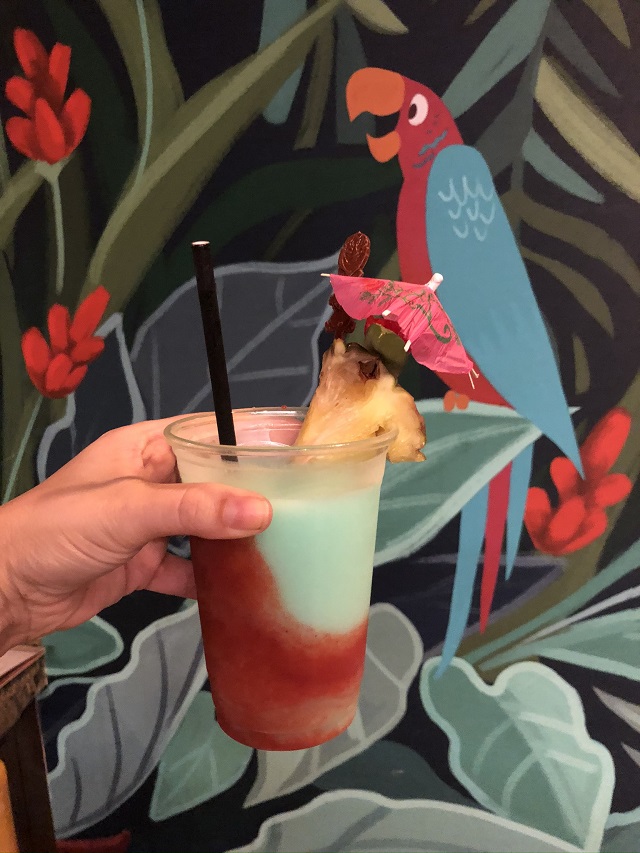 While I enjoyed my drink overlooking the pools, my daughter and I had such a great time chatting and spending quality time together. My younger daughter only thought we were going to visit the ticket booth!
Final Thoughts
I highly encourage you on your next trip to Disneyland to take the time and visit each of the three hotels at the Disneyland Resort in Anaheim. My daughter and I contemplated visiting the other Disney hotel, Paradise Pier, but as it was getting late in the night and we'd be waking up for rope drop the next morning, we headed back to our hotel across the street from Disneyland.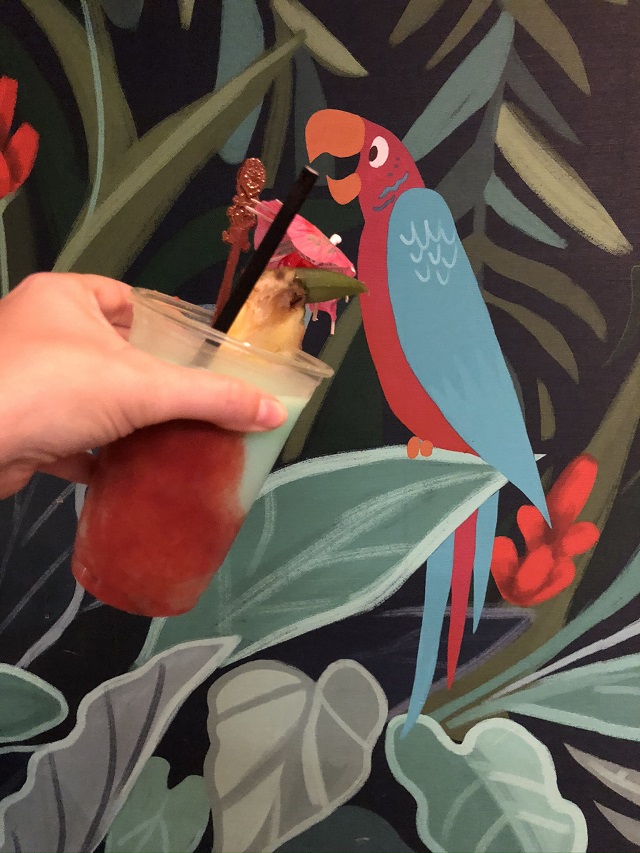 It is amazing how much time you can spend walking around each of the Disney hotels because Disney puts so much thought into everything they do. Not surprising, right? The details can be found at each corner! The best part is that it is completely free and exploring them is quite the fun adventure!
We can't wait to go over to visit again and hopefully stay at one soon! I'm still pretty determined to leave a kid outside Trader Sams!
Have you visited any of the Disneyland hotels at Anaheim? Share with us on the KtP Facebook page!
Are you planning a vacation? Reach out to our trusted travel agency sponsor Authorized Disney Vacation Planner
Mouse Class Travel
!