If you have an opportunity to visit Disneyland, the Storyteller's Cafe is a great selection for character dining. This character dining experience offers more casual theming which is great for the adults, but still offers great character interaction for the young and old alike. Please join me as we review the food, characters, and overall experience of this remarkable character meal.
Details
This character dining is located in the beautiful Disney's Grand Californian Hotel. We arrived for our reservation a bit early to be able to enjoy the beauty of this hotel. I usually visit Walt Disney World, and in my mind, this hotel would be the West Coast equivalent to the Grand Floridian, but I was delightfully mistaken. The Hotel has a rustic, yet modern feel and is absolutely gorgeous.
A bonus of this location is also that the Hotel has access to Downtown Disney that can be enjoyed before or after your dining reservation.
Reservations are recommended for this location and can be made 60 days in advance.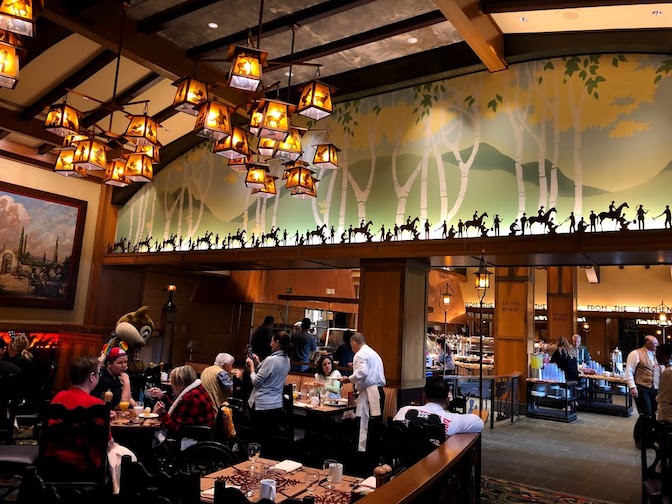 This is a character dining experience for breakfast, which is served from 7:00 am to 11:25 am. From 11:30 am to 2:00 pm brunch is served, but it is only offered on select days.
There is also non-character dining for dinner from 5:00 pm- 10:00 pm.
Characters
The only character that is guaranteed for this dining location is Mickey Mouse, but other friends are likely to join him on his storytelling adventures. The following are often found, but not guaranteed during character dining meals: Minnie Mouse, Chip 'n Dale, and Pluto. All of the characters were present at our meal and they each wore adorable adventure attire.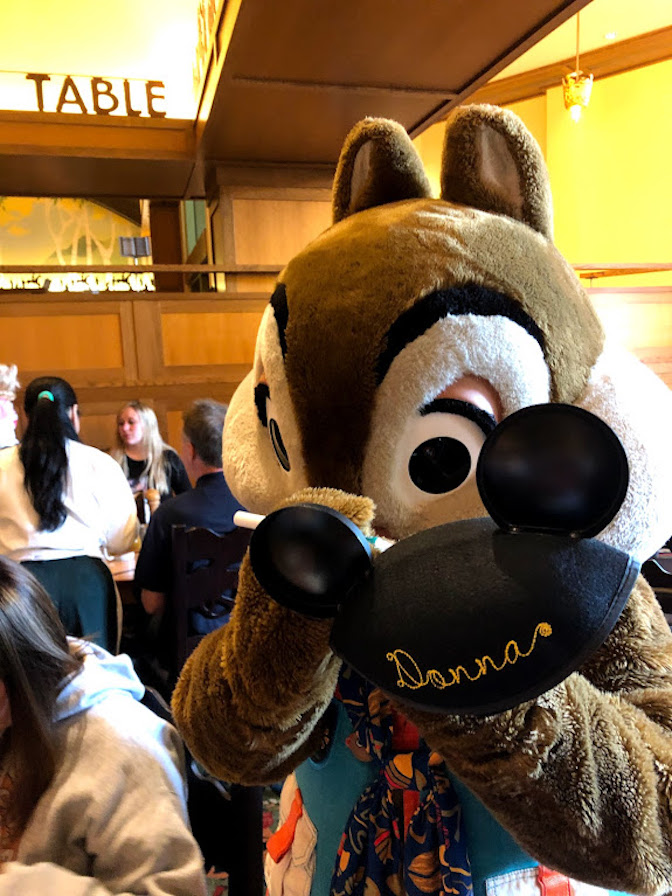 We greatly enjoyed the time that each character spent with each table. In the past, we have enjoyed seeing Mickey and the Fab 5 at Chef Mickey's at Disney World, but this location far exceeded our previous dining experience at Chef Mickey's.
The characters didn't seem as rushed and the seating was more open. The highlight of this character experience was when Mickey Mouse sat down at our table for a good five minutes.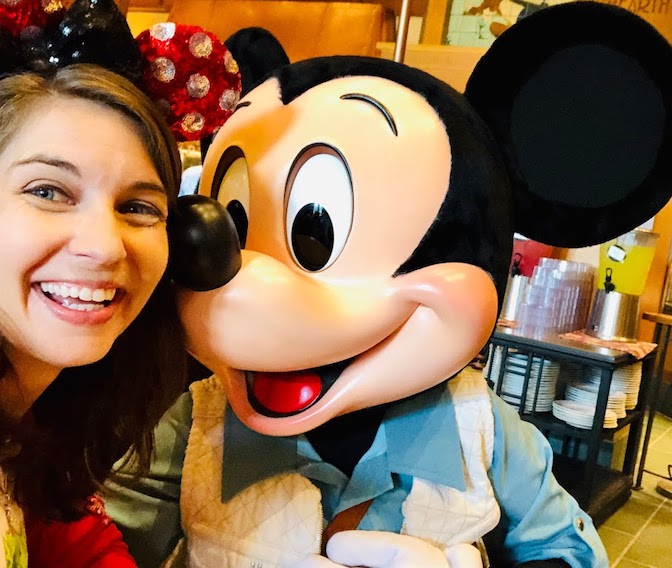 As with other character dining experiences, the characters all exit and then re-enter on a set interval throughout the meal. When they re-enter, young guests are able to join in on the fun by shaking maracas, using noisemakers, and beating on baskets along with Mickey and his pals.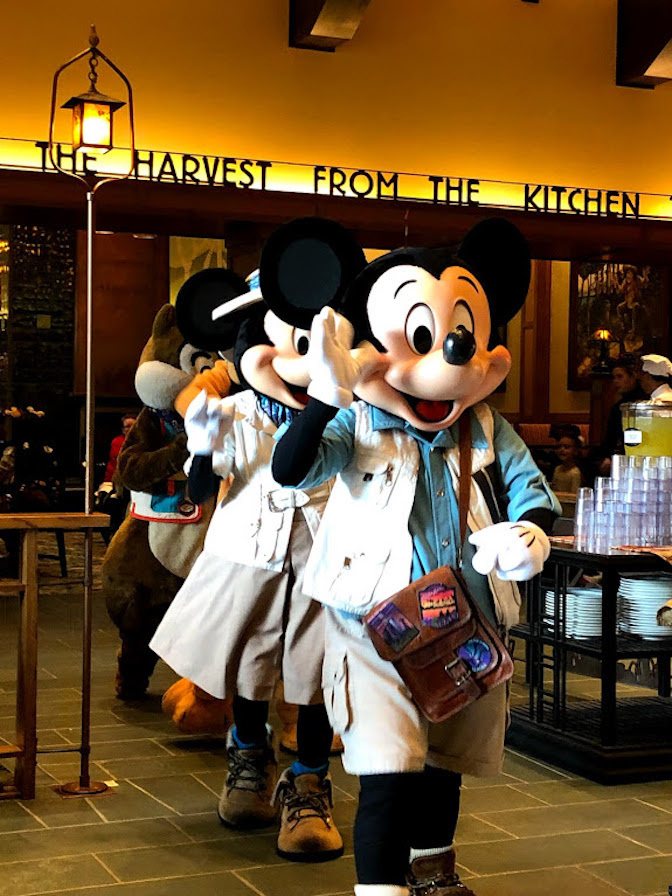 Food Review
First, we chose this dining location because of Mickey but also because it was said to have the most high-end food of the other Disneyland character dining locations. This buffet did not disappoint. There were so many food options that both the young and less young alike could enjoy.
There was an entire location for pastries and the iconic Mickey Mouse waffle bar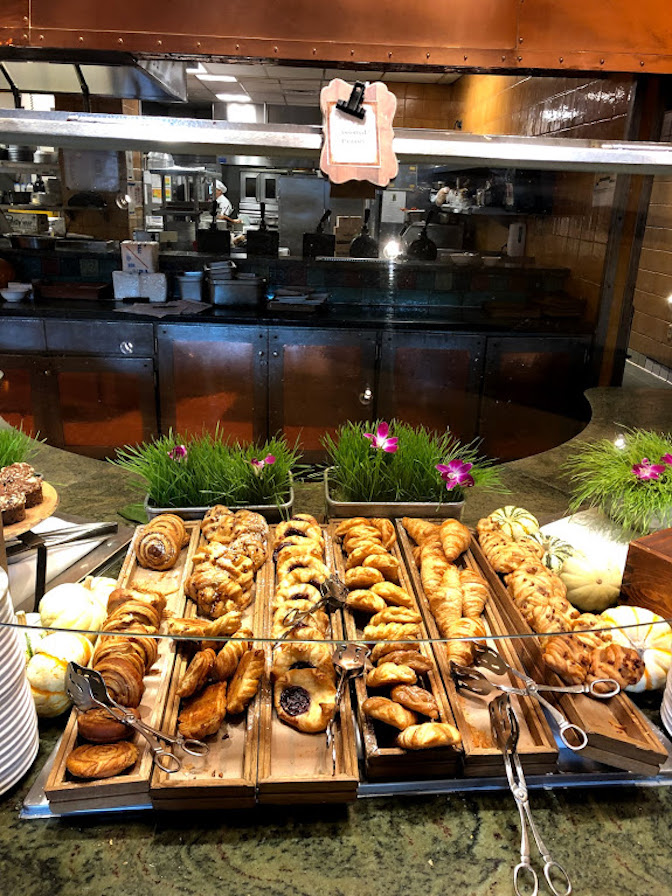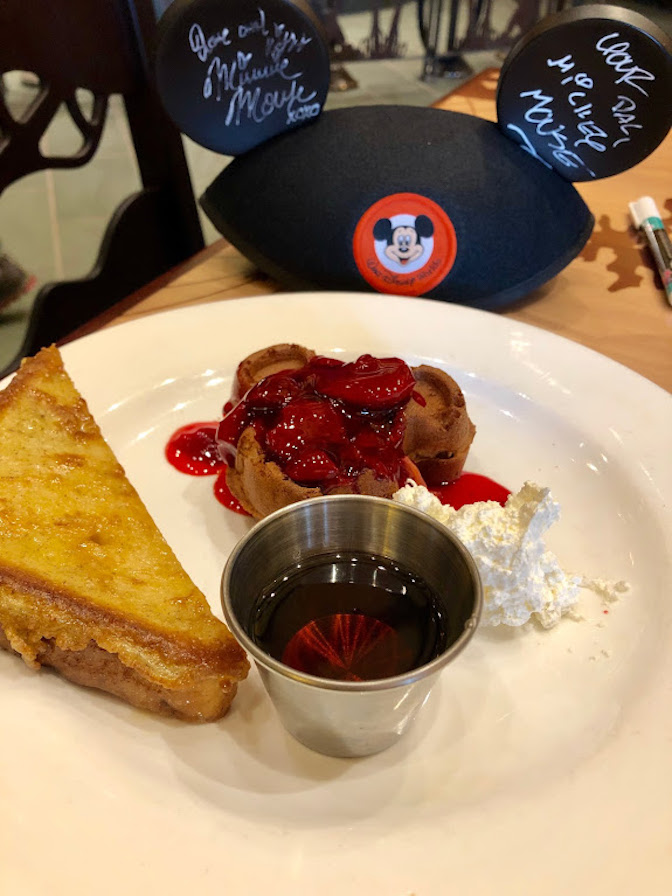 Also available was cereal flavored milk. This was definitely a favorite for the younger crowd. I tried the cinnamon toast crunch milk and it was definitely all you would hope to enjoy at the bottom of your cereal bowl.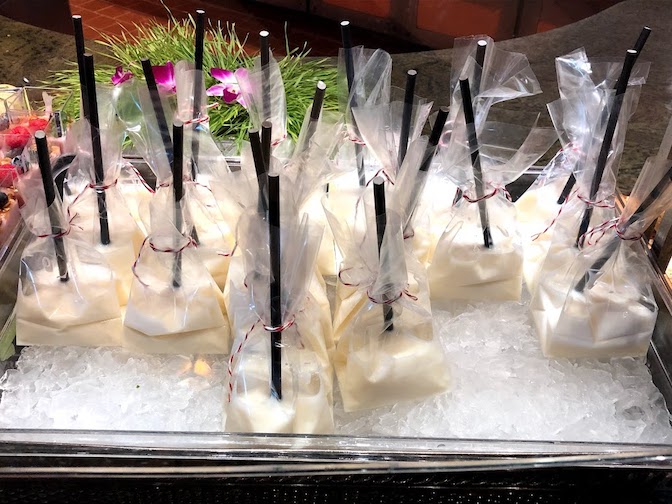 This buffet includes:
Fresh fruit, bagels, charcuterie platter, fromage platter, assorted breakfast cereals, mini granola parfaits, oatmeal (brown sugar and raisins), quiche of the day, omelet Station, scrambled eggs, applewood-smoked bacon, artisanal breakfast sausages, loaded breakfast potatoes, chilaquiles with fresh eggs and tomatillo salsa, and my personal favorite, the mini smoked salmon bagels.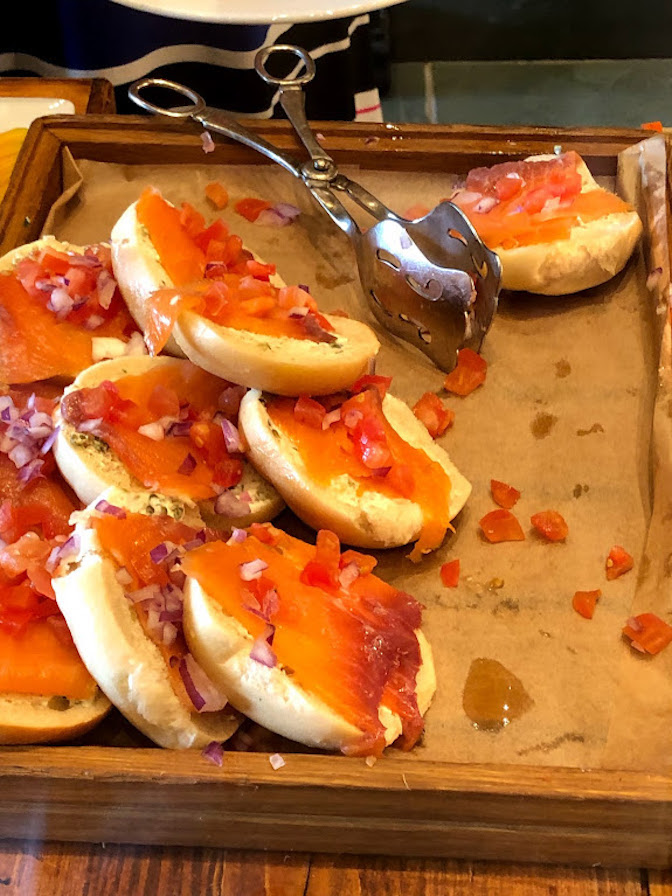 Pricing
This character buffet costs $35-59 for adults and $26 for kids ages 3-9. It is free for guests under the age of 3. This price excludes alcoholic beverages, tax, and gratuity. Compared to other character pricing, this is a great dining option for the price.
I highly recommend this location based on the casual, laid back atmosphere, high quality food, and wonderful character interactions. We typically enjoy a character dining meal on our departure day to enjoy one more dose of magic before re-entering into the "real" world. It is a great way to end a magical vacation.
Does this sound like a can't miss character dining location for you and your family?
Are you planning a vacation? Reach out to our trusted travel agency sponsor Authorized Disney Vacation Planner
Mouse Class Travel
!